Winter is coming, and that only means one thing: nail art! Winter nail ideas will make you feel cozy, and they'll make you look like a rainbow god! Whether you're looking to be prepared for the cold months ahead or want to decorate your nails with festive designs, these Winter nail designs are sure to inspire.
Winter is a great time of the year to get your nails done. Indeed, there is something so warm and inviting about white and navy nail polish. But, if you want to go all out, try a different color on your nails. Why not try a fun polka dot design, a glittery coat, or a graphic design? And, if you want to go all out, try a different color on your nails. Here are some fancy designs and ideas for winter nails you will love to try. Let's get started!
1. Brown Bronze Chrome Winter Nail Ideas
The brown Bronze almond is a classic design that has been around for quite some time. Also, it is one of those classic designs that never go out of style as long as women prefer brown nail ideas.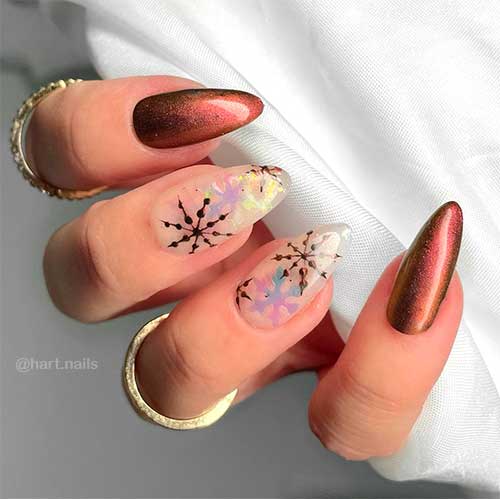 Also, you can choose simplicity by wearing brown chrome on plain nails. Of course, brown nail color can work great for any winter manicure.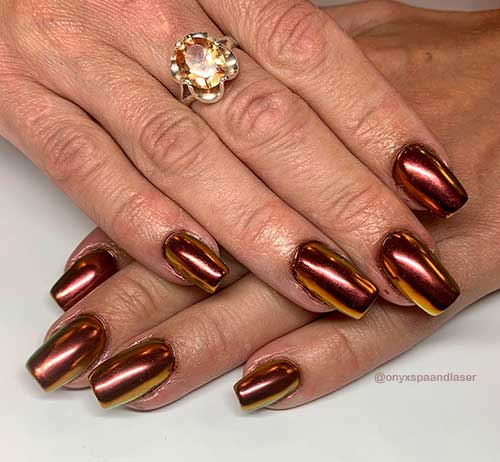 2. Sophisticated Sage Green and Gold Winter Nail Design
This winter, be prepared to have your nails done in your favorite colors such as sage green and gold. Whether it's a subtle pink, minty green, aqua blue, metallic brown, gold, or silver, you will find it all in the Winter nail designs. So, it's time to create some exquisite designs the world over.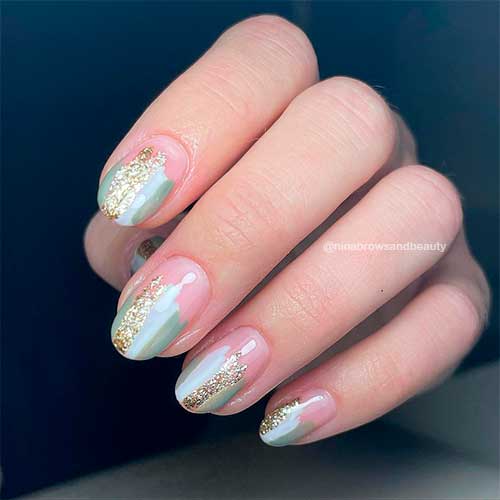 3. Plaid Winter Nail Ideas
Winter is coming. Not just that, it's coming fast, leaving us with some of the coldest days of the year. That's why you should start thinking about how you can protect your nails from the cold weather. Be sure to choose the right nail polish that is the perfect match for your outfit. And since it's about to be very cold. So, it will be fun to try a nice nail art design such as plaid nails.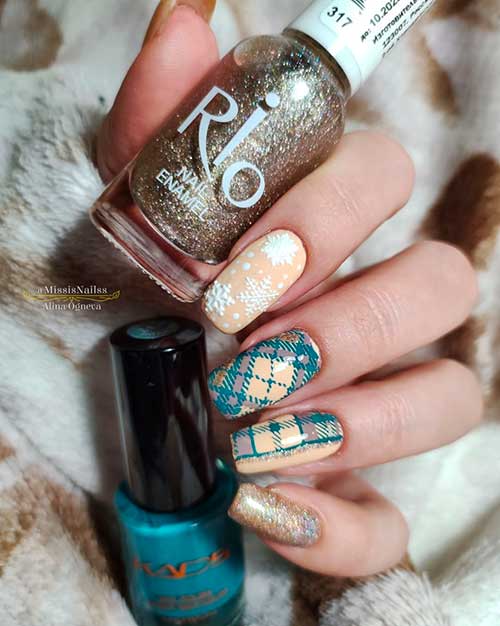 Another green and gold plaid nail design is gorgeous and suits Christmas vibes too. Also, you can try this nail art at home.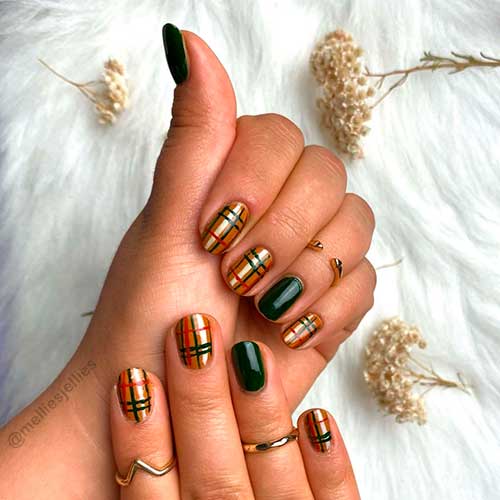 4. Classy White and Nude Winter Nail Design
If you're a fan of the 3-2-1 manicure, you'll want to check out these Winter Nails for a classy white and nude Winter Nail design.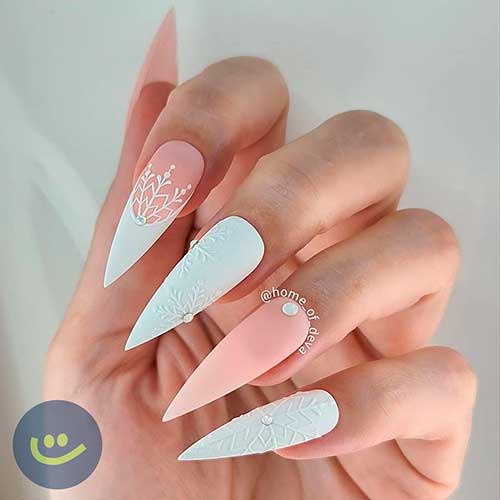 5. Winter Purple and Gold Nails
One of the trendiest winter nails is purple and gold nails. It seems so simple, but it makes for a great look. Of course, it's low maintenance since you only need to paint your nails once every two weeks, but it still looks classy enough for any event. Besides, you will never go wrong with purple nails.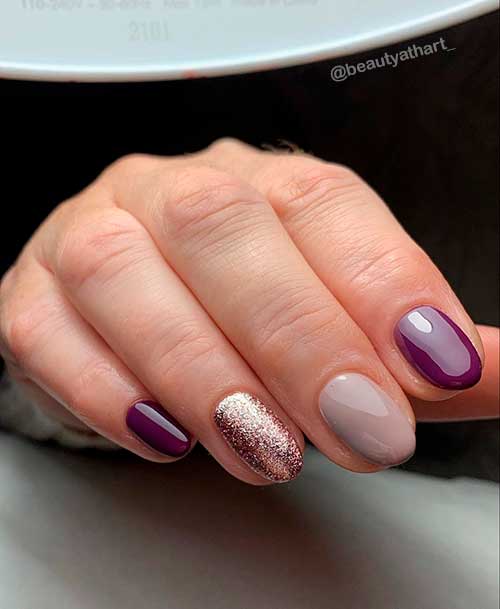 6. Classy Blue Winter Nails
For those who enjoy the coffin nail shape and don't mind a bit of color, we have a special treat for you! This winter, we're all about the blue manicure! The sweet, gentle hue is an easy way to brighten up your nails and achieve a look that feels more sophisticated than a plain manicure.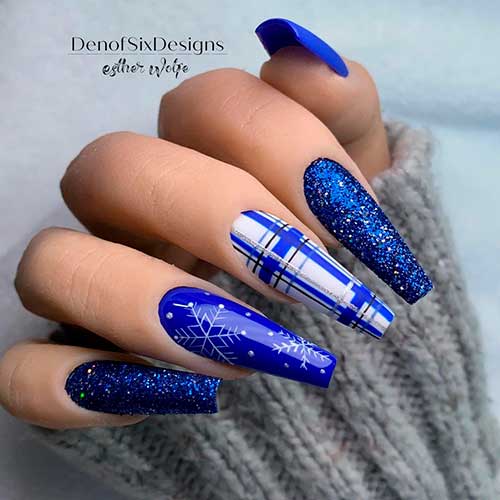 7. Black and Silver Winter Nail Ideas
Indeed, black and silver is a timeless combination, and we can't get enough of it this winter. So grab your winter nail polish, and let's get inspired!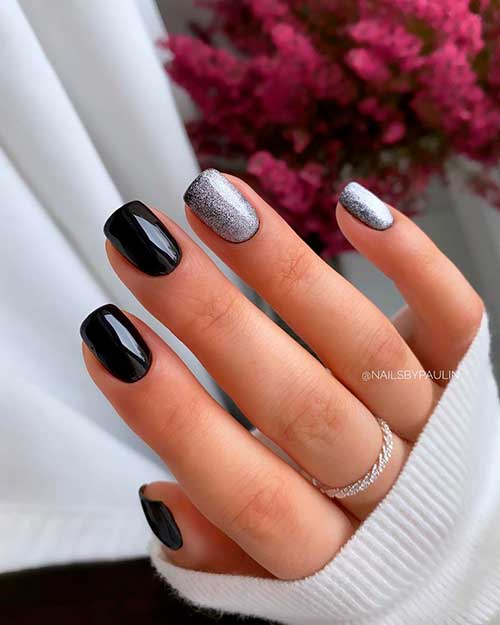 Another classy black and silver glitter nail design you should try and you will never regret it. Of course, you can apply these unique nails with a little effort at home.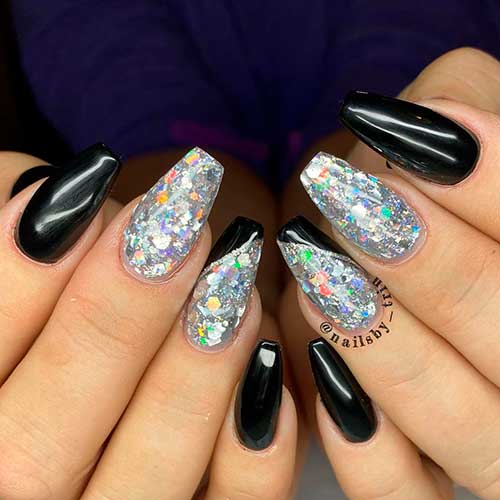 8. Long Velvet Matte Brown Nails
Of course, matte nail art designs have special admiration and this masterpiece has no exception. I love the white snowflakes over the glitter. Also, the accent bronze glitter nail elevates the design's uniqueness.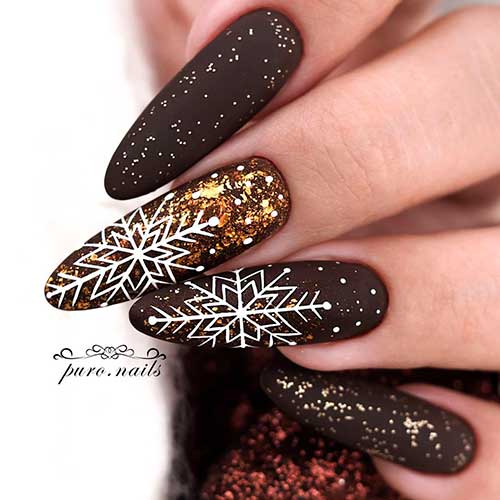 9. Black Coffin Nail Art Design
Indeed, dark colors suit the winter season but black is the most classy color shade. Besides black nails can match any winter outfit perfectly. For more inspiration check our previous post"Best Black Coffin Nails with Design Ideas".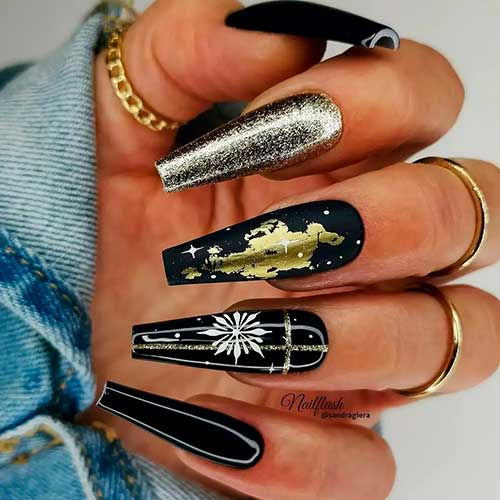 10. Gorgeous Gray Nails with Black Flecks
Still, the gray nail color attracts many women to wear it. This wintery color reminds us of rainy clouds. So, the gray color is a perfect match for winter vibes. Besides gray goes with almost any other color.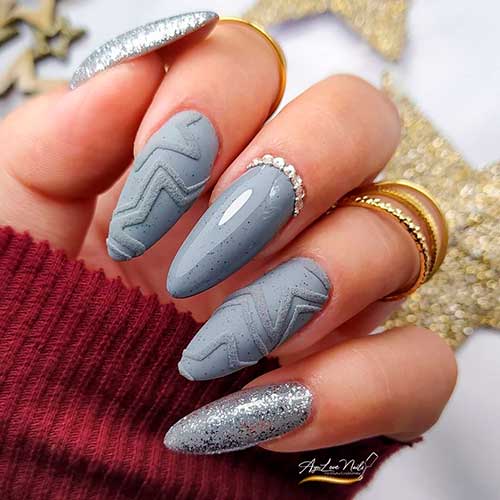 11. Classy Nude Color Plaid Winter Nail Ideas
If you are looking for unique nails for the winter season and Christmas occasion then this nail set is perfect for you. Also, you can try these simple nails at home with little effort.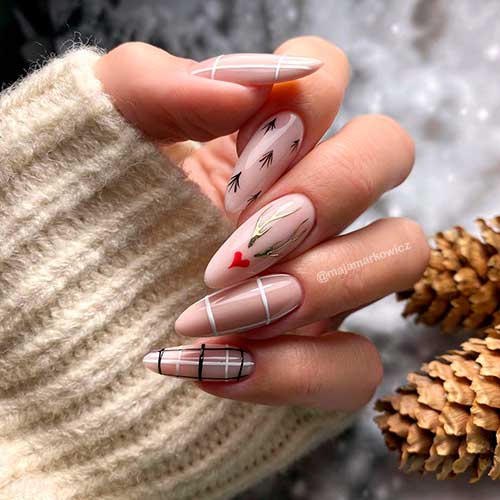 12. Charming Orchid Coffin Nails with Glitter
Indeed, these light purple nails are fabulous. I'm in love with these sparkling snowflakes, rhinestones, and the accent glitter ring fingernail. Also, this nail art design color suits any skin tone.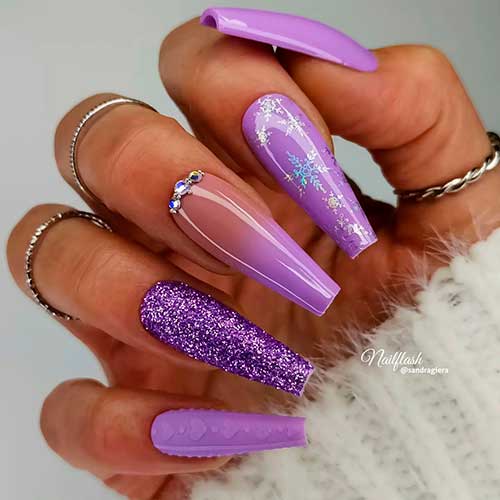 13. Cute Matte Black French Winter Nail Design
Still, matte black nail art is so attractive where ever you see it. So, these matte black French tip nails combined with white snowflakes on two matte black accents are going to catch all eyes.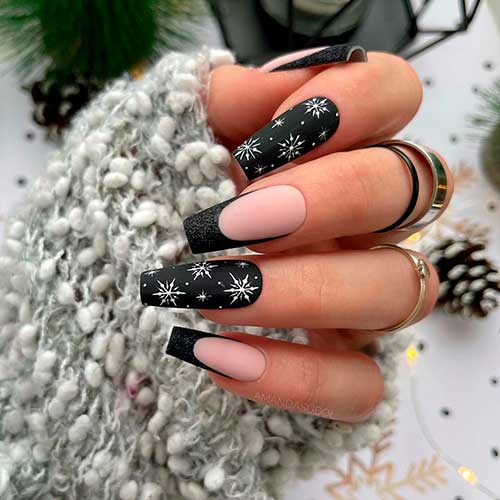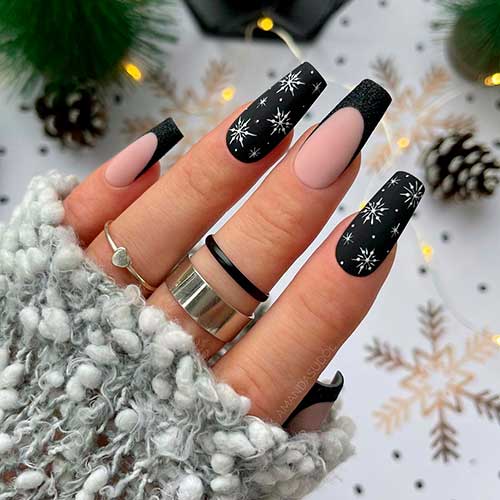 14. Winter Forest Nail Design
Of course, winter is the best time of the year to wear amazing themed nails! So, you can wear cute nails to celebrate Christmas or New Year, cute nails to show your love to your beloved ones, or to show your love for nature. What is more, winter is the best time to do your acrylic manicure.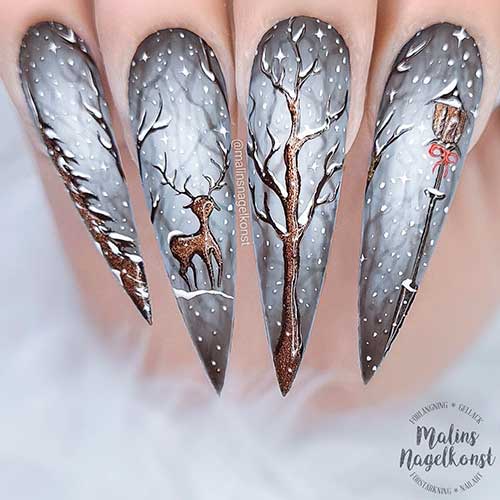 15. Ice Queen Coffin Winter Nails
Indeed, you will agree with me that this nail art design is a masterpiece. I'm a big fan of light blue nail color so, I admire this shimmer ice blue, especially when complemented with encapsulated snowflakes.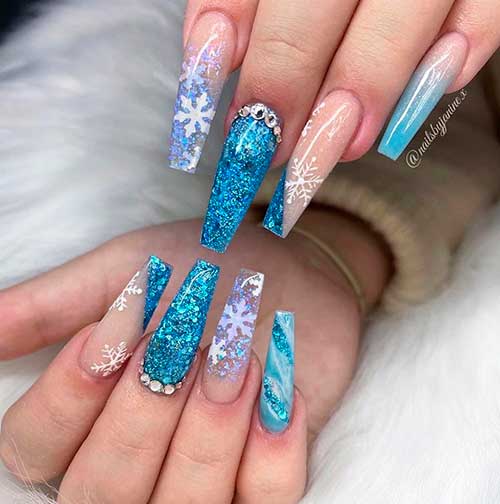 16. Gorgeous Blue Coffin Winter Nail Ideas
These blue nail art designs by "kessyjones.nails_beauty" are masterpieces. Indeed, I'm a big fan of any blue color shades so, I'm in love with this different matte blue shades design below.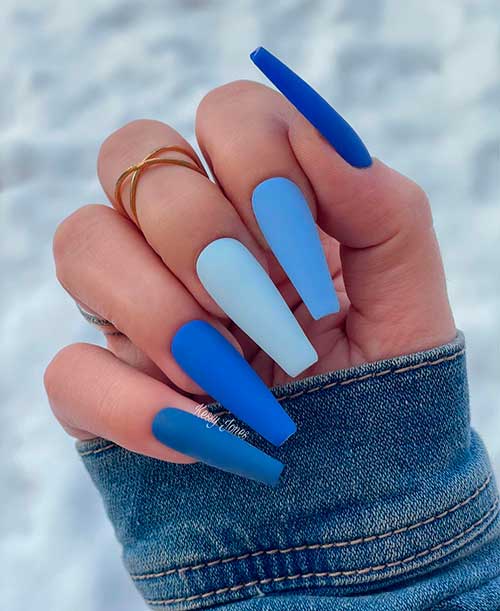 Another, gorgeous blue nail design but this time in an ice blue shade. As you see the design is adorned with silver glitter, white snowflake, and rhinestones.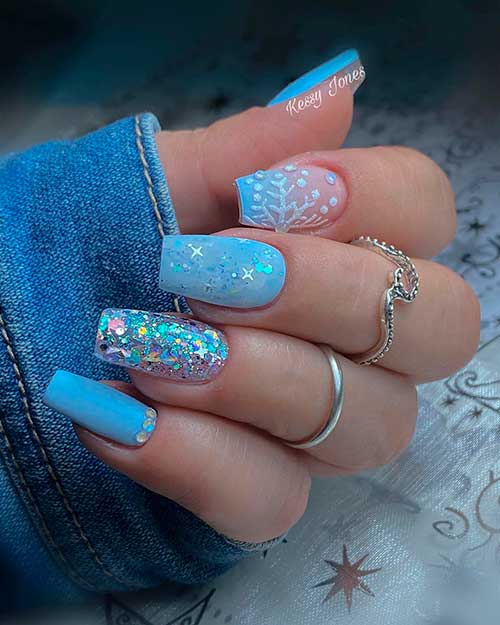 Indeed, most women love to wear blue ombre nails all year round but this ice-blue ombre nail design is a perfect choice for cold days. So, it's a good decision to try this nail design.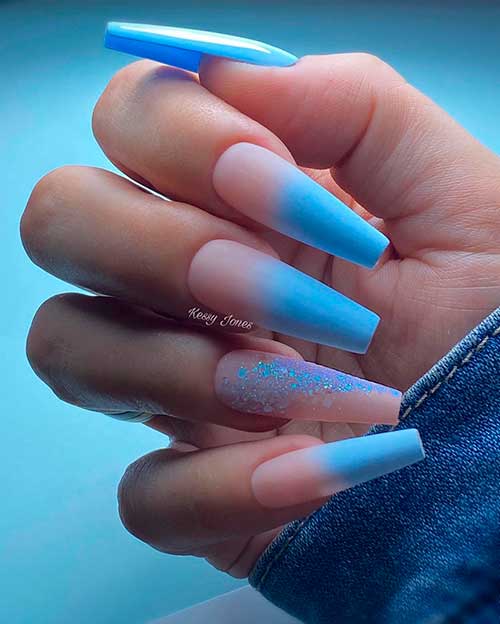 17. Blue Winter Nails
To make blue winter nails festive, you should try adding snowflakes. You can also apply gold strips and tone or two gold glitter accent nails. Indeed, this combination looks elegant and stylish. Besides, this is one of the most popular winter nail designs.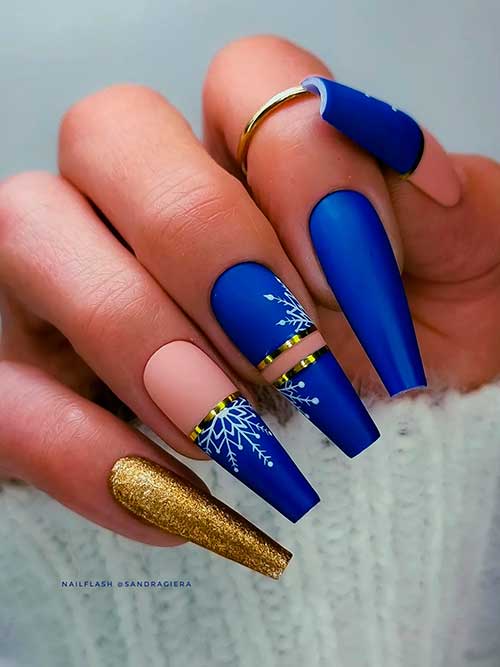 18. Winter Blue Ombre Nails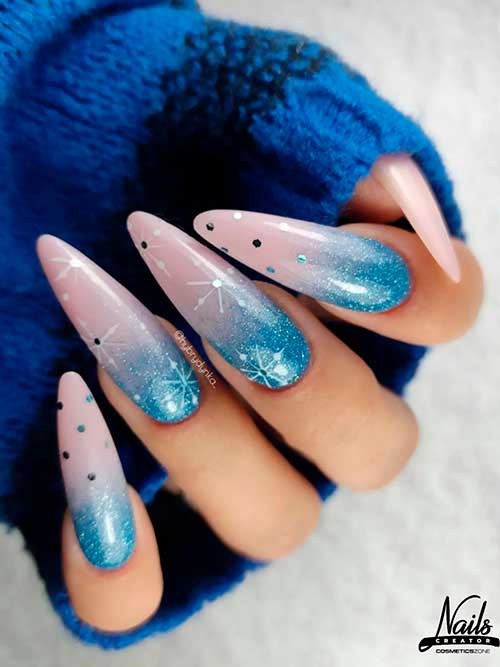 Glittery blue ombre nails with snowflakes are the perfect way to add some fun to your look. In addition, adding a little glitter to the nail tips will help elevate your style.
19. Short Wine Red Nails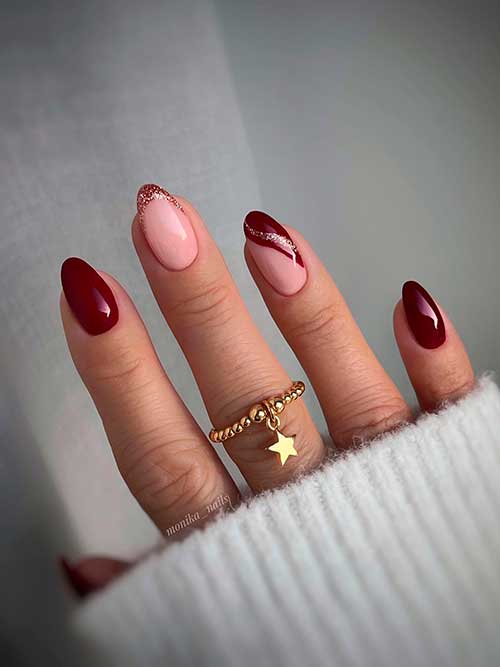 Indeed, the wine red color of your nails can be paired with the metallic finish of a gold polish to create the shattered glass effect. Besides, it is a trendy look, especially for the winter season.
20. Winter Babyboomer Nails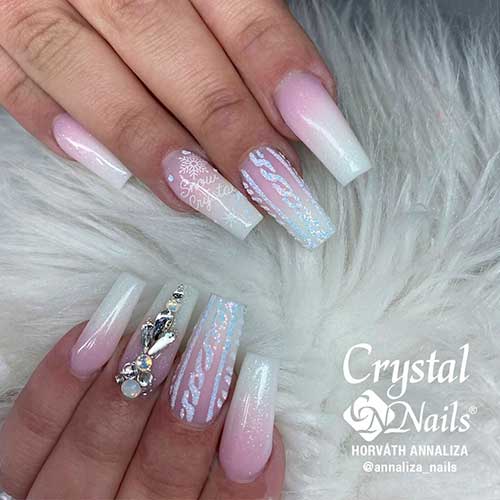 Baby Boomer nails are a trendy and classy look. Besides, this nail trend can suit anyone. So, you can go for an elegant and simple look with glitter, rhinestones, snowflakes, and sweater nail art.