The holiday season is coming, so it's time for a celebration! For many women, the thought of designing festive nail art for Christmas is overwhelming. The fact is, while there may be hundreds of ideas for Christmas nails out there, the best Christmas nail designs are the ones you know. If you want to look perfect for the holidays, you need to know how to do your nails. So, all you need to do is visit your local salon every couple of weeks! Ready to step up your game?
The holiday season is almost upon us, and if you've opted not to put up a tree, here's a way to add a little cheer to your life this year: Christmas nails! Nail art has taken over the beauty world, and we can't get enough of the nail art we see nowadays. With Christmas just around the corner and the barrage of festive cheer we're expected to endure, we've decided to compile a list of the coolest Christmas nail designs to keep us motivated this season. There are so many designs out there to choose from, so we've narrowed it down by choosing the best, classics and new ones alike.

1. Matte Red Checkered Christmas Nails
Indeed, red is the color of the best Christmas nails. The color of Christmas is love, peace, happiness, joy, and safety! Red symbolizes the Christmas celebration at this time. So, the red Christmas plaid nails designs are one of the most popular holiday nail designs. The red plaid Christmas nail design is simple, also it's easy to recreate.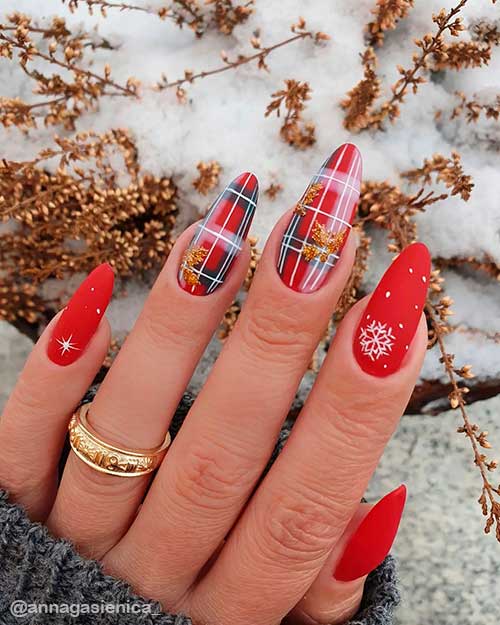 2. Simple Sweater Christmas Nails Design
Short nail art designs are chicer than long and complicated ones, especially for Christmas occasions. Additionally, these nail art designs are so simple that anyone can easily make them. And that's why they are perfect for your Christmas nails. So, These designs are easy to make, very cute and cool, and can be easily adapted for any nail art design.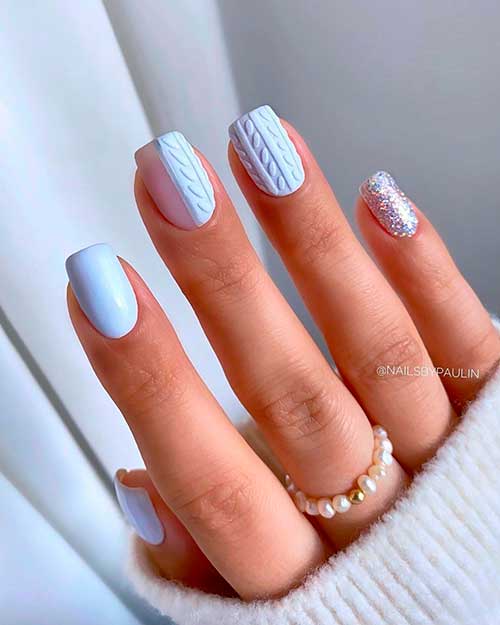 3. Magnetic Matte Christmas Nail Design
Of course, we all know how annoying it can be when your nail polish is chipped overnight, especially when you're picking up presents or eating dinner. But with magnetic nail designs, it's unlikely you'll ever have to worry about your manicure again.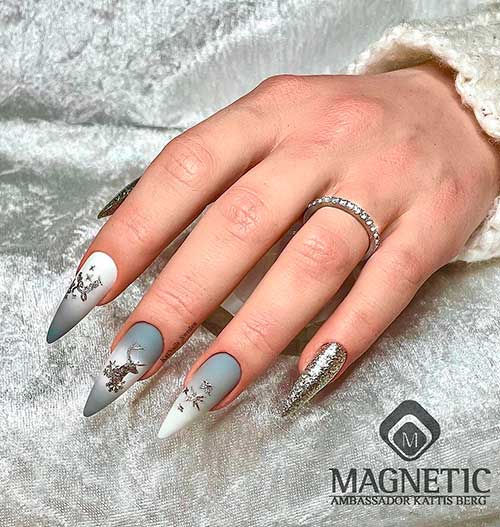 4. Glittering Blue Snowflakes Christmas Nail Design
When it comes to Christmas nail design, we will always recommend a glittery blue base. Indeed, blue is a cool color that will make your nails look cool and sparkly. Also, blue is the color of the sky and the sea, and it is a color that becomes more beautiful when surrounded by glitter.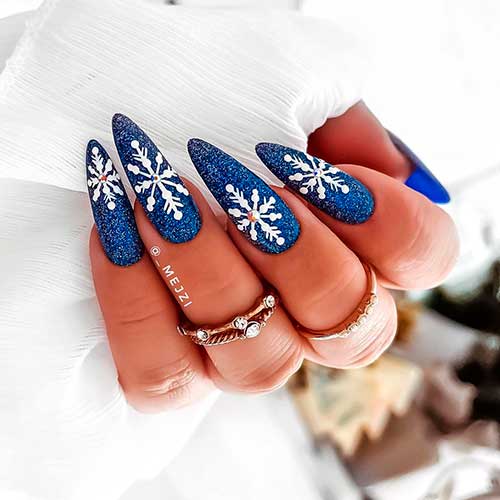 5. Grey Sweater Christmas Nail Design
If you're looking for a more subtle design, a silver glitter nail will add a nice touch to your festive style. Also, it is included a cute Christmas nail design to complete your manicure, a cute little Christmas tree in a heart-shaped glitter nail.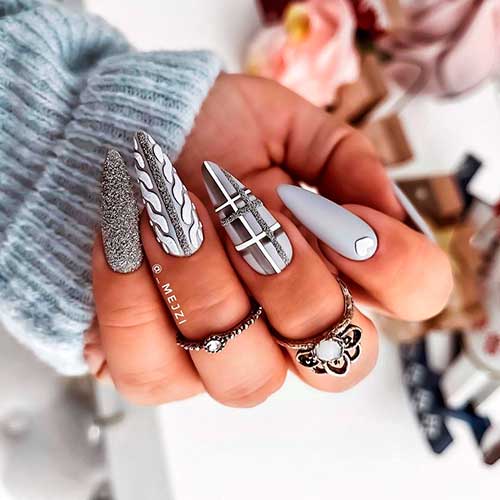 6. Joy Nail Christmas Design
Indeed, Christmas nail designs are fun and festive. In addition, Christmas nail designs can make you happy and be a great way to express your feelings and thoughts. So, Christmas nail designs can make your nails look great and cute, and interesting.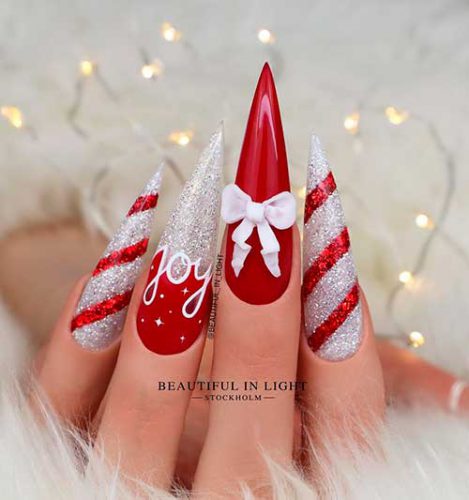 7. Minnie Mouse Red and Gold Christmas Nails
Red and gold Christmas nails are cute and festive. Also, Christmas nail designs can make you happy and be a great way to express your feelings and thoughts. Besides Christmas nail designs can make your nails look great and cute, and interesting.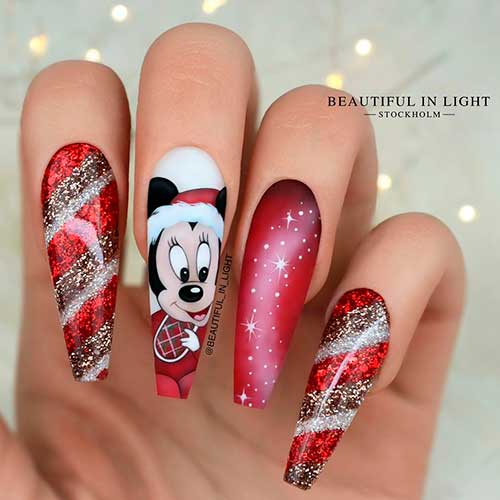 8. Mickey and Minnie Mouse Nail Design
Christmas is a time of year when families come together to enjoy the holiday season. These days, Christmas comes earlier and earlier—so early that some people may even have to work on Christmas Day. But, if the people you love are ready to celebrate Christmas with you, you don't have to do it all alone. So, you can join them with a stunning nail design that'll have heads turning.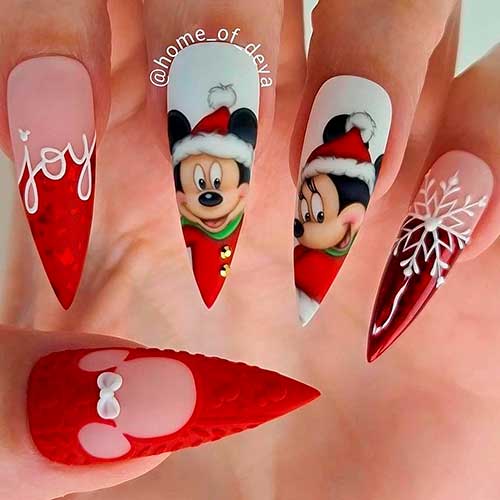 9. White Stiletto Christmas Nails
You may have heard that white is a color that never goes out of style. While that's true for many whites, it's not the case for a winter white. If your nails look a little dull and boring this season, I've got the perfect solution!
Simple or elegant, festive or demure, this delightful holiday nail design is the perfect way to convey the Christmas spirit. Adorned with a variety of Christmas colors-inspired, the design requires no additional embellishments.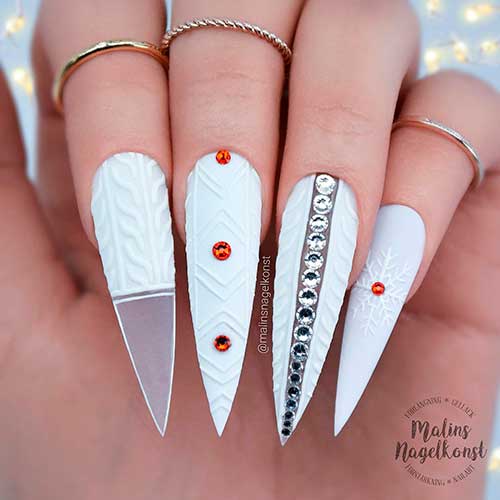 10. Rose Gold Mirror Christmas Nails
What about nude base color with golden mirror tips? I think this beautiful nail art needs to give it a try.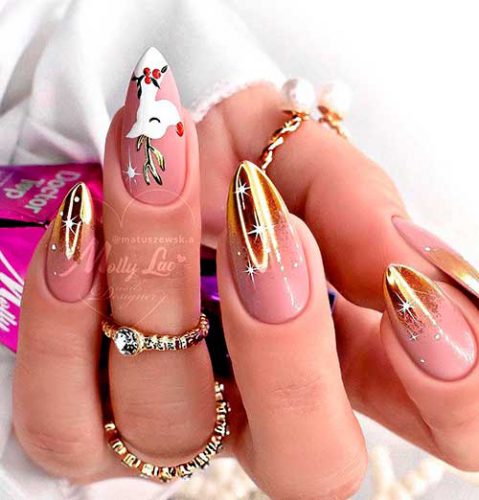 11. Grey Sweaters with Mirror Nails
Of course, mirror nails are lustrous enough to catch all eyes.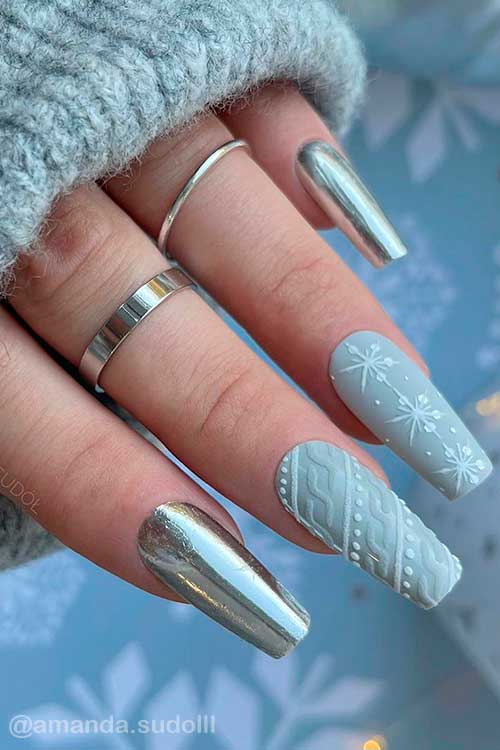 12. Classy Gold and Green Christmas Nails Design
Gold glitter turns any nail design into unique nails. I really love dark green nails and these matte ones are awesome. At last, this design is worth wearing fiercely.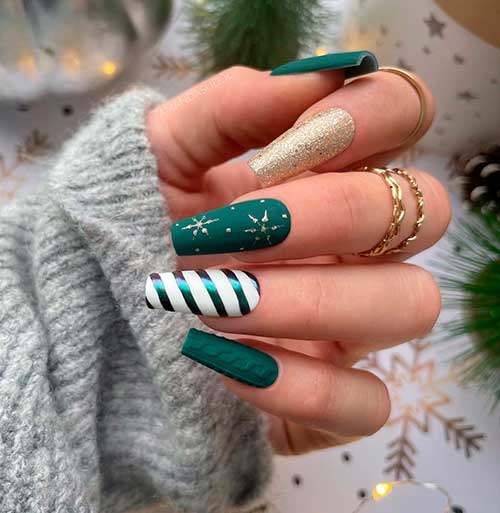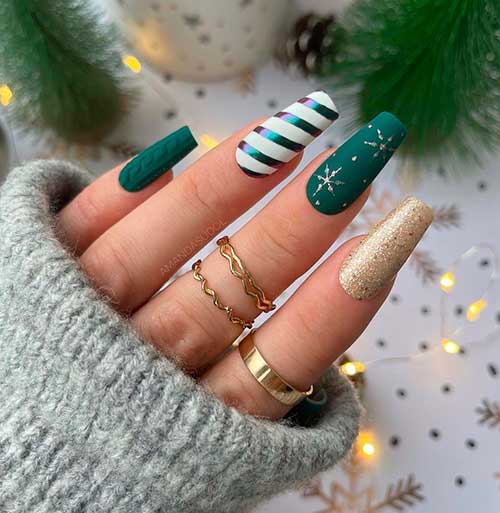 13. Sparkling Baby Boomer
Christmas Themed Nails
Indeed, baby boomer nails are so chic and most women love to wear them. So, when this French ombre manicure is combined with sparkling Christmas themes, it will be highly recommended.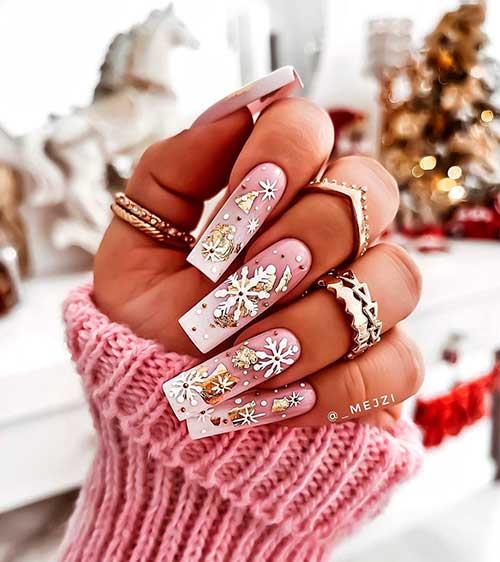 14. Festive Themed Red Ombre Christmas Nails
Indeed, these long French ombre nails with red Christmas themes are so attractive. So, try this chic style on holiday and enjoy your beauty.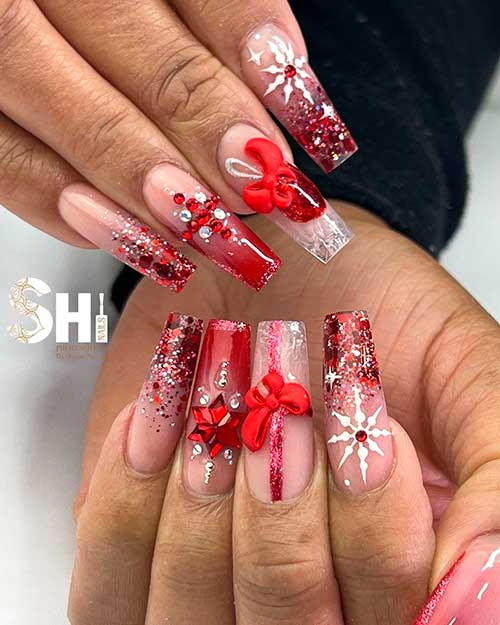 15. Matte Christmas Bandanna Nails
Still, grey nails are perfect winter nails and this super finished matte Christmas grey coffin nail design with rhinestones is worth trying.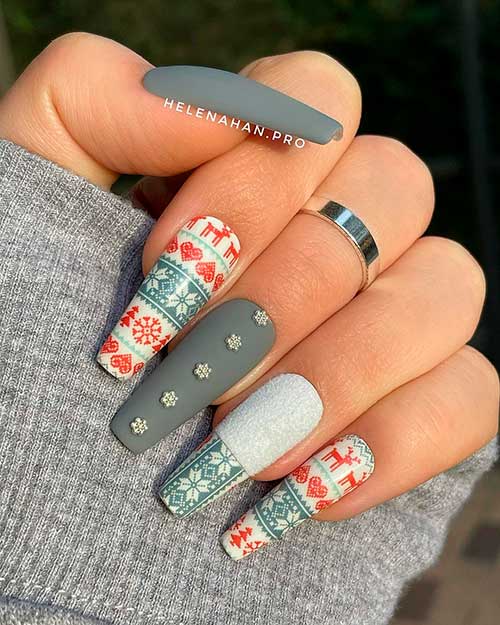 16. Shimmery Black Christmas Snowflake Nails
Indeed, black nail art is always cute, and these short shimmery black nails are really awesome. So, go ahead and try this wintery nail art and enjoy.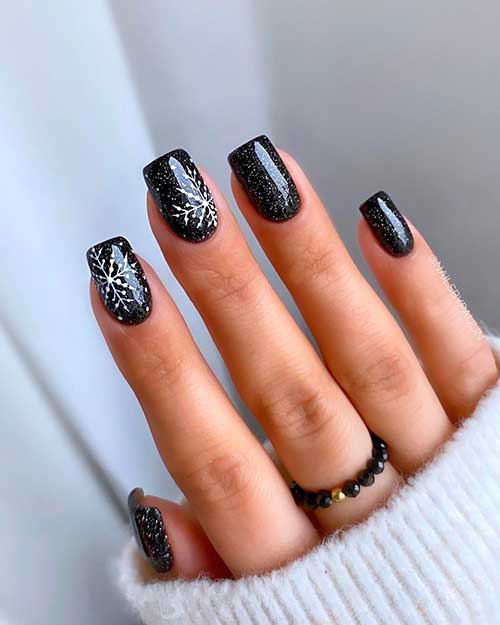 17. Santa Claus Red Christmas Nails with Glitter
It's time to try this feminine red nail art. Besides red when blended with glitter the result will be great as you see below. Also, the french accents add more elegance to this design.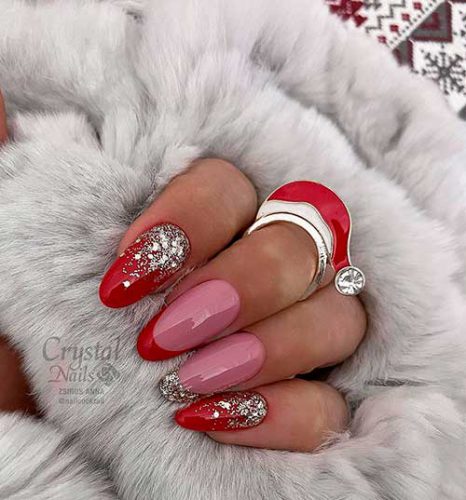 18. Classy Joy Christmas Nail Art Design
Of course, I'm in love with this red accent shade. Also, combining the French ombre with snowflakes, the celebrating bear, and the JOY letters Accents are really outstanding.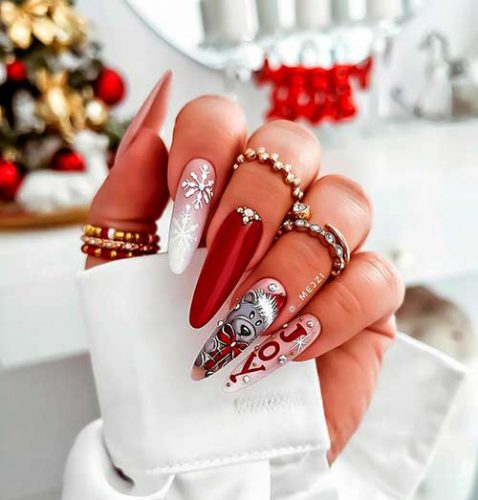 19. Elegant White Christmas Nails
This matte white coffin nails with glitter designs are so classy and festive. Besides white nails can suit any outfit you will choose for the Christmas celebration.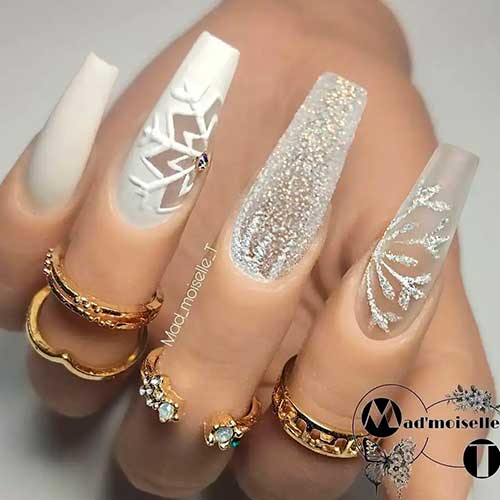 20. Gorgeous Matte Light Blue Christmas Nails
I'm a big fan of light blue nails but this matte light blue nail color shade is outstanding. Also, the big rhinestone snowflake adorns this sweater nail design. Additionally, I like the light blue polka dots nail art over the clear tips. Of course, Christmas sweater nail art designs are so classy.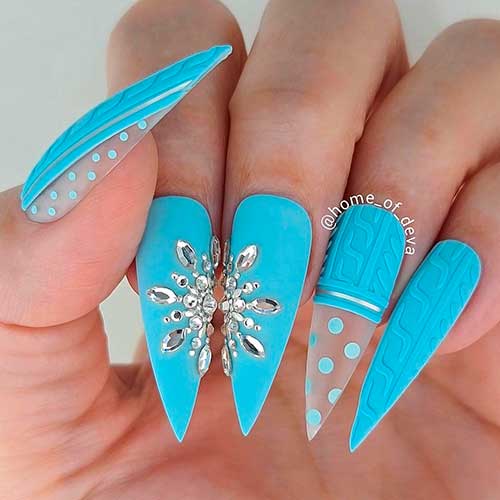 21. Glossy, Matte, and Chrome Purple Christmas Nail Art
It's not red or green as usual! So, why not try something different? Of course, these glossy and matte dark purple nails when blended with chrome purple nails result in gorgeous nail art as you see.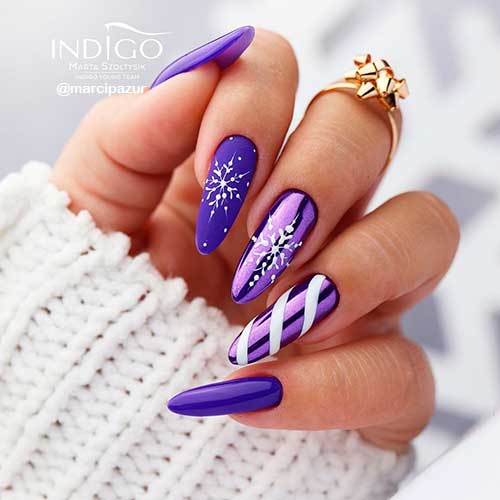 22. Festive Red Glitter and Nude Color Christmas Nails
These long coffin-shaped nails with red glitter over a nude color base are so stunning. Indeed, the accent modern French nails are so pretty and classy, especially for French manicure lovers.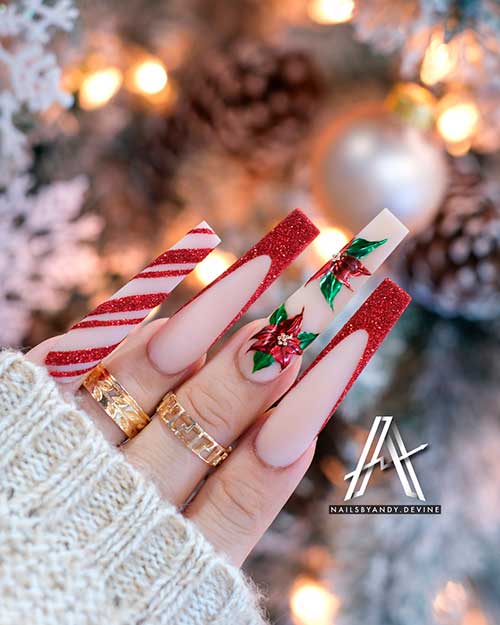 23. Cute Christmas Nails
If you're celebrating Christmas and want to add a touch of glamour to your nails, red Christmas nails are an easy and festive way to add some holiday style to your nails. Of course, this Christmas nails cute design with candy cane accent nails will make your nails look great.