Are you one of those who love plaid nail art? Maybe you are seeking plaid nail designs to try at your home. If that's the case, then this post got you covered! In case you didn't know yet, these plaid nails are ideal for holidays. These nail arts are always in style, and the plaid nail art in this post will surely make you the talk of the town.
Plaid nail arts are everywhere. The options for plaid designs are endless. What better way to spend the weekend than with some pretty plaid designs? We have looked high and low to collect nail art images of the top four favorite plaid nail designs. From basic DIY patterns to more complicated designs, you will find a plaid nail art design that is something for you!
1. Red and White Plaid Nails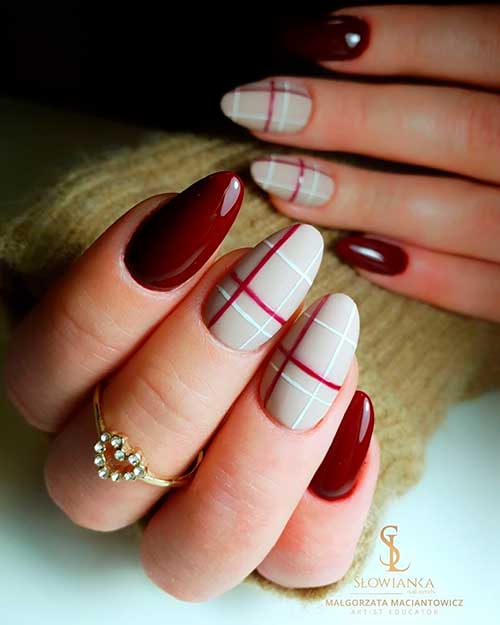 Utilize a less-than-bright tone of red for this – maybe not tomato ketchup. But surely anything lighter than burgundy or oxblood that are in fashion today. The plaid art in this red nail design surely adds spring to this other monotonous bit of nail art.
2. White and Grey Plaid Nail Design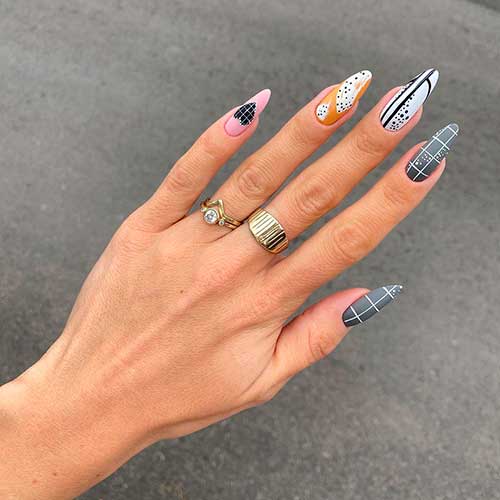 A cool combination of gray and white, with a touch of gold and pink. Also, this plaid design looks clean and simple, perfect for hanging out with friends. Additionally, this pretty striped pattern catches all of the best nail colors.
3. Matte Blue Plaid Nails with Glitter Design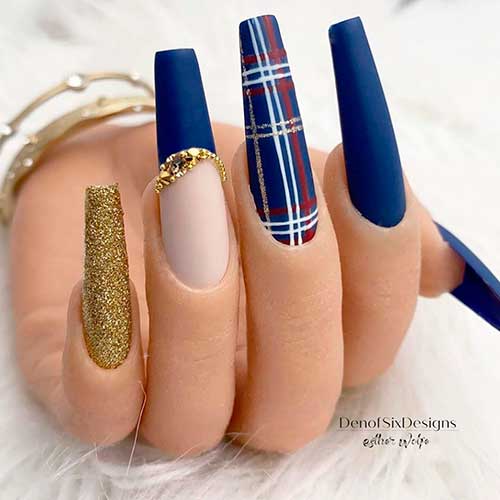 Glitter and plaid? Yes, please! Here is a gold glittery plaid nail design that is perfect for a girl's night out. The cute plaid nails with glitter above need a light touch with a nail brush. In addition, plaid is no doubt always in this style, and this beautiful plaid design is no exemption.
4. Modern Black and Plaid Nails Design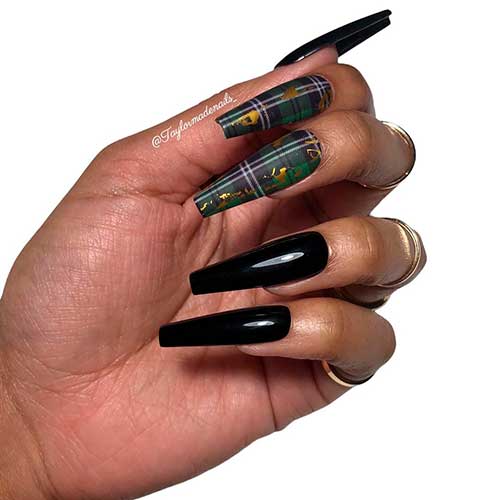 Black is such a mysterious color. But if you pair it with a gold glitter polish, you will have a look that is both sophisticated and sleek. Also, this nail design look is ideal for a formal occasion or wedding.
5. Buffalo Plaid Nails Design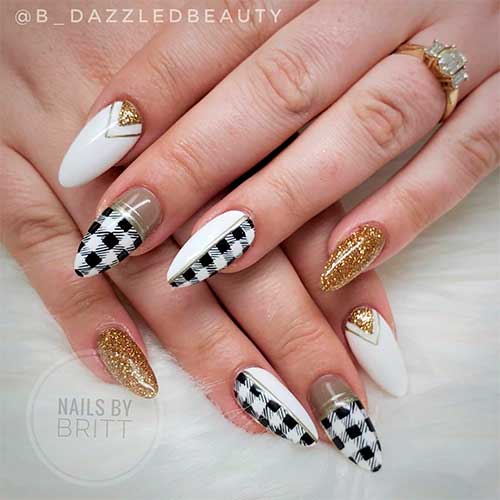 Indeed, you will love your plaid nails black and white when blended with gold glitter and white almond nails. So, go for this plaid nails design and your mood will be boosted!
6. Festive Christmas Plaid Nail Design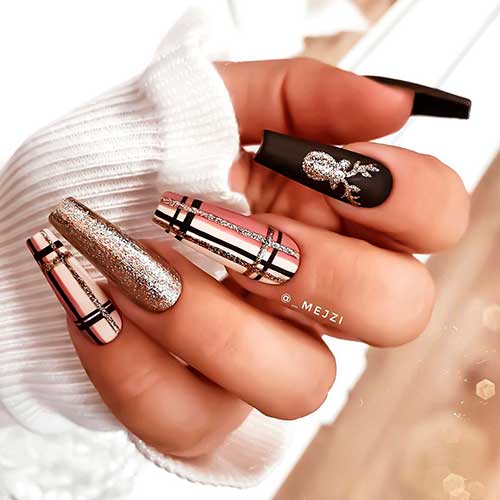 Are you looking for chic and festive Christmas nail designs? If so, then this coffin plaid nail design is for you. Of course, I really love the color blending between rose gold and black on plaid nails with the matte dark brown coffin nails. Besides, the gold glitter elevates the design's beauty.
7. Light Blue Plaid Nails Design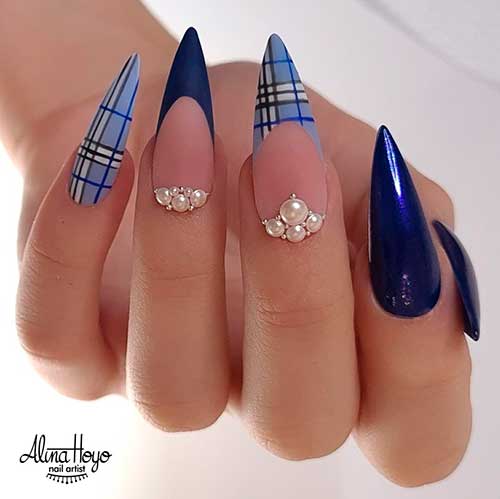 The beautiful idea blends light blue plaid nails with glossy navy blue almond-shaped nails with two accent nails in French nail style. Also, they are adorned with white pearls, and the result is a chic nail art design.
8. French Plaid Nails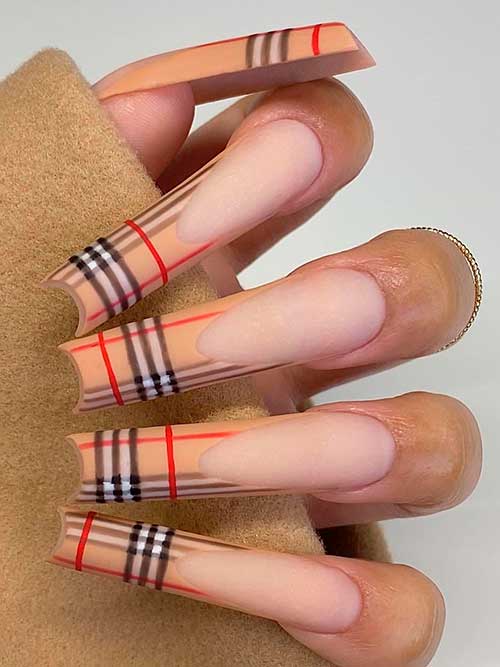 If you're celebrating the holidays or just looking for a fun way to get in the mood, French plaid nails are a great way to add some sophistication to your manicure. Of course, they can be a quick and easy way to dress up your hands while cold months.
9. Red Black Christmas Plaid Nail Art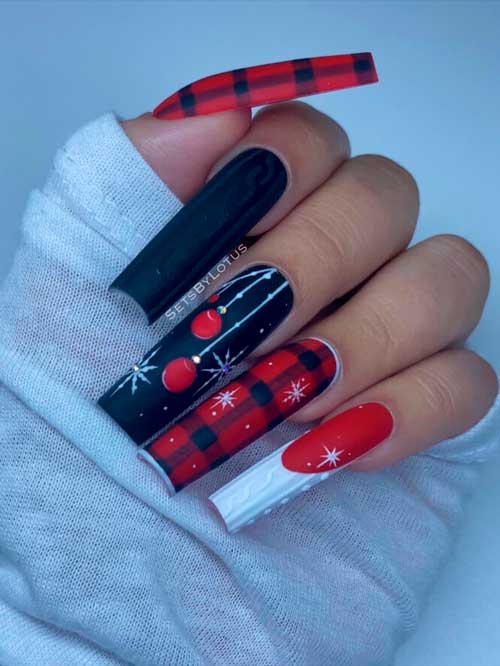 Indeed, getting red and black Christmas plaid nails is a great way to celebrate the holiday season. Besides, these classic patterns are easy to apply and will add a touch of sparkle to your Christmas Eve look. They are also a great option for anyone looking for a unique nail design that can be worn with any outfit.
10. Glitter Dark Green Plaid Nails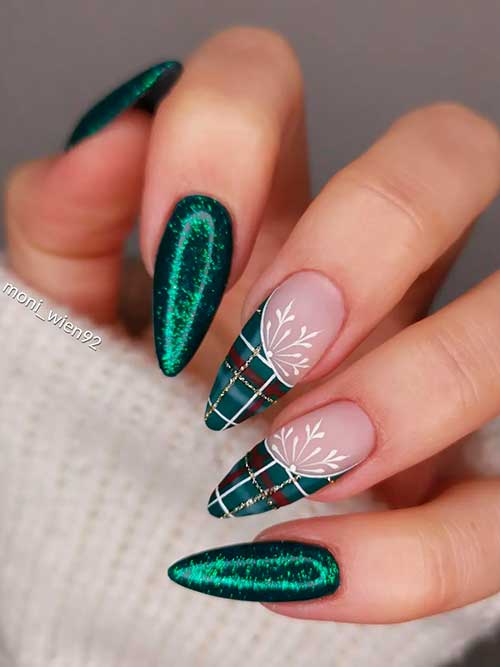 Of course, using glitter dark green nails is a simple and effective way to add sparkle to your nail design. Also, the French plaid nail art with snowflakes can make your hands look fairer and add a trendy touch to your outfit.
11. Red Buffalo Plaid Nails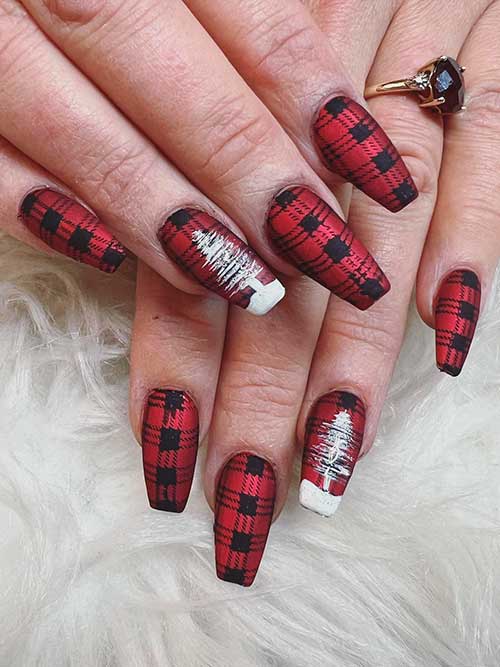 Whether you want to get in the holiday spirit or just add a little something extra to your look, buffalo plaid nails are a stylish way to go. Also, they can be a chic style to spend your weekend.