Autumn is approaching, so you must associate your style according to the season. Of course, you can do these with dark green nails. By having the best autumn/winter nail art, you can associate your fashion with the season.
In fact, with dark green nail polish, you can have classic and elegant-looking nails that are best for the autumn and winter seasons. So, to give you the best idea, the following are some of the cutest dark green nails for autumn/winter.

1. Pointed Dark Green with Autumn Leaves Nails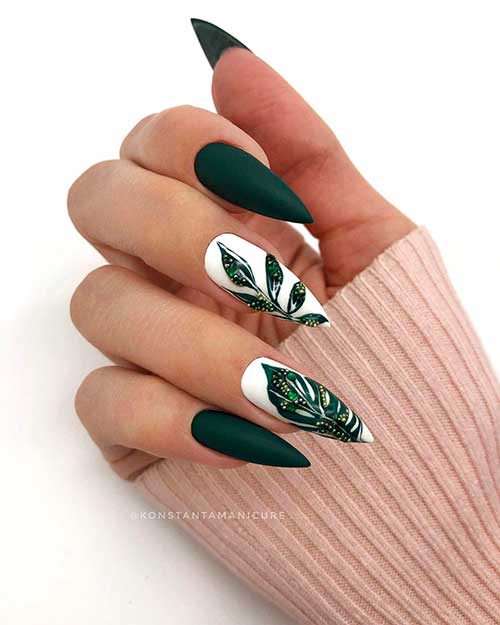 Still, the Pointed Dark Green Nails with Autumn Leaves set is one of the most creative dark green nail designs for the season. Additionally, it has a refreshing and relaxing look, which can make you feel the autumn season. As well, this design is a combination of dark green nails and white nails with cute designs of leaves.
2. Two-Toned Dark Green Nails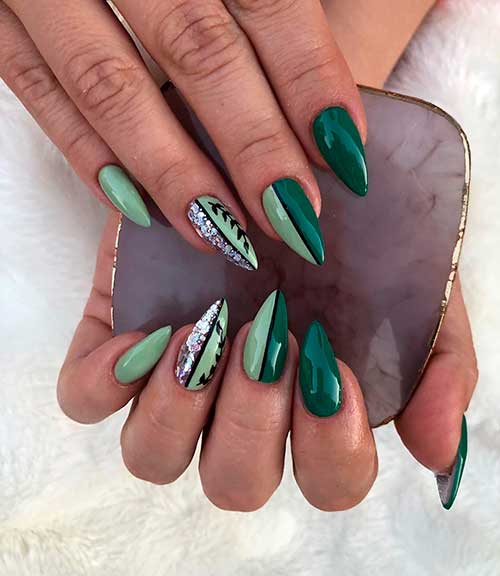 Furthermore, if you want to express your uniqueness through nail art, these Two-Toned Dark Green Nails can be the best for you. Besides, It has different shades of green from dark green and light green. So, your nail can have 2 colors, which can show nature's look.
3. Emerald Coffin with Touch of Autumn Leaves Nails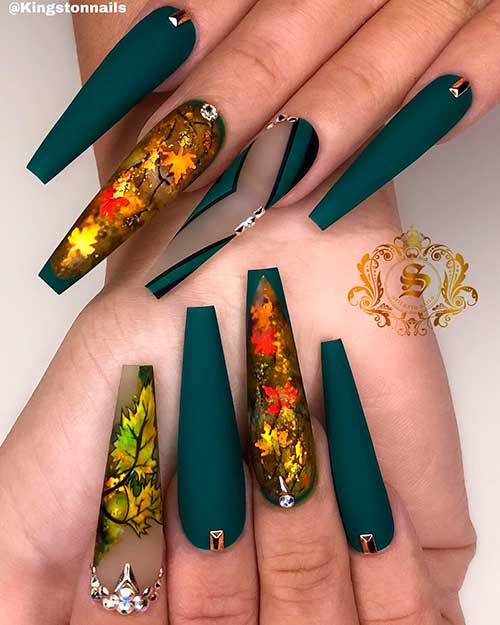 If you want to have royal dark green nails, an emerald nail coffin shaped with a touch of autumn leaves design is for you. It can show your elegant and classic personality.
It can be the best dark green nail idea if you want to feel like a queen during the autumn season. If you want to show your fabulous side, this Emerald dark green nail art will not fail you.
4. Dark Green Nails with Golden Glitter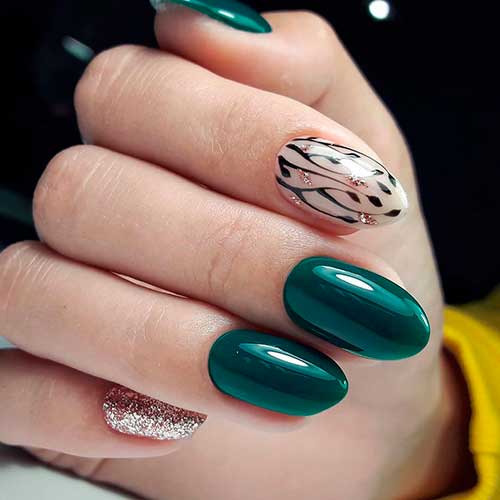 The Dark Green Nails with Golden Glitter is a good nail art if you want to show your simplicity and chic style. It is a combination of emerald green nails and gold glitter nails that have leaves on them. This manicure is perfect not just for autumn but also for different seasons. It can easily complement different outfits you wear.
5. Dark Green White Nails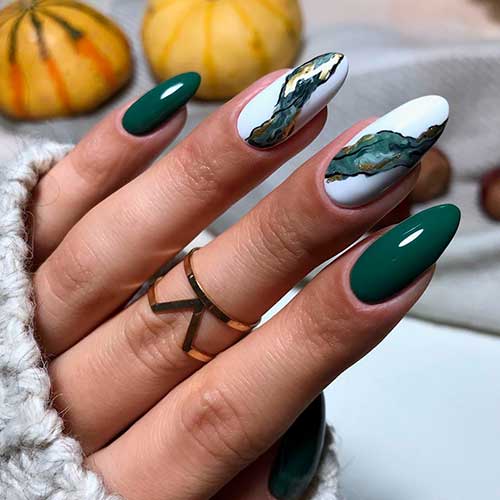 Dark green white nails are the best idea to show your simple but elegant personality. It has a pretty look, which is really appealing to the eyes. It is perfect for the season and you can wear it every day.
In addition, this nail style can also help you enhance your nail painting skills. It can best represent the season and beautiful nature. If you are fond of the beauty of nature, this nail art can show your nature-friendly vibe.
6. Dark Green with White Checkered Plaid Nails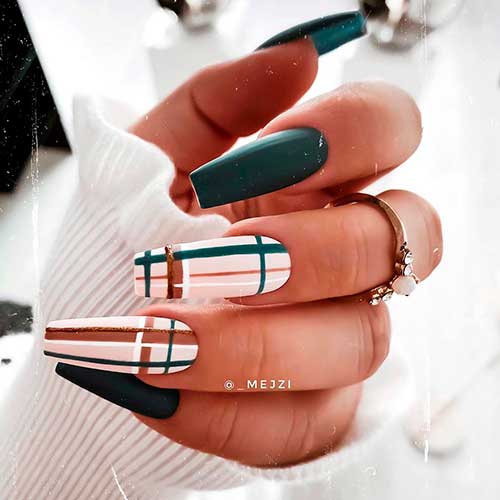 Another, amazing dark green nail idea of autumn is the dark green with white checkered plaid nails coffin shaped. It has a cool and pretty appearance that is impressive. Also, this nail art design shows your creativity in painting your nails. It is a well-detailed dark green nail polish you can wear during the autumn and winter seasons.
Indeed, the white shade and green lines of this nail art offer a great balance of beauty and art. It has a classic and gorgeous look that can best represent autumn. This design is so cool and relaxing to the eyes.
7. Winter Dark Green Nail Designs
Indeed, during winter, you can have your nails painted in a variety of beautiful colors. For instance, you can go for dark green nail art, which will look very pretty. You can also choose to use winter white nail art or gold glitter that will give you a festive look.
Christmas Dark Green Nails with Gold Glitter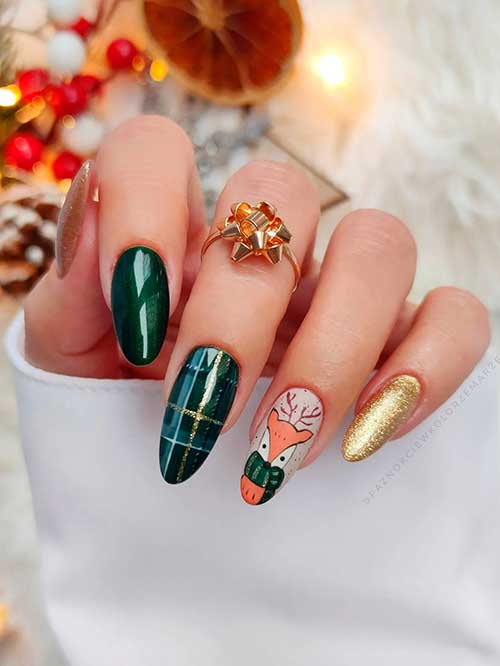 Adding gold glitter to your nails will make them look festive and glamorous. Besides, there are many types of gold glitter and nail varnish to choose from. So, you can recreate this simple nail art design above and enjoy your holiday.
Dark Green Nail Design with Glitter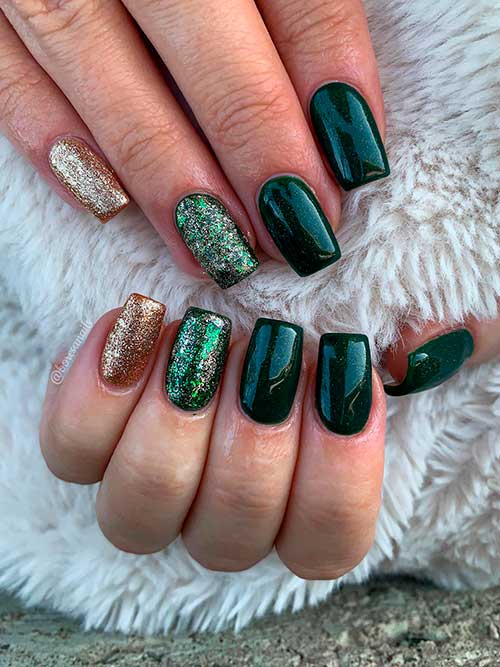 Of course, you can add gold and green glitter to your nails to get a festive manicure. It will also add a texture dimension to the nails. Further, this is a good choice for anyone who is looking for an easy way to spice up their manicure.
Dark Green Nails with Snowflakes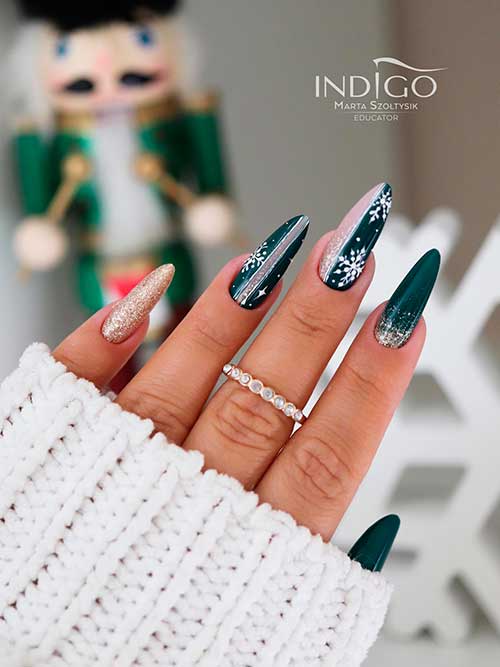 Embracing the winter season with dazzling nail art is a great way to take your look from boring to enchanting. So, try these cute winter nails that feature dark green almond-shaped nails with snowflakes and gold glitter on accent nails.
8. Cherry Picked Dark Green Nail Designs for Ultimate Inspiration
At Last, check out the best green nails between almond, coffin, and square shapes blended with beautiful miscellaneous nail art designs. Just keep scrolling!
Dark Green Nails with Leaf Nail Art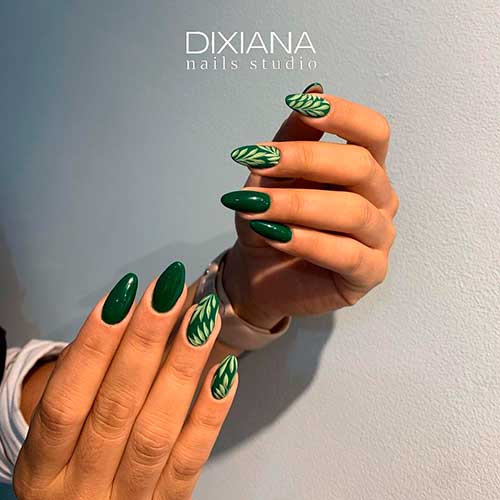 Short Glossy Dark Green Nails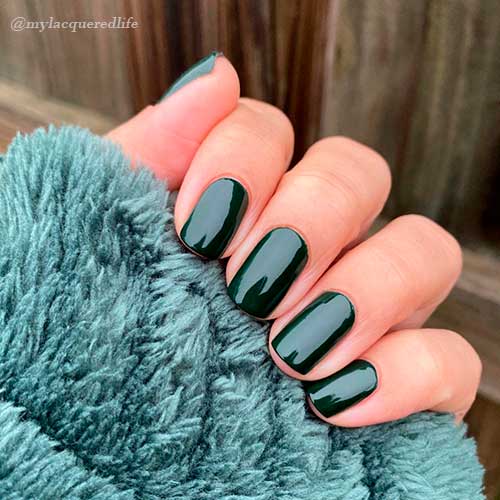 Cute Dark Green Coffin Nails with Gold Touch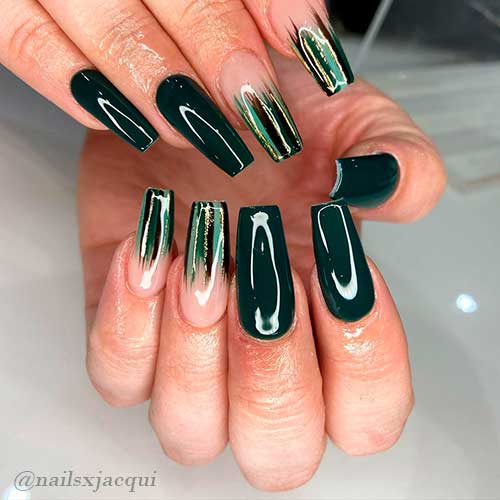 Glossy Nail Art Design with Accent Leaf Nail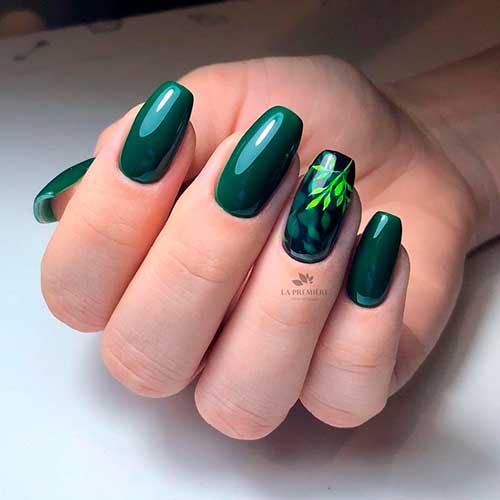 Elegant Dark Green Nails with Glitter
Another chic, glam, and eye-catchy nail art design consist of coffin-shaped dark green nails with glitter and white stars besides, the beautiful accent dark green ombre nail.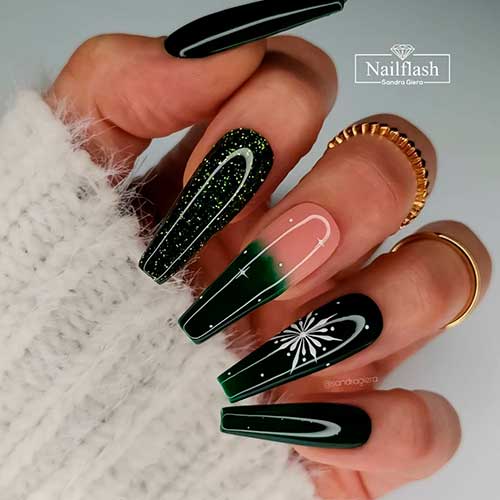 Matte Dark Green Nails with Sweater Nail Art
Matte Dark Green Nails look classy and elegant especially when paired with sweater nail art. Besides, this design can suit the fall and winter seasons.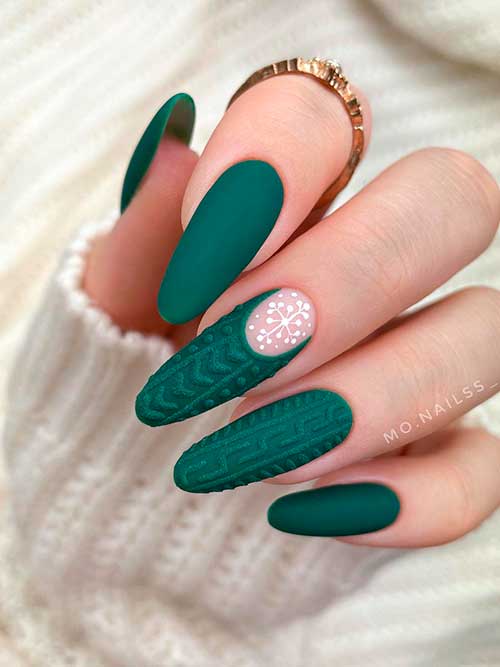 To Conclude
Finally, dark green nail designs are so elegant and worth wearing. Therefore, don't hesitate to try the nail art design that catches your eye and DIY, or do it on your next salon visit.