The yellow color signifies pure sunshine. Therefore, you will feel the energy and warmth once you see this shade. Every woman should have purchased yellow stuff in her clothing. Perhaps it's a fashionable yellow dress or T-shirt, or a comfortable yellow sweater. Today we have rounded up some fabulous autumn yellow nail designs for ladies to get enthused and stirred for the next manicure.
I bet no one can resist the powerful temptation of this vivid yellow color. Of course, yellow reminds us of the juicy lemon that is like fresh air during the summer season. To make the yellow nail design look very special for the autumn, you can use your favorite autumnal yellow nail polish shade. Then integrate some patterns like polka dots, stripes, leopard prints as well as zebra prints into the nails.

Besides, you can also try some color magic by combining two different colors together. The yellow color will keep on giving you a surprise for another remarkable shot. Here are the top yellow nail art designs:
1. Pattern Yellow Nails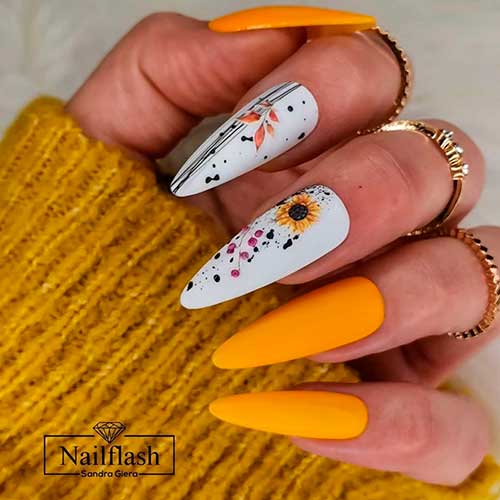 Mix things up and make flurry patterns or designs across your nail. Indeed, this cohesive yet funky art combines bright yellow, black as well as white and turns it into a fashionable and sleepy design. So, combine sunflower print, black stripes as well as geometric shapes for a totally stylish as well as exceptional manicure.
2. Fall Leaves Yellow Nail Designs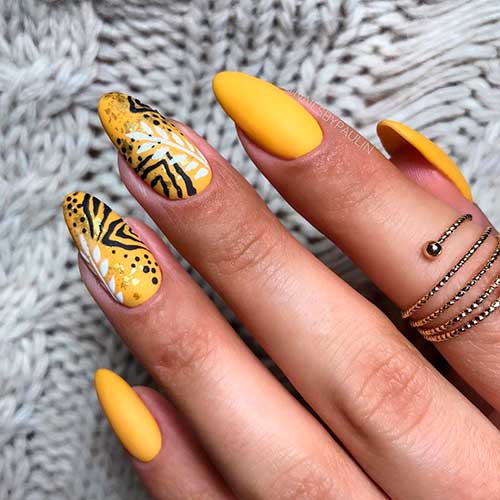 Take a step in nature and allow your beautiful fingers to be your guide. Of course, this leaves a manicure, not like the rest, and is as exceptional as you are. Furthermore, the subtle white leaves combined with black graphic designs look amazing and gorgeous against a nude base.
Then paint three fingers with bold yellow nail polish, and leave the rest with patterns. Besides, you can choose any nail length or shape for this style. Indeed, it looks amazing with everything.
3. Tartan Yellow Nail Designs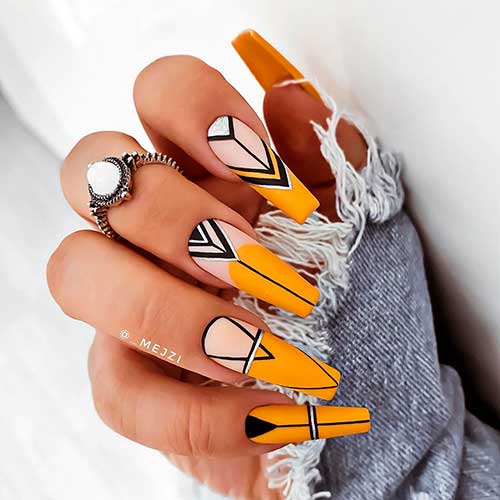 This 1990's design will surely make your nails stand out from the rest. Seeking inspiration from the teen movie Clueless, you'll be the coolest lady in the room with this sleep manicure. Put a contemporary spin on the conventional French tips by adding a white shade at the base of your fingertip.
4. Yellow, Gray, and Black Nails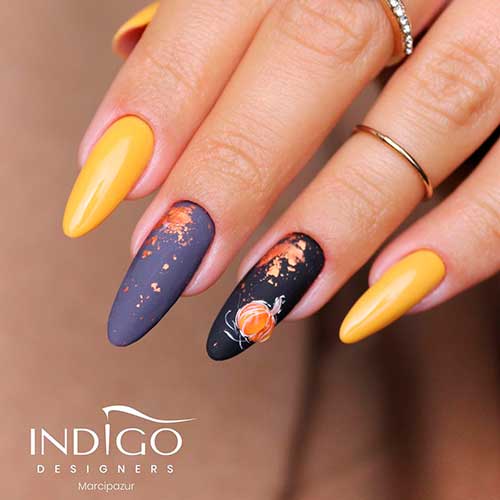 Yellow, black, and gray are some of the most astonishing and striking color combinations, and they surely make a remarkable statement. Throw in some silver, and you will have yourself a remarkable manicure.
Allow the darker color to sit intermittently in your nails, or form it into a flower print. It is a trendy addition to your clothing or outfit; it doesn't matter if it is night or day.
5. Yellow French Manicure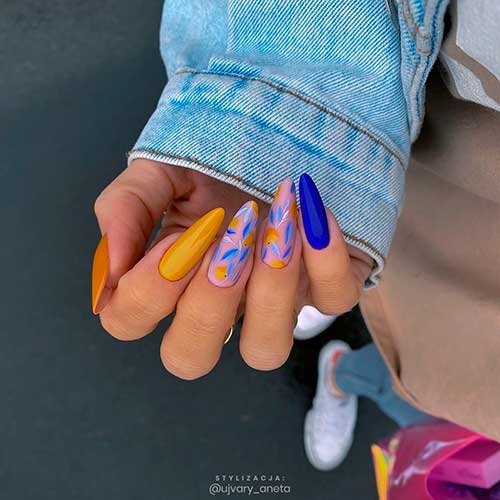 Fashion is about trying something fresh and new and experimenting. Therefore why end it with your choices of clothing? So, this super trendy manicure design has been turned on its head, due to the splash of light blue and off-white shade.
Not far from the typical French manicure, this type opts for a lemon hue in place of white tips. It's a superb choice for a night out on the beach or a day at the office.
To Conclude
At last, these are just some of the best and most amazing autumn yellow nail designs that are worth trying. Just, choose one that will meet your needs and your styles as well. For more cute fall nails that use yellow nail color, check out this post "The Cutest Fall Nails Almond-Shaped for Autumn Season"!