We all love blue ombre nails! Indeed, it continues to be one of the hottest trends among fashionistas, and we can say that its popularity is not merely hype. Plus, it is very fun as well. You can achieve your desired effect by integrating it with various nail polish colors.
So, here, we've covered some cute nail ideas for you to try. I hope you love them as much as we do!

1. White and Blue Ombre Nails
Of course, white and blue could play a great team in your nails. One latest trend we can recommend is the ground radiant with a lighter color surrounded by a deep combination of a darker coat and placed in the plate's middle. Trust us when we say you wouldn't be able to take your eyes off this gorgeous artwork.
Furthermore, the transformation of dark blue and white colors is extremely well-balanced and unstrained. Think of a deathless ocean, and it's as if you're looking at it through this combo.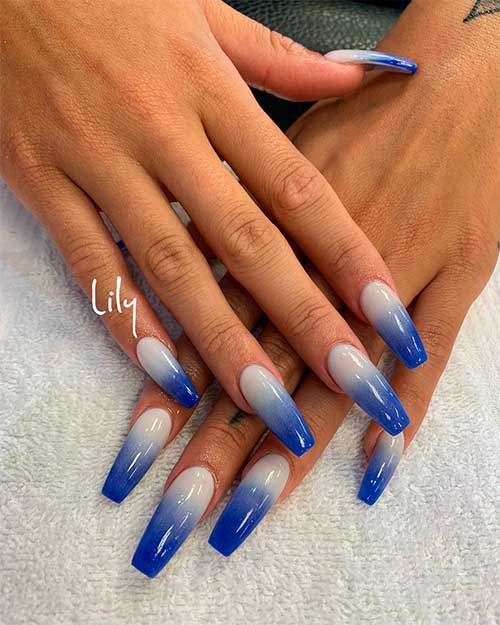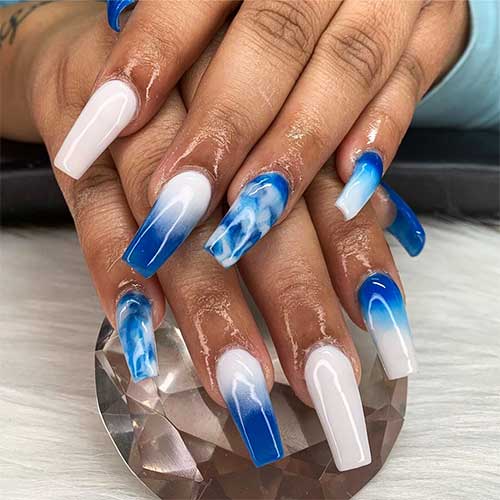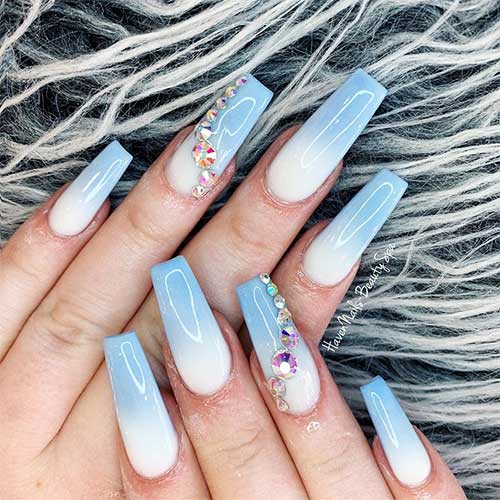 2. Pink and Blue Ombre Acrylic Nails
For your next appointment, think pink! Additionally, a mixture of pink and blue ombre is an intricately feminine option. Add a touch of acrylic to capture the elegance of ombre nails. The paint is just easy to blend and quick to dry. Also, it leaves fewer chances of damage or irritation to the nails. In addition, you can add some sparkly glitters to make it more fun and a catchy statement.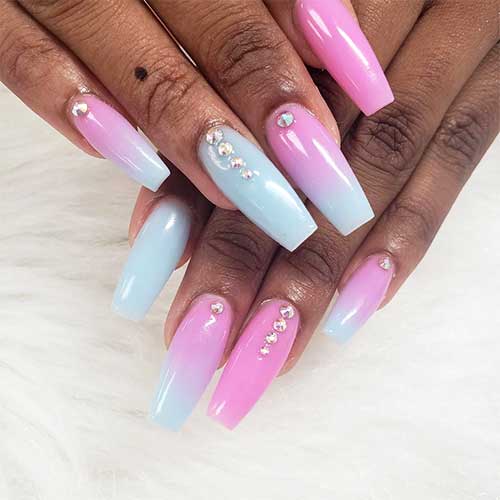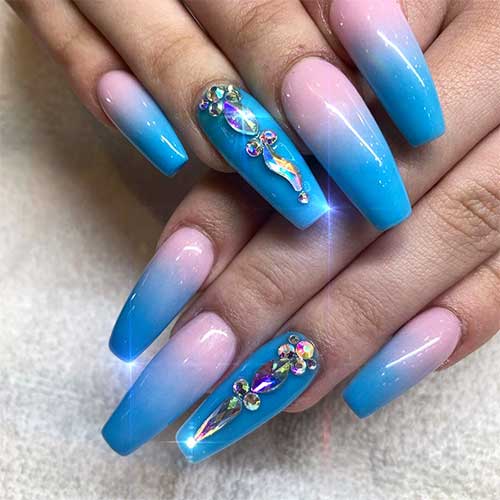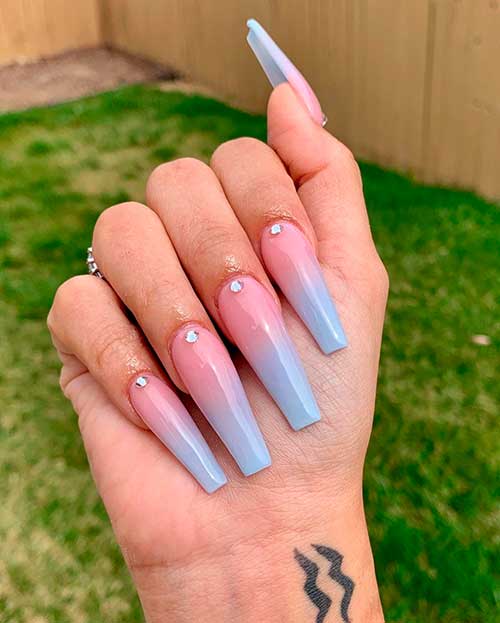 3. Baby Blue Ombre Nails Ideas
The next cute nail design idea we have is so modern and trendy. Of course, baby blue ombre nails are reminiscent of waves. So, they will have you thinking of beaches and drinking on your ever-favorite margarita. Dipping it in glitters will produce a very soothing and calm effect. Besides you can wear it no matter what the occasion and weather are.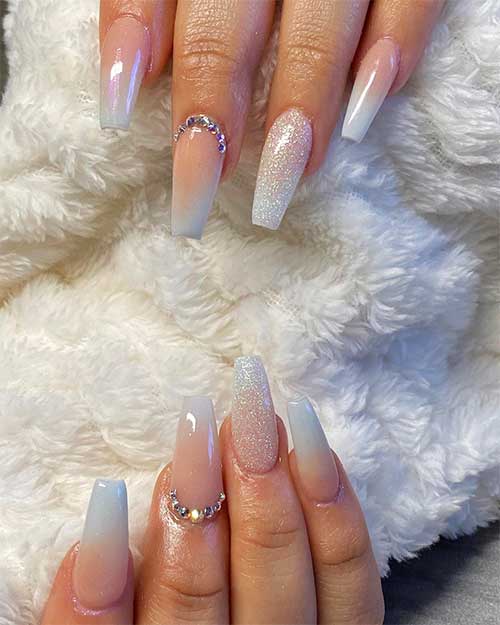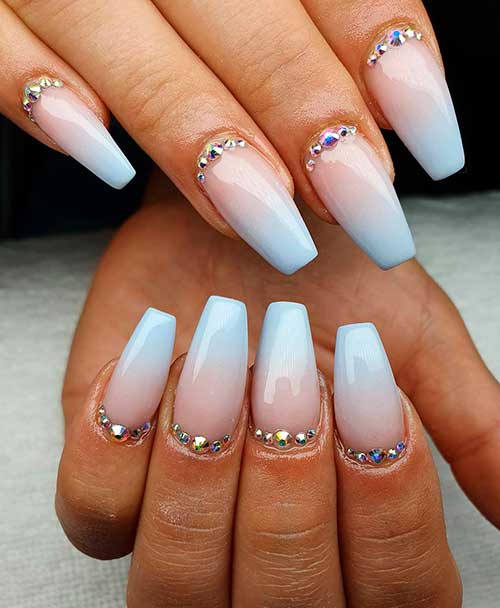 4. Royal Blue Ombre Nail Designs
Indeed, royal blue is cute and classic. Further, it satisfies cool easy ombre nail designs you can do at home. Perhaps, you can combine this shade with gloss and keep your nails long. A few rhinestones would help in giving a couple of nails a distinct accent. Especially if you want to stand out while keeping a classy and unique look, this ombre nail design can easily match any outfit. Perfect for all occasions!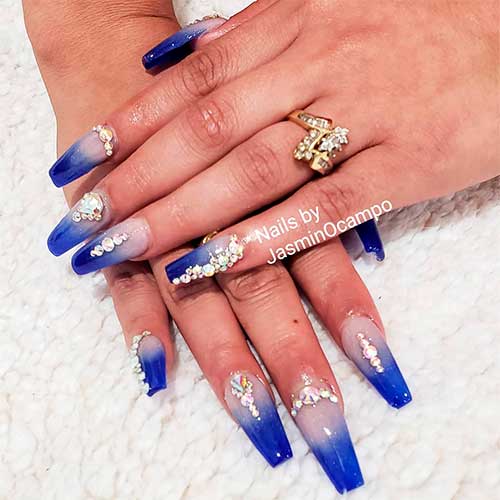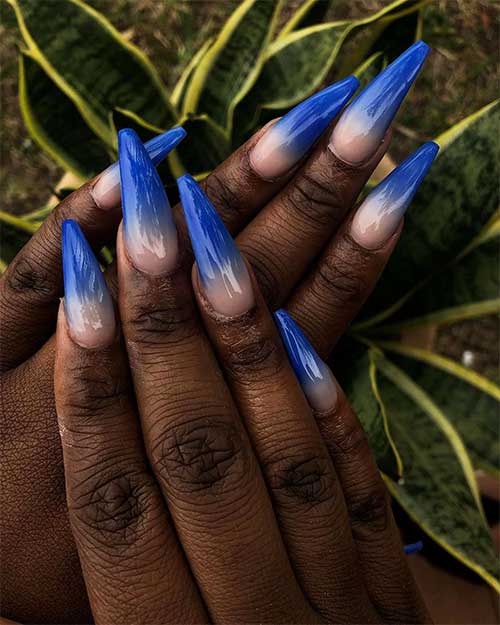 5. Navy Blue Ombre Coffin Nails Designs
Level things up with navy blue ombre coffin nails. Also called a ballerina-shaped nail, the coffin nail is a stylish, fresh look for manicures. The nails curve in the tip as they are squared off to produce a visual edge and interest. But why not mix things up with glitter, jewels, and gloss? You'll surely stand out with a unique combination like this. For instance, rhinestones could give your nails some serious glamour.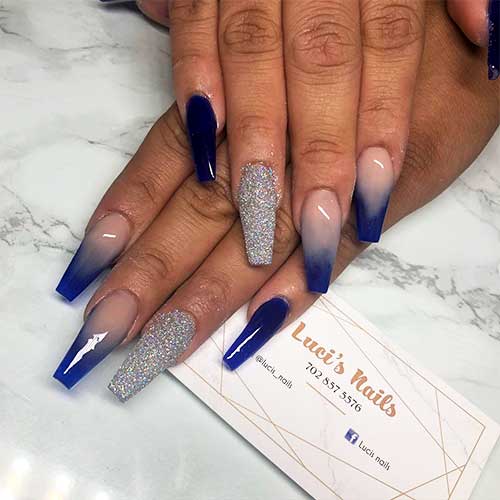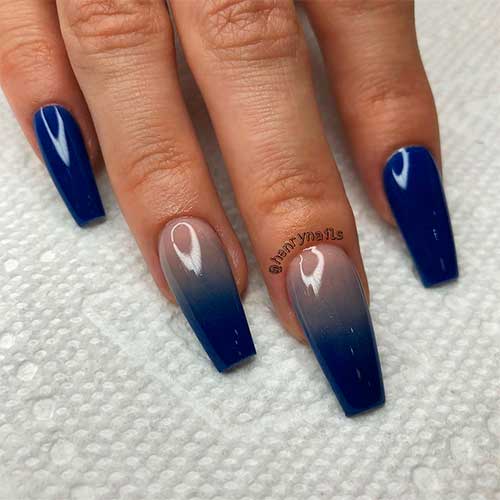 6. Matte Blue Ombre Nails Designs
Still, matte nails are so attractive and really worth trying no matter if it needs maintenance but we promise you will wear eye-catchy nails. Especially blue matte ombre nail shades and shapes are all amazing, so here are some designs for inspiration.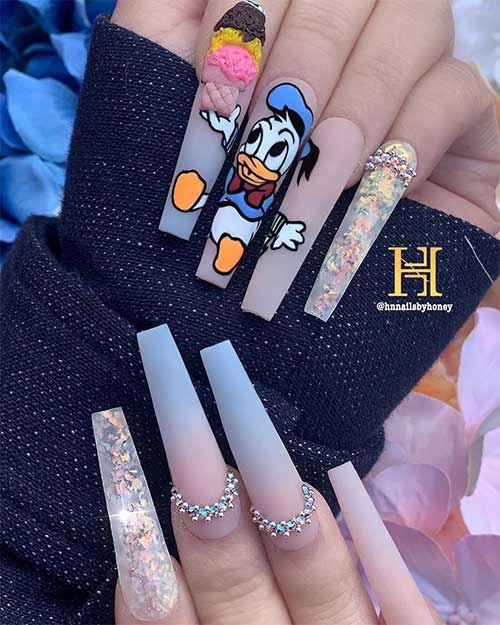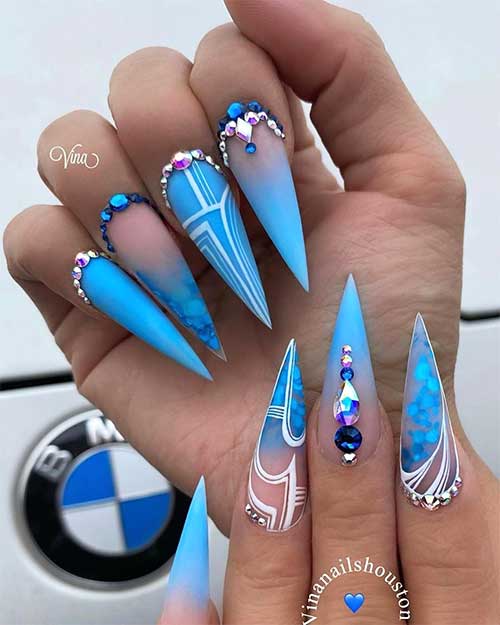 7. Blue Ombre Easter Egg Nails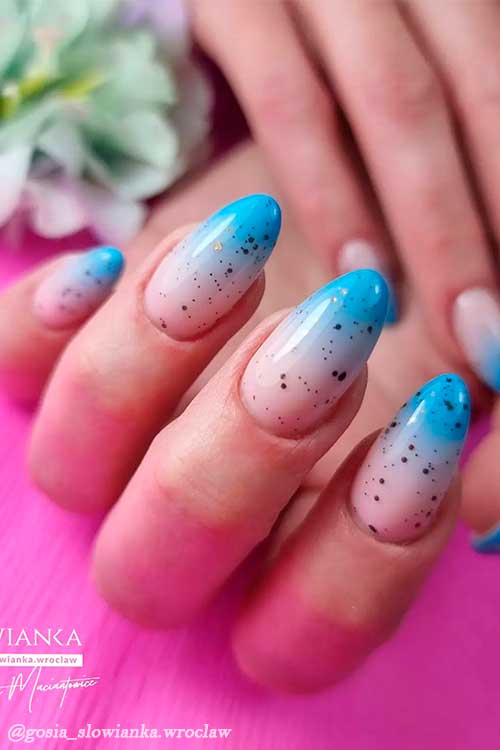 At last, are you going to settle for common, simple shades when you can brighten your world with these cutest blue ombre nail designs? Remember that your nails also play a crucial role in helping you achieve a chic impression. These cute nails are being worn by celebrities as well as adored by fashionistas. Be creative and have fun!
8. Turquoise Mint Blue Ombre Nails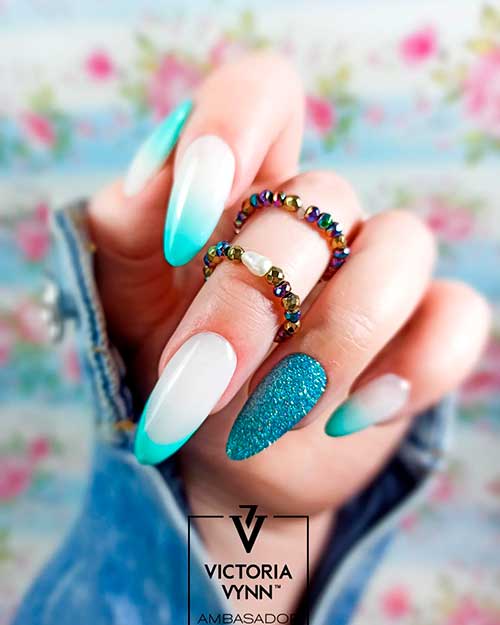 Indeed, this nail color brings calm and serenity to the soul. Additionally, this light color is suitable for spring and summer vibes. So, this design will be a great choice that catches all eyes.
9. Shimmery Royal Blue Ombre Nail Design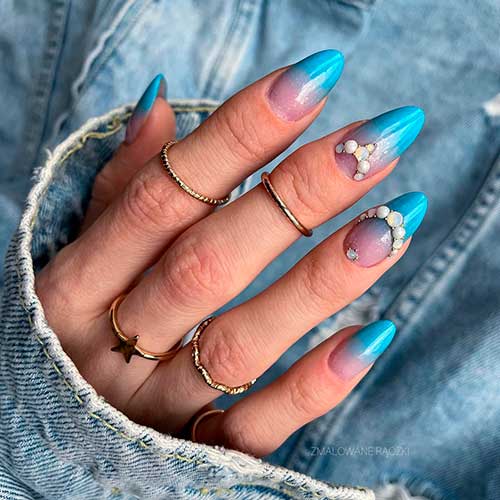 Indeed, this beautiful blue shade is worth wearing. So, it's true, I will admit it. I love shimmer nails with an ombre effect. Also, I like the way it looks in royal and ombre colors. Of course, this nail art design is a great choice to wear an ombre nail style.
10. Blue Ombre Nails with Silver Glitter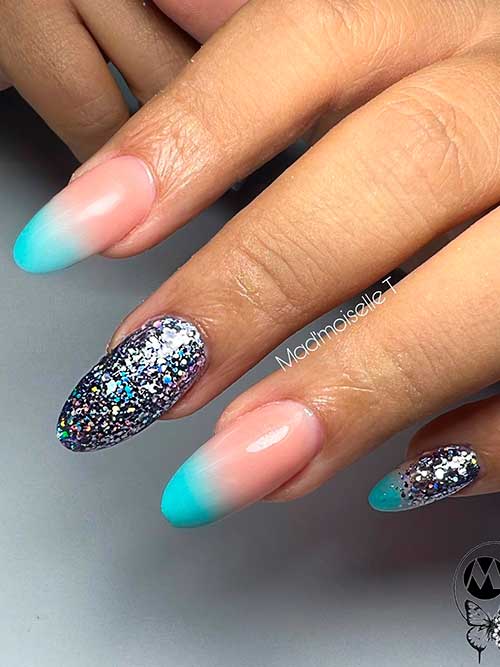 Blue ombre nails will brighten up the world and make you look chic. They are often worn by celebrities and fashionistas alike. They are also awesome for summer and spring times. So, first, choose your favorite blue nail polish shade. Blue is one of the cutest summer nail colors, so you can start experimenting with a light blue shade. Additionally, if you want to try out an unusual nail design, you can opt for silver glitter accents.
11. Matte Blue Ombre Nails with 3D Flowers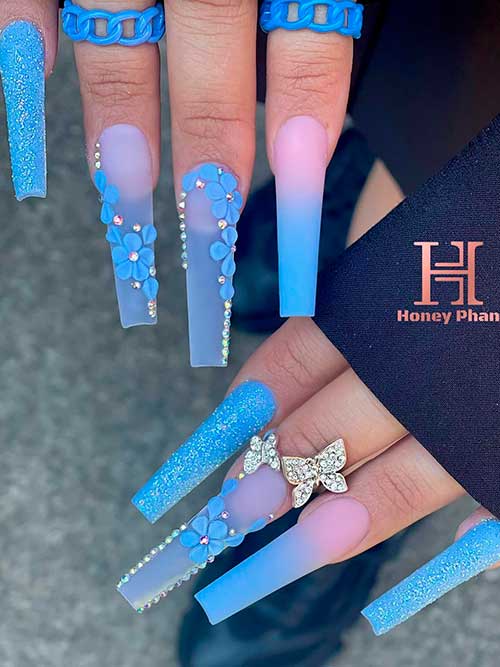 If you're looking for a chic and ultra-feminine nail design, matte blue ombre nails with flowers are the way to go. Besides, the ombre effect can be glossy. You can also choose the base color, which can be a soft pastel, bold color, or a combination of both.
12. Long Ombre Blue Nails with White Swirls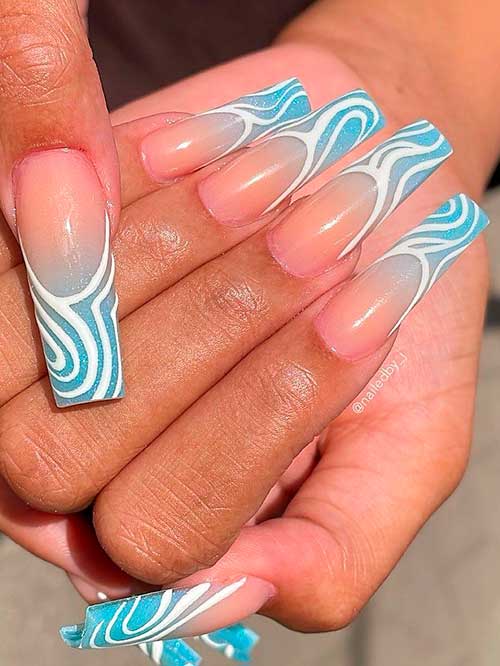 Light and nude blue ombre nails are a popular nail style this time. They are a subtle way to stand out but are still eye-catching. Also, you can add white swirls on the tips which make this look amazing on just about anyone!
13. Short Baby Blue Ombre Nails with Embedded Sparkling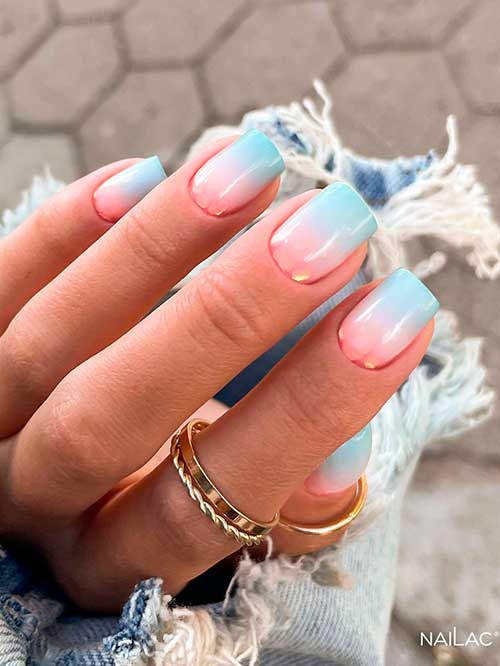 Blue ombre nails are an excellent choice for a flawless manicure. These nails are created by making a gradual transition from light blue to white, giving your fingers a subtle transition and contrast. You can also try to add some shimmering particles above the cuticle area. Then, enjoy your cute nail design!
14. Ice Blue Ombre Nails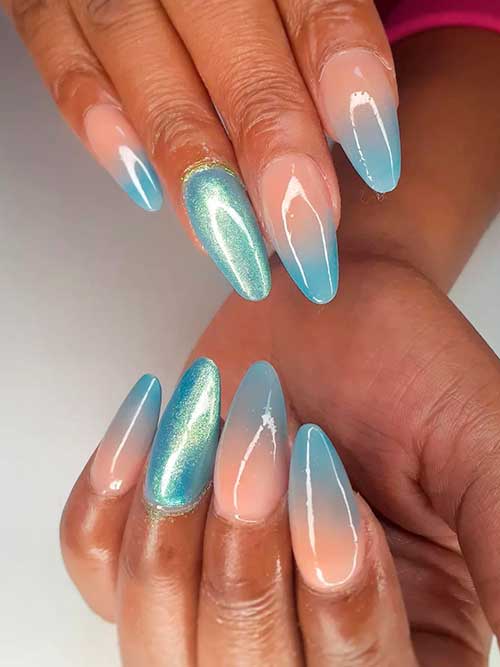 Whether you want to show off your fashion sense, your love of nature, or your beauty, ice-blue ombre nails are a perfect choice. Also, you can even add a metallic ice blue accent nail to give the ombre effect a bit more oomph.
15. Blue Valentine's Nails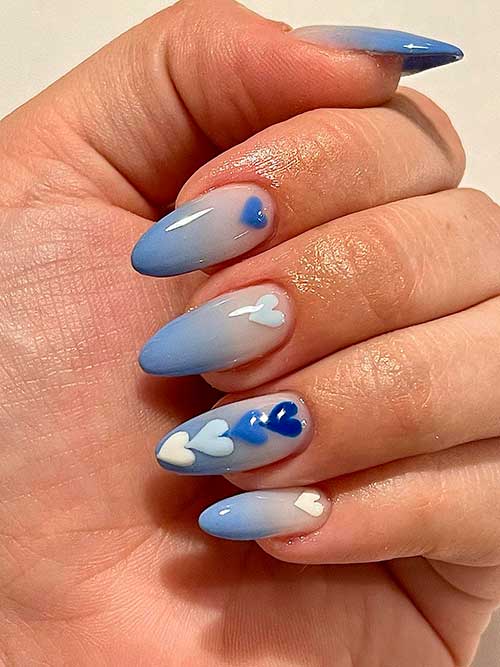 If you're not a fan of the classic red and pink for Valentine's Day, try this ombre blue Valentine's nails with heart shapes. Of course, this is a cute and unique nail style to show your love on Valentine's Day!
16. Light Pink and Blue Ombre Nails with Glitter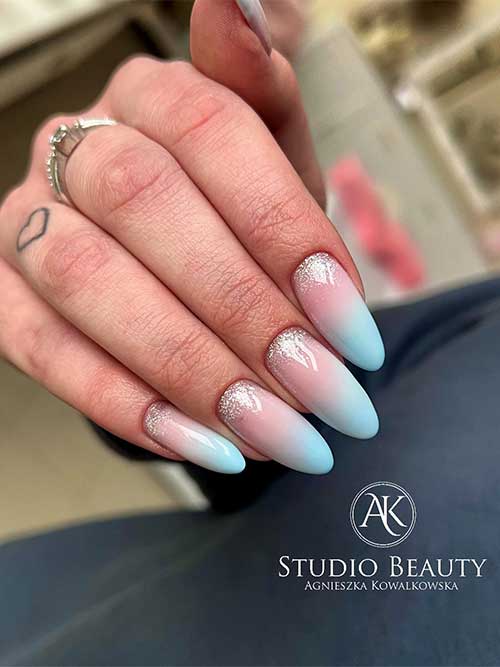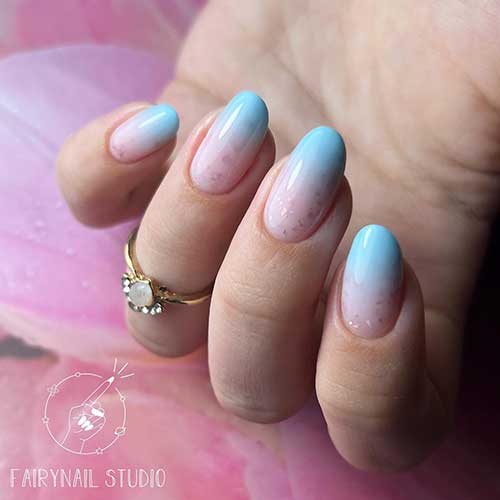 Whether you love medium or long nail shapes you can wear beautiful pink and blue ombre nails. Besides, the glitter can boost your nail look. So, you can add glitter above your cuticles or all over your nails as you prefer.