Black nails are very interesting, and not a lot of people try these types of nails. But if you are interested in them, you are lucky since I am going to give out different ideas of black coffin nails that you can choose from. Of course, you can make these black coffin nails look incredibly glamorous, while still keeping your nails practical. Luckily, these nails are easy to achieve. Trust me, all of them will fit you. Let's get onto it, shall we?

1. Black Glossy Coffin Nails Designs
If you like gloss, this is the style of nail art for you. So, it is just simple black nail ideas that have some gloss. Because glossy nails are a very popular choice among people. Indeed, if you are trying with some glossy black nails, you'll stand out. Also, it gives out that dark and mysterious vibe, especially with the gloss, also don't miss trying a matte and glossy black nail set. Also, you can pair it with hand accessories to enhance its beauty.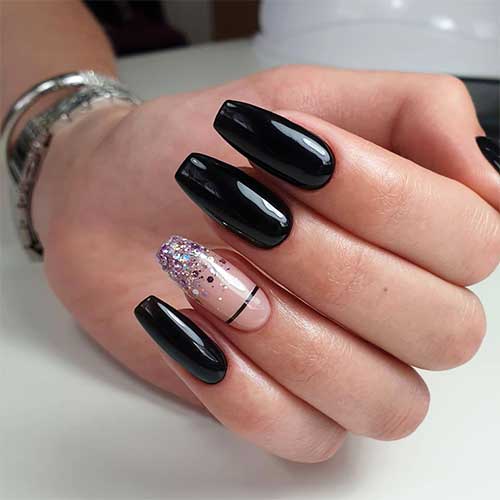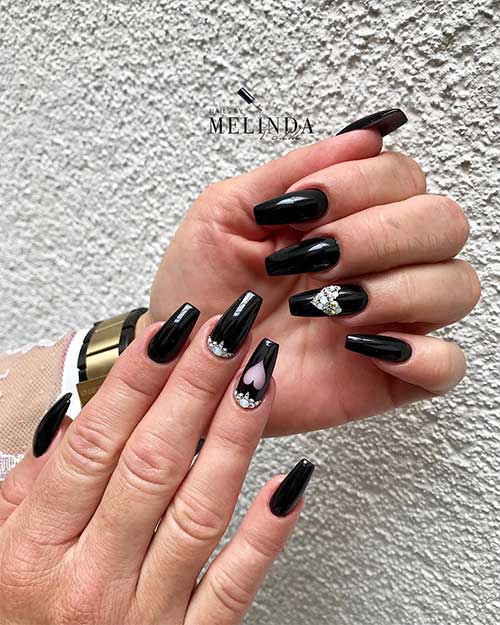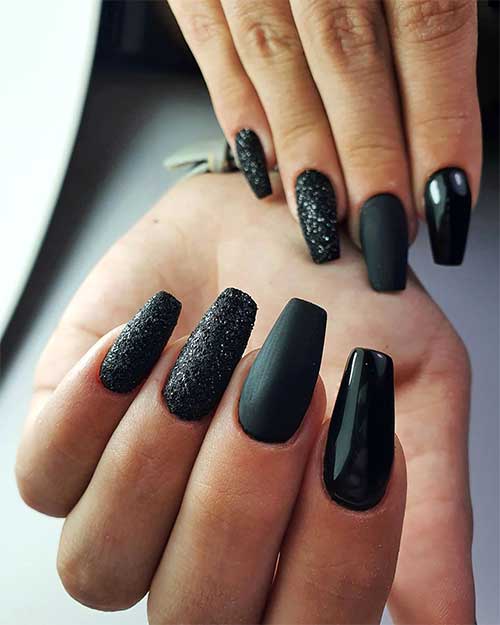 2. Matte Black Coffin Nail Designs
These are another elegant black nail style, which is matte. So, I think there are many women who like matte nail art. Besides, if you opt for this nail style, it can provide you with a classy look. Indeed, with these unique nails, you will enjoy a lot of compliments every day. Also, I would love to try them sometime around after quarantine is over.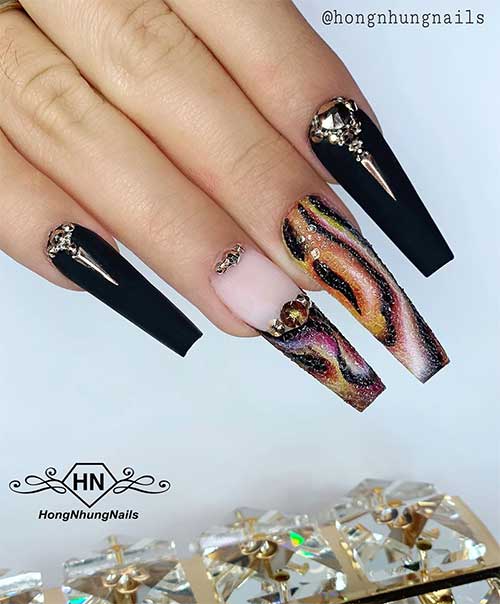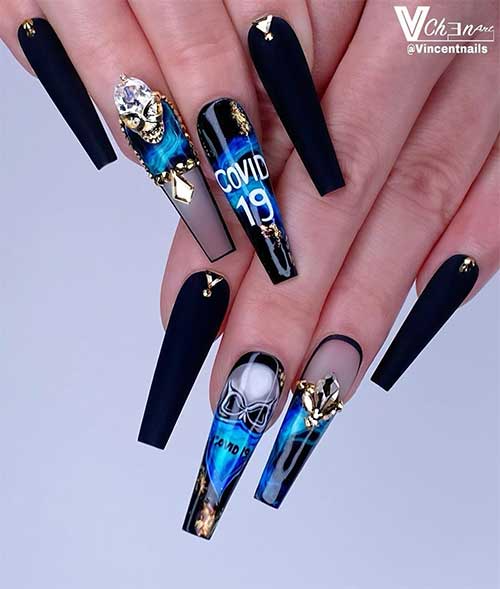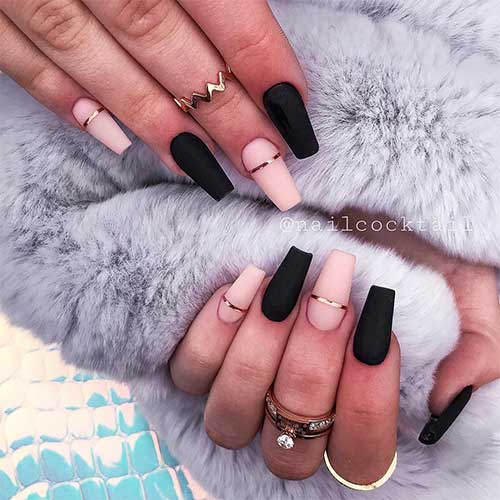 3. Matte Black Coffin Nails With Gold Foil Designs
Don't want something simple? Try to go for some gold foil nail designs with your black matte nails. I definitely never heard of foil designs ever in my entire life, and it looks very interesting in photos. Additionally, this is something that I'd probably go for if I am filming a music video that has some dark vibes. Every woman deserves to be a queen, and these elegant nails will surely fit you. At last, I recommend that you pair them with some long nails.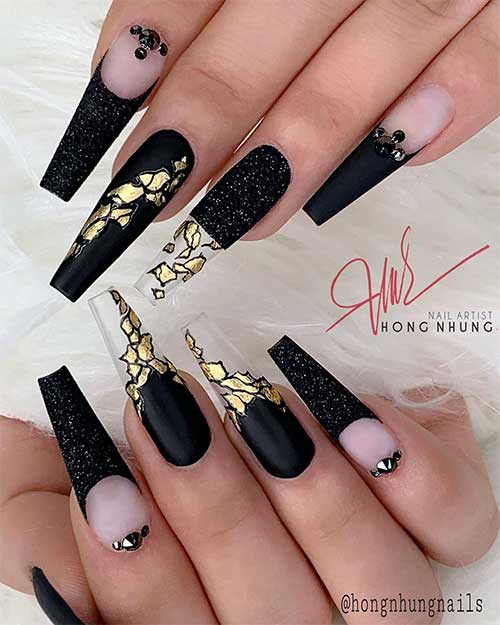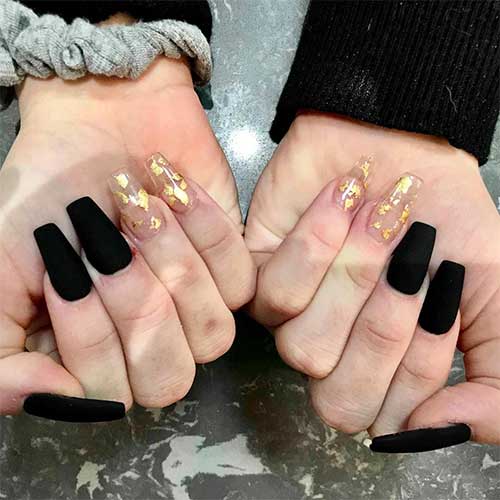 4. Black Coffin Nails with Gold Glitter Designs
Still, a lot of people like to add some glitters to their nails, and I don't blame them, glitters are very nice to add to your nails. In addition, you can use glitters in many different ways. So, you can add them onto one nail and leave the for with black coffin nails or add the glitters to the edges of the nail to give that ombre the look. Further, there are many more ways you can add glitters, and all of them will look amazing.
Like the matte black coffin nails with the gold foil designs, you will look royalty with these kinds of nails. Also, it gives off that " I am the princess of darkness " vibe, and I love it. Of course, black and gold acrylic nails coffin shaped are the best!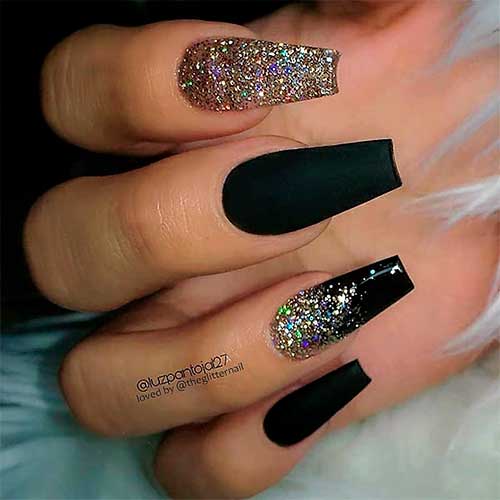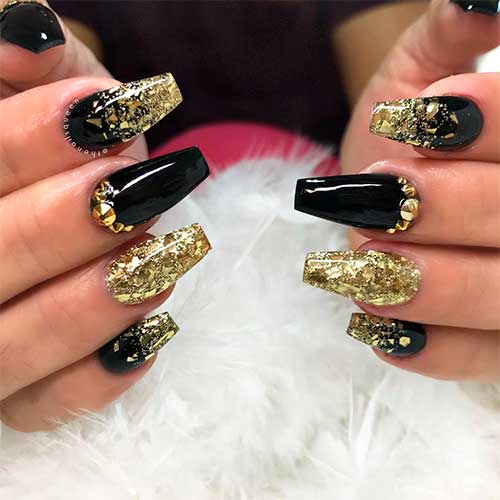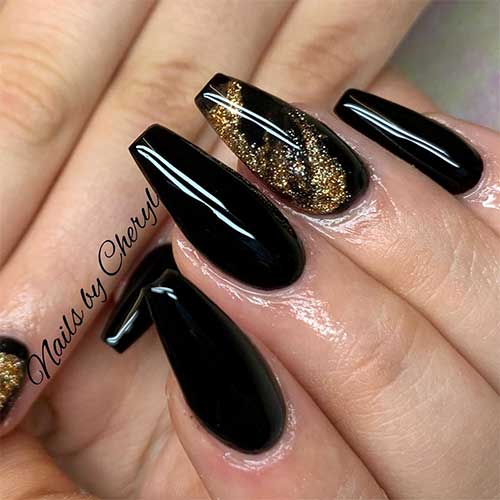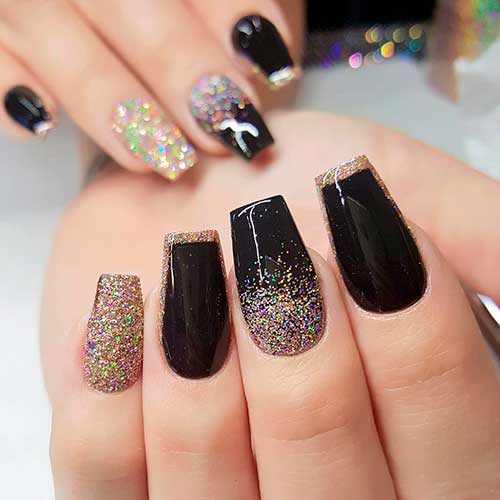 Black Coffin Nails with Gold Adorn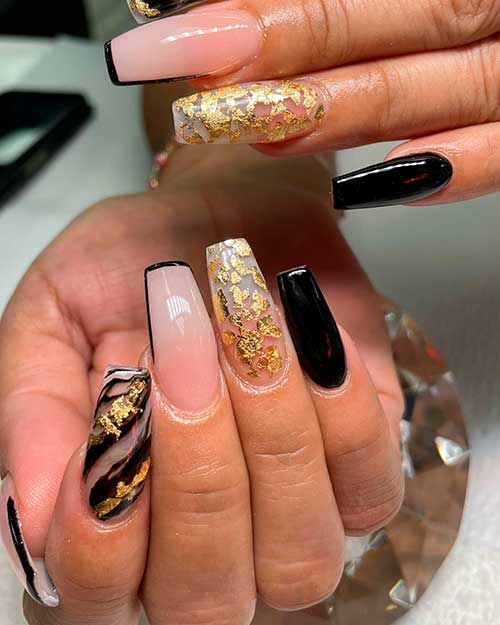 The black and gold coffin nail design is an attractive way to adorn your fingers and toes. So, you can use a variety of different nail styles to give your nails a unique look.
5. Black Ombre Nails Coffin Shaped Designs
This is for the people who are in love with ombre nails, and black ombre nails are just the best! Indeed, I prefer the black ombre nail style look, and most other colors can match perfectly the black color. So, there are many options for you. Furthermore, using some glitter or rhinestones can elevate the entire nail art design look. Additionally, this would also look more amazing if you go for some long nails.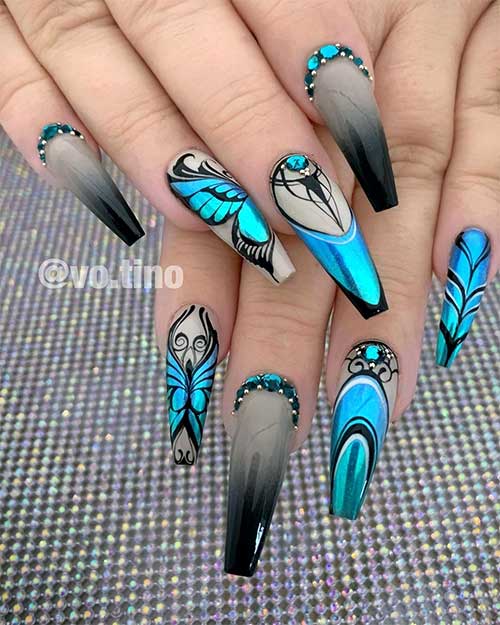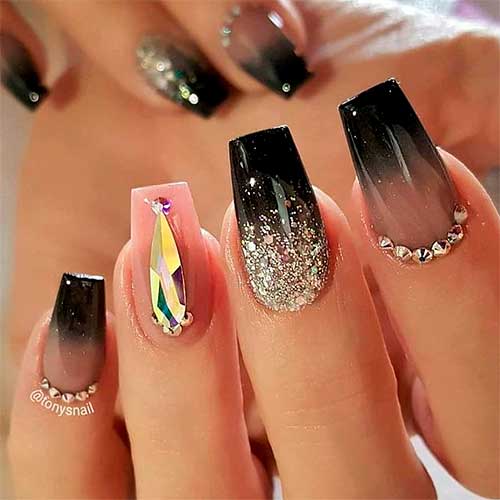 6. Matte Black Nails with Marble Nail Art Idea
You can create your own matte black coffin nails at home. But white and marble nails need some effort to achieve. So, you can find press-on nails that give you the exact effect or make a visit to a salon. Of course, this look is so classy and worth trying.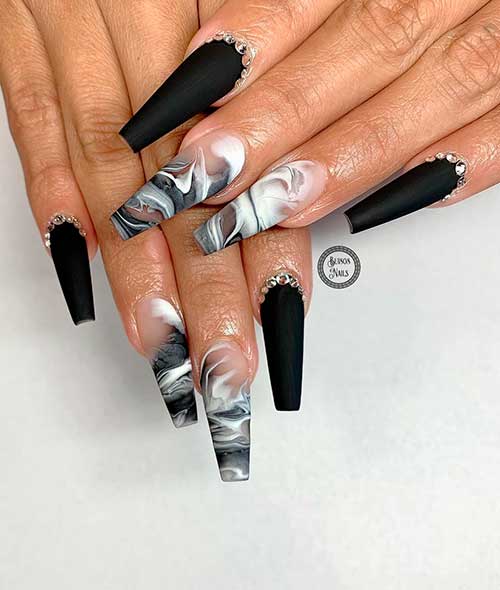 Black nail art ideas are endless but when marble nail art is blended with matte black the result will be awesome as you see. Try to wear this nail art design and you will never regret it.
7. Glossy Coffin Black French Tips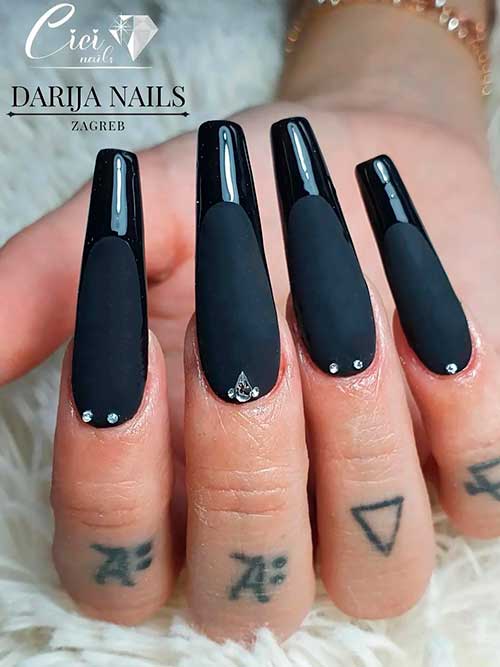 For an unexpected twist on the classic French tip, try a pair of glossy black French tips with a matte black base color. Furthermore, this dramatic nail design works on all skin tones and can be tailored to your own style.
8. Glossy and Matte Black Coffin Nails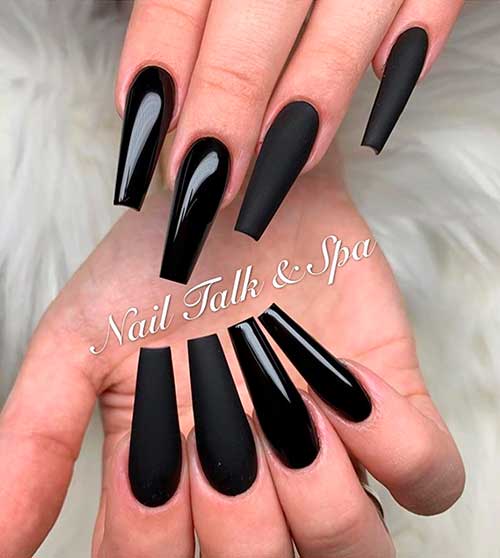 Black coffin nails are a classy choice for a formal look. Also, you can wear them in glossy and matte styles combination. Of course, Black is a classic color and looks great with most outfit colors.
9. Matte Gothic Coffin Nails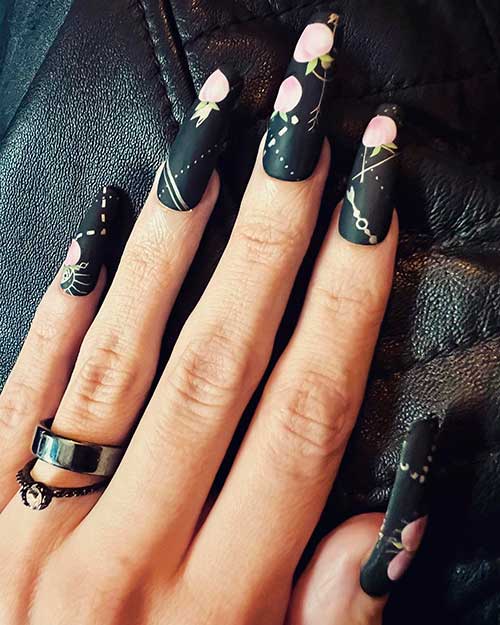 Coffin nails have an elegant matte finish and are great for Halloween parties. This nail design is often done in black to get the best look. Make sure to apply a matte top coat to get a nail style like this one above.