Christmas is near. We will celebrate it with our friends, families, and loved ones. Everybody gets busy decorating their houses with Christmas-themed accessories. But did you know one thing that can boost your Christmas soul? Well, it is to make some Christmas snowflake nails at your home.
We are here to give you a helping hand to shift your fall nails to Christmas ones before December 25th. Are you getting problems with your not-so-steady hands? Well, don't worry since the following nail art designs allow you to use stencils, press-on, and nail stickers. Feel Christmas with these five cute Christmas Snowflake Nails. Get your tips ready! Here are some easy-to-do snowflakes nail art designs.
1. Matte Snowflake Nails with Glittery Accessories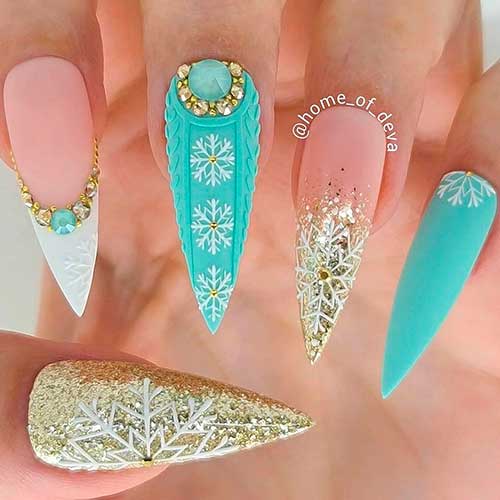 No matter the shape of your nail, this Christmas-themed nail art design is perfect for you. This design looks perfect on matte nail polish. You can use some starry glitters on it for an extra fancy look.
2. Red and Black Base Snowflake Nails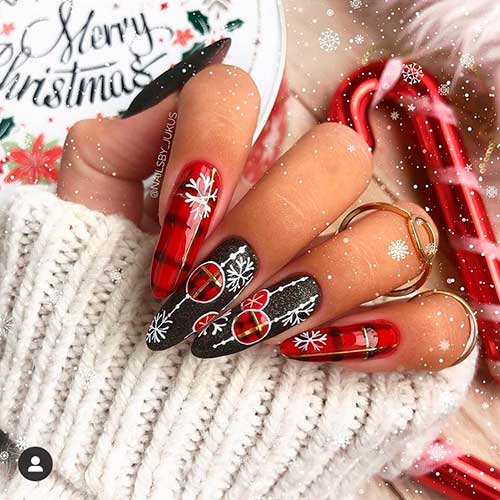 A popular color combination used to paint a girl's nails is black and red. As you can see in the above photo, you can cover your fancy nails with a cute snowflake design. Black and red will never go out of trend, especially during the Christmas holidays.
3. Icy Blue and White Snowflake Nail Design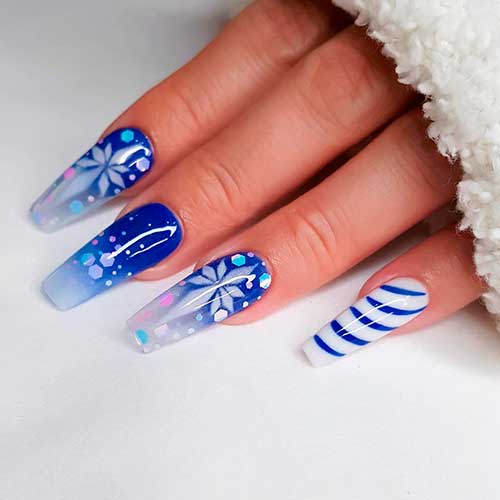 White and blue is another perfect color combination to show off the chilly breeze of Christmas. Snowflakes are a well-known design that represents Christmas. Give your tips an icy look with this snowflake nail design.
4. Hot and Cold Snowflake Nail Design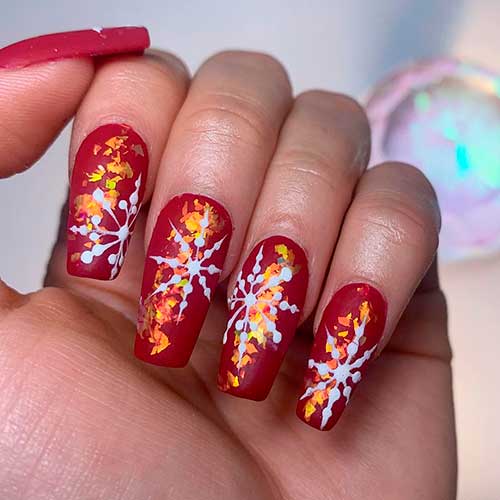 One sizzling and cute nail design to paint on your nails this Christmas is the Hot and Cold Nails. They compose this design of two different colors; red which represents your hotness, and white which represents your cuteness.
Paint each nail with a red base coat and top it with one big snowflake in its center. This cute nail art design is perfect to wear during a casual and formal Christmas date with your loved one.
5. Shining Black with White Snowflakes Nails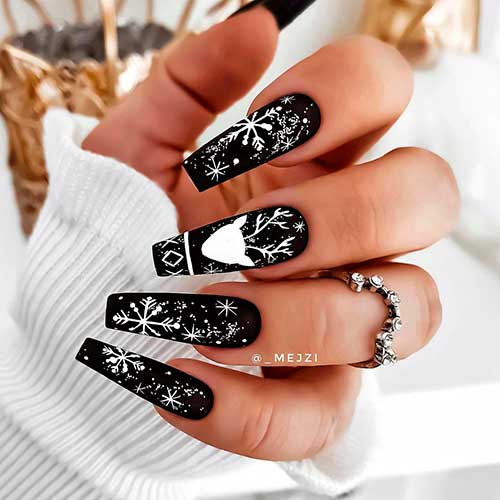 Last but definitely not least, the Shining Snowflakes in Black is a good nail art design for those with long squared nails. To do this, coat your tips with matte black nail polish. Wait for some minutes until it gets dry. After that, design it with some tiny droplets of snow and one big snowflake at its side.