Indeed, adding short black nails to your manicure can be very classy. They can also be very simple. Besides, you can create them with black nail polish or add glitter to your polish to create a unique look.
Black nail designs are always the best choice for the autumn/winter seasons because this color is the most classical one. Go for this black-inspired manicure if you are looking for a boost to your entire look not just for making a fashion statement with your claws. So, in this post, we will show you some cute short black nails which, will act as inspiration for your next manicure. Let's get started!
1. Cute Short Black and White Nails Idea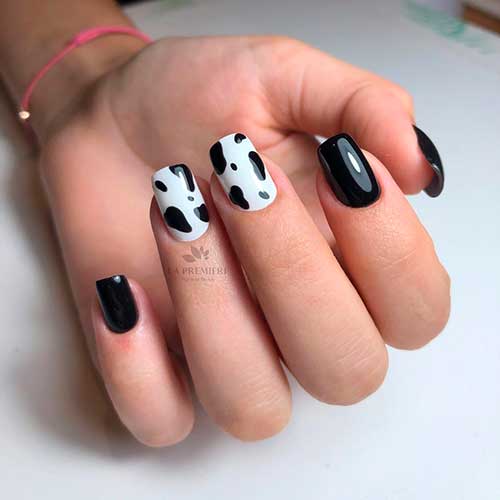 Go for these stylish black nails if you're looking for something special. Also, this design features glossy squared-shaped short black nails that are so cute, and the two accent cow nails make this nail art so attractive.
2. Cute Short black and gold nails Idea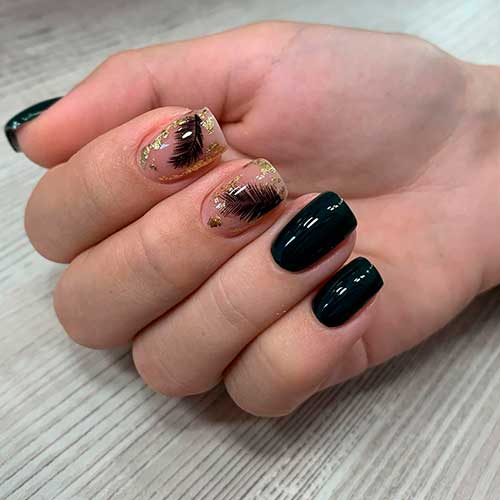 Of course, I love these black nails, and I think the gold foil patches and the flying fall leaf suit the autumn season. So, don't hesitate to opt for these fall-themed nails, and you will never regret it.
3. Stunning Short Matte Black Nails Idea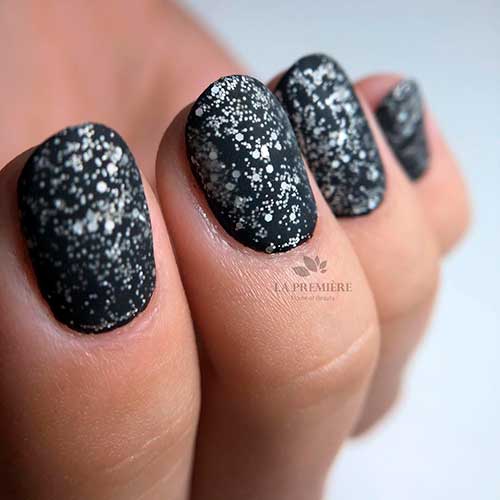 If you opt for this nail art design will make everyone stare at your hands even you won't stop looking at your nails. Undoubtedly matte black nails are so cute especially when paired with silver glitter as you see.
4. Amazing Short Black Nails with Two Accent Glitter and Cheetah Nails Idea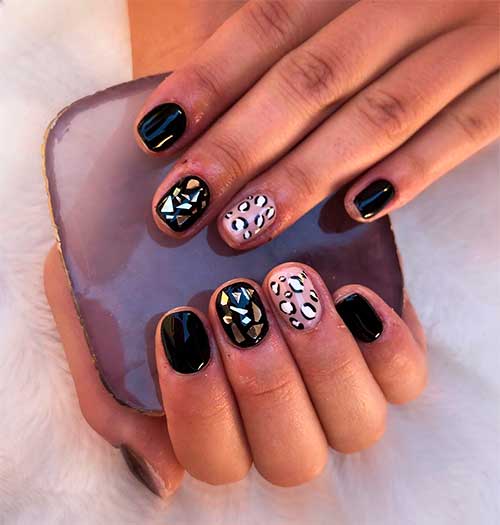 As you can see the two accent big flakes of glitter and cheetah nails give this black nail design a stunning look. So, it's time to try these short black nails and shine like a star among your friends.
5. Cute Short Black Gel Nails with Silver Rhinestones Idea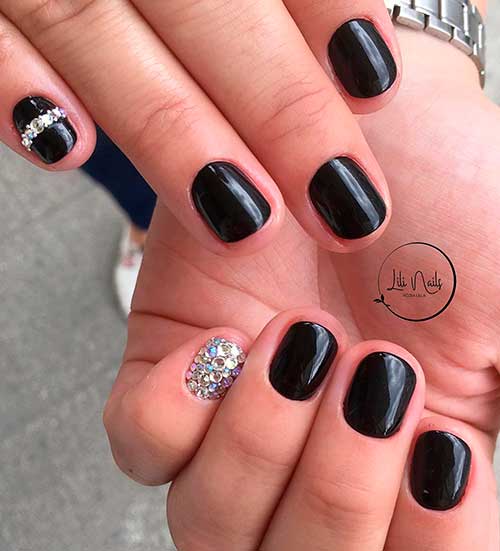 Are you looking for black nails with some sparkles? Then, opt for this simple sparkling short black nail design that is adorned with some silver rhinestones on pinky nails.
6. Elegant Square Shaped Short Matte Black Nails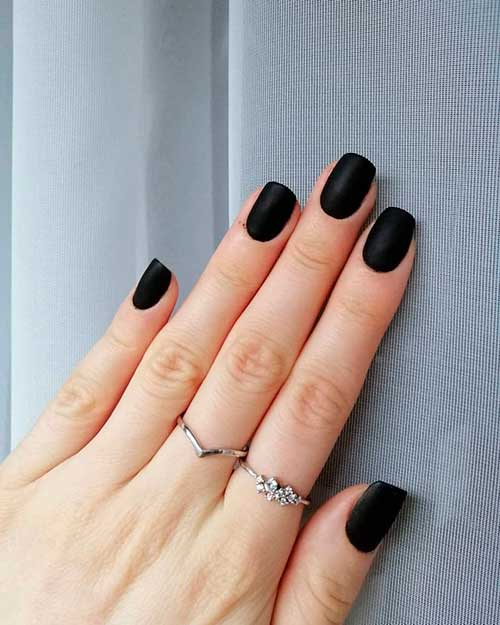 I'm in love with these simple matte black nails which, can suit any outfit in the autumn and winter seasons. So, it's a great idea to opt for these unique nails that will make you stand out from the crowd.
7. Stunning Glossy Short Black Nails Set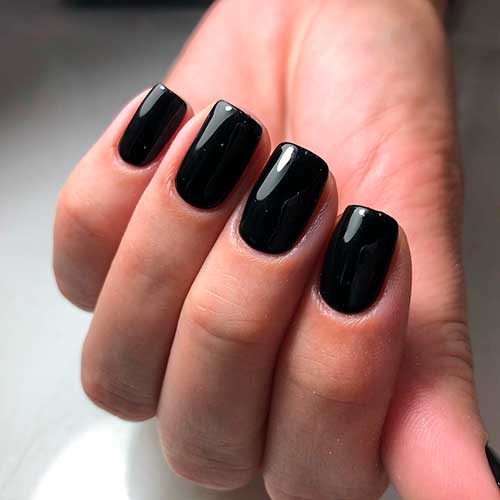 So chic black nails that really worth wearing not just in autumn and winter but may all year long. Of course, you can try this amazing winter/fall manicure and make a fashion statement that will draw others' attention.
8. Short Black Nails with Skull
Halloween Painting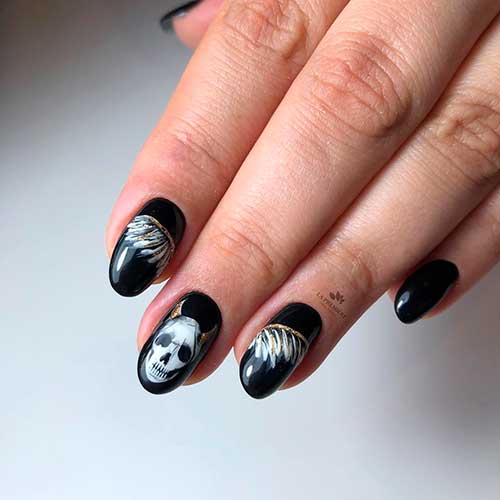 I really loved this hand-painted skull and wings over this short black nail set. Additionally, it's a simple spooky idea for Halloween!
9. Classy Short Black Nails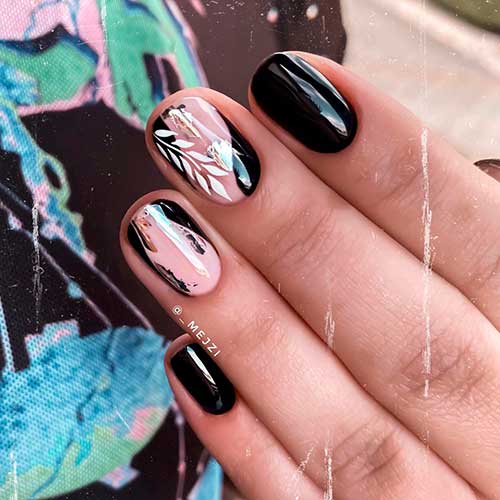 Indeed, this glossy nail art suits the autumn season. In addition, the two accent black and pink nails with white leaves are eye-catchy. So, go for this nail set that matches any autumnal outfit!
10. Perfect Black Square Nails Design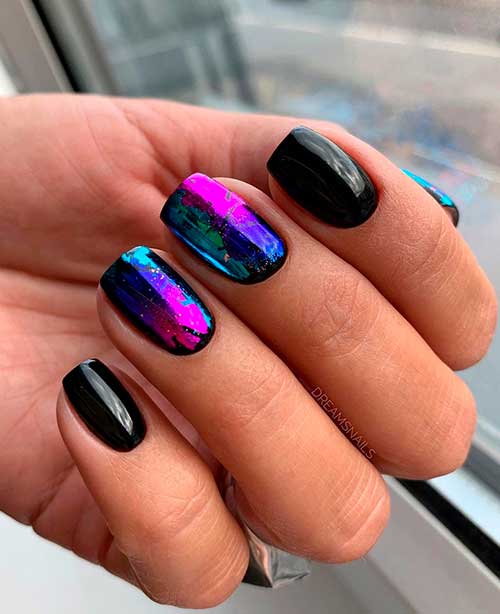 Indeed, these are attractive black square nails especially, those two accent nails with these perfect colors blending. But, you can try this idea by blending your favorite colors.
11. Black, Glitter with Leopard Nails Art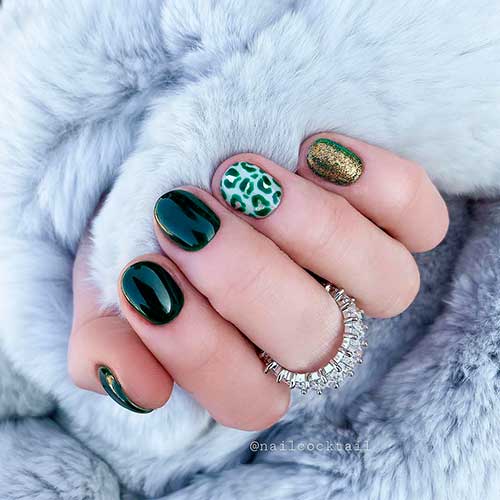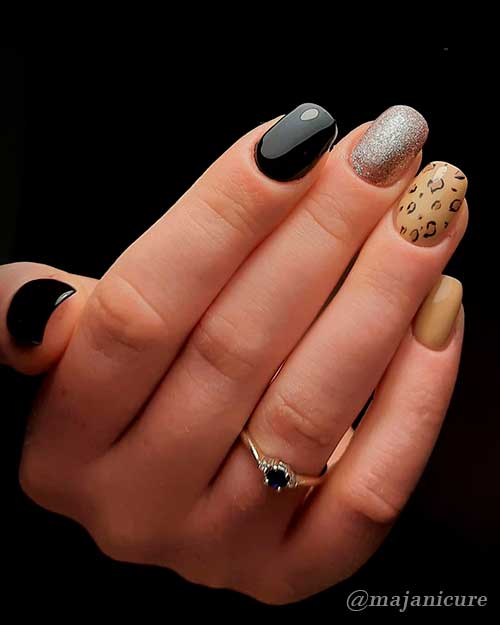 Bored by plain short black nails what about attempting to try animal print nails? Then, add your favorite glitter color on nails in addition to accent leopard print nails, and enjoy your unique nails look.
12. Glossy Short Black Nails with Heart Shape Nail Art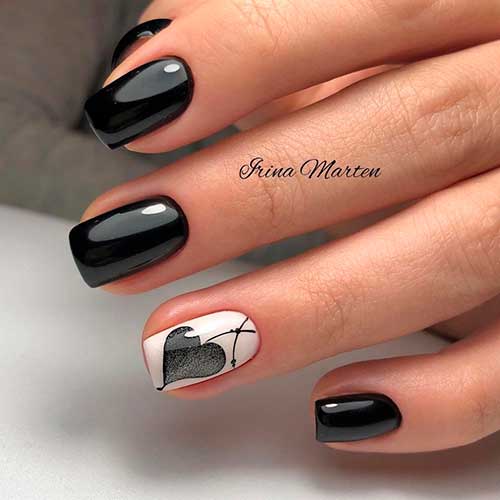 Of course, wearing a beautiful nail art design is easy when blending a heart shape nail art to get an attractive appearance and a unique look.