Fall is coming! Are you ready? Maybe you start thinking of your wardrobe clothes and your preferable cozy fall sweater comes to your mind! But what about the fall nails idea that you'd love to wear this season? No worry about that, you are in the right place because we will help you with a list of some stunning autumn nail ideas that will act as an inspiration for you.
Popular fall colors are muted colors inspired by fallen leaves and pumpkins. So, you can find the cutest fall nail designs combining burnt orange nails, olive green nails, or maroon nails. In addition, fall leaves glitter for nails, anyway whatever your favorite color for fall nails you will find it here.  Just let's get started!
1. Burgundy Fall Nails Design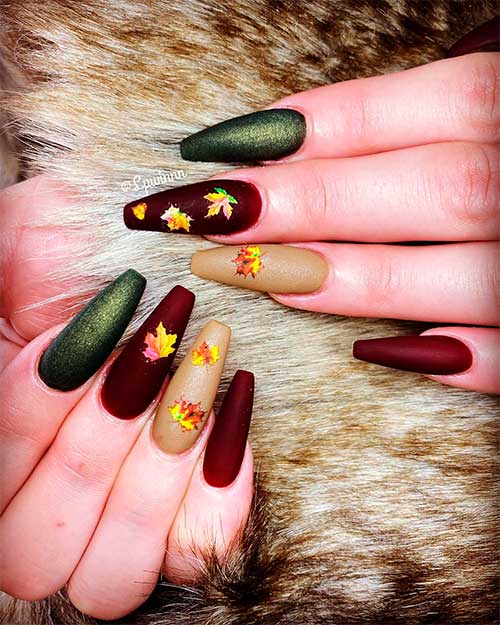 If you are a big fan of burgundy fall nails then this idea will suit you. Especially if you love matte coffin-shaped nails. So, try this nail art design that adds some fall leaves nail stickers. Additionally, you can use two accent nails with autumnal hues like metallic olive green nails, and nude-colored nails.
2. Glittery Inspired Autumn Nails Design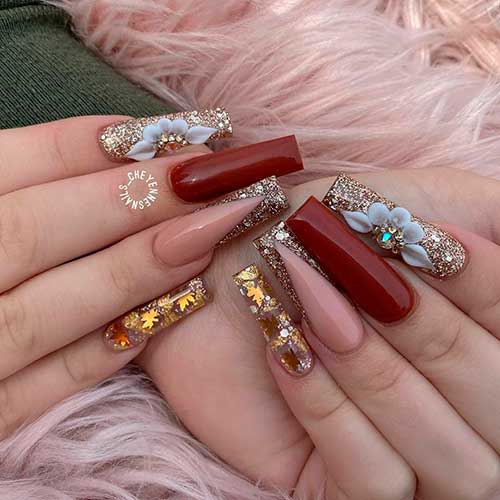 Are you one of the sparkle nails lovers? Then go for these glitter fall-themed nails especially if you love long nails. The design combines assorted long squared nails like glitter nails with 3D white flowers. Besides glitter V French tip on ring fingernail, long squared glossy brown nail, and encapsulated fall leaves glitter on the accent nail. Of course, this autumn nail design will help you stand out in the crowd.
3. Long Coffin-Shaped Fall Nails Idea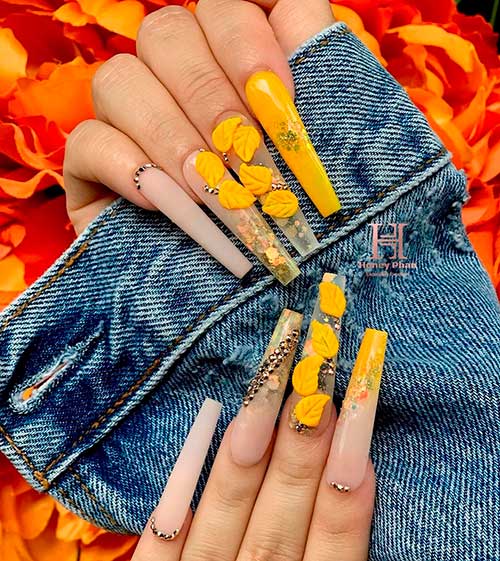 Another fancy fall nail with 3D burnt yellow fall leaves on clear nail tips is coffin-shaped. That adorned with encapsulated autumn glitter nails and some silver rhinestones. So, try these fall nails which, can take your manicure to a new level.
4. Stunning Ombre Autumn Nails Idea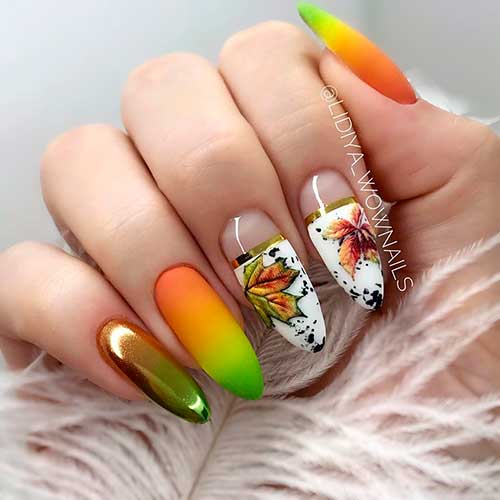 Do you want something special which, makes you so attractive? Then go for these gorgeous fall ombre nails and you will never regret it. This autumn nail design consists of two burnt orange to green ombre almond nails and two white almond nails with black patches, fall leaves, and adorned with gold strips, in addition to accent rose gold to olive green chrome ombre nails.
5. Cute Short Fall Nails Design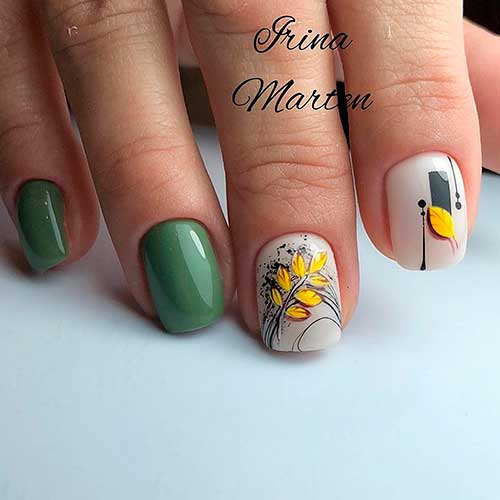 Short nails set is always chic and suits everyday life, and this squared shortfall nails idea is really amazing, I love short olive green nails and the burnt yellow leaves on two off-white nails which, are adorned with black lines, dots, and some patches. This nail art design is worth wearing in the fall season and will boost your entire look.
6. Burnt Orange Fall Nails Design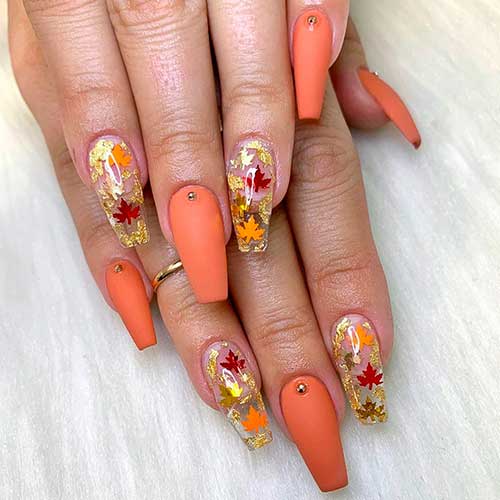 Stunning matte orange fall nails adorned with one silver rhinestone on the nail base combined with clear nail coffin tips which, are adorned with fall maple leaves glitter and some gold foil patches. Wearing these fall-themed nails will make you cheer.
7. Cute Autumn Nails with Attractive Autumnal Hues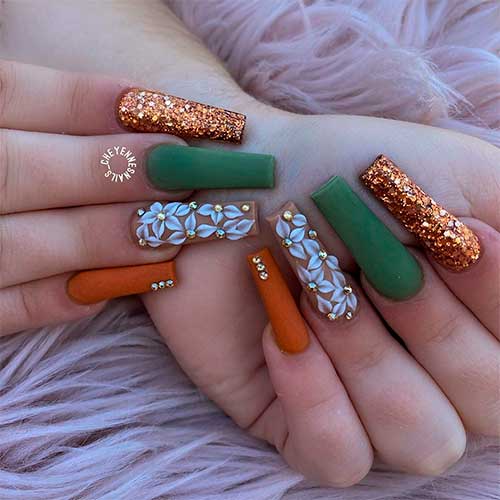 Indeed, this nail art design combines amazing fall colors applied on long squared nails like a matte olive green nail, burnt orange nail with three rhinestones, nude color nail with 3D white flowers with rhinestones, and cute gold glitter nails. Try this nail art design to boost your mood!
8. Orange Fall Nails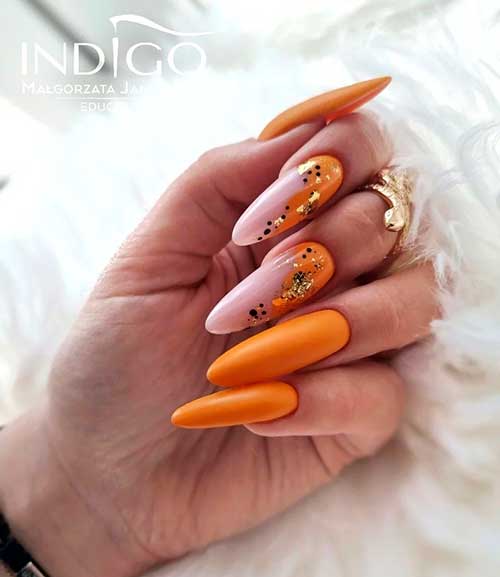 For a fall nail design, try orange nail polish on almond-shaped nails. Also, you can even add a touch of pink and gold glitter to your design, which will make your fall manicure even more fun.
9. Fall Olive Green Nails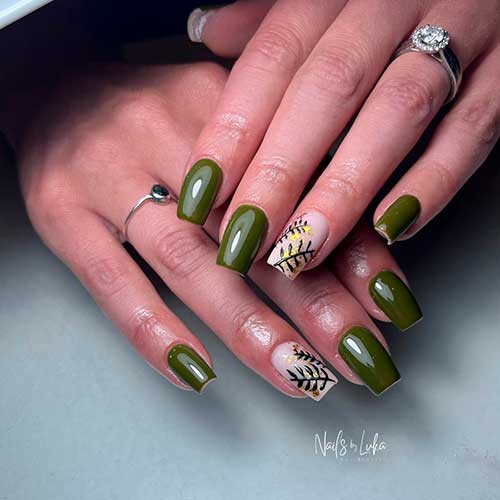 Of course, olive green nail polish is a perfect choice for the fall season. Indeed, this shade will look beautiful on your nails especially, when paired with leaf nail art. Also, this design can be worn to a formal event or a classic party. It will also boost your confidence and elegance.
Conclusion
At last, some of the above fall nails ideas are simple autumn nails you can DIY, but for the complicated designs, you can hire a professional to do it, or get some braveness and give it a try yourself with the aid of the tutorials on youtube, and enjoy your look in the fall season!