Different nail crazes and styles and tips have been popping up all over and on social media platforms like Instagram. Currently, one of the biggest crazes is V French tip nails. Say hello to the new era of nail art with stunning V cut French tip nails. This chic nail look is popping in all types and design aesthetics.
The versions of V-shaped French manicure designs have been seen mostly in almond shapes, mostly going for a subtle, softer color and look. Besides, the V coffin-shaped options are also perfect and widespread. Additionally, some are even more colorful and unique. Are you ready to get your nails done V French way? You're in luck because here in this article are some stunning inspirational V French manicure ideas you can try.
1. Go for a Classic Nostalgia, the V French Tip Nails Short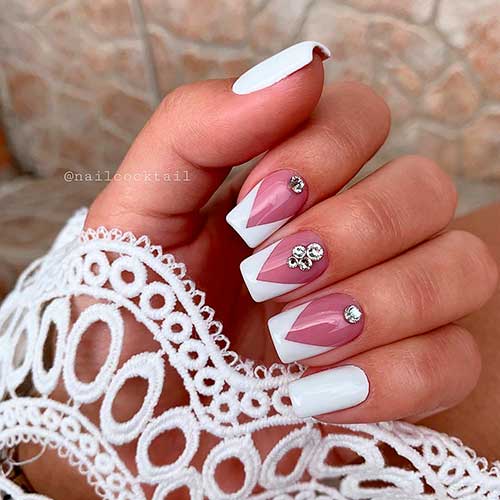 V French tip nails short length has taken a twist from its classic style and colors. Here, as you can see in this photo, the short V nail is "blinged" up in mixed colors of soft pink and white added with studs of cute nail stickers. If you want to go for a subtle, classic, but still trendy V French nail look here is one that you should give a go! You can choose your own colors and palettes that you want. Go mix and match soft, light tones to get this classic, short V nail look a sophisticated, subtle twist.
2. Longer, more Glamorous? Go for the Modern V French Tip Nails Coffin Shaped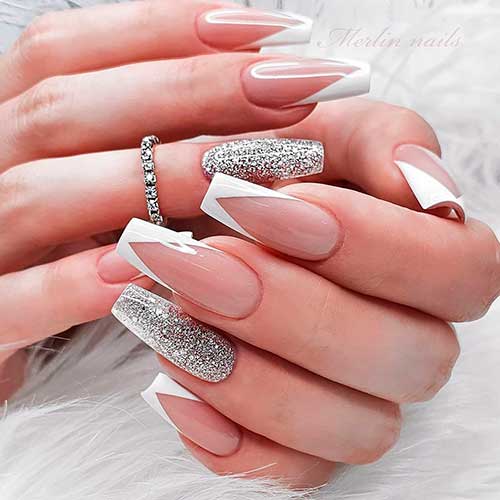 Here is one for those with a more glamorous and chic nail aesthetic. This design is bolder and a bit fiercer than the first design. Also, this design is definitely an eye-catcher, has more to it. Go for colors that are still on the lighter, softer tone, and mix them up with glittered designs that can match the color of your choice. This is still a sophisticated and glam statement. Indeed, the modern V French tip nails coffin-shaped design is definitely a good go for anyone who wants more "sparkle" and more bling.
3. Here is one for those who can't make up their minds about whether to go lighter or darker. Mix them both!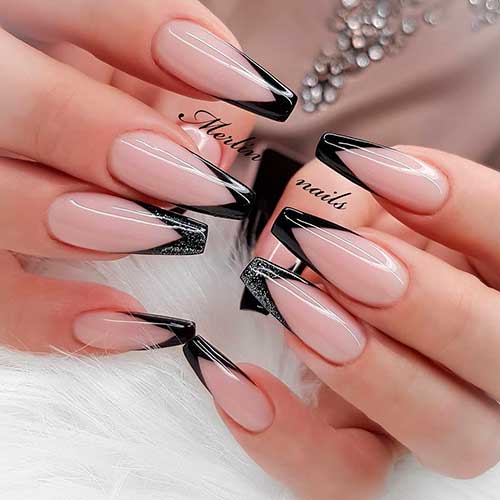 Any color can be mixed up nowadays, and it is actually a booming trend. This is a modern French, but only less sparkly, subtler, and simple but has an added pop thanks to the black v french tip nails mixed with the soft pink color of the nails. This is definitely chic in addition it can go with any style that you have in mind.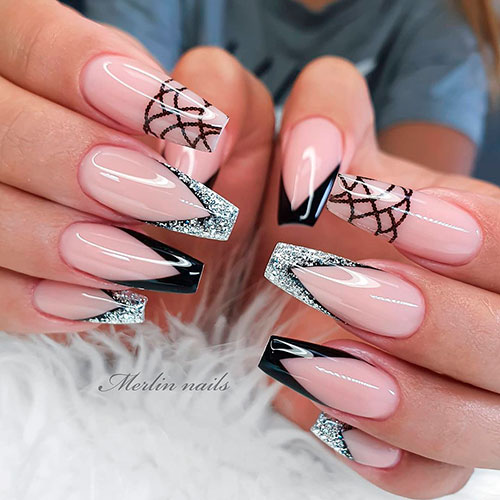 Another, perfect V French nail design that blends black and silver glitter is V French tip nails. In fact, the design is so elegant, also I love the black net over the accent index nail.
4. Want More? Accessorized V French Tip Nails Coffin Shaped!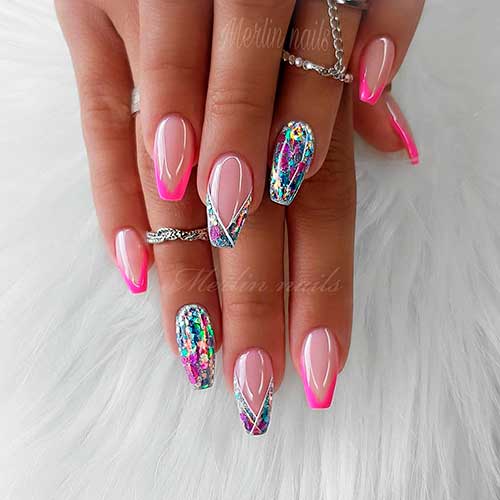 This is really far from the shorter, awesome two different shades of pink V French tip nails with sparkle nails. This look is glammed up, shinier, and has more color and life to it. For those who want their nails to represent their unique style, here is one that would be perfect for you! Different colors on each nail, a new combination for each, is definitely a standout nail masterpiece.
5. Go Fiercer and Go Longer!
Want to go for unique mixes? Just look at this and be inspired to give it a go! Nail extensions are in right now, and so are unique color combos! Whether you choose to grow your nails naturally long or choose to go for nail extensions, this look will truly complete the overall look and pop of your nails! If you want to go for a fierce, chic look, try these lengthy red V French tip nails set!
6. Colors, colors, and more colors! Coffin V French Tip Nails in different colors and added with patterns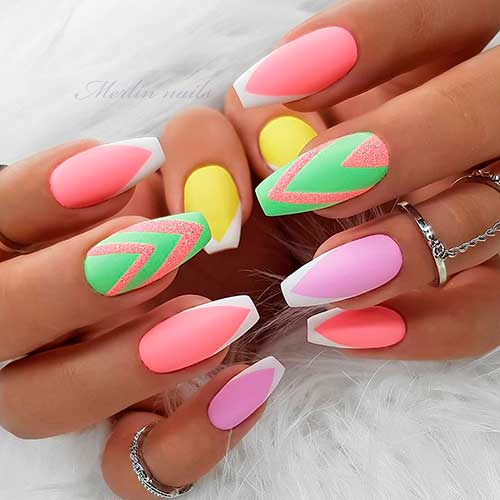 The sky's the limit with what nail aesthetic you would want to get. Also, you can go for more color and even add patterns and cool designs for your look! As you can see, it is still subtle but more colorful, prettier too! If fun, cute, and colorful nails are what you are going for, these designs are really worth trying!
7. The sharp, art inspired V French Tip Nails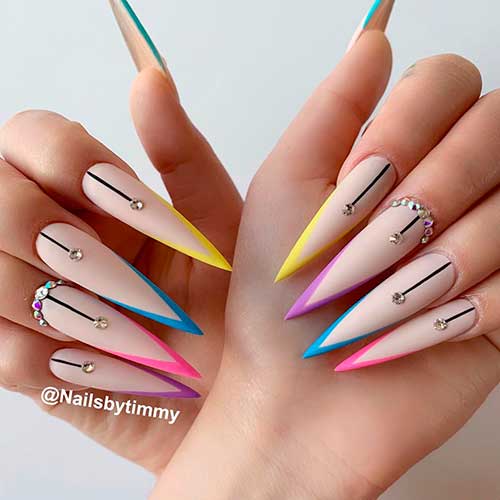 Are you creative and want your nails to be just like you? Definitely possible! This look is simple, but the nail shape is sharper and longer. For added sophistication and bling, add some studs to go along with it! This nail design is truly aesthetic and glam with its simple nail tips color combination in matching nude nail colors.
8. Simplicity is beauty—nude and bright color combination of V French nails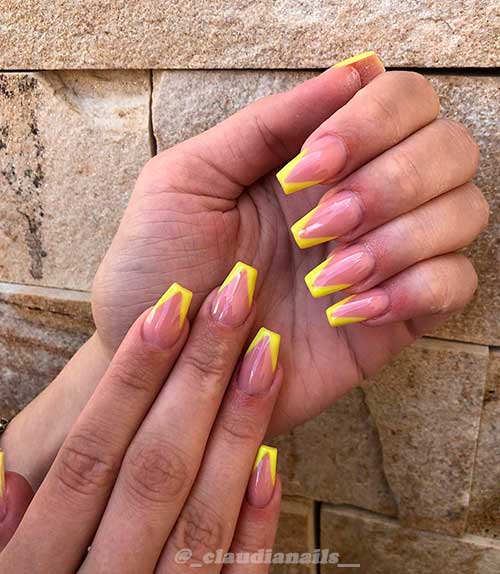 If you wish to stick to natural tones for your nails but want something bright for your tips, it can definitely be done. Still, this nail look is as well on trend nowadays. Match any bright color such as yellow for your nail tips with a nude, softer tone, a more natural color for your nails.
9. Striking, more glitz and glam, go Extra French!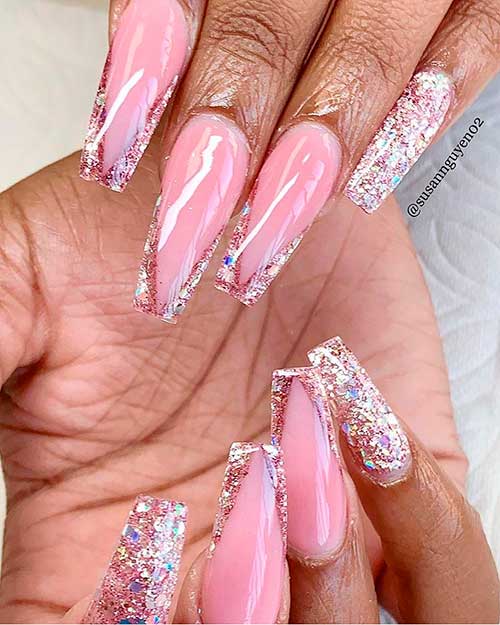 In fact, these new patterns, and new ways to accessorize and amp up nail design are a growing trend. Extra French refers to V shape nail designs, which are a total stand-out, a fresher, trendier aesthetic. Despite being too "extra," this nail design still assures the right balance between glam and subtleness.
10. V French Nails Tie-dyes and color combinations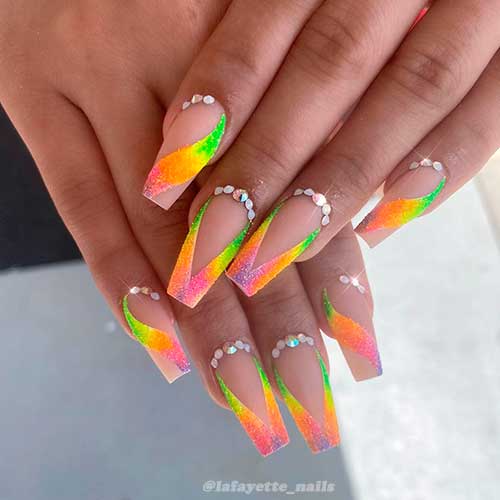 Have you heard? Tie-dye colors can also now be possibly done for nails! Similarly, you can try accessorizing them and combining different color patterns and styles, which will totally match your taste and preference.
11. A touch of softness and subtle femininity with floral and pinks nail design for your nail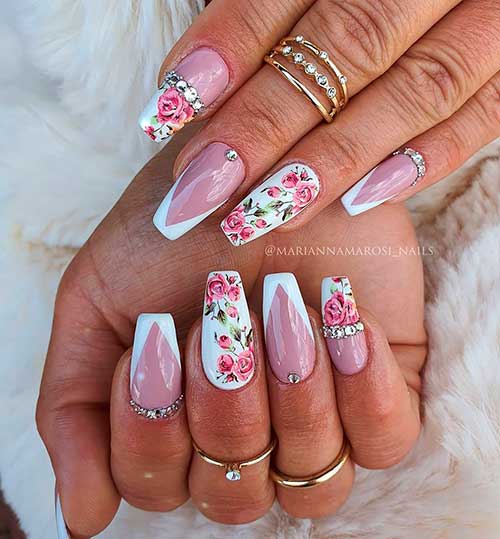 If you are in the mood for sweet and soft nails, florals, soft pinks, and whites go quite perfectly well together! You will definitely get the right touch of soft and glam. This an additional tip to get a more modern touch, besides keeping your nails short, and tips looking extra thin. Still floral and pink are the right combos for a delicate and softer nail that you might want to go for.
12. Soft Palettes that are perfect for casual looks and street fashion and look!
Of course, you can't go wrong with choosing softer palettes like nude colors, soft blues, pinks, etc. This doesn't only look good but goes well, too, with any look that you want to rock. As well, colors like these above can go well with anything you wear, and won't clash with the clothing you choose.
13. Gorgeous Valentine Red V French Nails Set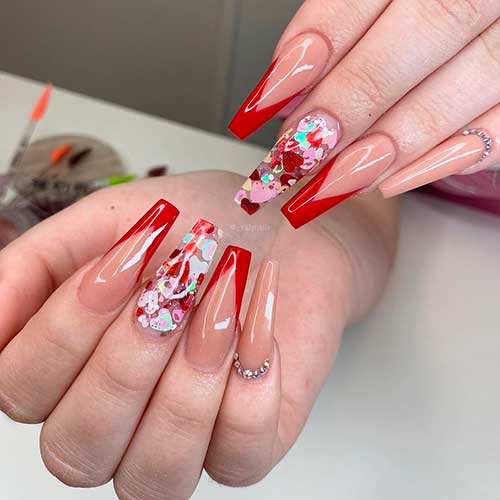 This Red V French nail set is a beautiful valentines day nails choice and will give you a mesmerizing look with your lover.
14. Perfect Black V French Coffin Nails with Teal Glitter On Tips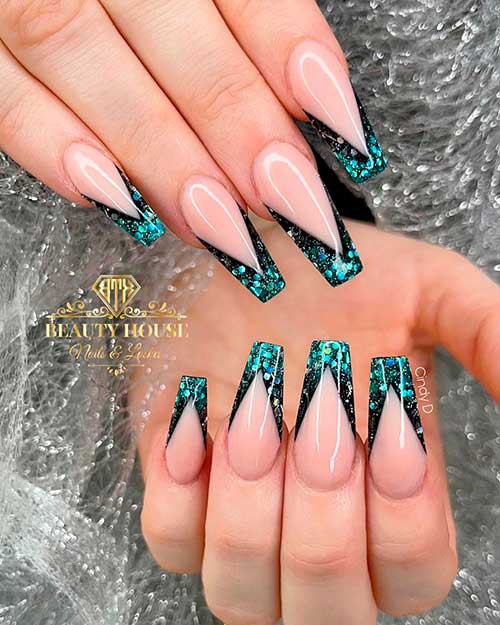 Teal glitter over black v French tips in ombre style makes this nail art design rock. Moreover, this nail set can boost your style and mood.
15. Cute White V French Tip Nails with Rhinestones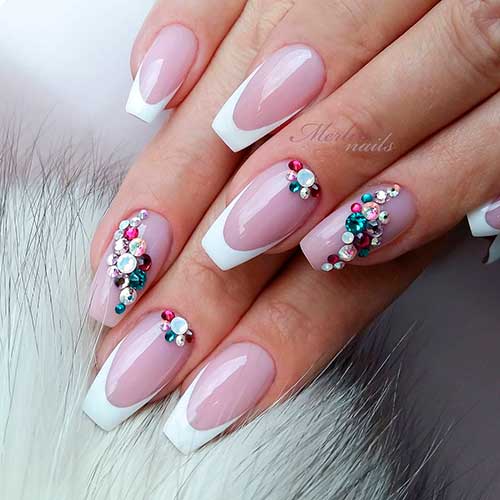 This white V French tip nails with nude base color and some colorful rhinestones is a fascinating nail art design that, every girl loves to wear.
16. Stunning Double V French Tip Nails with Hearts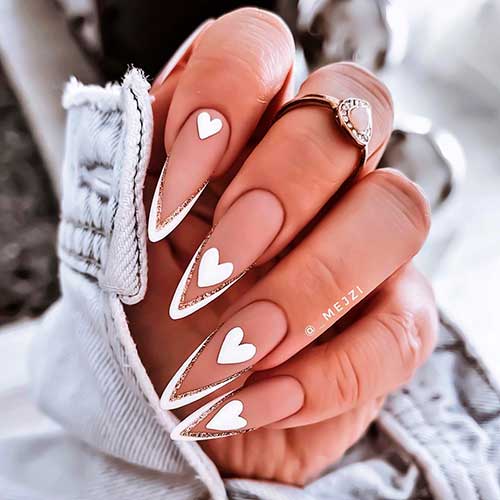 Lovely nail art design depends on fascinating details and this one has double V French tip nails which, are white and gold glitter in addition to the perfect white hearts over the nude pink base color shade.
17. Gold Metallic V French Tip Nails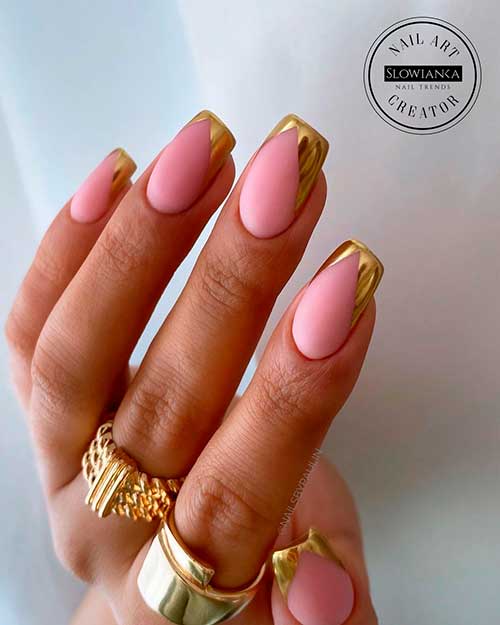 Start with a matte nude color base then apply the gold metallic tips. These chic V French tip nails are specifically for high-taster women and will give you a royal appearance.
18. Neon Yellow V French Tip Nails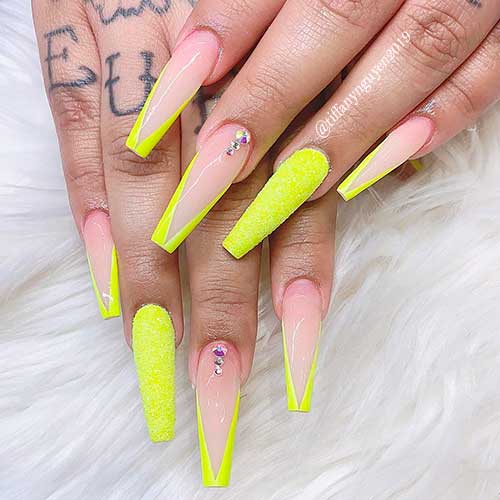 Of course, yellow neon nails are a perfect choice for summer. The above nail art design is adorned with rhinestones on the accent nail, besides the accent sugar style nail.
19. Shimmer White V French Tip Nails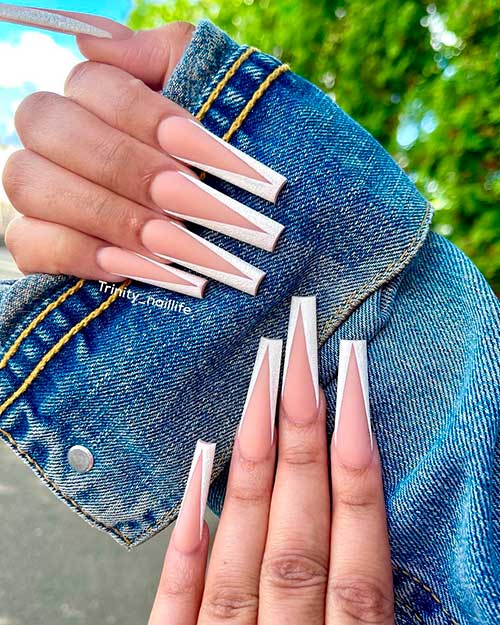 Another stunning V French tip nail with a matte nude-colored base and shimmery white tips. Of course, this nail art design will elevate your entire look.
20. Long Glossy V French Tip Nails with Confetti Glitter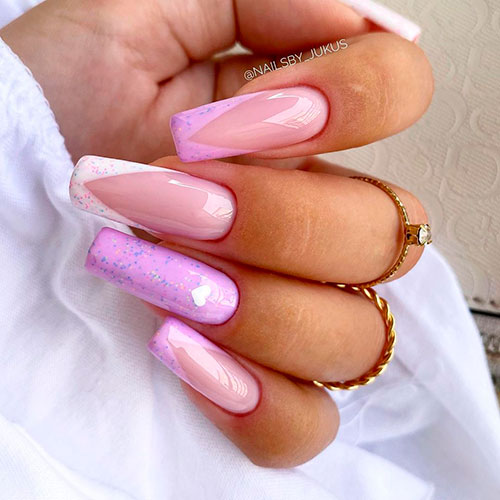 Of course, those are unique nails with beautiful candy shades. As you see the beauty of the purple nails between V French nails and the accent one with a white heart shape. Also, the two accents of white V French tip nails add more elegance to the design.
21. White Matte Stiletto V Tip Nails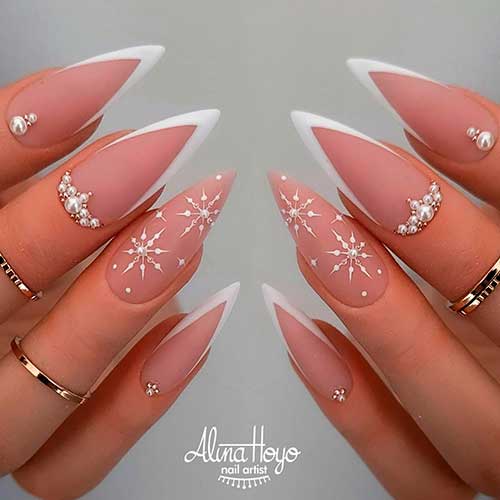 Whatever your personal style is, there's a V French tip nail design for you. So, if you a fan of stiletto-shaped nails these white v french nails are for you. Aside from its versatility, V French tips are also great for combining with other kinds of nail art such as snowflakes nail art.
22. Extra Long Matte Pastel Mint Green Coffin V Cut French Tip Nails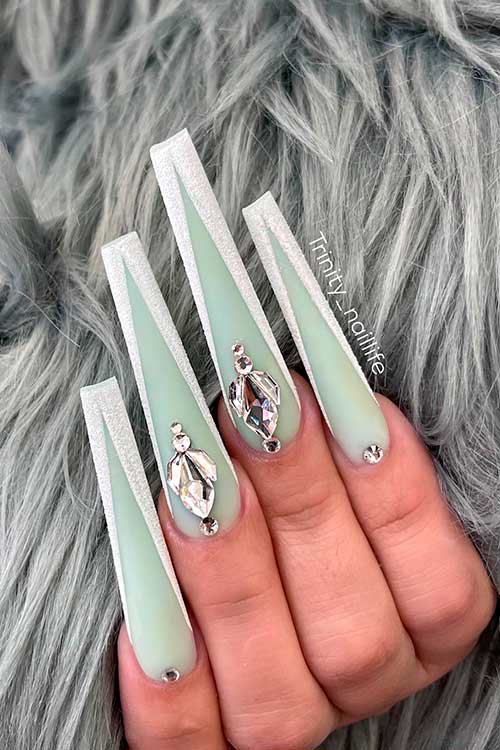 This stunning design is made with two shades of silver glitter and matte pastel mint green. Indeed, the V shape gives your manicure a sexy look. While most V cut French tip nails designs are quite simple, the nuances of this trend make them stand out.
23. Red Stiletto V French Manicure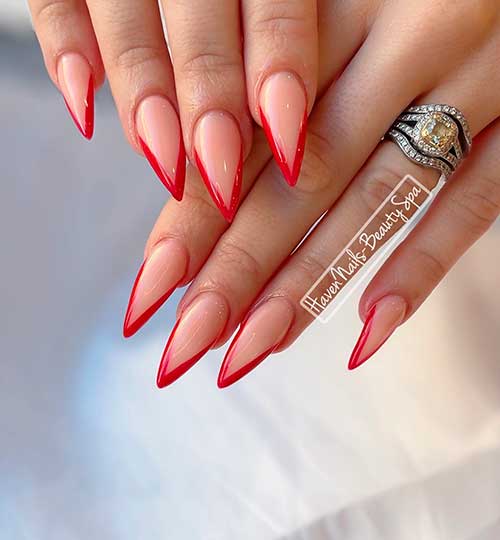 Red. This color symbolizes love. Besides, it comes in many shades that can be highlighted with a nude, white, or clear base coat. So, the blending of the red and nude base color is a daring combination that will surely catch the attention of other people.
24. White and Gold Glitter V Cut French Tip Nails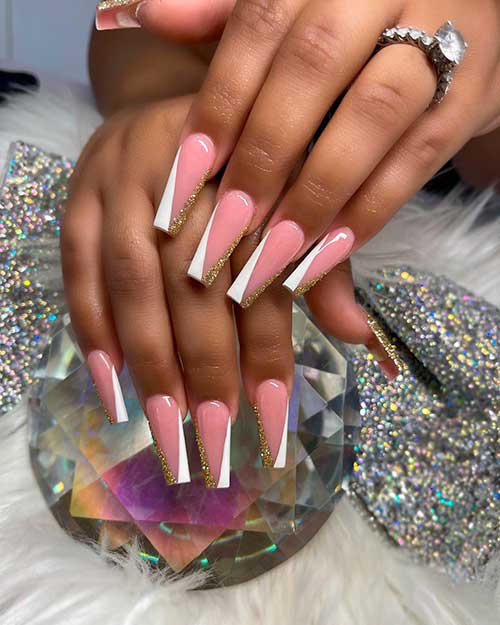 Glitter is a great method to add some shine to your fingernails. But there are many women who are hesitant to use glitter as it could appear unprofessional if it is not done correctly. But white and gold glitter is a great option for any shape or length of nail however the longer the more appealing. Indeed, this manicure idea is enjoyable elegant, feminine, and elegant.
25. Classy Red V Cut French Tip Nails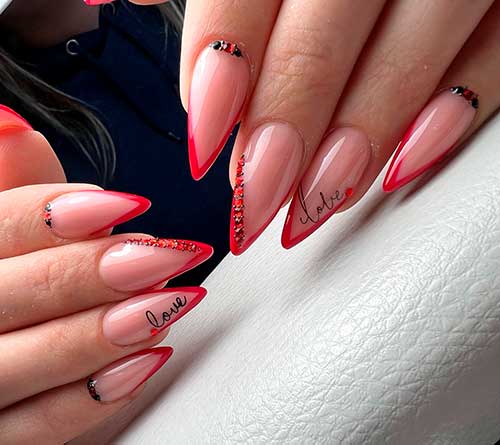 Red is a color that is known for its love, passion, and seduction. Also, it's the perfect accent for your manicure. It is a sure method to draw attention to your fingernails. Also, it is possible to put rhinestones on your nails to give them a more delicate appearance. Additionally, you could apply the red nail polish shade with matching lipstick to create an attractive appearance.
26. White Coffin V Cut French Tip Nails With Pink Accents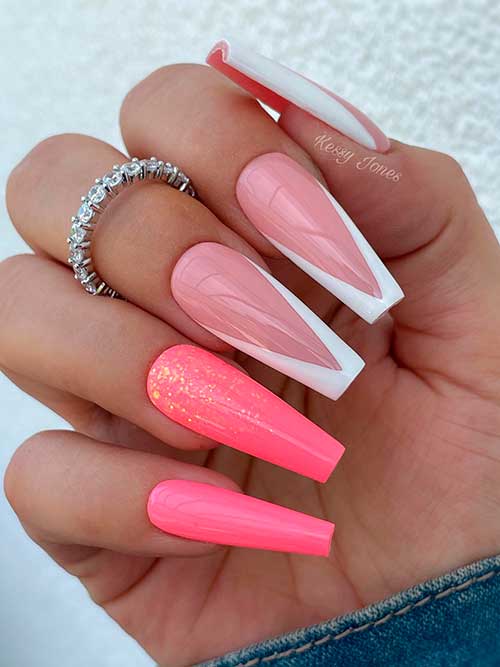 A beautiful pair of white and pink accents will enliven any look. So, the white classic coffin shape is a great place to start. But, you can always go more modern by combining different colors and styles such as v cut french tip nails. For instance, you can pair your accent nail with different pink polish shades to create a look that looks fresh and new. Another way to add sparkle to one or more of your coffin nails is to use glitter.
27. White V Cut French Tip Nails With Gold Glitter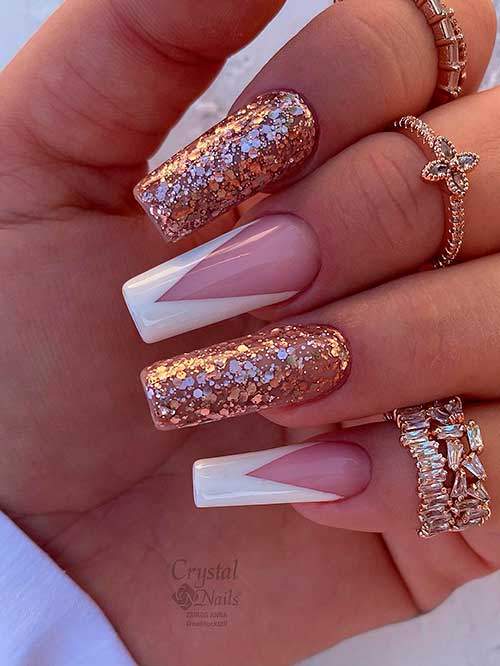 When it comes to nail designs, white v shape French tips with gold glitter accents can add a splash of sparkle to any manicure. Besides, these nails are easy to apply and can be used to add shimmer to your look. Of course, white v cut French tip nails are the perfect choice for all occasions, including weddings, proms, and holiday parties. Also, they look great for a night out on the town!
28. Neon Coffin V Cut French Tip Nails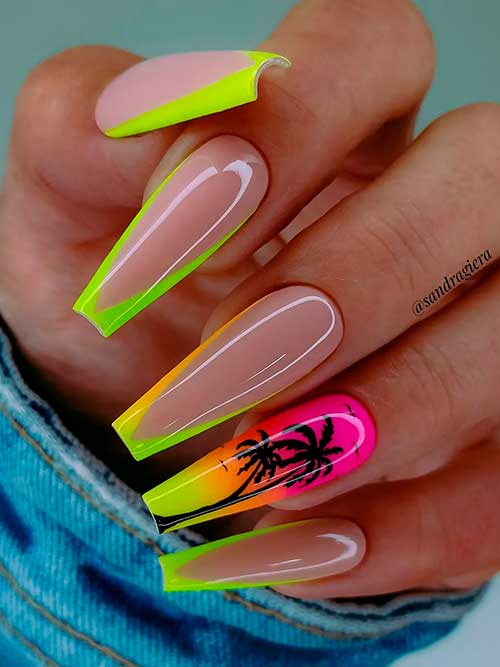 If you are looking for a great manicure, try a Neon coffin V cut French Tip Nails. Of course, these nails are perfect for any summer occasion and will turn heads for days. So, you can get a V French manicure with neon lime color, and a funky design with a neon V tip can add a splash of color to your nails. Also, you can even get multiple colors to create an ombre style.
29. Matte Black V Cut French Tip Nails With Rhinestones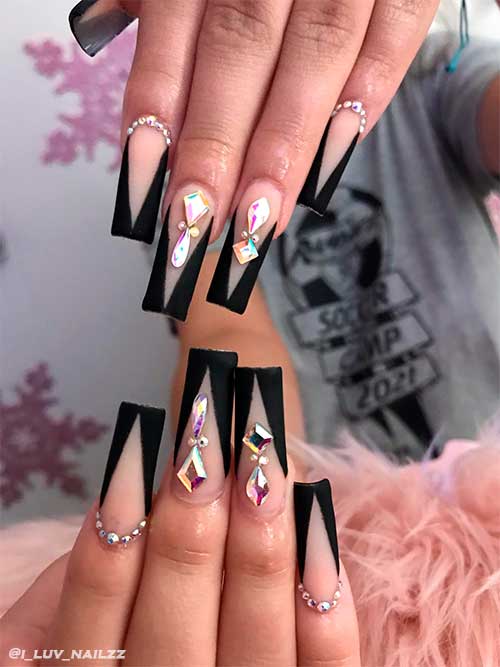 If you want a simple yet elegant manicure, you can opt for Matte Black V tip Nails with Rhinestones. Besides, the dull varnish makes the stones appear shinier and also smoothes their shine. In addition, to create a stylish look, you can add rhinestones in different shapes and sizes. But, if you're not comfortable applying rhinestones, you can apply a few of them to one nail.
30. Shimmer Pink V Cut French Tip Nails With Rhinestones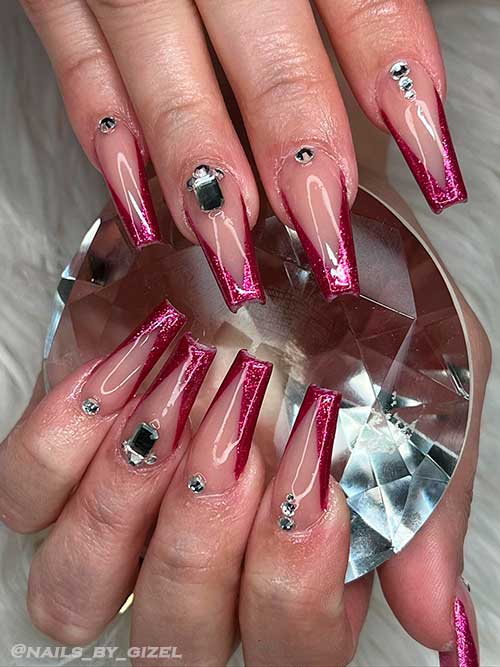 If you're looking to create a stunning nail design, try Shimmer pink V cut French tip Nails with Rhinestones. Indeed, rhinestones add sparkle and glam to your nails. Where you can apply them using nail glue above the cuticle area. After the rhinestones have been applied, apply a glossy topcoat. Then, allow the gloss to dry.
31. Neon Green V French Tip Nails With Glitter Accent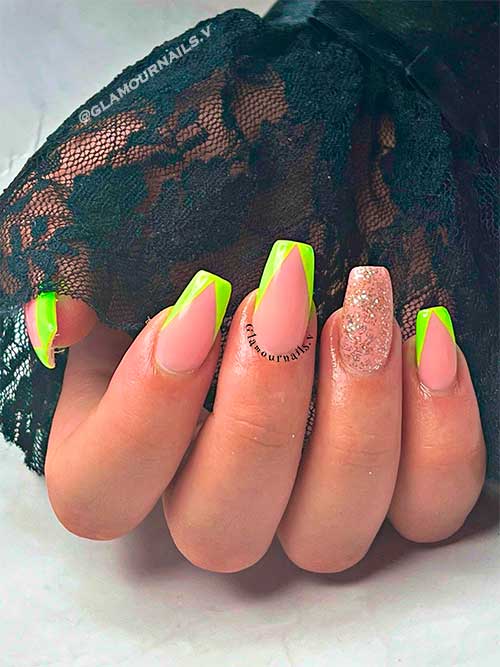 For an extra pop of color, try a V cut French tip nails manicure featuring neon green nails with Glitter Accent. Of course, this trendy nail design is simple to recreate and requires only a few basic steps. First, apply a nude base color to your nails, and then apply tape in V shapes. Next, paint neon green nail polish over the tape, and then apply a top coat to finish the manicure. Also, it's a great idea to use several shades of green if you want your manicure to be more vibrant.
32. Simple White V Cut French Tip Nails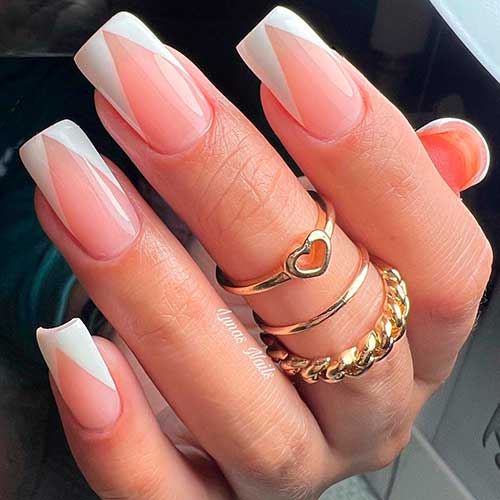 When choosing a simple white manicure, you can choose any color that complements your skin tone. If you love pastel nail colors, you can pick up a manicure that features white V French tip nails. In addition, these nails are suitable for formal occasions and are sure to make you look elegant. However, they are not suitable for every woman.
33. Summer Yellow V French Tip Nails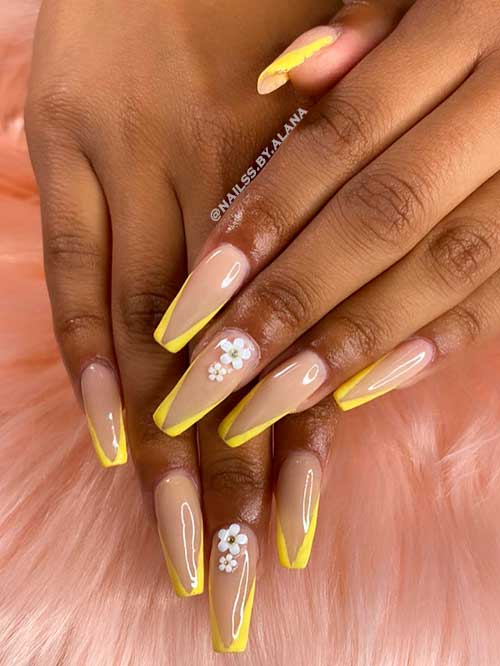 If you're considering going for a bright summery yellow manicure, you're in luck! Several nail designers have yellow-colored designs that will at once brighten up any summer outfit. Such as Yellow V French tip nails with white flowers at the base of the middle fingernail. And, as always, you can wear them as long as you want!
34. Half and Half White V Cut French Tip Nails With Pastels Design
For a unique yet timeless look, try the white V cut French tip nails design of White with Pastels. Indeed, pastels are always in style and are an easy way to give your manicure a springtime feel. So, use pastel nail polish in a variety of colors for a spring look. Also, you can even add glitter to your pastel manicure for a fun pop of color. After all, nail art is all about showing off the nails, right?
35. V French Tip Coffin Baby Blue Nails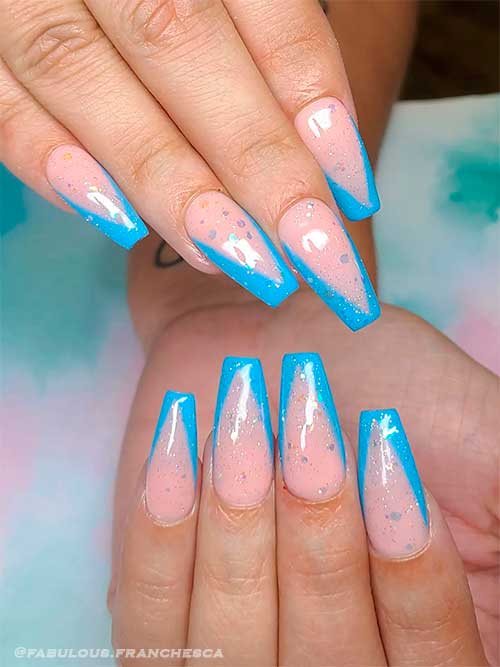 If you're looking for pretty and easy-to-wear nail color, Baby Blue V French tip nails are an excellent choice. Additionally, the color is versatile and flatters most skin tones. Also, the softer tone of the blue looks feminine and dreamy. So, this pretty shade of blue can be adorned with glitter. Of course, its soothing hue makes it a favorite choice for those who want a soothing look.
36. Blue V Cut French Tip Nails
If you're looking for a unique style to complete your look, try out a pair of blue v cut French tip nails. Indeed, these French-style nails are the perfect choice for a fun and flirty summertime look. So, you'll definitely get lots of compliments for this awesome look. You can also choose to use bright neon colors with this style. But, make sure to wear a neutral or clear base coat for balance.
37. Lavender V Cut French Tip Nails with Flowers and Glitter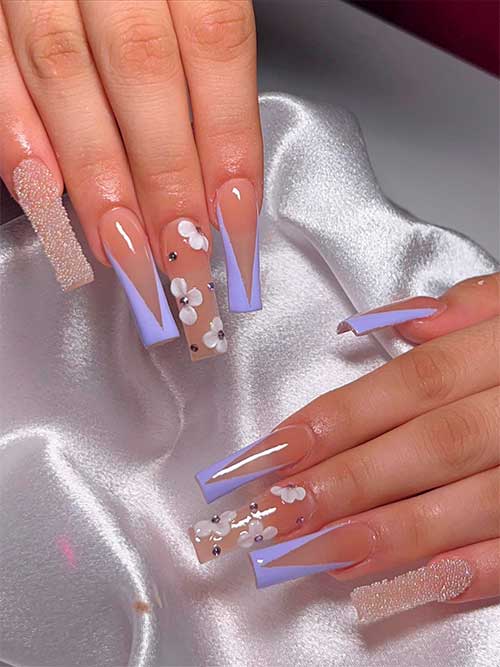 Of course, lavender v French tip nails are a fun look for springtime and all year round. Also, you can add glitter or floral accents to your lavender nails to make them pop. Indeed, this color is both beautiful and versatile and is an excellent choice for wedding day manicures.
38. White V French Nails with Red Kiss Lips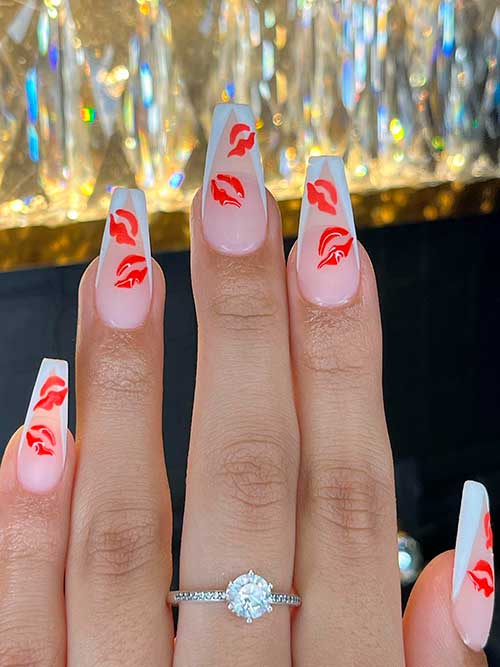 If you're looking for a fun twist on the classic French tip, consider this trendy V-cut manicure. Of course, it's chic to celebrate Valentine's Day especially, when combined with red kiss lips.
39. Spring French Tip Nails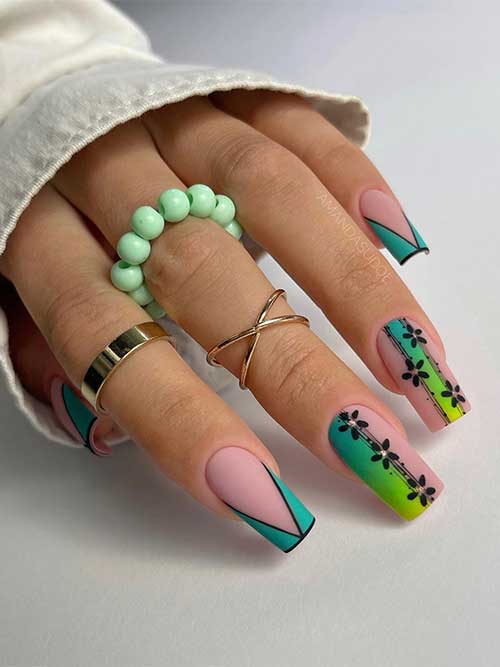 If you are looking for a cute V cut French tip nails design with spring nail colors then these matte green nails with floral nail art are for you. Indeed, the black and green color combination will give your hand a mysterious look. Besides, the ombre effect using neon green nail polish is outstanding.
40. Inspiring V French Tip Nails
If you haven't yet tried the latest trend in nail art, consider giving V French Nails a try. Because these crazy and stylish tips are sure to turn heads. Also, they have become immensely popular in the foreign nail art community and the Instagram world, and they're not just for the famished. Here are some of the most popular V French nail ideas:
Light Green and White V Cut French Tip Nails with Gold Glitter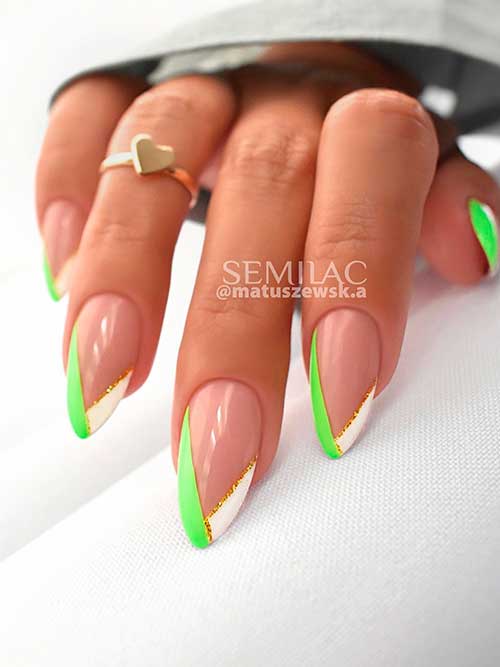 For a fun twist on French nails, try wearing a light green shade with a white nail color v French tip nails. Of course, this will create a more interesting and eye-catching manicure.
Earth Coloring V French Tip Nails
Gold glitter and white v-tip coffin nails create a beautiful combination. Indeed, this manicure is great for any occasion and goes well with jeans and workwear.
Twisted Neon orange and black V French Tip Nails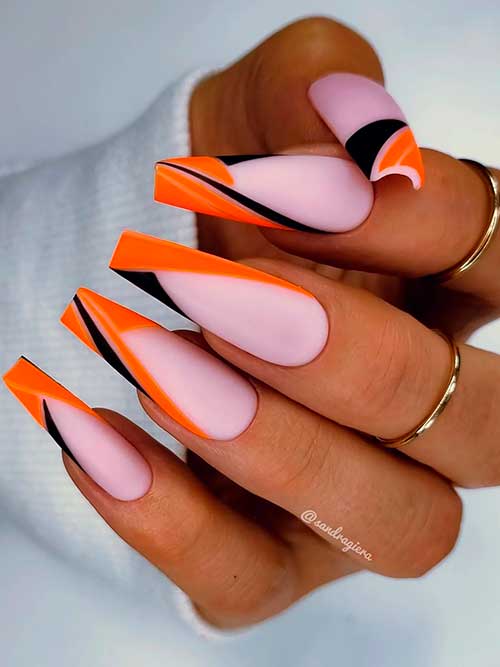 Shimmery Light Blue V French Tip Nails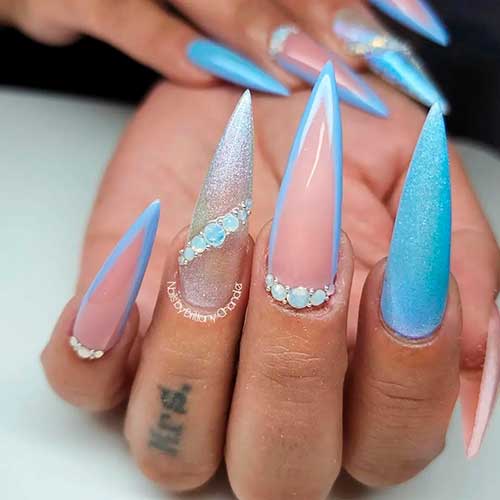 Fancy Lilac V Cut French Tip Nails Design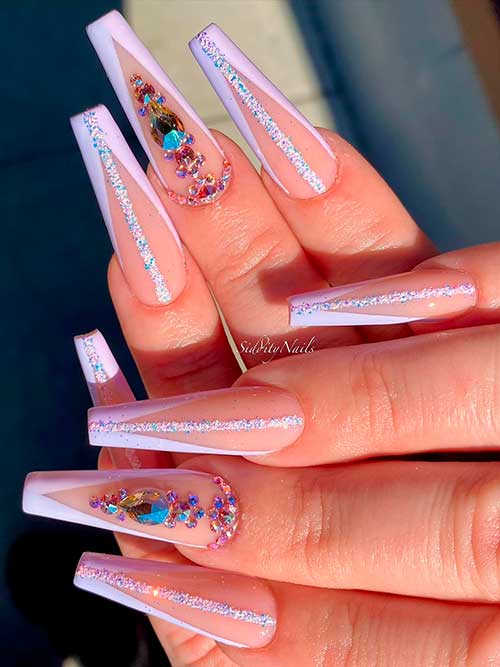 White V French Tip Nails with Pastel Flowers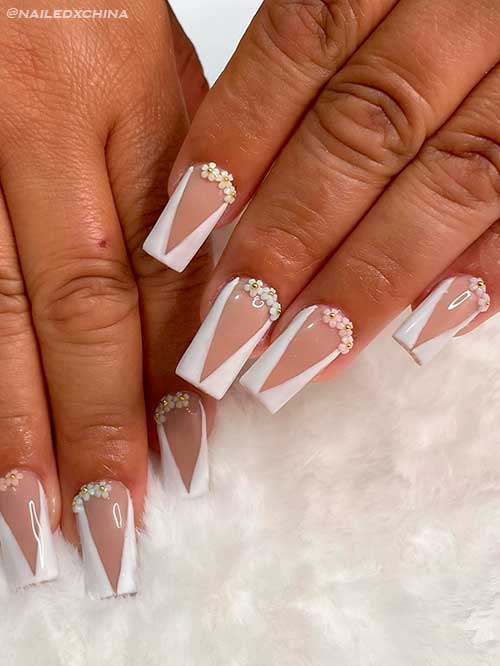 Long Pink V Tip Coffin Nails
It is a classic look that can be done in a wide variety of ways. This manicure is great for any occasion. Additionally, you can choose to add rhinestones to accent V tip coffin nails or to keep it simple as you prefer.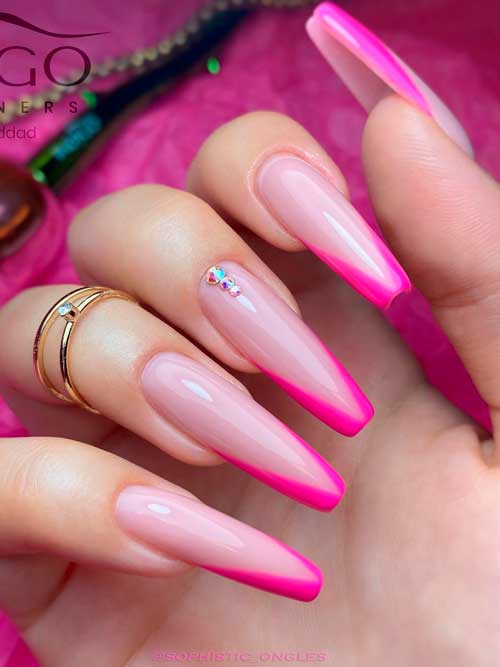 To Conclude:
In brief, V French tip Nails are definitely in style and on-trend. No matter which design, what pattern and style, and any color combination you choose, there will be one that would be perfect for you. It is up to you, what colors you want and the styles that you wish to have and add.