Your hair is hard to fix. Choosing the perfect dress for a special event is the same thing. Selecting the right fruit nails is no exception.
Worry no more! In this comprehensive guide, you will know some trendy fruit nail art designs. Without further ado, let's start! Here are fabulous Fruit Nails Ideas You Will Love to Wear This Summer!
1. Papaya-Inspired Fruit Nails Designs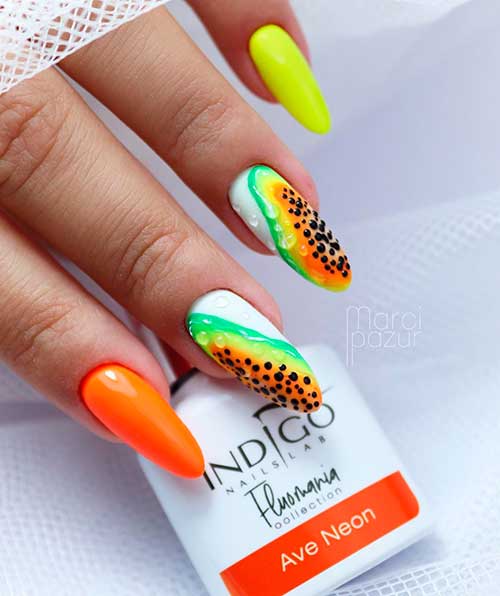 Probably, your clothing for summer is ready. What's next? Complete your outfit for the day with this papaya-inspired nail design. Say bye to plain nail color. Level up your nail with this fruit-themed nail. Yes, it is difficult to perfect.
But your efforts will really pay off at the end of the day. If you're not that creative, don't worry! There are certified professionals whom you can depend on and trust.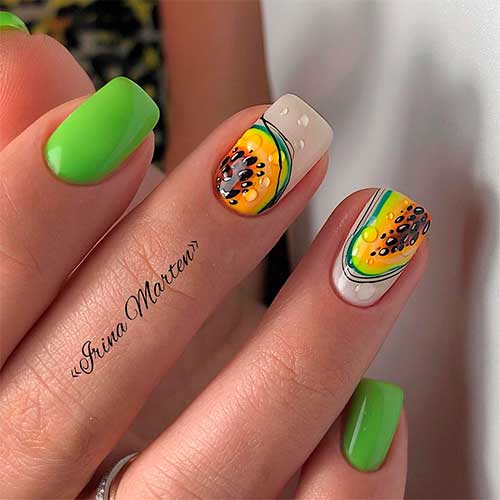 2. Papaya Mixed with Cute Pineapple Nails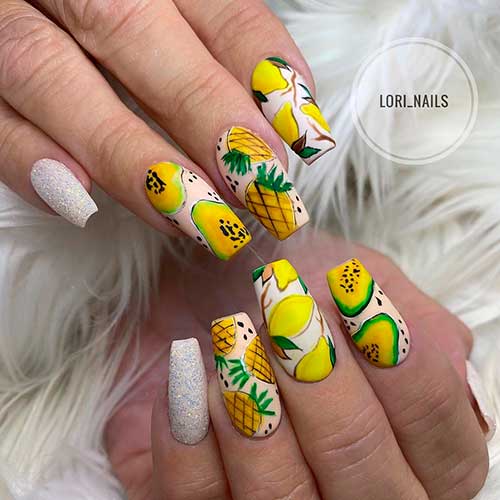 Another fun summer nails set is the blend of papaya and cute pineapple nail art with two accent glitter and lemon nails. If you have ever tried this fruit nail before, you probably know how it changes your style, design, and fashion statement during summer.
For those who haven't done this nail art yet, this is the right time. After drawing papaya and pineapple, finish it with glittery nail polish. It's hard, right? But your hard work would really pay off.
3. Apple Fruit Nails Mixed with Red Acrylic Nails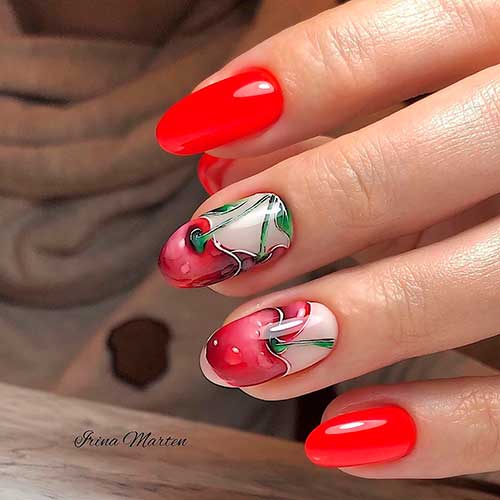 Want to look fierce and strong? Complete your OOTD with this apple nail art mixed with red nails. If you have been into fruit nails for years, drawing some apples on your nails is something you cannot afford to miss. Yes, it looks tricky to perfect.
But it's all right. You're almost there. If you don't know how to get started, there are professionals that await you. Enjoy this fruit nail when summer strikes.
4. lemon Nails Design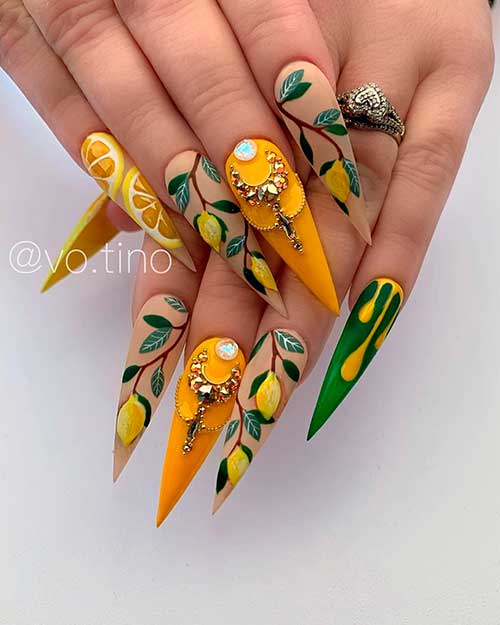 Of course, you want to look gorgeous at special gatherings and events. After choosing a stunning dress, your job does not stop there. How about your nails? Worry no more! This lemon-themed fruit nail art got your back.
When done perfectly, you'd be naturally gorgeous and captivating. Aside from the yellow accent, you can combine something green to enliven its appeal. Then, wear rings to take your fruit nails to a different level that other girls cannot resist.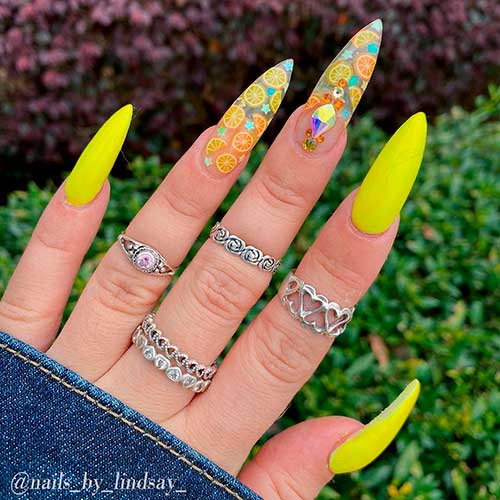 5. Pomelo Nail Art Design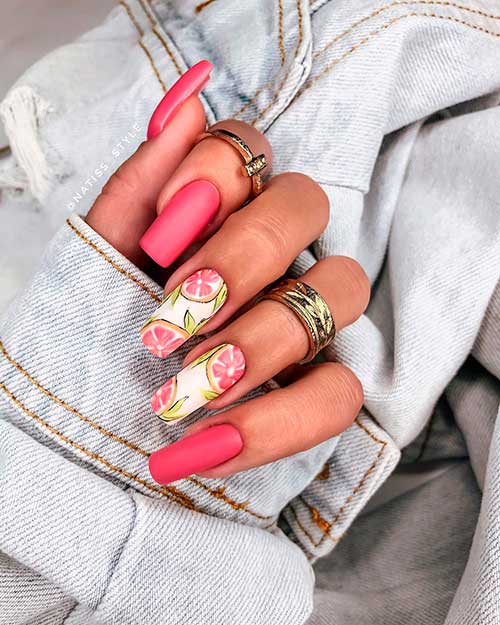 When going out, attending a party, or participating in a special event, you want to make your nails beautiful. However, you might run out of ideas sometimes. It's all right, and this pomelo nail art comes to your rescue.
Additionally, it is simple nails, stunning, clean, stylish, and aesthetically pleasing. It is also easy to pair with different types of OOTD. So, what are you waiting for? Get the right nail polish. Then, decorate your nails now.
6. Kiwi Fruit Nails Design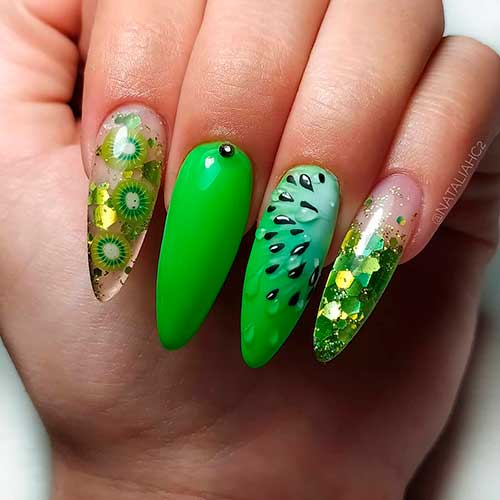 If you have ever tried apples and lemons, what else? Well, this kiwi nail design is another excellent alternative you should try before the summer ends. When doing the fruit nails, you can make the kiwi small or big according to your preferences. Then, add some dots to balance everything. Search the picture of a kiwi on Google for some inspiration. You could also visit Pinterest, YouTube, and other platforms to help you complete the process within an hour or two.
7. Watermelon Nails Design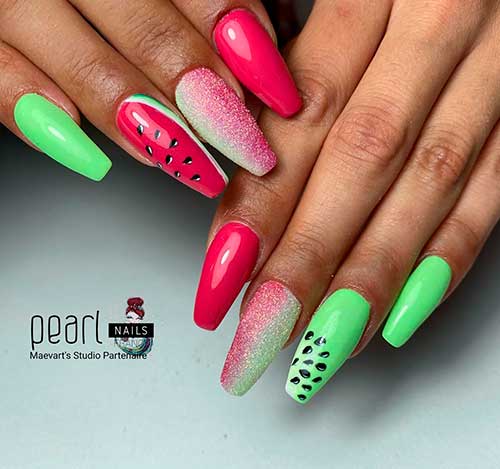 Watermelon nails are the go-to option for many women and teens out there. It's no surprise as the nail art is cute and fierce at the same time. Before you apply nail polish, make sure it's a bright color to achieve the look you desire. You can be experimental with these watermelon-inspired nails as there's no rule to follow. Yes, with your creativity and imagination, you could enjoy gorgeous fruit nails.
8. Cherry Blossom Nails Design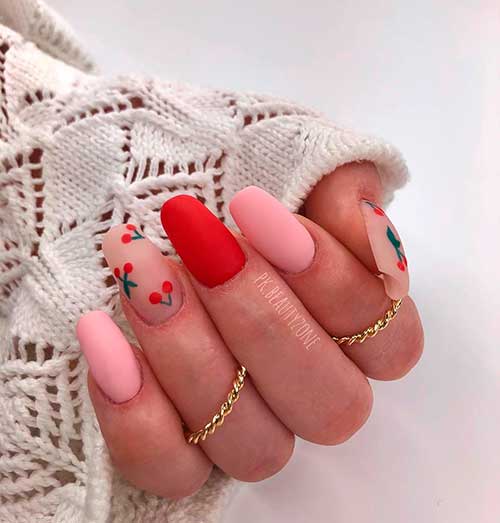 Are you tired of dark nail art? Or unsatisfied with colorful nails? Whatever the case might be, this simple nail art is another fantastic option. While it looks like the simplest fruit nail on this list, don't underestimate how it represents your personality and gives some fashion statement. Aside from pink nail polish, add some red dots to create cute cherry blossom nails. It's simple, isn't it? Also, wear the best rings, bracelets, and other accessories to achieve the perfect balance in your appeal.
9. pear nails Design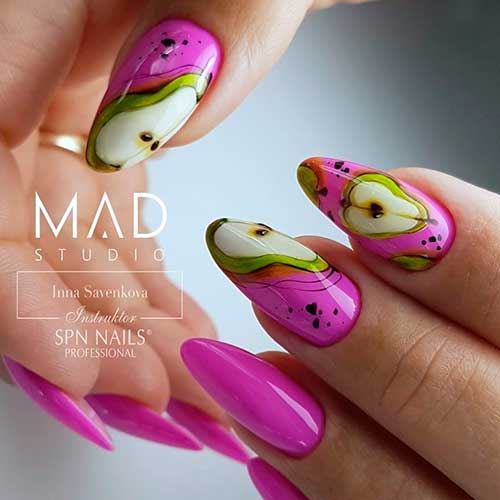 Who doesn't want nail art with a touch of violet? I think everyone enjoys its sophisticated and catchy look. But nail art with plain design can be boring sometimes. Why don't you add some fruits like pears to your nails? Yes, you read it right. If you have tried lemons, watermelons, and apples, the pear nail set will do the same trick with a twist. Also, combine black dots to enhance its overall look.
10. Cute Pineapple Fruit Nails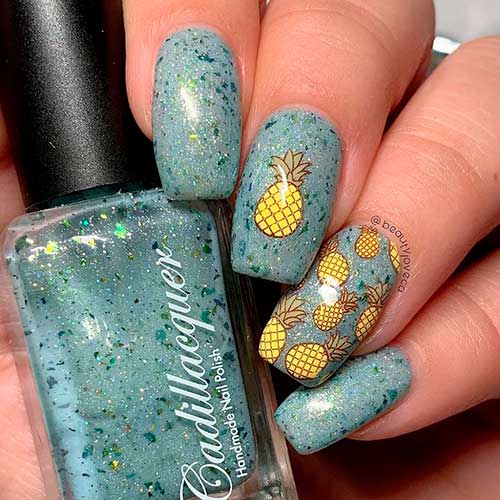 Eating pineapples give you a sour look on your face. But this cute pineapple nail art t is a different case. When you draw pineapples on your nails, it will make you smile. But don't include pineapples on all your nails. Vary the design, and don't overdo it. That's why you have to be careful when doing this nail art. Also, don't forget to use glittery nail polish for an enhanced and balanced effect.
11. A Combo of Lemon, Kiwi, Pineapple, and Watermelon Fruit nails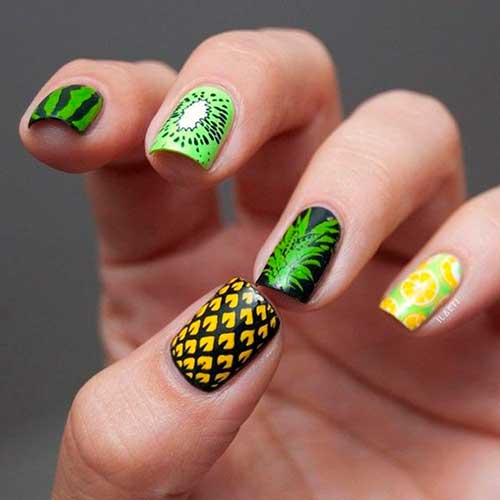 Indeed, having lemon nail art is good. But a blend of different fruit nail arts is better. What is a perfect combo, then? You can combine lemon, kiwi, watermelon, and pineapple, too. You can also try other fruit arts depending on your preference. The trick here is to add green, black, and yellow to achieve a unique and special result. However, this nail art is tricky. You have to be patient.
12. Cute Nude Nails Art with Some of Your Favorite Fruits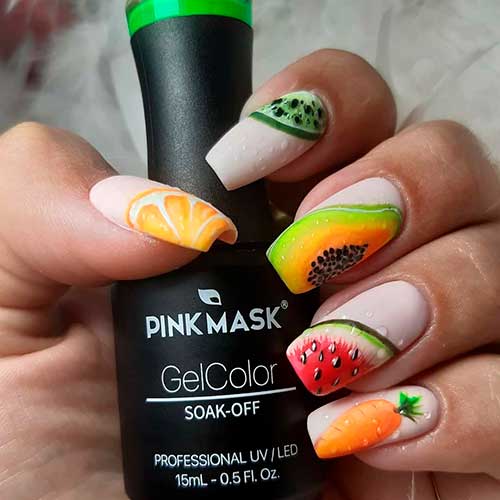 Cute nude nail art looks clean and tidy. But if it's summer, draw some of your favorite fruits on your nails. Aside from pineapple, this design consists of carrots, watermelon, papaya, orange, and kiwi as well. Therefore, you have to be artistic and creative to make nude color nail art grand. Also, you have to be accurate and careful as a simple mistake can ruin everything. Ask for help especially, when the need arises.
13. Grapefruit Nails Design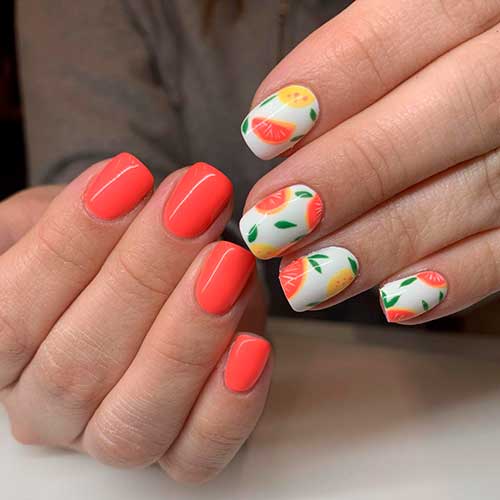 As soon as the hot summer days come, you will find fruit nails very suitable for this time. Besides, orange is one of the most popular colors in the summer, as well as white. So, this design above will draw your attention to the experience.
14. Long Coffin Citrus Nails Idea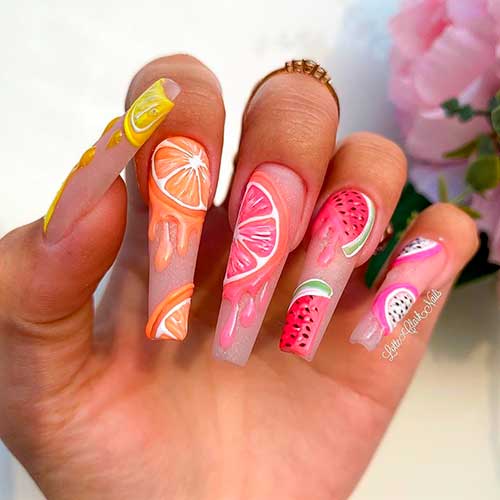 If you're looking to make a bold fashion statement, consider getting your nails painted with a nude base color. Then, try to recreate this citrus nail design, by using a variety of colors and different patterns. Also, you can try a more sophisticated look by using fruit slices especially, citrus nails.
At last, what's your choice? Before making a decision, identify your needs in advance. Once you know the clothing you want to wear and the looks you'd like to achieve, choosing the right fruit nail art will be easy now.