The year's color is yellow, so many people believe that's the lucky color for them. Many women are making sure they have yellow apparel and clothes, but some women are taking it to the next level. Some are even having yellow-painted nails especially, yellow neon nails. They embrace the love for the color yellow.
Considering your love for yellow, the nail lacquer and polish manufacturers have so many options for you. There are lots of colors and hues that you can put on your neon nails. You can buy many nail care products that will allow you to achieve your dream neon yellow nails. All you have to remember is to get a genuine and safe product all the time to ensure that you are safe and expect the best result on your nails. Aside from that, you can also explore other neon nail art designs to maximize your nails' beauty.
To guide you, we have the most popular nail colors and designs that you can have. Check out the best neon yellow nail ideas below:
1. Fancy Yellow Ombre Neon Nails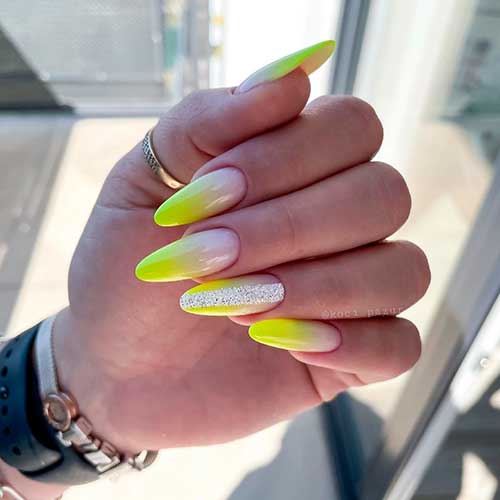 You can achieve these neon yellow nails quickly. It's like an ombre of white and yellow. So, you can see a nice transition between the two colors. It looks dainty on long nails. You can achieve this in your hands. You can do it by yourself or, better yet, find an expert that can do it for you.
2. Long Neon Yellow Nails with Animal Print Nail Art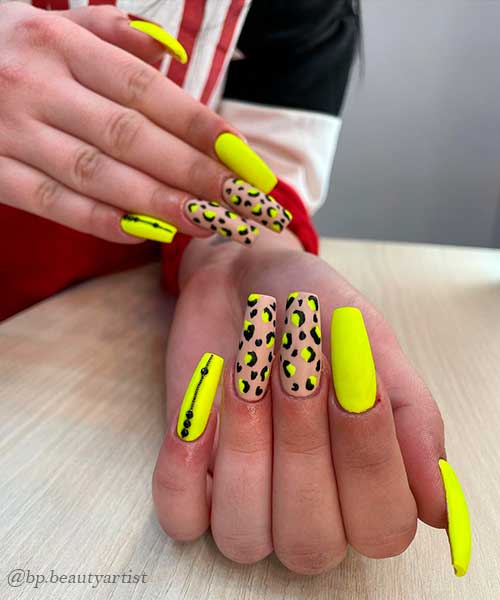 These neon nails are perfect for people with solid and great personalities. The animal print on some fingernails makes them eye-catching and could leave an impression.
It is easy to make, but it's better to get assistance when having this nail design. The leopard design requires some dotting techniques and would require some time.
3. Ombre Orange and Yellow Neon Nails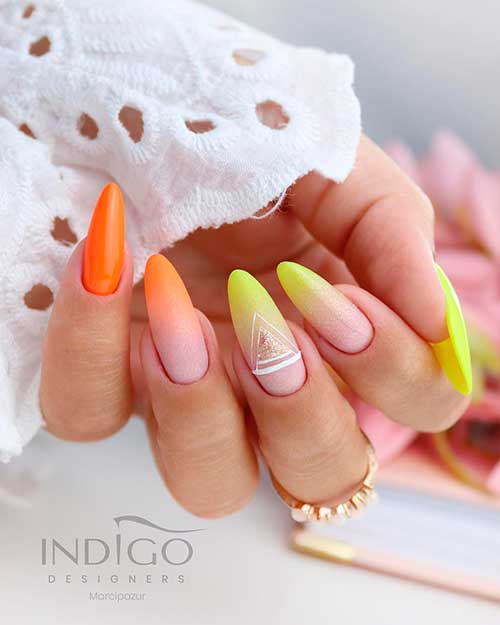 If you want something glamorous looking, then these are the neon nail options that you should consider. If you have long nails, or if you want to have nail extensions, you can surely achieve this.
This nail design is also an ombre of white and yellow blended with neon orange nails but with two accents of pure yellow and orange neon nails. So you notice this is also a fantastic nail art choice to make, and the result looks great.
4. Glittery and Glam Neon Yellow Nails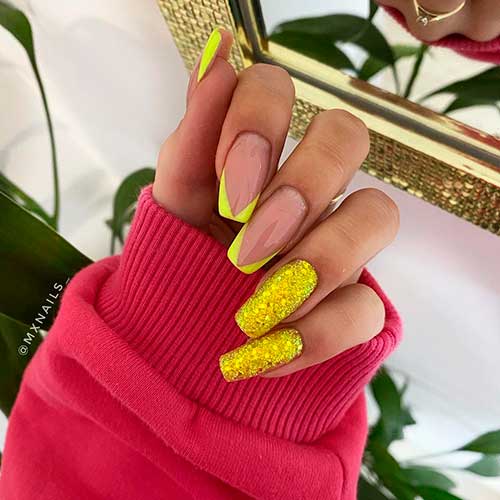 Glittery and glam yellow nails are also a trend today. I think this is a stunning nail art to choose from and achieve. Just make sure to have some glitter nail polish handy to put them quickly on top of the yellow nail polish. This design with glossy V French tip nails is worth it. Just try this now!
5. Fierce Stiletto Shimmering Yellow Neon Nails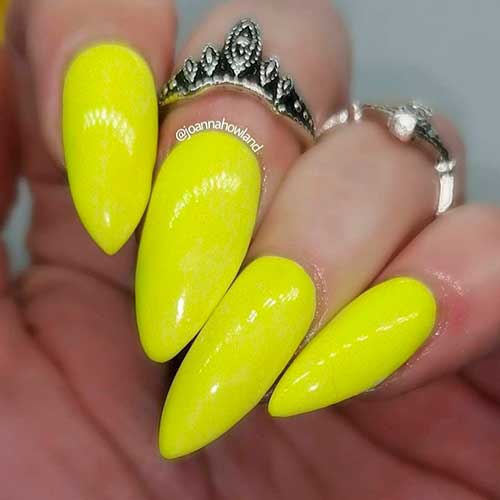 Simplicity is still grand. Look at these shiny shimmering neon yellow nails. You can do this by yourself since it is effortless. Just make sure that you pick a good nail polish so that it can last long.
6. Glam Matte Yellow Neon Nails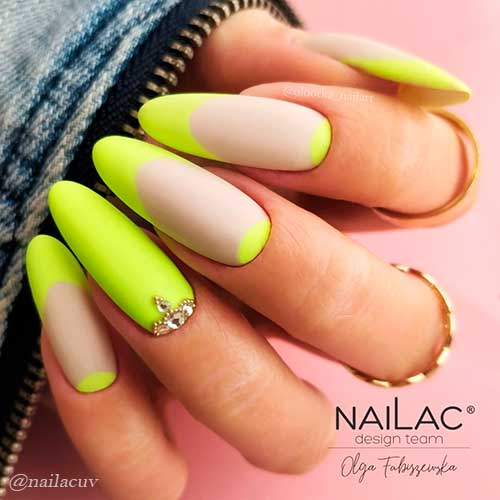 Another amazing matte neon nail set that blends yellow neon over nude colored base. Still, rhinestones are the best decorative elements for nails as you see above on the accent ring fingernail.
7. Stunning Glitter Neon Yellow Nails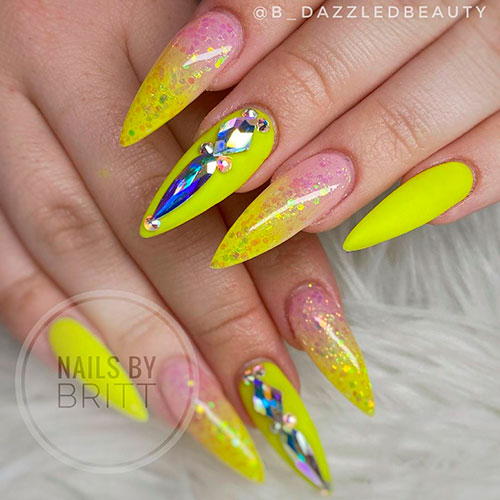 Still, confetti glitters are an awesome choice, especially when applied over glossy ombre pink to neon yellow nails. Furthermore, the accent bling nails with matte neon yellow colored base are so attractive.
8. Short Neon Yellow Nails with Black Stripes Over Nude Nail Base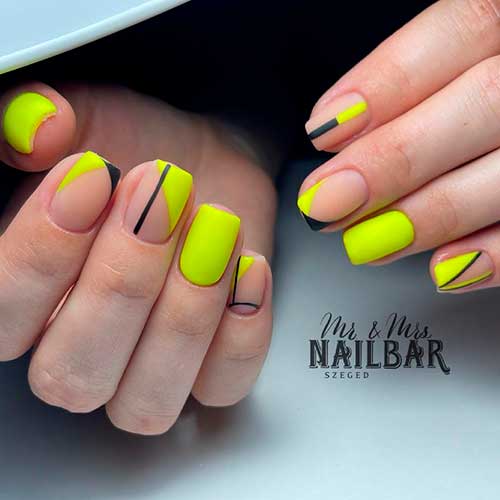 I really love short nails in addition to, the combination of yellow neon and nude nail colors. As well, the black stripes amp up this nail art design.
9. Neon Yellow Nails with Leaf Nail Art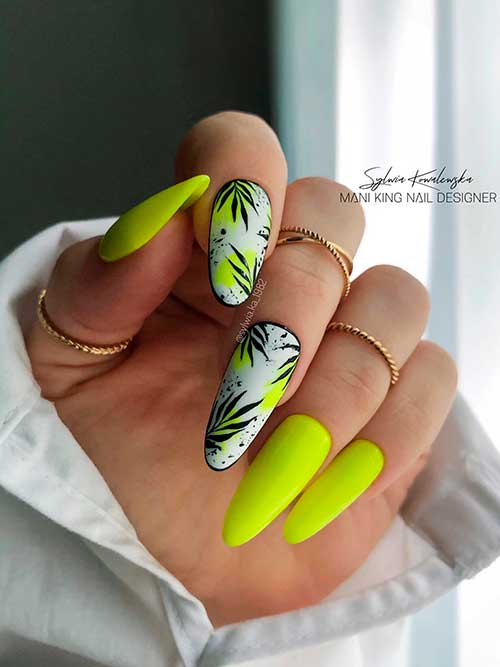 Indeed, a neon yellow nail design looks awesome with black and white colors. Also, you can use darker hues paired with a neon yellow design such as black leaves. This will give your nails a really bold look. Alternatively, you can keep it to just one or two nails like this design above. Besides, you can use different hues for a geometric design or optical illusion. It will definitely turn heads!
10. Spring Neon Yellow Nails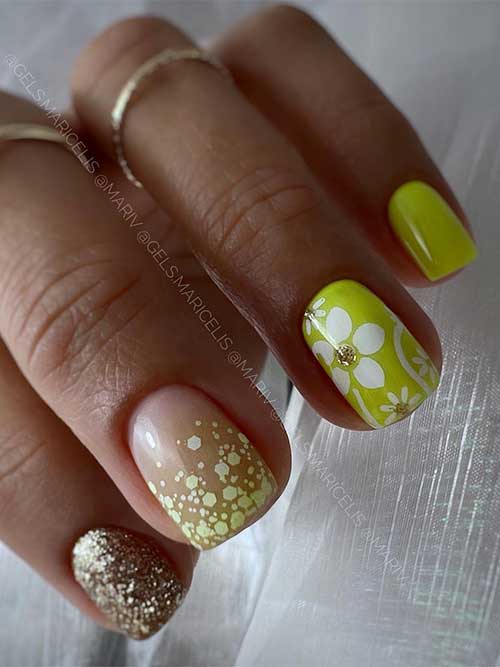 Indeed, this neon yellow nail design is a cute and cool idea for the spring and summer seasons. So, don't hesitate to recreate this design that features short square-shaped yellow nails with glitter and floral nail art.
To Conclude
Finally, there you go, you got different options for your nails now. Try to achieve a neon nail now with a yellow hue so you can be luckier this year!