Are you a fanatic of dramatic nails and noticeable colors? Many ladies out there love French ombre nails. Ombre nails can suit almost anyone. However, usually, they are a go-to for the young generation who enjoy following beauty and nail trends. As a matter of fact, they have become a trend in the past few years.
You will surely love and enjoy ombre nails for a wedding, prom, birthday party, date night, or any formal as well as semi-formal occasion with your friends and loved ones. On the other hand, you can rock this trend daily if you're a fanatic of glamorous as well as attention-drawing looks.
So, in this blog, we will give you the top prettiest and coolest nail designs that you will enjoy wearing for daily and formal activities. So, sit back and find your ideal match.
1. Pink and White Ombre Nails with Accent Floral Nail Art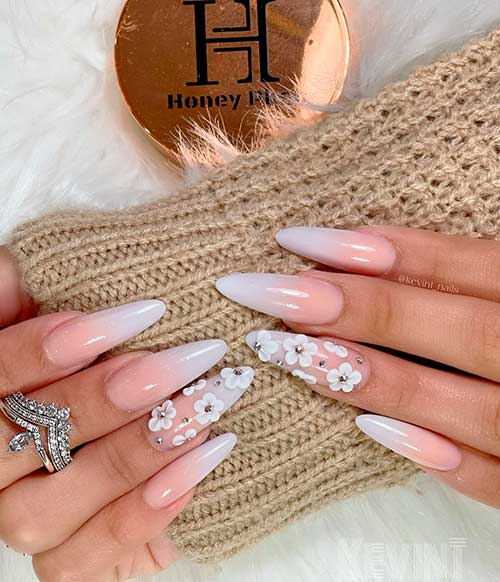 Presenting a sophisticated and cool veneer, these pink and white ombre nails will work gorgeously on any occasion. This is simple for daily looks, from the workplace to attending a special event or making a polished after-hours finish. This is the best choice for girls out there who choose to look refined without embellishment or fuss.
2. Cute Glossy and Matte French Ombre Nails with White Blossoms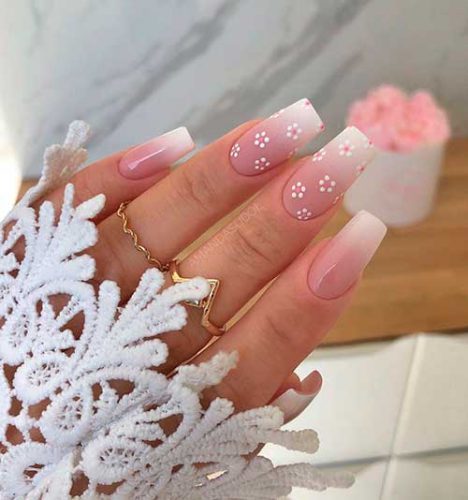 Think light pink and white for your next manicure. From the newest soft pastels or candy cues, these French ombre nails are a refreshingly feminine option. Darken your shading, or use a reverse incline for a striking effect. It depends on where you choose the highlight. This design makes a specific sweet set off to summertime dresses. Equally attractive against sun-kissed hands as well as burnished skin tone and even fair porcelain skin.
3. Modern French Ombre Nail Design with Sparkling Effects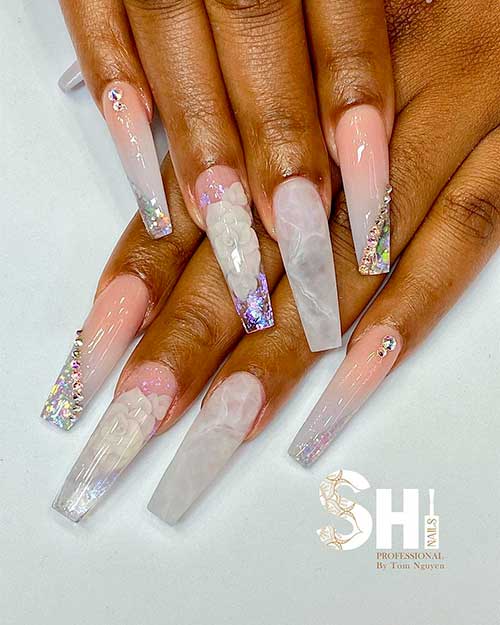 Indeed, nude colors always provide hands with an understated look. This is a minimalist style ideal for parties, weddings, or any event where your dress code needs you to look refined with restrained stylishness. Try this design if you wish for simplicity. Both modern and chic, these French nails will surely go along with any looks, from office ready to off-duty.
4. Candy Confetti Glitter with Shimmering French Ombre Nails Idea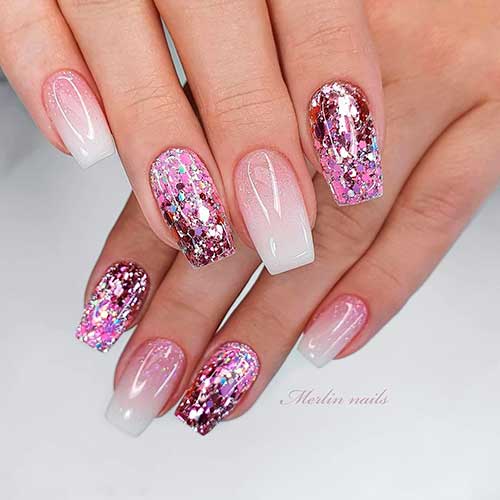 Shimmering purple, candy confetti glitter, and pink and white ombre nails speak volumes about your personality and make an image which both glamorous and smart. From the cool tones, anywhere you start with the confetti glitter, this sends an alluring and rich gamut. Wear this design to twilight events or wherever you like to stand out from the rest.
5. Stunning Pink and White Ombre Nail Design with Rhinestones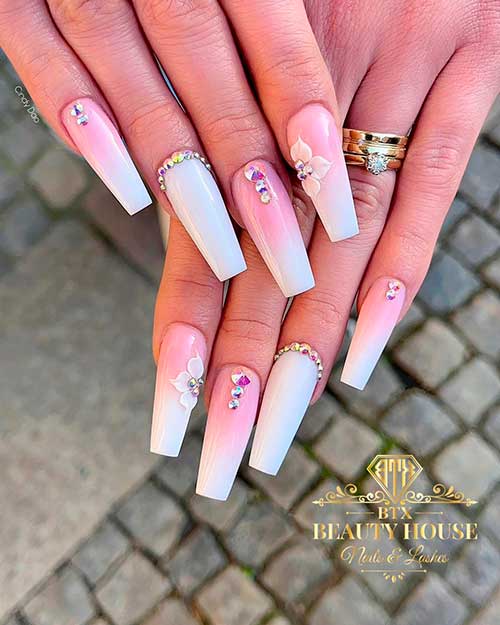 With an obsessive following in nail style, ombre coffin nails are loved by many women, yet perhaps intimidating for beginners. However, there's no denying that these superb shapes make for a completely eye-catching sight once done with ombre treatments.
Of course, not all coffin-style nails need to have long; the cut-off tips, as well as sharp angles, show your chosen gradient if extended over your fingertips. Whether your favorite French ombre style is blue ombre, yellow ombre, or even lime green nails, you pick to make an ombre look, ensure that goes well with the amazing beveled cut.
6. Chic Matte French Ombre Stiletto Nails with Gems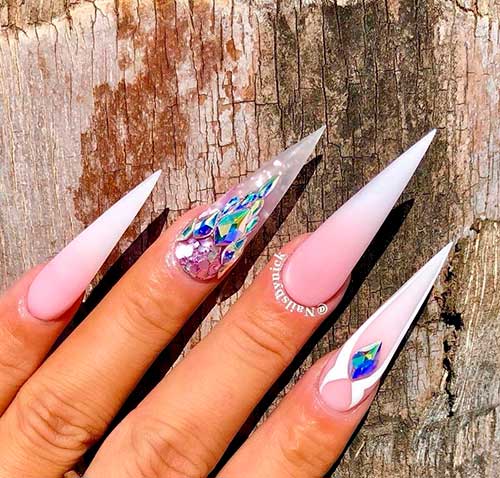 If you want a futurist ombre nail design, then this one above is for you. The long pointed nails are accentuated by a pink and white manicure to make it look simple but stunningly beautiful. Additionally, this design oozes sophistication and is ideal for transitioning naturally from office to dinner date.
7. Classy Matte French Ombre Nails with White Flower & Butterfly Glitters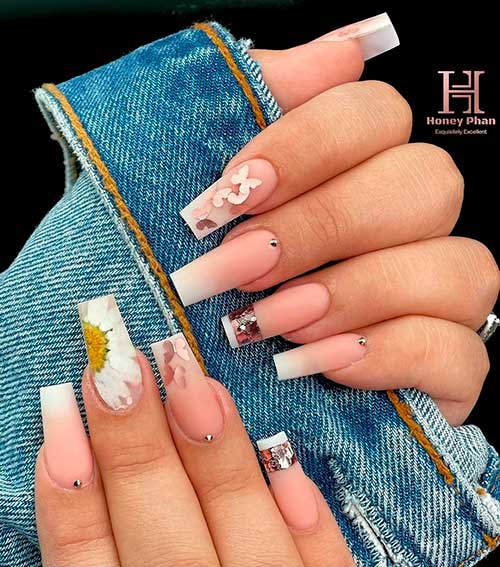 This design exudes pure class and is ideal for a woman who pitches her style at modern cool while keeping away anything that is tricked up. These ombre nail designs will be excellent with a matching white flower design in addition to s single rhinestone piece on the base.
8. Cute Round Pink and White Ombre Nails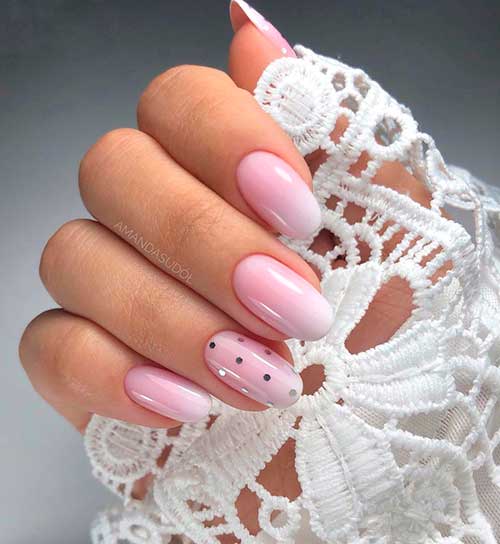 This nail art design is so elegant. Besides, it's simple enough to work amazingly on any occasion. Also, the glitter polka dots accent nail increases the design's beauty.
9. Long Pink and White Ombre Nails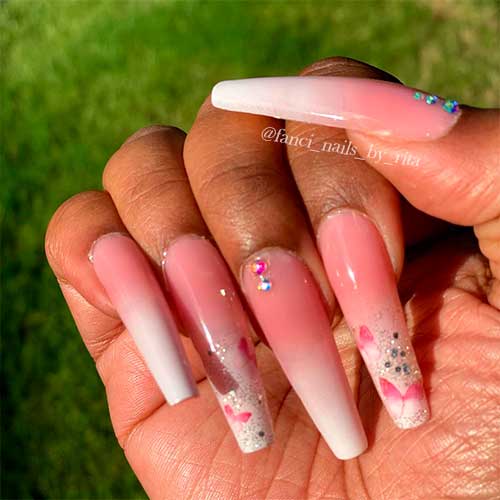 If you are looking for amazing French ombre nails that will perfect idea for you. Here we have glam two accent nails featuring butterfly nail art with silver glitter. In addition, some rhinestones on two other nails base.
10. Gold Glitter Floral French Ombre Nails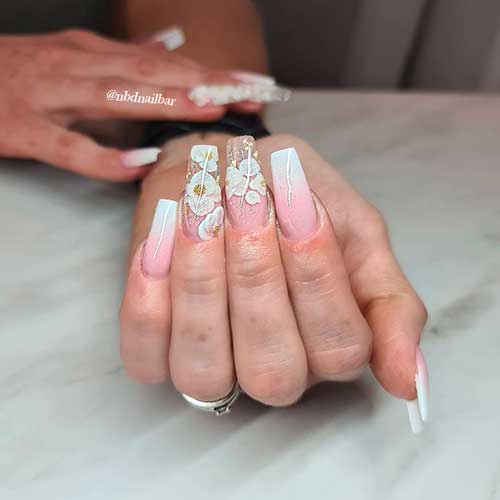 Next, we have an awesome gold glitter idea. As you can see, the floral nail art over pink to clear accent nails with gold glitter is a subtle style to wear in this French ombre trend.
11. Long French Ombre Nails with 3D Flowers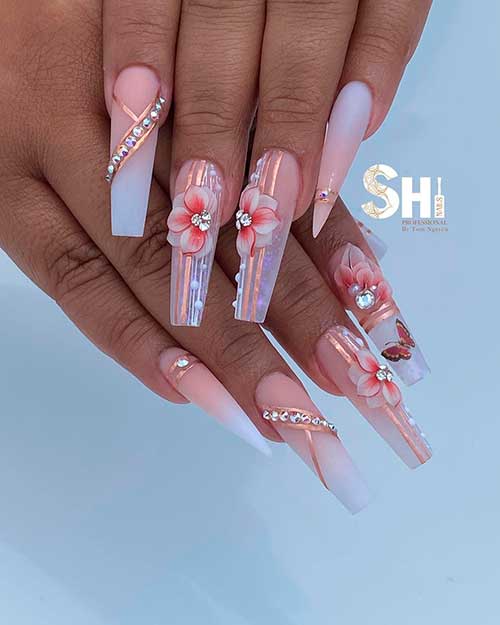 Indeed, these nails above are so elegant. I really love these matte French ombre long nails, especially when blended with rose gold strips, rhinestones, and 3D flowers. Besides the butterfly on the index nail and the pointy pinky nail.
12. Long Spring Baby Bloomers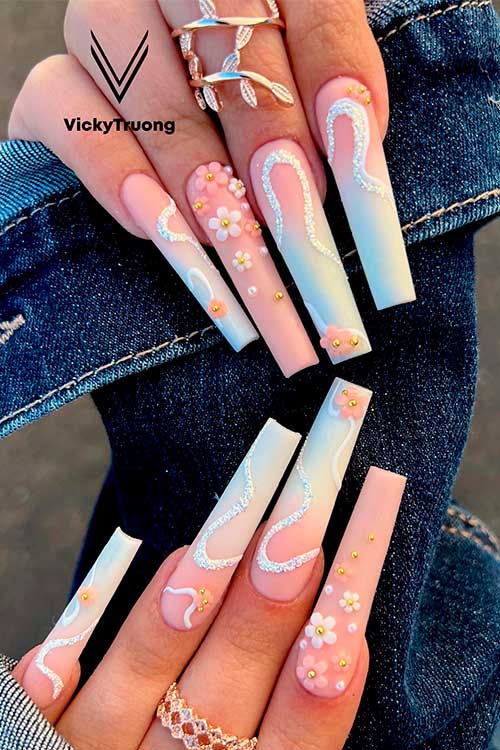 A stunning, ombre manicure is an attractive way to dress up your hands. Indeed, bright pink to white nails are a popular choice, but a soft, pastel shade will also work well. Also, you can purchase coffin nail extensions to have this pretty look. Additionally, this long coffin ombre nail design features white sugar swirls and tiny daisy flowers with rhinestones.
13. French Ombre Nails with 3D Flower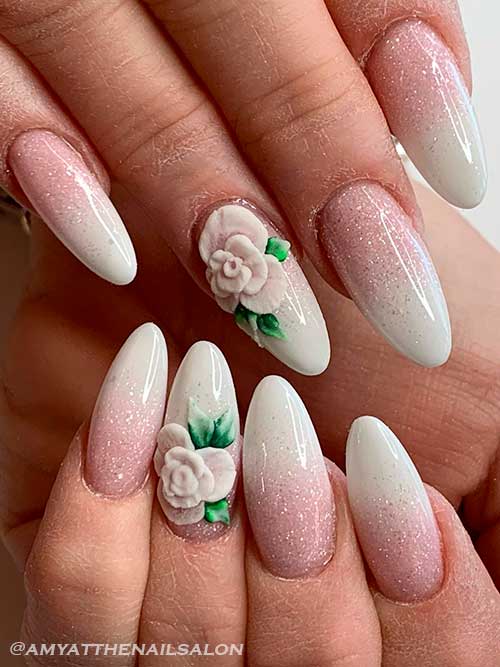 A French ombre nail idea can be a fun and unique way to add a colorful twist to your manicure. Besides, you can create the ombre by using nail polish in two different colors that blend together. So, these glittery French ombre nails with a 3D flower are really worth trying for having a unique look.
14. Cute French Fade Nails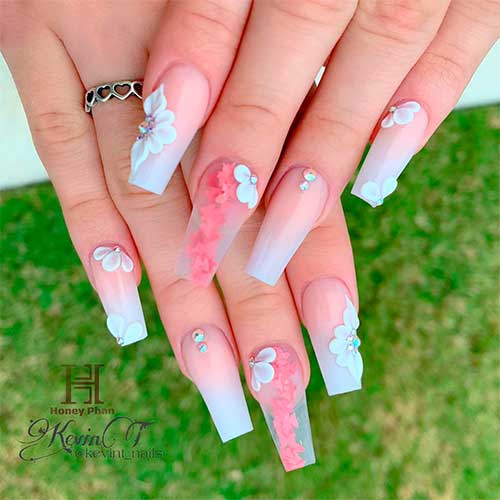 Still, the French ombre nail style is popular and almost the most classy nail style that suits any occasion. So, you can recreate this nail design that features coffin-shaped baby boomer nails with rhinestones and 3d white flowers.