Still, French manicure nails are in style, and in my opinion, they can work all year long. Just apply the white polish to your nail tips to get the traditional French nails. In fact, this classic manicure still works, and a lot of women like it, but what about doing some fun and applying different nail color polishes on your tips to get the cutest and most modern French nails?
So, we picked up for you the best modern French manicure nails with assorted colors and finish whether glossy or matte. Also, we promise you will love these french manicure ideas. Just keep browsing for inspiration and give your entire look a boost.
1. Gold Glitter French Nails Idea
Indeed, sparkling gold glitter tips will take your French manicure to the next level. As well, this nail art design is the best choice if you're going to a party.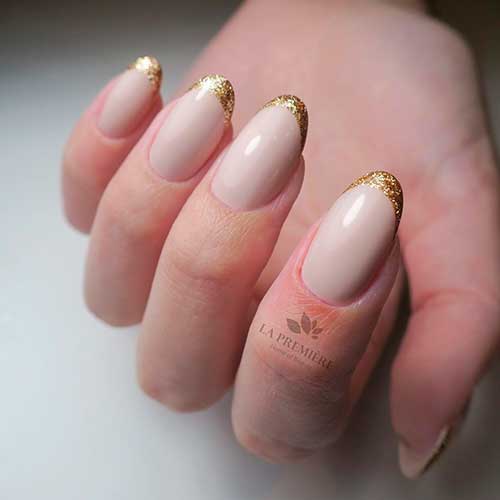 2. Matte Yellow Neon French Nails
Of course, this matte neon yellow French tip nails design is so cute and works with most skin tones. Go for this idea, especially in the summer season.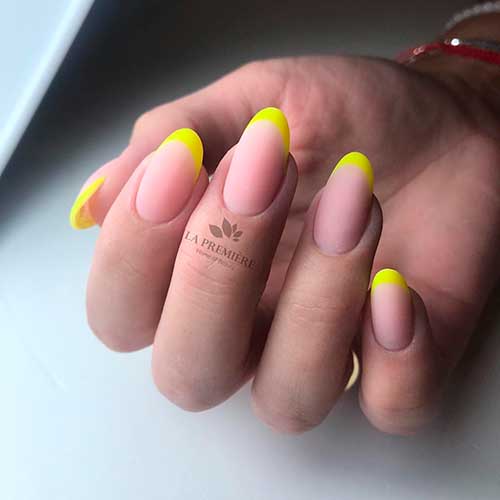 3. Chic Black French Tip Nails Design
Black nails are always eye-catching, and this black French tip idea is so chic and unique. Additionally, the gold stripe on the accent nail elevates the nail art design look. At last, try this one and you will never go wrong.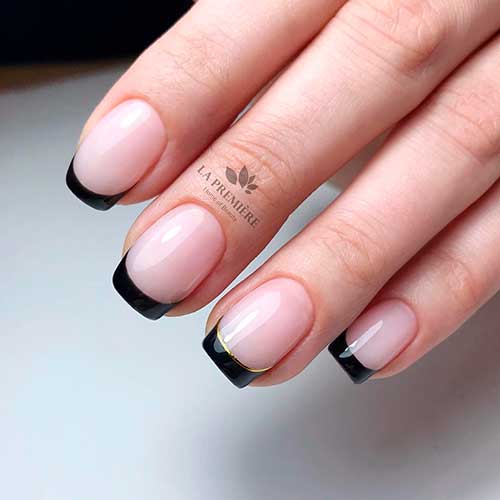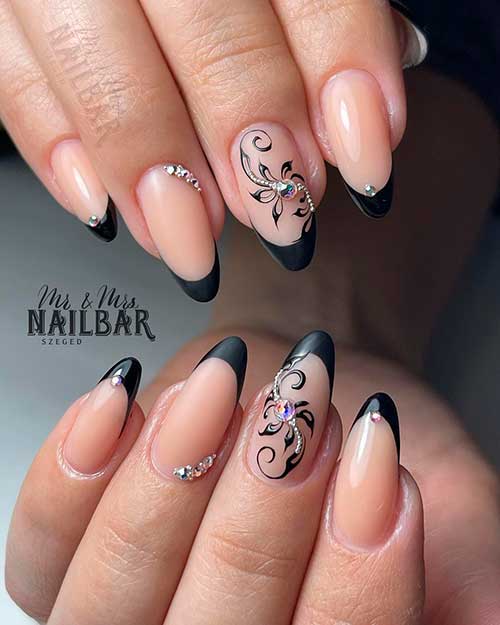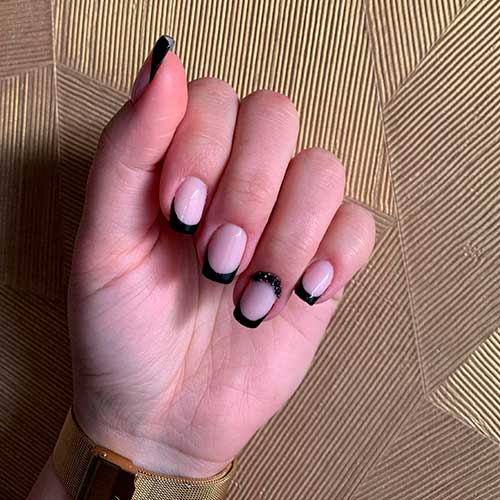 4. Cool Multicolor French Nails Idea
Go for this neon multicolor French tip nails that blend different bright neon colors together in a fun way, and enjoy your holiday with this cool French manicure.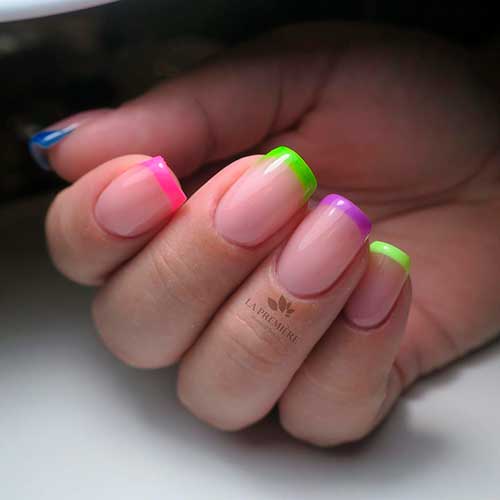 Cute Pastel Colored French Nails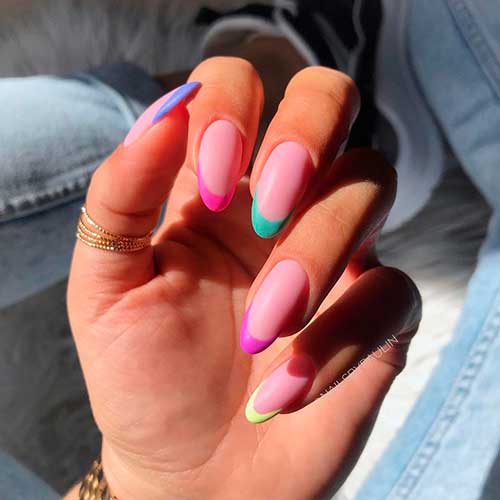 If you can't decide on a nail color to choose for your manicure, then it's time to use different of your favorite hues, and enjoy the design.
5. White Almond French Nails Idea
Of course, traditional French manicures will always be in style, as you see its stunning French nail set and the touch of rhinestones on accent nails is fascinating. In addition, this classy French nail set is suitable for weddings or any formal occasion.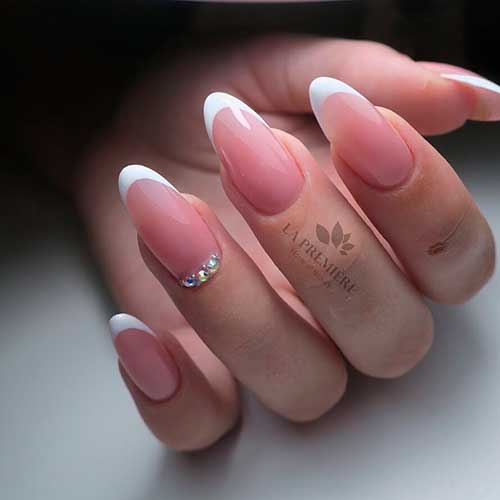 6. Square Shaped Short Gold Glitter French Tip Nails Design
Another, sparkling French manicure idea that makes you shinning like a star, opt for this idea that helps you stand out in the crowd.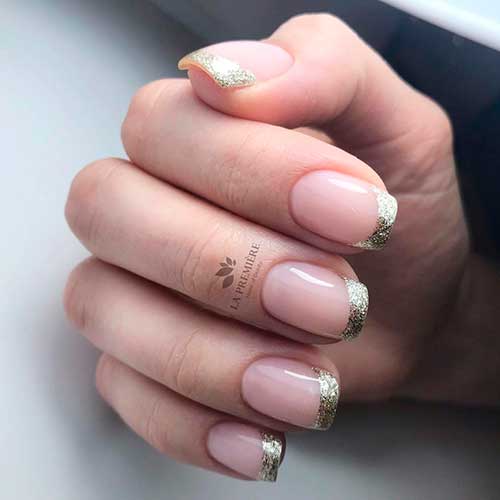 7. Cool Pink Neon French Tip Nails Idea
If you are looking for feminine crazy nail art design then go for this cool pink neon French tip nails design, and enjoy this attractive French manicure look.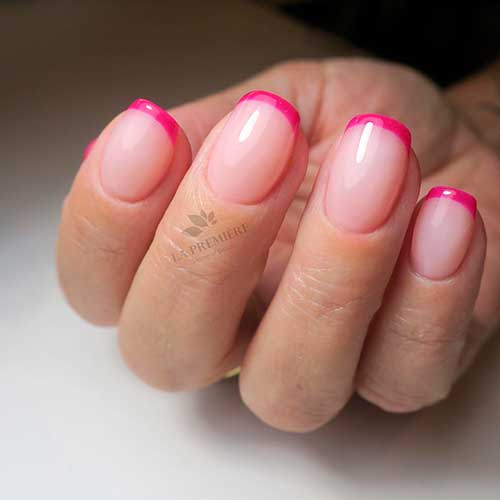 8. Stunning Light Blue French Nails Idea
Another, amazing French manicure of pastel colors, it's a light blue shade. At last, go for this French nail art design, especially in the summer season, and enjoy your awesome look on the beach.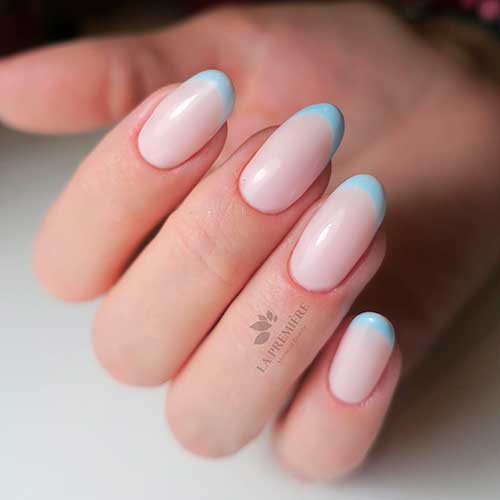 9. Green Neon French Tip Nails Idea
Give your nails a bold makeover by opting for this green neon French tip nails set, and try to recreate it over your favorite nail shape.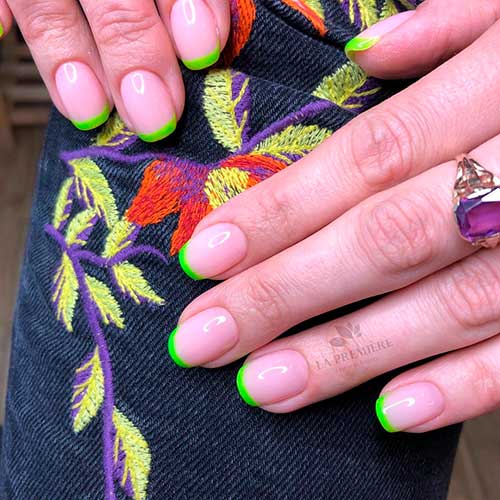 Of course, a French manicure will give your entire look a boost, so trying one of the above French nail ideas really worth it, and guarantees attraction to you, wherever you go!
French Neon Green Nails with Glitter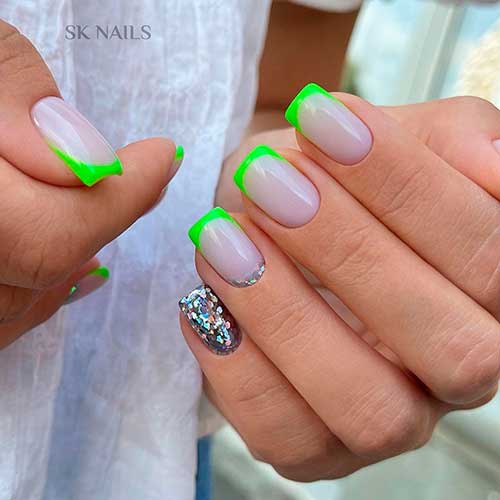 These beautiful French tip nails are really perfect. Moreover, its neon green tips are ideal for the summer season. Also, the silver glitter on the accent pinky fingernail makes it classy and eye-catchy.
10. Dark Purple French Tip Nails Idea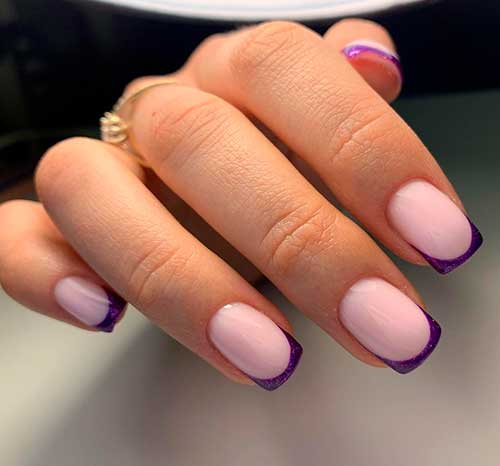 This shimmer dark purple tip nail set is so cute, especially since this feminine color can work with most modern outfits.
11. Stunning Cherry-Picked French Tip Nails Ideas
Bored of classic French Nails? No worry and check out these French manicure nails between modern, twisted, and colored French tip nails below.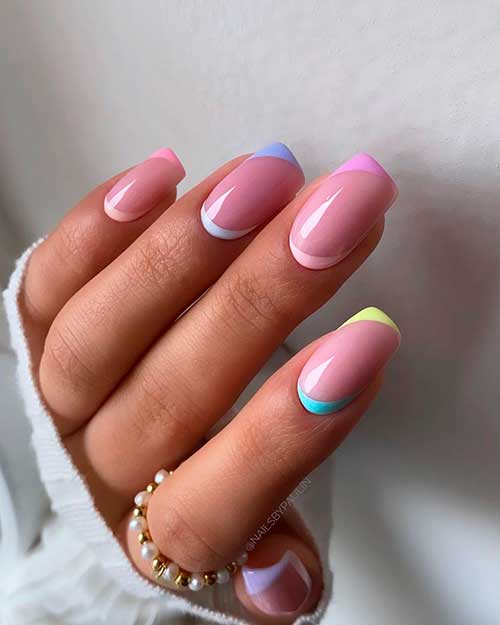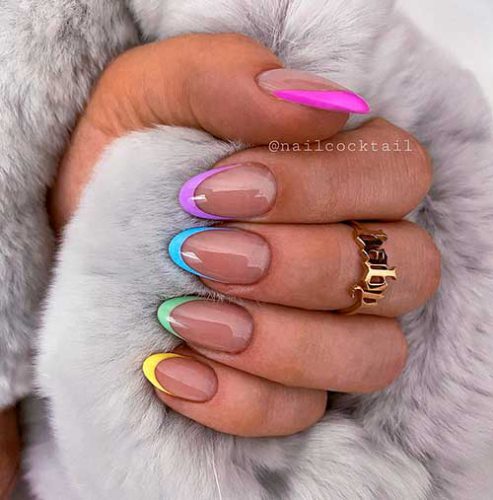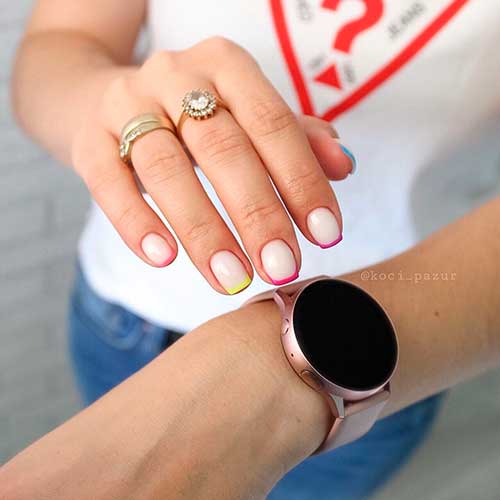 Classy French Tip Nails with Black Criss-cross Net Nail Art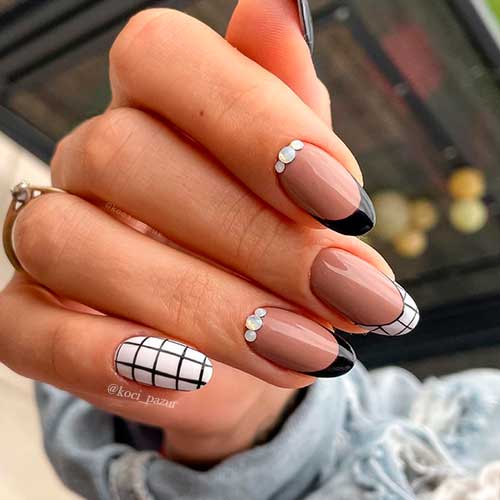 Another black French nail design with black net nail art over white base color. So, choosing black french nails is always in style.
12. Pink Blue Purple French Tip Nails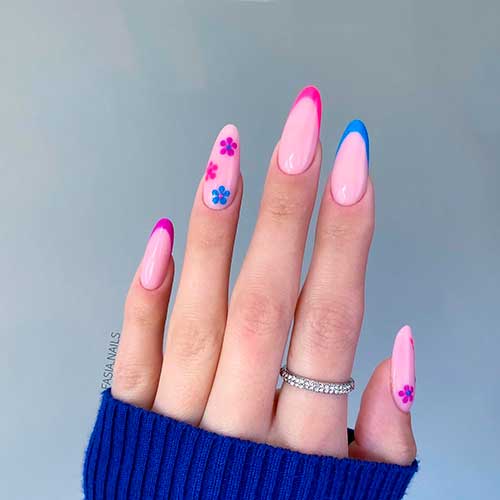 Floral nails are a great way to express your creativity and show off your artistic side. Although there are many ways to interpret an artistic French manicure. One of the best is to play with different floral nail art on nude accents. Of course, this nail design is a perfect choice for the spring season.
13. Gel Pastel Multicolor French Easter Nails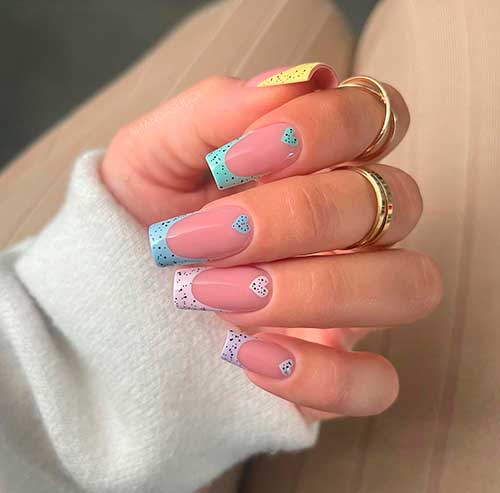 You don't need to choose one color for your French tips manicure. So, pastel multicolored nails can be used to embrace all of them. Of course, there are so many ways to achieve this colorful look by combining it with an Easter egg manicure and a small heart nail shape at each nail. So, you should give this nail art design a try.
14. Matte Lilac French Manicure with Neon Yellow Tips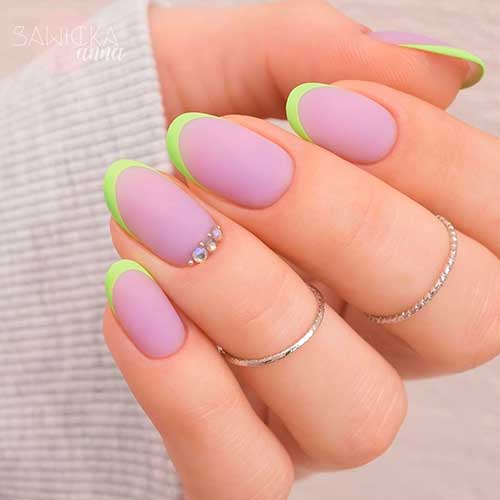 Matte French tip nails are great for women who like elegant manicures. Indeed, this option is subtle and looks great when applied with pastel nail colors. Also, this look is best for short nails that require very little maintenance. Besides, this look is great for spring and summer occasions and can be worn anywhere.
15. Gold Glitter French Tip Almond Nails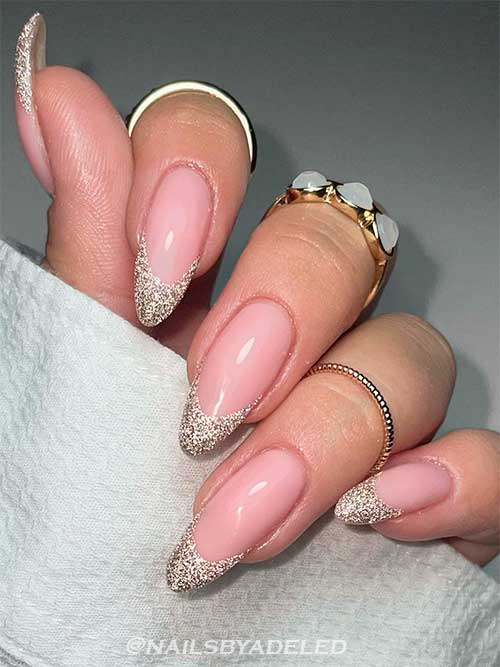 If you have an upcoming celebration or a fancy party coming up, a glitter French tip on your manicure will look stunning. Of course, this elegant design is one of the hottest trends of the year, and you can make your nails look glamorous with a glitter French tip. So, to achieve this look, use a medium-grit emery board to reshape the tips. Afterward, apply gold glitter nail polish, and use cuticle oil and moisturizer to seal in the moisture. Additionally, for extra fun, attach star stickers or confetti to your almond nails!
16. Black French Nails With Zebra Prints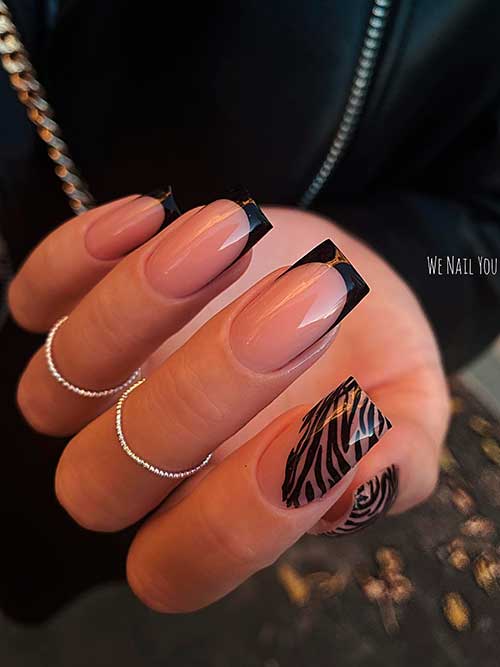 This cute nail design combines black and zebra prints. So, it looks bold and beautiful on the nails. You can even use decals with animal prints. Firstly, you will need to apply a base coat to ensure that the decals stick well. Next, apply a top coat to protect them from chipping and wear. After that, you can draw stripes using black nail polish.
17. Burgundy French Manicure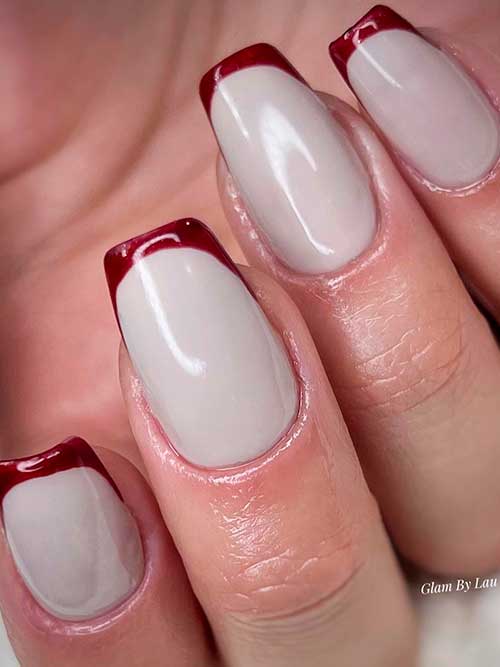 Of course, burgundy French nails are a versatile choice that can go with any outfit, occasion, or life situation. Besides, these dark-toned nails can also be used to create different designs. Also, these nails look great with a white gloss or matte finish.
18. Light Blue Modern French Manicure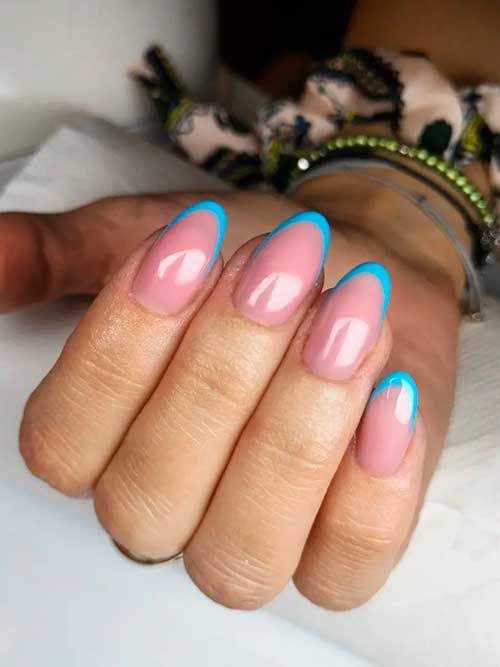 Indeed, a light blue French manicure is a simple yet elegant design. But, to get these light blue French nails, you need to visit a nail salon and apply light blue nail polish. Or you can be daring enough to do it at home!
19. White Heart Shaped French Nails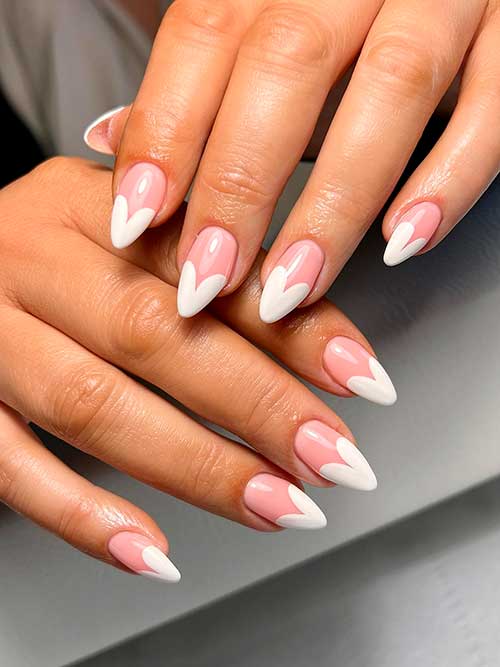 If you're looking to make a romantic statement this Valentine's Day, you can't go wrong with white heart-shaped French nails. Indeed, this simple nail design is perfect for any length and skin color.
To Conclude
At last, a great modern French nail design is one that has a touch of whimsy to it. In addition, these designs are often done with different colors, but one thing that makes them a good choice all year round is that they are very versatile. Also, they can be worn anywhere and you can be mixing and match them with any of your garments. Of course, the French manicure design looks good with chunky rings and accessories.