Just like the seasons, fashion will keep on changing, yet will still return as expected. Since you're reading this, it might be safe if we assume that you are one of the fashion and beauty geeks. Who keeps on searching for the latest fashion and beauty trends especially, spring multicolor nails.
Indeed, nothing is greater than a new manicure, especially when spring comes with an up to date pastel colors. Though it is well-known and used by women before, still today, fresh pastel colors are still well-liked by many people.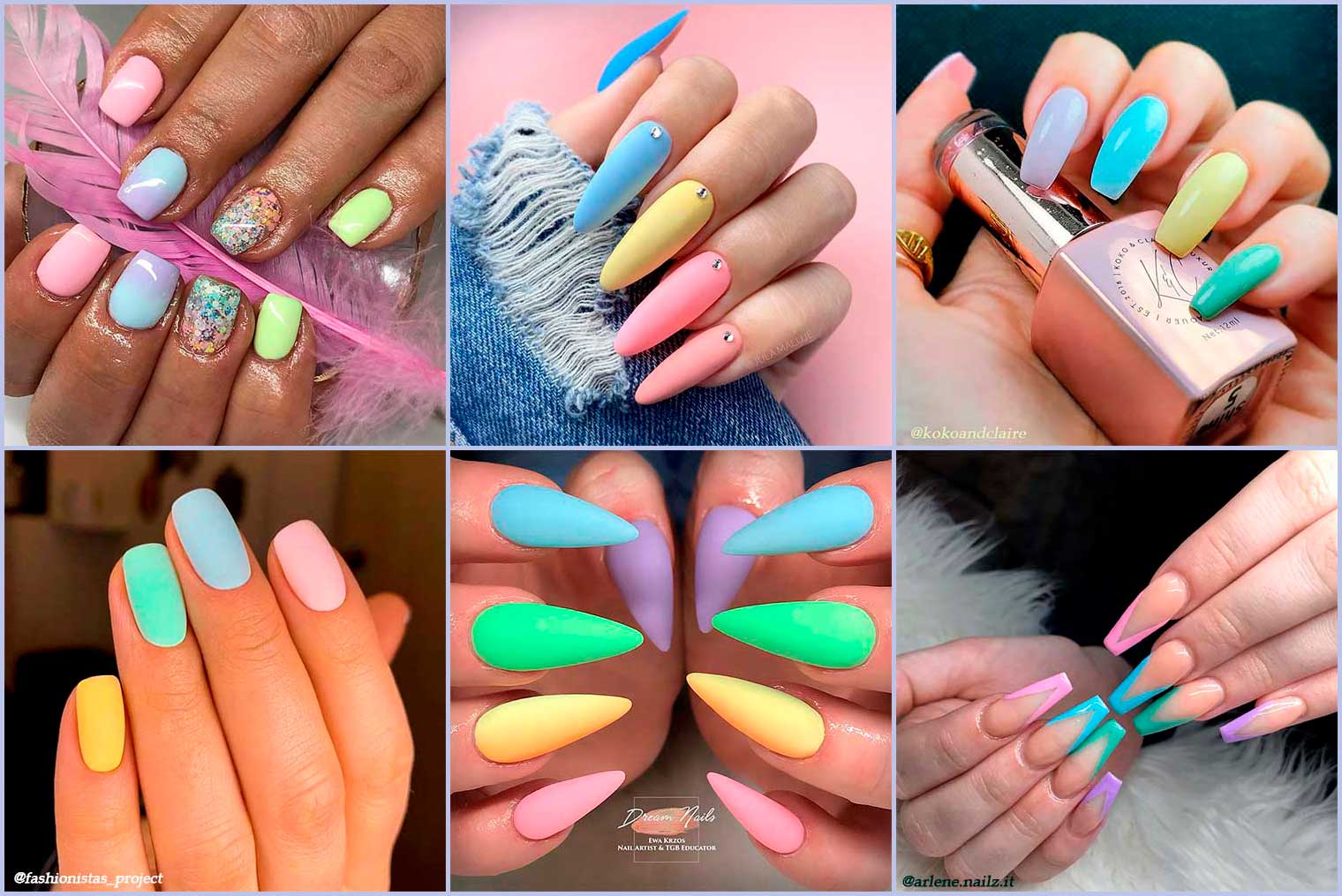 As you know that springtime comes together with Easter time. So, it calls for a beautiful beginning as well as fulfilled days, and the fresh new shades are the exact representation of it. Though pale pinks have a place forever every year. Therefore, why don't you try a fresh spring nail design, which is a bit more unexpected? Well, good news because, along with the season's runways, any social media is brimming with it.
There are a lot of ideas to choose from, scroll down for the list of the top and trending spring nail ideas that you must try. Now check out these Cute Spring Pastel Multi-colored Nails! These will be everywhere this year!
1. Pastel Coffin Multicolor Nails
One of the most popular trends today is the multicolor pastel coffin nails. So, you can easily paint your nails with this. In addition, these elegant and bright multi-colored nails are the best choice for summer festivals and spring. Of course, the style is very much suited for all occasions.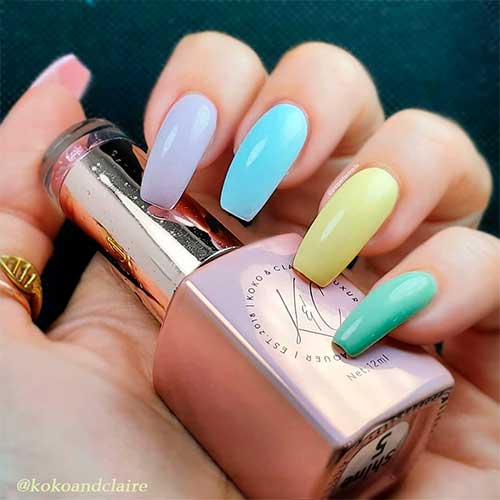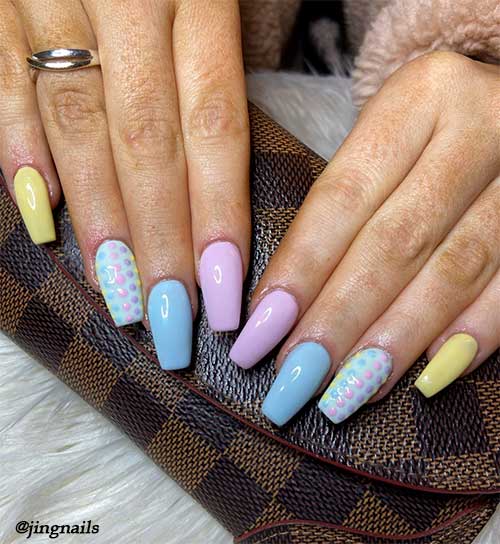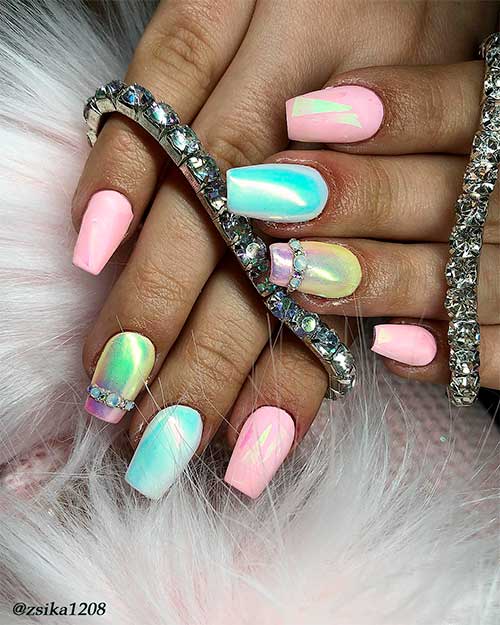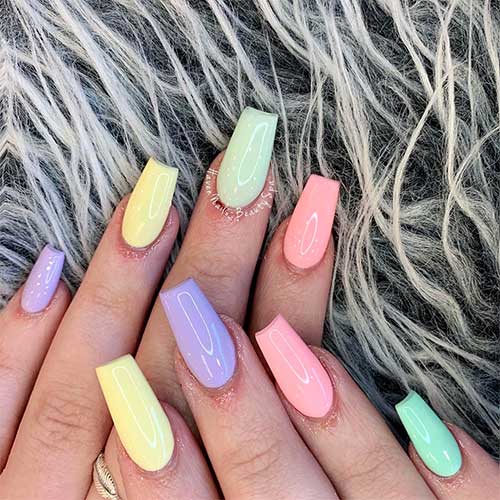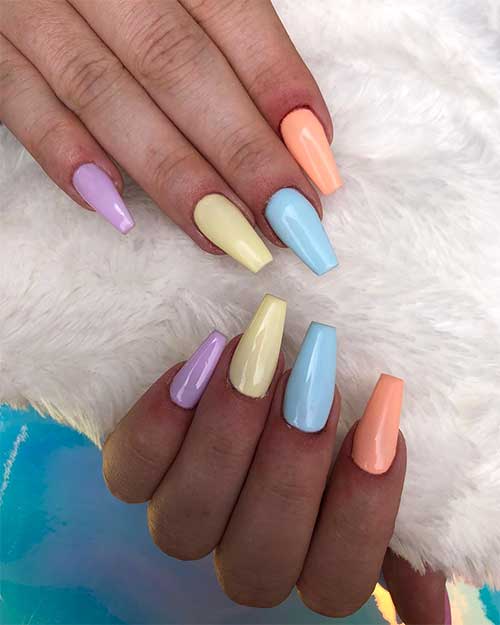 2. Short Pastel Multi Colored Nails
Do you want something pretty and fun on your nails? Then you might end up with a pastel color to lighten your toes and fingers with the creamy hues of a rainbow. Also, you can increase the design's beauty by adding some glitter or chrome accents. So, be brave and try to recreate these designs below by yourself.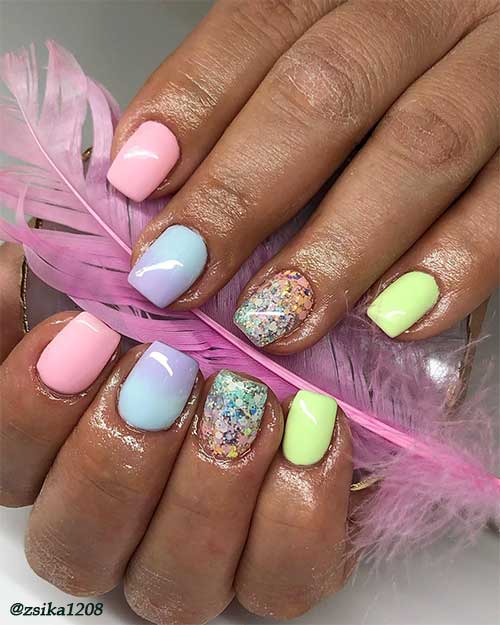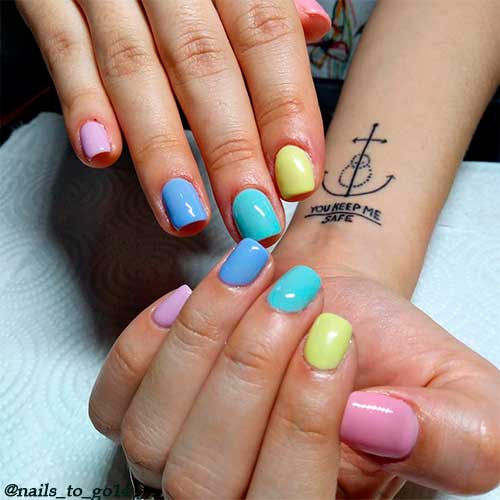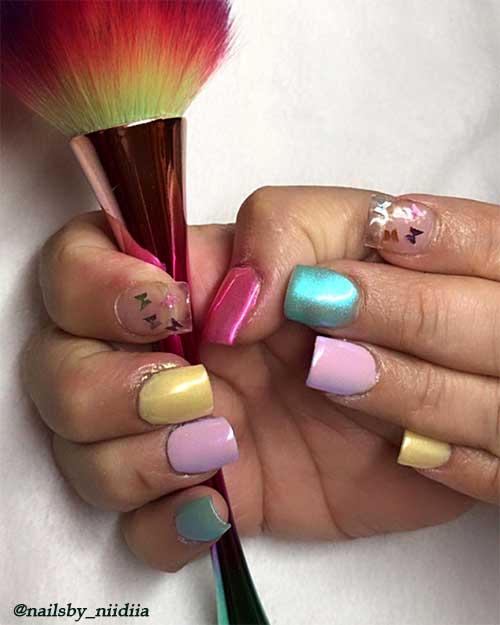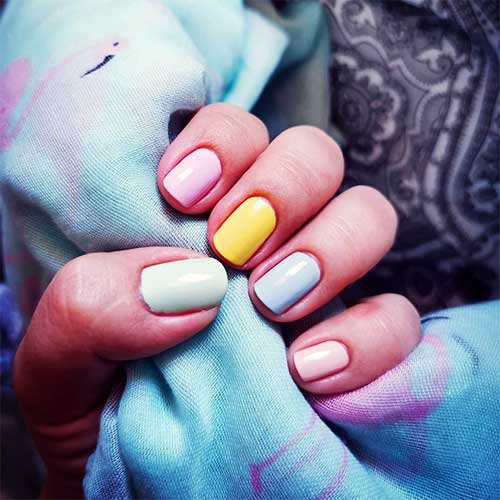 3. Multicolor French Manicure with Pastel Tips
Still, think that a French manicure has only one color, well no. As you can see below you can paint your nails with dark and bold colors to make your nail polish stand out.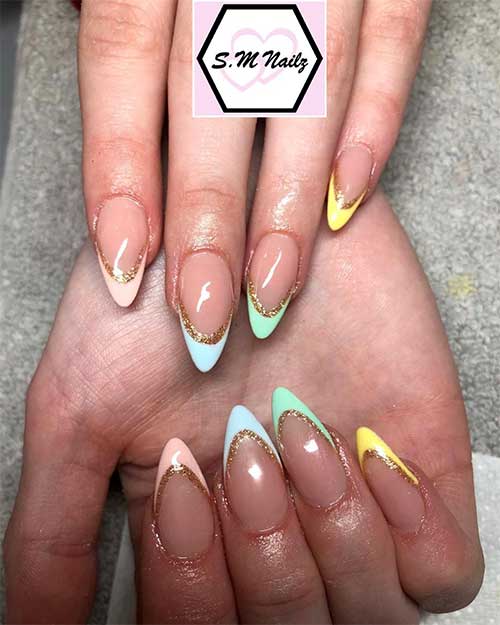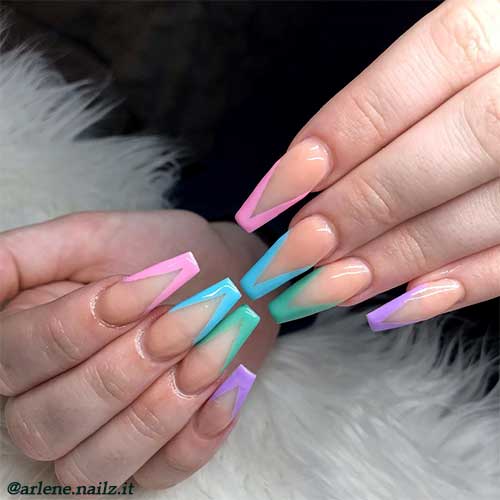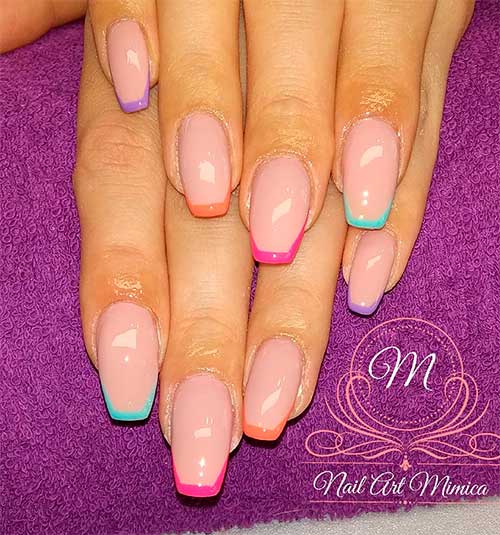 4. Matte Pastel Acrylic Multicolor Nails
Of course, Matte pastel in multicolor will be just amazing for nails. Besides, you'll surely be comfortable to wear all the time. Additionally, you can use rhinestones or a flower stamper to amp up your nail art design.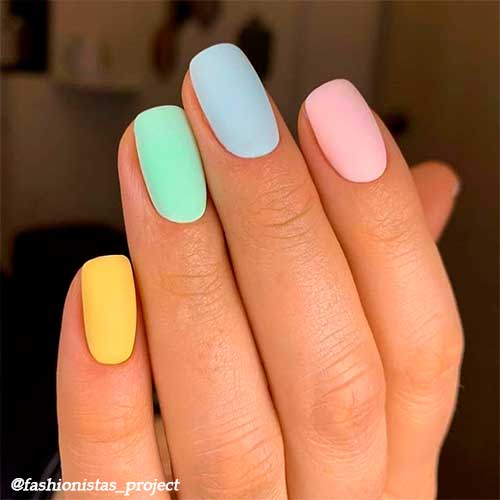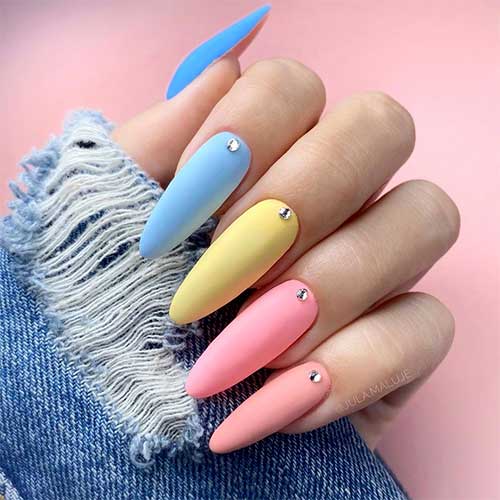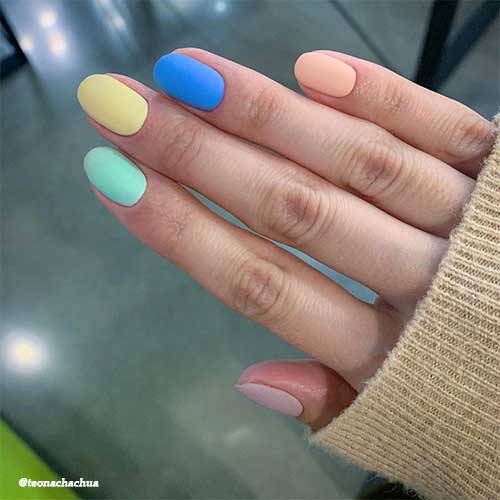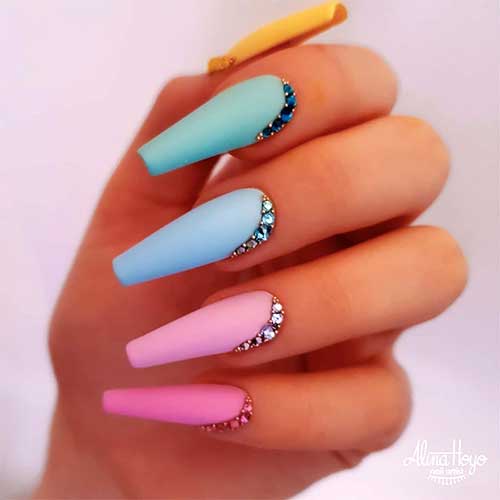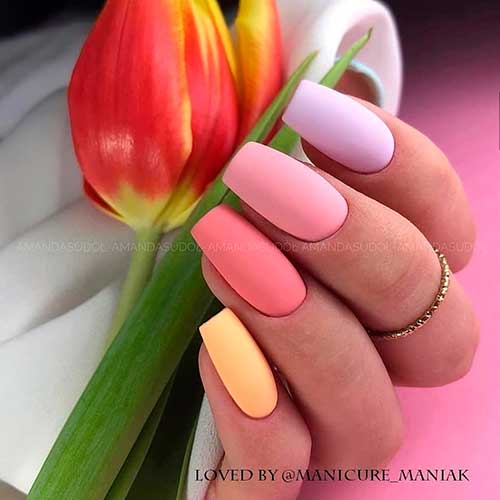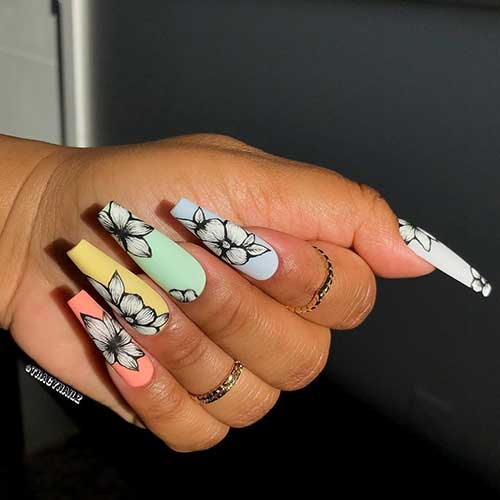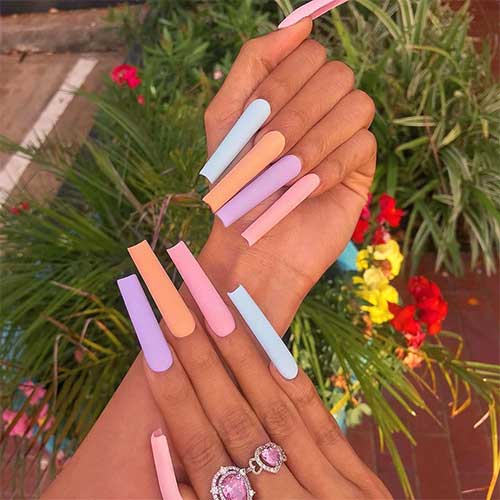 5. Multicolor Pastel Acrylic Nails Almond Shaped
Other simple spring nail hues for acrylic nails are perfect for short, almond, coffin, long, and for fake nail shapes! Whether you wear the glossy or matte style you will have a stylish look.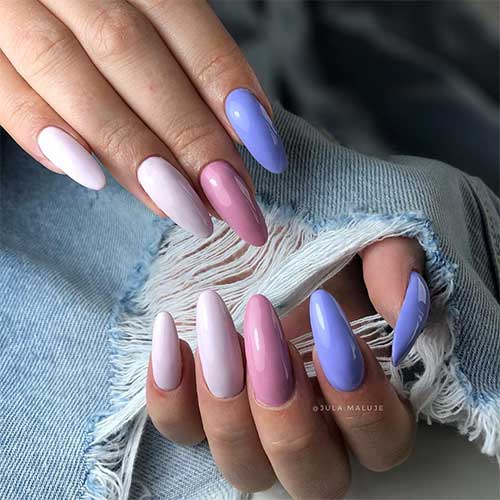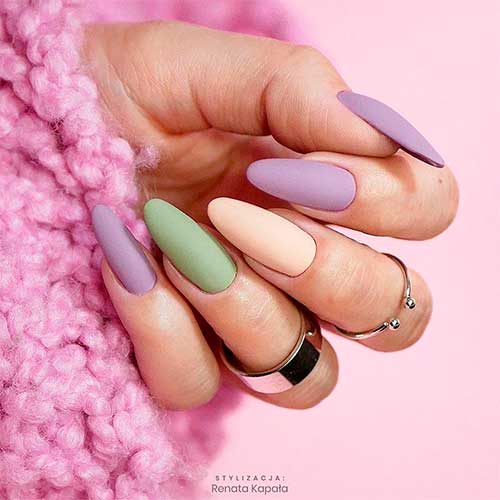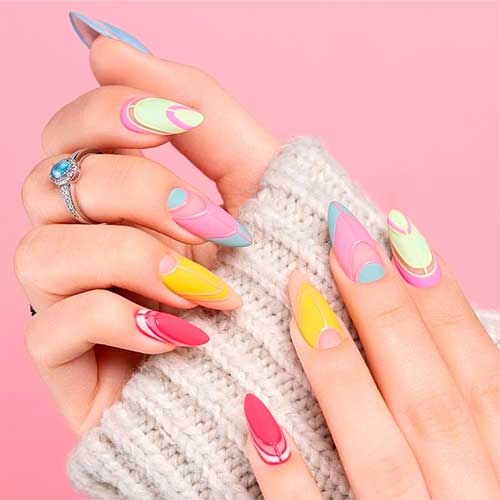 6. Pastel Acrylic Multicolor Nails Stiletto Shaped
Of course, these nail art designs will perfectly fit with matte and glossy hues as you see below. If you can't decide on a single shade, then a muted rainbow will always be a winner.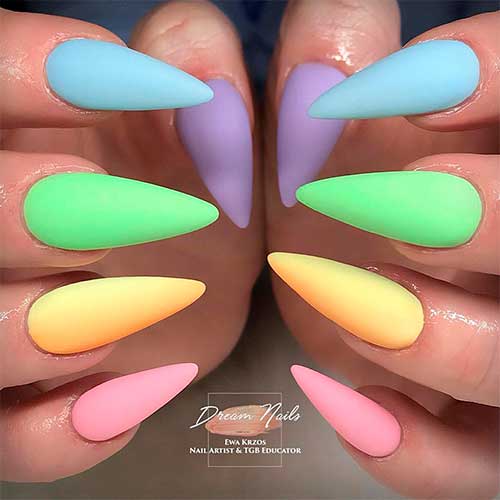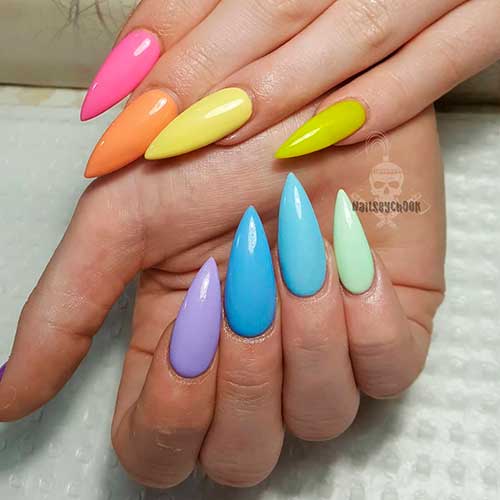 7. Pastel Squared Multicolor Nails Ideas
At last, square nail art designs are so attractive and easy nail shape for filing. Furthermore, whether your square nails are short or long you will be an eye-catching lady, especially when using pastel nail polishes. So, it's time to wear these unique nails.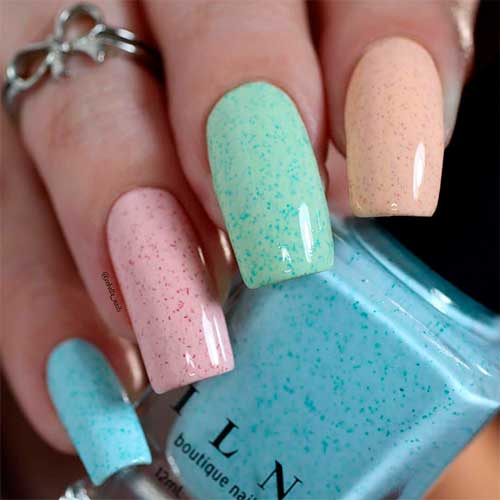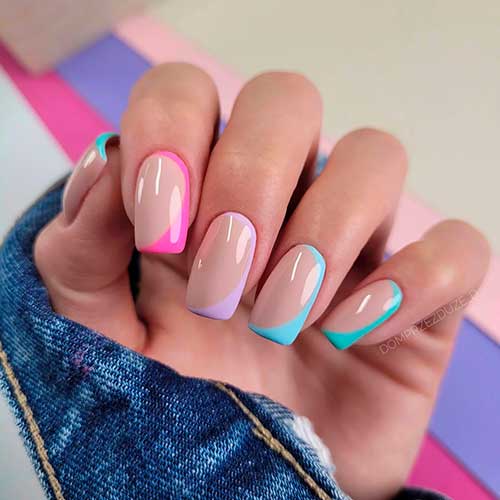 8. Pastel Neon Multicolor Nails
If you have ever wanted to try pastel nail color, then these pastel neon multicolored nails are for you. Pastel nail colors are a pale shade of color, less saturated than primary colors. Indeed, they are light and calming, perfect for a fresh, youthful manicure.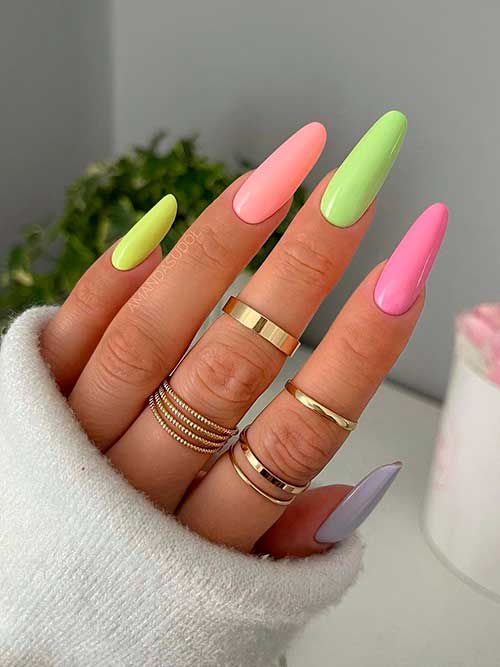 9. Pretty Pastel Multicolor Nails
Indeed, pastel colors especially multicolor spring nail art designs are the perfect choice to feel spring vibes. But, if you are searching for a different and unique nail art design then try these pretty pastels over nude base color.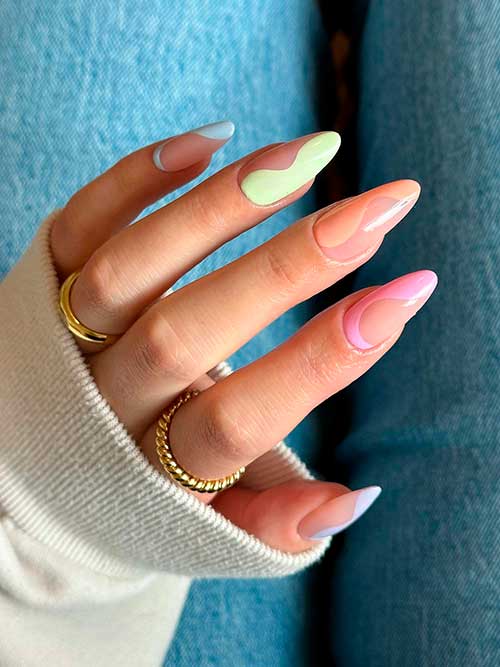 10. Matte Ombre Multi Color Nails with Floral and Swirl Nail Art
If you are looking for a stunning multi color nail design then these matte ombre nails are for you. The design features a set of stunning colors with a subtle look because of the floral nail art. Also, the swirl nail art on each nail makes this design so pretty.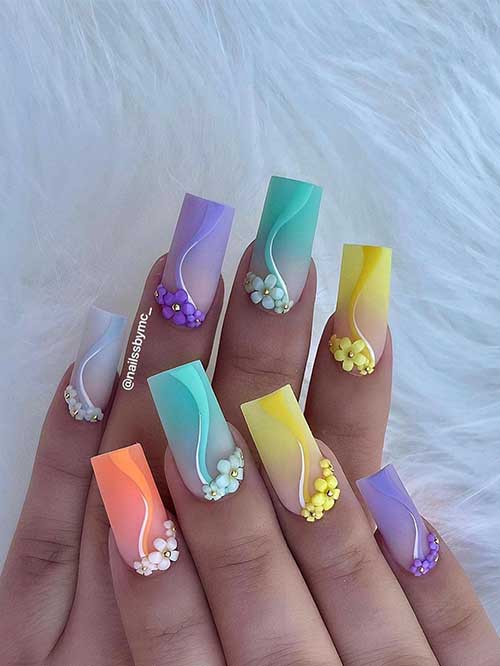 To Conclude
Indeed, there is a varied beautiful quality in pastels. To name some, we have sky blues and lilacs. Which are expected to be strong for this year. But then you may get yourself ready for different nail art designs. Which are for pure fun. Additionally, think of brilliant rainbow colors, a frisky take for your floral nails. As well as quirky patterns just like clouds and the cow print, yes, those amazing and unexpected designs. Of course, choosing one of these ideas will be perfect for the season.
If you are a minimalist, no worries because there are also a number of designs for you. A French manicure is a popular design too. So, if you like, you can have your nails painted with this at home. In addition, we also have the easiest design for your nail – the gradient nails.
At last, those listed above are just some of the nail trends perfect for the season. Hurry! Wear the best shades for your nails today!