If you are like me, the way you get in a chiefly long and cruelly freezing winter is planning all spring getups and new makeup trends you will be wearing early enough even though you are the only one who will be seeing them. That is true for nail polishes. Furthermore, there is something about switching moody winter nail hues for softer spring nails colors instantly alters my vibes; maybe you get what I mean.
Even if you can wear it no matter what design, style, or color you want anytime and any day, regardless of season, it is still good to have a few ideas to motivate and encourage your nail choices every season. And to assist you, we rounded up some cute spring nail ideas you should try this year. If you want a little pick me up, begin wearing any of the ideas mentioned below.

1. Cute Spring Gel Nails Design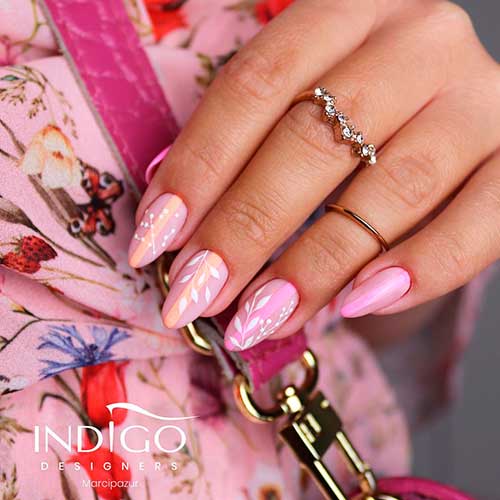 Are you coming out of a dreary, gray couple of months? You will be thinking about fresh colors so much that you will want to paint them on your nails. Add a straight line in the center and accentuate it with white leaves to put some ethereal nail art to baby pink nails.
2. Navy Blue with White Floral Nails Design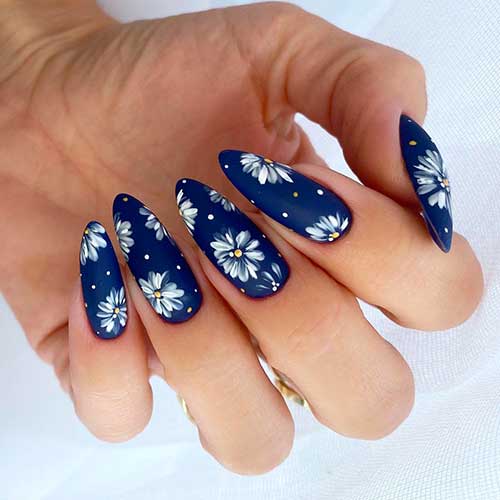 Still flower print has been an exciting trend in art nails. This design is cool and perfect to wear this springtime. This cute nail art will surely make you stand out from the crowd. This unique nail art idea is easier to do yourself than it looks.
3. Cute Spring Butterfly Nails Coffin Shaped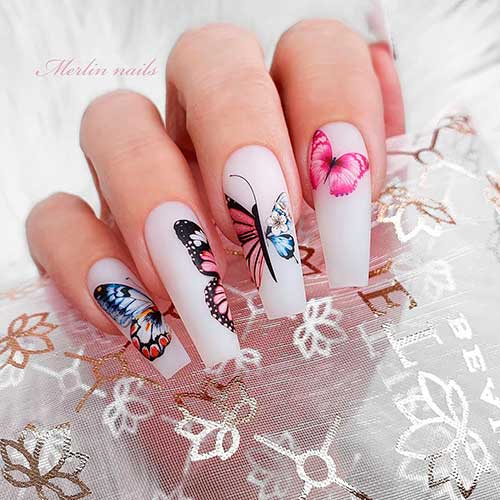 This nail set is a classy and elegant nail design. It is fun to look at and the best choice if you want some whimsical design. The design is not too dramatic but tremendous and will fit any event you plan to attend this springtime.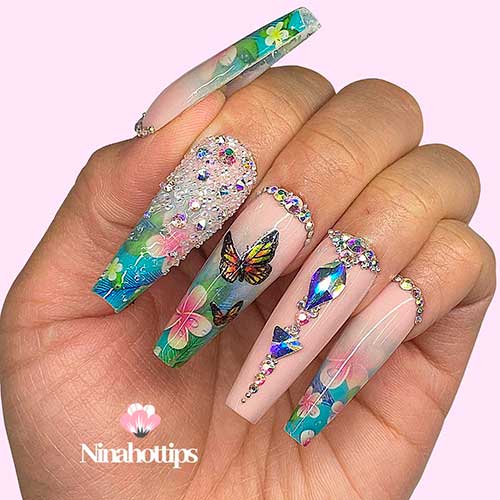 Another gorgeous butterfly nail art blended with floral nail art on tips and adorned with nail blings and sugar effect nail glitter. Also, the coffin nail shape plays a big part in design beauty.
4. Short Mustard Yellow Spring Nails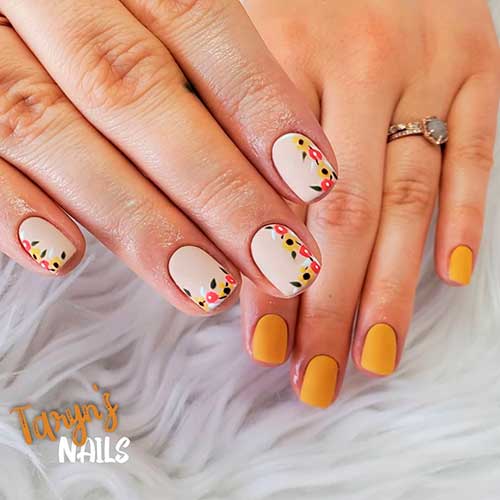 This cute spring nail idea was intended for minimal nail art fanatics and neophytes as well, as it couldn't be simpler to do- no expertise needed. I find sheer base manicures irresistible as you cannot see any growth. Additionally, we made sure we chose three highly pigmented shades for the polka dots to stand out.
5. Cute Spring Pastel Nail Colors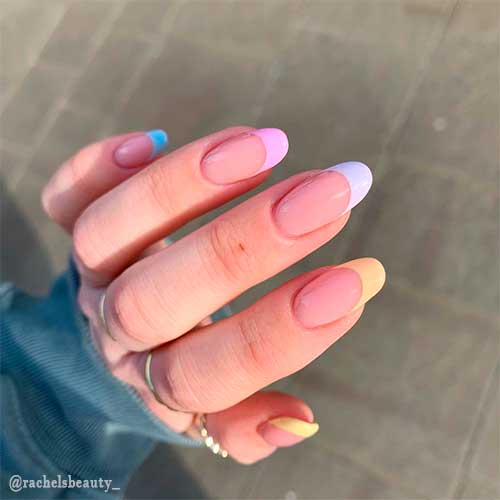 Nothing screams spring season more than a pretty pastel manicure that features light blue, pint, and creamy yellow at the tip. Pastels are always a mainstay in the world of beauty and fashion that is always exciting to wear. The best thing about this cute spring nail idea is that it can complement any outfits you wear this springtime.
6. Stunning Butterfly Spring Nails with Floral Nails Design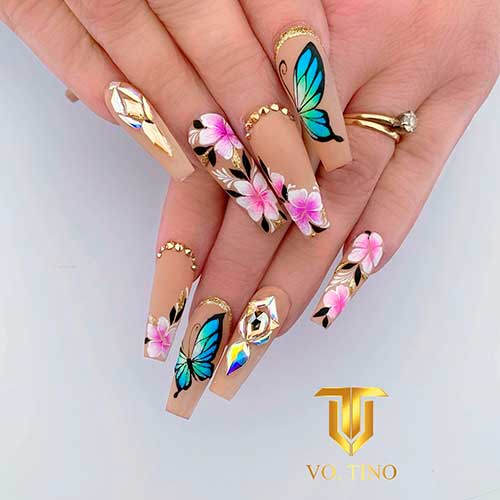 Still can't decide on a butterfly or floral nails? Wear both! Enjoy matte nude coffin nails blended with butterfly nails, floral nails, gold glitter, and rhinestones.
7. Matte Light Blue Spring Nails with Floral Nail Art Design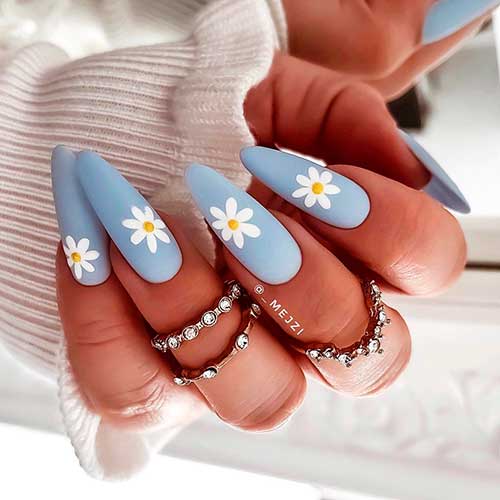 Of course, this beautiful pastel spring nail design gives a gorgeous manicure that suits spring vibes, also the white flower over each nail turns it into an eye-catchy design.
8. Matte Pink Blossom Nails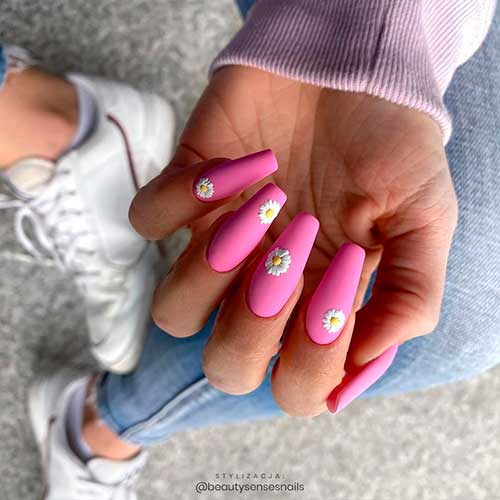 How stunning is this simple manicure? It's easy to apply a pink shade followed by a matte topcoat over the desired nail shape like a coffin nail shape then decorates the nail art with white blossoms by hand painting or even with stickers to get this cute manicure.
9. Spring Nail Designs for Short Nails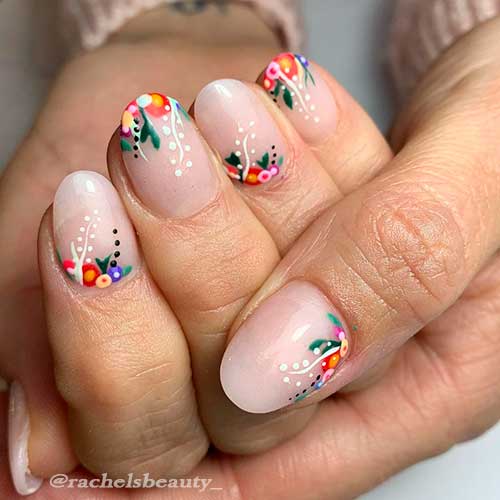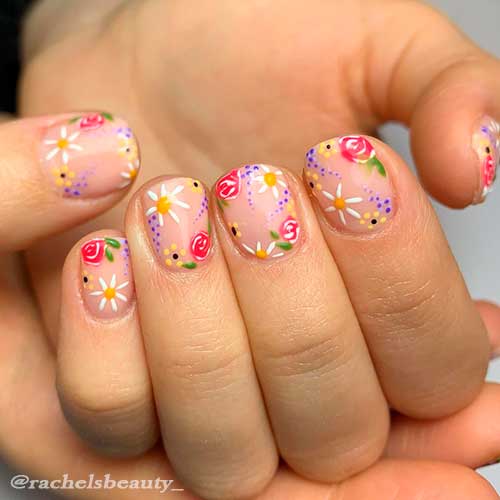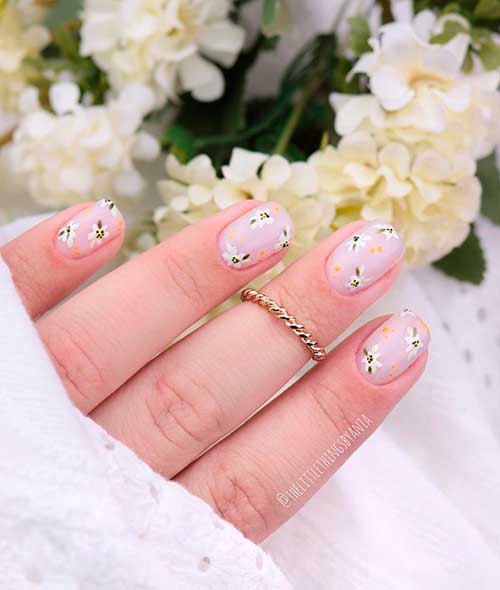 At last, these adorable spring nail designs are for short nail lovers who love to wear manicures over natural nails. Fortunately, it's easy to paint floral nail art over your nails with some favorite spring nail colors or even use some floral stickers and enjoy your hand's look.
10. Stunning Miscellaneous Spring Nails
Still need more inspiration! No worry because cute spring nails are endless, just keep scrolling and enjoy these various spring nail art designs below. Of course, you will find different nail shapes in addition to, various spring nail colors, but we promise you will find what suits you!
Gorgeous Pink Spring Nails with Floral Nail Art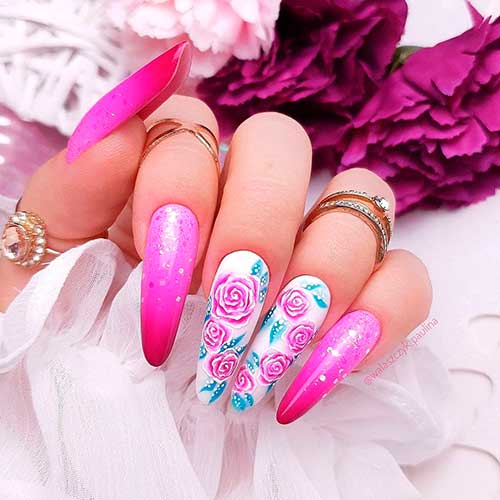 These cute spring nails are a subtle design that combines glitter ombre pink and floral nail art together. At last, the end result is perfection.
Black and Yellow Spring Nails with Butterfly and Floral Nail Art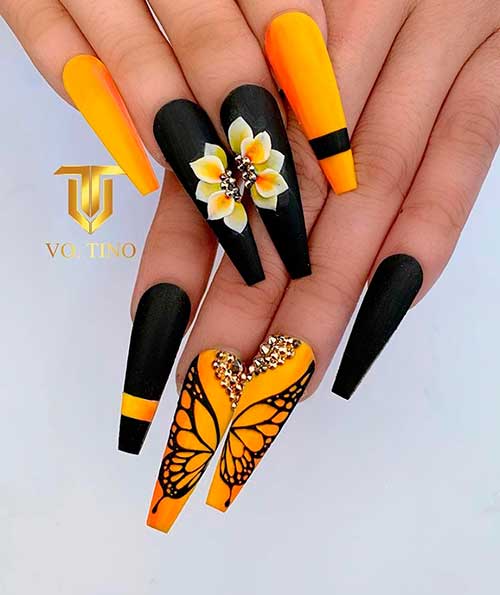 Short Colorful Polka Dot Spring Nails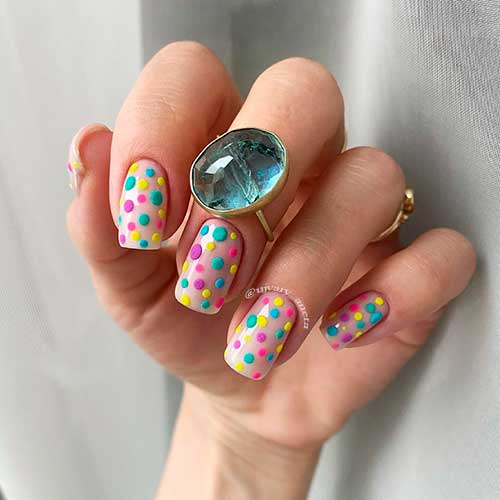 Matte Pink Ombre Nails with Glitter In Addition to Leaf Nail Art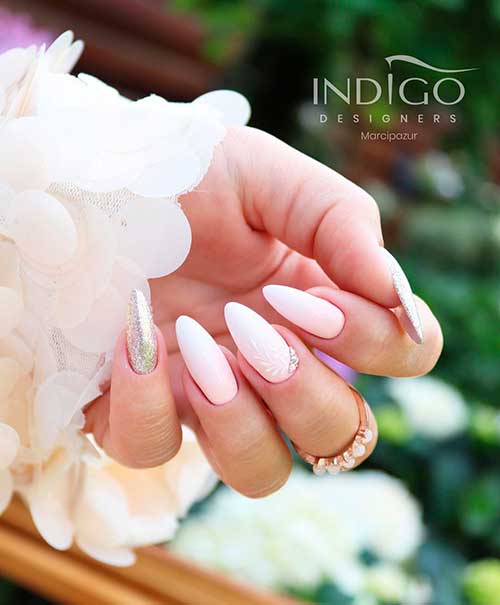 Colorful Long Square Shape Floral Nails Besides Rhinestones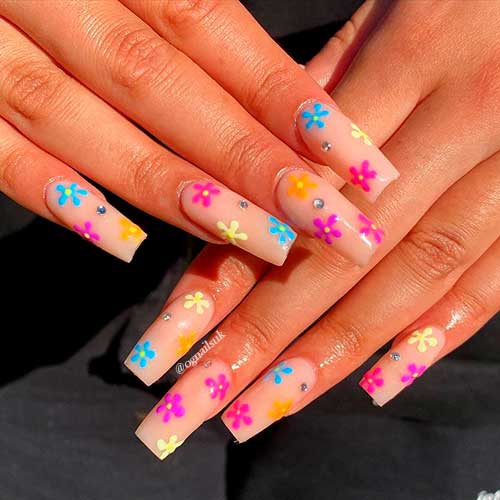 Indeed, Light Blue and Nude Colors with Leaf Nail Art are Gorgeous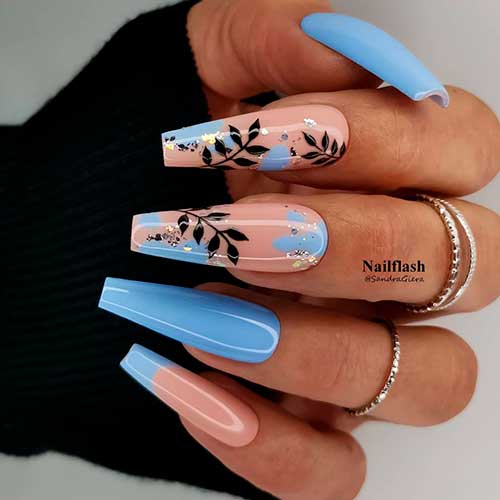 Long French Nail Tips with Butterfly Nail Art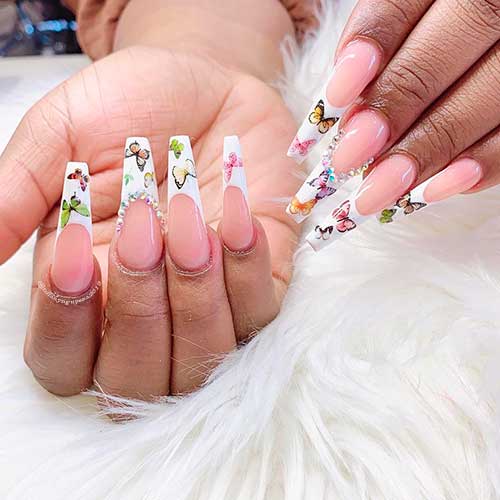 Stunning Floral Nail Art Design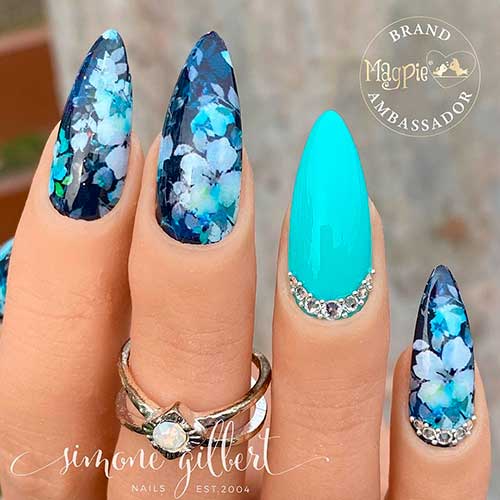 Colorful French Tip Nails for Springtime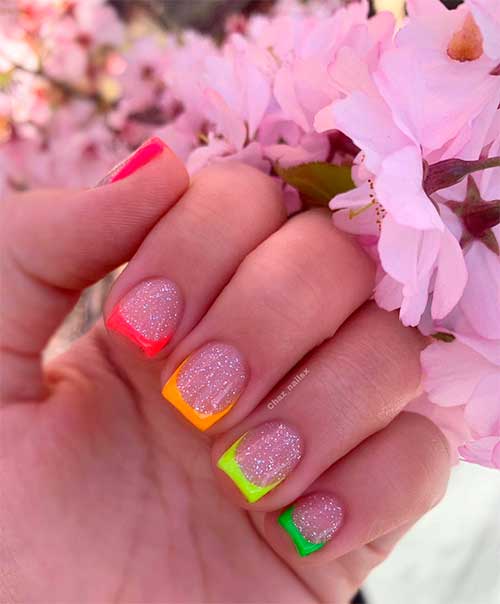 Cute Colorful Butterfly Nail Art Design
Still, butterfly nail art is the best for spring nails. Also, these colorful butterflies besides white stars over these long tips are so attractive. At last, go for this nail art design and you will never regret it.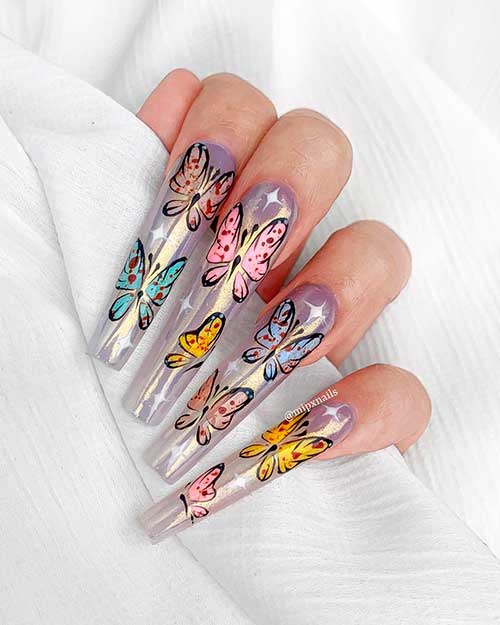 Gorgeous White Blossom Nails
Still, white nails are the best choice may be for all year round, and this nail art design is really fascinating. Of course, the blossom nails are cute and suit springtime.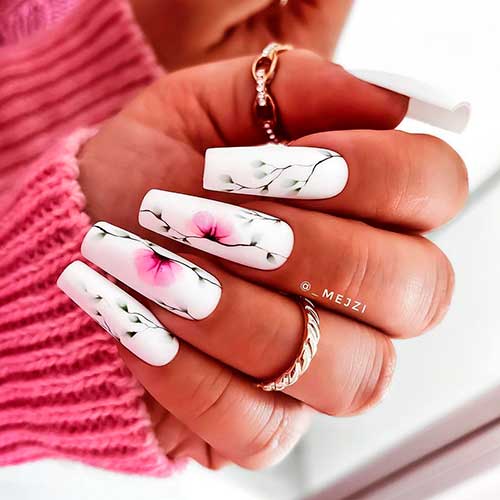 Transparent Black Nails with Pastel Flowers
If you are searching for unique spring nails to wear this year then this floral spring nail design is for you. Because the design features transparent black nail polish and pastel-colored flowers with a bold black perimeter. Of course, these spring nails are beautiful and eye catchy.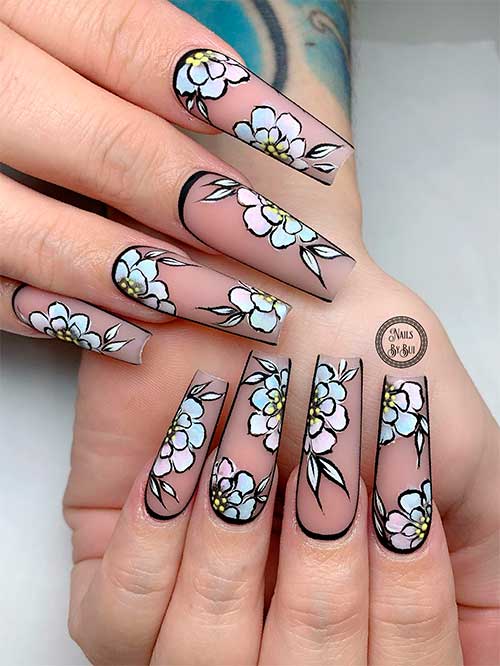 To Conclude
Finally, just choose some popular pastel hues and paint a diverse shade on each to obtain a playful appearance. Then, ready to smile each time you stare at your beautiful nails. Furthermore, cute spring nails add more eye-catching and attraction from others around you. Therefore, it's time to try wearing some different nail styles.