Women nowadays are very fond of incorporating art into the way they present themselves, and when we talk about women's fashion and trends, nail arts are surely part of them. Definitely, with elegant nail art displayed on delicate fingernails combined with some classy jewelry, women's personalities and confidence become superior. So, for your next visit to the salon or even in the comforts of your home, these sophisticated matte nails and classy black nails ideas should be on your beauty list.
From almond shapes, coffin nails, and deep hues to ombre, you will find some of the cutest and most gorgeous black nail designs especially, matte nail designs on this page that will surely satisfy your taste. Moreover, those are more subtle on-trend aesthetic nails, sophisticated. And the sleek option for professional ladies and babes, so you should mix and match these black and matte nails with your outfit of the day and get an extra fashionable look.
1. Winter Black Acrylic Nails with Skin-Toned Touch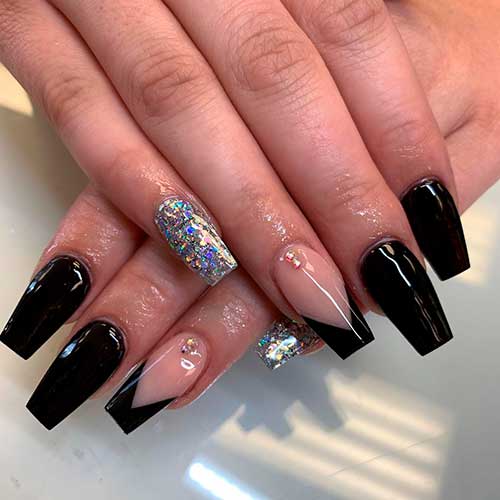 If you are looking for elegant and classy nail designs, why not try these winter black acrylic nails with a skin-toned touch design? The touch of glossy black nail art combined with silver glitter that looks like winter drops would feel perfect on coffin-shaped fingernails. Additionally, this style is given a blend of skin-toned colors for an extra balance on the elegance of black, so wearing these black coffin nails with a design idea will give your OOTD a more vibrant look.
2. Shattered Black Square Nails falls for Flesh Paint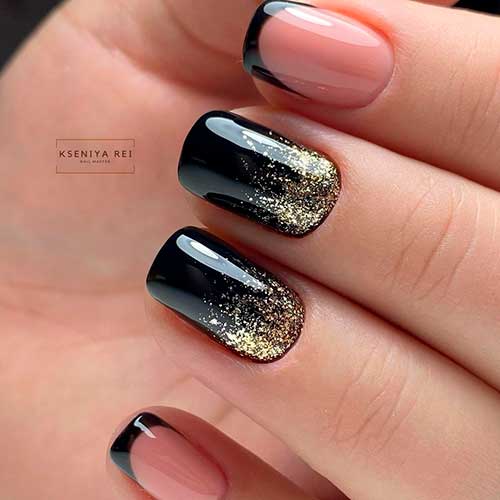 In fact, this nail art looks like black falling in love with fresh paint. So, as you see the aesthetic is so simple yet very stylish—the black looks conservative with a few touches of gold that glitter on its border. Of course, this short black nails look is so elegant whether achieved on almond-shaped or coffin-shaped fingernails. But, this matches with the flesh paint that allures the steady black matte. So, it's time to choose this cute nail art to fit your professional attire.
More Black Square Nails Inspiration
Indeed square nail's shape is so elegant whether you wear it plain or blended with aesthetic touches like glitter, rhinestones, and different colored accent nails.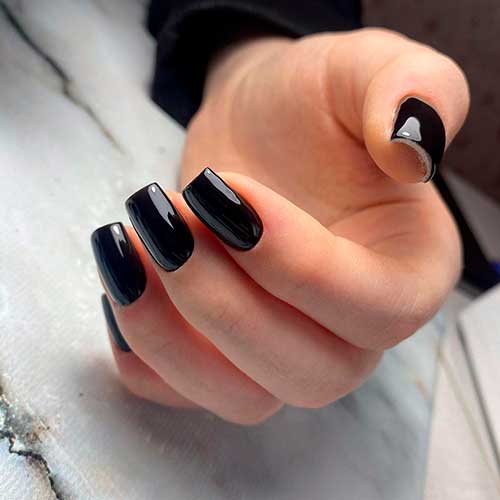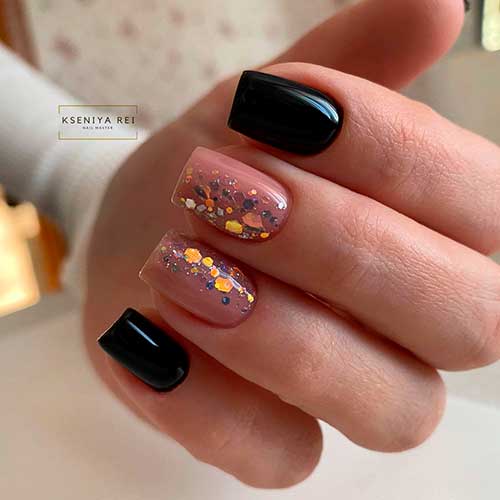 3. Glittery Gold Christmas Art on Sharp Svelte Matte Black Nails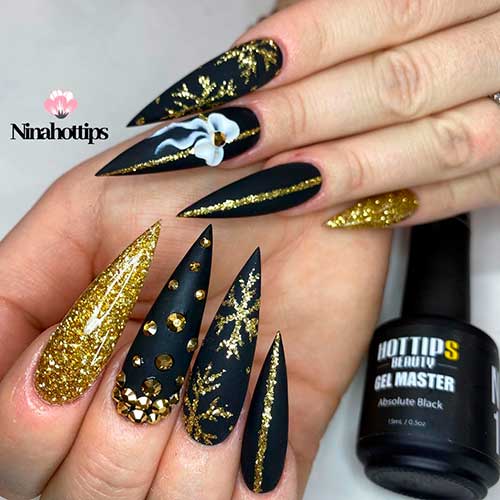 Truly, it's ordinary to see red Christmas nail art during this season. But try giving it a different twist by using a black matte on your fingernails. Fortunately, this glitter gold-filled nail art matched the elegance of black and looks so sophisticated on your long, sharp, and svelte fingernails but you can impress your date or your friends this Christmas season by wearing this style.
4. Enchanting Black and White Nails Art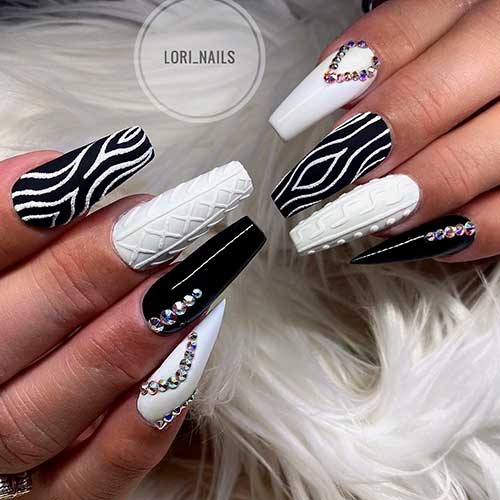 Another, sophisticated yet very conservative nail design will surely bring out the lady in you. Hence, feel confident and pure as you wear this enchanting black and white nail art. The matte black nails feel so light with the dotted lines on them. Finally, match this with your outfit, and surely people around would envy your style.
5. Black Panther Meets the Tiger
Experience the wild art with this tiger-themed nail art while the black nails add strength to the aggressive look of a tiger design then, Rock your rugged or casual outfit with this trendy nail art.
6. Chic Pink and Black Nails Idea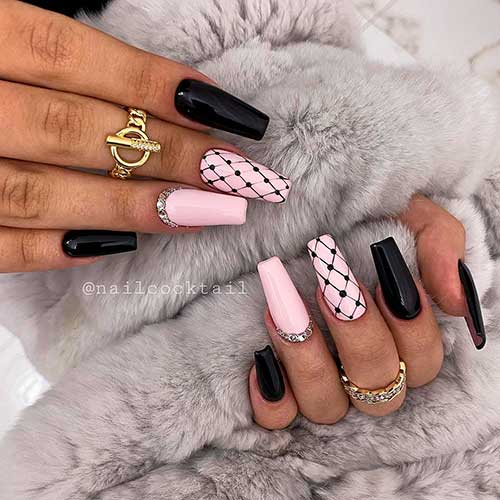 Wear this simple but multiple art design even in your casual activities, and enjoy these black nails adjacent to the pinkish paint and a few curves on them to make your style look tidy and presentable.
7. Plain and Fine Black Nails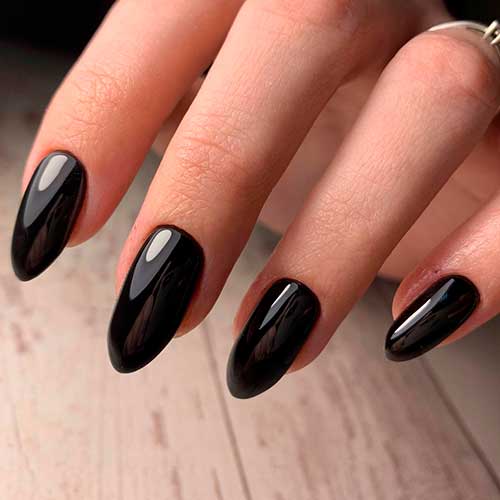 Black is beautiful. And if you put them on your nails, you'll love your fashion. briefly, This is why women take nail art as the epitome of beauty and trends. So, take your decision to wear these plain black nails or even matte nails, and you'll surely be in your finest style whatever you wear and do.
8. Cute Black and Gray Coffin Nails with Rose Gold Glitter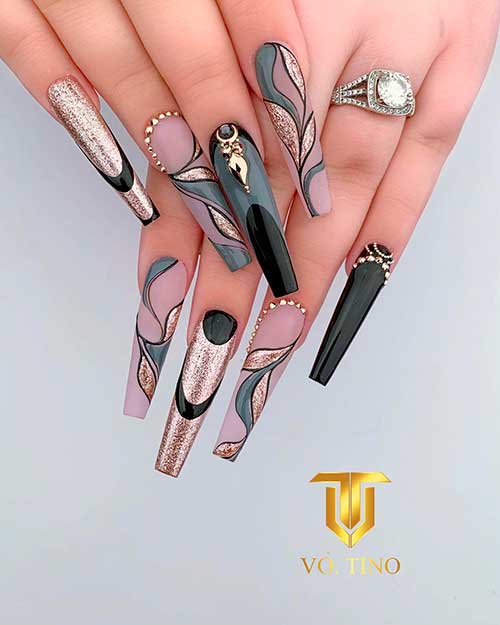 Indeed black coffin nails when blended with gray color and rose gold glitter the result will look fascinating as you see above. In brief, this black nail art is perfection!
9. Almond black nails with stars' idea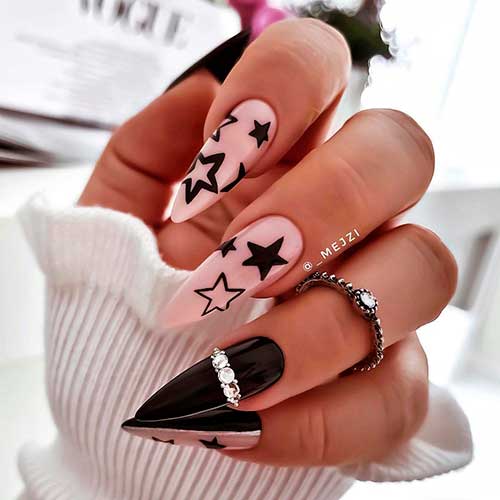 If you are hesitant to wear black nails maybe these almond black nails with stars on nude pink nails besides the silver rhinestones will make you change your mind to wear such a classy nail art design.
10. Cute Black Nails for Spring Idea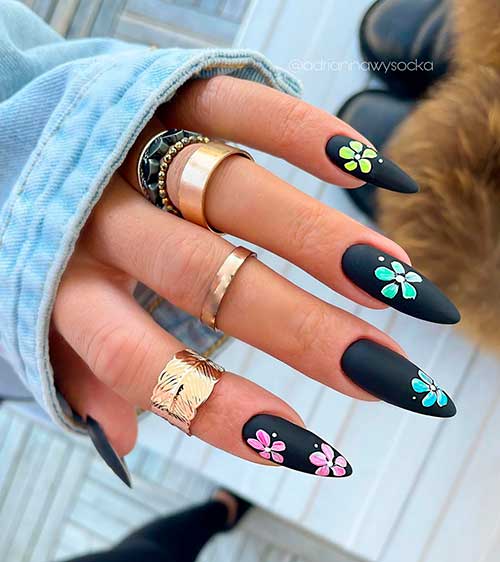 Such a cute simple nail art design with colorful lovely flowers on matte black nails will make you feel spring vibes after cold days. Then After, in this image don't hesitate to wear black nails!
11. Square Black Nails with Silver Glitter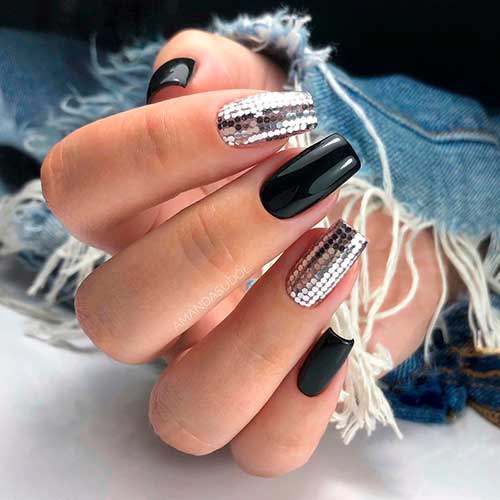 Of course, this black nail design is perfect. I really love the combination of glossy black nails with the two accent silver glitter nails.
12. Glossy Black and Gold Nails with Rhinestones
These glossy black nails are so elegant, and I really love the accent gold touches. Also, the rhinestones on the accent index fingernail really level up this nail set.
13. Matte Classy Black Nails Design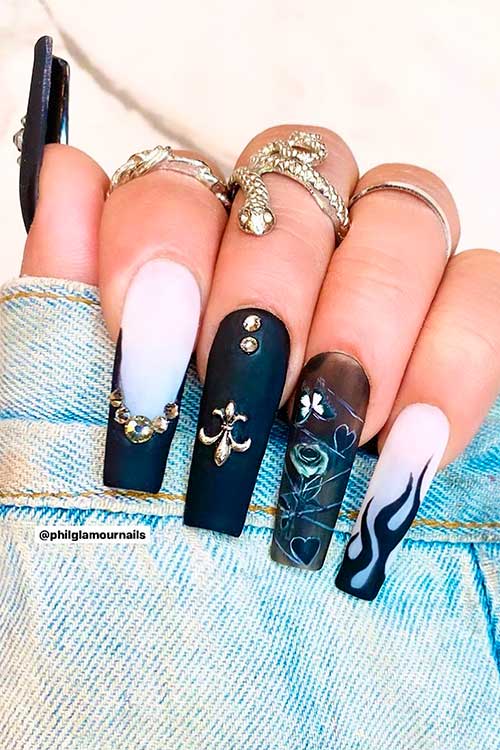 If you are confused about choosing an elegant black manicure, then this design is for you. As you can see, the design combines several styles of French, sheer, and flame manicures with golden rhinestones.
14. Black Nails with Leaf Nail Art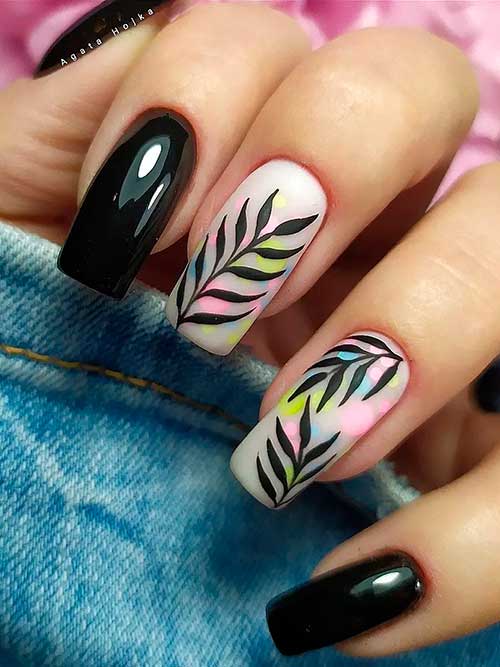 There are many reasons to use a black nail design on your fingers. Whether you want to add flair to your fingernails or are looking for an easy, no-fail design, you'll find a Black Nail Idea that's perfect for your mood. Whether you're wearing red lipstick or a black blazer, this nail design that features leaf nail art on two accents is a stylish way to show off your personality.
15. Matte Cute Black Nails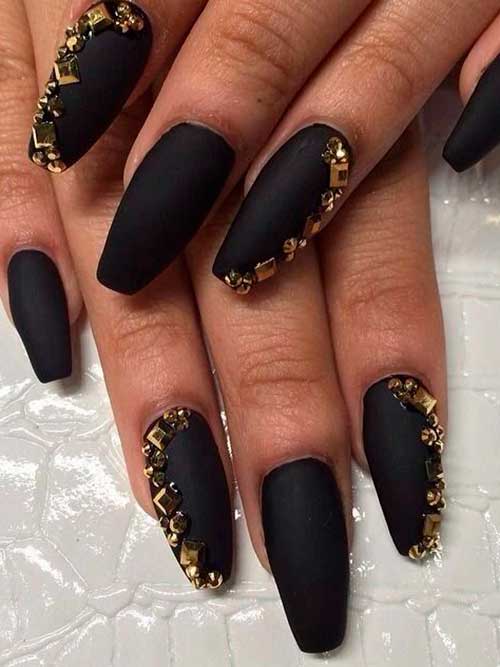 You can achieve a stunning goddess effect by pairing matte black nails and gold rhinestones. Indeed, matte black is a perfect base for a sparkly gold shade, which will pop out even more against the black polish.
16. Glitter Black Valentine's Nails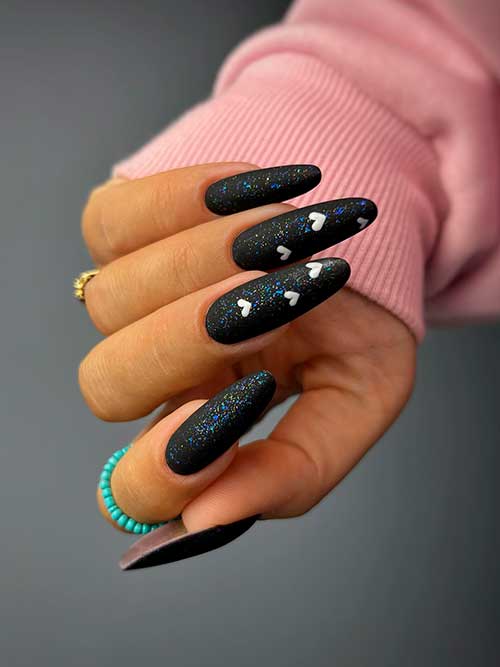 If you're looking for a romantic manicure for your upcoming valentine's day, then try these glitter black valentines nails with white hearts. Of course, the design's glam and elegance can give you a stand out look on Valentine's Day!
To Conclude
Thus, black nail designs are so elegant and worth giving a try in spite of hesitation, but if you already love black nail designs I hope you got inspired!