Olive green nails have been a trend these days because of the fantastic aesthetics it brings to our nails. So, a lot of women opt to have their nails long and paint them with shades of olive green. Whether you're attending a nightclub, a formal event or a holiday party, olive green nails are an elegant way to make a statement.
If you are a fan of those cute nail designs that you can see online, especially those olive green nail designs. Then, below are some of the olive nail art ideas that you can have. We have here the Pretty Olive Green Nails for inspiration.
1. Olive Green Nails with A Little Bit of White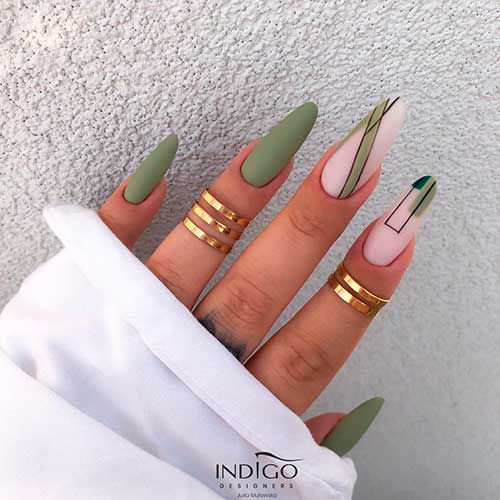 Cute nail designs work best for long nails, most especially the color of matte olive nails. You can have your nails done like in the photo above.
You can play with your nails by leaving the index and middle fingernails in nude color and a touch of olive green. Then add some black lines while having the rest as olive green nails.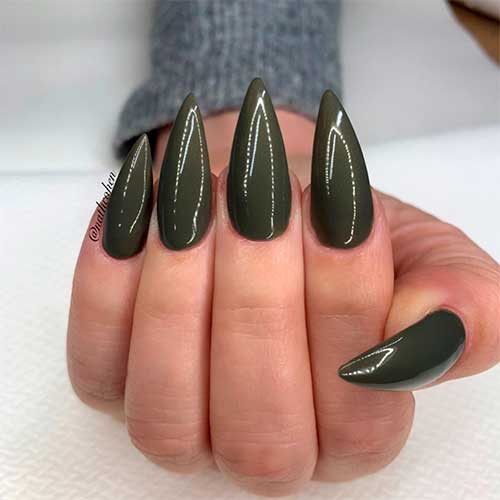 2. Playful Matte Olive Green Nails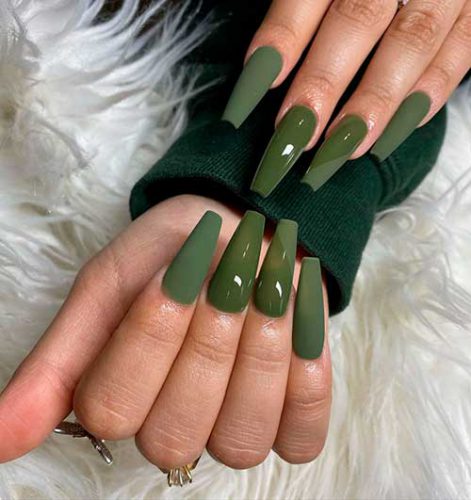 If you want to have your nails done in shades of olive green. But if you want it to be more attractive, then you can add extra glossy details and other shades of olive green to your middle and ring fingernails.
3. Glittered Olive Green Nails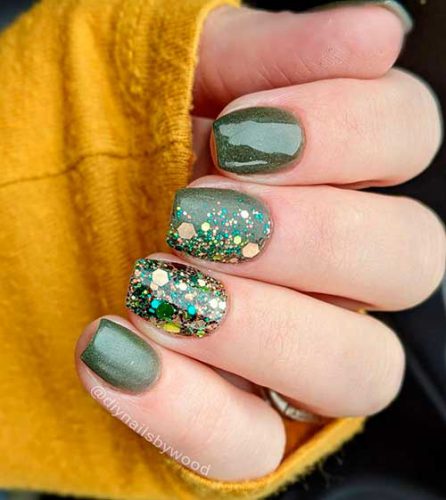 Getting some glitz and glamour added to your nails will never go out of style, especially when you have it on your olive green nails. Glitters can add a vibrant and extra vibe to your nails, and they will appear more attractive. Because of the additional shine, it gives to your olive green nails.
4. Plain Matte Olive Green Nail Design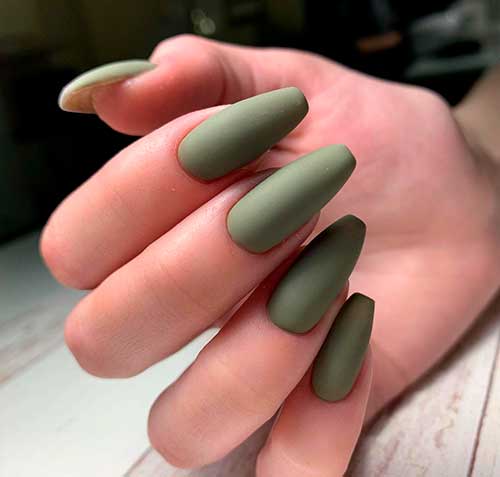 If you are a person who is very simple and doesn't want to have a lot of details on your nails. Then a simple color of plain matte olive green nails will do for you. It may be simple to see, but it also outshines the rest because of the amazing texture and effect a matte olive green nail has.
5. Glossy Olive Green with Leaf Nail Art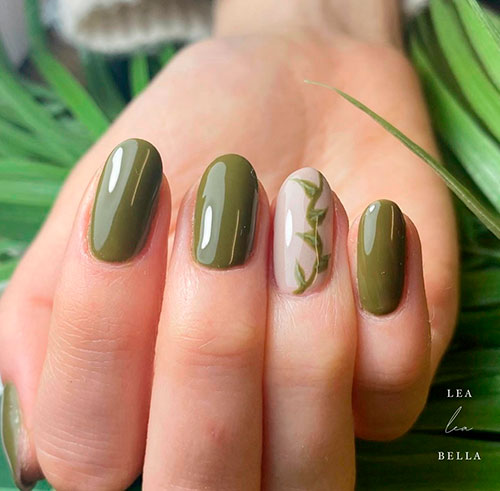 Olive green is a very versatile color for nail art. The shade goes well with other colors such as nude base color with leaf nail art. Besides, you can apply this shade to your long and short nails, and it works equally well as a neutral color.
6. Nature-Friendly Olive Green Nail Designs
Of course, the color of the olive green itself already gives a nature-friendly vibe. But if you wanted to add more details to show your love for Mother Nature. Then this Nature-Friendly Olive Green Nails detail is the perfect nail art for you. Additionally, it comes with the details of dry leaves, which also bring the autumn vibe.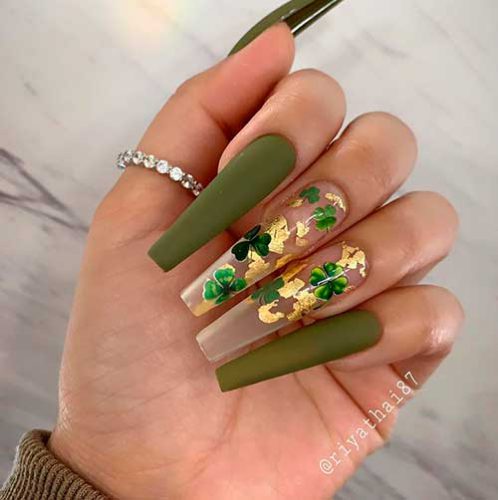 These are some of the Pretty Olive Green Nails Ideas of 2020 that you can try if you are an olive green color lover to define what you really are.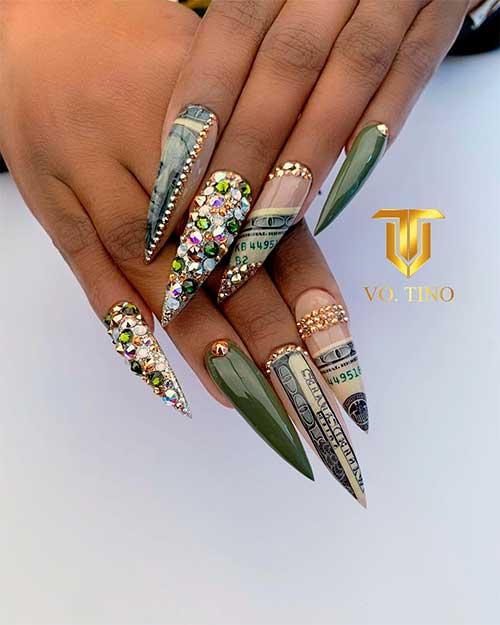 7. Matte Green Nails with Gold Foil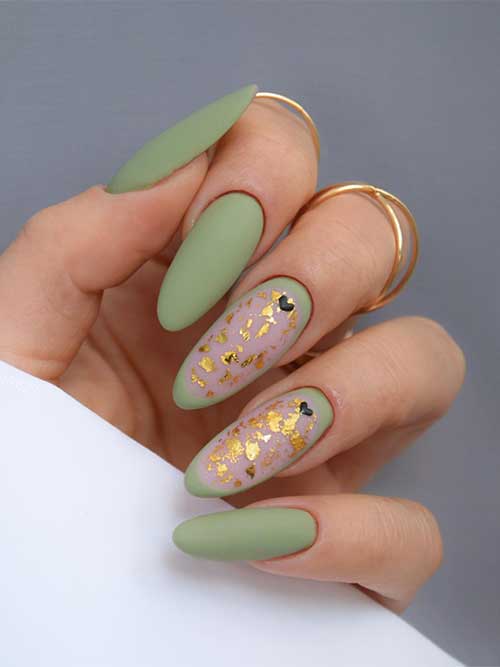 If you are looking for a classy nail design to wear all year round then matte olive green nails are for you. Also, you can decorate your nails with gold foil and heart shapes to make them more beautiful and eye catchy.
To Conclude
At last, his shade of green is both timeless and fashionable and can be worn at both contemporary and traditional events. Every lady aspires to look unique, and while most purchase the same kinds of clothes and accessories, olive green nails will give you a unique look that makes you stand out from the crowd. Also, olive green is the preferred nail shade for a lot of cute fall nail ideas!