The holiday season is approaching, and you might plan your trendy styles that would fit the festive. So, don't forget to include your toenails in your beauty list. Now, if you do not understand yet how to paint your Christmas toenails, you're actually on the right page. So, here you'll find some of the cutest Christmas toenails you can do. Yes, you've read it right. Additionally, these toenail designs are fun and easy, so you don't need to go to the salon and have them painted on your nails.
Your taste rules and your artistry do matter. Besides, you can mix and match and paint your nails with various Christmas colors such as purple, red, blue, silver, and sparkly ones. The aesthetic depends on you-so bringing out the art within you and starting painting your toenails. To guide you, check out all these easy-to-print and trendy Christmas pedicure ideas.
1. Santa's little surprise Christmas toenails Design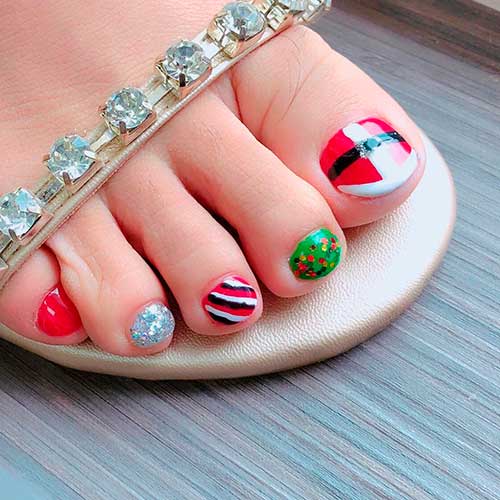 Enjoy making your sparkling toenails with this Santa's little surprise-themed Christmas toenails design. Paint Santa's outfit first and create color dots on a green dummy. Your middle toenail is another story with a combination of white, black, and red-stripped colors. Then the last two prove the simplicity on you with sparkling silver paint and one with plain alluring red. Be confident wearing this design on your Christmas outfit.
2. Simple Sparkly Green Christmas toenails design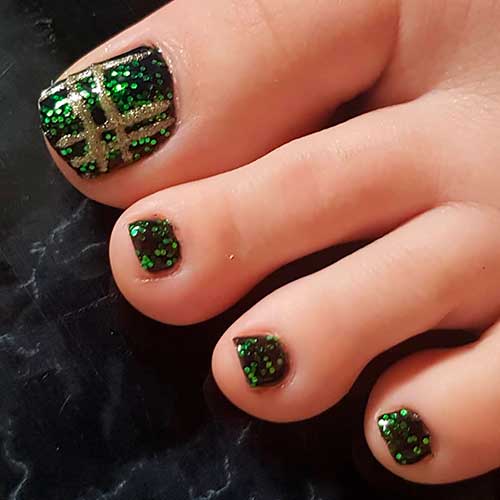 Still, green represents freshness and liveliness. So, paint your toenails with these glittery and sparkly green Christmas toenails designs. First, you need to apply a light black coating to serve as the base of your green glitter. Let the first coating drive before applying the glimmer of green polish. Add some art with anything fence-like lines designed on your first toenail. So there you go, in just a few minutes, you already have cute a Christmas toenails design you can wear whatever your outfit is. You will surely love the green glimmer of festive nails.
3. Scarlet's Shimmery Red Christmas Pedicure Idea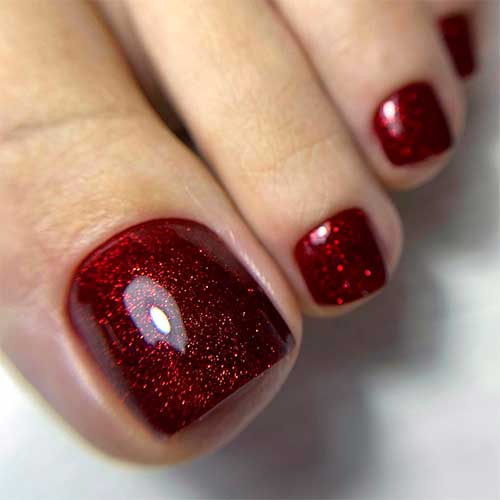 If you want a more sophisticated yet simple design, try this Scarlet-themed mirror sparkling toenails. Make your toenails appear like a mirror that reflects glitters and sparkles—no more variation of colors, just simple and alluring red-glitter paints. Feel more confident and professional as you wear this trendy Christmas toenails design.
Related: Gorgeous Pedicure Ideas That Every Girl Must Try
4. Lanterns of Love Christmas Pedicure Idea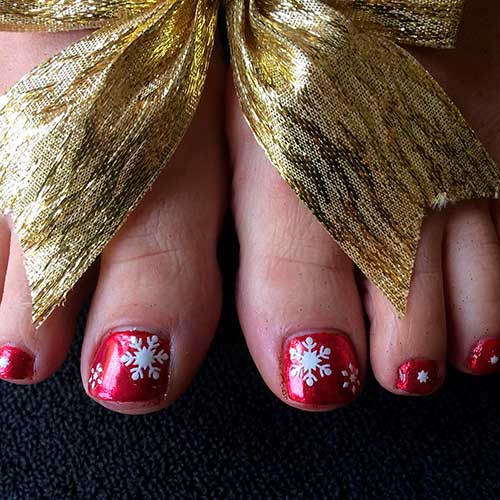 Indeed, red is one of the most luminous colors that represent Christmas. When you wear red on your toenails, you are symbolically celebrating Christmas. Also, you can make it more artistic with these lantern designs printed in plain red colors. Your artistry will be tested here, but you will surely love the result.
5. Mine of Gold Christmas toenails design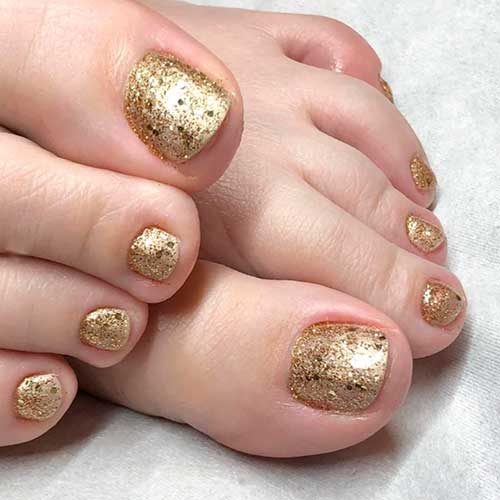 Pair up your beautiful toes with this sophisticated yet plain gold Christmas toenails design. So, brush through your toenails the glitter of gold paints with no other variation. Then, pair up your toenail designs with your outfit when you party out when friends this holiday season.
6. Red Green Polka Dot Christmas Toenails Design
Bring luck to your day with this polka-dotted red and green Christmas toenails design. So, try this cute art by painting dots on your first toenail succeeding with alternately applied red and black plain glitters. What cute artistry for teenagers and babes.
7. Luxurious Blend of Red and Gold Christmas Pedicure Idea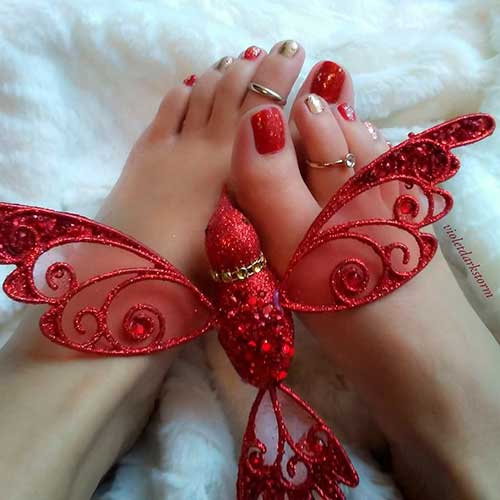 Match this red polish with luxurious golden paint for your holiday toenail design. Look at how the variance fashionably blends on your toes. Of course, this is one of the best pedicure ideas that will surely fit your taste, especially when you wear your professional outfit or cocktail dress.
8. Gold on Pink Christmas Toenails Design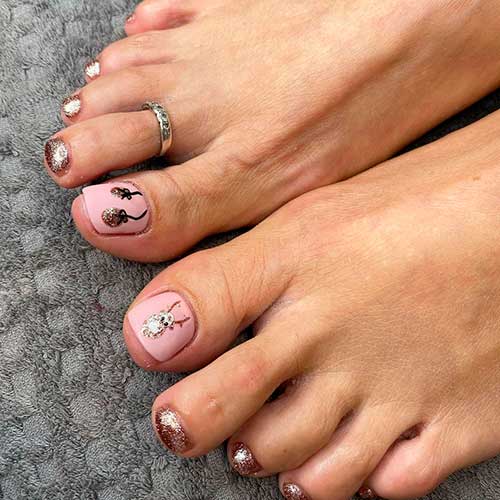 Of course, this one is a bit unique as you will mix and match a darker golden polish with a plain pink polish. So, test your artistry as you draw or paint an image on the first toenail on the left and a balloon-like shape on your right. At last, you will feel like a beautiful chick while wearing this festive Christmas toenails design.
9. Stylistic White and blue Christmas Pedicure Idea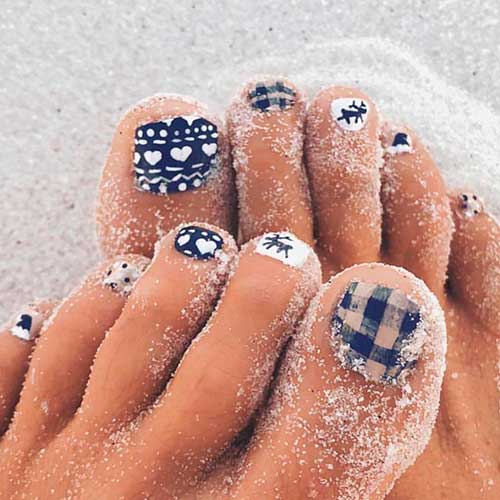 Test the level of your artistry with this blue Christmas toenail design. So, from checkered blue art, a reindeer-like image, and a heart-filled design, to dotted polkas, you will love the variance of this festive art. Additionally, you can match it with your denim outfit, and you'll surely feel confident inside out.
10. Sky-filled lanterns Christmas Toenails Idea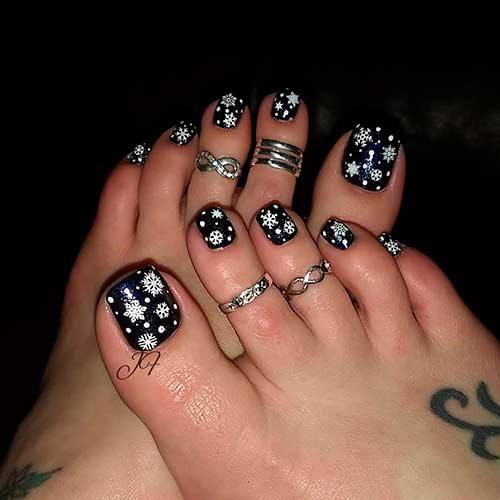 Make the universe celebrate Christmas on your toenails as you design them with different artistic lanterns. Although this cute and fabulous nail art is a little complicated to apply, you will be proud of yourself once you tried. Simplify black polish as your first coating and let it dry. Then put on the designs of lanterns to look like a universe filled with lanterns. Indeed, this design is surely a must-try.
11. Cute Matte Red Christmas Toenail Design
Indeed, red pedicure ideas are the best for holidays, especially when having Christmas themes.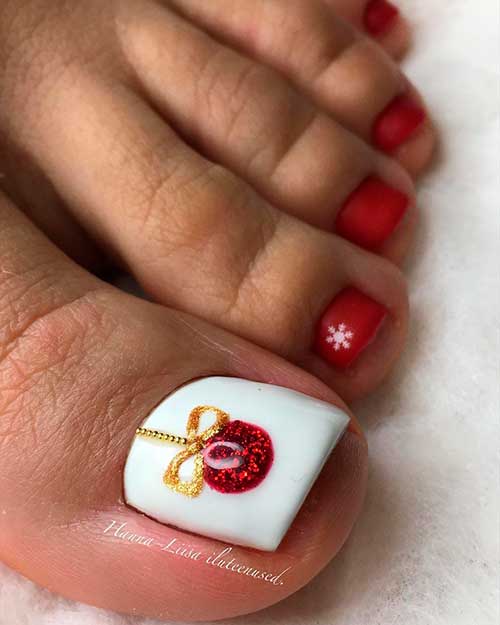 12. Half and Half Red and Green Christmas Toenails
Still, the red and green combination is the best for the Christmas celebration. So, using shimmery nail polish will add more fun.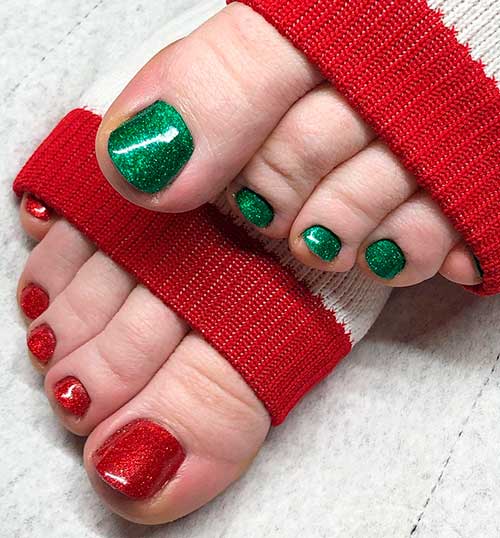 13. Red and Green Christmas Toenails
Still, red and green Christmas toenails are the best way to get a festive holiday look. Of course, these festive Christmas toenails are perfect for parties, family events, or office Christmas dinners. So, don't hesitate to try this Christmas pedicure that also features cute plaid nail art on the big toenail.