Every now and then, we want to treat ourselves to a nice pedicure. After all, nothing compares to a nice, relaxing pedicure session to further enhance our already beautiful toenails. Additionally, some people may find it a bit difficult to choose exactly what pedicure ideas they want and what fits them.
Fortunately for you, though, this article will help guide you in selecting your ideal and perfect pedicure ideas. All that is left is for you to choose one and get those picture-perfect toenail designs.
1. Classy Cream French Pedicure Ideas
This pedicure design is a very versatile one and fits just about anyone. With its cream color, you can get nice plain yet classy nails that will complement most of your outfits. You can throw all your worries about wearing sandals because these nails are definitely a sight to see. You could even spice it up by adding a glittery and unique nail design on one of your toenails.
Gold Shimmery French pedicure design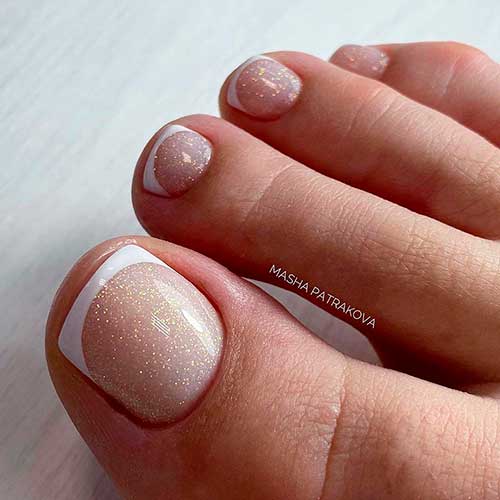 Of course, classy French pedicure ideas have another way to use shimmer base polish. Furthermore, you can apply white tips as you see above or any other color that you prefer. Try this gorgeous French pedicure design that suits any time of year.
2. Pink Toenail Flower Designs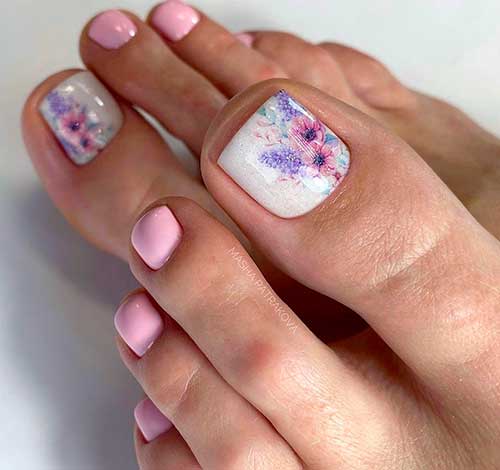 Aren't flowers just the prettiest things you can lay your eyes upon? This toenail flower design takes the very noticeable colors and patterns of flowers and puts them on your nails. Like the image above, the flowery design is placed on your big toe while the other toes have a nice polished pink color.
While you certainly can ask for a complete flowery set of nails, a combination of pink gives your toenails nice, simple, yet incredibly cute nails.
3. Deep Blue Toenail Pedicure Ideas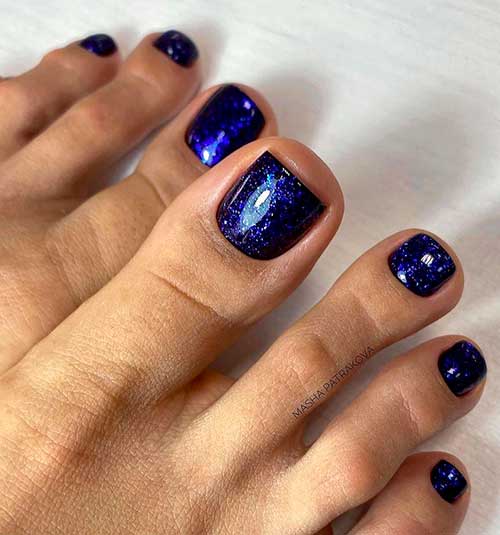 There is nothing quite like the color blue. It is easy to see why plenty of people simply adore the color blue, and this blue pedicure idea is probably one of them. This blue toenails design embodies a very rich and deep color of blue that gives your foot a lovely and elegant appearance.
4. Terrific Teal and Gold Pedicure Ideas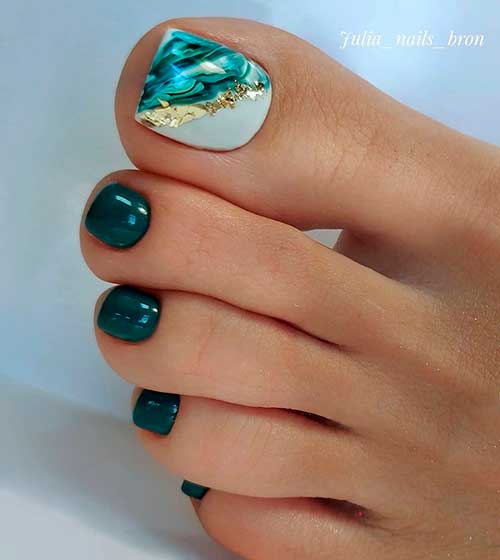 These nails have a beautiful color that is like no other out there. One could also describe these nails as a wonderful sea green color. This pedicure design features a nice gold, white, and black on your big toe to make this beautiful and unique pattern. This design is simply perfect at the beach as well as being eye-catching.
5. Glamor Purple Pedicure Idea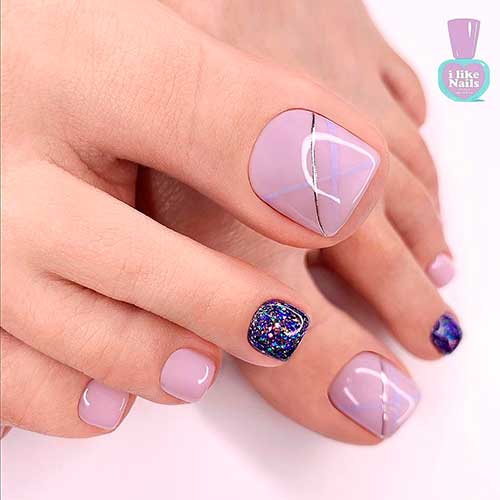 We all love a nice light purple design for our nails. Have nice dashes of silver and light blue with a unique glitter blue-rich accent nail. The color scheme for this nail design simply blends well with each other. Highlighting a mainly light purple theme with a sprinkle of other colors make for an alluring design.
6. Matte Black Toenails Idea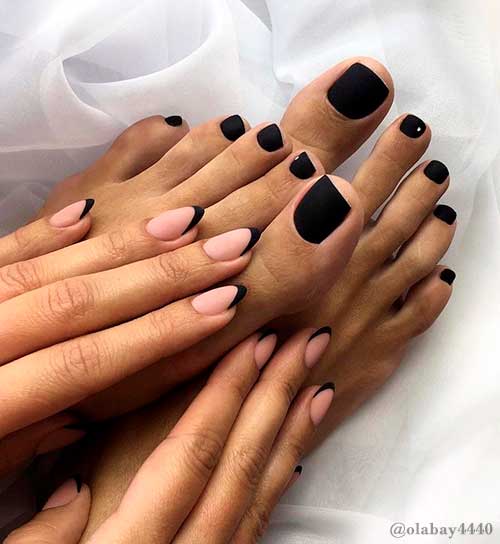 Black is honestly underrated color; When fused with a pedicure design, however, you get a very flexible yet unique design. Black usually goes with an assortment of different colors, which makes the design very aesthetic and ideal. Upon inspection, these black toenails embody the beauty of the night sky.
7. Dark Maroon Toenails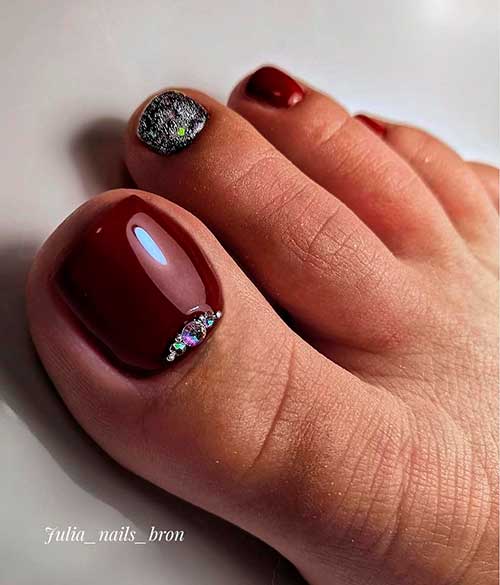 This nail design highlights a voluptuous dark maroon color scheme of toenails. Complementing its rich colors, with silver glitter accent toenails and some rhinestones. With its luxurious and expensive-looking color, this toenail design is a must-try for dates, also you could wear this toenail design as Christmas toenails.
8. Summer Pedicure Ideas
If you're looking for summer pedicure ideas, decorated or striped toenails might be the perfect solution. Additionally, this fun design is easy to execute and looks jaw-dropping! For extra fun, try wearing some summer-appropriate sunglasses to complement your nail design. Or, for a subtler look, pair stripes with a favorite print or pattern for a striking effect. In either case, these pedicure ideas are guaranteed to keep your toes looking their best during the summer months.
If you are a fan of bright colors, consider a nautical-themed pedicure. So, you can have your toes trimmed in stripes and adorned with blue and white glitter. Or, you could opt for decals with a nautical theme. Indeed, blue and white stripes are popular nautical pedicure designs. Also, you can try mixing blue with gold and silver for a classic, elegant look. If you're looking for something more daring, choose bright colors with a black background.
Pink Pedicure Idea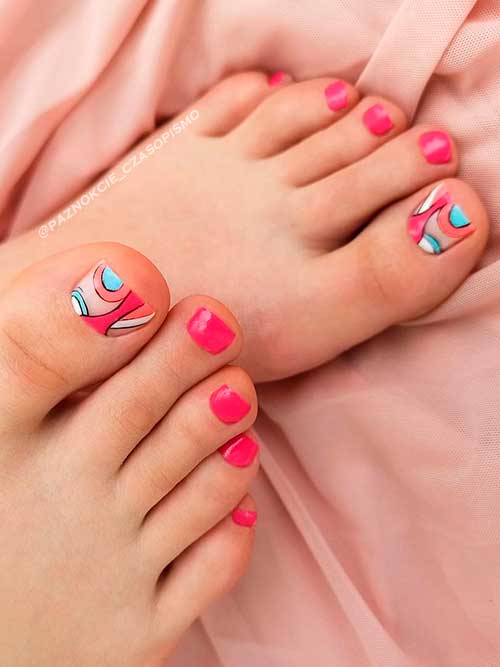 If you are looking for a pedicure design that will stand out from the crowd, consider a Pink pedicure. Of course, this color is on-trend and looks stunning with a variety of nail colors. Besides, this design is suitable for summertime use as well as special occasions. In addition for a unique look on your toes, consider using a colorful swirl decoration on the big toenail.
9. Black Toenail Design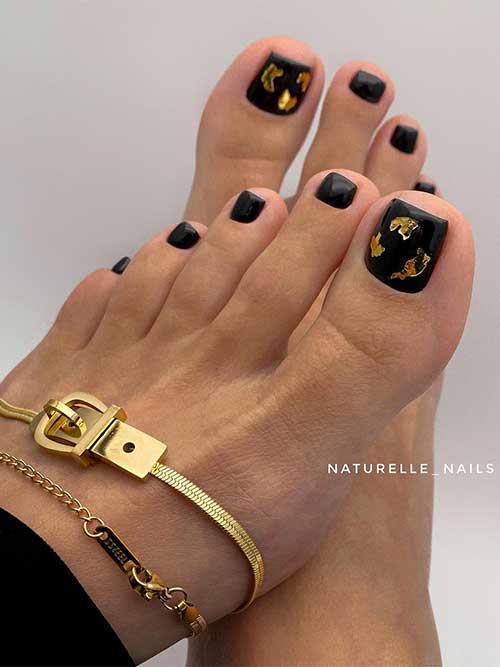 Of course, black nail color is so elegant although some women see its wick. But, this black toenail design will change your mind. The design features glossy black toe nails with a cow print style on a big toenail using gold foil. So, you will never regret wearing it!