Are you looking for an elegant and classy nail design? Are you a fan of Red Nails? Want to impress your friends? Then luckily this post is for you. There are several red nail ideas to choose from, but what color do you prefer? There are many shades of red, from cherry red to deep burgundy. Or, mix and match different reds to create a unique look.
This post is a list of amazing red nail designs that can add glamour and shimmer to your nails. Whatever nail art design you will choose, you can't go wrong with red nails. Just check out these red nail designs and try one of them!
1. Cute Matte Gold and Red Nails Design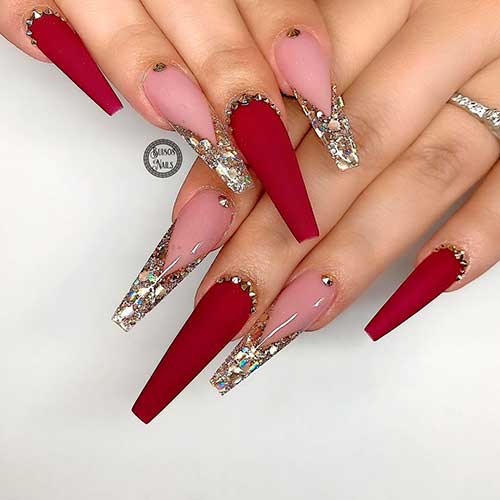 Pink, gold, and matte red nails are a perfect color combination that can give your nails a classy and shiny appearance. If you want a good and intricate, and beautiful design for your nails, why not try this design by "bui808_nails"?
Perfect for stilettos and almond nail shapes, this unique nail idea can give your nails a strong appeal. Indeed, this color combination is an absolute classic. Also, perfect for any skin tone color.
2. Red Nails with Silver Glitter Design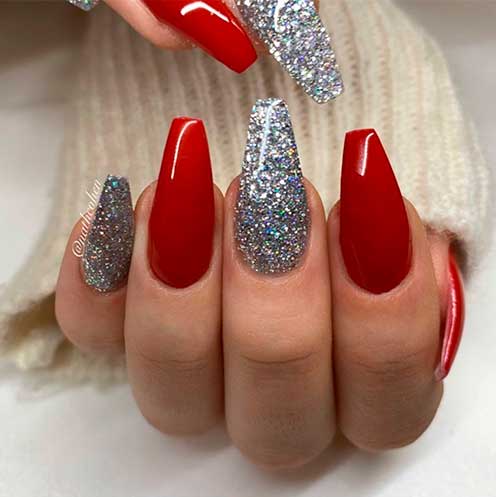 Want to go all out with your nail design? Do you want to have the best and perfect nail trend for all occasions? Then why not try this design?
Red and silver glitter nails are popular at present. Perfect for any skin tone color. We can see why many people would try this. Very elegant and classy would divinity make your nails shine and outclass other nail designs? Also, you can wear those nails as a Christmas nails set!
3. Cute Shimmer Red Nail Art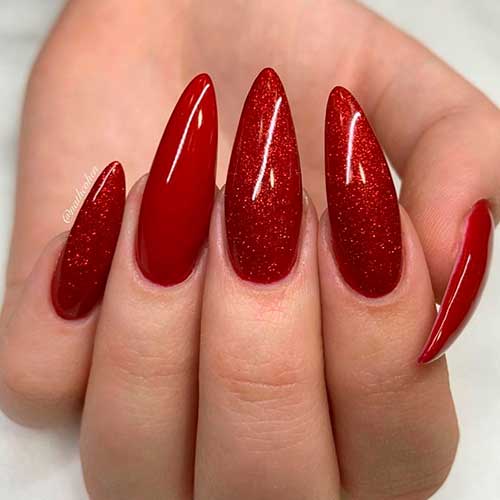 Calling the attention of red nail fans out there, you would probably love this design and color composition. Red is an absolute classic when it's to beauty.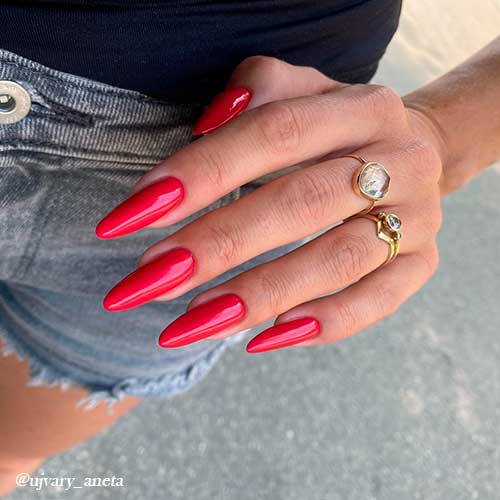 Using this design can make your nails stand and give you an elegant look. Perfect for any skin tone color. Perfect for all nail shapes, red nails with glitter can diffidently make your nail classier.
4. Cute Red and Black Nails Idea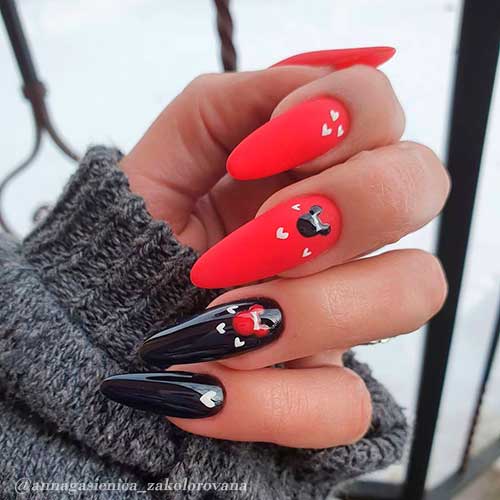 Black and red nails go well together. Red can showcase your feminine side, while black can make your nails look cool. Nail art and the themed nail can be a perfect addition to black and red nails.
If you're looking for a beautiful and bold design, why not try this nail art design by "Zannagasienica_zakolorova" that can suit well to any skin tone color?
5. Cute Red and White Nails with Glitter Idea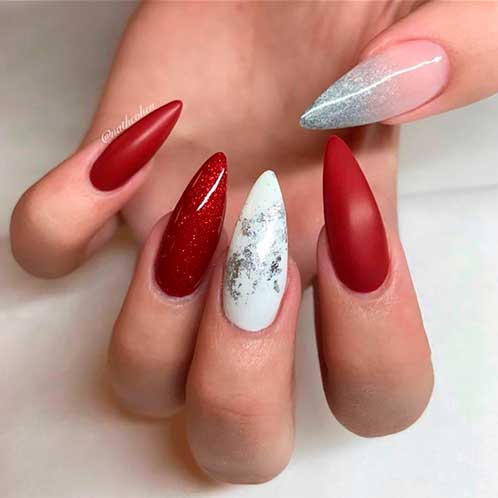 If you are looking for a nail design that can showcase your feminine side and artistic side. So, trying this design would definitely make your nails elegant and classy. Also, perfect for any skin tone color. Further, the color combination is beautiful, and with the added glitter, it can definitely take your manicure to the next level.
6. Red Nails with Glittery French Tip Accents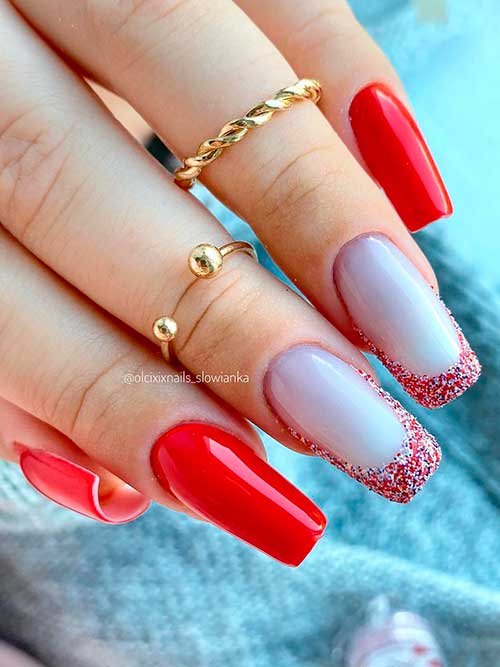 When it comes to red nail polish, there are many shades of red to choose from. In addition, these shades look great alone or combined with other colors. Also, you can create two red French accents with glittery red tips with a nude base color. Then, add a bright shade of red to the rest fingernails. Of course, this shade and nail design are sure to make you stand out among the crowd and make you look sexy at the same time.
7. Matte Red Nails Design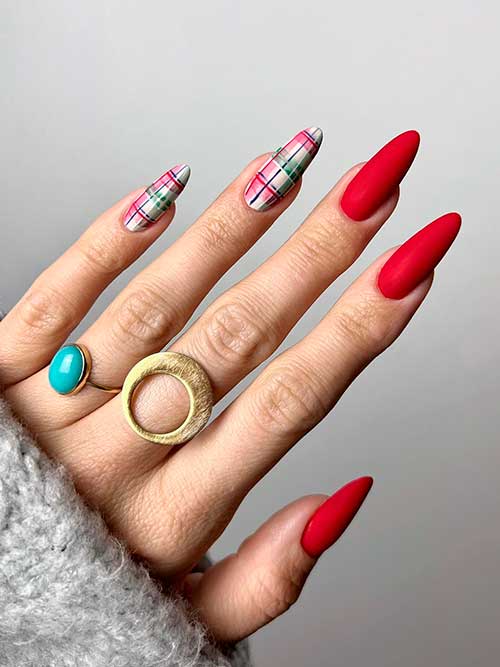 Whether you are celebrating Thanksgiving, Christmas, or New Year or just want to spruce up your mani for fall, matte red nails with plaid nail art can be a fun way to do it. Also, the look is both stylish and comfortable and is sure to put you in the holiday spirit.
8. Red Nails with Glitter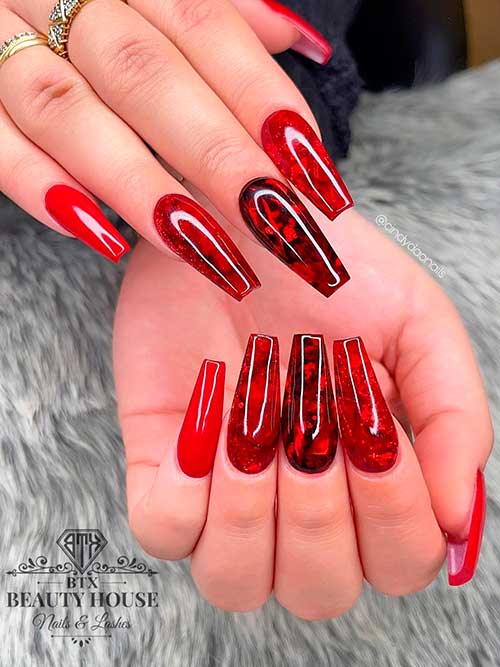 If it's for a wedding or a special event, red coffin nails with glitter are a perfect way to add that extra sparkle and shine. Besides, these classy red nail designs are easy to do at home with some patience, or you can get a professional manicure from a nail technician.
9. V French Red and Silver Nails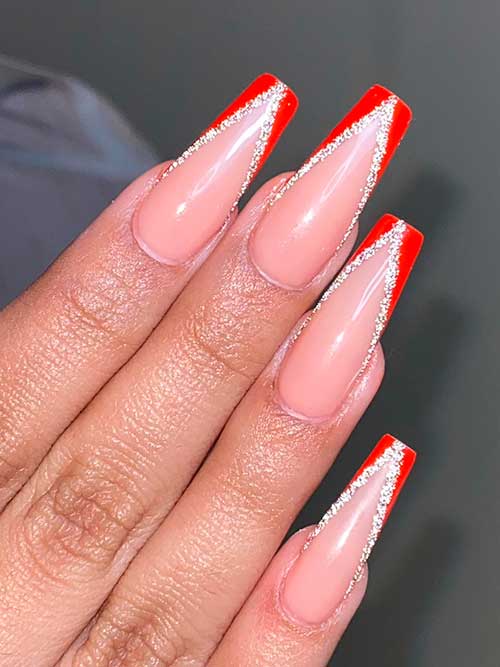 Indeed, having red and silver nails can add a touch of sophistication to your style. Besides, it will give you a fun and playful look. So, choosing between different shades of red and silver nail polish can help you find the perfect look for you. So, these red and silver V French tip nails are cute and worth trying.
10. Classy Red and Gold Nails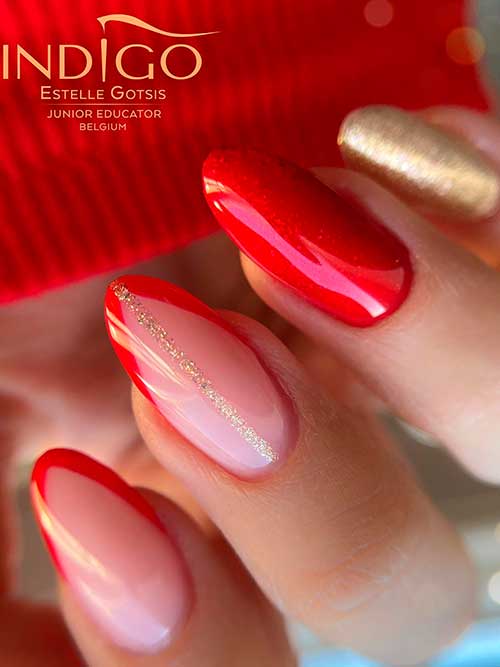 While celebrating the holiday season and looking to spice up your look, red and gold nails are a festive and chic way to wear nail polish. Additionally, they are also perfect for any occasion. You'll definitely catch the eye of everyone you see.
11. Matte Red Valentine's Nails with Polka Dots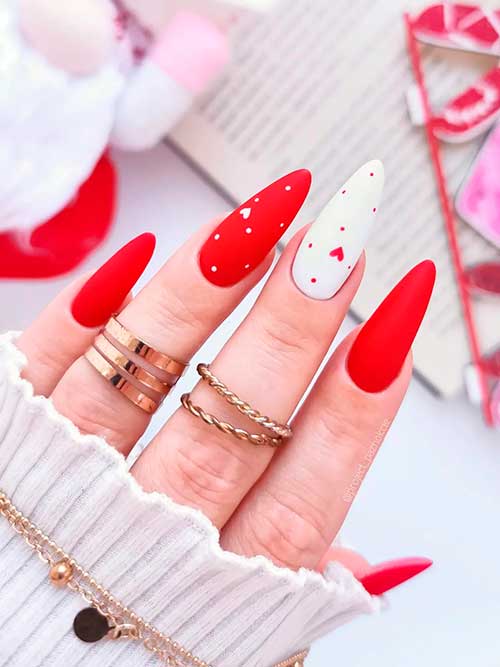 It's not a surprise that matte nails are trending right now. Because they're so adorable, and they're perfect for any season. So, you can try these matte red nails with polka dots and heart shapes to celebrate Valentine's Day.
To Conclude
At last, red and back is an absolute classic and will never lose appeal among girls. Additionally, red with glitter has become the newest trend for nail art design because of its elegance. Besides, if you like to go Bold with your nails, why not try the above designs? Furthermore, you can use any design above, as an inspiration to create your own nail design.