Halloween is coming soon. Now you thinking of decorations, funny Halloween costumes, and fun or creepy facial makeup looks, but don't forget to choose the best Halloween nail ideas for 2020 that suit your personality and can get you in the Halloween spirit.
Still, looking for some spooky nails to celebrate Halloween with your beloved ones? No worries you are in the right place. Without further ado, just check out the below spooky Halloween nail ideas for 2020, and enjoy Halloween night!
1. Amazing IT Halloween stiletto nails: Best Halloween Nail Ideas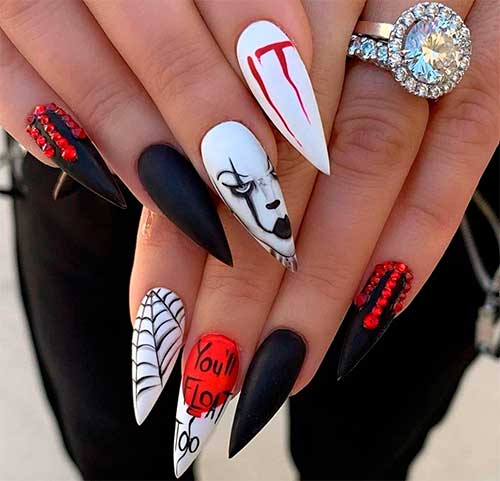 If you are looking for spooky nail art design then this IT nail with accent spider web nails design is the best choice to be attractive while wearing something spooky.
2. Stunning glittery coffin-shaped pumpkin nails design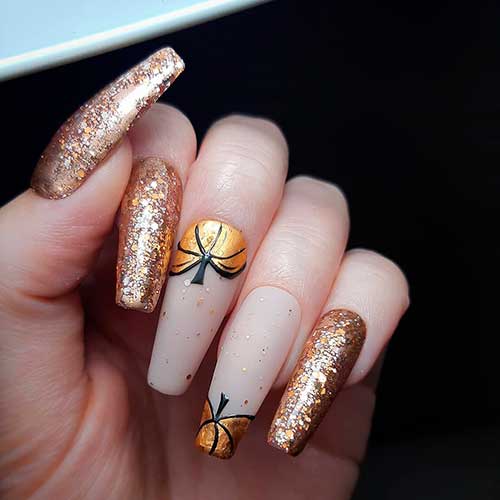 Indeed, those are fancy sparkle nails, which consist of a coffin shape with two accent pumpkin nails in a nude color style with little gold glitter. So, opt for this fancy nail set if you want to wear chic Halloween-themed nails.
3. Halloween Gothic stiletto nails: Cute Halloween Nail Ideas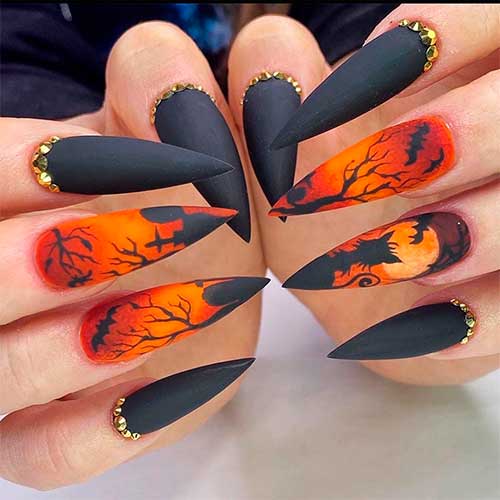 Of course, this design above is one of the best Halloween Nail Ideas to try on Halloween. Undoubtedly stiletto-shaped claws are the best choice shape for Halloween especially these fancy matte black nails which, are adorned with gold rhinestones at the nail's base. Also, the design has been boosted with two accent Halloween gothic stiletto nails.
4. Amazing Gel Halloween clown nails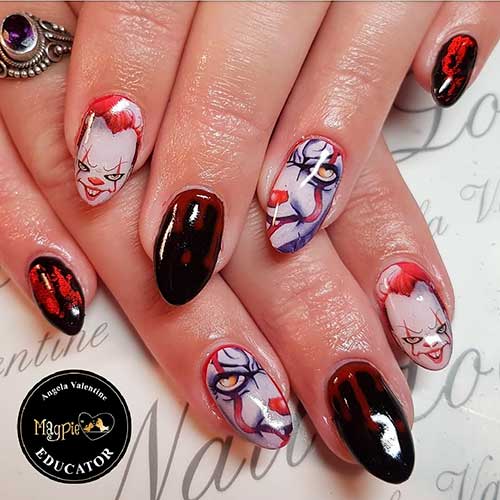 Try this short spooky nail set that consists of a clown face on short round nails which, can take you in the Halloween spirit. Of course, this nail art design is a perfect choice for short nail lovers.
5. Cute candy corn nails coffin-shaped design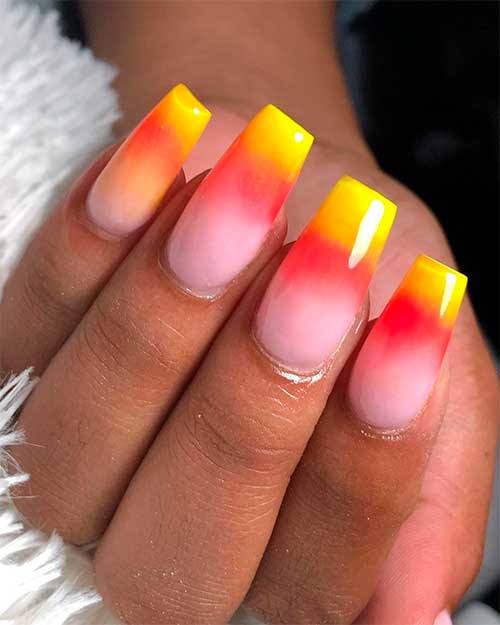 Indeed, I'm in love with this candy corn nail set which, can suit the autumn season and Halloween occasion. So, go for these long glossy candy corn coffin-shaped nails and you will never regret it!
6. Attractive Beetlejuice nails to celebrate Halloween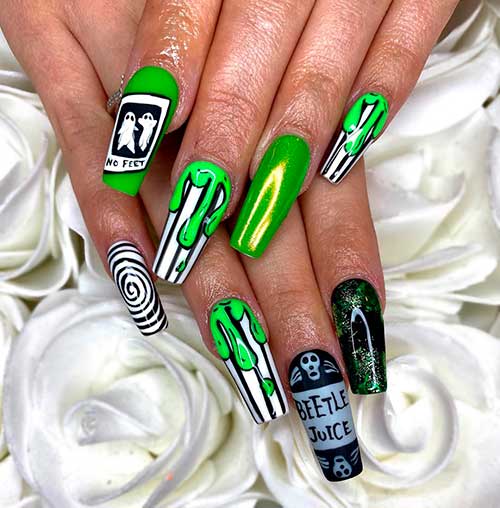 Amazing Beetlejuice nails in coffin-shaped undoubtedly will get you in Halloween spirit and will make you stand out from the crowd.
7. Assorted spooky Halloween coffin nails design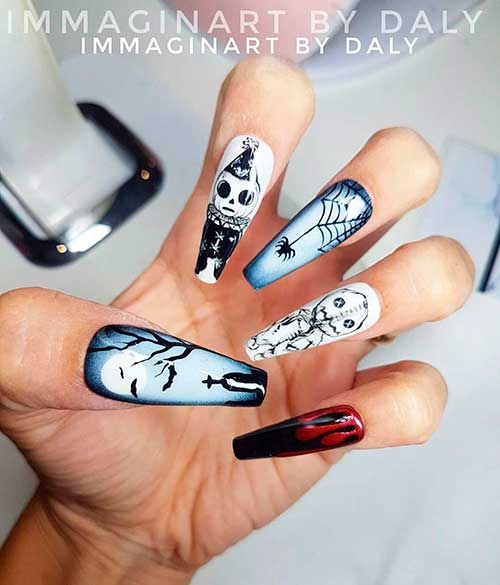 Awesome coffin-shaped Gothic, blood drip, corpse, and spider web Halloween press on nails are gathered in this spooky nails design. Opt for this Halloween nails idea if you want to feel Halloween with various Halloween-themed nails in one nail art design.
8. Black simple Halloween spider web nails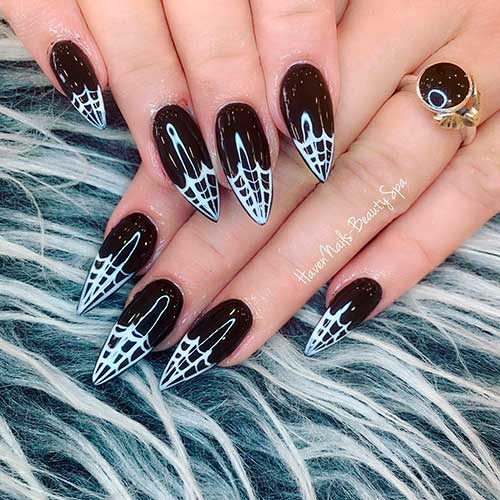 Easy and simple Halloween nails design. So, all you need are black polish and white polish and start by shaping your nail tips to an almond shape. Then apply the black polish and after drying apply some crossed white lines to draw the spider web on the nail tips as you see.
9. Black Maria Brink's Halloween Nail Ideas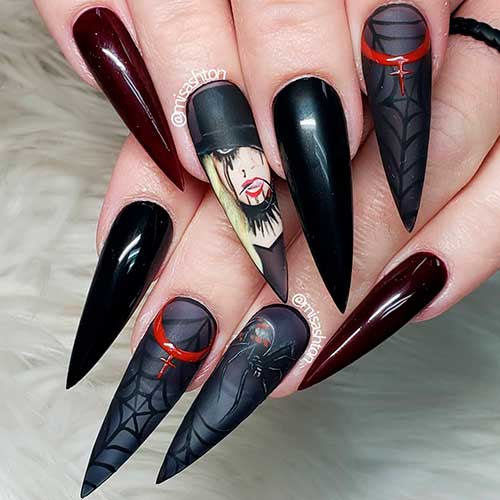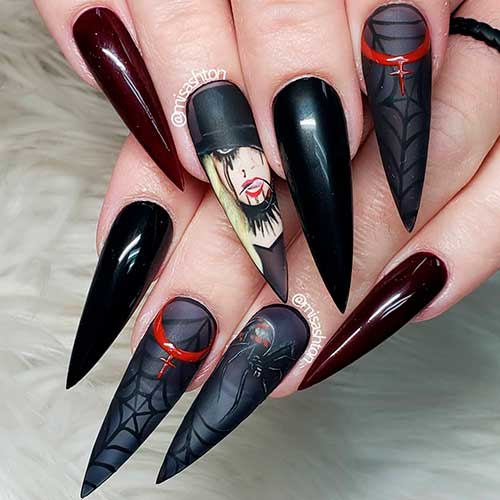 Indeed, this Halloween stiletto nails design is so incredible and consists of assorted Halloween-themed nails. As you see it consists of accent Maria Brink's nails, spider web, Gothic nails, black stiletto nails, and dark red stiletto accent nails.
10. Creepy Halloween Nail Ideas: Halloween Bloody Nails Art Stiletto Shaped Idea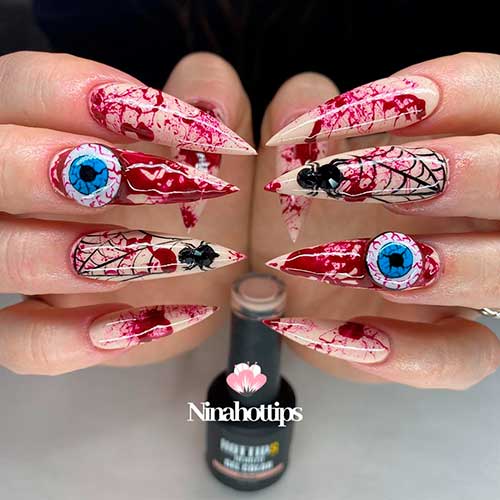 Of course, Halloween blood nail art is so attractive but maybe some girls don't like this type of nail art and prefer other nail art like spider web nails. Fortunately, the above blood nail art consists of both. So, the design consists of nude color stiletto gel nails and red gel nail polish for a bloody nail effect. Besides black gel nail polish for the spider web. In addition to glued 3d spiders and 3d eyeballs for nails.
11. Halloween Smoke Nails With Spider Web Nails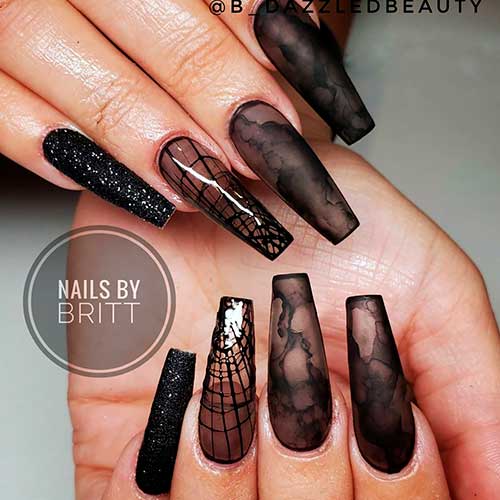 Don't hesitate to wear this unique nail set for Halloween. The design consists of black smoke nails coffin-shaped and black spider web nail art over accent clear nail coffin-shaped and accent black glitter nails. Of course, you will never go wrong with that design.
12. Amazing Stiletto Spider Web Nails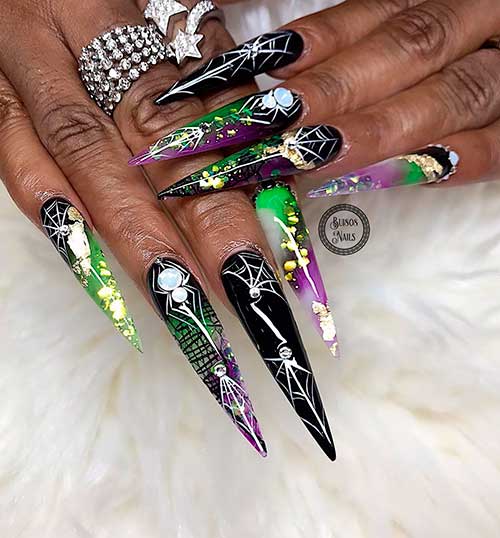 Are you feeling toxic when you look at these unique nails? I really love the color blending and the idea inspiration of this spider web nail art. Furthermore, this Halloween nail set makes you stand out from the crowd.
13. Corpse Bride VS. Nightmare Before Christmas Nails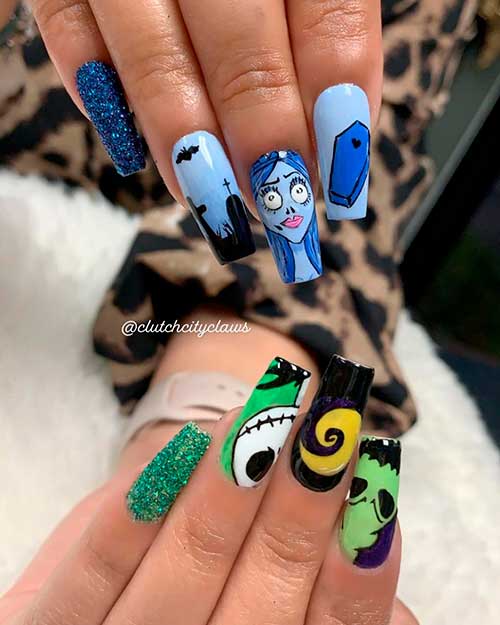 Another unique nails design consists of two Halloween-themed nails, one of the corpse bride and the other is Jack Skellington's nightmare before Christmas. Indeed, this Halloween nail art design really rocks.
14. Simple Blood Short Square Nails Design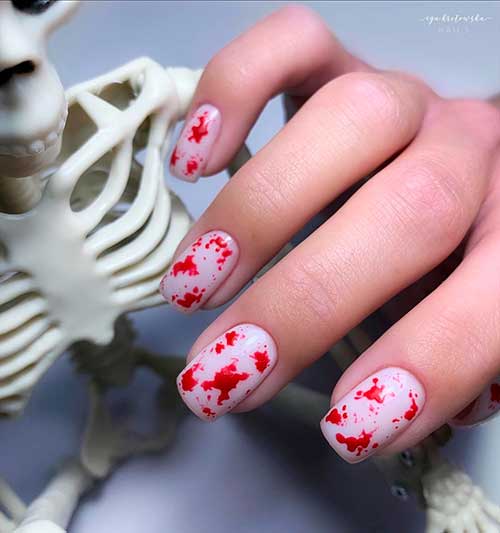 White short square nails with blood splatter nail art suit many girls who are short-nails lovers. So, go for these simple and creative nails and enjoy your moments on Halloween.
15. Green and Black Witch Nails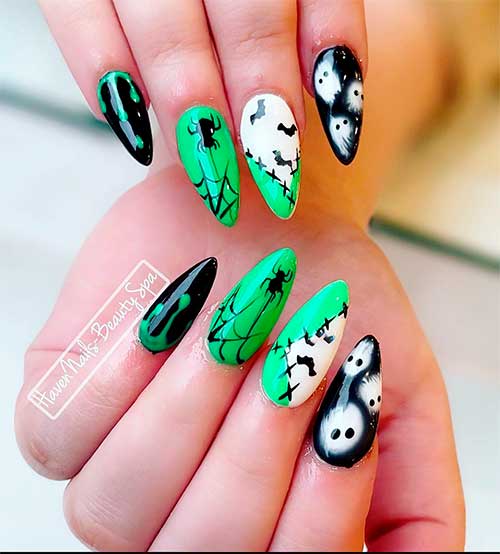 Halloween is a time for spooky stories, creepy decorations, and of course, candy. And if you love Halloween, there are many ways to make your nails look scary, too. If you want to bring out your inner witch, try these black and green Halloween-themed nails.
16. Orange and Black Ombre Halloween Nails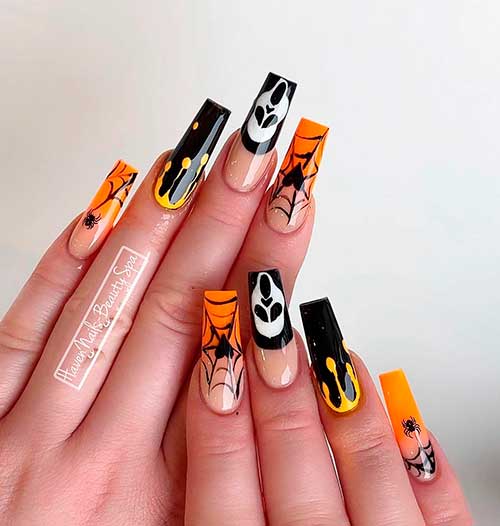 Black and orange ombre nails are a great look for Halloween, and you can get the same look with a sponge, too. If you are looking for an elegant and spooky look, try a design with orange cobwebs and spiders. Additionally, if you'd like to do something more elaborate, consider using stamping plates.
17. Chic Coffin Halloween Nail Ideas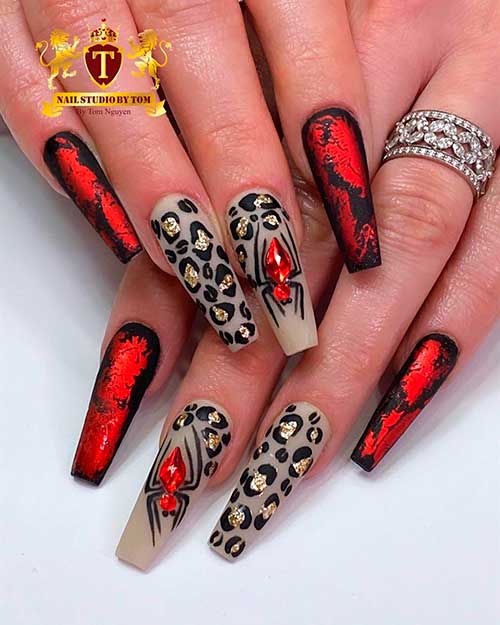 At last, these unique nails consist of leopard print nails, accent spider nails, and black coffin nails with blood nail art ideas. Of course, I'm in love with this nail art design.
18. Cute Orange Halloween Almond Nails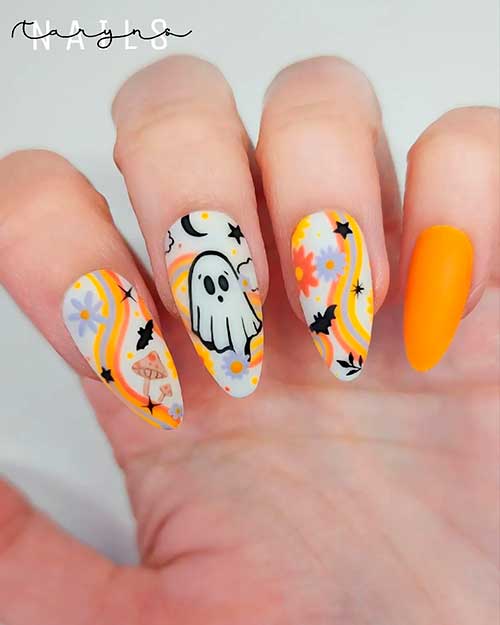 If you're looking to add cute Halloween nail art to your collection or want to create a whole new look for the upcoming Halloween, Halloween nail's almond shape is the perfect option. Because they have a natural look that isn't overpowering. Also, they're also easy to maintain and aren't likely to break or snag on other nails. So, you can try this orange Halloween nail design that features bats, flowers, swirls, and a big ghost in the middle fingernail.
19. Nude Halloween Nail Design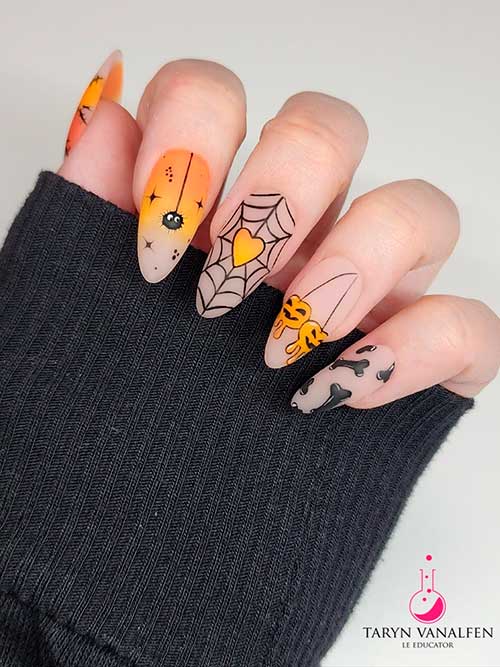 Keeping your nails classy and elegant is a smart way to go for Halloween. Besides, you don't have to be a nail art master to create a simple but effective Halloween nail design. In fact, using a simple, nude base can help tone down your Halloween-themed nail art.
20. Cute Halloween Stiletto Nails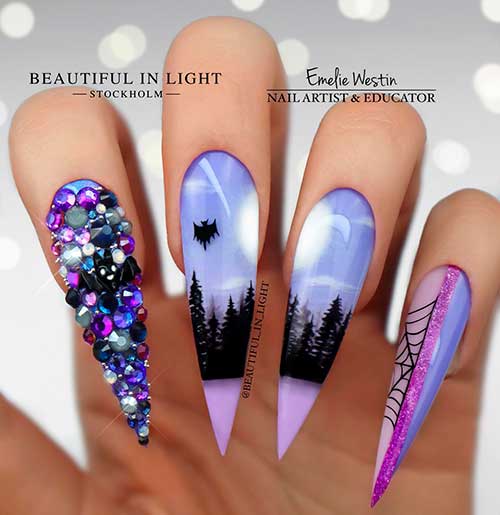 If you are looking for a fun, cute look or a scary, spooky look, Halloween stiletto nails can be the perfect choice for you. Indeed, these pastel purple nails will give you a creative outlet for your Halloween fun and will let you indulge in some pampering.
To Conclude
Halloween nails are a great way to express your Halloween spirit this season. Besides, these fun designs are available in many different variations and will add a festive look to your hands. Whether you're opting for an easy design or a more elaborate one, these above designs will not disappoint!