If you want to show off your spooky side this Halloween, you should try simple Halloween nails ideas such as a simple spider web nail design. It looks elaborate, but the design is actually quite easy to do. To make the spider web design, you will need black nail polish, white nail polish, and a white nail art pen. Just connect the crossed and curved lines, and you'll have an attractive Halloween nail design. You can use an accent nail to complete the look.
Another easy Halloween nail art is to go for a bloody fingerprint look. Just copy the instructions from The Daily Nail to create the look. Start painting your fingernails with a white base coat. Then, dip your finger into red nail polish to make the bloody effect look authentic. Afterward, wipe away excess color using tissue paper to prevent the blood from clumping.
Another Halloween nail design is the classic French manicure. This is a classic design that can go with any Halloween costume. It's easy to make and will complement your costume perfectly. You can also use black and white nail polish to create a spooky effect on your nails. In fact, there are many options to achieve a simple Halloween nail look! So, we have collected cute and simple Halloween nails to act as an inspiration for you. Besides you can do it easily at home!
1. Cute Simple Halloween Nails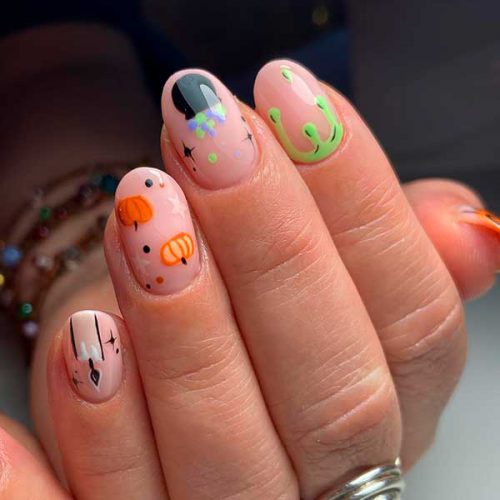 Halloween is coming, and you can make your nails spooky by sporting simple Halloween nude nails. So, you can replicate the look of this Halloween-themed nail design by using suitable nail stickers or stencils. This will stand out from the traditional Halloween colors, but will still be fun and festive.
2. Short Green Halloween Nails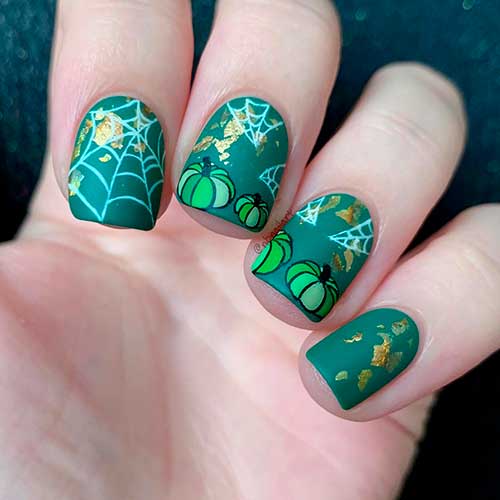 If you're feeling spooky and want a simple Halloween nail design, consider recreating this nail design above. You'll have to start by painting your nails dark green and then applying a matte top coat. Then, add gold foil pieces. Next, create white spider webs on top. Also, you can paint the green pumpkins or use nail stencils to achieve them. Of course, this will create a spooky design with a little extra sparkle.
3. Orange and White Simple Halloween Nails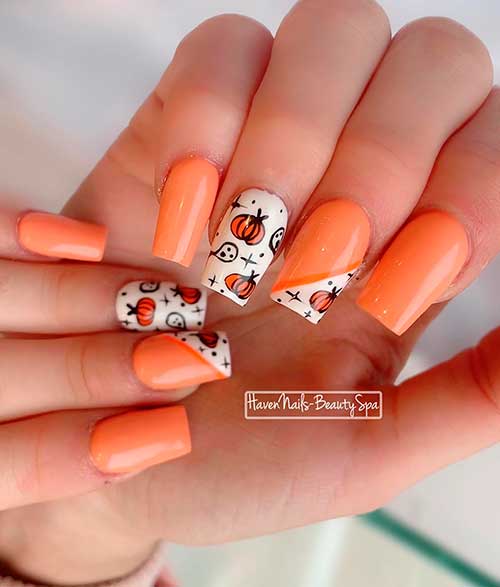 Add some Halloween spooky flair to your orange nails with pumpkins and ghosts on a white accent. This festive manicure features accent nails in white with pumpkins. The pumpkins can be added to accent nails or all fingers. Also, to create the ridges on the pumpkins, add small lines to them where the ridges would be.
4. Red French Tip Nails with Blood Drips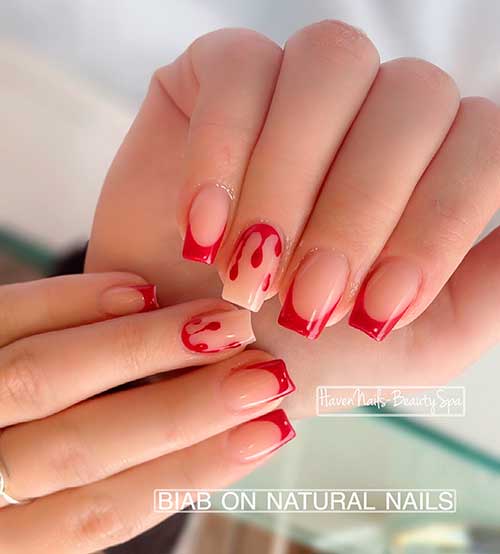 You'll never go wrong with red French nails combined with blood nail art on one or two accent nails, especially if you've ever watched a scary movie. Using deep red nail polish, you can create a cool drip effect with a simple nail art design.
5. Purple and Orange Simple Halloween Nails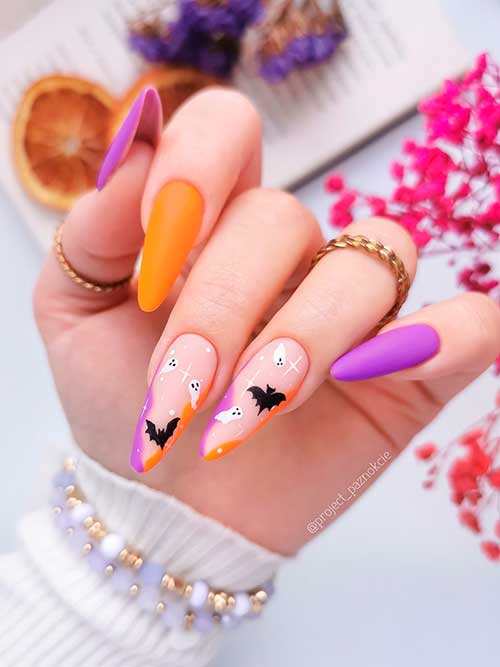 You can create a spooky and elegant look with these simple Halloween nails. The colors are both bright and cute. These nail designs are perfect for those who prefer chic nails and are not too scary. So, adding some bats and ghosts on two French accent nails will be enough to create cute Halloween nails.
6. Halloween Nude Nails with Spiders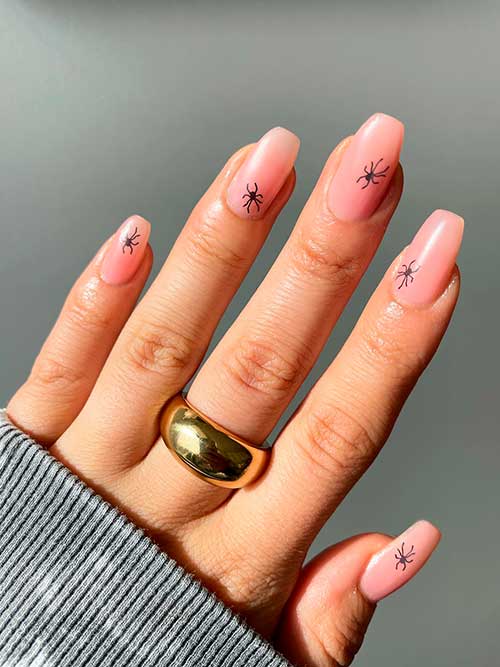 This Halloween you can try painting your nails with nude nail polish then add a black spider on each nail. It's a spooky and chic design that will get people's attention.
7. Halloween Burnt Orange Nails with Spiders and Spider Webs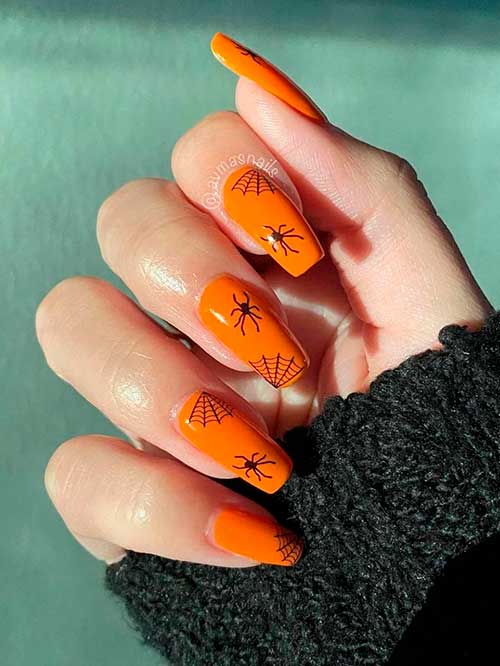 For a spooky Halloween look, paint your nails with burnt orange nail polish then, add spiders and spider webs! Of course, these fun and easy designs are perfect for Halloween. Besides, you can choose to go all out and make them look like actual spiders.
8. Shimmer Black French Simple Halloween Nails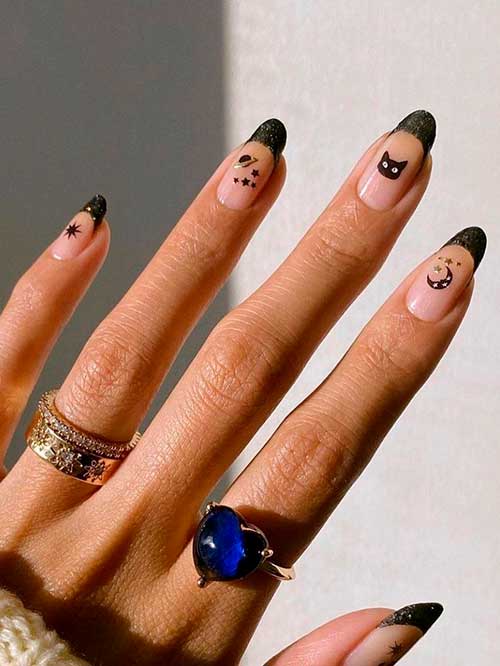 Halloween is a perfect time to try spooky nail art designs, especially simple ones. So, you can try shimmery black French tip nails then add different Halloween-themed stickers on each nail to create your own unique look.
9. Cute Halloween Nail Design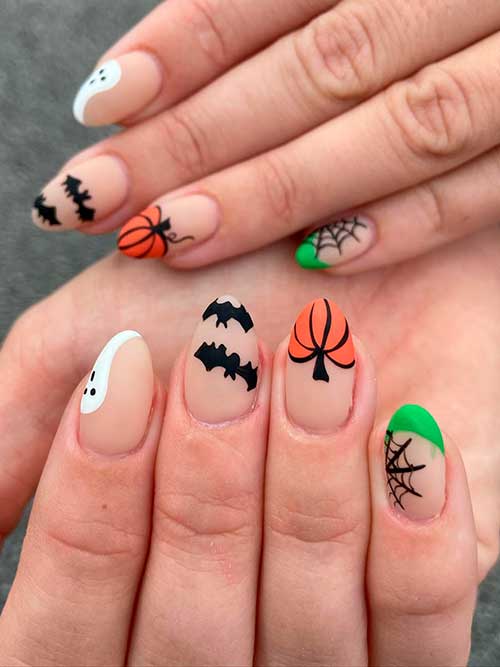 There are a number of ways to dress up your nails this Halloween. So, you can choose a spooky simple design with nude base color then add some Halloween-themed shapes. Regardless of the Halloween shapes, you will choose, your design will be fun and festive!
10. Short Green Nails with White Ghosts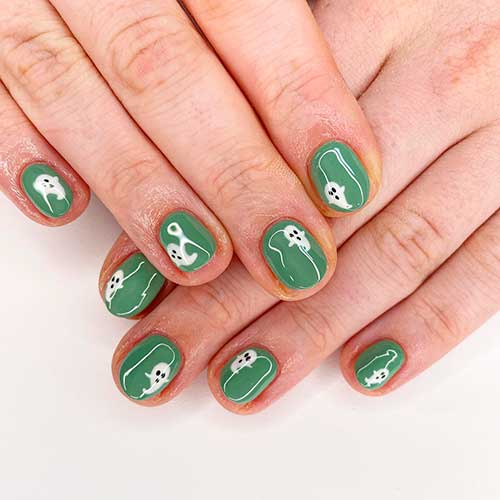 If you're a fan of Halloween, consider short green nails with white ghosts. Because this spooky design is fun and scary at the same time. The design is also versatile. Besides, you can add other details to your nails or paint them in one color.
11. Black Nails with White Skeleton Bones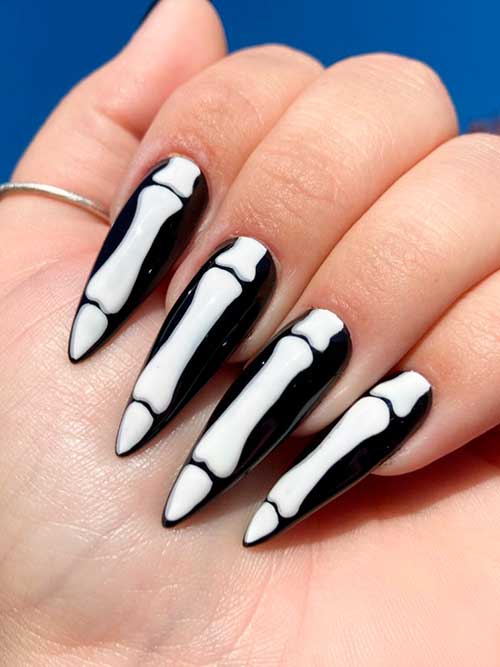 You can create the look of bones on your nails in a variety of ways. You can start with a black base coat, and then draw the white bones with a free hand or by using a nail stencil. Also, you can use a bone nail sticker to achieve this look!
12. Simple Halloween Nails with Black Drips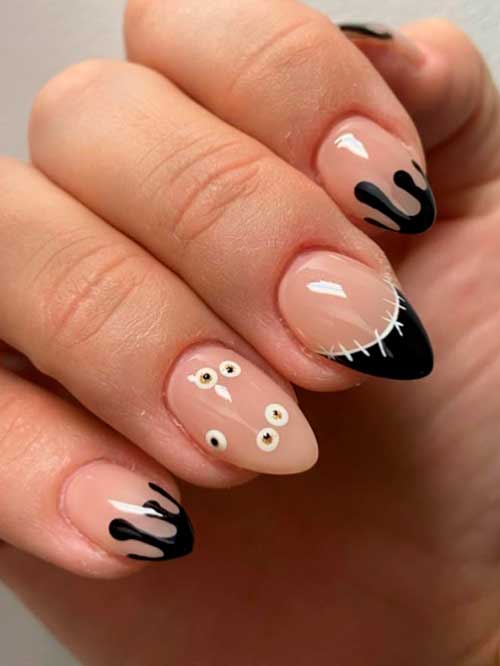 If you want to scare up some friends this Halloween, try some scary nail art on your nude nails this year! This look is easy to recreate. Besides, you may need to purchase some nail stencils or stickers to achieve the black drip look.
13. Green and Black Frankenstein Simple Halloween Nails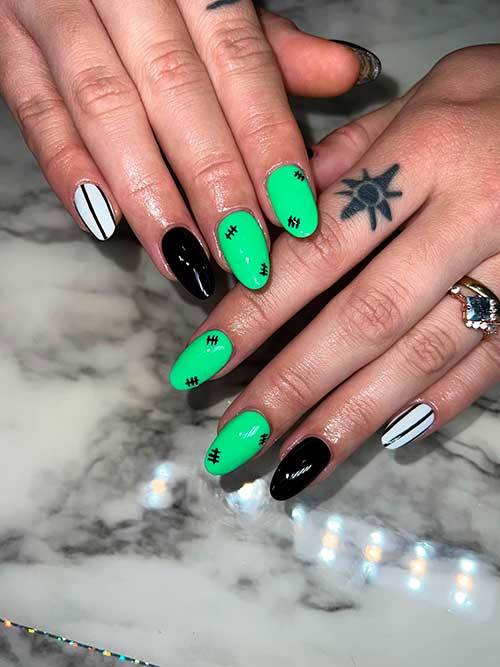 Frankenstein's nails are a fun twist on the traditional Halloween manicure. This fun design can be created with green and black nail lacquers. Also, you can amp up the design with striped black nail art on a white base color accent.
14. Evil Eye Simple Halloween Nails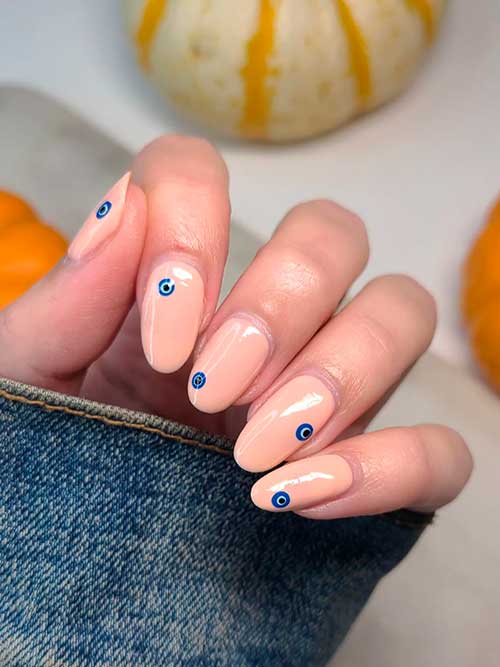 There are many ways to create the classic evil eye design on your fingernails. But you can opt for the simple way by using blue evil eye stickers on a nude base color.
15. White and Orange Pumpkin Halloween Nails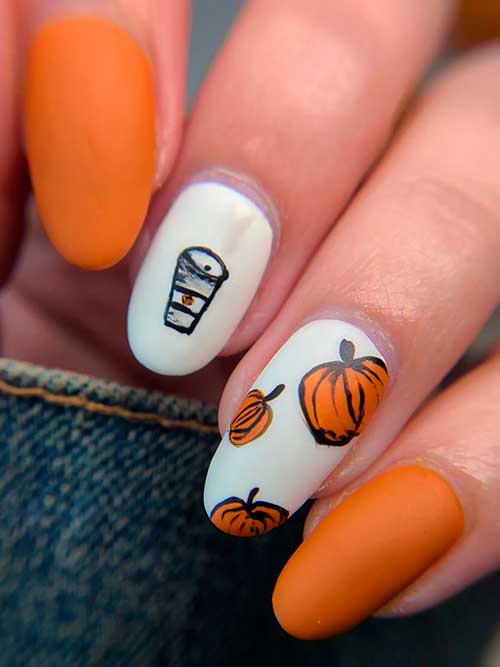 Try this matte burnt orange and white Halloween pumpkin-themed nails. So, start painting your nails using white and burnt orange nail polishes. Then, apply the matte coat. Now it's time to draw the pumpkins with freehand or you can use nail stickers.
To Conclude
At last, you have inspired with some simple Halloween nails ideas that are sure to please your Halloween guests. Just decide on your Halloween design to start recreating right now!