Having Halloween nails doesn't have to be scary. There are tons of fun nail art ideas to spook up your hands this Halloween. If you're looking for something unique, go for a black and witchy green manicure to spice up the upcoming Halloween! This color combination is spooky, but also very chic and modern. You can even use your nails to create a Halloween-themed French manicure.
Another great way to make your nails spooky is to create a Halloween manicure in the Gothic style. This style is very expressive and is typically made up of dark colors and mixed fabrics. You can try to emulate this style by choosing long nail shapes, or you can experiment with a mix-and-match technique. So, it's time to get inspired by keeping scrolling down!
1. Spooky Long Stiletto Witch Halloween Nails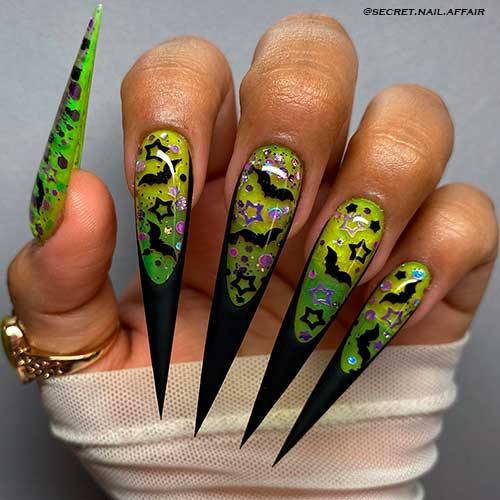 If you're going for the witch Halloween nail look, then you've come to the right place. Also, this Halloween nail design is both creepy and chic, and it's a great nod to your favorite horror movie genre. Also, you can try mixing in some symbols to spice things up.
2. Golden Halloween Skull Nails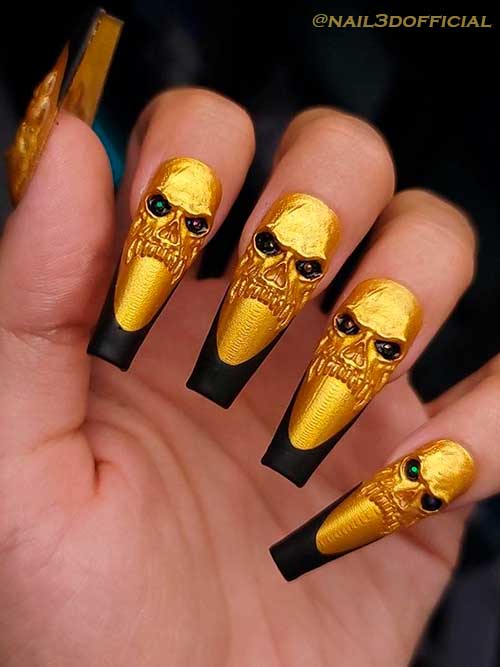 These skull nails are an awesome option to get spooky-looking nails for Halloween. But, maybe you need a professional to achieve this look. Also, you can use gold metallic nail polish or you can also buy nail stickers that look like skulls. Then, apply the black French nail tips.
3. Ghost in Black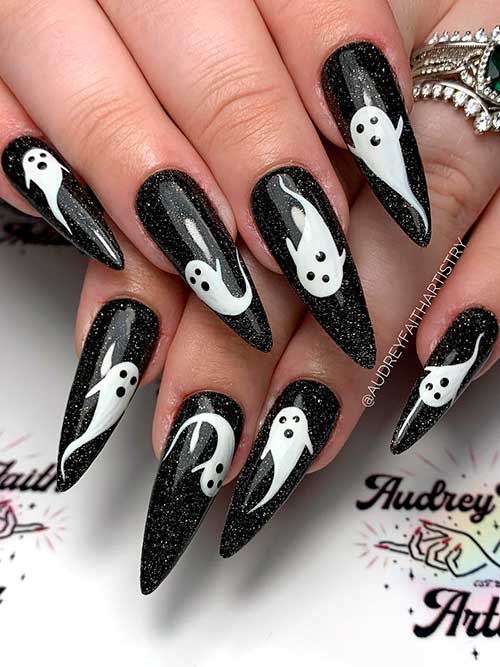 Indeed, Halloween ghost nails are fun and an eerie way to show off your nail art this Halloween. So, these white ghosts in glitter black base color can be as sinister or cute as you want. Besides, they are easy to do and can be created in many different sizes and angles. Additionally, ghosts are symbolic of life and death, but they can also be seen as a protector or guides.
4. Halloween Blood Drip Nails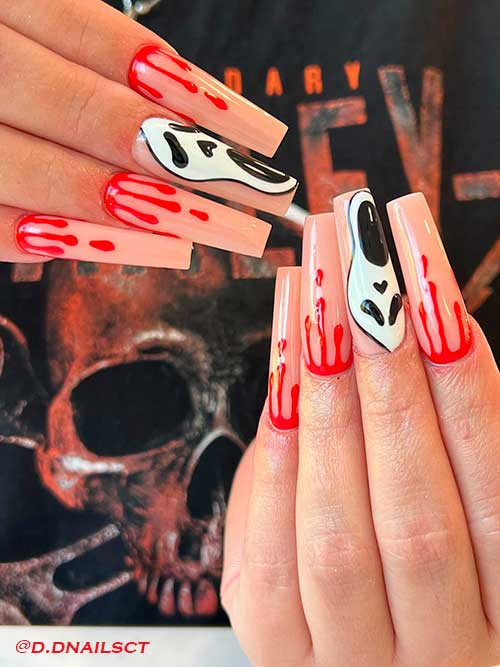 If you're looking for an extra terrifying look for Halloween, blood drip nails are the way to go. The look is easy to do and will leave an incredible impression. Also, you can add a scary face on an accent nail to complete this spooky Halloween nail look.
5. Different Halloween Themed Nails Design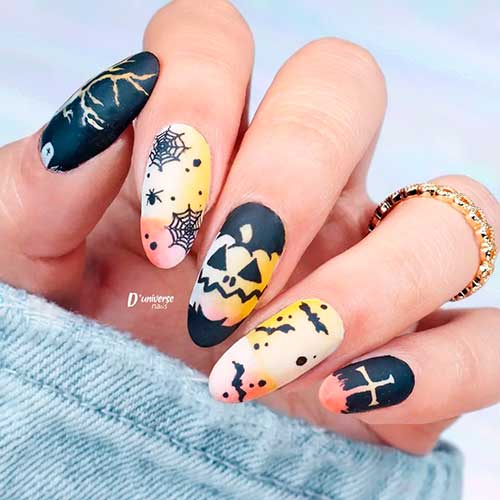 One of the best ways to show off your Halloween spirit this year is by having different Halloween themed nails. These spooky creations can be as simple or as sophisticated as you prefer them to be. So, you can try to recreate these bats, pumpkins, spider webs, and Goth nail art, along with some patience. But, if you are not an artist, you can always hire someone to paint your nails for you.
6. Halloween Skull Nails Design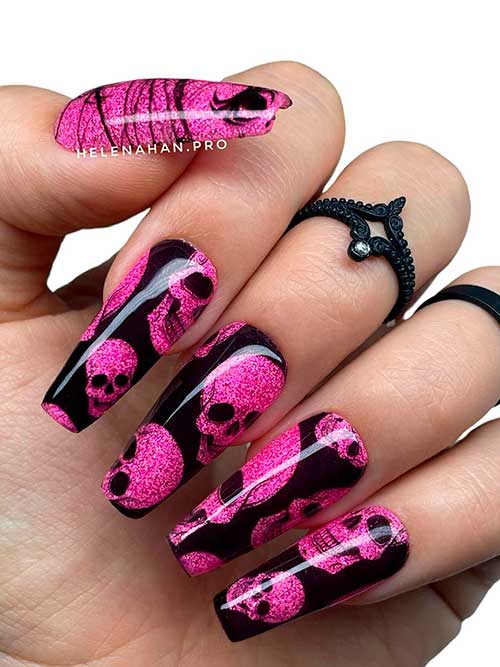 Halloween skull nails are a great nail design to exhibit your Halloween spirit without wearing a Halloween costume. Besides, these scary Halloween nail designs are easy to apply and come in a variety of colors such as pink skulls on black nails. Also, you can use nail decals to brush on or stamp onto the nail to recreate this detailed look.
7. Ombre Black Creepy Halloween Nails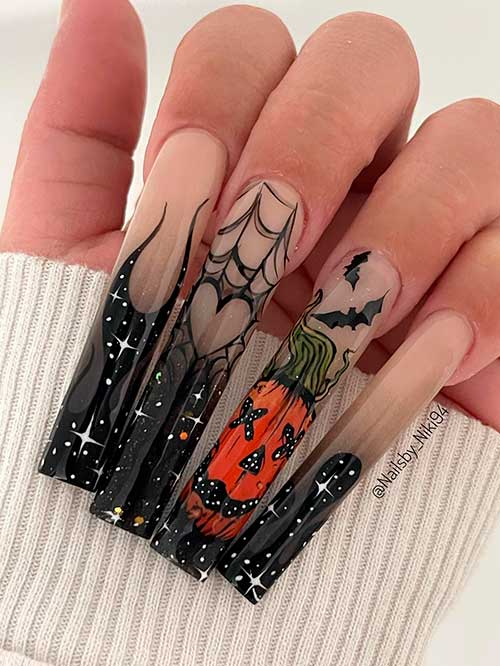 If you're in the mood for a spooky Halloween manicure, consider an ombre black Halloween themed nail design. Additionally, this ombre style with Halloween Themes is dramatic and striking and can be used to create expressive, abstract, and symbolic nail art.
8. Cute Halloween Themed Nails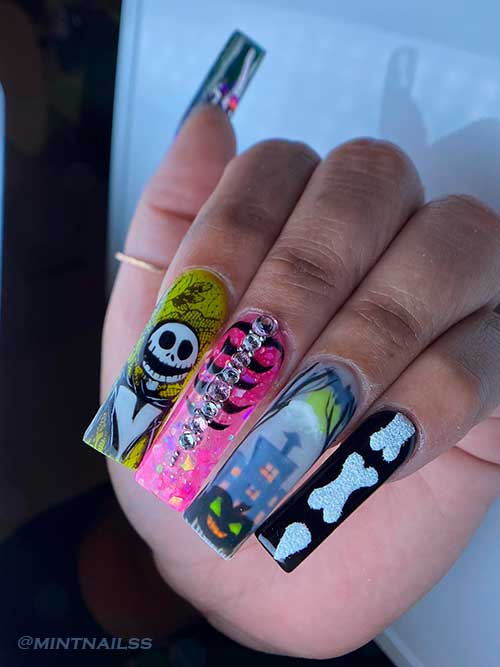 A manicure in scarily-cute colors is perfect for Halloween. Furthermore, this Halloween themed manicure can combine bones, skeletons, and goth nail art. Of course, this design is an awesome option to wear a cute and creepy Halloween nail set.
9. Fun Halloween Nails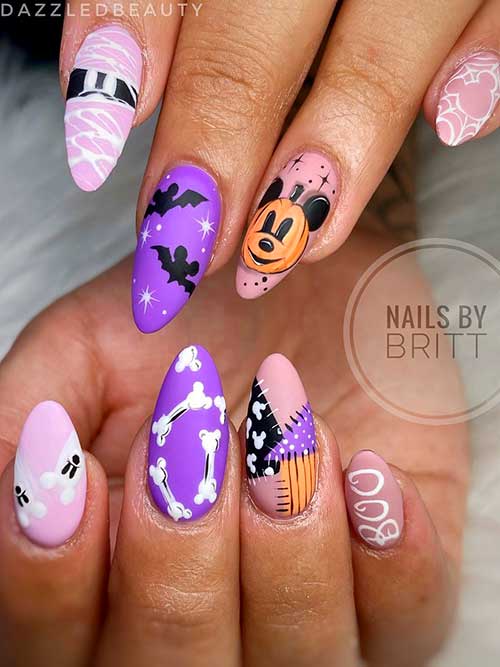 This Halloween, give yourself the spooky treatment by getting creative with your fingernails with mickey vibes. Besides, short nails are best for this kind of nail art since they give you more comfort and draw attention to your hands.
10. Neon Spider Web and Goth French Halloween Nails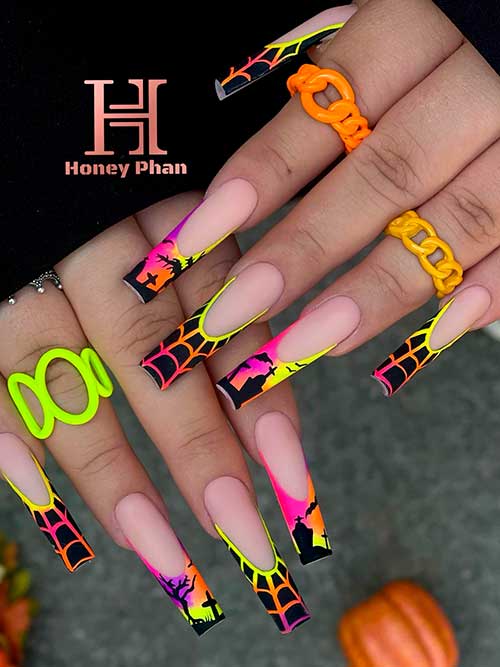 This Halloween, give your nails a neon Halloween Themed look. Choose different neon nail polish colors to draw the spider web and Goth themes. But, first, draw the black French tips. Of course, this is a cute and spooky Halloween nail design.
11. Black 3D Spooky Halloween Nails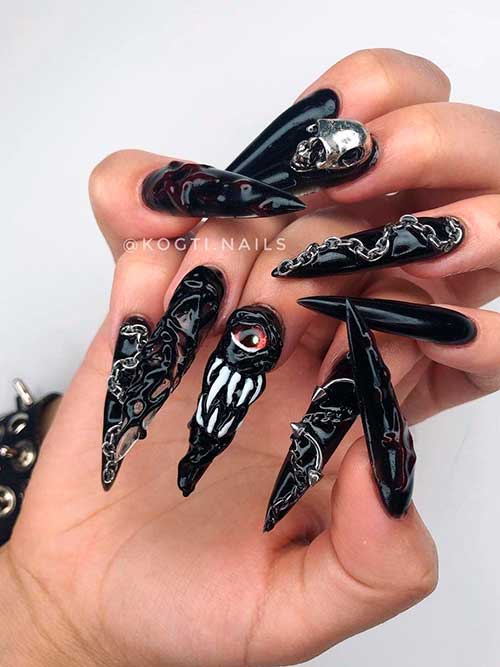 If you're planning to be spooky this Halloween, consider doing something scary with your nails such as this design above. Indeed, these black stiletto nails with 3D objects such as skulls and jaws are scary enough for Halloween occasion.
12. Neon Glow Halloween Nails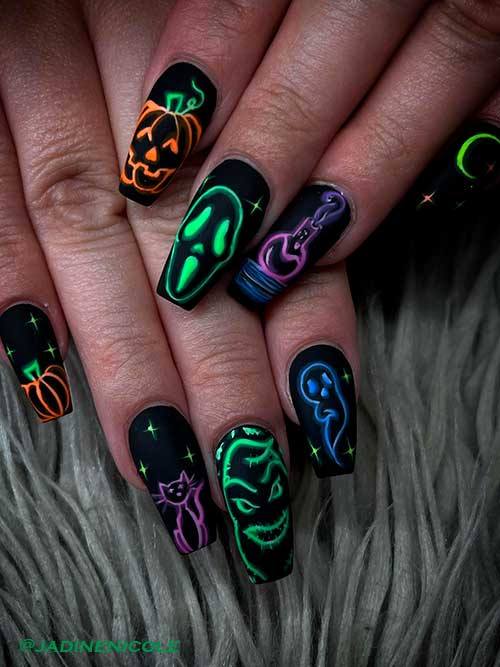 If you are a fan of Halloween nail art, you may have considered going with Halloween glow-in-the-dark ideas. So, you can recreate this design with different nail colors and surely it will give your nails the creepy, spooky look you want.
13. Orange Halloween Nails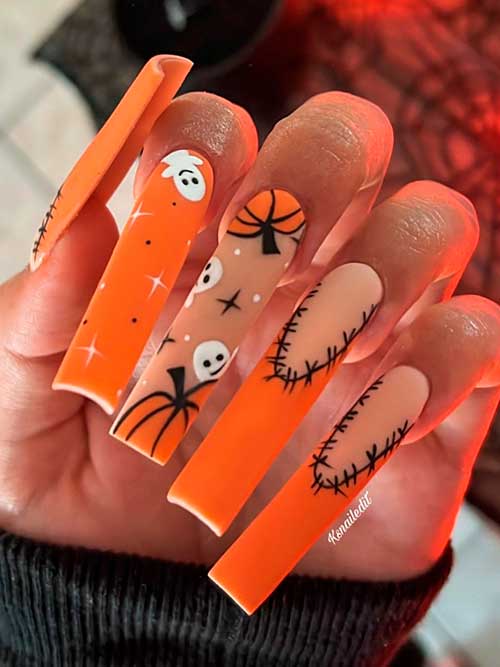 Still, orange Halloween nails can be a great way to spruce up your Halloween manicure. Also, this awesome color is reminiscent of pumpkins, one of Halloween's most popular objects. So, you will love to try this Halloween nail design which features pumpkins, ghosts, and stars on cute orange nails.
14. Spooky Nude and Black Halloween Nails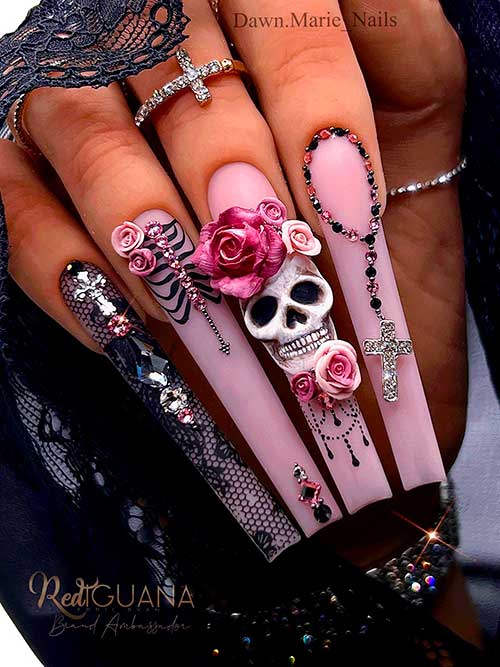 Of course, these spooky and unique Halloween nails are the perfect choice for the upcoming season. Black and nude pink make for the perfect combination and create a dramatic contrast. Also, you can be creative by combining other spooky 3D items, such as skulls and cemetery roses. Additionally, you can add some stamping nail art to make the design stand out even more.
15. Pink and Black Halloween Nail Design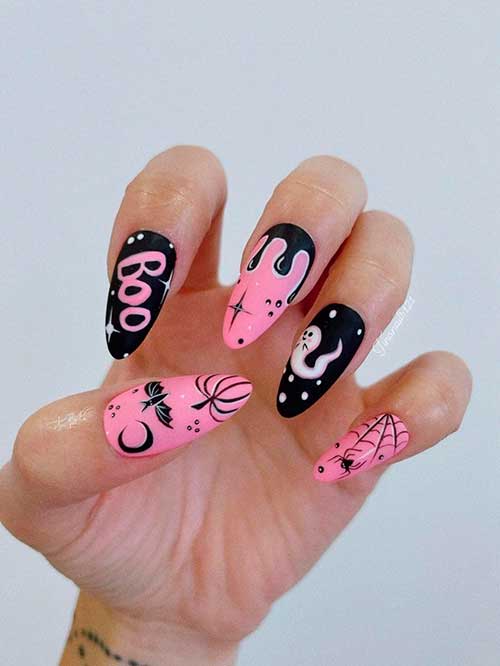 Another, cute Halloween nail design that you can try this Halloween. Further, this Halloween nail idea is sure to make a strong statement. Of course, pink and black is an amazing color combinations. But, when these different Halloween themes are incorporated turn it into a spooky one.
At last, when it comes to Halloween nail ideas, you don't need to look far. So, you can create scary ghosts or blood droplets on your nails. And if you don't wear a costume, a simple two-tone design is still spooky and fun! Just choose your favorite and simple nail design to recreate at home with nail art supplies. Or you can visit a nail salon to wear more sophisticated and detailed Halloween nails.