If you are looking to plan a spooky Halloween party, you might want to experiment with some ghost nail designs. These designs can range from cute to sinister. The fun part about ghost nails is that you can wear them in various colors and sizes. Also, ghosts can symbolize life, death, and rebirth. Additionally, they can be considered to serve as protectors or guides.
If you want a subtler way, you can paint your black nails with white ghosts. Or, you could paint them with a spooky catchphrase. Adding a matte top coat will complete the look. When you apply white ghost nails, you may want to consider a darker color on the outside of the nails so that they don't look too dirty. After the ghosts are dry, you can clean up the edges using a nail polish remover.
For a more intense spooky look, you could go for a Boo design. This design starts with a black base and has cute Halloween creatures painted on each nail. Also, pink paint is a good choice to add a feminine look to the design. But, if you are afraid to use pink color, you could use any color for this design. This design looks like you're having a battle with a vampire. Fortunately, we have found some ghost nail art designs to inspire your next Halloween manicure!
1. Tortoise French Tip Nails with White Ghosts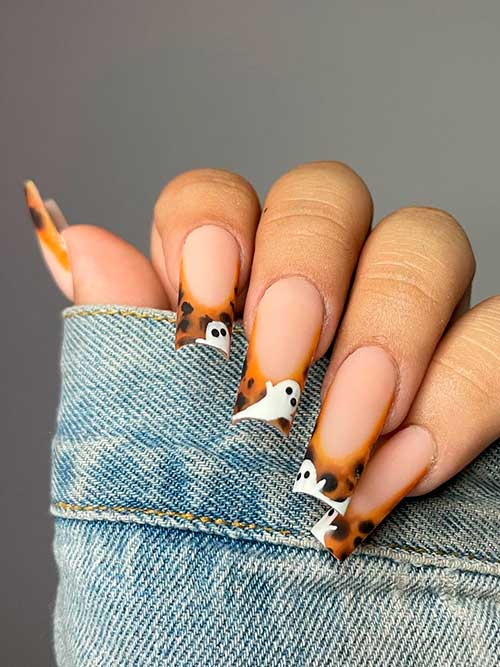 Indeed, this spooky nail design is perfect for Halloween. If the light hits the tortoiseshell nail tips with white ghosts just right, the effect can be chic and spooky. But, to get the look, you can either have a professional apply the design for you or ask a friend to help you.
2. Cute Ghost Nails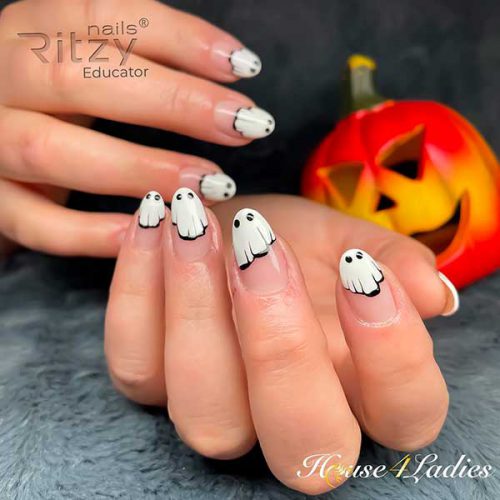 For a spooktacular Halloween look, try nude nails with white ghosts on the nail tips. Of course, this spooky and cute nail design is sure to get people's attention. Also, to amp up the nail design, you can add scary bats!
3. Ghosts and Bats French Tip Nails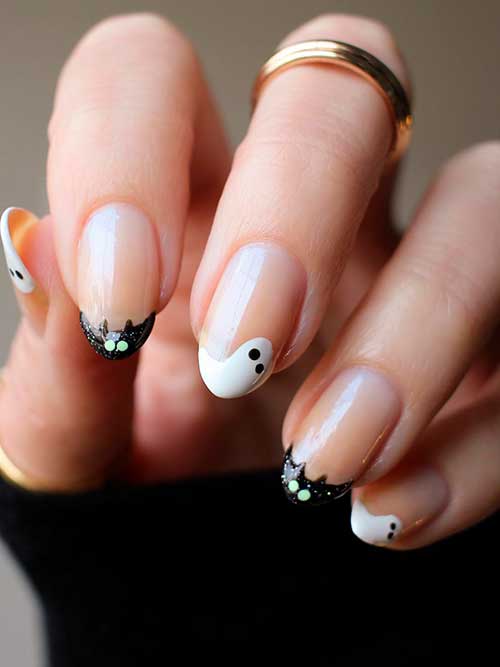 If you love Halloween, you'll want to create some scary nail art. So, if you have black and white nail polishes, you can decorate them as ghosts and bats on your nude nail tips. Of course, you can create these simple Halloween nails at home.
4. Chic Halloween Ghost Nails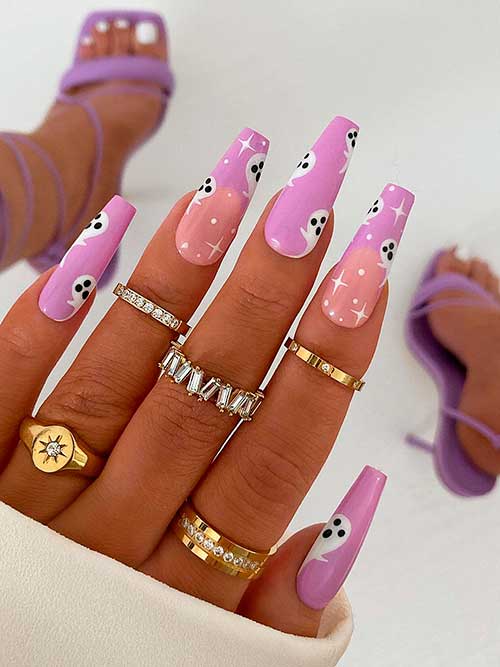 If you're looking for the perfect Halloween nail design to wear, you may want to check out these purple nails with white little ghosts. Indeed, these nails are elegant and fun for the upcoming Halloween occasion. Besides, these unique nails are available as press-on nails by @pressedbycharlotte_.
5. Colorful Neon Ghost Face Nails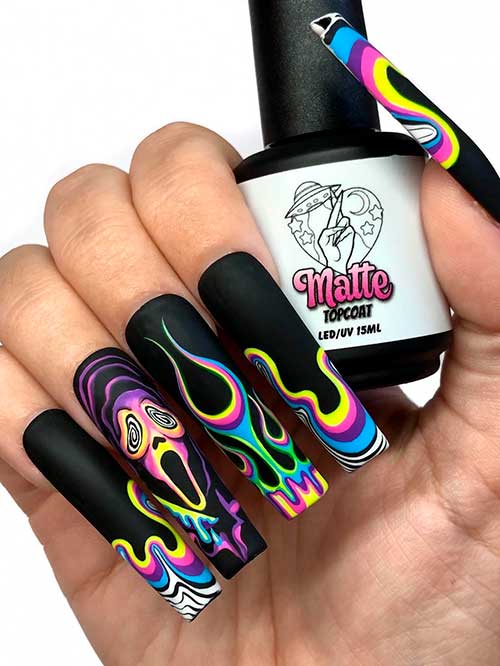 Neon ghost face nails are a great choice for spooky Halloween nail art. This nail design features black base color with colorful neon flames and ghost face nail art. While the design looks scary, it's also extremely cute.
6. Scary Ghost Nails with Spider Web Nail Art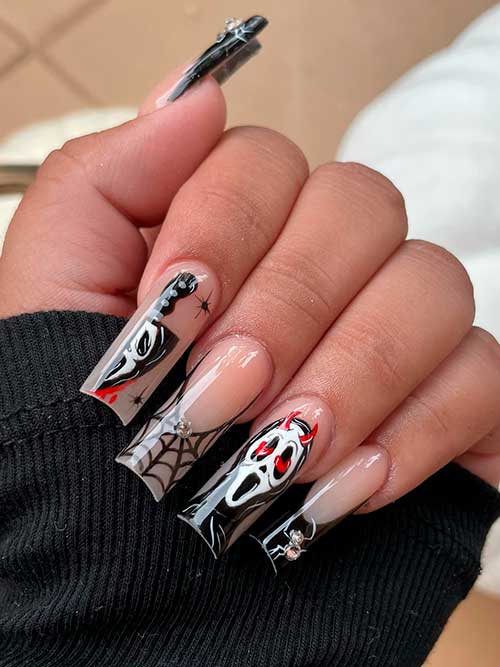 A Halloween nail design is a fun way to dress up your nails this year. Whether you're into scary ghosts or spider webs, you can easily find an easy-to-execute design to match the season. So, you can apply this scary nail design above on your nude base color.
7. Shimmer Black Nails with Ghost Nail Art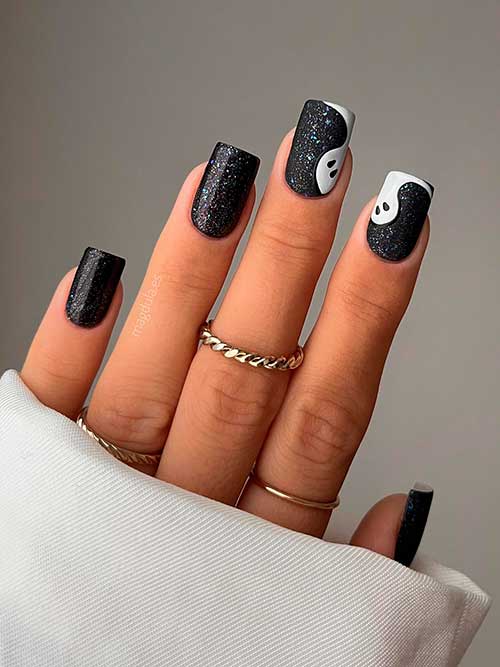 Ghost nail art is a fun and easy Halloween nail design that can be both spooky and cute. So, to recreate this Halloween nail design you can paint your nails with a shimmer black nail polish. Then, add the ghost nail art to two or more accent nails. Of course, this design will turn heads!
8. Easy Ghost Nails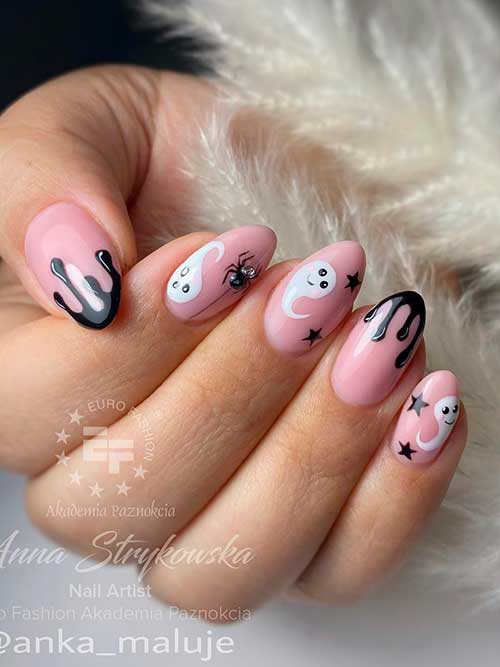 There are many ways to get the fun look of ghosts on your nails. Of course, this nail design is fun and trendy. Also, you can DIY at home with little effort! Go for this nail design to catch all eyes on Halloween.
9. Holo Ghost Nails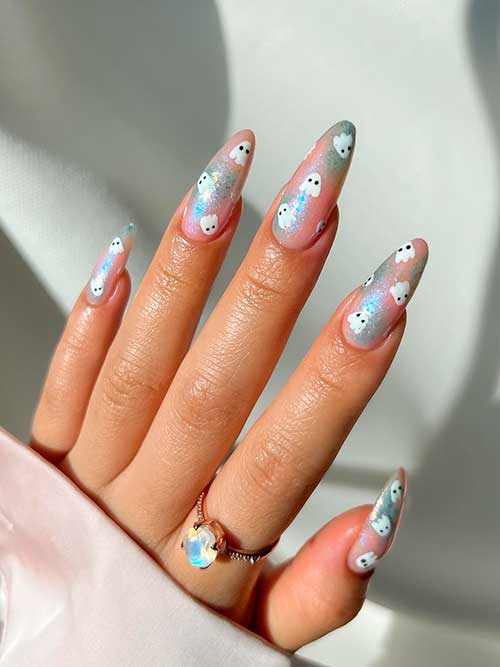 Halloween is a great time to get creative with nail art. So, you can get a whole new look by wearing nude base color nails with holographic patches. Also, you can go for a funky Halloween manicure, or go for something a little more elegant by adding some little ghosts.
10. Pink Ghost Nails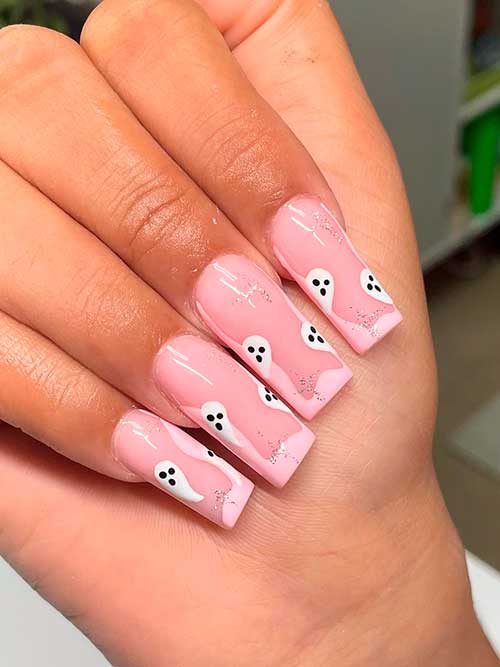 Pink ghost nails are an easy way to create a Halloween look. This ghostly manicure consists of a nude base color with pink nail polish on the outlines and with little silver glitter. Of course, this is a cute Halloween nail design to try this year.
11. Bloody Ghost Face Scream Nails
A ghost nail design can be spooky or cute. Besides, they are one of the easiest designs to achieve. So, you can try these scary bloody French tips nails with ghost face accent nails. Of course, this nail design is scary enough for Halloween occasion.
12. Black Ghost Nails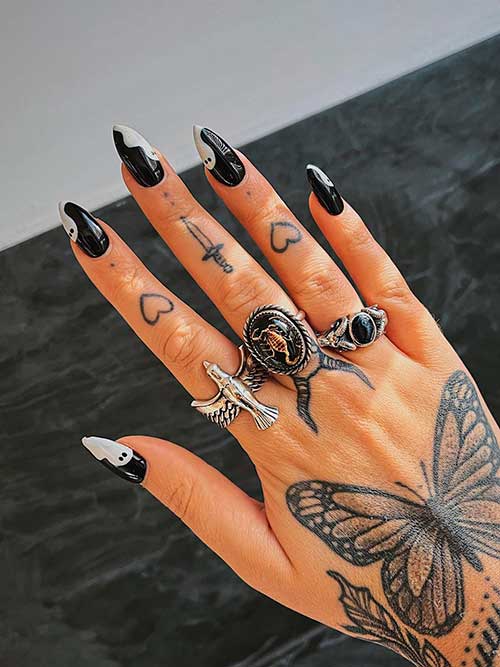 Black and white ghost nail art is a subtle way to celebrate Halloween. Besides, they go with everything. So, start painting your nails with glossy black nail polish. Then, outline the ghost shape with white and fill it in. Next, add a black dot to represent the ghost's eyes.
13. Cat Eye Nails with Ghosts and Spider Webs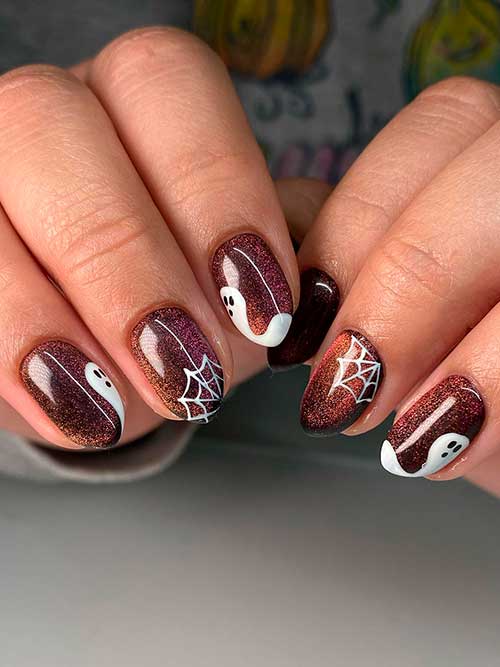 The shimmer cat eye nail polish is perfect for Halloween also a cat eye nail art is a cute Halloween look. So, you can use cat eye nail polish to create this look. Then, for an elegant touch, you can add white ghosts and spider webs on accent nails.
14. White and Black French Ghost Nails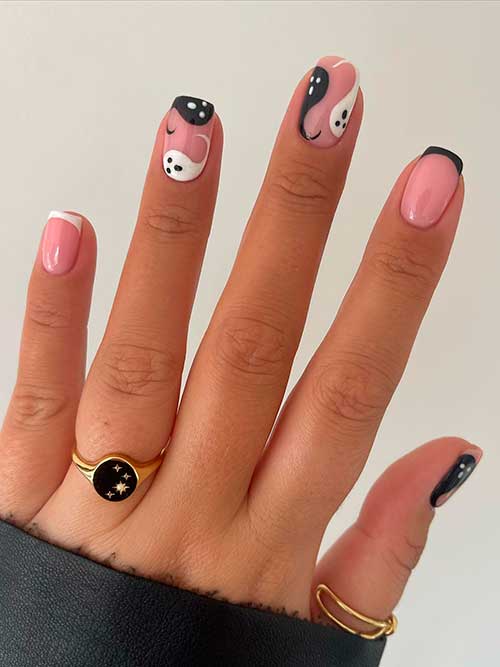 The classic French manicure gets a spooky twist with the use of white and black ghosts on the tips of the nails. Furthermore, featuring alternating tails, this design looks spooky and chic. Additionally, it has gained popularity this Halloween.
To Conclude
At last, you can create a variety of ghost nail art designs for the Halloween holiday, from cute to sinister. Of course, these designs are an awesome option to add spooky touches to your manicure. Just pick the nail design that catches your eye to recreate it. Also, you can mix and match some Halloween nail designs to achieve your own Halloween ghost nails.