Halloween is a popular holiday celebrated in the western world where kids dress up in costumes, and masks, and collect candy. It's particularly popular in countries with English-speaking populations, such as the USA and Australia too. So, the trendy look of skull nails is sure to be a hit with Halloween costume lovers.
Teenage girls are also very fond of skull nail designs. They love to experiment with new designs and ideas. The designs look spooky, yet adorable! Whether you're a 'skull' fan or are a zombie lover, skull nail art is sure to be the perfect accessory and theme for your Halloween nails.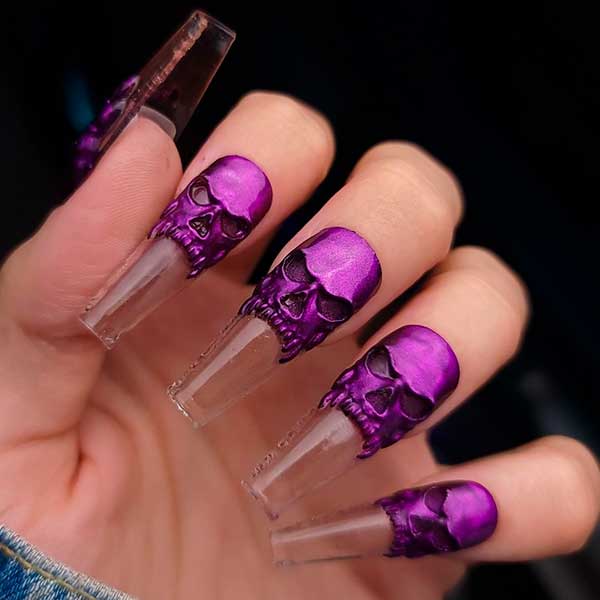 Skull nail art can be easy and quick to create at home, as long as you paint your nails black. Besides, you can even opt for glitter to add a spooky touch. At last, be sure to apply a matte top coat to help make the design stand out. We have found some cute and scary skull nail designs you will love to try this year. Just keep scrolling to get inspired!
1. Black Skull Nails with Purple Glitter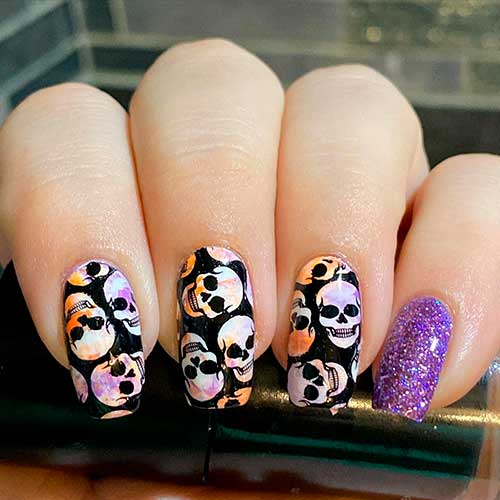 If you love the look of white skulls on black nails, you should consider wearing these black skull nails with orange and purple touches. Besides, these nails are extremely versatile so, you can wear them with any type of Halloween costume. Additionally, you can pair these designs with other nail design elements, including purple glitter.
2. Blue and Silver Skull Nail Art Design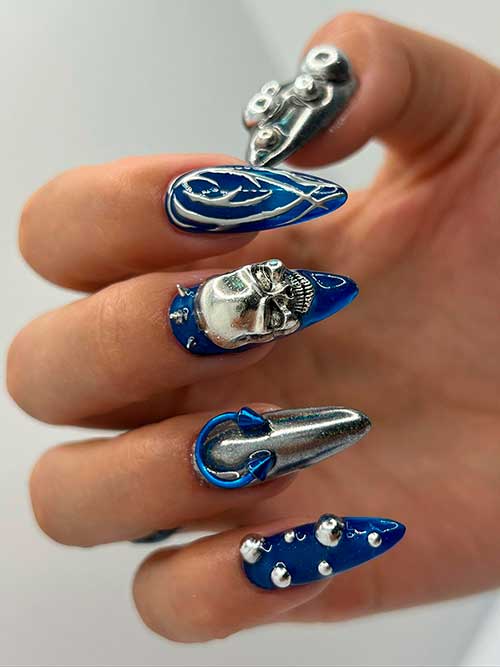 If you're a lover of Halloween, you can go for 3D skull nails. So, these spooky blue nails with silver 3D Halloween nail art can be a perfect choice for the Halloween party this year. Of course, these nails look spooky and are a great idea to scare your friends!
3. Red 3D Skull Nails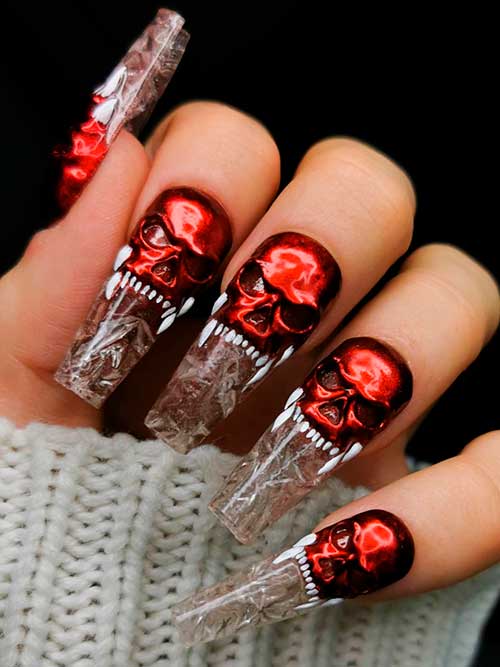 For women who aren't sure if red 3D skull nails are right for them, this nail design will change your mind. Indeed, this spooky skull nail art will enhance the overall look this Halloween.
4. Purple Ombre Skull Nails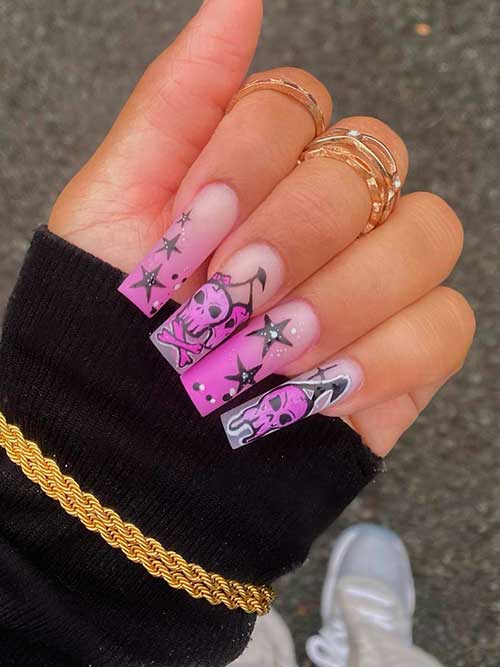 Teenage girls are crazy about skull nail art. So, they like to try out different ideas and designs of skull nail designs so, this design will catch many eyes. Of course, these spooky but cute nails are an awesome selection for Halloween parties.
5. Short Skeleton and Skull Nail Art Design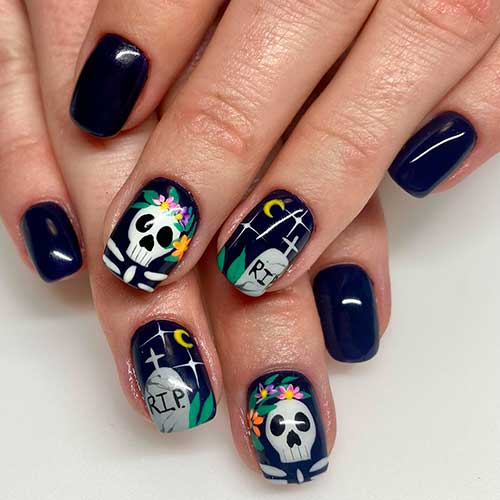 Short skeleton nail art is a fun way to add a Halloween twist to your manicure. Also, you can recreate this nail design at home by using navy blue nail polish and nail stickers.
6. Long Lovers' Skull Nail Art Design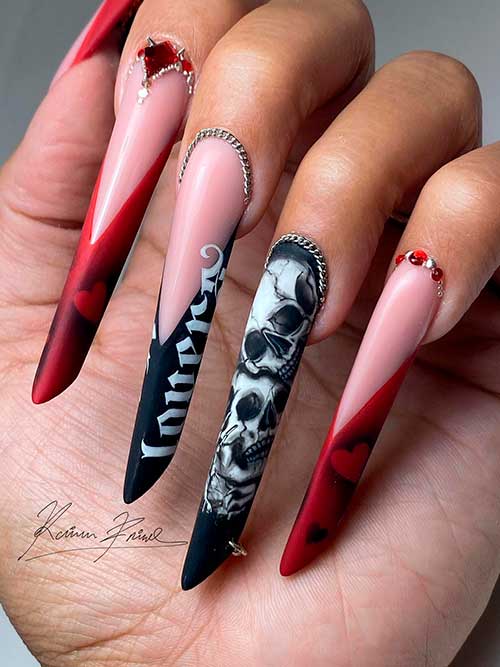 This nail art design features a beautiful mixture of red, white, and black colors. The skull design on the nail design features two lovers' skulls with red hearts. Besides, the silver and red stones are studded around the patterns.
7. Stamped Skull Nails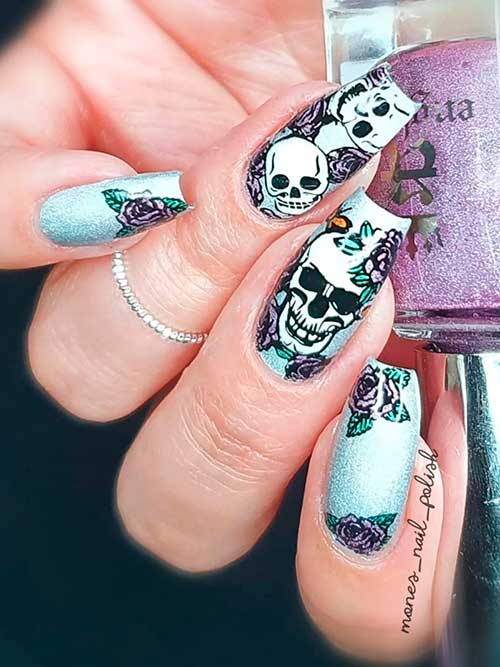 Indeed, stamped skull nails are the perfect addition to any nail art collection. So, you can create a similar look at home by using one of the many nail stamping kits. Besides, there are several different types of stamping plates to choose from, and they come in many different shapes and sizes.
8. Gothic Skull Nail Art Design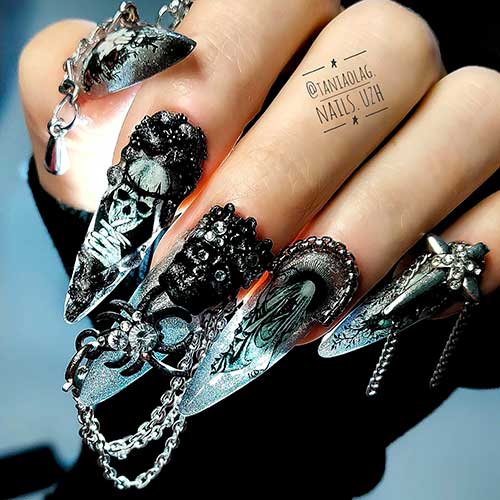 This nail design combines black nail shade, contrasting lines, and ghostly skull art. Further, the spooky idea behind this nail design is to create a look that evokes the darkness of the night.
9. Crushed Skull Nails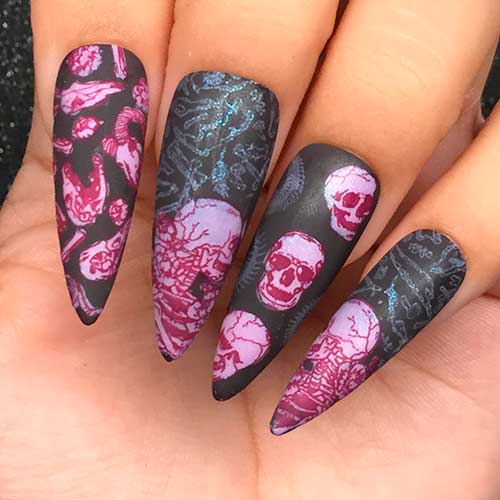 For this Halloween nail art, start by painting your nails with a base coat of black. After the base coat is dry, add a matte top coat. Then, use a skull nail stamping plate with your favorite nail polishes to achieve the skull nail art.
10. Colorful Skull Nail Art Design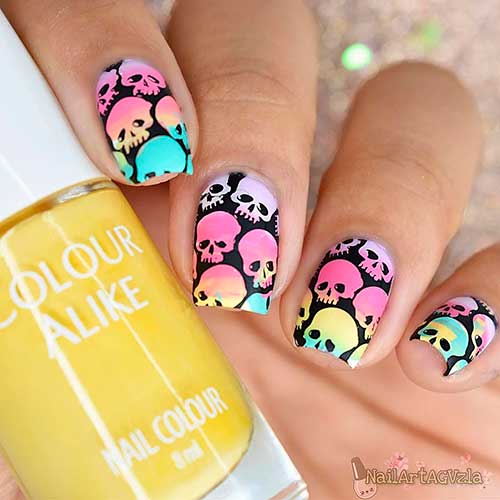 If you are into Halloween and sugar skulls, you can try stamping on your nails this year. Additionally, these simple Halloween nails start with a black base color. Next, you can add different colors to a skull nail stamping plate to create this skull nail art look. At last, to finish, use a top coat.
In Summary
At last, there are many nail art ideas based on skulls. So, you can choose a nail art design that is easy to make and doesn't require a lot of skills. Also, you can purchase press-on nail designs, full wraps, or decals to give yourself a scary look. Indeed, these designs can save you time and money, and they look great too! You can also ask for help from a professional nail artist if you don't have time to do the designs yourself.