October 31 means Halloween! From spooky decorations to horrible costumes to strange hairstyles and makeup. So, there's no way for you not to display your skittishness this Halloween. But, of course, October 31 also means pumpkins everywhere. So, Halloween pumpkin Nails are one of the most popular nail art of this holiday, and incorporating them into a nail design can be fun and easy.
Of course, pumpkins are among the Halloween essentials. Besides, people usually carve them and insert stagnant light inside them and use them as decorations. Interestingly, pumpkins are not incredible Halloween party decorations. They are also awesome nail art patterns. So, complete your Halloween look with the following pumpkin nail art designs!
1. Light vs. Darkness Pumpkin Nail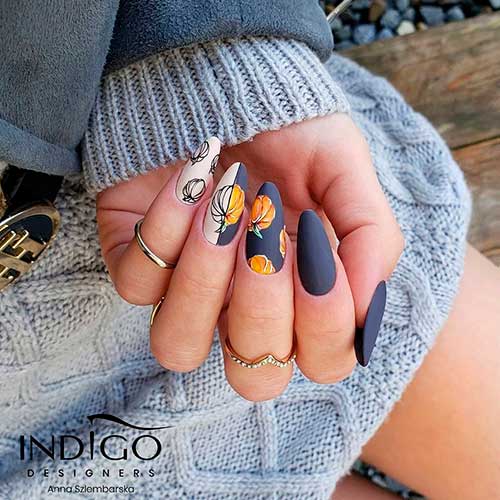 Which one will you choose, light or darkness? However, why choose if you can get the best of both worlds? So, express your light and calm personality with these pumpkin nails design. Then, combine it with a dark and sultry aura. Plus, let the orange color balance everything.
2. Glam at Turquoise and Orange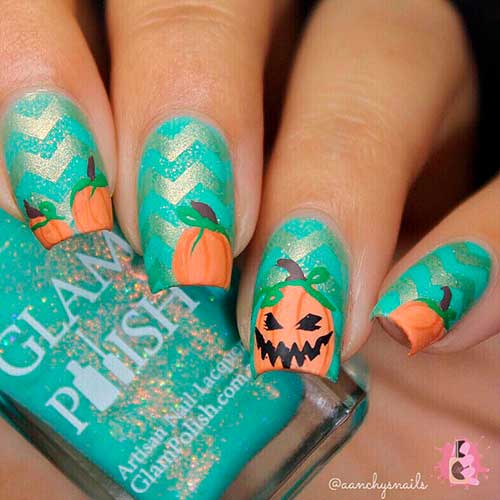 Nothing is impossible with pumpkins. They can make you glamorous on October 31. Glide that aquamarine vividness and combine it with the orange pumpkin. But, don't forget the glittery geometric lines. Then, you are ready to shower glam! You're spooky yet glamorous.
3. Cinderella Wants to Join Halloween Pumpkin Nails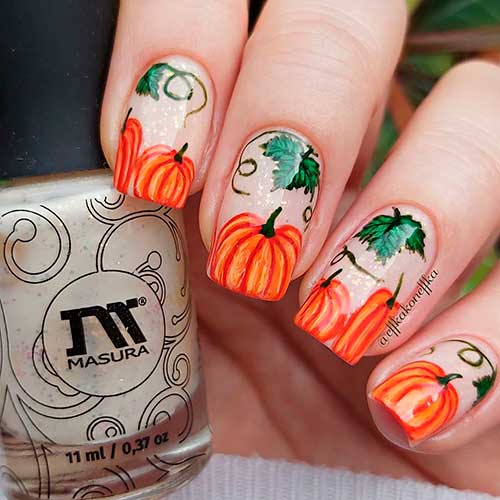 Let's match fairytales with Halloween through this pumpkin nail art. Cinderella will not reach the happily after until you apply this pumpkin nail design. Indeed, the creamy white, yellow-orange, and green deliver a delicate and mysterious atmosphere. For sure, your Disney princess costume best suits this pumpkin nail.
4. Let's Combine Creepiness and Lavender Pumpkin Nails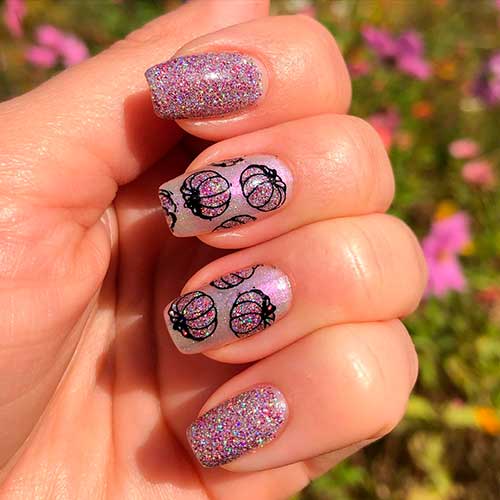 No plain nails allowed! Yes, black nails are always perfect for Halloween parties. However, if you wish for a creepy girly look, this pumpkin nail art is perfect for you. Also, the lavender color is just right to display your powder-puff aura. Besides, the glitters will add a bubbly and sophisticated aura. So, to complete your look, add the black pumpkin color. It's all you need.
5. Sparkly Halloween On an Autumn Memory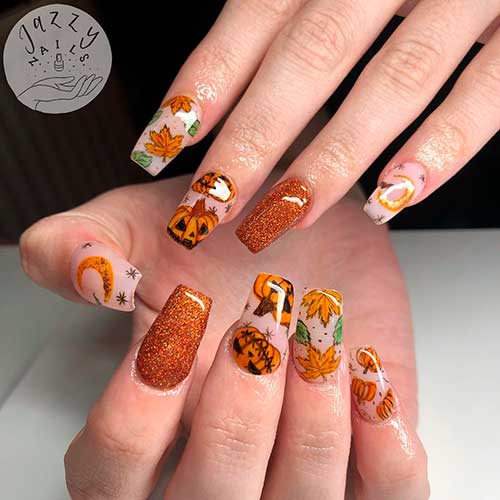 Glitters, crescent moon, autumn leaves, and pumpkins – who would have thought that these things result in a Halloween masterpiece? Flighty, nostalgic pumpkins embracing your nails are perfect for your wizard, warlock, or witch costume. Of course, you will never get wrong with these pumpkin nails design. It's a sure thing that you will stand out. So, let your skittish and magical look make your night.
6. Glitters and Studs on A Creepy Night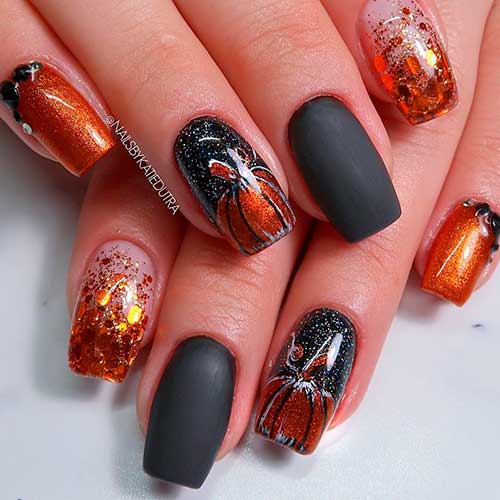 If you like the black and orange color combo, this pumpkin nail art will complete your elegant but mysterious look. Additionally, some nails are covered with smoky and foppish matte nail polish. While others feature pumpkin details with hints of silver, glittery black color, and bright orange rhinestones. For sure, you will shine and stand out!
7. Pumpkins Creep Me Out!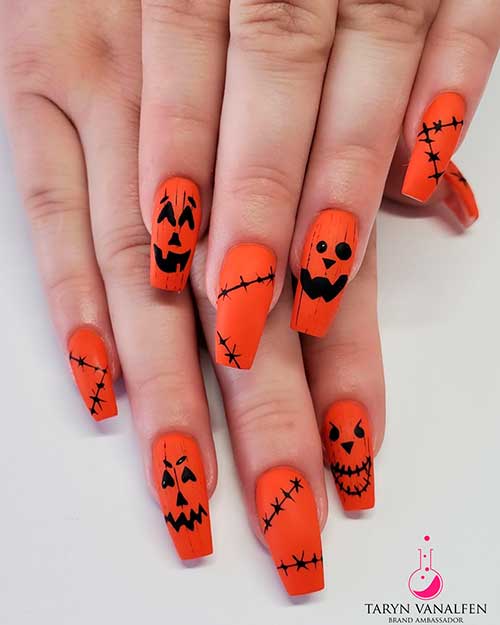 Lovely orange and black pumpkin face will add fun to a creepy night. Some pumpkin faces are unique, while others are classic. To make it even spooky, let the barbed wires embrace the nails. No matter what your Halloween costume is, this will make you stunning.
8. Cute Black Nails with Pumpkin Nail Art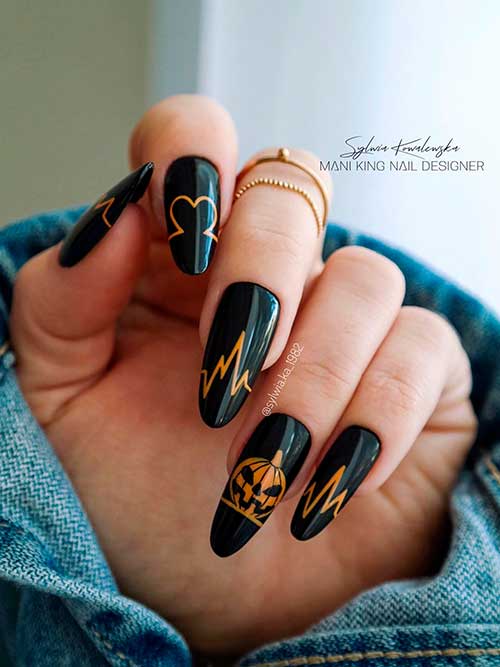 Pumpkin nail art is a great way to add Halloween spirit to your manicure. Of course, this design is easy to do and will look great with your cute Halloween outfits.
9. Olive with Gold Pumpkin Nails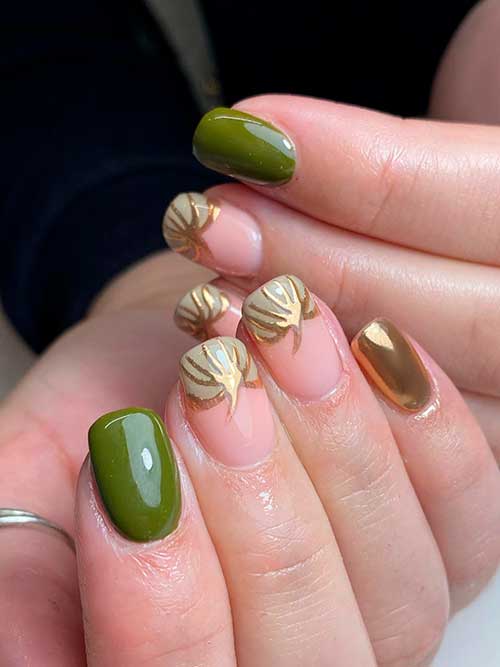 Indeed, olive with chrome gold Halloween Pumpkin Nails is an excellent way to add a festive flair to your manicure. Also, they are a great choice to match opulent dresses worn to a Halloween dinner party.
Final Thoughts
At last, Halloween events are never complete without pumpkins. Apart from using them as decorations, you can put some twists by designing your nails with pumpkin nail art. Before Halloween knocks on your door, grab these nail designs! In addition, check out this previous post "Halloween Nail Ideas" for more inspiration.