Color Street's Halloween nail collection is sure to bring a little extra spook to your manicure. These nail stickers are easy to apply, long-lasting, and come in a variety of cute designs. Halloween Color Street nail strips feature jack-o-lanterns, ghosts, and a bunch of glitters. They are perfect for an effortless, quick, and easy Halloween manicure.
Halloween every October 31st, is the day we look forward to dressing up and scaring the living daylights out of everyone. Our first impression of this special occasion is children in scary or even cute costumes running around the neighborhood searching for candy. However, times are changing, and not only are children getting in the fun but adults are as well. In short, Halloween is when anybody can dress to express and pamper themselves with the company of family and friends.
Speaking of pampering, ColorStreet Nails offer ladies a wide variety of cute nail designs for your manicure satisfaction. Colorful and long-lasting, they are easy to apply, too. With Halloween on the horizon, they are also geared up with a Halloween collection just to fit with the festive spirit.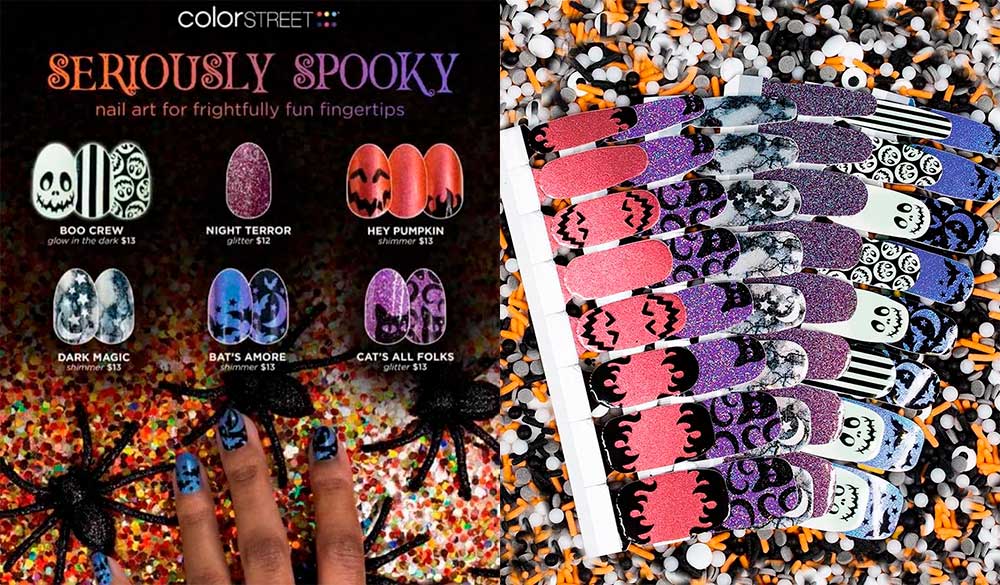 How to Apply Color Street Nails?
To achieve the best nails possible, choose strips that fit right onto your nails, and prep your nails beforehand. Thoroughly wash them using soap and water to remove oil, lotion, and dirt, but not too long, or else they will soak up water.
Open the package immediately, but carefully peel the clear film covering the polish strips and stick them to your nails, away from the cuticles and skin, starting with your little finger and ending with the thumb. Hold them by the middle as you apply. Gently stretch them for them to fit perfectly. Lastly, crease the excess and file it off. It is important to use them as soon as possible after opening since they easily dry off when exposed to air. Also, handle them with warm hands.
How to Remove Color Street Nails?
Removing the nail strips is easy, though you may not want to attempt peeling off the nail polish as it can damage the thin layers of your nails. As a nail polish, street color strips are easily removed with nail polish remover instead, such as acetone. Acetone, on the other hand, can be harsh on the nails and skin, so you may lean on mineral-based nail polish removers. After removing the polish, wash your hands to get any residue and chemicals off.
How to Make Color Street Nails Last Longer?
If you are going to use your chosen strips later, store them at room temperature in a clean, dry place and away from direct sunlight or LED light. They can get damaged under extreme conditions. Now without further ado, let's start with our new collection!
Halloween Color Street Collection: 6 New Designs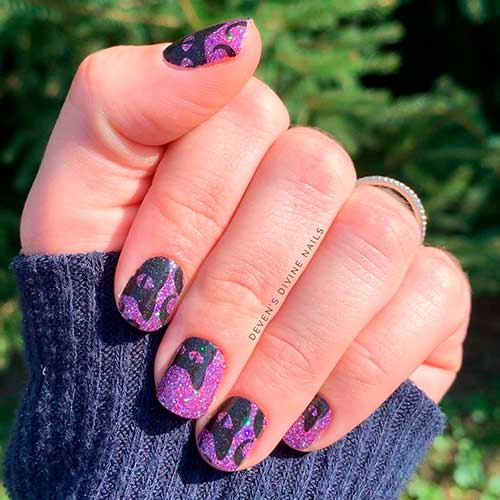 1. Cat's All folks
Black cats are an iconic symbol for Halloween, being a witch's companion after all. This cute nail design features black cat portraits over a rich purple glittery finish,  bringing out a cat lover's essence.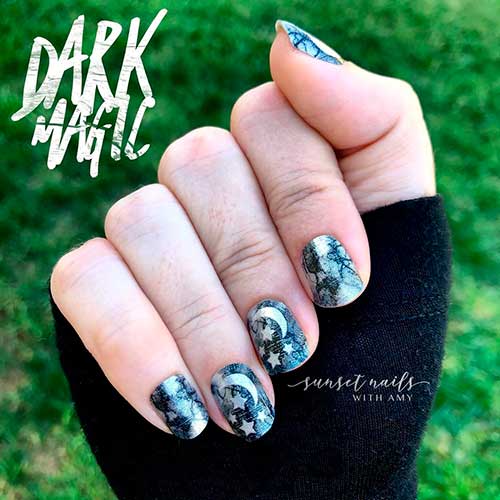 2. Halloween Color Street Dark Magic
Preferring something of a vintage style but having the magical vibes of Halloween? Then immerse in the elegance of this pattern: smoke and celestial designs over beautiful navy and silver colors.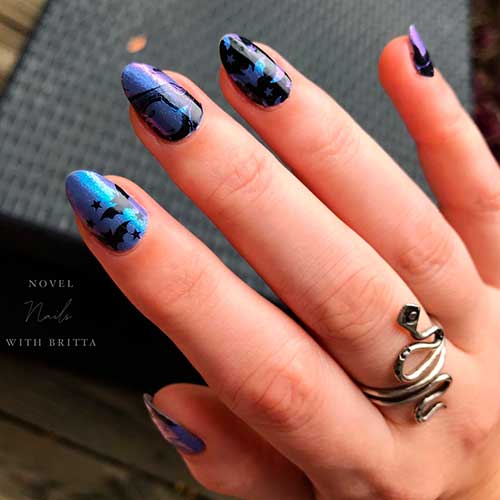 3. Bat's Amore
Bats and stars come out the night, thus, perfect icons for Halloween. This nail strip goes all out with a hypnotizing violet-to-blue glitter finish adorned with lovely bats and stars.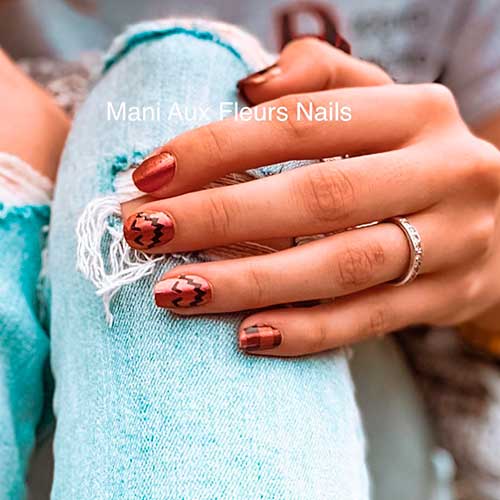 4. Halloween Color Street Hey Pumpkin
Halloween would not be Halloween without pumpkins carved into Jack o' Lanterns. This polish strip features the signature toothy pumpkin grin and shadows with an orange shimmer finish.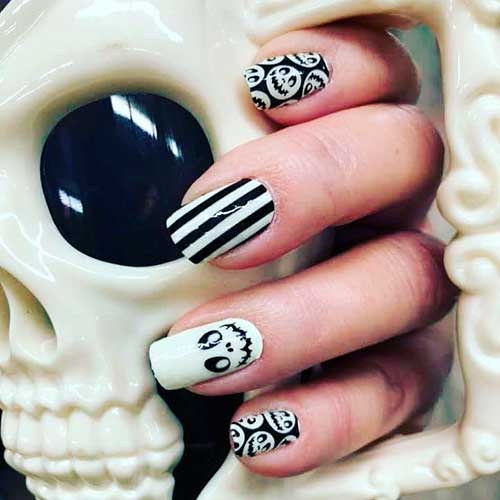 5. Boo Crew
Are you a fan of skeletons? This fun and whimsical nail strip offer black and white smiling skulls and stripes that glow in the dark!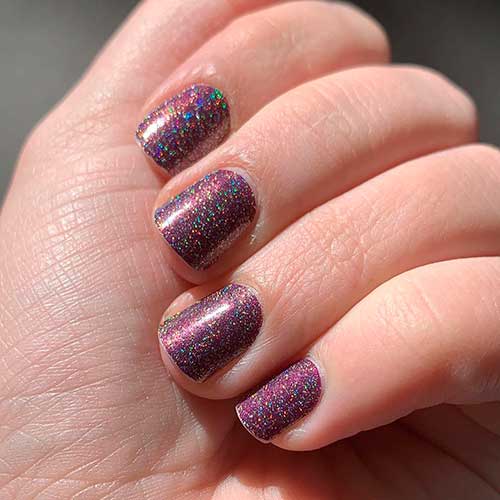 6. Night Terror
Are you looking for a design that is abstract, yet chic, mysterious, and definitely Halloween? Night Terror has that mesmerizing dark plum glitter finish to die for!
Halloween is nearly here, so start preparing for night parties with the lady friends. Getting your nails done is a good start, and it will be a great one if you top your nails off with Colorstreet nail polish strips Halloween edition! At last, for having special and unique Halloween nails try using Halloween color street nail strips this year.
Image credits: Instagram@sssnakecharmer, 1.Instagram@devensdivinenails, 2. Instagram@sunsetnailswithamy, 3. Instagram@novelnailswithbritta, 4. Instagram@maniauxfleurs_nails, 5. Instagram@rachel_hartsfield1124, 6. Instagram@nailswithkel