Halloween is the time of year when we embrace the eerie and transform ourselves into mystical creatures. From costumes to decorations, every aspect of this enchanting holiday is an opportunity for self-expression. One way to add a touch of spooky elegance to your Halloween ensemble is through a mesmerizing Halloween manicure. In this article, we will explore five captivating Halloween manicure ideas that will make your fingertips the talk of the town. From long coffin-shaped matte pink and black nails to silver glitter accents with creepy crawlies, get ready to inspire and bewitch with your Halloween-themed nails.
1. Matte Pink and Black Halloween Manicure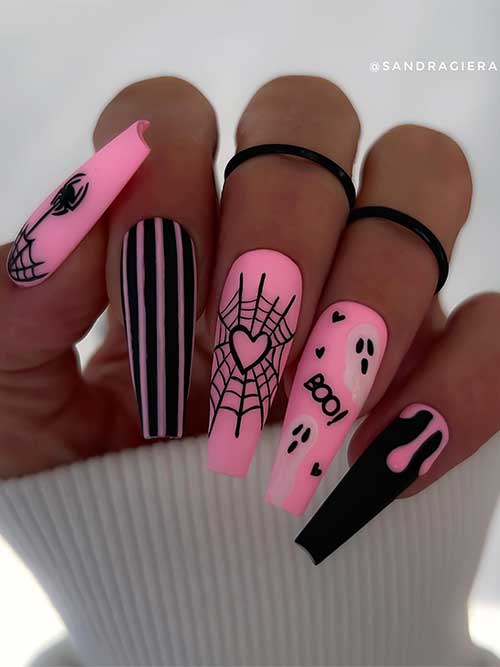 For those who appreciate a blend of sophistication and spookiness, long coffin-shaped matte pink and black Halloween nails are the perfect choice. These nails are a stunning canvas for various Halloween-inspired designs. Picture intricate cobwebs delicately adorning your nails, while playful ghosts and striped nail art add a touch of whimsy. To create a bewitching effect, incorporate drip nail art, allowing black and pink to blend together seamlessly. This design strikes the perfect balance between elegance and the spirit of Halloween.
2. Black and White IT Nails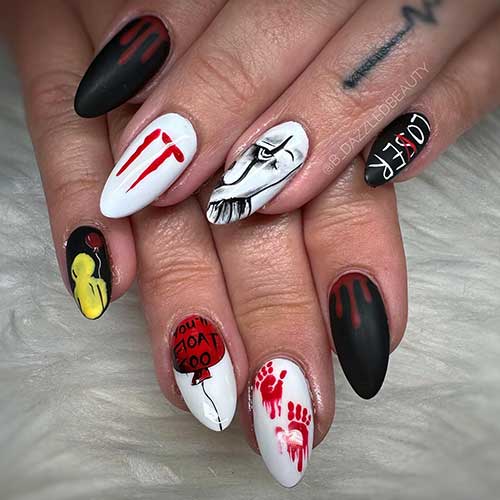 Inspired by the iconic Stephen King novel and movie adaptation, black and white IT nails are sure to turn heads. These nails are a tribute to the chilling clown Pennywise. A spooky face with haunting eyes and a menacing smile graces one or two accent nails, while blood-red handprint art adds a sinister touch. Completing the design is the incorporation of drip nail art, symbolizing the bloodthirsty nature of Pennywise. These nails will surely give everyone a fright and showcase your love for horror.
3. Cute Nude Halloween Manicure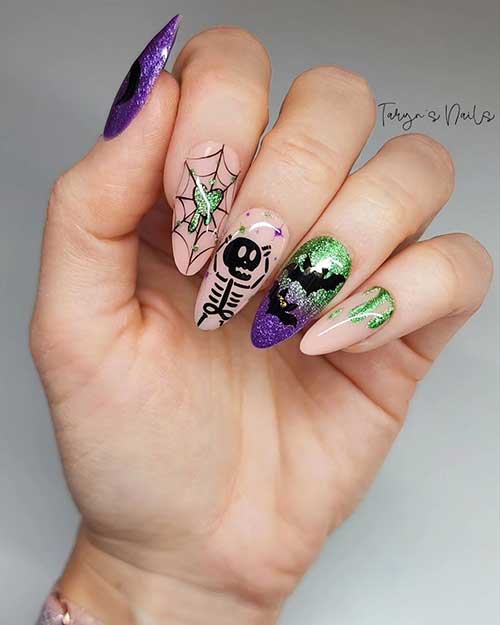 If you prefer a more subtle approach to your Halloween manicure, a cute nude design with Halloween accents is the perfect fit. Start with a neutral nude base and add delicate cobwebs, a whimsical skeleton, and bats. For an extra touch of magic, adorn the accents with glitter purple, and green nail polishes. This design captures the essence of Halloween while maintaining an understated charm. It's a versatile option that can be worn for any occasion during the spooky season.
4. Black and Orange Halloween Nails with a Hint of Glitter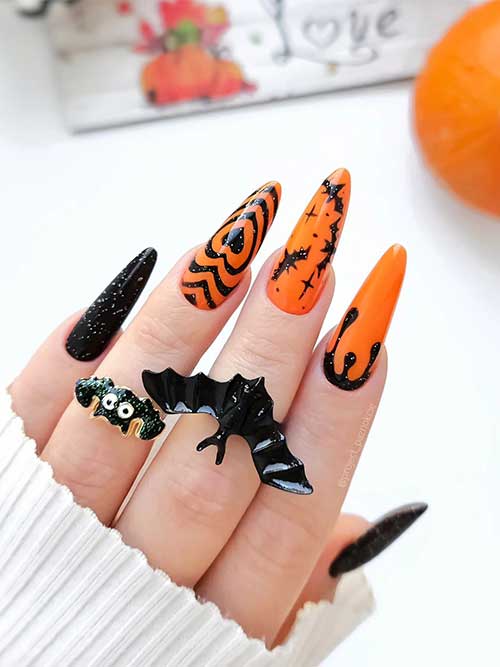 Embrace the classic Halloween color palette with black and orange nails that exude festive charm. This design incorporates a touch of glitter to add dimension and sparkle. The nails feature black hearts, symbolizing the holiday's dark allure, along with bats to evoke a sense of mystery. To tie the design together, include drip nail art, signifying the haunting essence of Halloween. With their striking colors and captivating motifs, these nails are a surefire way to make a statement.
5. Silver Glitter Halloween Nails with a Subtle Twist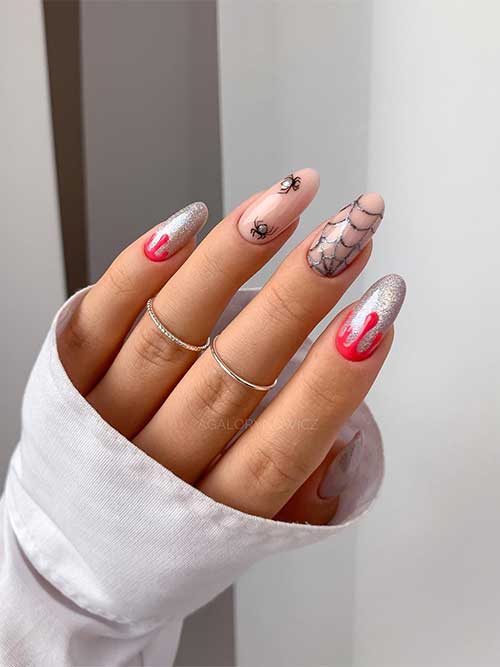 For those who want to combine glitz and spookiness, silver glitter Halloween manicures with red drip nail art is a fascinating choice. These nails feature silver glitter as the base, adding a touch of glamour to your Halloween ensemble. Two accent nude nails are adorned with a cobweb and spiders, offering a subtle yet eerie detail. The red drip nail art adds a pop of color and embodies the essence of blood-curdling fright. This design strikes the perfect balance between sophistication and the spirit of Halloween.
Conclusion
Halloween is a time to let your imagination run wild and embrace the spookiness that surrounds us. Your Halloween manicure can serve as an extension of your creativity and add an extra touch of enchantment to your festive attire. Whether you prefer a blend of sophistication and spookiness, a nod to horror classics, or a more understated yet charming design, there is a Halloween manicure for everyone. So, let your nails become the canvas for your Halloween spirit and make a haunting impression with these captivating nail designs.