As the leaves change their colors and the air turns crisp, it's time to update your nail game with fall season nails to match the beauty of the autumn season. Say goodbye to bright summer shades and hello to warm, rich hues that reflect the cozy vibes of autumn. Whether you're a fan of long coffin nails or prefer a more subtle look, we have some stunning fall season nails that will make you fall in love with autumn.
1. Glossy Burgundy Nails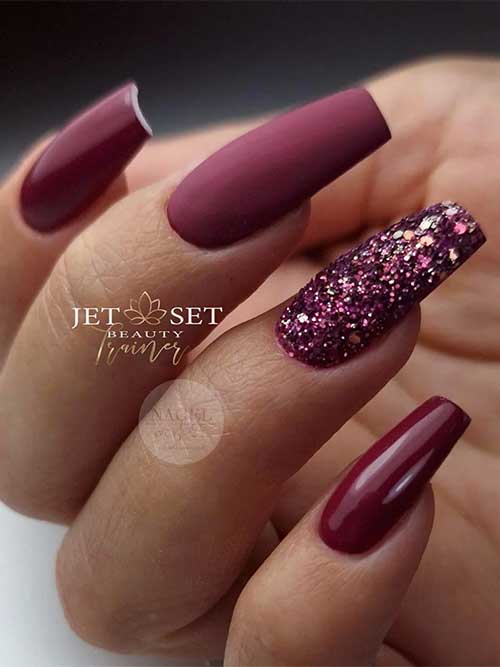 Burgundy is a classic fall color that exudes elegance and sophistication. For a statement look, opt for long coffin nails in a glossy burgundy shade. To add some dimension, choose an accent matte nail and another burgundy glitter accent nail. This combination will give your manicure a touch of glam without overpowering the overall look.
2. Matte Dark Green Nails with Nature-inspired Accents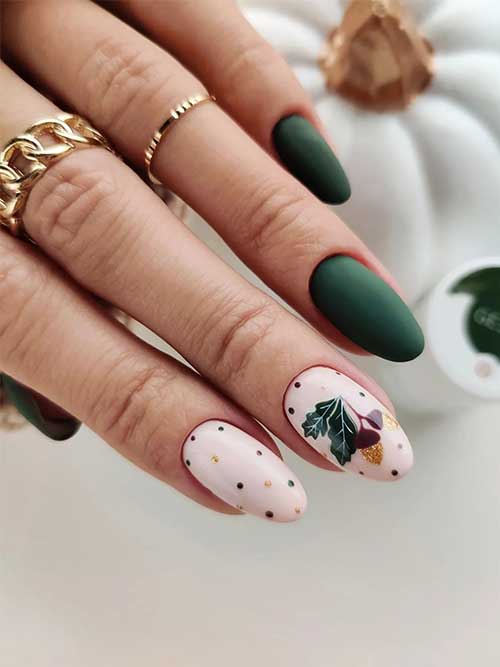 Dark green is another color that perfectly captures the essence of fall. For a chic and nature-inspired manicure, go for matte dark green nails. To add interest, incorporate two accent nude nails adorned with dark green and burgundy polka dots and dark green leaves. This design will bring a touch of whimsy to your nails while still maintaining a sophisticated look.
3. Matte Burnt Orange Nails with Earthy Accents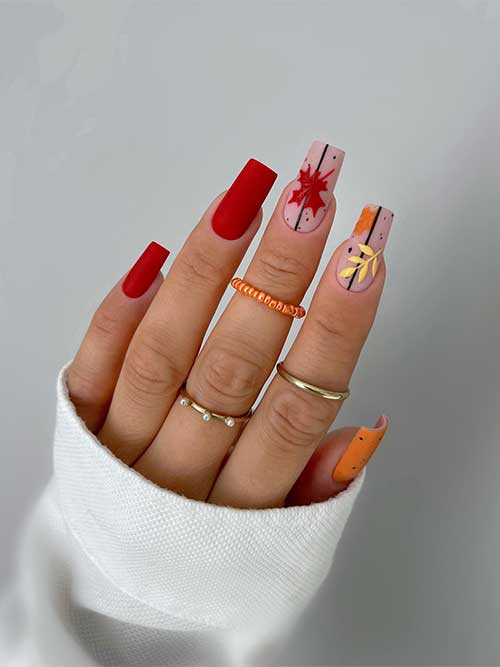 Embrace the warmth of fall with matte burnt orange nails. This vibrant yet earthy color will make your manicure stand out. To enhance the autumnal feel, choose an accent matte burnt yellow nail and two accent nude nails adorned with black speckles, a burnt orange maple leaf, and a yellow leaf. Of course. this combination of colors and elements will create a stunning fall-inspired nail design.
4. Matte Coffin Green and Burnt Orange Nails with Artistic Accents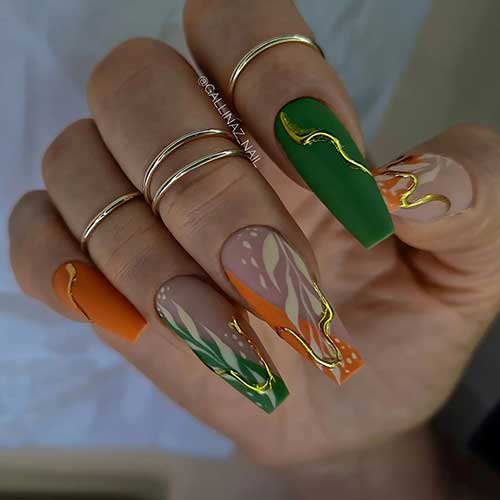 For a more artistic take on fall nails, try a combination of matte coffin green and burnt orange. These complementary colors will create a striking contrast that's perfect for the season. To elevate the design, adorn your nails with off-white leaf nail art and gold metallic swirl nail art. This intricate detailing will add depth and visual interest to your manicure.
5. Matte Nude Pink Fall Season Nails with Delicate Accents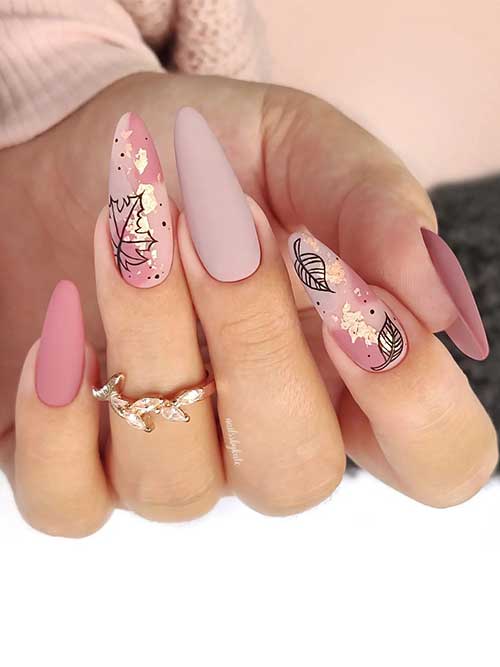 If you prefer a more subtle and feminine look, opt for matte nude pink nails with fresh and light hues. These soft shades will beautifully complement the muted colors of fall. To add a touch of autumnal charm, adorn two accent nails with black leaves and gold flakes. This delicate design will bring a hint of nature to your manicure while still maintaining an elegant and understated vibe.
Conclusion
When it comes to fall season nails, there's no shortage of options to express your personal style. Whether you're a fan of bold and dramatic looks or prefer something more subtle, these nail ideas will inspire you to embrace the colors and spirit of autumn. So, grab your favorite fall-inspired polish shades, experiment with different nail shapes, and get ready to show off your fabulous manicure during this beautiful season.