With Halloween just around the corner, it's time to embrace the spooky and supernatural in every aspect of our lives, including our nail art. This year, the trend that's taking the Halloween nail scene by storm is the mesmerizing and eerie Oogie Boogie Man nails. Combining the iconic character from "The Nightmare Before Christmas" with stunning nail designs, these nails are sure to make a statement. So, in this article, we will explore seven captivating Oogie Boogie Man nail designs that will make you the envy of any Halloween party.
1. Long Stiletto French Tip Oogie Boogie Man Nails
The first design on our list features long stiletto-shaped nails with a classic French tip twist. The tips are painted in a bold black shade, symbolizing the darkness of the Halloween season. Over the black tips, mesmerizing green swirls, Oogie Boogie Man's face, and haunted house are elegantly painted, representing the essence of the mischievous Oogie Boogie Man.
2. Long Square Shaped French Oogie Boogie Man Nails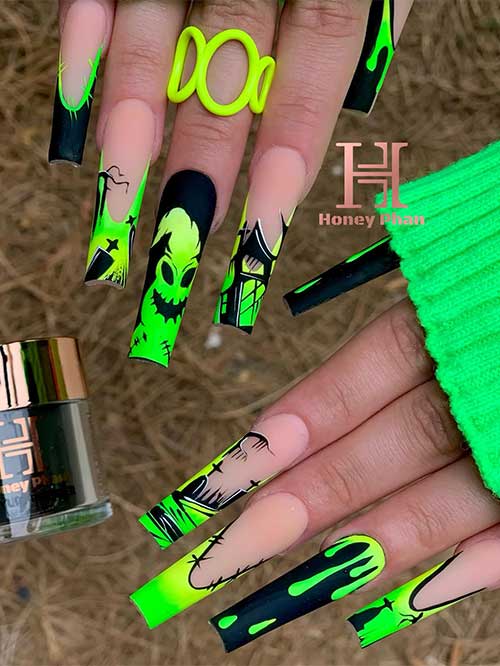 For those who prefer a square nail shape, this design is a captivating choice. The nails are squared off and adorned with a French manicure style. The accent nails take center stage with an intricate cemetery beside, a green drip nail art design on another black accent nail. Of course, the combination of the cemetery scene and the eerie green drips captures the mysterious and haunting essence of the Oogie Boogie Man.
3. Glossy Coffin Black Nails with Oogie Nail Art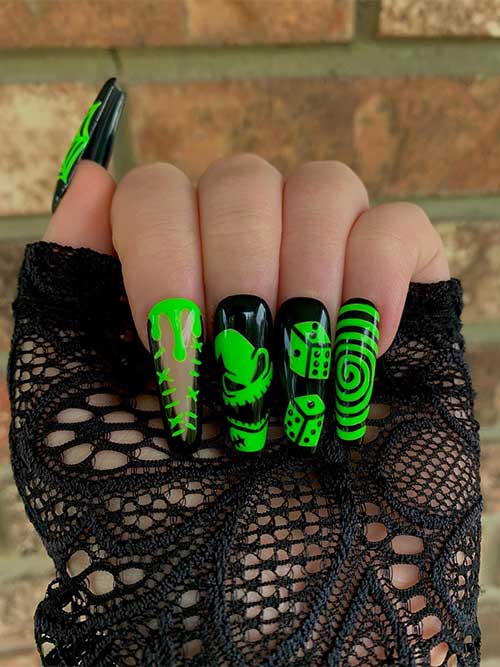 If you're looking for a more dramatic and gothic look, the glossy coffin black nails are a must-try. These nails feature a variety of Oogie Boogie Man-inspired nail art. From the iconic Oogie Boogie face to stitched patterns, swirling designs, and cobwebs, each nail represents a different element of the spooky character. In addition, the glossy finish adds an extra touch of elegance to this bewitching nail design.
4. Spooky Matte Black and Green Nails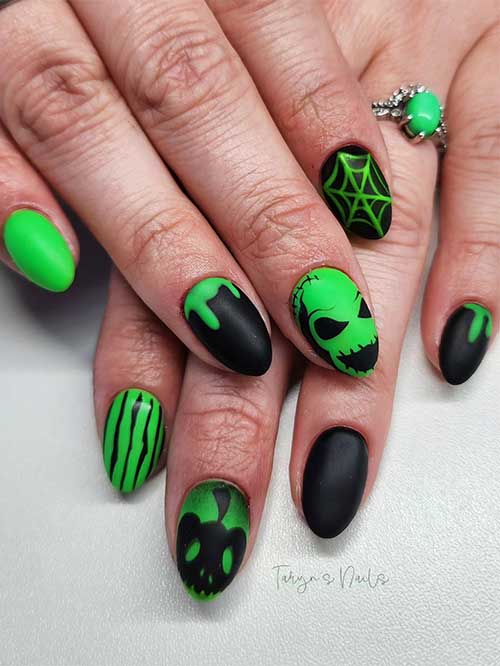 Short nails can still be transformed into a Halloween masterpiece. This design showcases a round nail shape with a matte black and green color scheme. Each nail displays a different Halloween-inspired art, including Oogie Boogie motifs, pumpkins, cobwebs, and eerie green drips. Despite their shorter length, these boogie man nails make a bold statement with their intricate details.
5. Two Hands, Different Colors Halloween Nail Design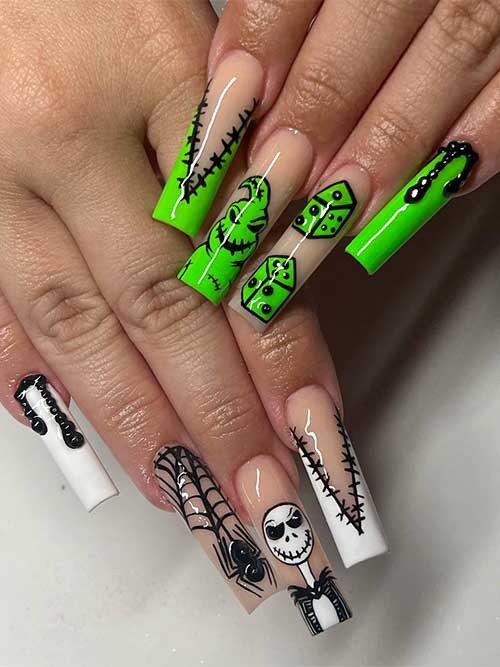 For those who want to embrace the duality of Halloween, this design offers a striking contrast between two hands. On one hand, the green and black Oogie Boogie Man's nails take center stage, capturing the mischievous nature of the character. On the other hand, a white and black color scheme features spooky elements like skeletons, spiders, and cobwebs. So, this design represents the balance between the playful and the eerie aspects of Halloween.
6. Matte Purple and Green Oogie Boogie Man Nails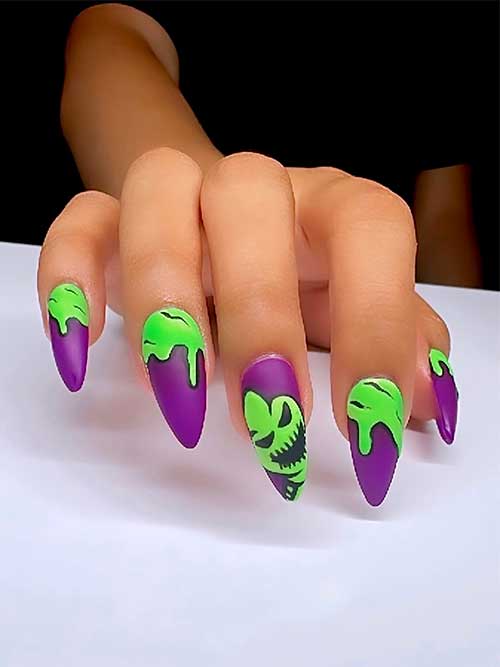 If you prefer a more enchanting and mystical look, the long almond-shaped matte Halloween nails are a perfect choice. The nails are painted in a deep, dark purple shade, representing the mysterious atmosphere of the season. Over this rich base color, the green Oogie Boogie Man nail art adds a touch of whimsy and captures the spirit of Halloween.
7. Sparkling Green and Black Oogie Boogie Man Nails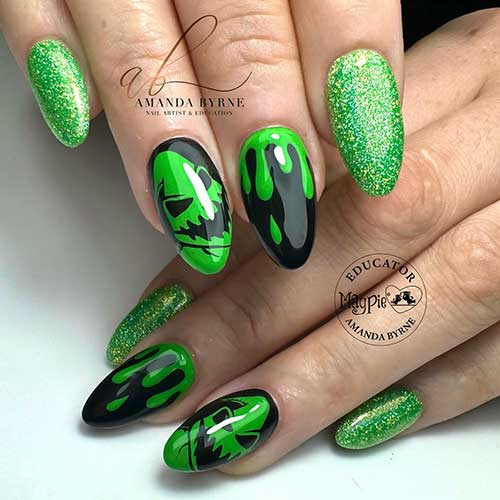 For those who crave a touch of sparkle and glamour, this design is sure to captivate. The nails are painted in a striking combination of green and black, resembling the iconic colors of Oogie Boogie Man. Two accent nails are adorned with dazzling green glitter, adding a festive and eye-catching element to the overall design. These boogie man nails are perfect for those who want to make a bold and glamorous statement this Halloween season.
Conclusion
Embrace the Halloween spirit with the mesmerizing and captivating Oogie Boogie Man nails. From long stiletto shapes to short round nails, there are designs to suit every preference and style. Whether you opt for intricate nail art or a simple color scheme, these nail designs are guaranteed to turn heads and make you the star of any Halloween gathering. So, unleash your creativity and let your nails tell a hauntingly beautiful story this Halloween.