There are a lot of striking and stunning nail polishes, and it's so hard to pick the best one for you. The rule here is to pick the best color that matches your skin tone. However, you can also make a choice, depending on your likes, because it is all up to you. One popular color for nails is light blue. Let us take a look at these stunning light blue nails to get inspired for our next mani.
Blue can help you release pressure and stress. It will also balance out a strong nail polish shade. If you want your nails to look outstanding and attractive, then blue sky nails are the best choice. It is a safe choice for girls and can be worn for almost any outfit and occasion. So, here are some of the cutest light blue nail designs for inspiration.

1. Blue Sky Nails with Glitter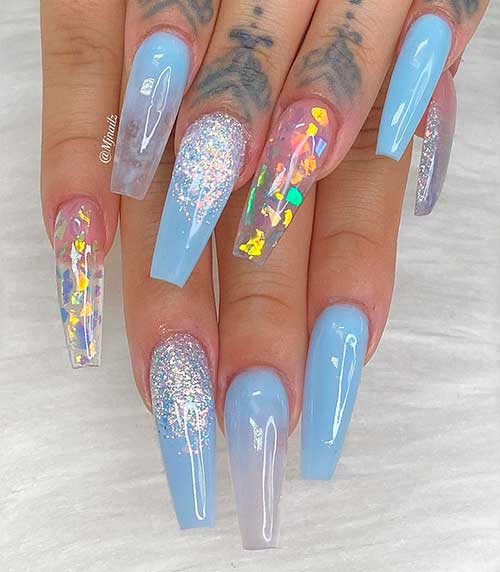 Combine things around and shape up the routine with this amazing blue sky nail style. The light blue manicure is really refreshing to the eye, and the splashes of gold, silver, and yellow are added for an artistic edge. This is a good opportunity for everyone to try new styles and allow creativity to run wild.
2. Matte Light Blue Nails with Ombre Leaf Nail Art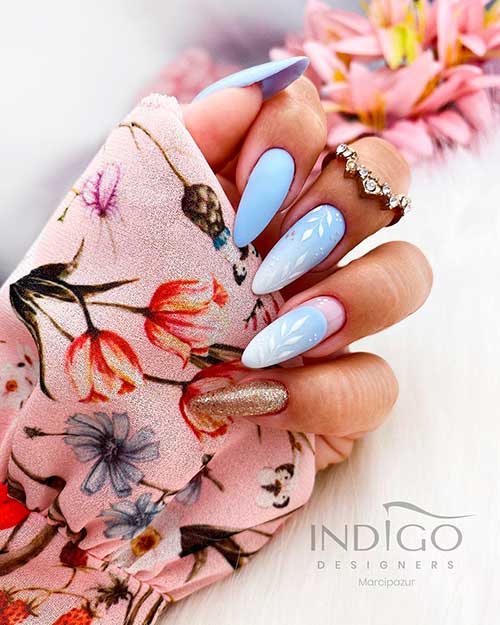 Add a sense of self-indulgence to your manicure with this gold and blue nail design. This duck egg color is a beautiful and fine color for all seasons. The three-dimensional artwork makes for a perfect feature nail. Pick the length and shape that fits you the best- the whole thing works with this amazing design. And If you are a big fan of the blue ombre nails style this design is your best choice!
3. Pink and Light Blue Nails with Black Lines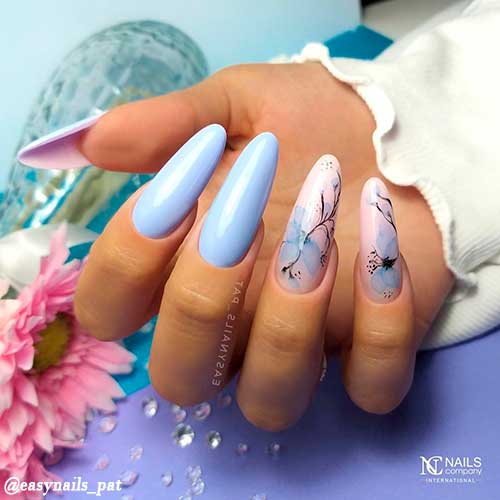 These light blue nails combined with light pink are one of the best designs on this list. Pink is still a must-have nail color that every lady will love especially when blended with light blue color. This is a bold, stylish and stunning nail idea.
To enhance the look and make it more dramatic, we accentuated it with black lines. Simple but elegant, and you will look gorgeous if you match it with white long-sleeves and pants. Try this nail design now, and for sure, you will be the apple of the eye of your loved one.
4. Light Blue Nails with Sparkles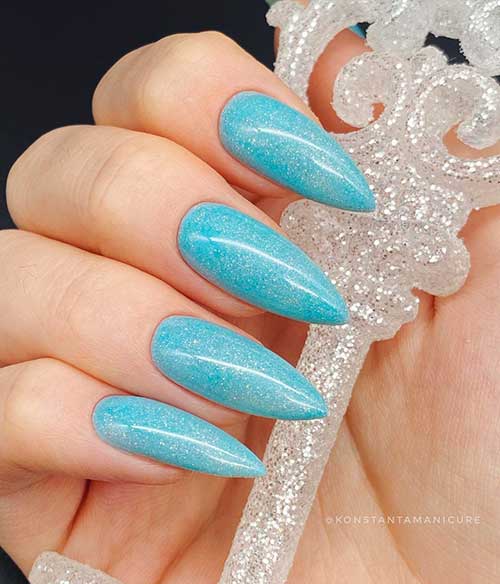 We call these light blue stiletto nails. Some nails are shiny blue, while the rest are gleaming blue. The stiletto-shaped nails and glitter are an amazing and stunning combination. Anyone can recreate this design or wear a sparkly light blue shade on any nail shape and length. Nail designs like this are ideal for any type of event or occasion.
5. Light Blue Short Square Nails with Gold Touches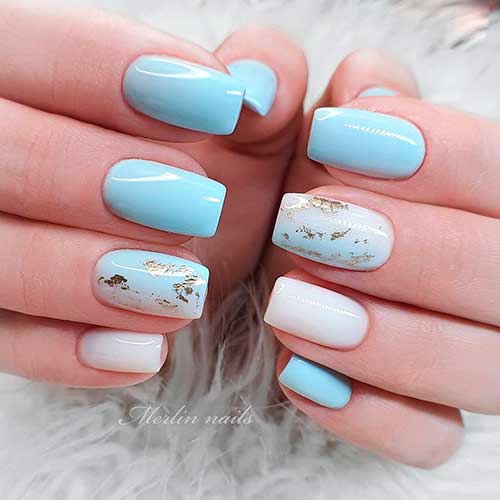 If you like nails that are bound to get noticed, then try this nail trend. This design is gorgeous and very feminine as well, and light blue and gold are remarkable colors. If you have fair skin, then this one is for you.
6. Matte Light Pink and Blue Nails with Leaf Nail Art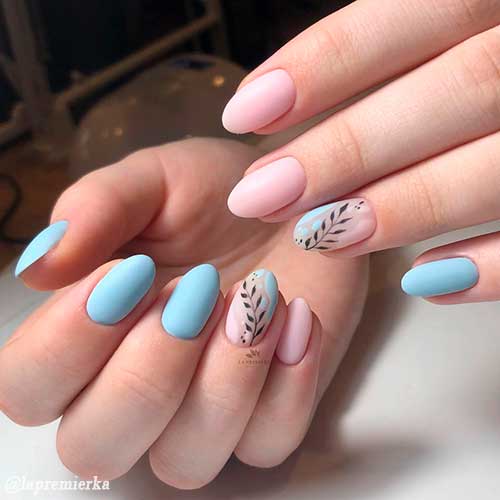 Leaf nail art is popular, and with a style like this, you can see the reason why. These light blue nails with a leaf accent will surely boost your confidence.
The leaf pattern is black, and it complements the light blue shade completely. This summery and cute look will suit everyone. You can purchase leaves nail stickers if you want to make the same set of nails.
7. Light Blue Nails with Pink and Butterfly Nail Art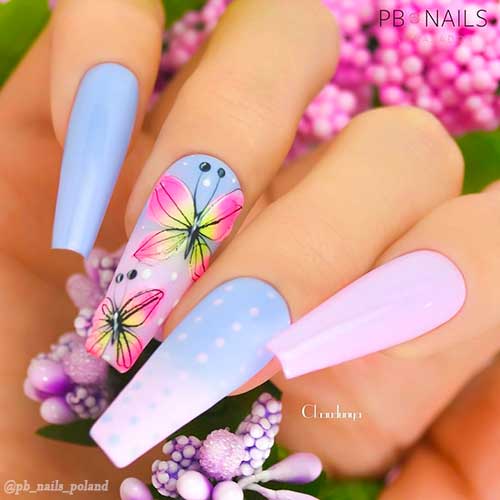 Light blue nail polish along with butterfly nail art stickers is one of the amazing nail designs that you can give a try. This shade is related to serenity and calm and is likely to be a flattering color for your fingernails of different lengths and shapes and even skin tones as well. Also, it will look amazing paired with a little bit of glitter nail lacquer as well as pink and yellow butterflies.
To obtain this amazing look, you can go to your preferred salon and utilize your skilled nail artist or choose a nail art sticker and make the designs you have been dreaming of right in the comfort of your home.
8. Matte Light Blue Nails with Butterfly Nail Art and Bling Nails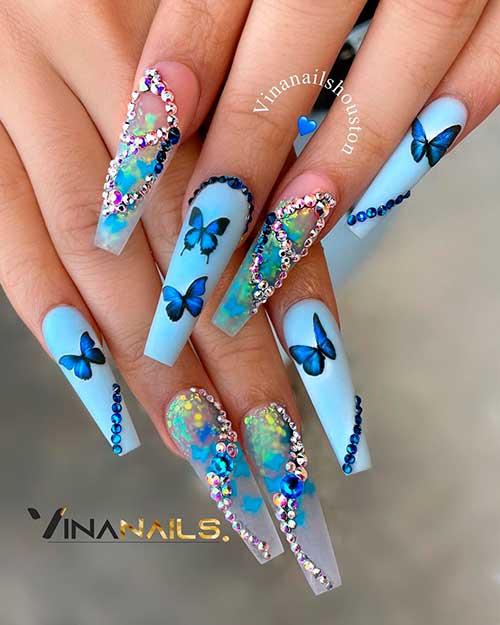 Express yourself artistically with these lavish and luxurious nails. The matte blue base gives off the essence of nobility, while the added jewels keep you feeling royal and majestic. Sprinkle the silver accessories across the nails up to the tips.
The dark blue butterflies make this design more lavish. It is a remarkable manicure for a shoot on Instagram or a night out with loved ones and friends. You will surely look stunning if your wear this manicure.
9. Gorgeous Light Blue Nails with Ombre, Glitter, And Rhinestones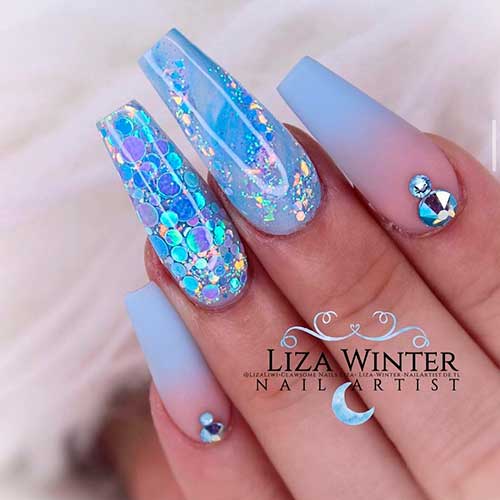 Another is stunning light blue nail art adorned with glitter and rhinestones. Additionally, the matte two accent ombre nails make the design so elegant.
10. Glossy Light Blue Nail Art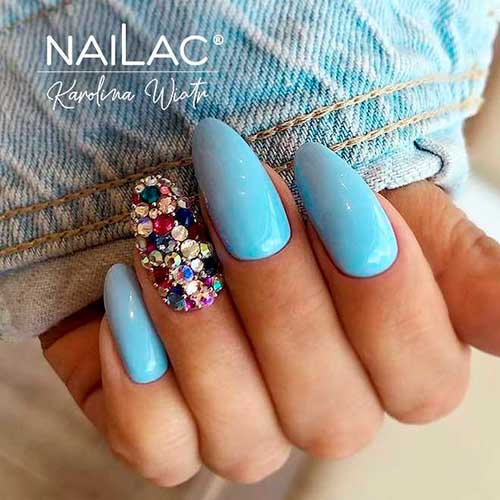 This nail color is awesome, especially on summer days, and the accent bling nail really amps up the design.
11. Classy Light Blue Nails with Rainbows and Floral Nail Art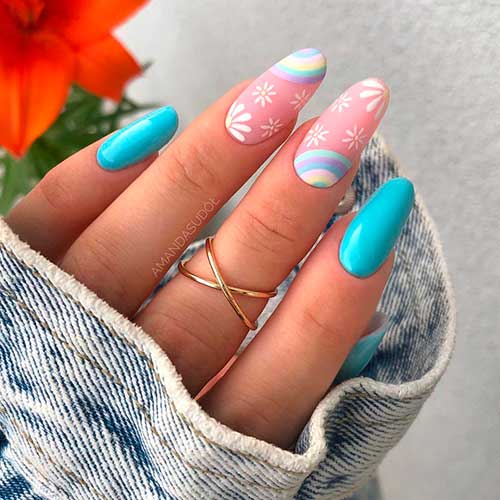 Of course, this dashing nail art can give you a perfect look on summer days. Furthermore, these blended rainbow and floral nail art accents are so gorgeous and full of attractive spring/summer vibes.
12. Coffin Light Blue Nails with Dark Blue Flowers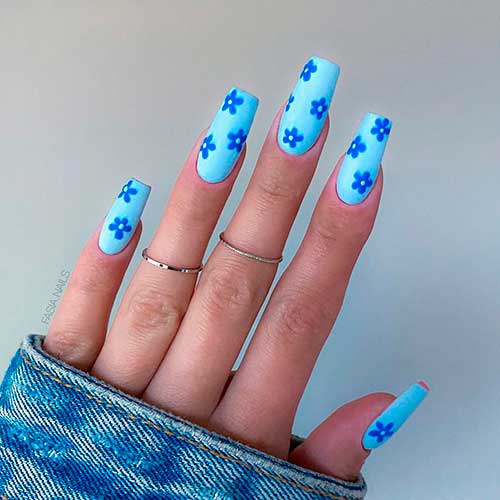 For fans of floral nail art, these light blue nails with dark flowers are the style for you. As well, coffin shape nails are the favorite of many women. So, you can recreate these gorgeous nails with the aid of stickers or nail stamping for applying the flowers.
13. Short Light Blue Nails with Accent Marble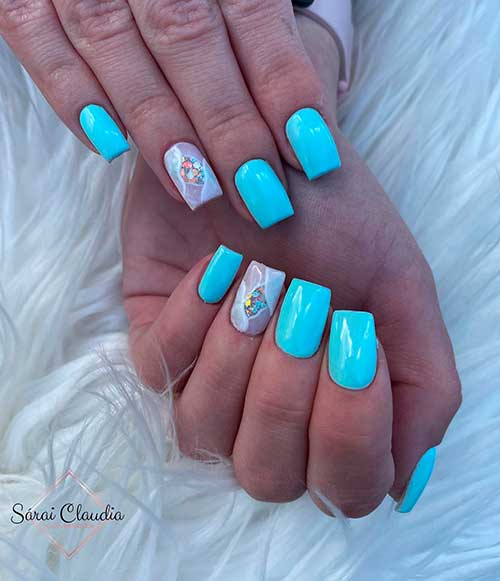 Are you one of the pastel nail lovers? If yes, then you will love to try something like this nail art design that consists of short square-shaped light blue nails and accent marble nails with glitter.
14. Light Blue, White, and Grey Nail Art Design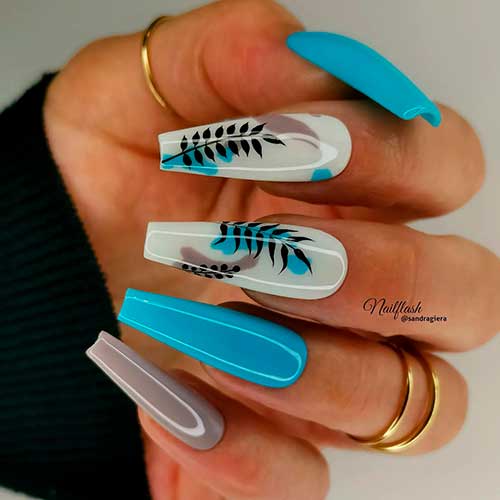 I really like the color combination of light blue, white, and grey. Besides, there is no doubt that leaf nail art adds a wonderful touch of beauty to the design.
15. L
ight Blue Nails with Design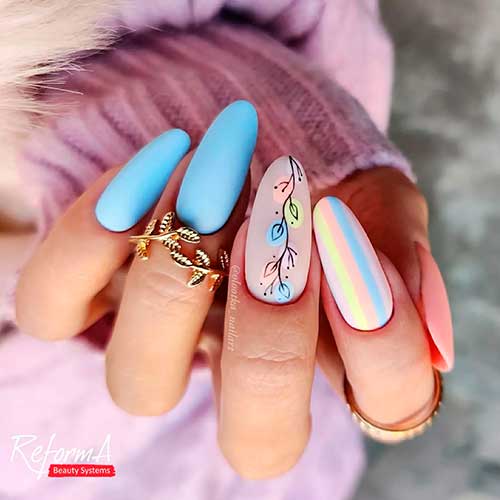 Indeed, baby blue nail ideas with other pastel nail colors are outstanding as you see in this cute design below. So, we promise you will happy when trying pastel nails like this one.
16. Glow in The Dark Baby Blue Nails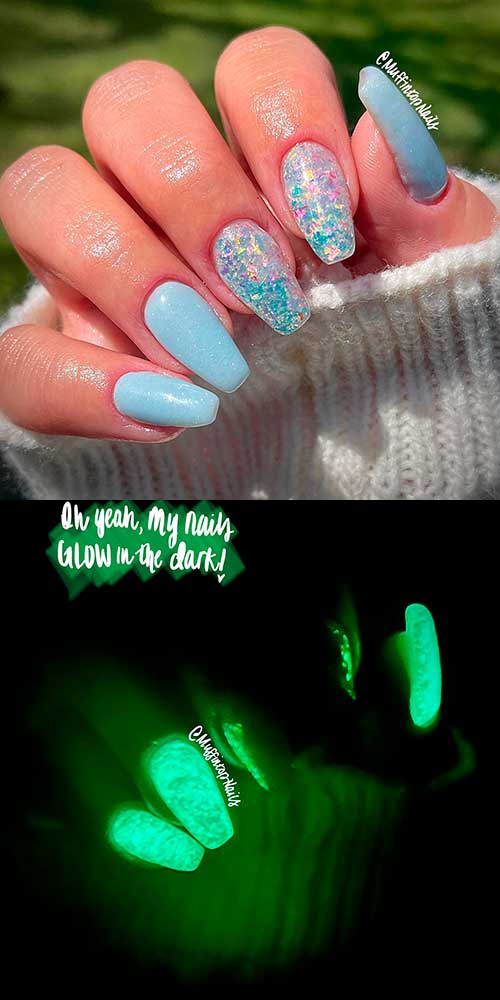 Indeed, you don't have to ask your spouse to suggest your next manicure! Because we're here to show you the cutest baby-blue nail designs to try as soon as possible. So, this cute glow-in-the-dark light blue nails design above will take your attention to try.
17. Long Ombre Pink and Blue Nails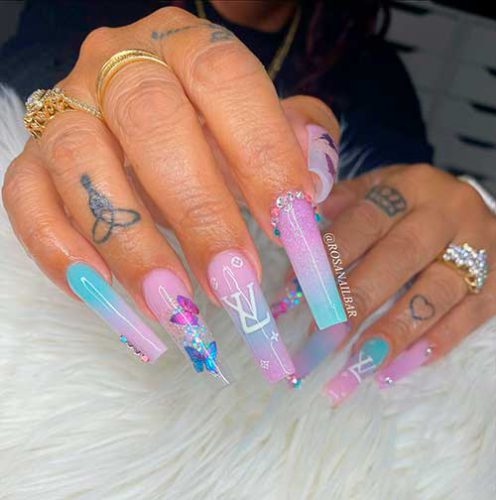 Of course, pink and blue nails always turn heads! So, this elegant nail art design features shimmer pink and blue ombre nails with rhinestones, and butterflies you will definitely love to wear. Furthermore, this nail design suits the spring and summer seasons.
18. Shimmer Baby Blue Ombre Nails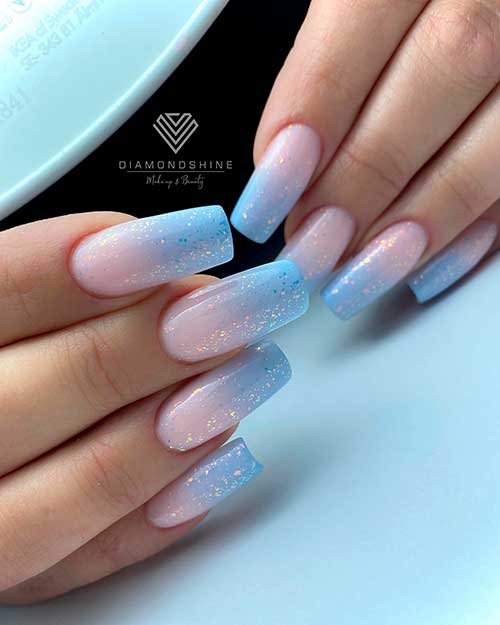 Still, the ombre nails technique is the favorite for many women and it is really worth it. If you looking for a nail art design to elevate your entire look then this design is for you.
19. Light Blue Coffin Nails with Glitter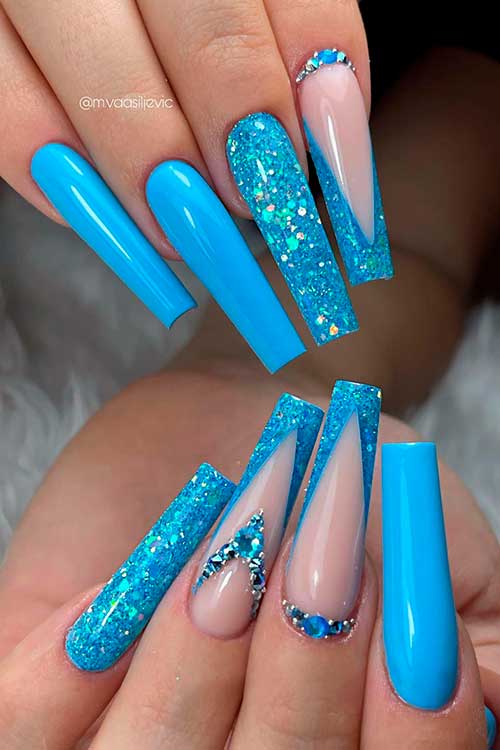 If you've been tempted by light blue nail polish, you're not alone. Light blue nails are becoming the most popular color this year, and they are an elegant way to show your nail art skills. Of course, they have a dazzling effect and look gorgeous when paired with glitter and rhinestones. If you're confused and can't pick up an idea to start with, this cute nail idea above will inspire you., this cute nail idea above will inspire you. Besides, light blue nails are beautiful when worn alone or in combination with other colors.
20. Light Blue Nails with Gold Glitter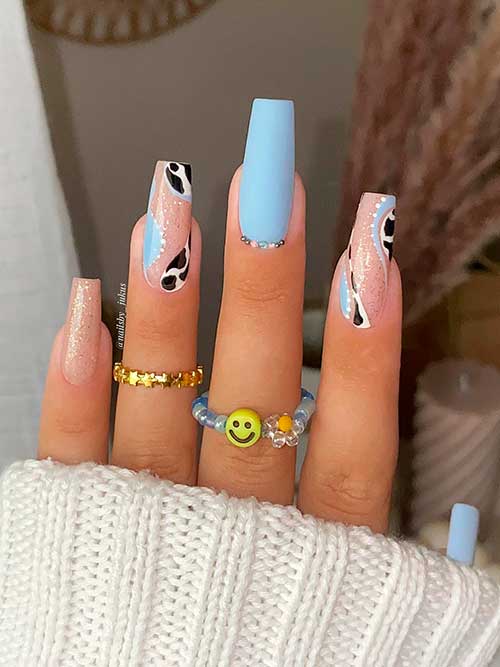 Light blue nails are a fun and versatile choice for any season. Also, they go with any color and style. So, you can try matte light blue nails with gold glitter on nude color tips. Additionally, you can combine swirl and cow print nail art on two accents.
21. Light Blue Nails with Cloud Nail Art
If you're looking for a fresh idea on how to create a fun and unique look with light blue nails, try this cute idea. Of course., adding white clouds and silver rhinestones to light blue nails will give them a unique look.
22. Baby Blue Nails with leopard Print Nail Art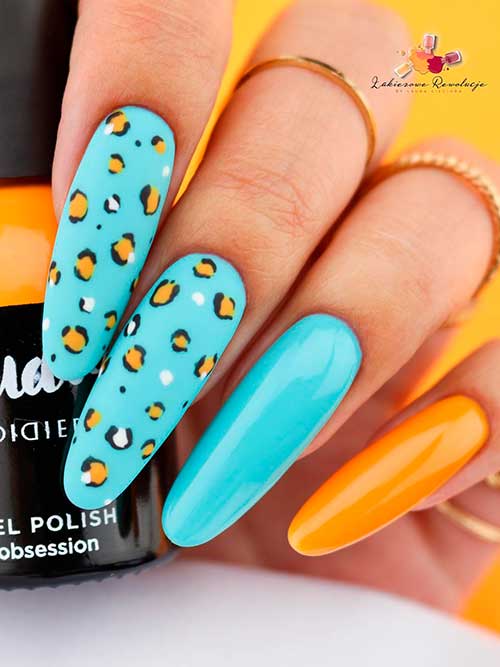 If you've always loved the look of animals on your nails but weren't sure where to start, you can use this baby blue nail design as inspiration. This design features leopard animal prints on two nails besides an orange accent.
23. Classy Light Blue Nails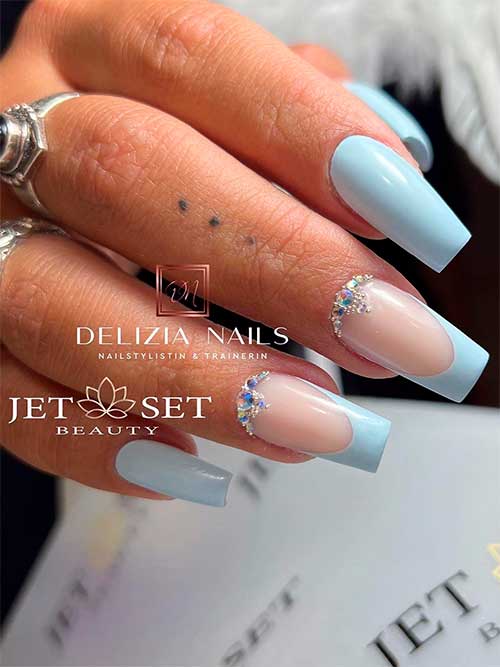 Indeed, the light blue nails with French accents have a soft and smooth look. Also, you can add sparkle with some rhinestones. Go for this unique nail design, and you will never regret this idea!
24. Light Blue Turquoise Coffin Nails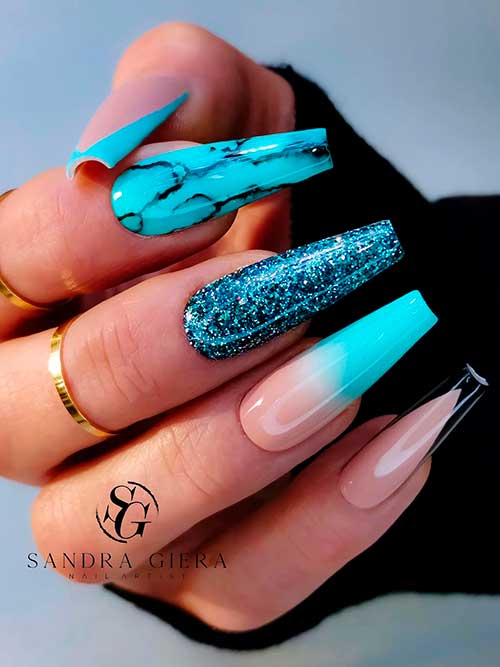 Light blue turquoise coffin nails are a great way to make a subtle statement. Besides, they are also feminine and classy, making them perfect for formal events or a night out on the town. Also, you can add glitter, marble, and black French on accent nails to steal everyone's attention.
25. Short Light Blue Spring Nails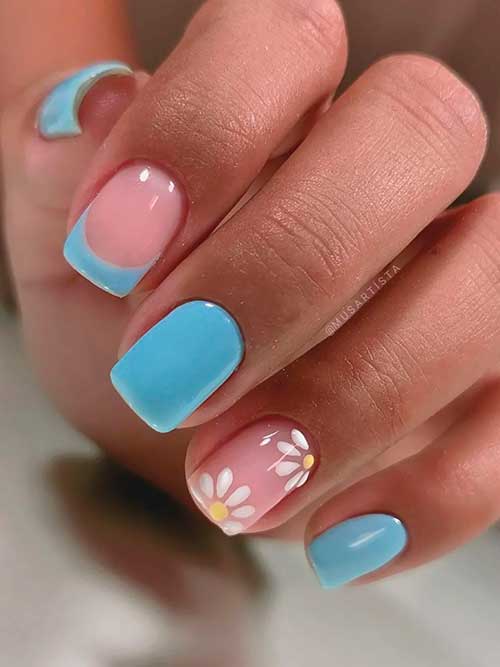 If you are a fan of light blue color then try these shot square-shaped spring nails. Of course, this nail color is amazing on its own but adding some daisy flowers turn can give the design a delicate spring look. Of course, it's a simple and elegant nail design to try in the spring season.
At last, if you're looking for a fresh way to jazz up your manicure, consider one of these light blue nail ideas above. Of course, Light blue nails are a popular color that can be worn all year round. Because light blue looks refreshing and calming to the eye. Indeed, these styles are very cute and versatile – you don't have to choose just one design to wear all the time. So, you can alternate between different designs for a couple of weeks, and you'll be glad you did!