With the weather finally warming up, it's time to kiss moody winter shades goodbye and move into the brighter spring days with a fresh new manicure. So, you can consider the best spring nails for 2023 that include everything from classic neutrals to floral-inspired designs.
Whether you're looking for easy spring nails to wear on the weekends or a classy look for work. Then, these spring nail designs will help and inspire you to get the look you want without breaking the bank!
1. Pastel Spring Time Nails with Floral Nail Art
Today we're talking about green and pink nails that are the perfect pair for those looking to add a touch more sass to their appearance. Indeed, this pastel nail combo is perfect for springtime especially when paired with floral nail art with a bold nail polish such as black.
2. Simple, Natural Round Nails – A Great Choice for Every Skin Tone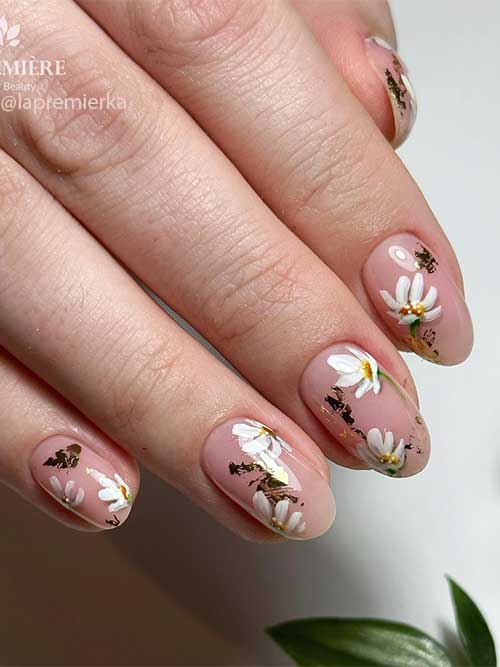 One of the best spring nails to wear is a simple and naturally rounded nail that will look gorgeous on any skin tone. Besides, the rounded shape also helps prevent chipping and is less harsh on your gel nails. So, this simple floral nail art design is an outstanding choice for spring days.
3. Orange Spring Nails with Daisy Flowers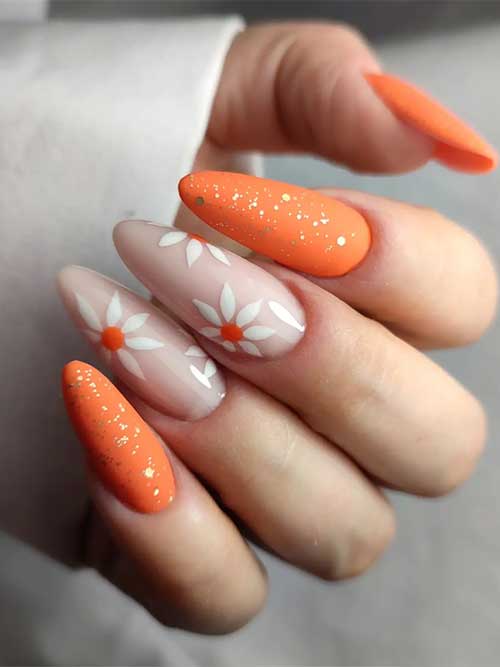 What about a little glam on matte pastel orange nails? Indeed, orange is a cute color that most women love. Also, you can add some daisy flowers to one or two accent nails to add some subtle springy touches to your nail design.
4. Light Blue Nails with Little Flowers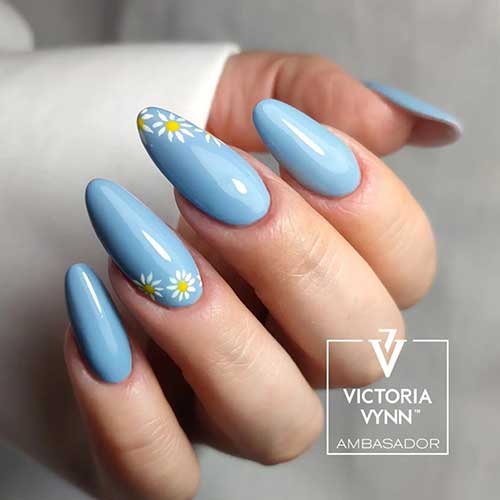 Indeed, this light blue nail design can be worn while spring and summer times. Choosing these simple and elegant spring nails is a perfect choice to show your beautiful style. Additionally, it's simple to recreate using daisy flower nail stencils.
5. Matte Coffin Green Spring Nails with Leaf Nail Art and Swirls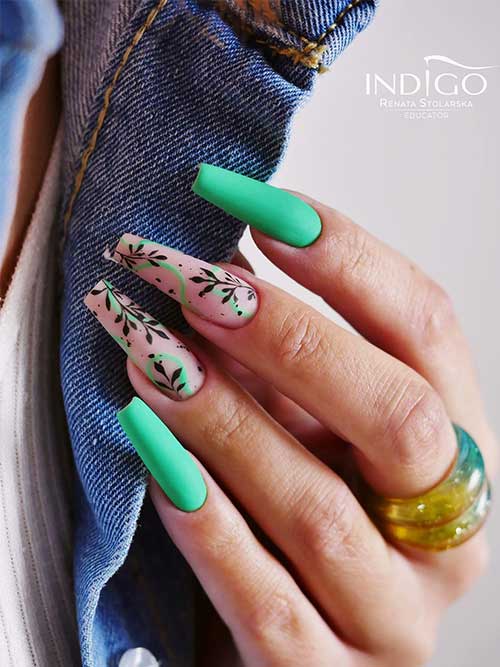 Of course, this green color shade is a great choice for spring nails. In addition, the leaf nail art using black nail polish creates a stunning nail color combo with green.
6. Soft and Beautiful Pink Ombre Nails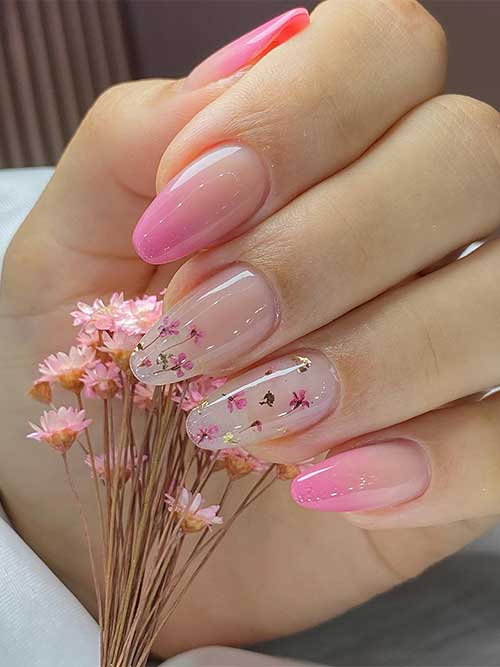 These ombre pink nails are an outstanding choice that's perfect for spring. Besides, the pink blossoms add a subtle beauty making this nail design eye catchy.
7. Pretty Shimmer Ivory Nails with Colorful Flowers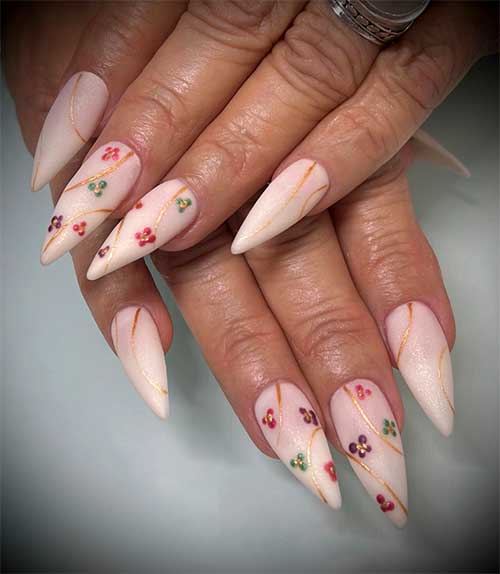 These pink ivory nails are a beautiful and classy way to show off your spring style! Besides, they aren't too flashy and will go with any outfit. Also, you can even pair them with colorful flowers and gold swirls for on-trend spring nails!
8. Neons Aren't Going Away in 2023
Expect to see neons everywhere this year, from bags to eyeliner to nails. This fun, extra-terrestrial shade is perfect for spring nails, and it's a shade that looks cool on all skin tones.
Short neon orange French spring nail design with flowers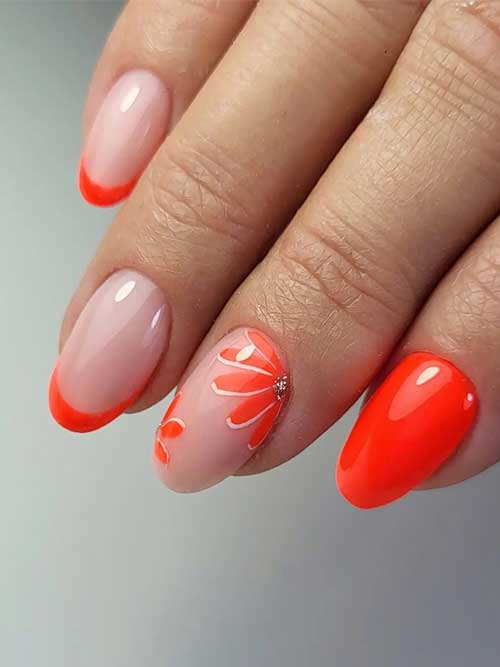 Matte pastel neon orange nails with floral nail art and rhinestones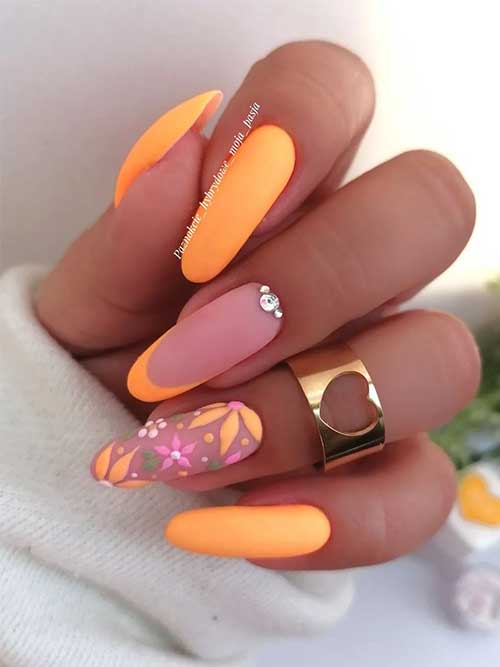 9. Spring Colorful Petal Minimal Nails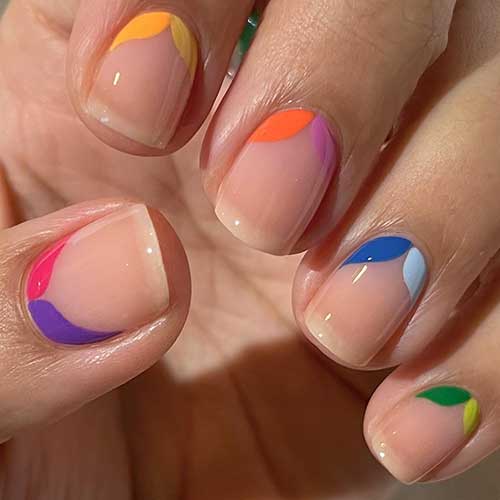 Another spring trend that's a big hit with everyone is a clean, minimal manicure that you can create with lower details. Of course, it's a nail trend that's super popular on TikTok right now, and it's a great way to showcase healthy, shiny nails. So, copycatting this petal design can be a perfect way to wear minimal nail art in no time!
10. Purple Spring Nail Designs
This is another color that's perfect for spring, especially lilac, lavender, and fuchsia. But, if you want to wear these bright colors, be sure to wear a top coat to protect them from chipping. Then, enjoy these manicures while rebirth days!
Purple nails with white leaf nail art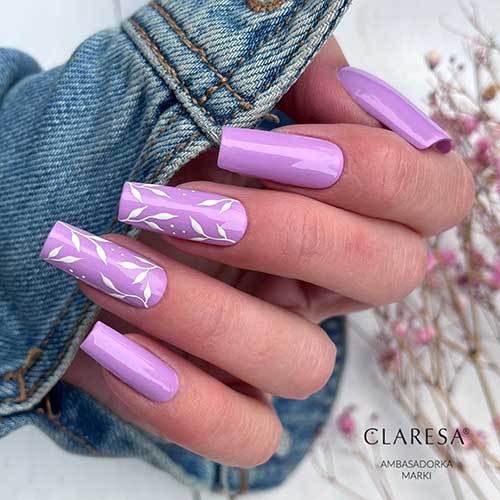 Lilac nails with silver glitter on nail tips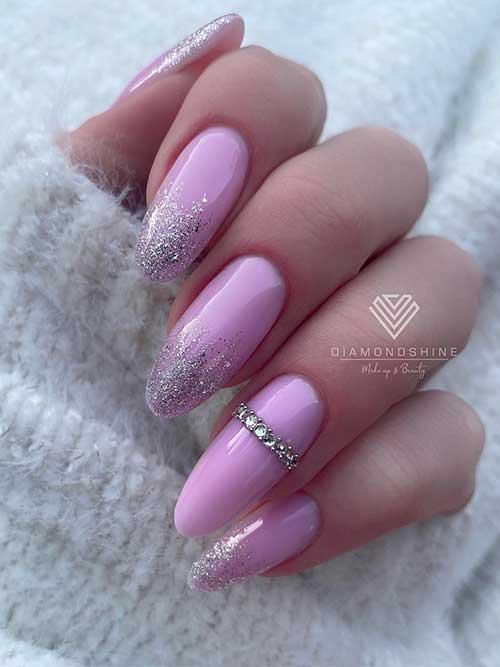 11. Bright Yellow Nails with Daisy Flowers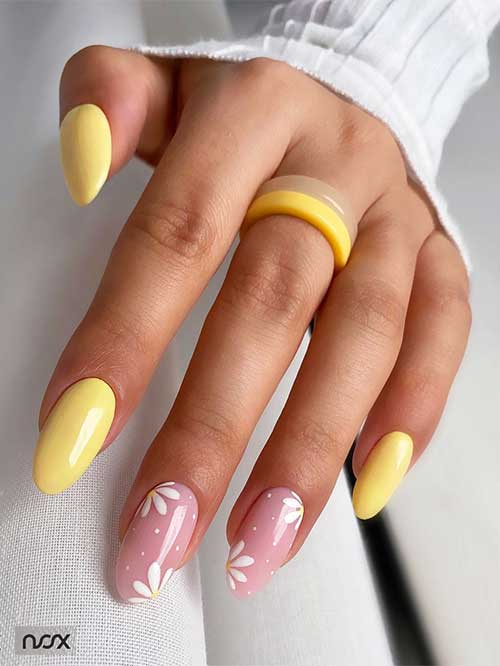 These bright yellow nails with daisy flowers on nude pink accent nails are a fun and playful nail art design that's perfect for the spring and summer seasons. The bright yellow shade adds a pop of color to your nails, while the daisy flowers on the accent nails give the design a feminine and whimsical touch.
12. Pastel Green Spring Nails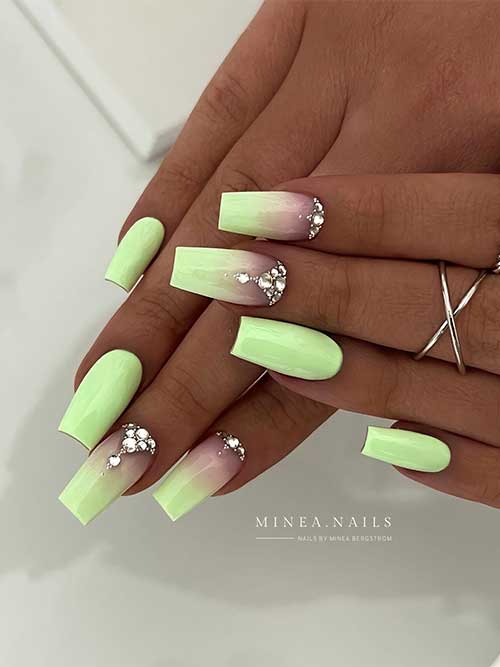 If you're looking to add some glamour to your nails, consider trying out pastel green spring nail designs. So, these pastel green nails with rhinestones on two ombre accent nails can be your perfect choice this spring. Also, this trendy nail design combines a soft pastel green shade with sparkling rhinestones for a look that is both feminine and eye-catching.