While black nails can work for any occasion, it's especially appropriate for winter, when you can express your emotions with dark colors. In the winter, black nail polish can show off the warmth of your smile and your personality, which is why we've come up with 10 classy black nail designs for the winter season.
Indeed, black is the color of victory. It symbolizes power and fortitude, making you look intelligent and dignified. It's been around for a long time, and it has been seen in everything from music to fashion. Now it's the obvious choice for nails. Here's a look at ten classy black nail designs that you can wear this winter or any time of the year. There are also a lot of black nail designs that you can check out.
Here are some outstanding black nails Ideas for You this year:
1. Black, Gold, and Nude Combo Nails
One of the most challenging things to accomplish when decorating your nails is to create a black and nude combo that is elegant and as subtle as possible. When you're trying to make a statement, you want to be sure that every color you choose stands out, but in a way that doesn't take away from the other. So, this black nail design is a good combination example that you can try.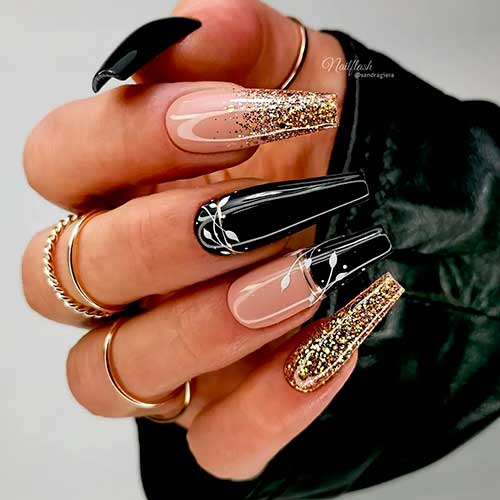 2. Glittery Black Nail Designs
The next time you feel like playing a little dress-up, consider experimenting with some glittery black nails. Although the black-and-white color shades are simple, it's the intricate design that steals the show.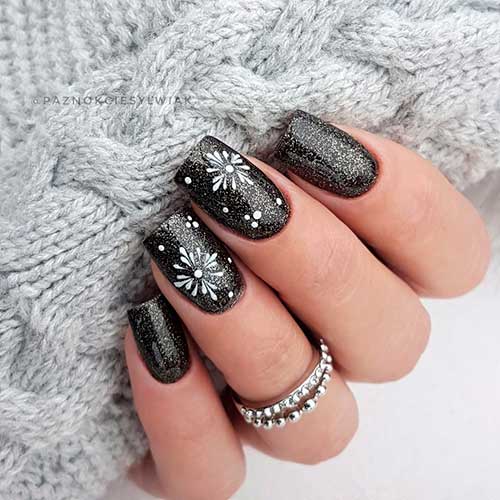 Once you use the glitter on one or two nails, the design will change with you and turn into a masterpiece.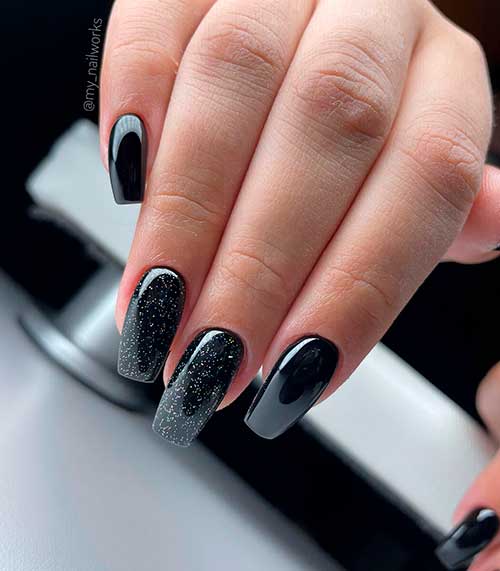 3. Reindeer in Black Nails Design
There are many beautiful designs that you can choose from for your nails this winter. But, one fashionable nail design that you may want to consider is using the reindeer for its theme. As the old saying goes, "you've got to see to believe!" Check this design, and you will prove it right.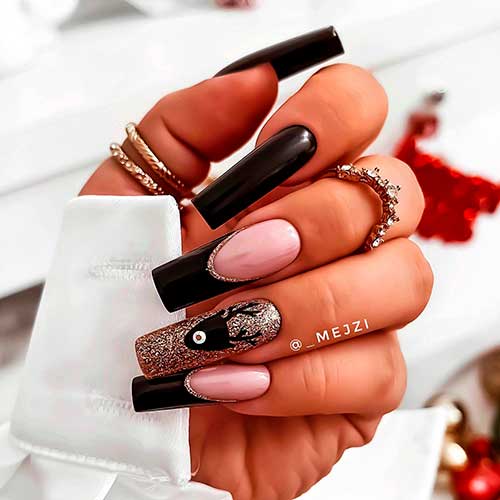 4. Matte and Glossy Black Nails with Swirls Design
Black nails are the classiest of all nail colors, but also, they go with virtually anything. In this nail design idea, swirls, glitter, and gemstones are included.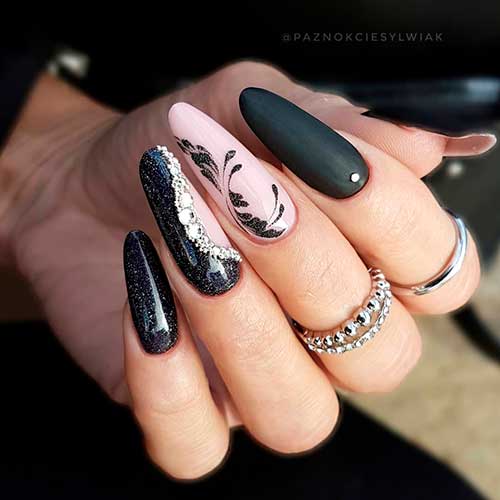 5. Long Coffin Black Nail Designs
Nail designs are a massive part of nail art today, and with the advent of new styles and patterns, it's entirely possible to share your design with the world. And while there are plenty of websites that offer designs, Pinterest and Instagram are the two most popular places to find them. However, you don't need to go further, and you can use these black nail designs below as a perfect choice.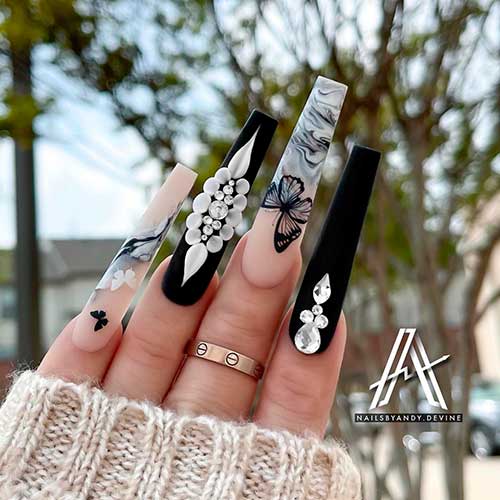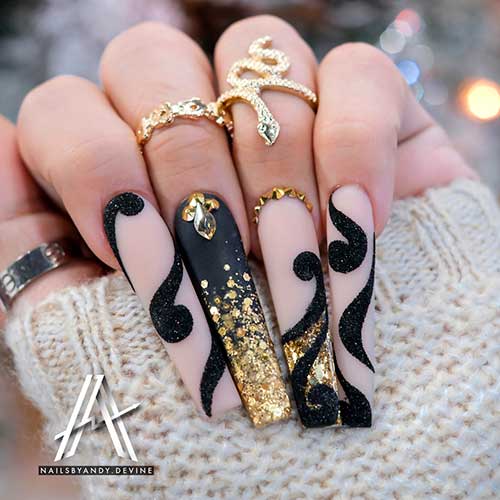 6. Short Black Nails with Gold Flakes
Of course, short black nails are always amazing, especially black and gold are the ultimate colors for nails, but not everyone can wear them. So, if you're one of those lucky few, admire this short black and gold nail design that will make you look like a diva.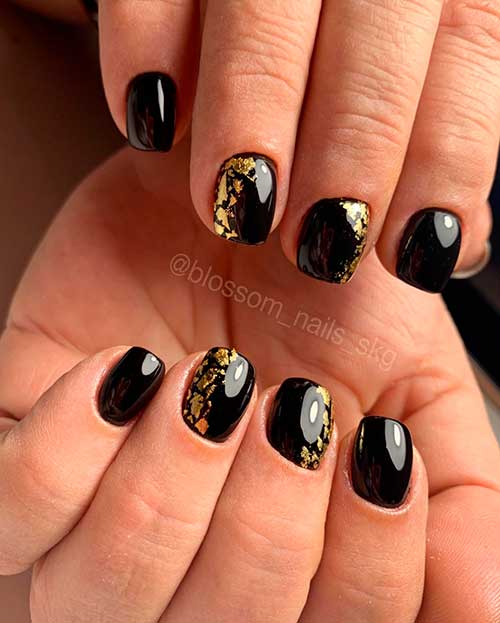 Short Black Nails with Silver Glitter
This classy nail art design features glossy short black nails with silver glitter on two nails. Indeed, this simple style suits many occasions.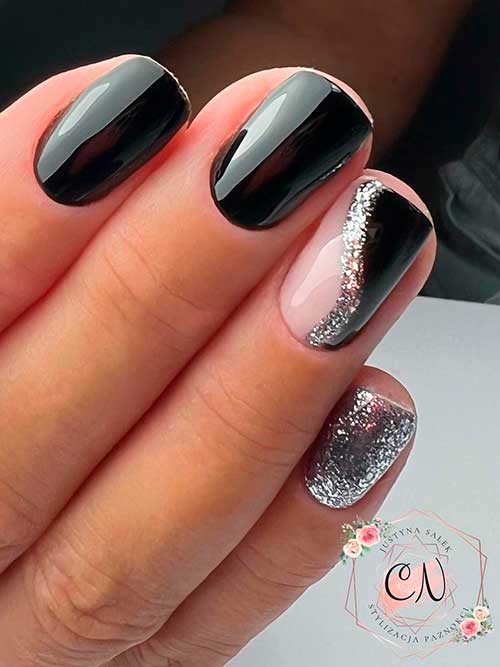 Cute Short Black Nail Idea
If you are looking for simple but elegant nails then these cute glossy short black nails are for you. Additionally, this nail color suits any outfit all year round.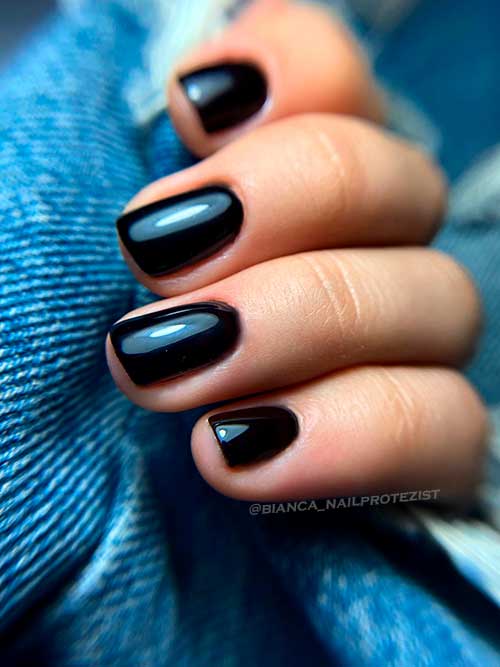 7. Round Black Nails with Elegant Gold Design
Black nail designs are often thought of as plain, dull and monotonous. But some look great, mainly black and white, and with more and more trendy and glamorous designs being released. Indeed, black nail art has become more and more varied. Besides the gold is a good accent in this design, and it makes the black stand out with class and elegance.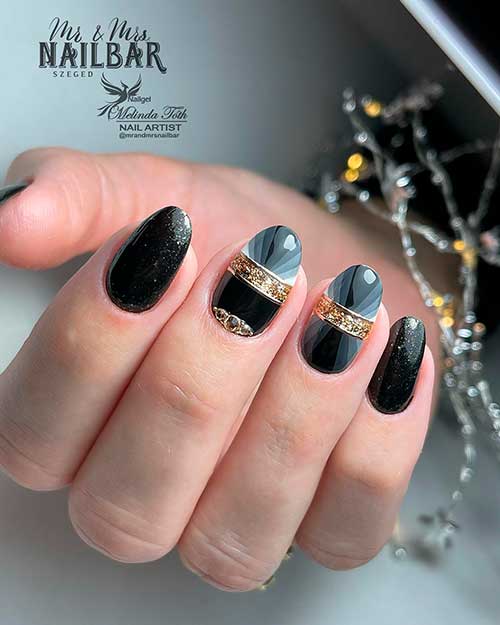 8. Christmas Black Nail Designs
Black-painted nails are much more than a fashion statement. They're chic, elegant, and sophisticated. It's not just the nail polish color that makes them stand out, but the shape as well. Indeed, coffin black nail shapes are perfect for making a statement on your fingers, while gentle rounded black nail shapes signal elegance and class. So, if you like the black coffin nails, check out these designs below!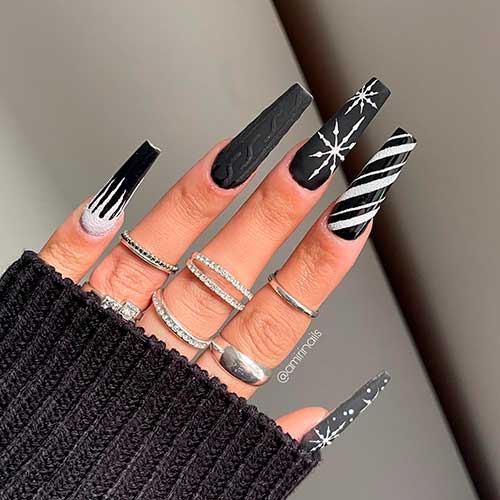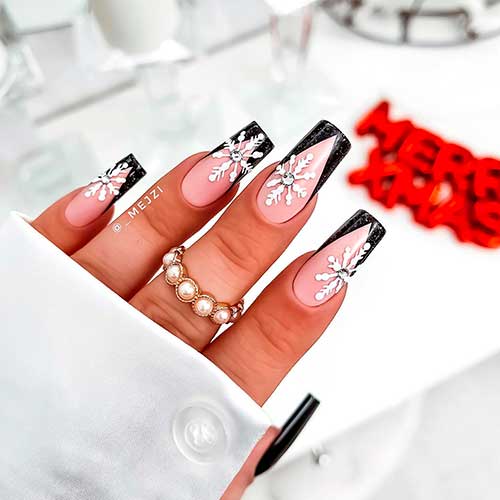 9. Stiletto Black and Silver Nails Design
The black and white nail designs have practical applications, but the silver nail design stands out the most. While silver is a prevalent color for nails, it can be hard to find beautiful designs that look like they match silver.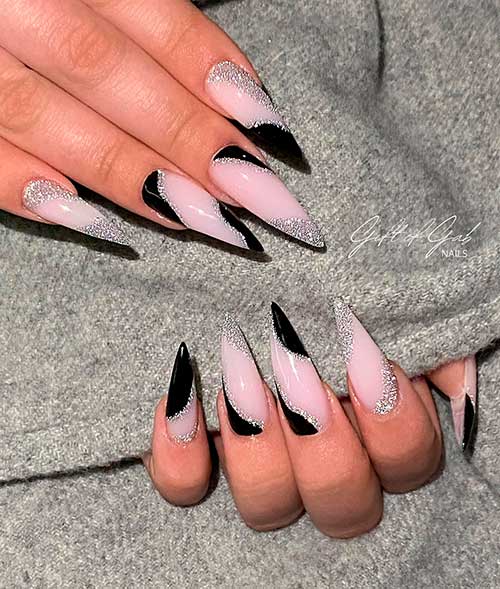 10. Black Tip Nail Design
Black nail tip nails are a great way to inject a little style into a simple and practical design. Additionally, the black nail tip is a simple way to liven up your nails without adding tons of color. And while many nail artists use this to hide imperfections, others like to take full advantage of the tip. Also, it's an excellent way to add subtle flair to your nails without adding any color.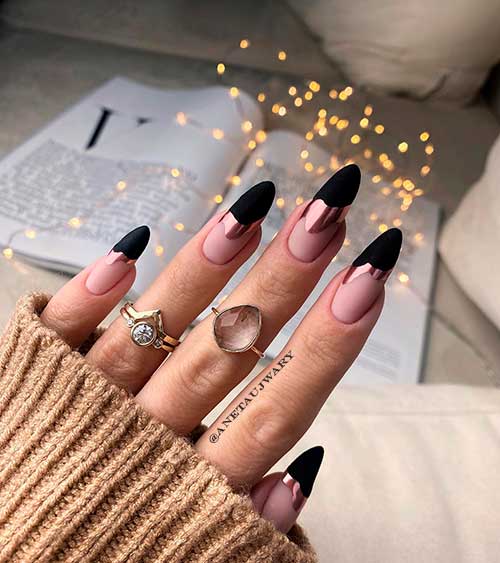 11. Stunning Silver and Black Nail Designs
You may be of those who think that the black color is gloomy and is not suitable for designing nails, but once you see this design, you will change your mind. The silver color has its magic in changing the features of any nail design.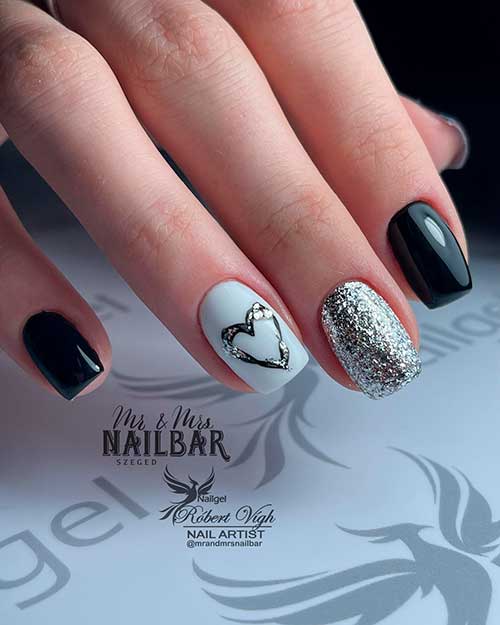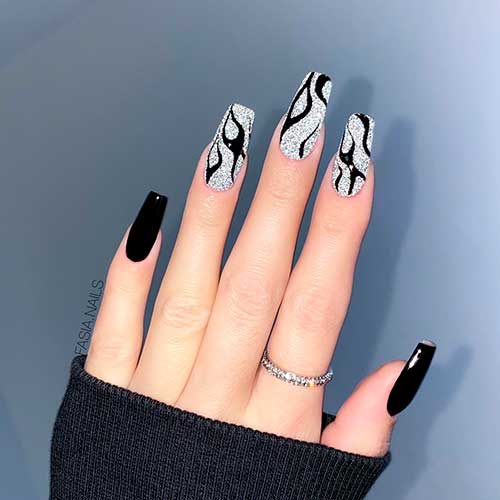 12. Black Nails with Neon Nail Art
Of course, you can have fun with black nails by putting some neon water marbling and leaf nail art on them. Moreover, this is an awesome option to draw attention to your manicure and create an impressive look. Also, you can wear this design with any color dress or any solid neutral tone. And because black is a very neutral color, it looks wow with almost all skin tones. So, it's suitable to wear them with any summer outfit.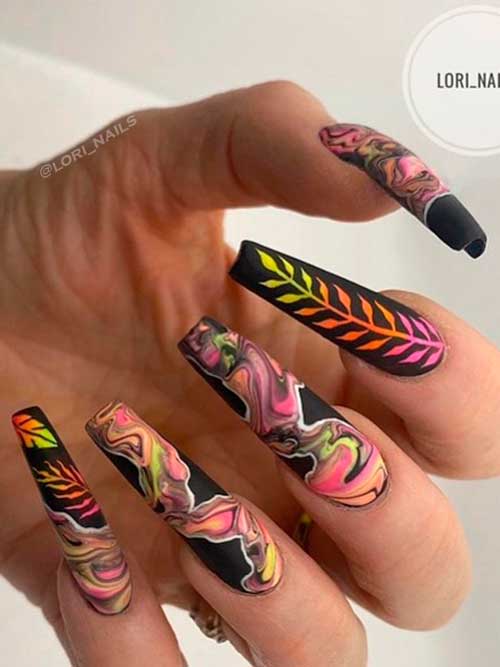 13. Black Nail Designs with Colorful Nail Art
The most striking way to upgrade plain black nails is to add some color. So, bubbles, smoke, or geometric patterns are all great ways to jazz up your black nails. Indeed, the colors you choose are up to you!
Matte Coffin Black Nails with Colorful Neon Smoke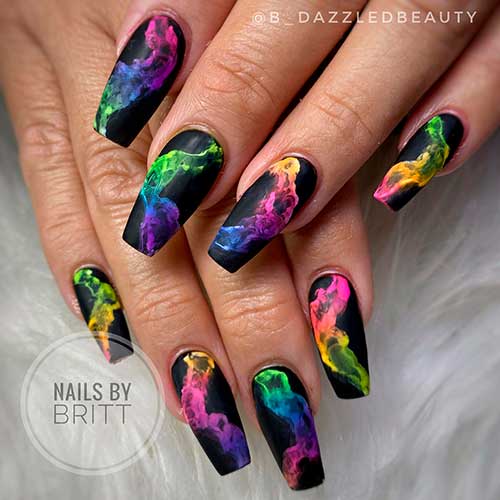 Glossy Black Stiletto Nails with Colorful Swirls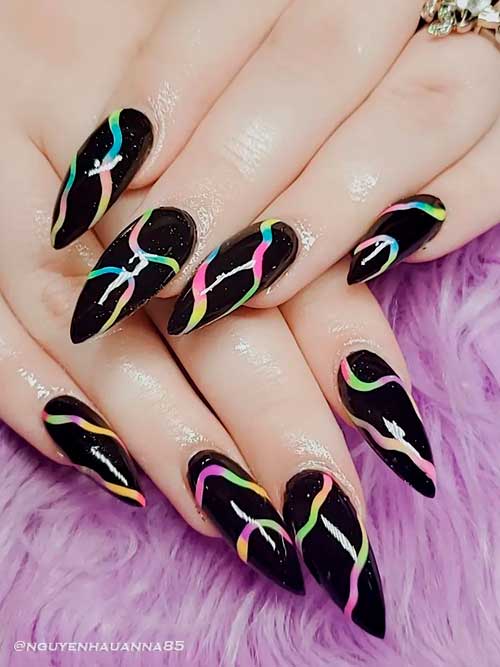 14. Black Nail Designs for Valentine's Day
If you're looking to make a statement this season, try adding a bit of edge to your nail design with some edgy black nails. So, you can try glitter black nail polish and some black hearts on nude accent nails. So, no matter which look you choose, these manicures will instantly put your digits in a romantic mood!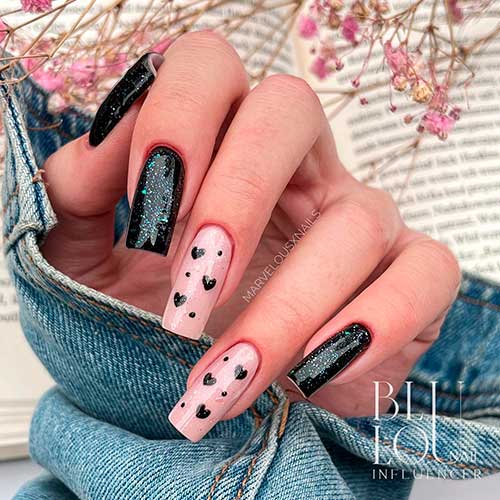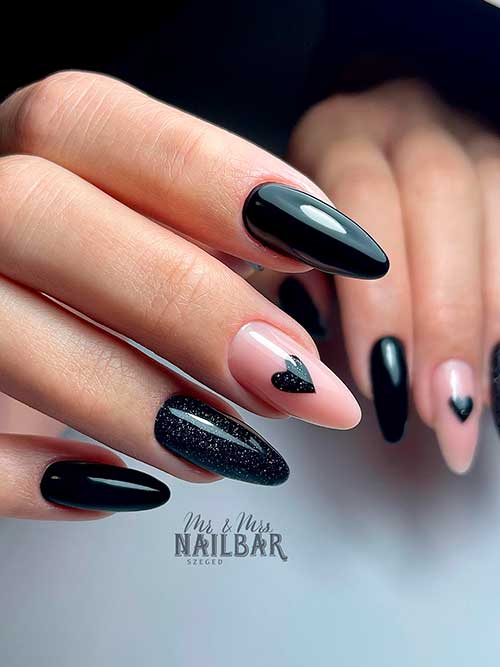 15. Short Black Nails with Cherry Blossoms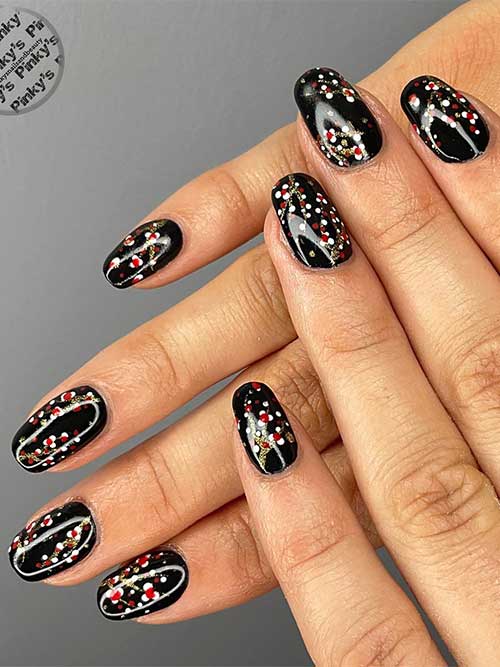 Black nail designs with cherry blossoms can be a stylish and elegant choice for anyone looking to add a touch of sophistication to their look. The black base of the nails provides a sleek and classic backdrop for the delicate and intricately detailed cherry blossom designs. Additionally, the contrast between the dark background and the bright pink and white flowers creates a striking visual effect that is both bold and feminine.
16. Short Black and White Nails with Leopard Prints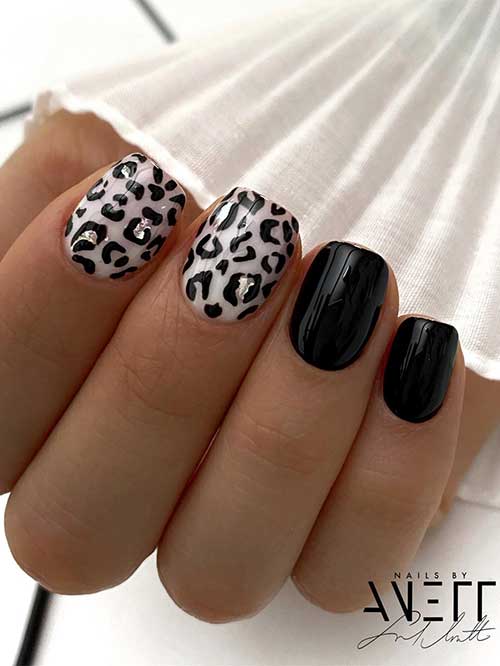 If you are looking for trendy and edgy black nail designs to add a touch of wildness to your manicure then go for short black nails with leopard prints on two milky white accent nails. As you can see the black base of the nails provides a sleek and classic background for the bold and eye-catching leopard print designs, while the two milky white accent nails add a touch of contrast and interest to the overall look.
At last, make sure to pick your black nail design now!