Sometimes all it takes to make a manicure that looks great is just a little something extra. Whether it's a nice touch of color, the perfect amount of polish, or a quick manicure that has a whole lot of allure. Of course, there's something that can make even a simple manicure look great. Have you tried one of the red nail designs? If not yet, well, this is the sign that you should get one!
Red nail designs are trendy and can be a perfect choice for someone looking to go unique. The red nail designs are also very sexy and can make your nails look great. There are so many designs with red as the primary color, and you can use different shades of red to make it look lovely. Check out the following gorgeous red nail designs to inspire you to your next manicure session:
1. Glittery Matte Red Nail Designs
If you're a lover of red nails, then you'll be delighted to hear that there are plenty of looks that you can go for when you have time to get a manicure. So, if you're looking for something unique and not too flashy, then this matte glittery red nail design is worth a try.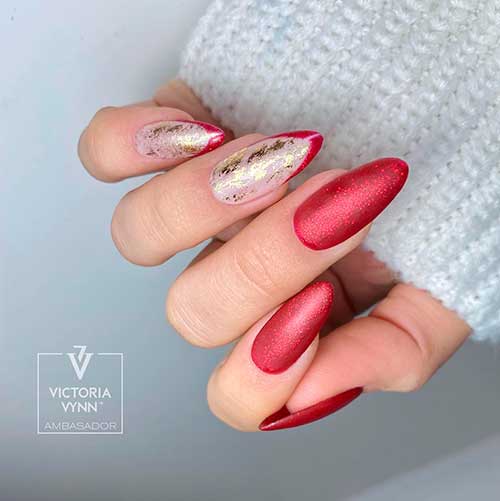 Matte Dark
Red Valentines Day Nails with Glitter
Blend dark red with pink and rose gold glitter to get a masterpiece like this Valentine's day nails idea.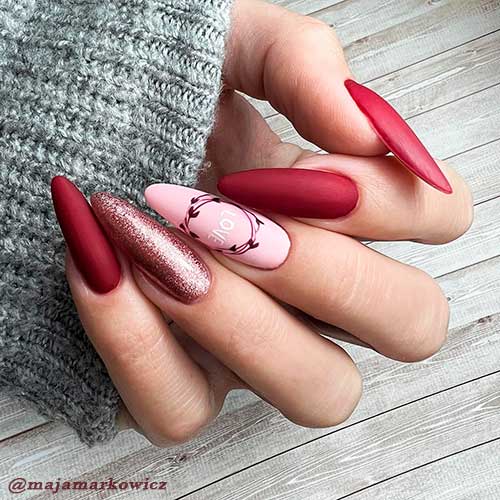 Matte Red Christmas Nails with Glitter
Most women love and prefer short red nails, of course, for their simple and elegant shape, in addition to enabling them to carry out daily activities without suffering, such as what happens with long nails that may sometimes be broken.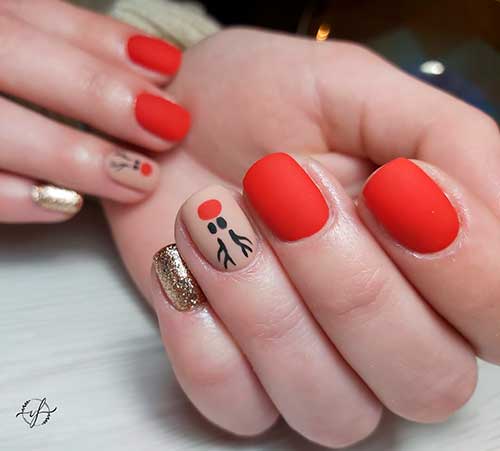 2. Sparkly Red Nails
Sparkly red nail designs are a flattering alternative to traditional bright red shades. The sparkle gives them extra oomph. If you want a red nail without being too "in your face" about it, try a shimmery red with a bit of glitter mixed in.
3. Stunning Cherry Red Nail Designs
The Cherry Red Nail Design has a gel-like finish, making it an attractive way to get your nails noticed, and it's ideal for any occasion. It's sexy and sophisticated and if you're feeling a little daring, you could even take the red a step further with a bit of red crystal on one of your nails.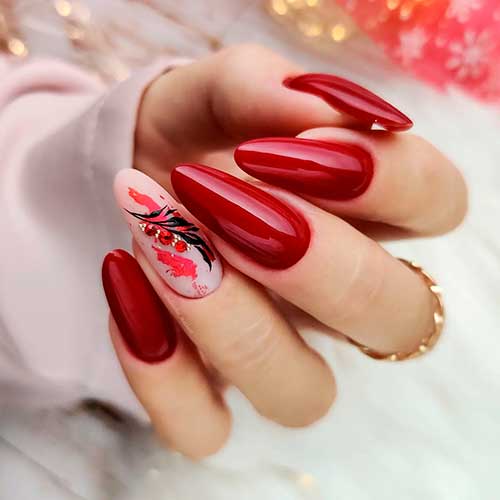 Try this gel red nail design with accent sugar glitter and pink blossoms on an accent nude base color. Of course, this nail art design is a cute choice for spring nails.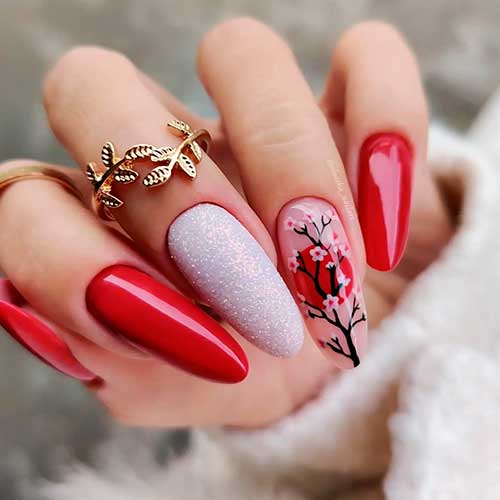 4. Attractive Red Nail Design with Leopard Print
What's the first thing that comes to mind when you think about red nails? Probably something shiny and beautiful like a fire engine, blood, a fiery dragon, a leopard, or perhaps a striking dragonfly. However, if you want a more provocative nail color, you may want to pick this dazzling red nail design below.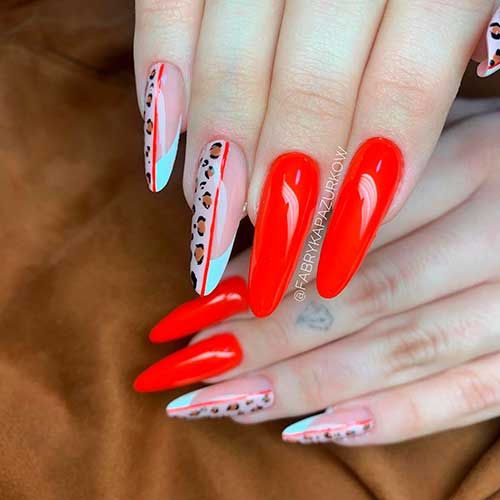 5. Polka Dot Red Nail Designs
Valentine's Day is about a few weeks away, and what better way to start than with one of the gorgeous red nail designs to inspire your next manicure? That's right. Additionally, to make your nails even more stunning paint one of your nails with white or black nail polish. Also, don't forget to add some cutesy white polka dots and a heart, too!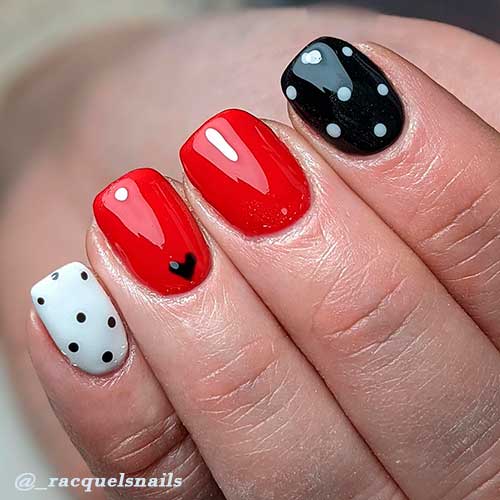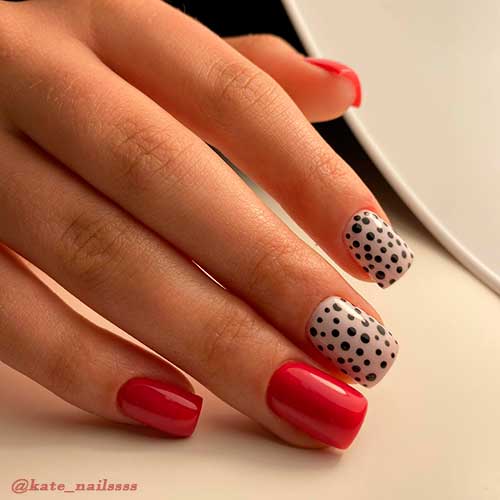 6. Red Kiss V-Tip Nail Design
Indeed, A red nail design is an integral part of a woman's beauty and style, whether on her toes or fingers. Besides, there are many different kinds of nail designs you can choose from. But the most popular is probably the V French tip nails designs. Well, the only thing that matters is that you pick a nail design that best suits you.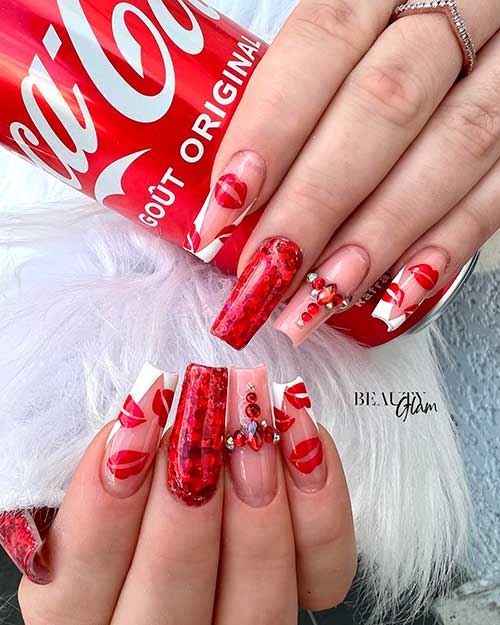 7. Black and Red Ombre Nails Design
Of course, black and red nail designs are a great way to bring a little extra style to your nails. Also, the colors are bold and stand out from your natural nail color. In addition, black is usually the base color, while red is typically the accent. As you see the colors blend to create beautiful aesthetics.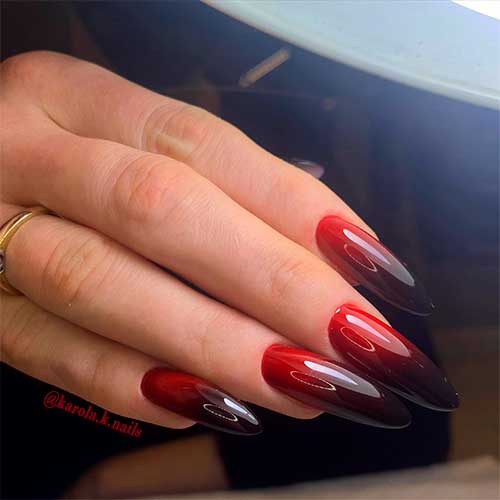 8. Cute Glossy Red Nails with Pink Accent
Manicures like these elegant nails will make you glamorous anywhere. Also, the pink accent nail with gold rhinestones turns this design into a stunning manicure.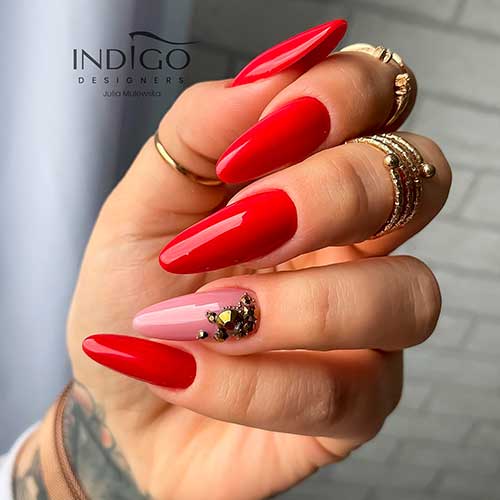 9. Abstract Red Nail Designs
Indeed, this design combines several manicures. As you can see it combines red French ombre, red French tip accent, and abstract red nail art. Besides, the silver rhinestones adorn the nail design.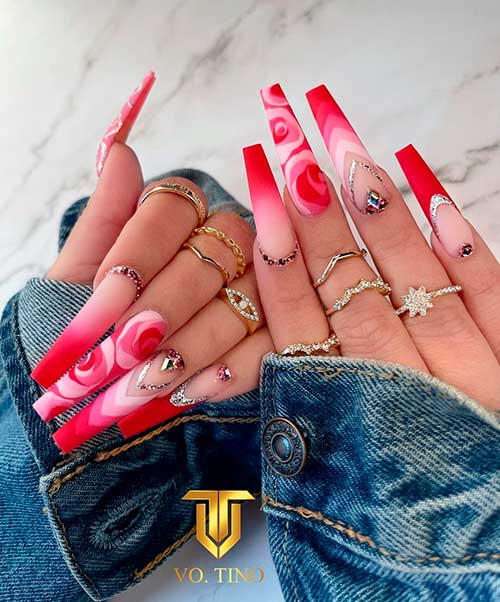 10. Red A
nimal Print Nails Design
What do you think about trying Animal Print Nails with red nails? Indeed, you will admire and love this try. In fact, animal print nail art has become popular because it is really worth wearing.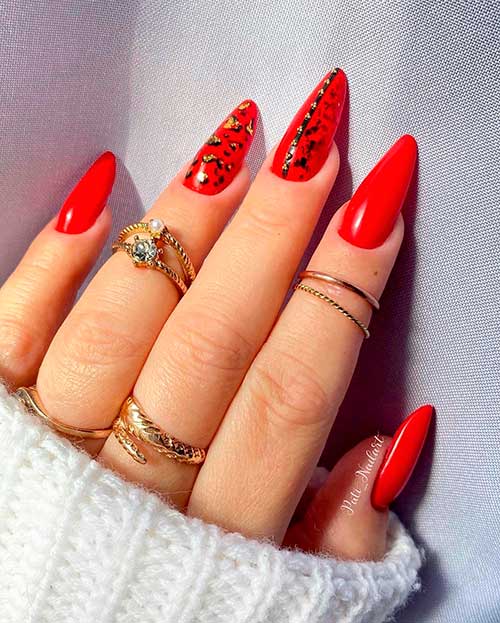 At last, red nail designs are bold and elegant, beautiful and straightforward, and even bold and daring. So, which of the nail designs above inspire you to get on your next manicure?
11. Cute Short Red Nails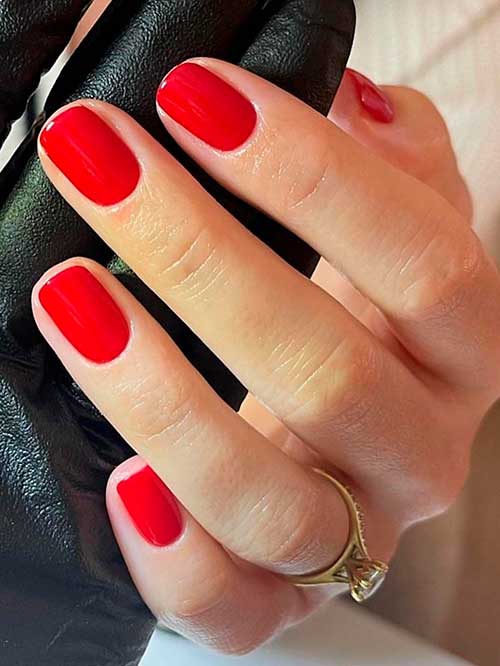 Indeed, red nails are great for any occasion. So, if you want to get a classic look, you can paint your natural nails with your favorite red nail color shade. Also, you can use short acrylics to achieve this look.
12. Glossy Red Nail Design with Silver Rhinestones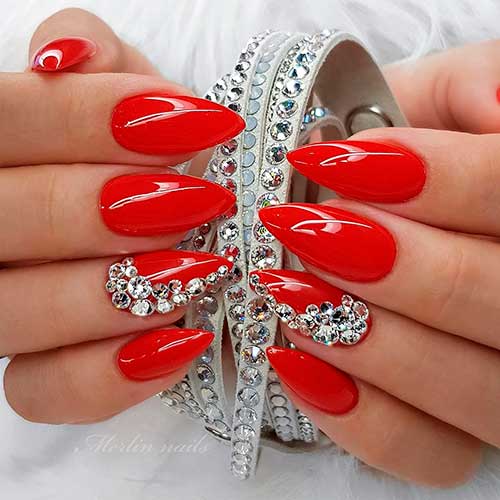 Whether you are a fan of red nail polish or you simply like to dazzle, glossy red nails with silver rhinestones are a great way to accentuate your nail look. Besides, the high quality of the nail polish makes it eye catchy when exposed to light.
13. Simple Long Dark Red Nails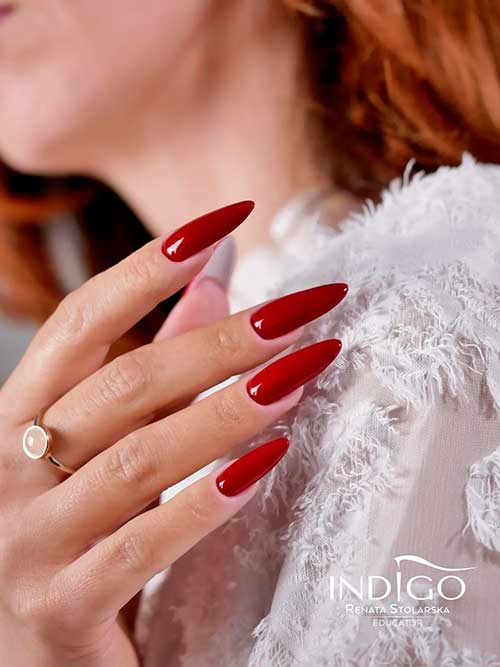 Whatever the occasion you are going to attend, so, dark red nails can give you a festive and chic look. Besides, red nails can be chunky and glitzy, but can also be understated. Of course, these nails are great for any occasion and will look great no matter what you choose to wear.