Valentine's day is coming soon! So, this means that we need to think about everything we're going to do to prepare for the coming festivities. So, in this article, we'll discuss the latest nail art trends and show you some of the cutest Valentines nails that you can create at home.
If you're looking for something sweet, maybe you'll want to get some cupid charms or perhaps a sweetheart's nail. Check out the designs of valentines nails or red valentines day nails that we have below:
1. XoXo and Lips Red Valentines Day Nails
Whether you're planning a romantic Valentine's Day date or want to look cute, you're in luck this year! There are many beautiful nail designs to choose from, like this Xoxo nail polish design with some kiss marks. Indeed, this design is easy to make, especially if you have the right products.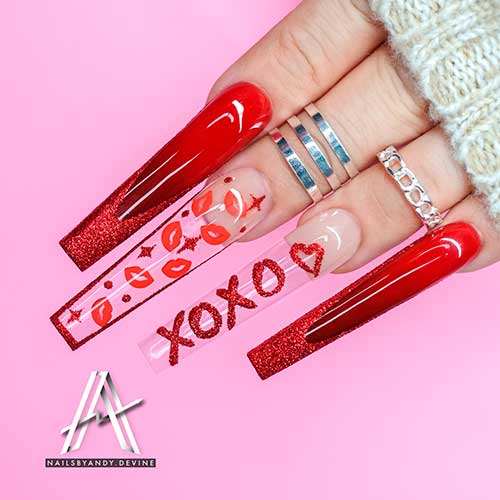 2. Curves and Hearts Valentines Nails Design
Enjoy the heart-shaped nail design with red and glitter blue navy colors, a single heart on the ring, and a pinky finger. In addition to, a pair of curve designs on the point and middle finger. So, this nail art is simple and classic to do at home but absolutely gorgeous.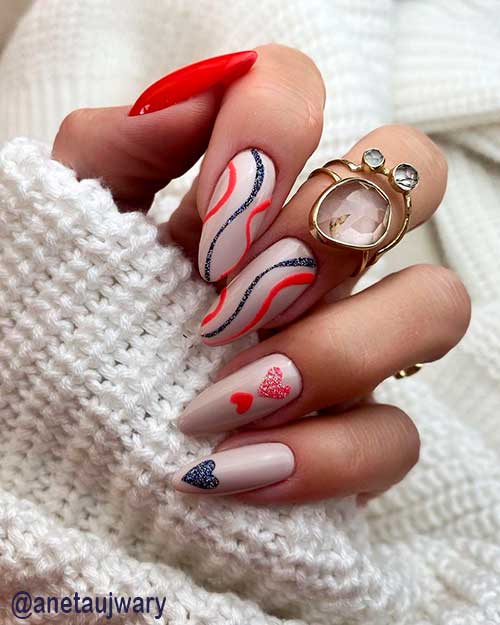 3. Red and White French Valentines Day Nails Design
Indeed, Valentine's Day is the day to tell your sweetheart that you have got a lot of love for them in your heart. So, you will find that men and women love to share the love. So, it's essential to pick the best Valentine's Day Nails for you, whether you choose a traditional red and white design or an adorable heart with a red and white tip. Also, you can pick even a heart shape design with pink and red nail tips.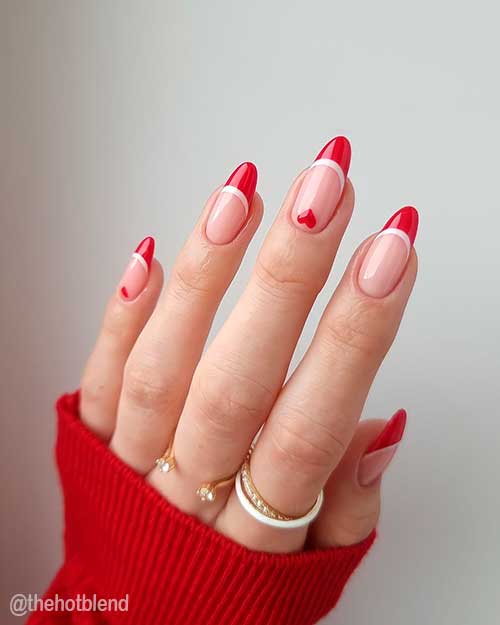 4. Matte Baby Pink Valentines Day Nails Design
With the help of our newest pink Valentine's Day nail designs, you can express that love for your nearest and dearest. Besides this cute matte baby pink nail design is an excellent option for you.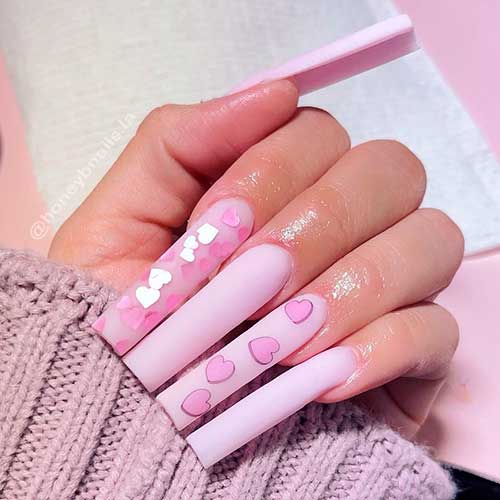 5. Charming Candy Hearts Valentines Nails Design
While Valentines Day may be over for the year, it's an excellent chance to look back at all the pretty nail designs you've seen over the last few months. Of course, there are plenty of cute nail designs to choose from, but this is also a time for you to own them. So, if you consider having great nails this year, make sure to do the example below. Of course, it will show a remarkable idea for the valentines.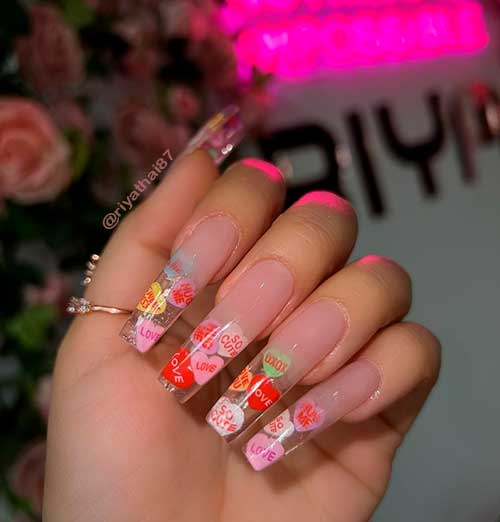 6. Hearts and Cherry, Pink, and Red Valentines Nails
If you like cherry, pink, and red, this is the best option for you, especially if you love long square nails.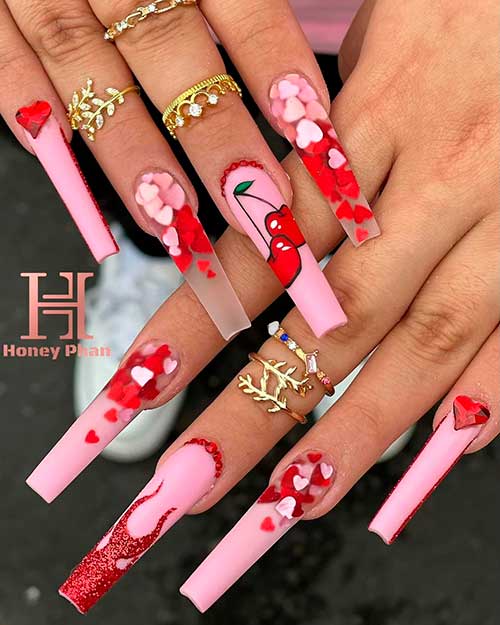 7. Soft Pink and Blue Ombre Valentines Day Nails Design
The color you end up choosing could make you look like a princess or a clown. If you want to be a princess, this is the design for you.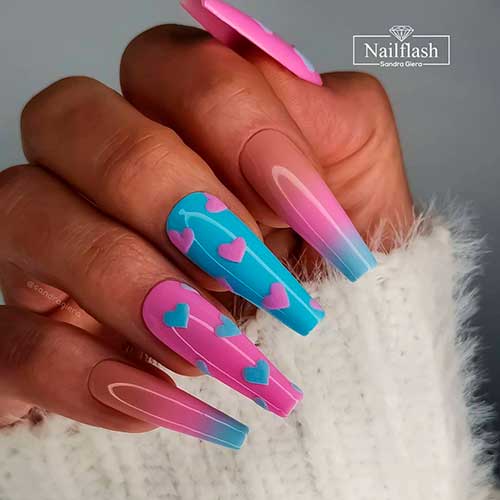 8. Round White and Red Valentines Day Nails
Still, red is the best color to pick up for painting your valentines nails. Also, red heart shapes are preferred by many women and girls. So, many girls will love this nail art below.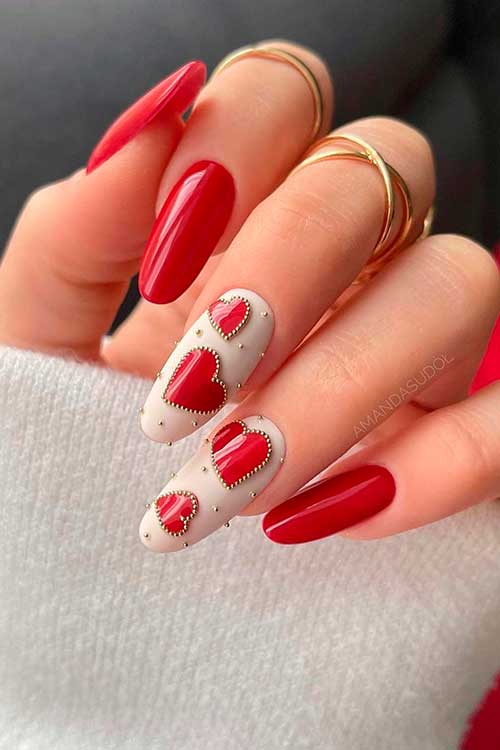 9. Long Coffin Cotton Candy Ombre Valentines Nails
Light blue and baby pink ombre combinations are always awesome, especially when complemented with small heart shapes, lollipops, and white clouds. Besides you can choose your preferred nail length.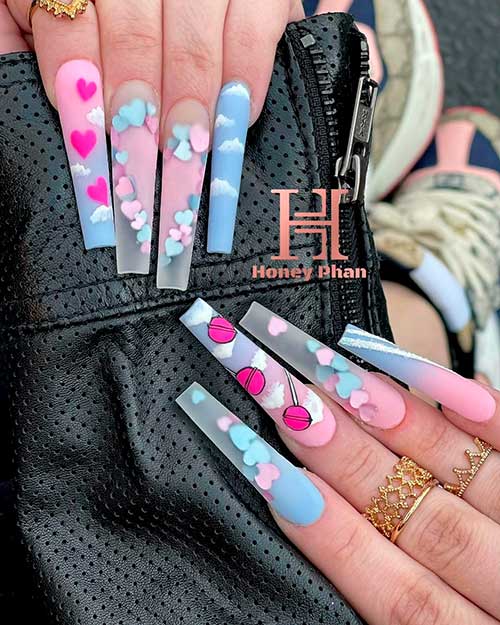 10. Matte Coffin Purple Lover Valentines Day Nails
lavender and purple shades are so feminine and the heart shapes, rhinestones, and glitter really turn out an amazing nail art design for valentines occasion.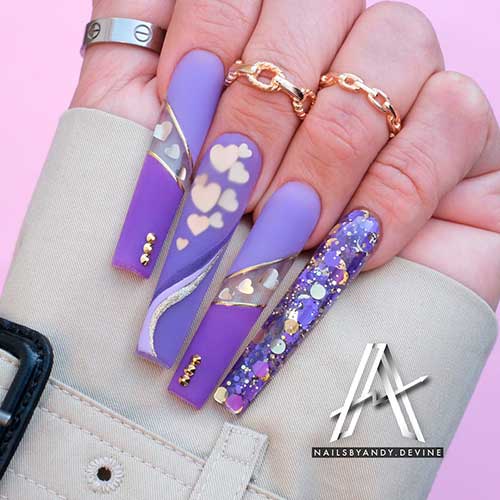 11. French Pink Valentines Day Nails
Indeed, these French pink tip nails with small red heart shapes are really stunning. So, choose your favorite red and pink nail shades, nail shape, and length, and try this design below at home.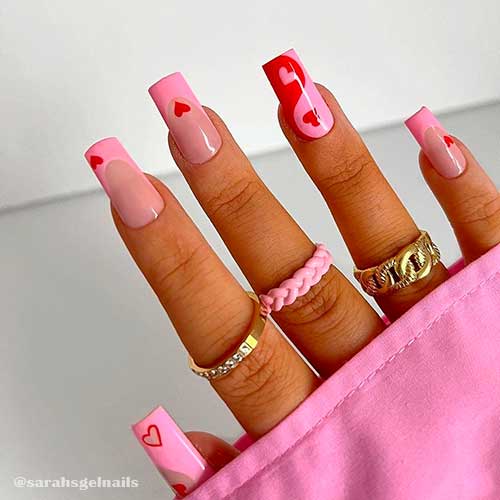 12. Sparkly Red with Hearts and Kisses Pink Valentines Nails
Try these glittery red long nails with pink V French tip nails that are adorned with kisses and hearts. Although these tips are extra long but really gorgeous.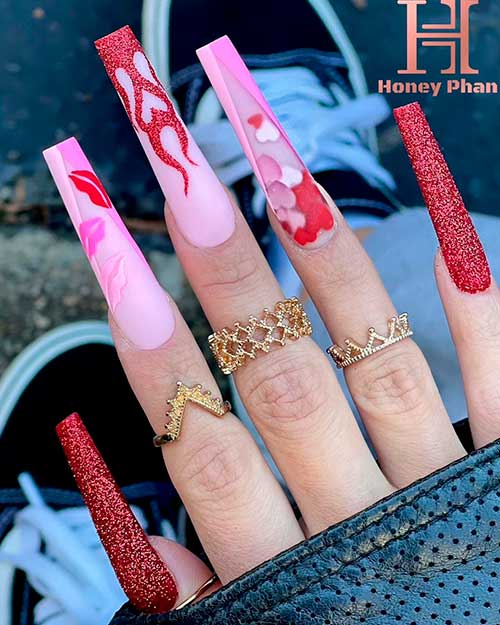 13. Hot Black French Valentines Day Nails
Still, French tip nails are classy for any occasion and this nail art design that consists of a long matte black French nail design is a perfect choice. As you see the rhinestones, red glitter kisses, and red heart shapes make the design awesome. Besides, the lace accent nail with red hearts is so attractive.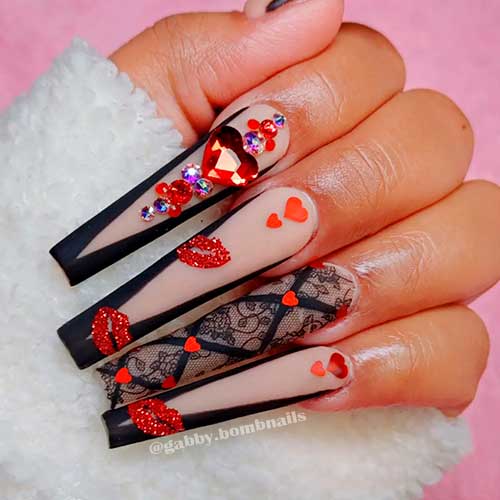 14. Glossy Red Valentine's Day Nails
Are you looking for a simple and cute nail art design for Valentine's Day? If so, then this short red nails design is a perfect option for you!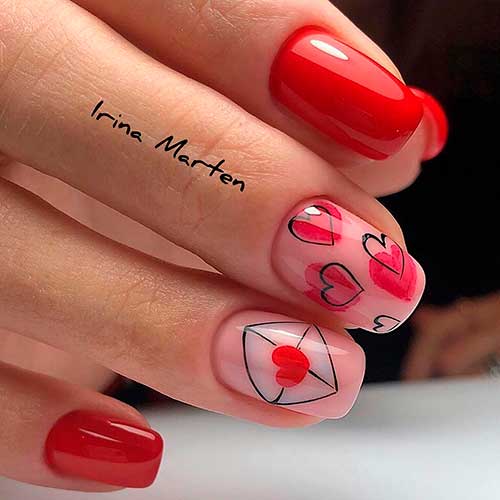 15. Glamorous Royal Blue Valentines Nails with Hearts
Royal blue is definitely a unique nail color. So, you will find this nail design is glamorous valentines nails idea to show your love this year.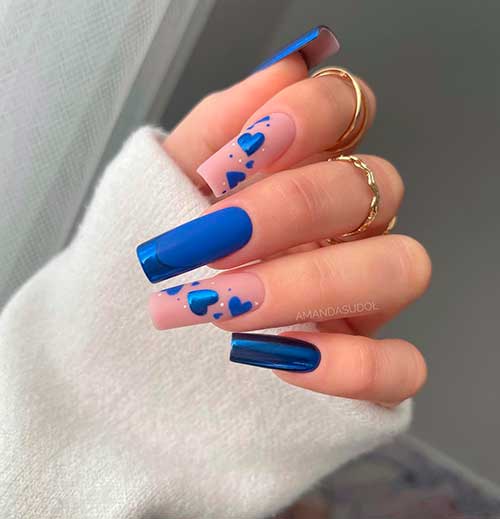 16. Sparkling Black Cherry Valentines Day Nails
These are really valentines Day nails, especially for women who love short nails. So, it's time to try painting this simple valentines nails design at your home.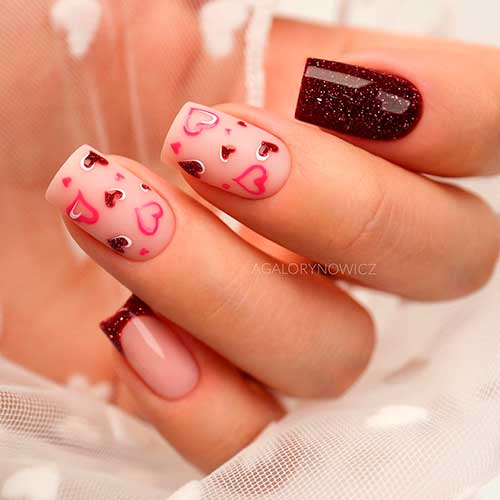 17. Long
Valentines Day Nails Acrylic Design
It's time to show your love openly by wearing these gorgeous Valentine's long nails. Of course, when red glitter hearts when blended with micro-fine glitter on clear acrylic tips the result is a masterpiece as you see below.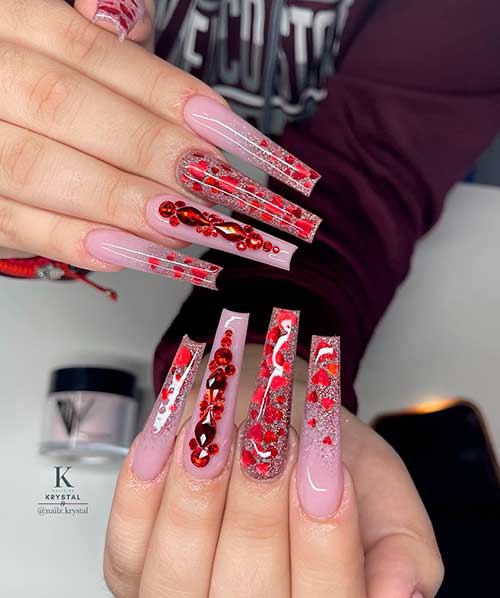 18. Shimmer Grey and Matte Pink Valentines Nails
There is no nail color that catches the eye and that women adore like pink. And of course, this wonderful design suits any girl to show her beauty and love on the occasion of Valentine's Day. So feel free to try this mixture of matte and shimmery styles.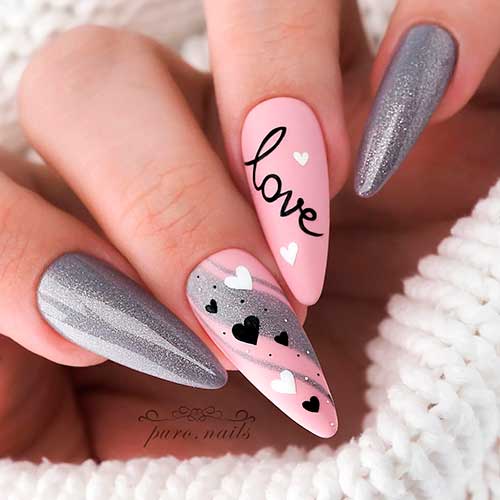 19. White, Pink, and Red Valentines Day Nails
This simple elegant design includes the three most beautiful colors that can be used in Valentine's nails, which are white, red, and pink. Especially when you can use them in drawing a heart shape as you can see in this design below.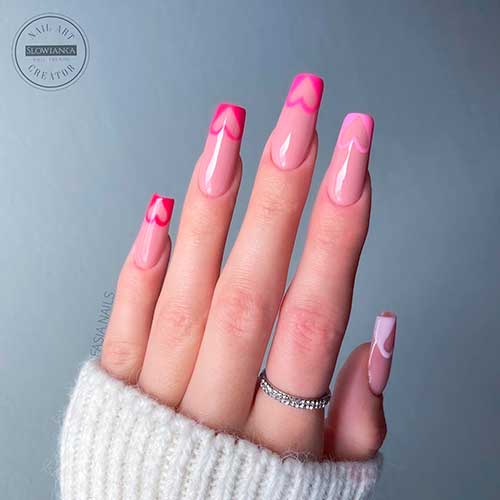 20. Acrylic and Clear Valentines Nails with Heart Glitters
Indeed, this nail design decorated with pink hearts can be the best choice to show your love to the one who touched your soul. So, feel free to say I love you just by wearing this design.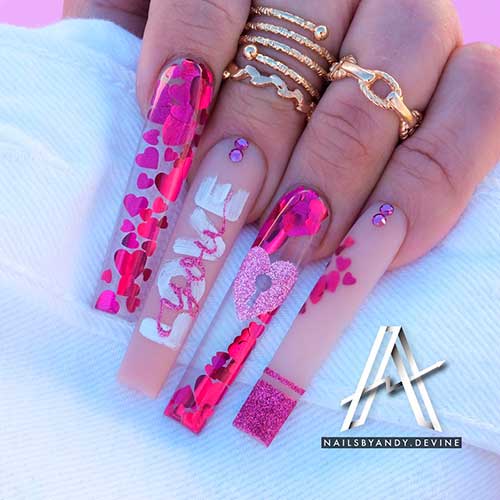 21. Different Shades of Matte Pink Valentines Day Nails Design
Do you love pink and are confused about choosing the right shade? Then this elegant design is for you, as it combines a group of the most beautiful shades of pink.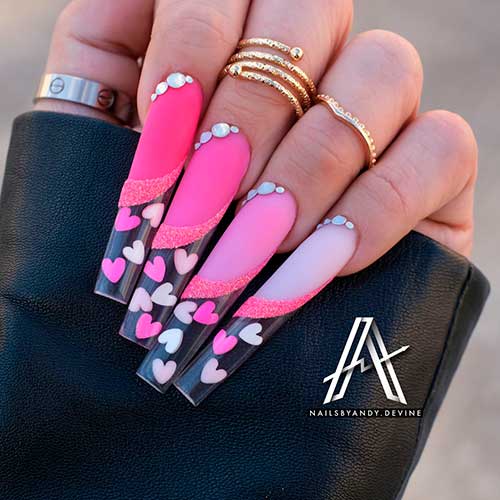 22. Long Red and Nude Valentines Nails
Long red and nude Valentines nails are an awesome way to celebrate love. Besides, heart shapes are a timeless look that will work with any type of outfit, and they are fun to incorporate into your Valentine's nail design. But, if your nails are still a little bold, then you can add some rhinestones to your nail look. Or, if you want to keep it a little more subtle, you can just use your nails to display a little bit of glitter on a French accent nail.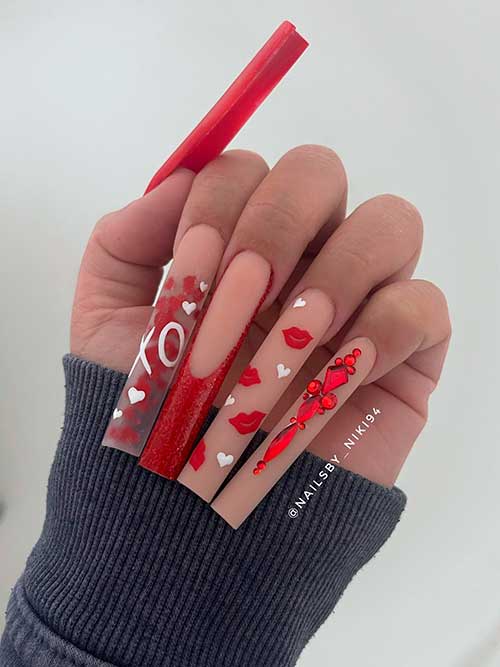 23. Matte Valentines Day Nails
Valentine's Day is the perfect time to show your loved ones how much you care. The day is filled with candy and romance, and what better way to celebrate than with a cute nail design? Whether you are looking for a fun and playful manicure or a sophisticated look, this matte pink nail design will work for you.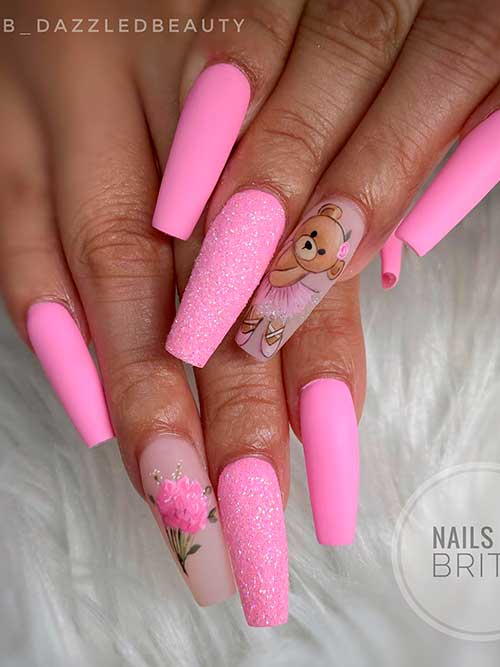 24. Valentines Pop Art Nails
If you're looking to rock a chic minimalist nail look or an eye-catchy statement manicure, then this is the perfect Valentine's pop art nails for you. The design features pastel pink and blue nails with two blue accent nails adorned with heart shapes in pop art nail art.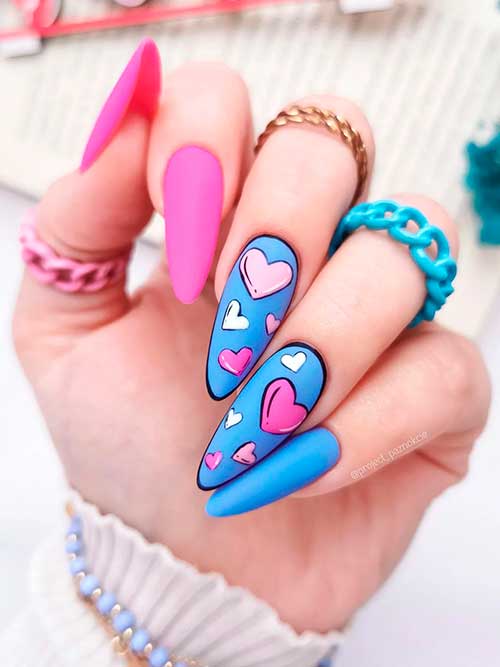 Different Cute Valentines Day Nails
Valentine's nail designs are diverse in terms of shape and choice of colors that you may find sometimes not restricted to red and pink. So you can choose any color you like with the addition of any symbol of love, such as the letters of the word love or even the shape of a heart. So it's time to scroll down and enjoy the designs below!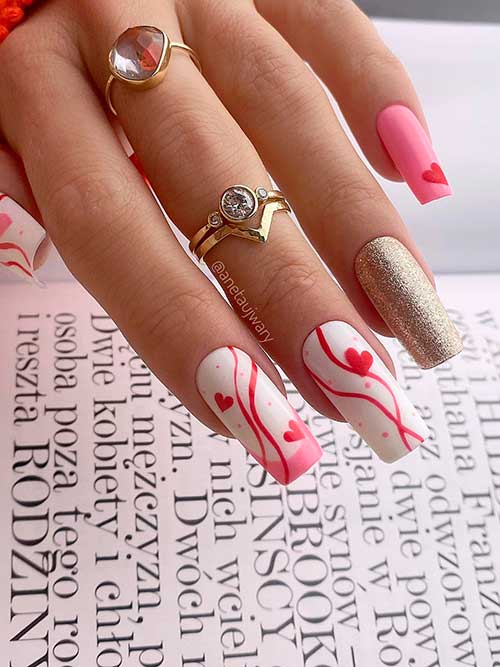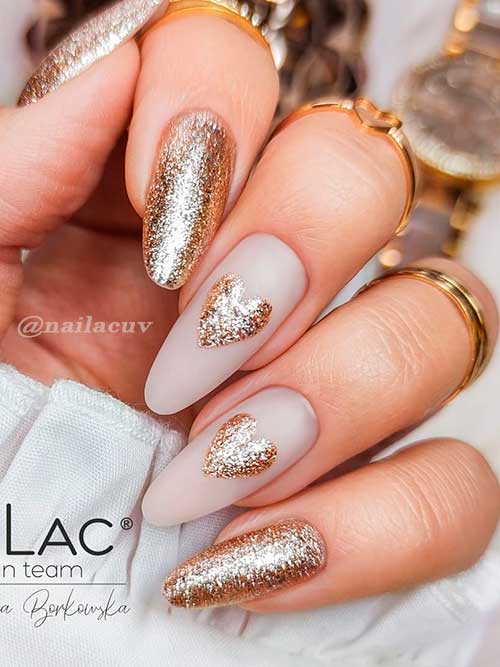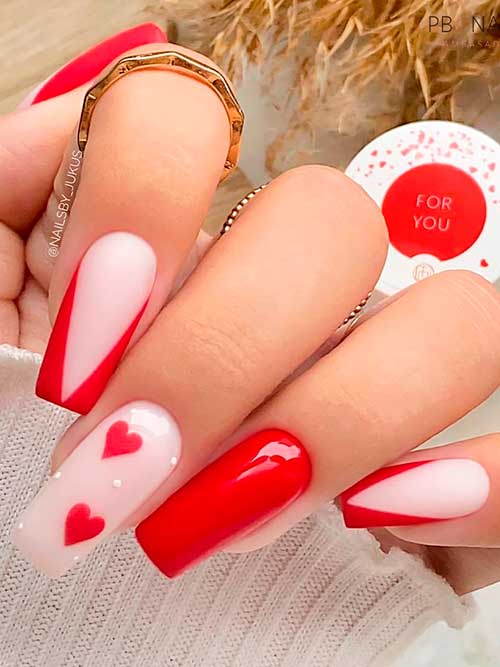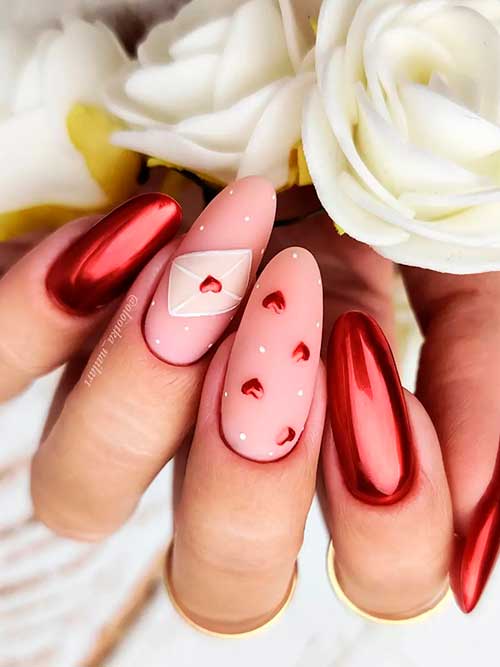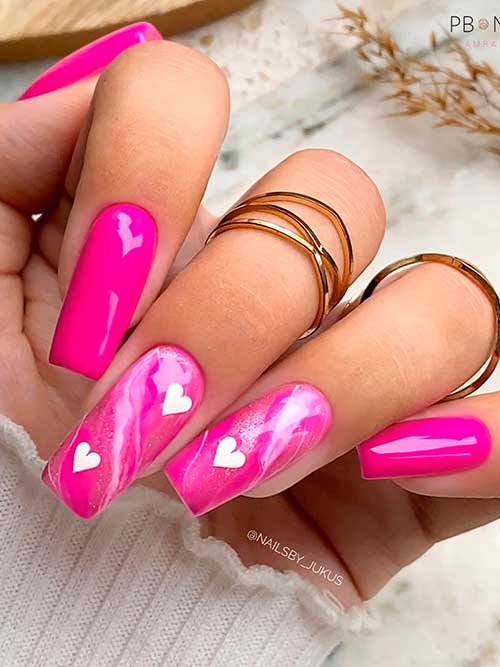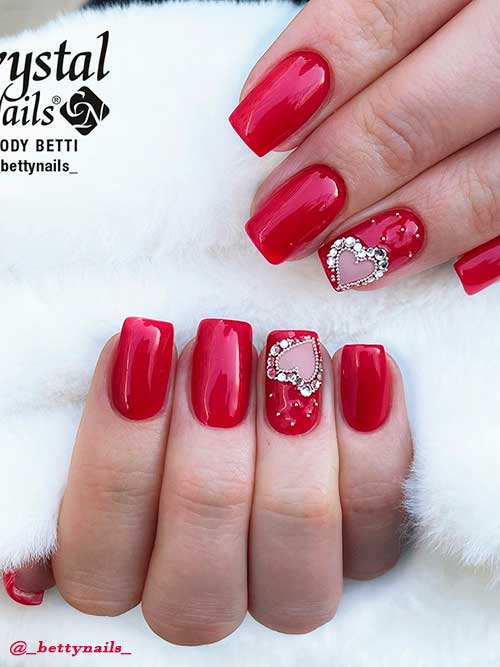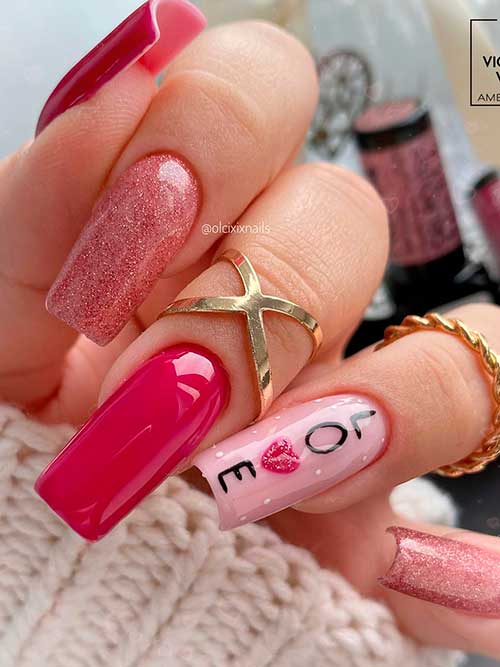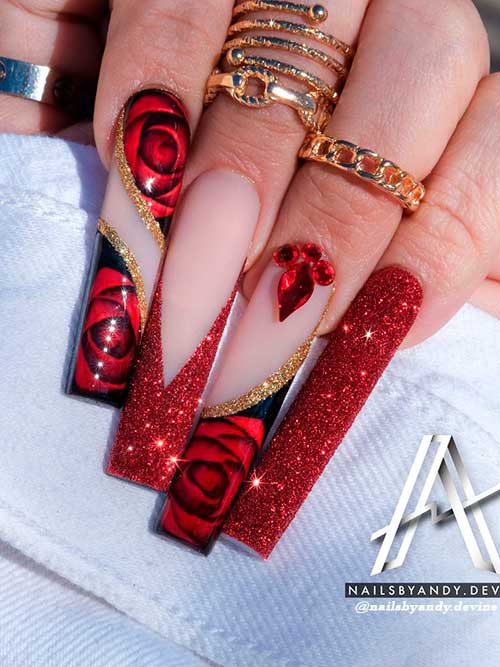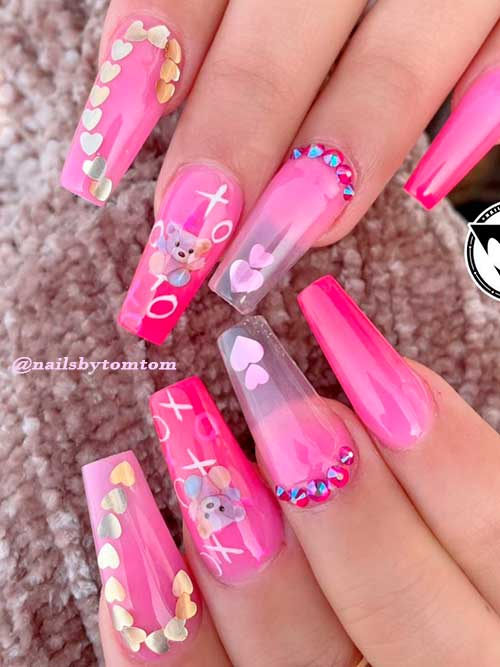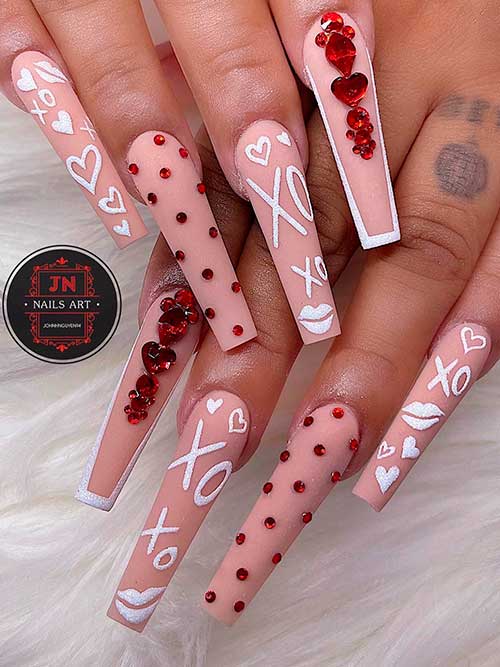 Sparkling Red Valentines Nails
Red Valentine's nails are in style this year. So, you can recreate this nail design that uses transparent red nail polish above silver glitter. Besides, LOVE letters on an accent nail are chic and elegant.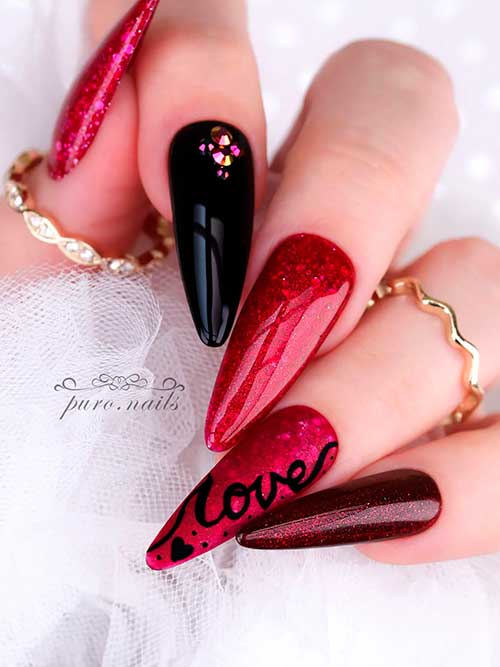 Lovely Nude Valentines Nails
On Valentine's Day, you can show love with simple nail design and a bit of creativity. So, you can recreate these nude valentines nails that feature red hearts, white and black dots, and a teddy bear shape. Indeed, it's a perfect way of showing your love for the person who has fallen in love with you.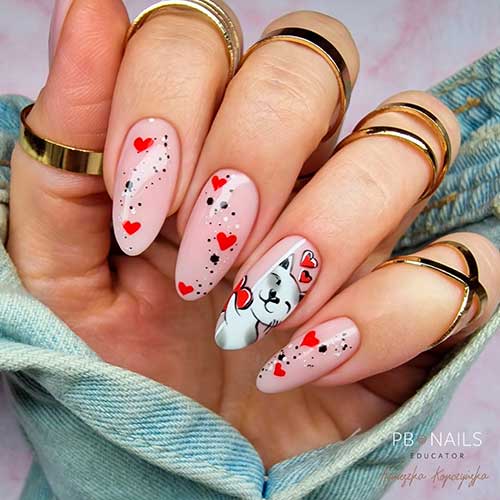 At last, it's time for you to pick the nails you want. Besides, for more inspiration, you can check out this previous valentine's day nails post and enjoy!