Red is the most feminine nail color, and spiritually red is the color of action, energy, and passion. On the other hand, red represents all physical desire forms and passionate love. The red color has some variations like dark bluish red which is called maroon color, and dark purplish red which is called burgundy. But I prefer the pure red color, whether it is light or dark especially short red nails whether it is red acrylic nails or even red gel nails.
If you are looking for a full femininity and beautiful look then you're in the right place. Just, choose the red nail art design that elevates your whole look, among various red short nails, just keep browsing!
1. Short Red Nails Square Shaped Ideas
Square-shaped nails are a good choice if you don't want to bother with maintaining effort for your nails, especially if you work with your hands a lot. So, here are some short red nails between red acrylic nails and red gel nails you will love to copy.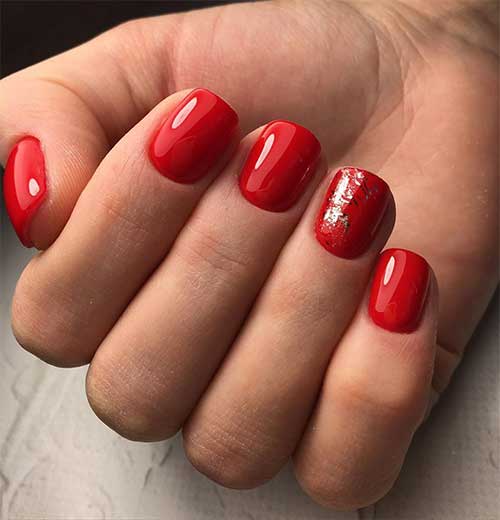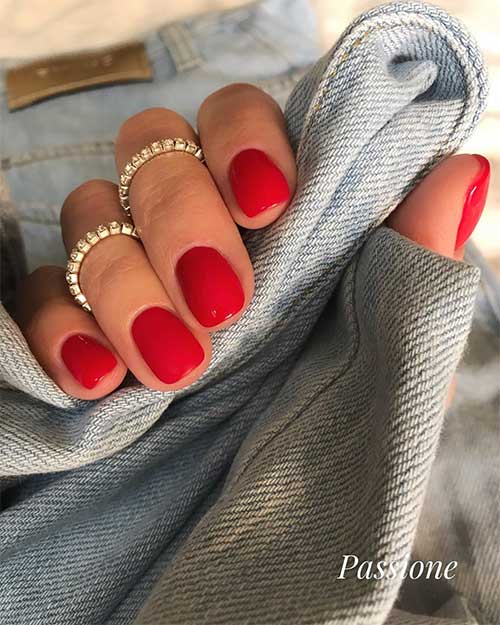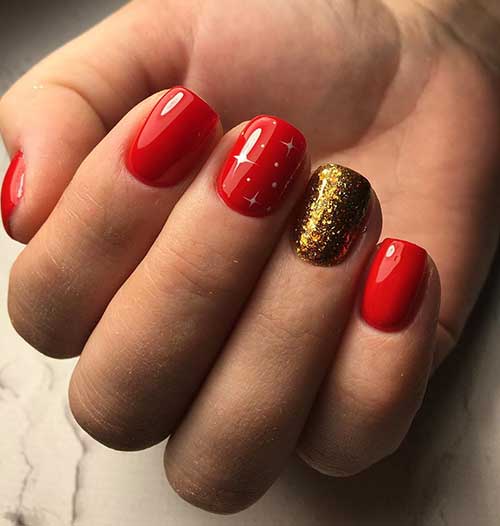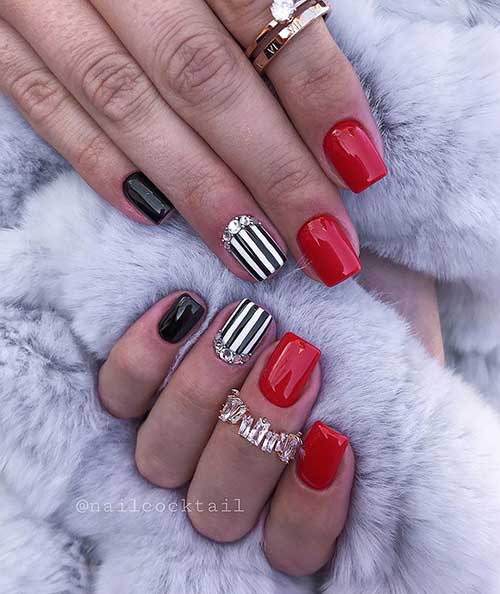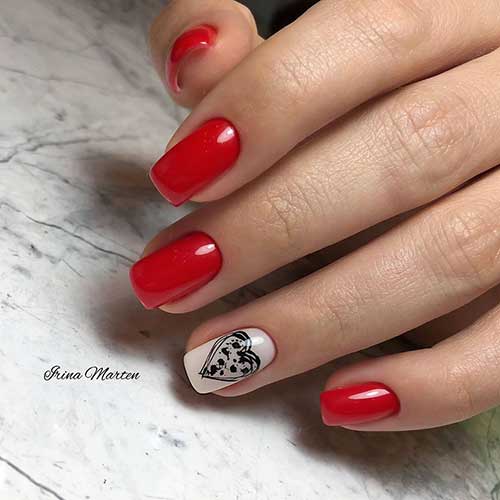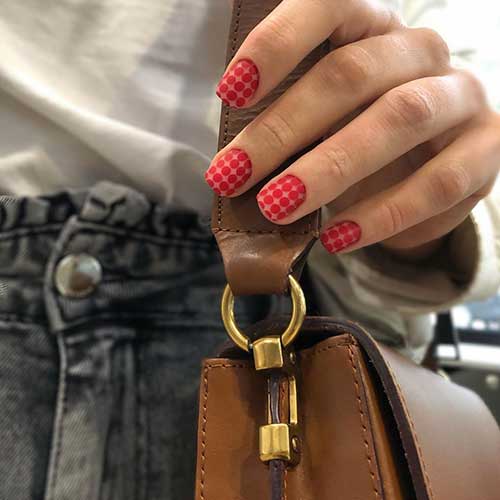 2. Short Red Almond Nails Ideas
Short almond red nails are so gorgeous, and if you have thicker fingers or wide nail beds then the almond nail shape is a perfect choice. Because it will make your nails look slim and strong. So, you will never regret filing your red acrylic nails to an almond shape.
Glossy short almond-shaped nails red are really amazing when a heart-shaped accent nail or black stripe on a nude color nail is added to the nail set. So, check out the short red almond nail designs below.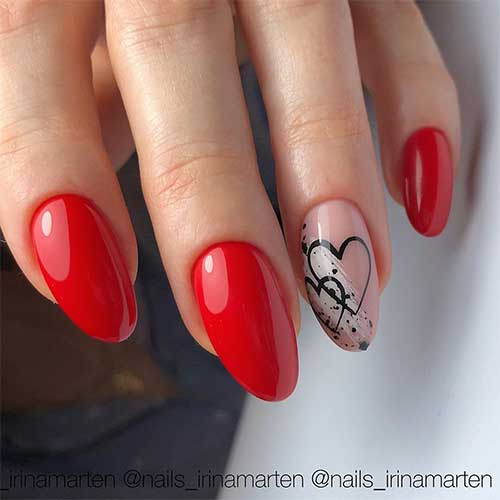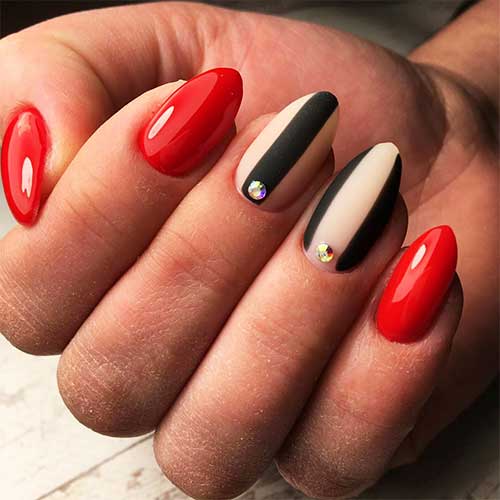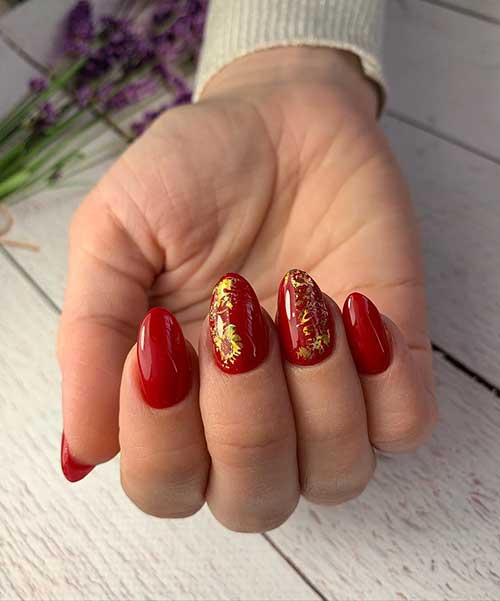 3. Short Red Nails Coffin Shaped Ideas
Coffin-shaped nails are worth trying and are still trendy nail shapes. Also, this nail shape is the fav of many celebrities, so you will never go wrong with short coffin-red acrylic nails.
These short red coffin-shaped nails are simple and attractive. So, don't hesitate to try these nails set that will make you shine like a star.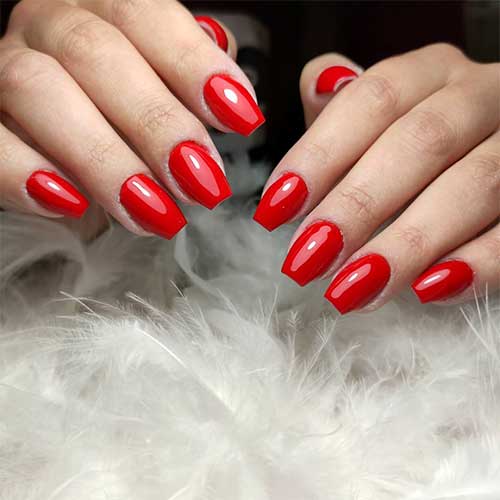 I'm a big fan of gold glitter nails, so I think these short red coffin-shaped nails with gold glitter accent nails are so gorgeous and the rhinestones elevate the design look.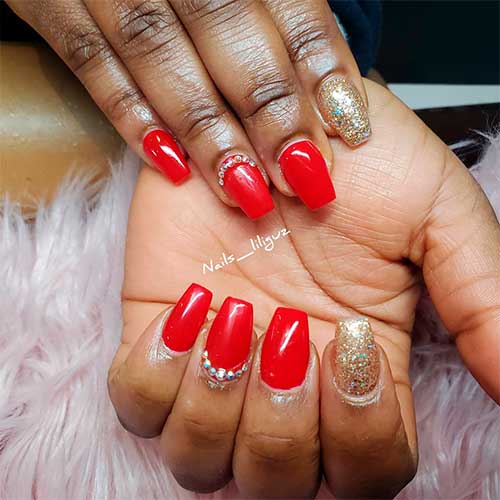 4. Round Red Short Nails Ideas
Classical round nail shape is so simple and handy for everyday life, so you will love these cherry-picked nails that you can do yourself at home. Whether they are with rhinestones, foil, glitter, or even different accent nail color that works with red color.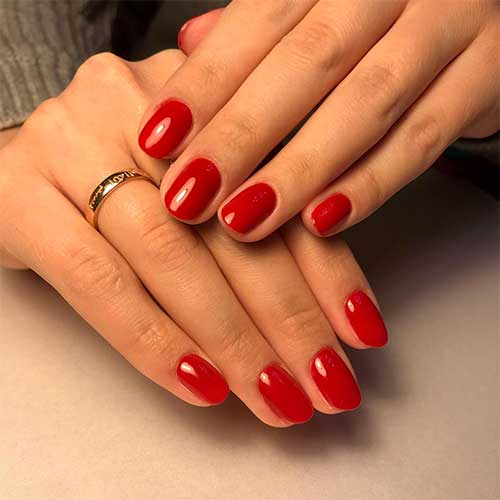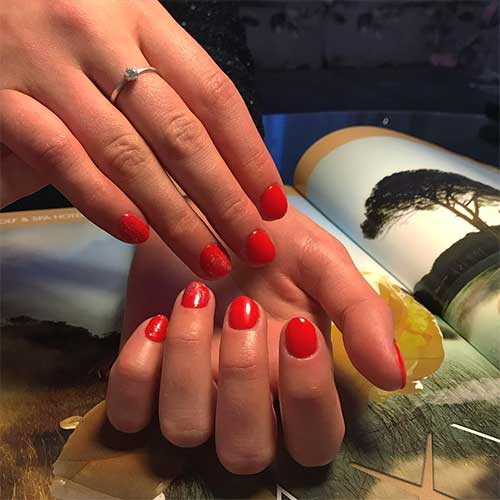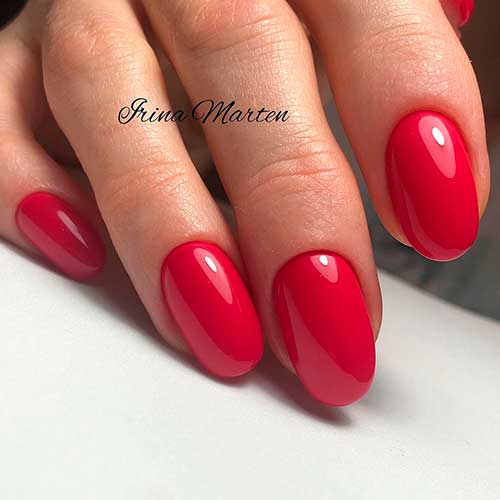 5. Short Red Nails with Gold Jewelry
A great way to get a gorgeous red manicure with short nails is to pair them with gold jewelry. This way, you can easily create eye catchy designs on your nails. You can also experiment with different red shapes, and use different types of nail polish. Additionally, you can also go for press-on nails if you are not experienced in painting your own nails. Otherwise, you can visit a nail salon to have a professional paint your nails.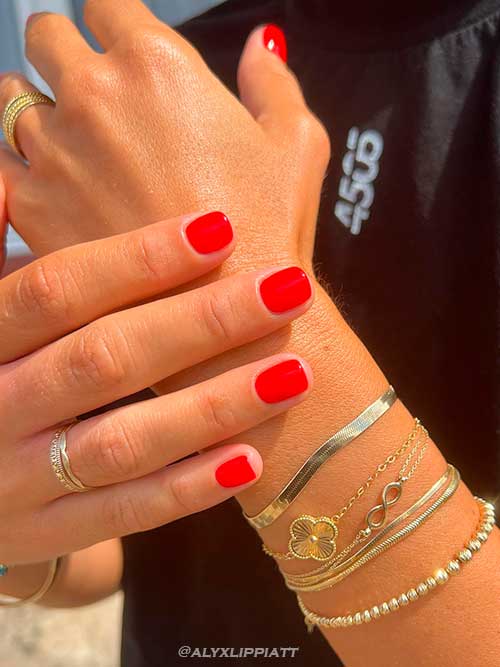 6. Lovely Red Short Nails with Leaf Nail Art
Short red nails can look fabulous. They can add some drama to your ensemble, and they'll still look great on short nails. Additionally, the black leaf nail art on the nude base color accent nails can turn the look into a masterpiece. Also, a high gloss finish will add extra flair. This manicure will definitely make you stand out from the crowd wherever you go.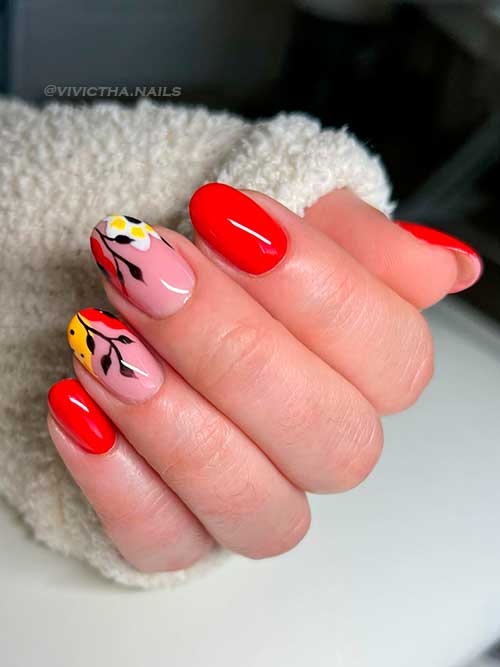 7. Matte Short Red Nails with Speckled Nude Accents
Of course, there are many different ways to achieve matte short red nails. So, you can try these matte red short nails combined with speckled nude accent nails. If you don't feel comfortable painting your nails yourself, you can visit a nail salon to get the job done.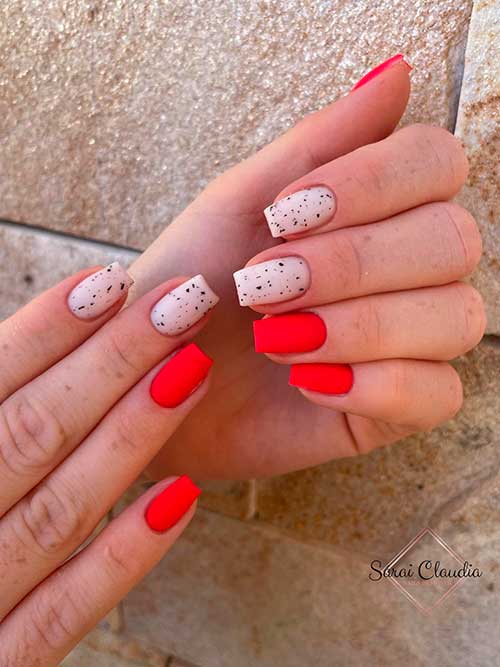 8. Short Red Valentine's Nails
There's nothing quite like a cute red nail design idea for Valentine's Day. So, you can recreate this simple nail design that features short red nails with tiny red hearts and gold glitter on two nude pink accent nails.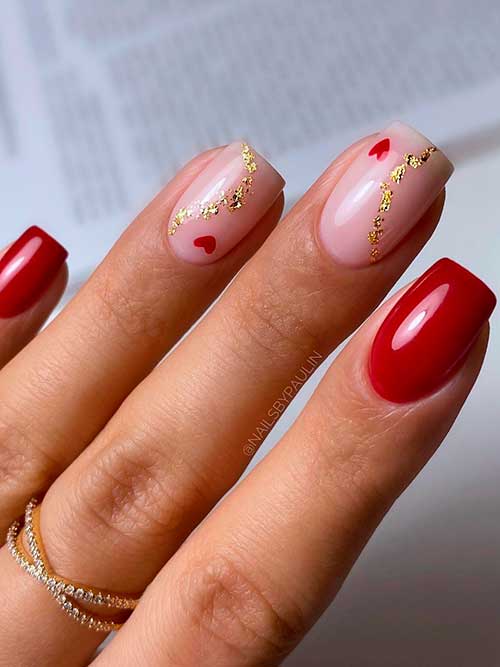 9. Gorgeous Red Nails with Glitter, Rhinestones, and Nude Accent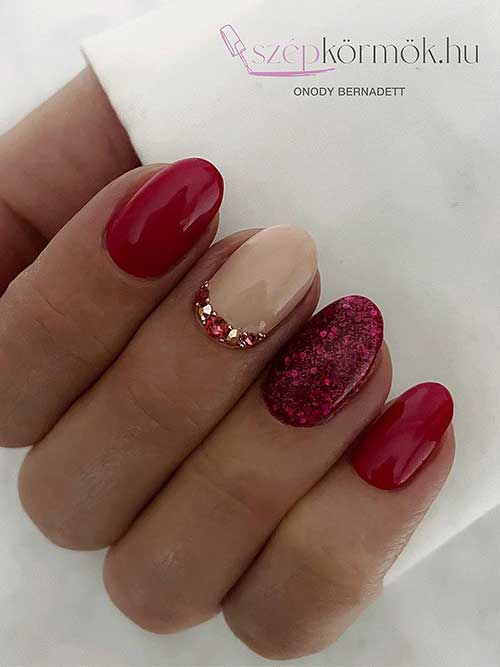 Indeed, red nail designs with glitter and rhinestones always attract attention and are a great choice for Valentine's Day. Also, you can add an accent nude nail to your design to make it more attractive.
10. Glossy Short Red Nails with Tiny Flowers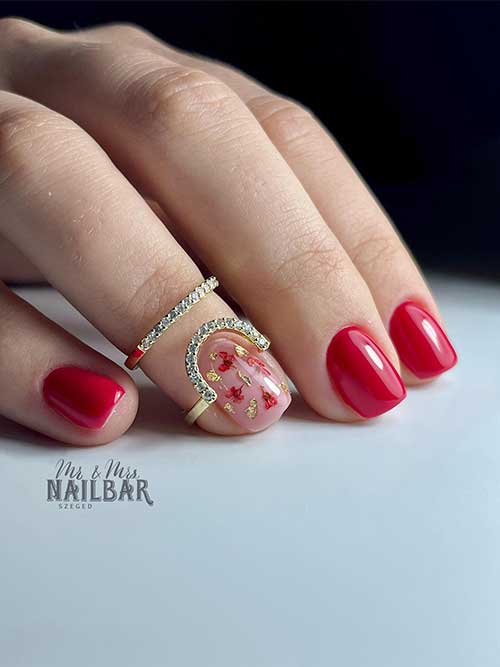 Adding decorations like tiny flowers and gold patches can make the design more beautiful and interesting. Besides, this nail design suits springtime.
11. Romantic Red Nails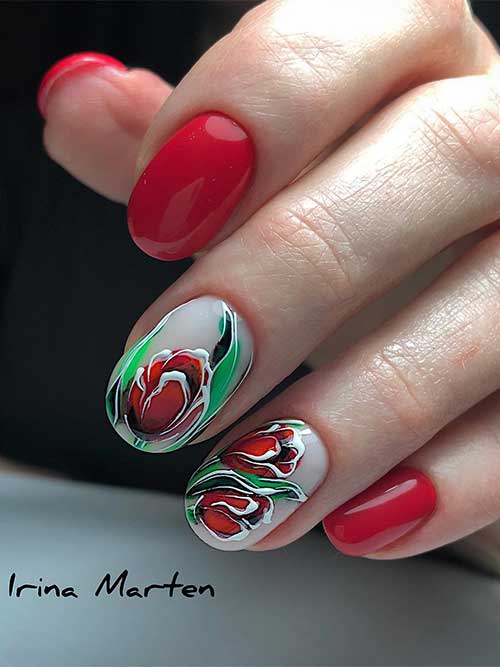 If you want to change the look of your red short nails into a romantic mood, you can try red flowers on nude accent nails. This will give your manicure a romantic feel that suits Valentine's Day!
To Conclude
Last, red nail designs are a lot and work all the time, especially on valentines Day dates. So, it's time to shop online for the red shade of nail polish you prefer and copy your fav nail shape and design from the above collection.
Furthermore, we made some posts about the latest nail polish collections that will help you decide on the best red nail polish shade. Especially, the post "Essie Not Red-Y for Bed Collection" will make you get inspired.