As the leaves begin to change and the air turns crisp, it's time to update your nail game with some fabulous fall-inspired designs. If you're a fan of purple nail color shades, you're in luck! We've curated a collection of stunning purple fall nails ideas that will have you feeling chic and on-trend this season. From matte finishes to glittery accents, there's something for everyone to try. Let's dive into the world of purple fall nails and get inspired!
1. Purple Fall Nails with Leaf Nail Art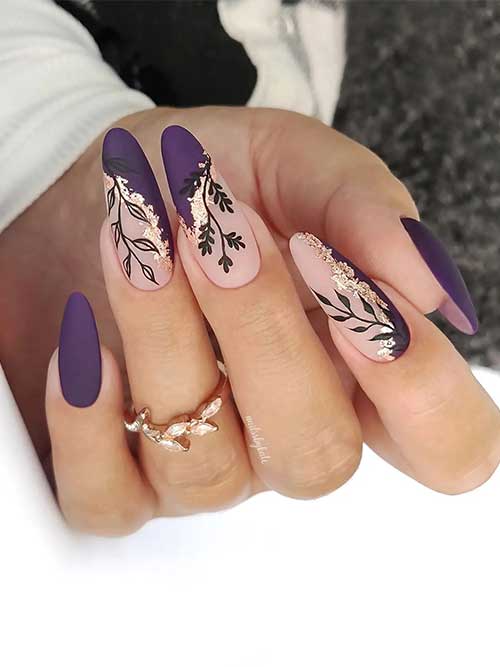 For a sophisticated and elegant look, start with long matte purple nails. Opt for a deep shade of purple that captures the essence of fall. To add some visual interest, incorporate negative space by leaving a portion of your nails bare. Adorn the negative space with delicate black leaf nail art, bringing a touch of nature to your fingertips. For an extra dose of glamour, apply gold foil flakes to complete the look.
2. Matte Purple Nails with Abstract Nail Art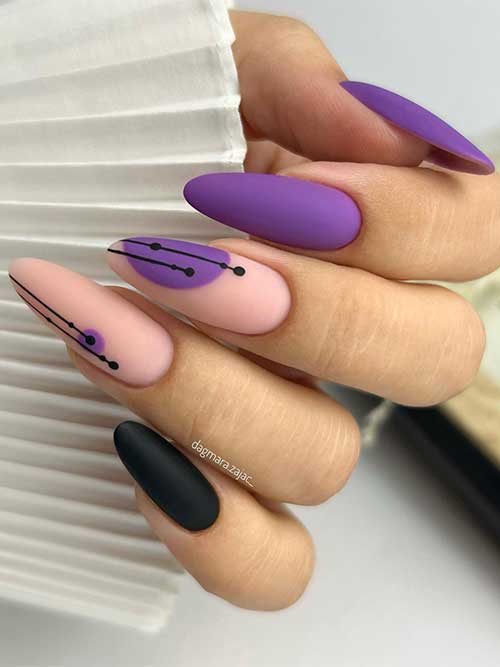 If you prefer a more edgy and artistic design, consider matte purple almond-shaped nails. This nail shape elongates your fingers and adds a touch of allure to your manicure. Choose one nail to be the accent nail and paint it black for a bold contrast. On the remaining two accent nails, unleash your creativity with abstract nail art using a complementary nude base color shade. The combination of matte purple and abstract art will make a unique statement this fall.
3. Short Purple Fall Nails with Black Leaf Nail Art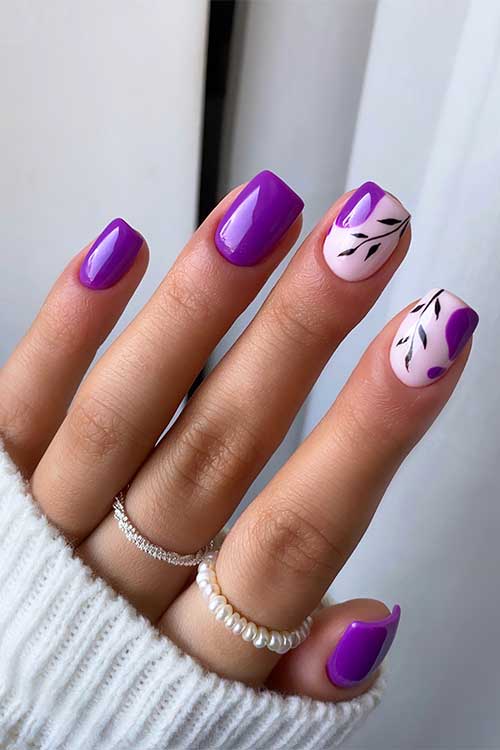 Short nails can still be fabulous! Embrace the short square shape and coat your nails in a rich purple hue that exudes autumn vibes. To elevate the look, select two accent nails and decorate them with delicate black leaf nail art. The contrast between the light purple base and the black leaves adds dimension and interest to your manicure, while still keeping it chic and sophisticated.
4. Light Purple Nail Design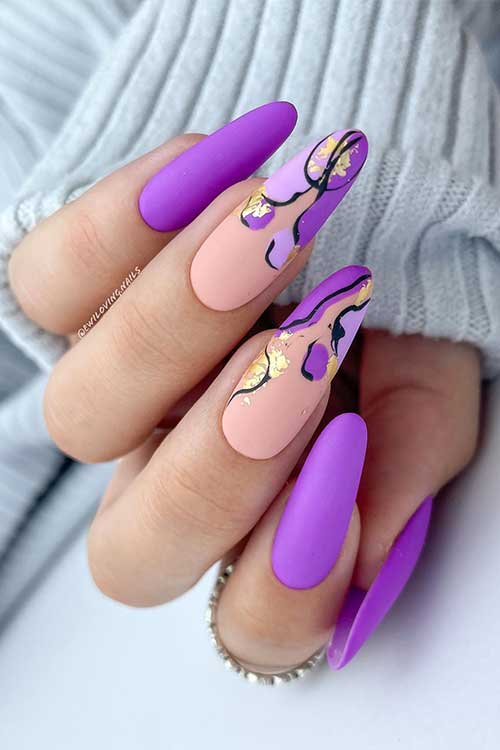 For those who love a softer and more ethereal look, try long matte light purple nails. This delicate shade of purple captures the essence of the season without overpowering your overall aesthetic. Take it a step further by incorporating abstract nail art using black, lilac, and light purple nail colors. The combination of these hues creates a dreamy and artistic effect. To add a touch of glamour, adorn your nails with some gold foil flakes for a subtle yet eye-catching accent.
5. Long Glittery Purple Fall Nails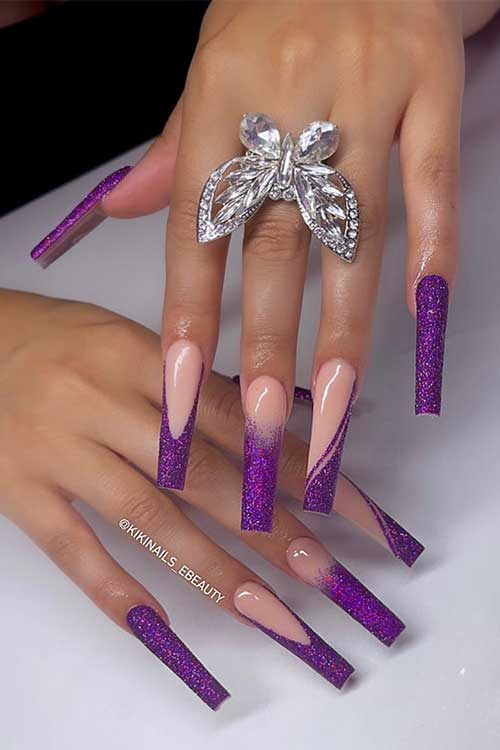 If you want to make a statement with your fall manicure, go for long glittery purple nails. The sparkle and shine of the glitter will catch everyone's attention. To add a classic twist, incorporate French accents to a couple of your nails. Use different French manicure styles, such as classic, ombre, and diagonal for a more attractive look. Of course, the combination of glitter and French accents creates a glamorous and elegant look that's perfect for any occasion.
6. Cat Eye Nails Purple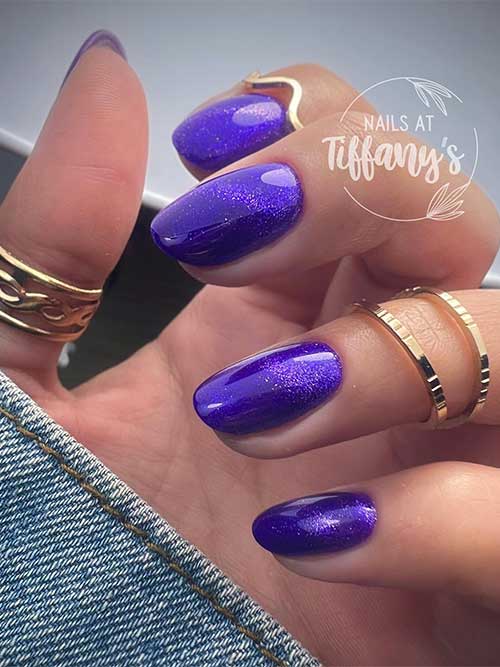 For a playful and trendy look, opt for short purple cat eye nails. This magnetic nail polish creates a mesmerizing effect that resembles the eyes of a cat. The unique pattern and shine of the cat eye nails make them a perfect choice for fall. To add some extra flair, apply a touch of glitter to your manicure. The combination of the cat eye effect and glitter will make your manicure stand out from the crowd.
7. Lovely French Purple Manicure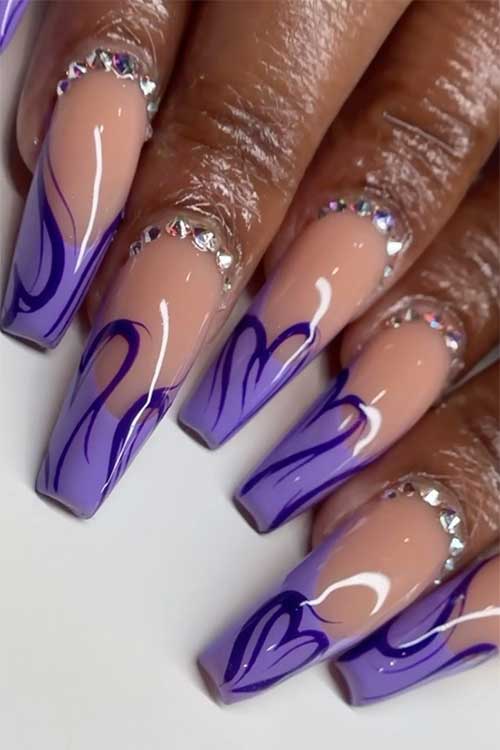 For a romantic and enchanting look, go for long coffin-shaped French purple nails. Paint your nails in a rich purple shade and create dark purple curvy lines that form heart shapes. The curvy lines add a whimsical touch to your manicure and make it perfect for the fall season. To elevate the design further, adorn your nails with silver rhinestones. The rhinestones will catch the light and add a touch of glamour to your nails.
8. Ombre Purple Fall Nails with Glitter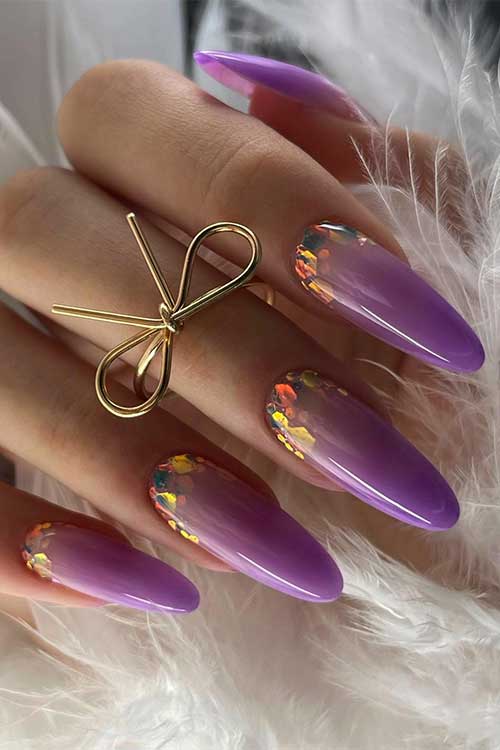 Ombre nails are always a popular choice, and they're perfect for transitioning from summer to fall. Opt for long almond-shaped nails and create a stunning ombre effect using different shades of purple. Start with a lighter purple at the base and gradually fade to a deep shade towards the tips. To add some pizzazz, encapsulate glitter in different colors within the ombre design. Indeed, the encapsulated glitter adds depth and dimension to your manicure, making it a true showstopper.
9. Short Different Shades of Purple Fall Nails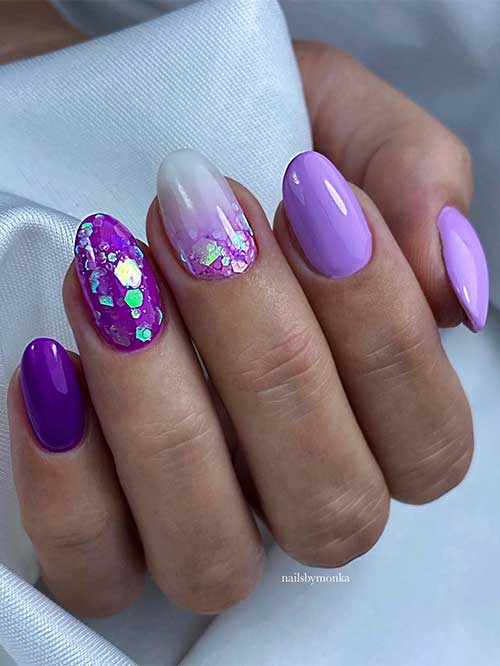 If you're a fan of variety and want a fun and playful look, try short nails in different shades of purple. Select a range of purple hues, from dark and rich to light and pastel. Paint each nail a different shade to create a colorful and vibrant manicure. To add some sparkle, incorporate glitter on a few nails, creating a dazzling effect. For an accent nail, paint it white and add a touch of glitter for a pop of contrast. This manicure allows you to embrace multiple shades of purple while adding a touch of whimsy with the glitter accents.
10. Purple Monochromatic Nails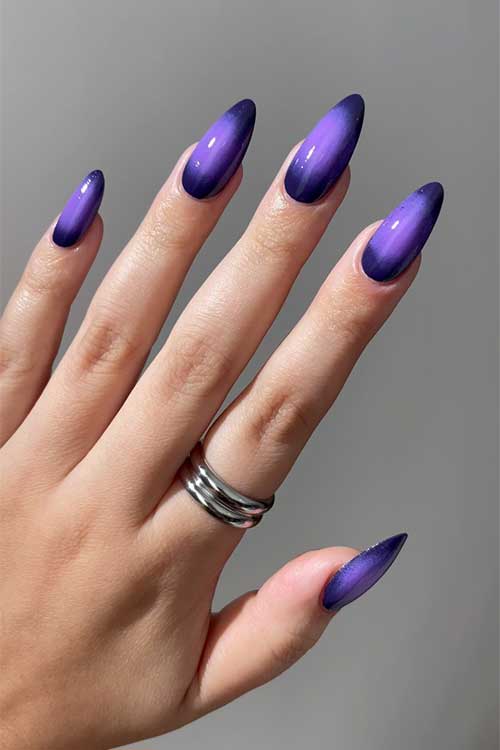 For a seamless transition from summer to fall, opt for long almond-shaped nails in a monochromatic purple palette. Choose two different purple shades, from light to deep hue. Create an ombre effect from light shade to dark shade or vice versa. This monochromatic look exudes elegance and sophistication, making it a versatile choice for any occasion.
To Conclude
Embrace the beauty of autumn with these stunning purple fall nails. From matte finishes to glittery accents, there's a design for every style and preference. Whether you prefer long nails or short nails, bold designs, or subtle touches, these ideas will help you create a manicure that reflects the spirit of the autumn season. So, go ahead and experiment with these purple fall nails ideas to showcase your creativity and stay fashionable during the cooler months.