Fall is one of the most colorful seasons, and you can make your fall nails reflect the colors of the season with unique designs. The golden leaves, bright orange pumpkins, and emerald touches of the season make it an ideal time to use colorful nail designs. You don't have to adhere to a strict gradient when you use fall-inspired designs. Besides, they are great for any occasion.
The popular color for fall is mustard, and it is a stunning nail color that will look great everywhere. Its yellow-toned green color looks amazing with almost any skin tone and looks great when paired with shades of brown, gray, and blue. Just choose your favorite one from the stunning fall-themed nails below!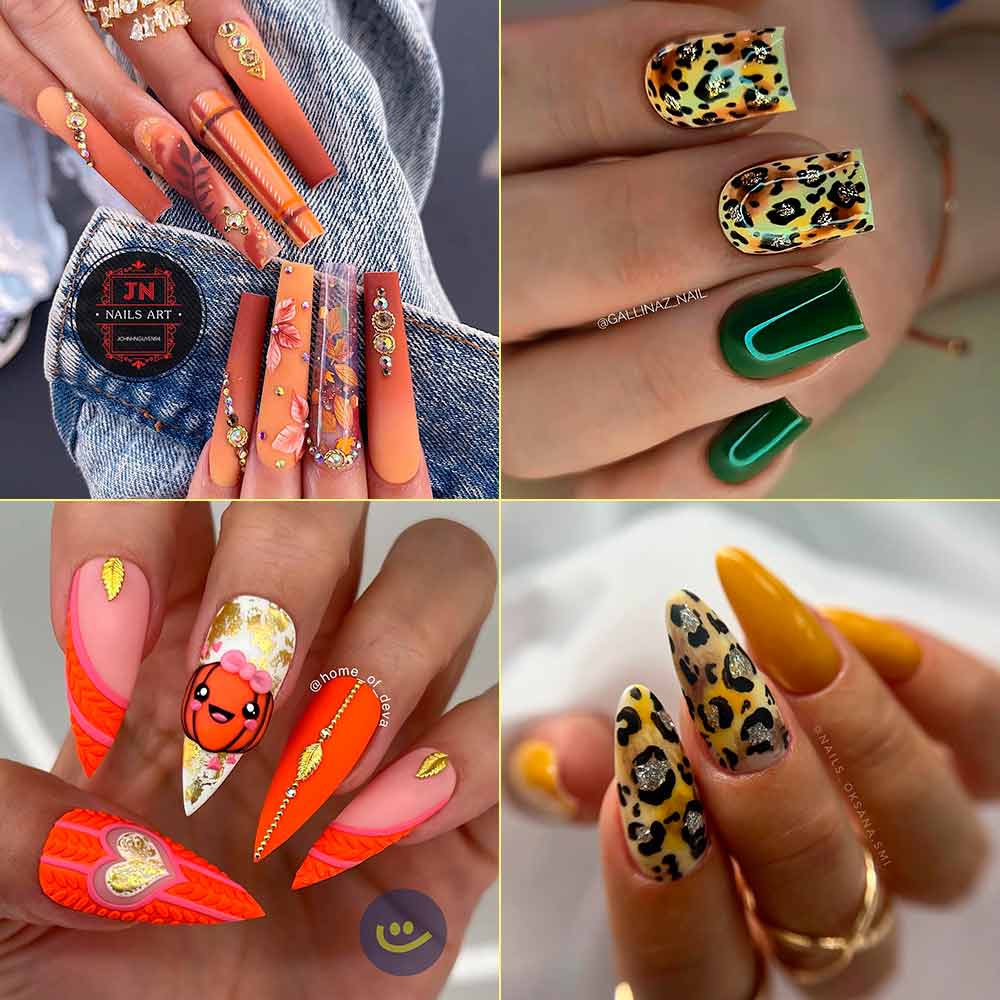 1. Maple Leaf Fall Nail Art Designs
One of the most popular fall nail art designs is the maple leaf. Also, this leaf has a unique shape, and the vibrant colors of fall make it a beautiful design for nails. Besides, maple leaf fall nail art pairs well with nail polishes in the same hues as foliage.
Matte ombre brown fall nails with maple leaf nail art design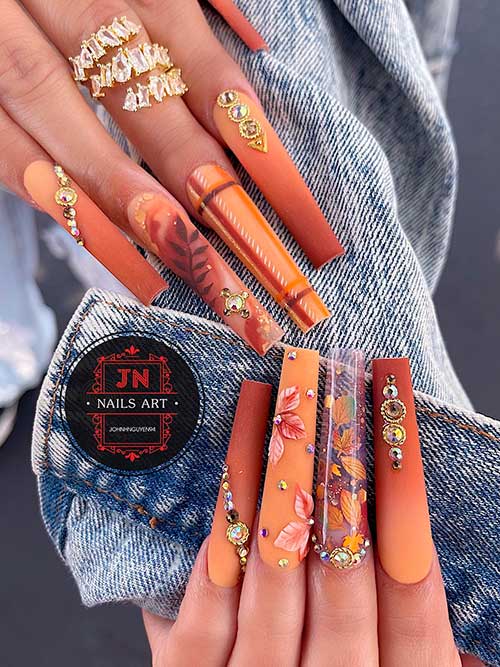 Still, ombre nail designs are extremely chic and versatile, and you can use them throughout the fall season. A warm cream base can be used to create the perfect base color for this style. Then, you can create a gradient of lighter to darker colors to create stunning fall nail ideas.
Spooky nude French tip nails with maple leaves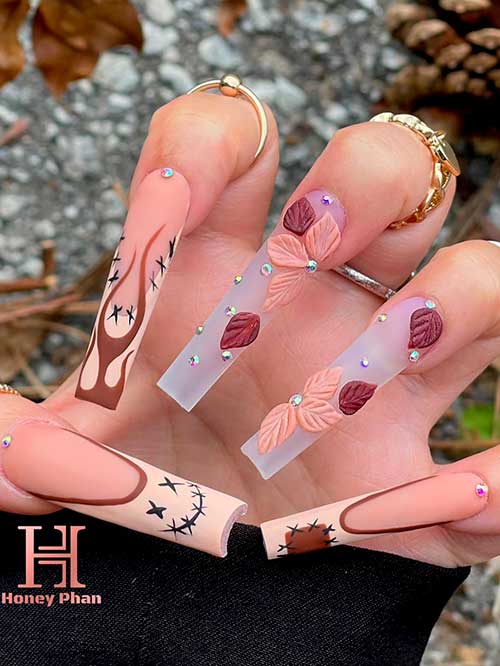 If you love the haunting and scary atmosphere of Halloween, this Spooky Nude French matte Fall Nails design is perfect for you! Besides, the design features maple leaf nail art on two bare accent nails adorned with rhinestones.
Autumnal matte ombre nail colors with maple leaf nail art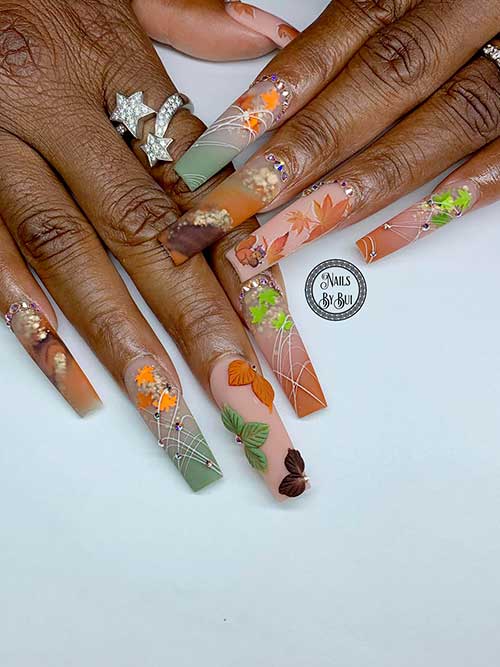 Fall is a great time to wear ombre nail colors. Whether you're wearing neutrals or bold, vibrant colors. Of course, ombre nails are a great nail style to add some seasonal flare to your look. While they're beautiful on their own, these ombre nails are even more dramatic when decorated with 3D maple leaves and rhinestones.
Brown fall nails with maple leaves and gold glitter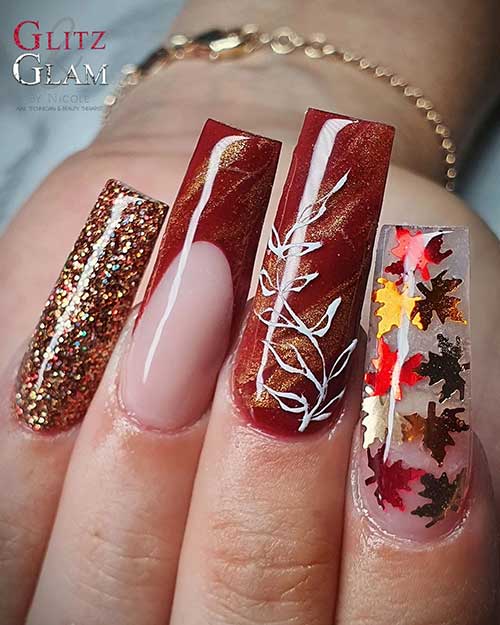 Indeed, these brown fall nails with maple leaves and gold glitter is a perfect nail art design for autumn. The warm brown shade is reminiscent of falling leaves and the changing colors of the season. The addition of maple leaves painted on the nails adds a touch of nature and rustic charm to the design. The gold glitter accentuates the beauty of the leaves and adds a touch of glamor to the overall look.
So, this nail design is perfect for those who want to embrace the beauty of autumn and add a touch of elegance to their nails.
2. Pumpkin Fall Nails
There are many ways to create a unique fall nail art design. Indeed, these pumpkin nail designs can be fun and easy to do. You don't have to be super artistic to create them, and you can also alternate colors if you want. A classic look is the pumpkin face, and you can go for acrylics or gel manicures.
Stiletto pumpkin nails with gold leaf and sweater nail art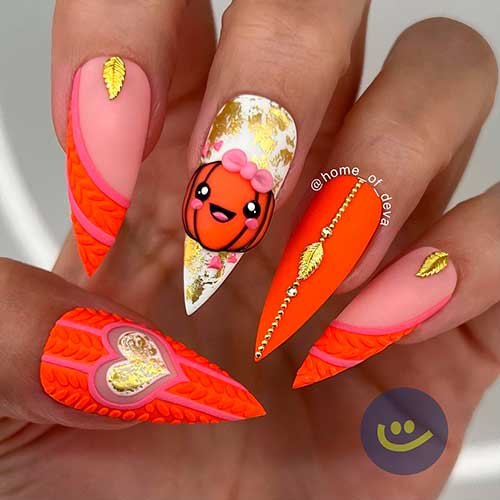 When the Halloween season rolls around, don't leave your nails out of the fun. This cute matte fall nails design features stiletto pumpkin nails with a sweater and leaf gold nail art. So, try this fun design and enjoy the spooky season.
Nude fall nails with pumpkin tips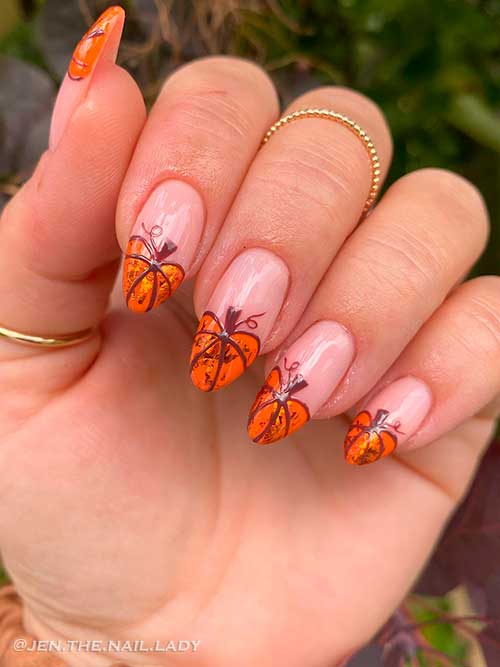 A classic Halloween nail design is one with pumpkins and orange, but this year you can tone it down and go with a more subtle design. So, you can create a fun Halloween look by using nude base color nails in combination with pumpkin shapes on the tips. Of course, the contrast between the two colors makes the nail design stand out.
Witchy pumpkin nail art design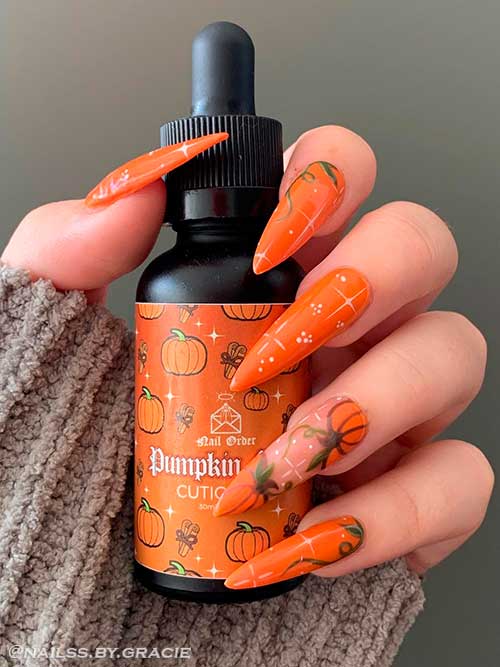 You can transform yourself into a witch with pumpkin Halloween nail art. This nail design is great fun and lets you channel your inner witch. Using orange, green, black, and white nail polishes, you can draw the pumpkin-witch design on your fingernails.
Pink pumpkin with black spider web nail art on a nude base color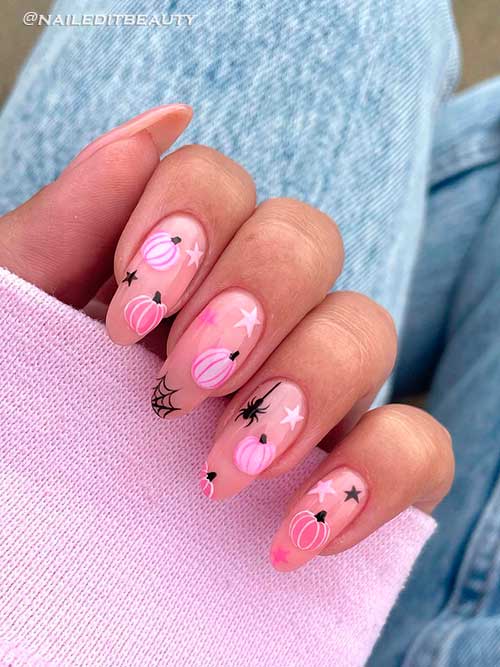 This Halloween nail art is very simple and is worth wearing on Halloween occasions. Simply paint your nails a nude base color and use a black spider web to decorate it. Then you can use different pink shades to draw pumpkins. Also, you can even add a cute spider ring to your nails to complete the look.
Pumpkin patch manicure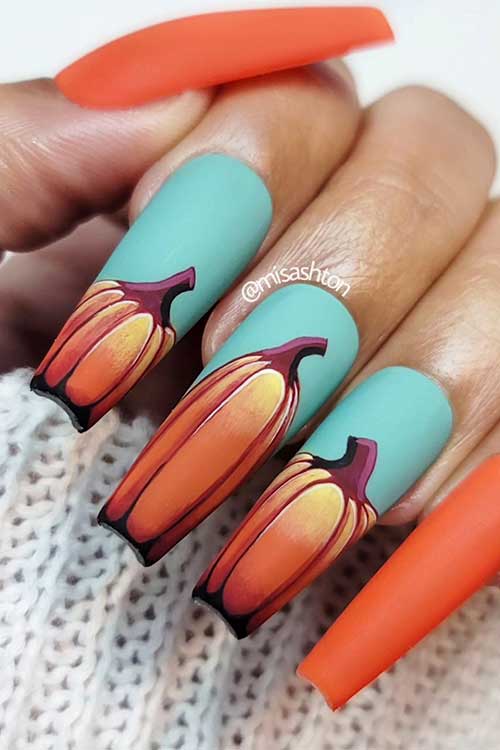 These long matte coffin fall nails, featuring a captivating combination of burnt orange with hand-painted pumpkins on three light green-blue accent nails, are a stunning choice for the autumn season. Indeed, the hand-painted pumpkins add a delightful and whimsical touch, symbolizing the festive spirit of fall.
3. Mustard Yellow Fall Nails
Mustard color is one of the most attractive colors of the season. Because it is a beautiful and versatile shade that looks great on any skin tone. In addition, there are many ways to apply this color to your nails, including creating patterns and geometric designs.
Glossy and matte mustard nails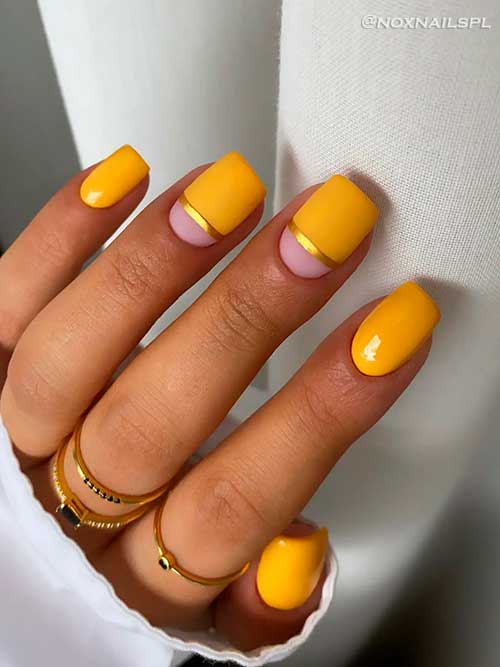 A mustard hue is a vibrant and cheerful addition to nail art. This warm, yellow-toned green will complement a wide variety of outfits and can even stand alone as its own nail design. So, it will be a great selection for the fall season to recreate this nail art design above!
Mustard yellow fall nails with black leopard prints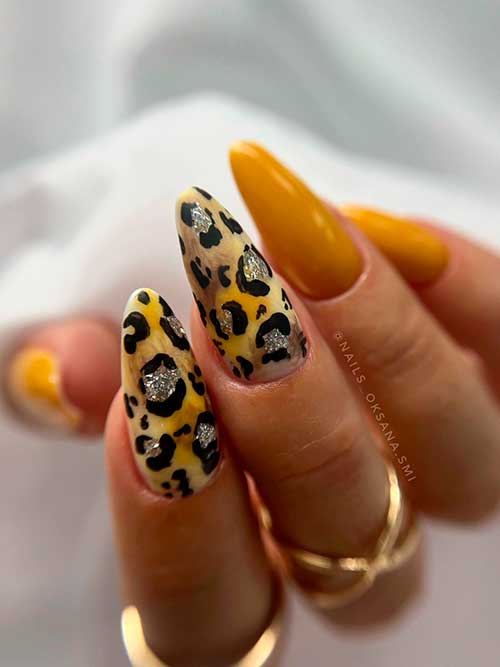 The mustard color is one of the biggest trends for autumn, and mustard nails can be a beautiful way to show off your autumnal spirit. These mustard nails with leopard accents look chic and stylish on any skin tone. Also, they are a great way to bring in the autumnal spirit without overdoing it.
Short mustard fall nails with black dots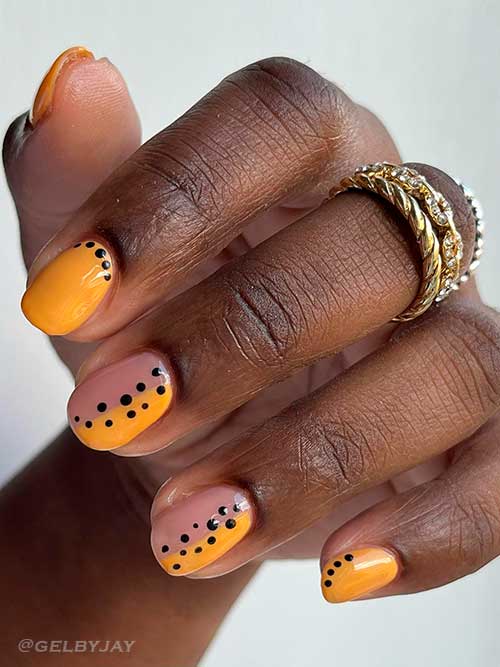 Indeed, mustard nails are a popular choice for the fall season. They are simple yet effective. Additionally, the warm, yellow tone of this color is flattering to all skin tones and works well with many other colors. This simple mustard fall design with black dots will suit all short-nail lovers.
4. Autumnal Animal Print Nails
Leopard, cow, and other animal print nails are all on-trend this fall. Try using them on an accent nail or pair them with autumnal colors and some decorations to make them extra special.
Elegant burgundy fall nails with leopard prints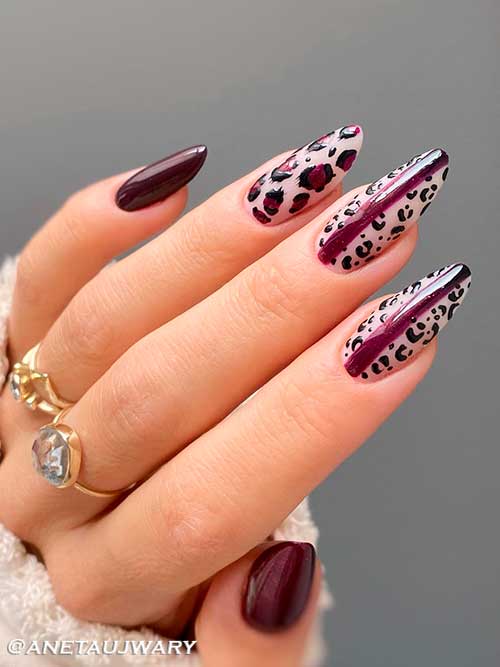 Leopard print is a perennial favorite in the fashion world. So, if you're looking for a playful yet sophisticated look for your nails, leopard print is a great choice. And this design features burgundy almond nails with black leopard prints on nude pink base accent nails.
Leopard fall manicure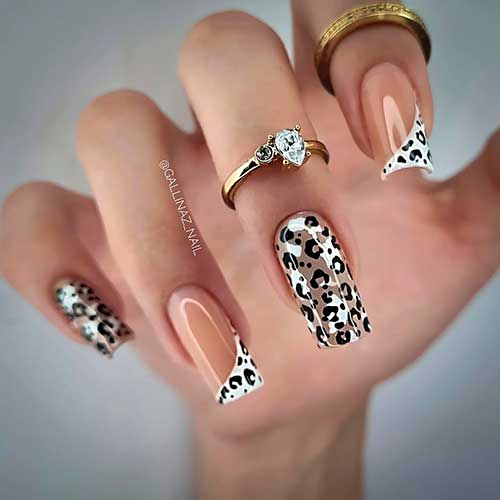 The leopard print on your nails is a classic look that's not only eye-catching but also extremely versatile. Besides, it can be used to accent various nail shapes. In addition, you can create a look that definitely will suit you. So, you can try these black leopard prints in nude base color with two white diagonal French accent nails this fall season.
Dark green nails with black leopard print accents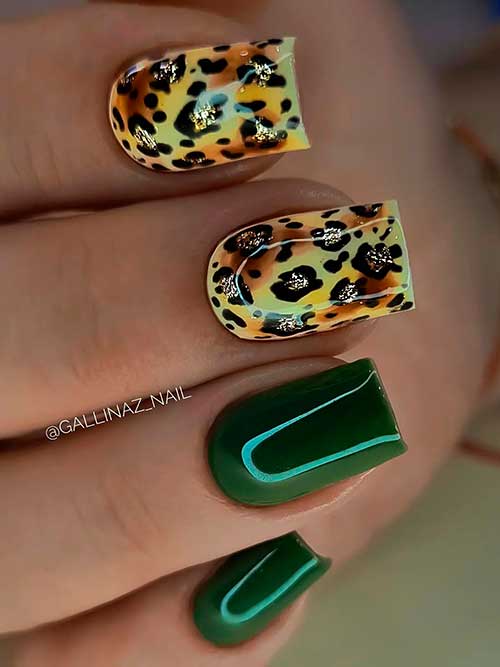 Leopard print has been a favorite of the fashion world for decades. Indeed, this unique pattern adds fun and style to any manicure. So, you can choose from several different shades of leopard print and have your nails looking stunning in no time! This design is awesome all year round and can complement any type of nail shape.
Its versatility is a plus because it works with a number of colors such as dark green and looks great when applied on yellowish base color with brown patches like this amazing design above!
5. Cute Fall Nails with Leaf Nail Art
If you love the colors of fall, there are several nail art designs that feature fall leaves. Leaf nail designs can be done in a variety of shades, from burgundy to olive. You can also create a unique design by combining different colors to make a bold statement. The possibilities are endless, and the designs will look great on any nail.
Long almond-shaped nails with leaf nail art on two accent pink nails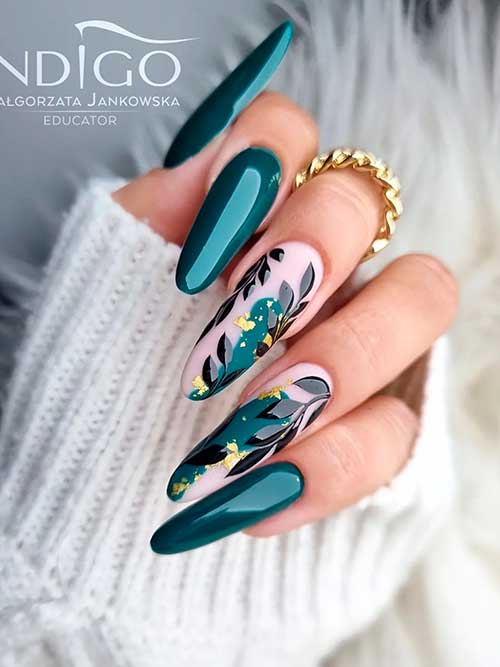 Dark green nail designs are very versatile and can be worn in many seasons. They can also complement different types of outfits, from simple to elegant. With the addition of gold glitter, these nail designs can show your simple yet chic side. This beautiful nail art design also accentuates your nail painting skills.
Burgundy ombre fall nail design with leaf nail art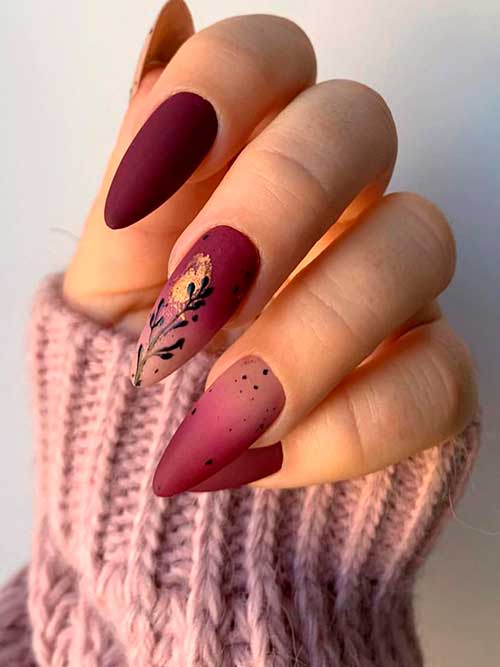 This burgundy nail art design with leaf nail art combines the beauty of autumn with a pop of color. Of course, this burgundy nail paint is best suited for your ring and middle fingernails in matte ombre style.
This nail design will be great for any occasion and outfit. Whether you're attending a holiday party or going to a holiday party, burgundy nails will never go out of style. You can even add crystals to the ring finger for a festive flair.
Olive green nails with leaf nail art accents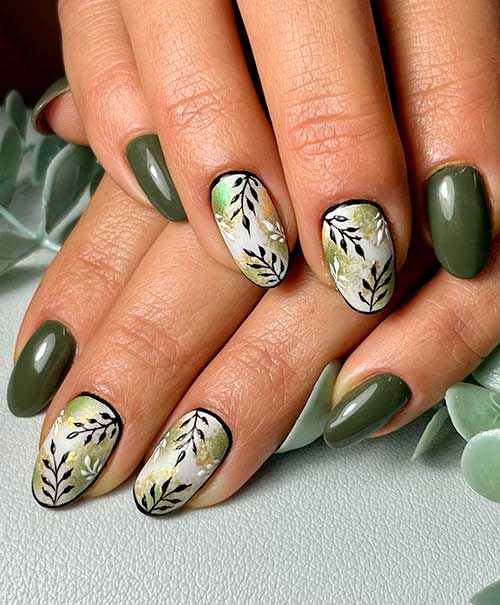 Olive leaf nail art designs are classic and elegant, perfect for both formal and casual events. Also, the color goes well with white and nude. It can be used in patterns or negative spaces, and can even be decorated with glitter or stones. Olive green is also a great selection for those who want a more funky look.
At last, Fall is the perfect time to add subtle hues to your nails. This season is known for muted colors like muted golds, browns, and greens. Using these colors will create a fun and festive look for your nails. So, it's time to choose your favorite one to recreate!