Fall is a wonderful time of year for beauty and style. Of course, the weather is cooler, and the leaves are changing, and what better way to celebrate than to try your hand at a new manicure? Whether you want to wear a modern French manicure or something bolder, you will find the perfect fall nail ideas to inspire your next manicure.
Fortunately, fall nail inspiration is here. From the muted shades of fall nail stamping to the ever-popular fall nail polishes, the warm hues of autumn are definitely on everyone's minds. As the temperature drops, your mood will no doubt start to match the weather. Fall is the perfect time to embrace your inner goth with your nails.

So, you can either go with the traditional dark shades of the season or choose a brighter shade to bring out your inner sunshine. Whether you go for a dark-colored manicure or a bright one, make sure to leave your nails looking fresh and clean. So, here are some inspirations that you can use if you want to get fall nail ideas and perfect fall nails to try:
1. Combination of Orange and Gold Tones
With the fall in full swing, many of us transition from summer to fall nail trends. Indeed, we are in full-on pumpkin spice mode, in need of fall in our lives, in need of the cooler weather in September, when the days are getting shorter, and when everyone needs a little change in their lives. So, This combination of orange with some gold and stones would be a great nail color for you in the season.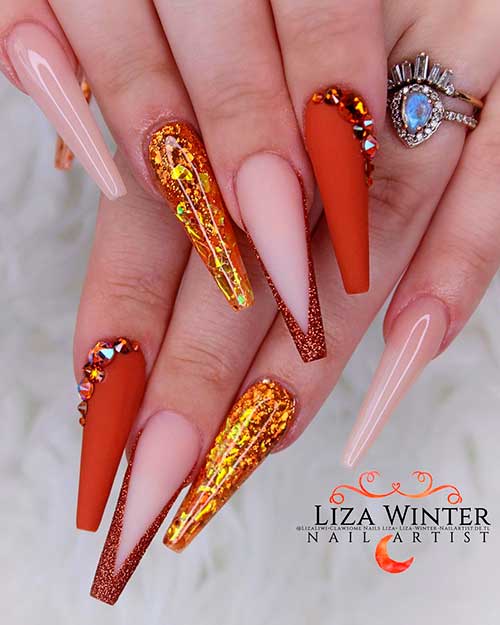 2. Mix and Match Simple Nail Colors and Design
Nail polish colors are so much fun to mix and match, whether it's for yourself or a friend. So, you should find a color you like but don't have enough of, or match a color you already have but don't love. The beauty of nail polish is that it's easy to change up your colors, and you can make them pretty without a lot of effort. So, this black and orange nail art design is really good if you are not too girly and feminine. The design shows some roughness and versatility.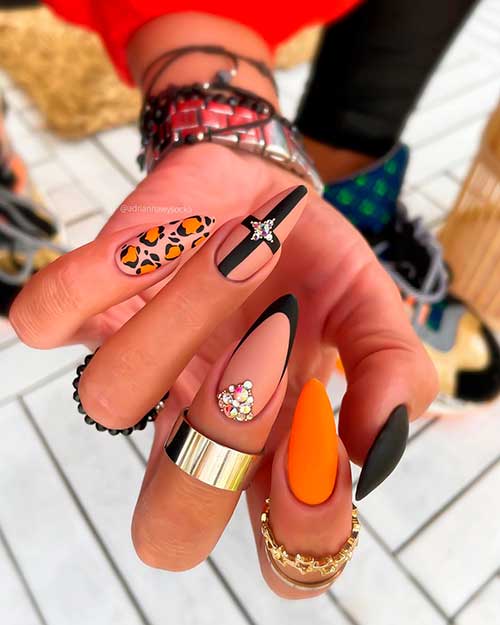 3. Classic White and Gold Fall Nail Ideas
If you're like me and you're looking for a manicure that is all warm and cozy but also classy, this one is for you. So, go bold and classic with these easy and classic Fall nail ideas with a warm and fuzzy feeling. Of course, this design shows simplicity but with a touch of elegance.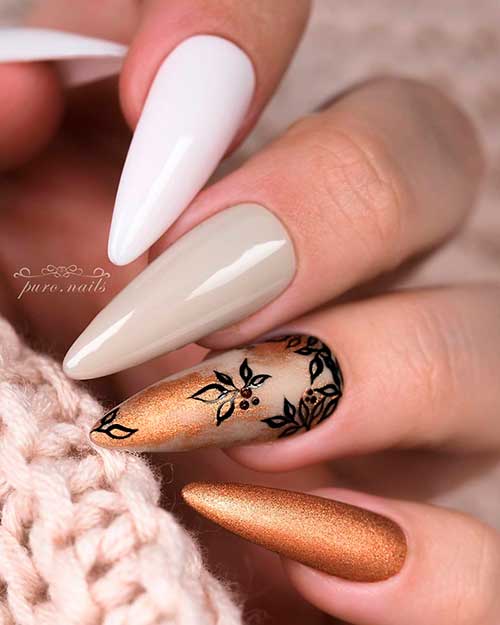 4. Rustic Red Nail Art
Indeed, this rustic red nail art is really good for the fall. Besides the color is perfect and classy, and the animal print nail art is so elegant to adorn your wonderful hands perfectly.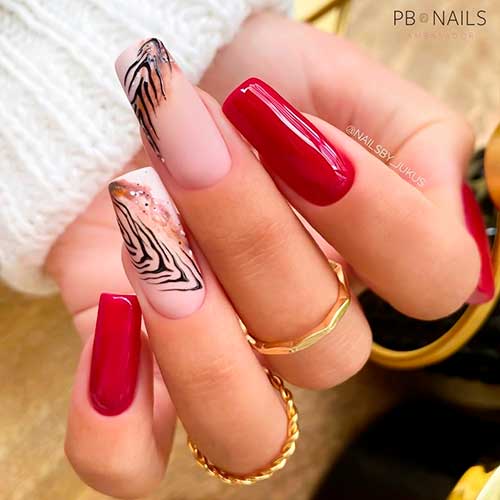 5. Pale Purple With Leaves Fall Nail Ideas
This season, give your nails a little extra oomph and surprise your friends and family with a pale purple and gold nail art design. So, you should try this on your nails and see how it will improve your hands' overall look.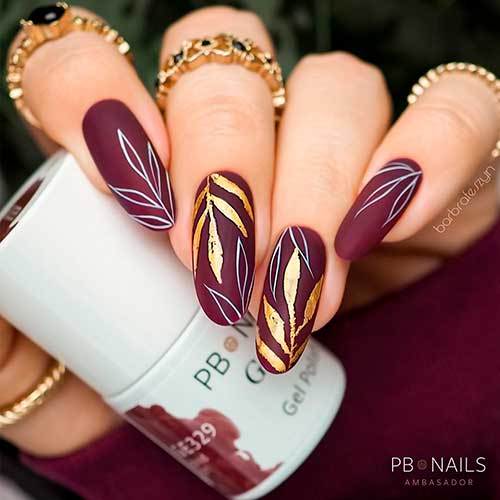 This fall, orange is the ultimate color to wear, whether it's in your hair, on your nails, or wherever you can find it. So, you should try an orange design this autumn with these vibrant and glittery orange nail art ideas.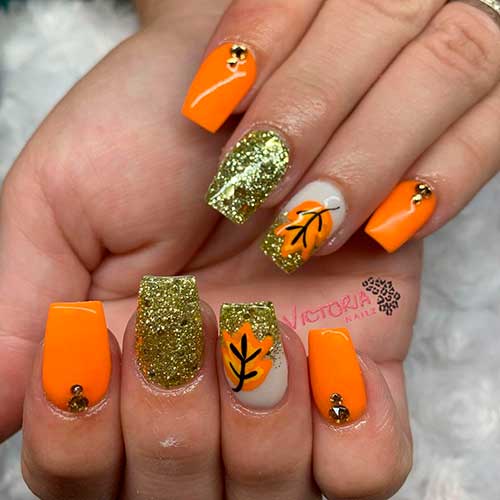 7. Tender Yellow and Orange Fall Nail Ideas
Fall is fast approaching, and that means that, soon enough, it's time for us to switch up our nail colors. As the temperatures cool, it's time for us to cramp up our toes. So, it's the perfect time to switch our nail colors to something like the tender yellow and orange fall coffin nails below. Indeed, it is perfect for your autumn or fall season moods.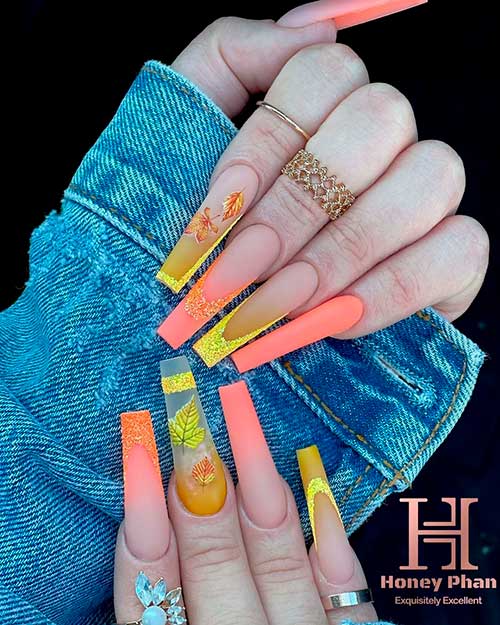 8. Chic Glittery Fall Nails
This season, nail polish is all about glitter, shiny glitters, and other glitters that are more sparkly like this pollen unicorn on accent fall leaves nails. So, if you love plants and if you love green, this is the perfect nail polish for you. Of course, this nail art is very simple to do, and you can just put the accent very easily.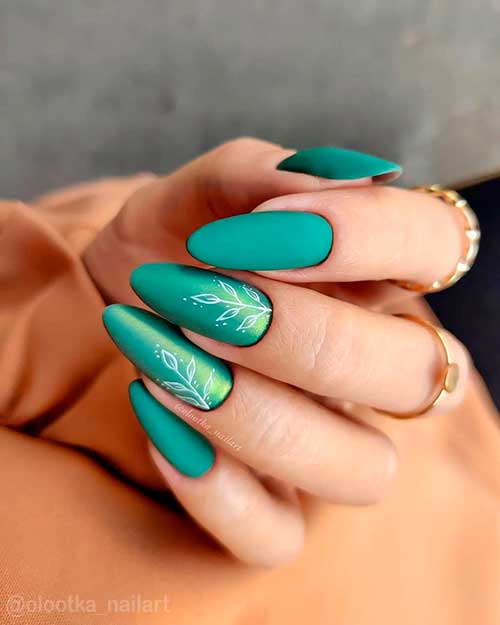 9. Glam Fall Nail Ideas: Red Wine Nails
A classic fall nail idea; bloody red wine nails are really attractive. Indeed, it's the most popular of these colors, with a deep, almost brown, tone. So, you will love this, and this will surely complement any complexion.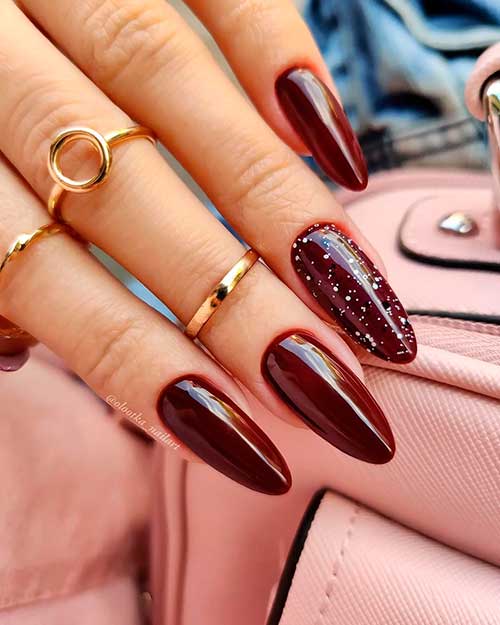 10. Leopard Print and Orange Fall Nails
As you gear up for the fall, let's look at the trends dominating the nail trends this season. Leopard print makes its way into nail polish trends this fall. Orange is another trend that should be prominent in your fall makeup.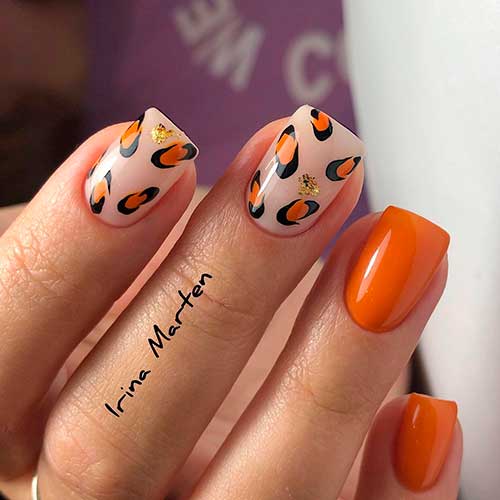 11. Glittery White, Pumpkin, and Animal Print Accent
Nail polish has become the accessory du jour, whether it's glittery, color-saturated, or full of patterns. But while the vast majority of us have added glitter to our manicures, many prefer to go pure white. So, how do you pick the right color for your nails without looking like you're wearing all white? Well, check out the design below and use it in your next nail polish.
12. Subtle Red Orange Fall Nail Ideas
We all have those friends, family members, and colleagues who have a love for a certain color. Some of us obsess over a beautiful shade of blue or a vibrant red, while others can't seem to get enough of a certain rustic brown. Of course, for me, it's a shade of red and orange, just like the sample below.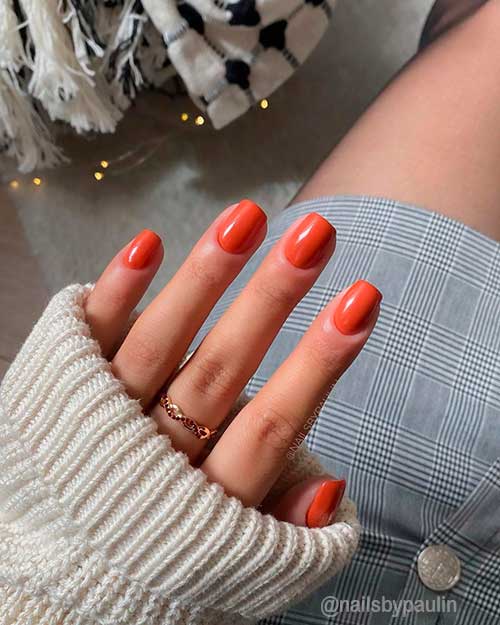 13. Mixed Earth Tones Fall Nails
Mixed Earth Tones is a beautiful pigment that works well with all-season nail polish. Furthermore, it is a mix of earthy grey, green and brown tones with some gold tones to give the polish a deep, dark undertone.
So, mixed earth tones are perfect for giving your nails a great look. Additionally, there are so many amazing shades to choose from at nail polish for the Autumn and Fall seasons. Also, you can go for traditional colors or try something new.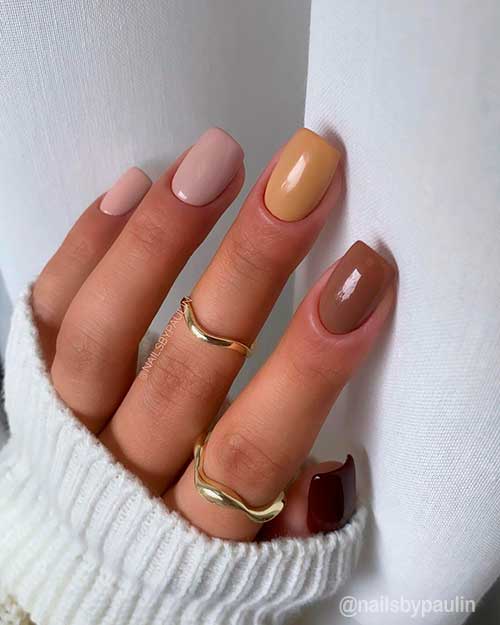 Beautiful brown, beige, and Black Autumn Nails
These long glossy mixed earth-color nails are the perfect choice that suits most fall outfits for women. So, try this nail art design especially if you love long square shaped nails.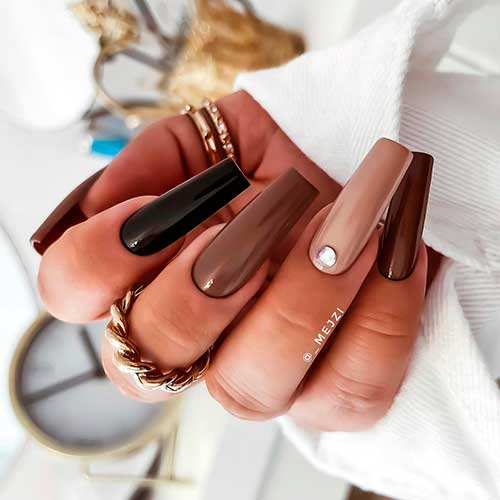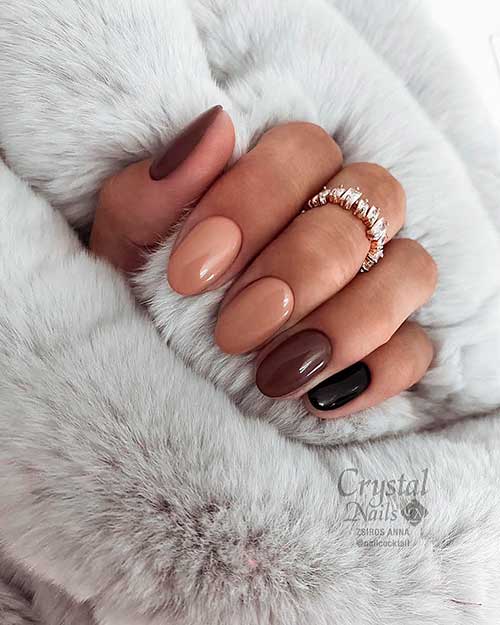 14. Classy Yellow Orange Nail Color with Fall Leaves
This autumn, take a cue from the trees and paint your nails to look like they've been dipped in bright, leafy gold. For the best results, choose a yellow-orange color in a creamy or satiny finish.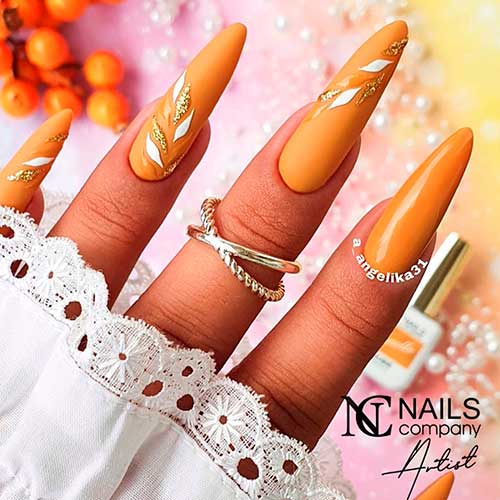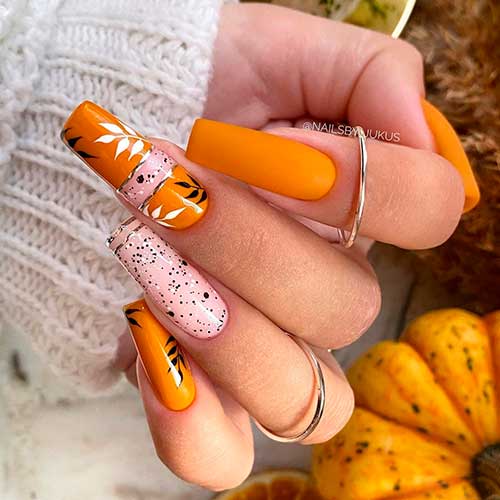 15. Rustic and Earth-Toned Fall Nails
The fall season is coming, and all sorts of colors, like yellow, orange, olive green, and rust, come with it. But what colors are the best to wear during the fall? Well, that's up to you; there are plenty of colors to choose from.
So, you can wear blues, greens, purples, silver, and even black (although black isn't all that great during the fall season). The colors will change according to your mood your location and your outfit. You can wear these colors for any occasion, but it's best to wear them during the fall season.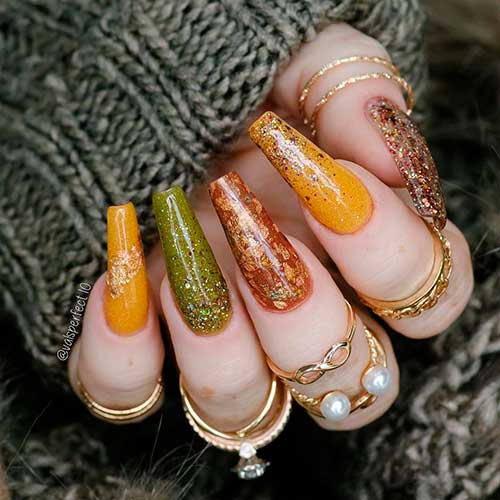 16. Mustard Yellow Nails with Fall Leaves
Mustard yellow looks stunning on any skin tone, especially in the fall time. So, this mustard yellow nail art on almond-shaped nails with fall leaves will be a perfect choice for you.
17. Burnt Orange Short Coffin Fall Nail Ideas
Of course, when eyes glance at burnt orange nail color instantly remember the fall season. So, I really love this themed fall nail design in burnt orange color and a golden leaf on the accent nail.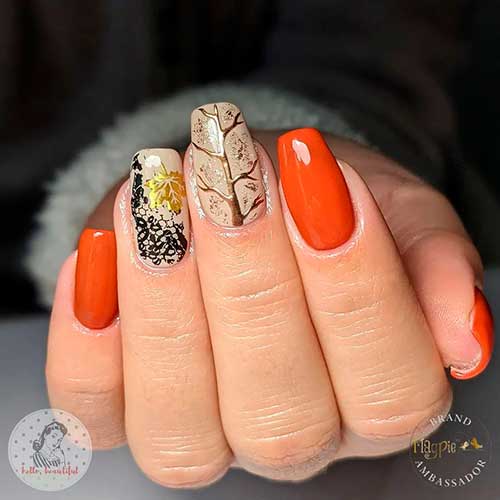 18. Long White Acrylic Nails with Encapsulated Fall Leaves
These are pretty fall nails you will never regret you try them even if you don't like long tips. Indeed, the white nail color when combined with gold glitter and gold encapsulated fall leaves results in a stunning masterpiece.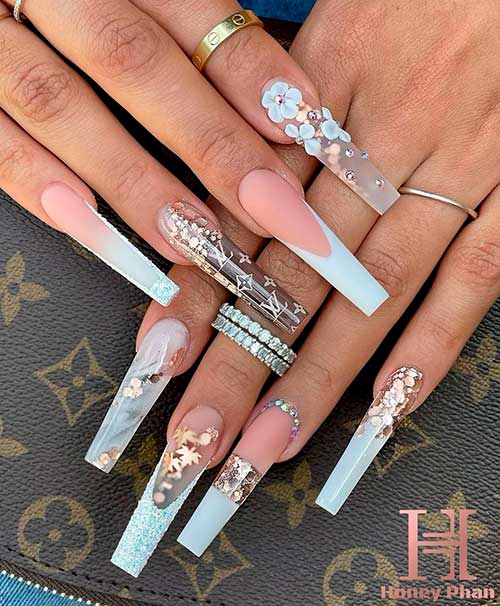 19. Stunning Fall Nails with Golden Patches
This classy nail art design can add real beauty to any woman's hands. Also, I'm in love with this combination between black fall leaves and the gold foil effect.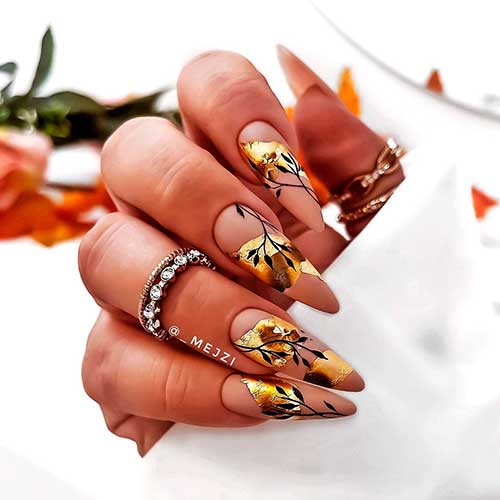 20. Long White and Burnt Orange Sweater Fall Nails
Still, long claws are so attractive although they are not comfy. Indeed, these beautiful nail colors level up the entire nail art design. So, try this design and let your fingernails look different this autumn.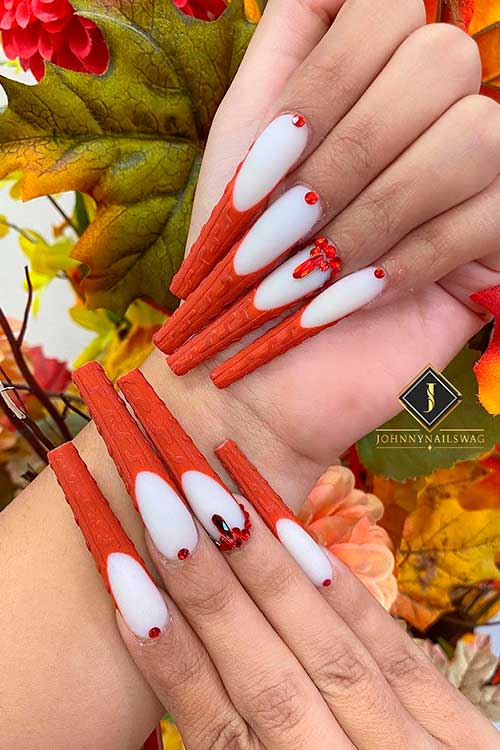 21. Glossy Caramel and Tortoise nails
It's a complicated design but so fun to wear. So, you will need to go to a salon or find a tutorial to DIY. I love the combination of caramel nails, gold glitter, and tortoise nails.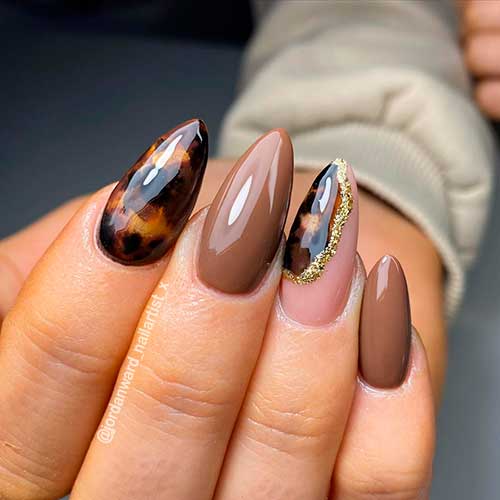 22. Classy Fall Design Nails Almond Shaped
Indeed, this nail art design is so classy because of the amazing combination between red, navy, and nude colors. Also, the golden yellow fall leaves are so beautiful. Besides I'm a big fan of almond shape nails.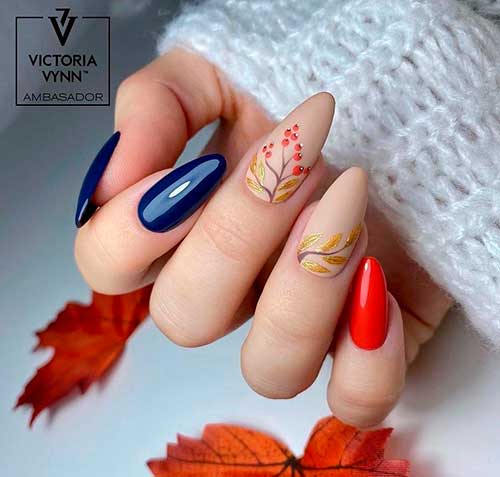 23. Black Autumn Nails with Maple Leaves
If you want something unique for your stiletto nails, consider using a black nail pigment with maple leaves. Besides, it also goes well with most styles. Of course, this fall nail design is a simple one but is still impressive.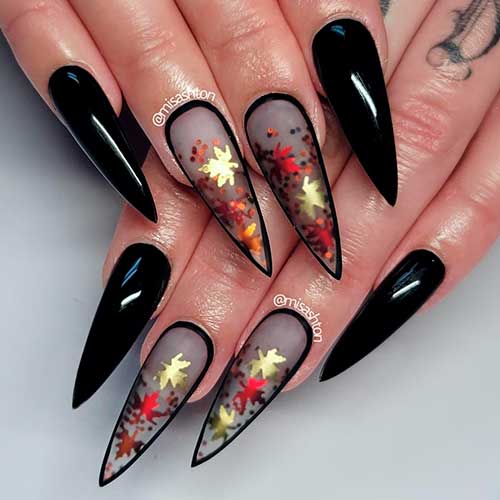 To Conclude
So, do you know now what will be your next nail polish design? At last, enjoy painting your nails using these tips and samples above.