Say bye to the typical, simple, and classic nail designs! Try something bolder and fiercer – fall coffin nails! While it may sound creepy, coffin fall nail designs can enhance your fashion statement and make you the center of attraction. With their round, square, and unique shape, they have a trendy and stylish look for manicures.
They usually curve into the tip and are squared off to achieve edge and visual interest. For those who are bored with plain round nails, coffin fall nail designs are a perfect choice. Now, what are the design ideas you should try this year? Here are awesome different options just for you!
1. Fall Coffin Nails with Leaves and Pro-Matte Topcoat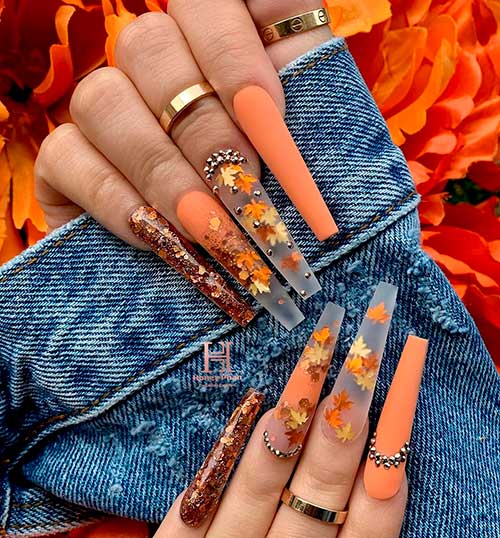 You have already bought new dresses for fall. Your job does not stop there. It's time to transform your nails with this coffin fall design today. While it looks simple, it gets more stunning as days pass by. If you have acrylic powder and a pro matte topcoat, you're all set.
2. Fall Coffin Nails with Maple Leaf and a Black Touch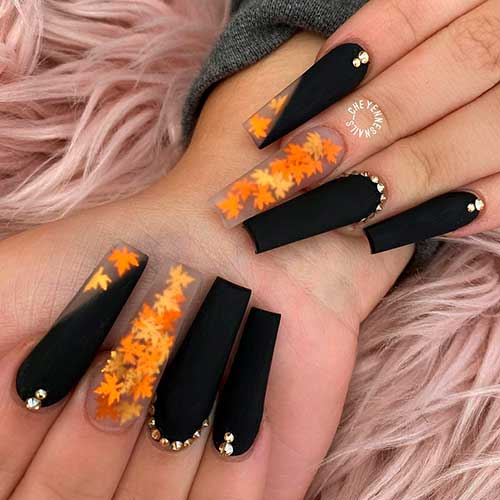 Are you looking for a daring nail design that would be timely? This style got you covered. Yes, it looks bolder, but the maple trees balance everything. Whether you will be attending a special event or gala night, these fall coffin nails will be your best bet.
3. Fall Coffin Nails with Metallic Autumn Leaves on Nails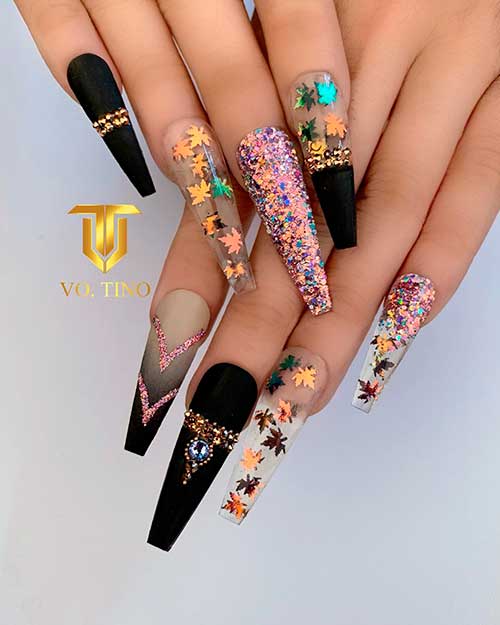 Another trendy and stunning option is this Metallic Falls Nail Design. Although it is hard to prepare, all of your efforts will pay off at the end of the day. The required materials include confetti leaves, glitter, nude gel, and more. Ask help from a close friend to make it easier than ever.
4. Stunning Glittery Fall Coffin Nail Idea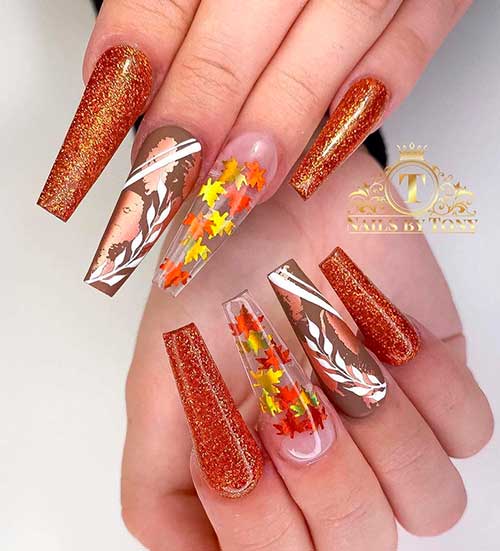 Before, uniform nail design was a trend. Things changed today. This glittery nail design with a fall vibe can help you showcase the different sides of yourself. It's very feminine but bolder, too.
5. Autumnal Matte Black

Long Coffin Nails Design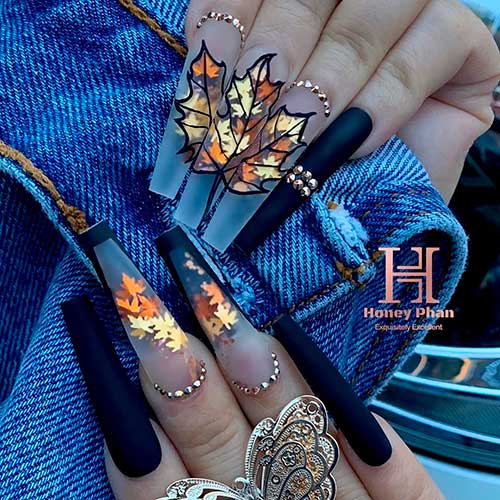 If you searching for a special nail art design then these stunning fall coffin nails will inspire you. These elegant matte black nails are so cute. In addition, the maple leaves over the long clear nails coffin-shaped are really amazing.
6. Black Fall Coffin Nails with Maple Leaves and Flame Nail Art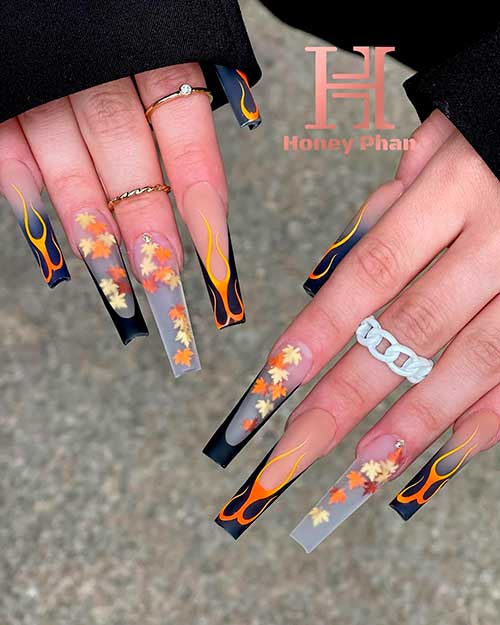 Black coffin nails are a chic and stylish look for your nails. Of course, these matte black nails are so stunning especially, when combined with flame nail art. You can also get more than one maple leaves accent nail to make them look even more attractive.
7. Cute Ombre Fall Nail Design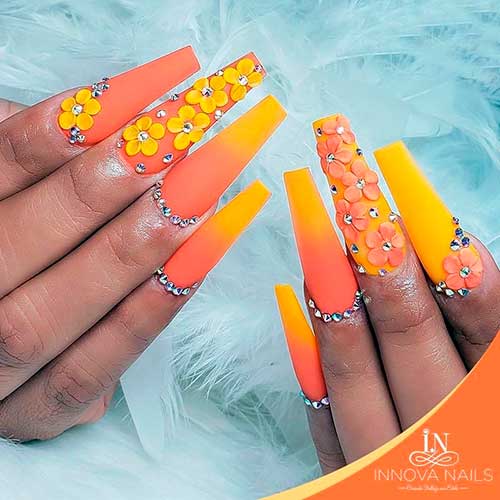 Ombre nails are a beautiful way to show your love for fall colors. Additionally, they are a unique style that can be worn all year round. Also, you can use any two colors to create the ombre look, but warm colors work best. Besides, the 3D flowers and the rhinestones can amp up any design as you can see.
To Conclude
At last, coffin-shaped nails are always so elegant and suit all women whether you wear short or long coffin nails. So, wearing coffin fall nails is really worth it and will elevate your entire look. Also, there is another nail shape alternative to wear awesome fall manicures: Almond fall nails!