When you think of summer, you think of summer nails. And, when you think of summer nails, you think of vibrant colors. The best summer nails are colorful and bold and are perfect for the season. While you may be tempted to go for a bright, saturated color, just think twice. Because neon colors can make your fingers look shorter. But too much color can distract from the nails themselves. As a general rule, longer nails look best with one or two colors. While shorter nails look better with three or more colors.
Summer is coming! So, we here at summer nail colors wanted to write a post about some of our favorite trends and summer nail art styles. Pick up the best styles and try them out for this summer. Of course, this is a helpful guide for those who plan to vacation on hot days. Furthermore, it gives our readers a look at some easy, and relaxed summer nail looks to try out right now.
1. Summer Nails with Cloud Nail Art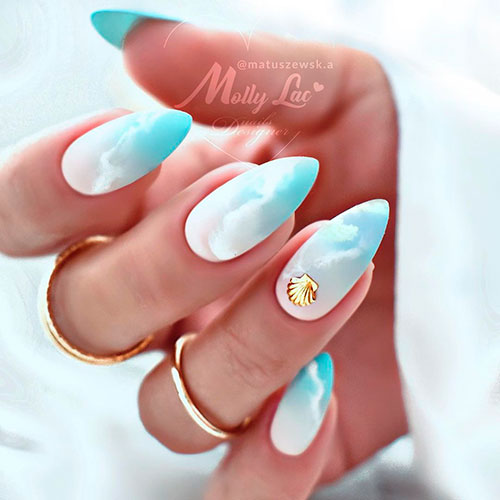 Summer is finally here! And that means it's time to show off your nails. The hottest nail trend of the season is cloud nail art. It's a look that manages to look both ethereal and edgy at the same time. Clouds appear as a base for the other nail colors in these looks, and you can easily do this look with fake nails.
Cloud nail art is a type of nail art that I have seen popping up everywhere lately. It usually involves a turquoise blue or green base with accent white, pink, or yellow nails.
Some people even add a different kind of accent to give it a 3D look. First, I saw it on Instagram, and I noticed that people were going crazy about it. As a result, I wanted to know what exactly it was and why it was so popular. I love it and will try it out.
Rose Gold Glitter Cloud Summer Nails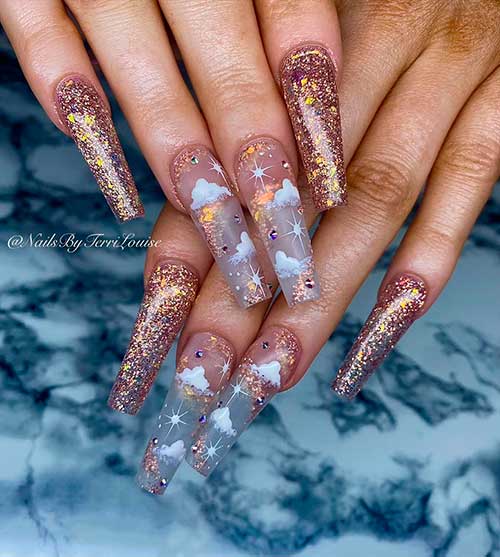 Light Blue Coffin Shaped Summer Nails with Cloud Nail Art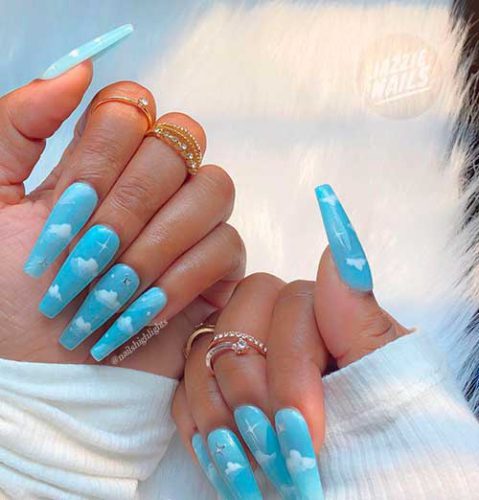 Glossy Pink Press-on Nails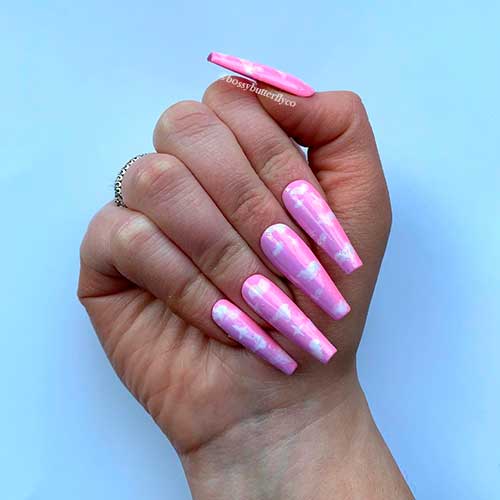 Mixed Colored Short French Tip Nails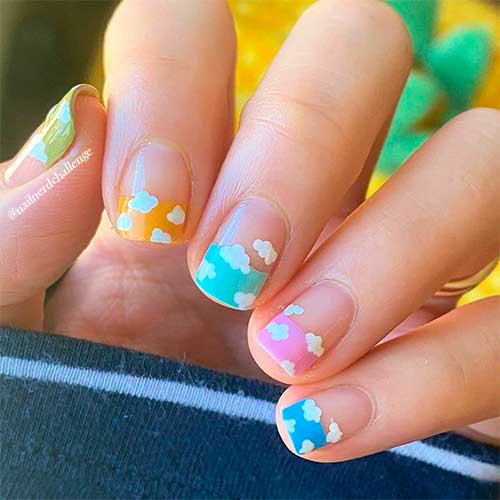 Clear Acrylic Summer Nails with Cloud Nail Art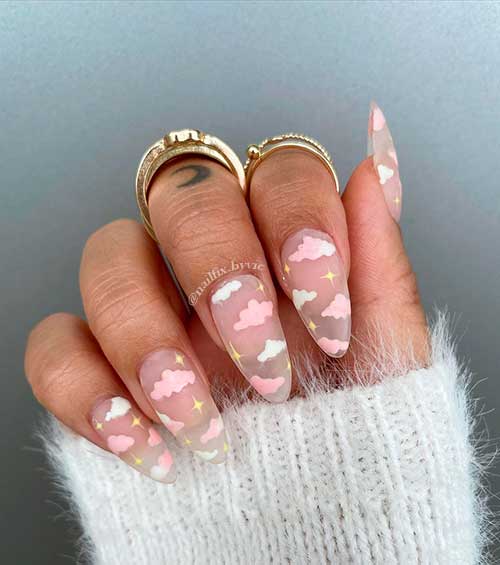 Stunning Purple Ombre Cloud Nails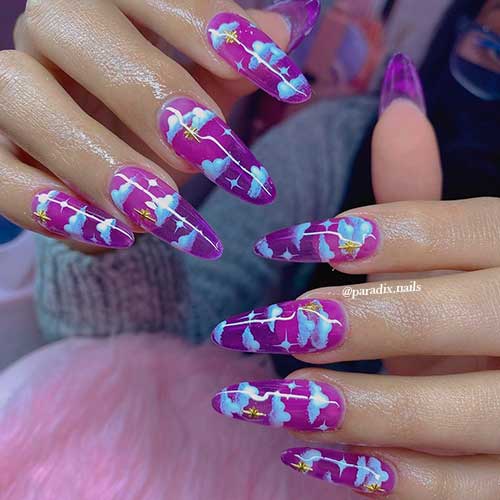 Sunshine, Rainbow, and Cloud Nail Art Design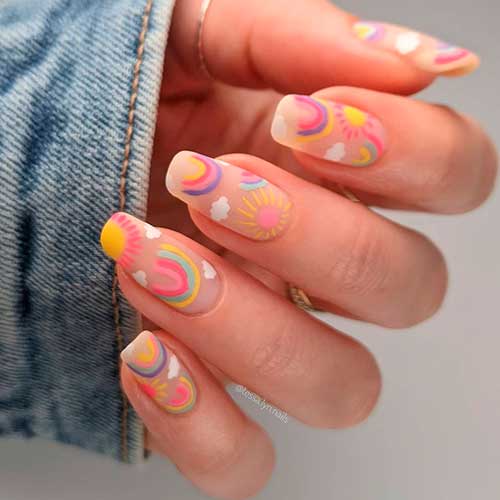 Of course, this is a wonderful and cool design that combines sunshine, rainbows, and cloud nail art together. Also, this is a simple nail art you can DIY at home on a nude base color.
2. Palm Summer Nails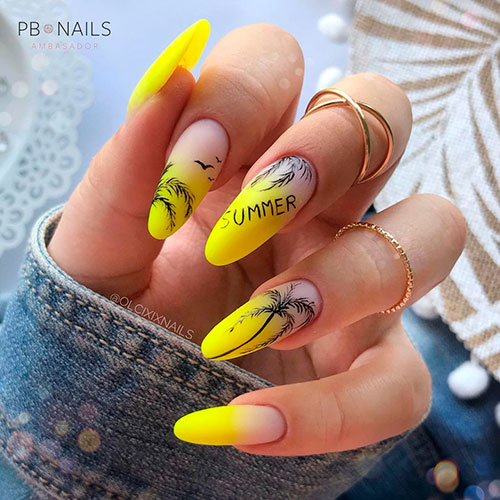 If you're sick of the same old nail designs but not ready to take things to the next level with full-on summer nail art, we have the solution for you! The palm nail art trend is perfect for anyone looking for a change without venturing too far from the classic French manicure.
It involves a single swipe of nail polish across the middle of your nails and into the center of your cuticle area. This nail art is a great way to add a little extra to your hands without going bankrupt on new summer nail colors.
Ombre Palm Nail Art Design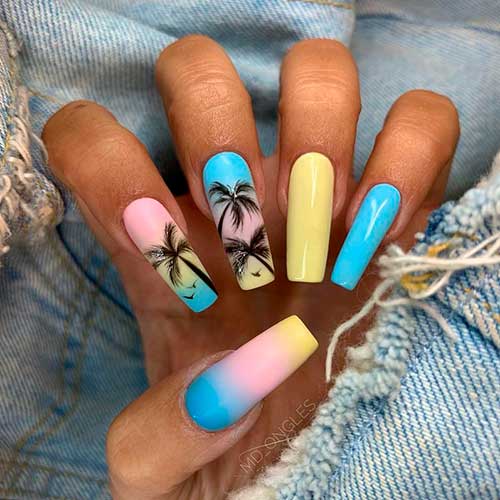 Indeed, the pink, yellow, and light blue ingredients are so cute, especially when blended with palm nail art. So, if you like pastel colors then this nail art above suits you.
Orange Nails with Flamingo and Palm Nail Art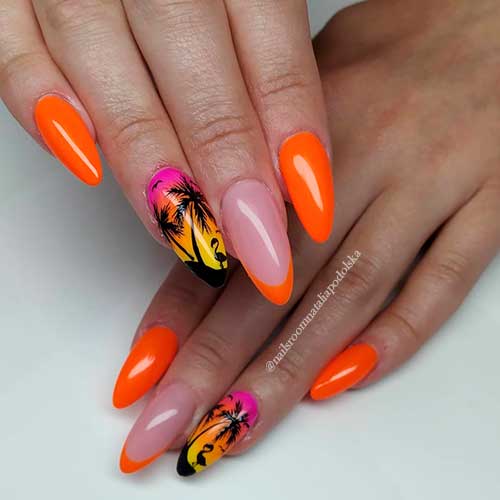 Another, cute summer nail design that blends almond orange nails with accent orange French tip nails. Besides, the accent nail uses flamingo and palm nail art in a stunning themed idea.
Pink Palm Nail Art Design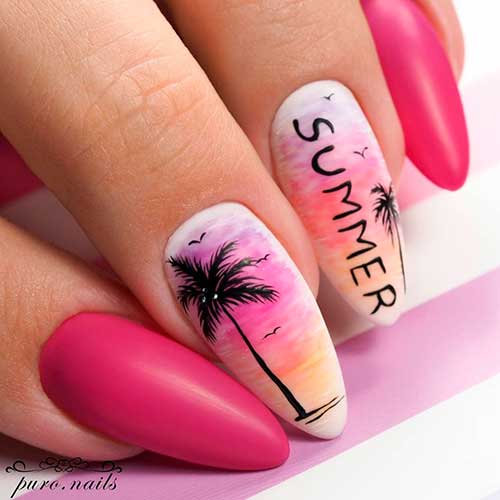 I really love this color shade and the two accent palm nails are gorgeous. So, this nail art design is a perfect choice for summer.
Decorative Palm Nail Art Design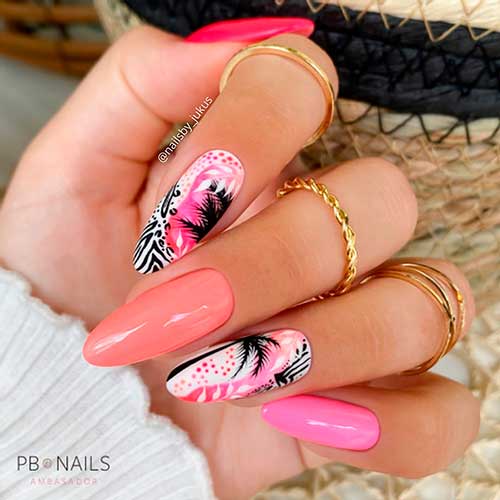 Of course, most women love almond nails, pink shades, and palm nail art designs. Additionally, the decorative palm accents level up this subtle design. So, try to recreate this masterpiece.
Cute Beach Nails with Leaf and Palm Nail Art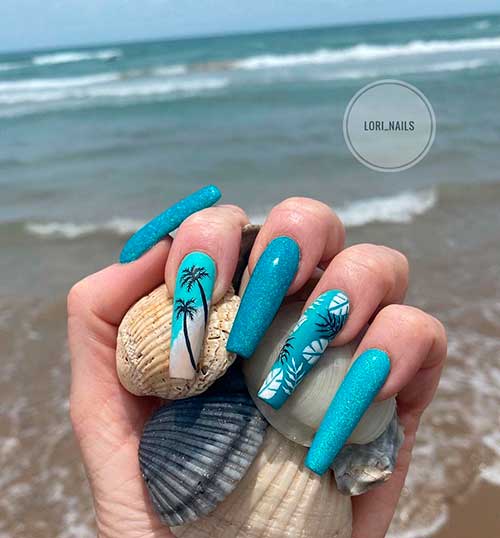 3. Summer Nails with Mixed checkerboards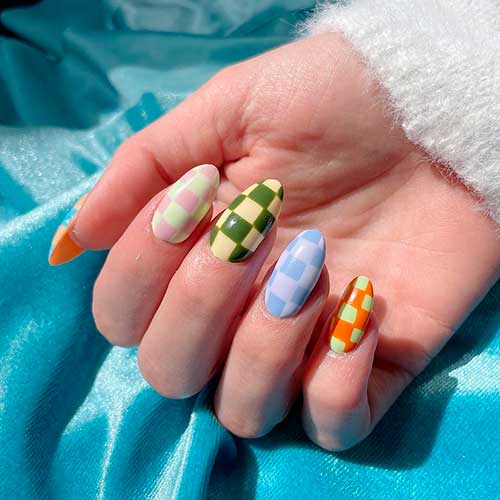 It's no secret that summer is a perfect time to experiment with daring colors. From neon brights to hot-hot-hot (literally) hues, the hot summer temperatures make for the ideal setting to show off your bright and bold nail art. But, while we're always for subtle, understated nail colors, summer isn't the time for subtlety.
Indeed, Nail art that always a trend during summer: mixed patterns, bright shiny colors, and other crazy designs.
Various Checkered French Tip Nails with A Twist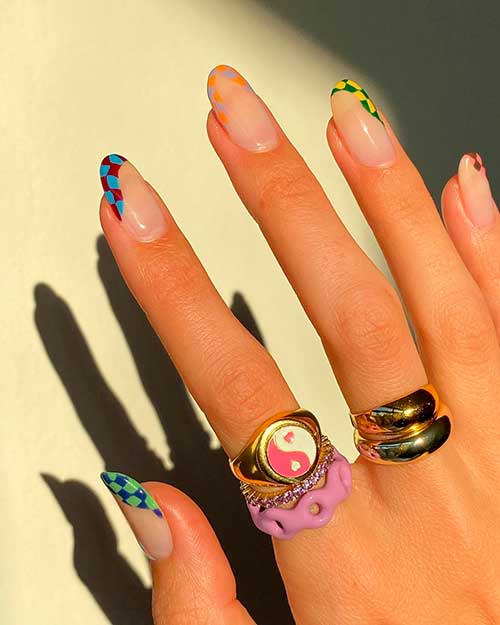 Another is mixed checkered nails with French nail tips. Trying this modern and chic nail art will be a good choice.
Cute Colorful Checkered Summer Nails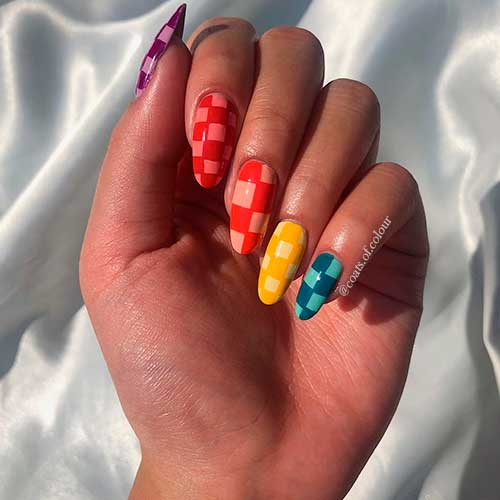 Indeed, this set of colors is amazing to apply a cute checkered nail art design. But you can choose your favorite colors to apply.
Short Checkered Nails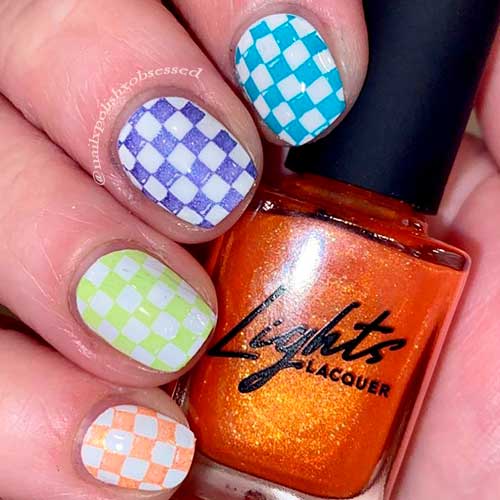 Of course, most women love short nails because of the simplicity and ease of using fingernails in everyday activities. So, this nail art design above is worth a try.
4. Rainbow nails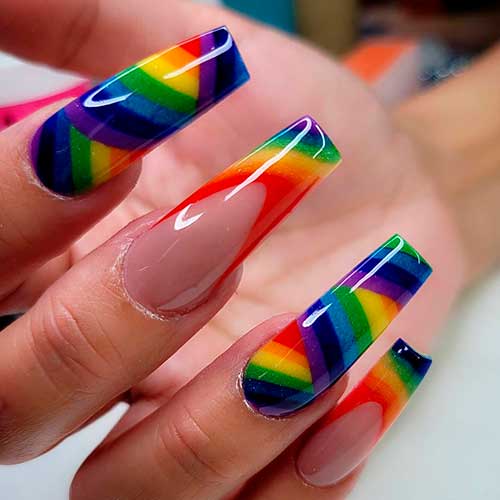 Rainbow nail art isn't just a way to express your inner unicorn. It also looks fabulous on your fingers. For the best results, use a base coat, like OPI Nail Envy Nail Strengthener, before applying your nail polish. It has all the vitamins and nutrients your nails need to stay strong and healthy.
Once your polish is dry, use a nail art brush dipped in the primary color of your choice to create a half-moon shape. Then, using a dotting tool, pick up little bits of the secondary color and apply them to the inside of your half-moon.
This approach will create a gradient effect that will transition from the color of your nail to the color of your base coat.
Stiletto Rainbow Summer Nails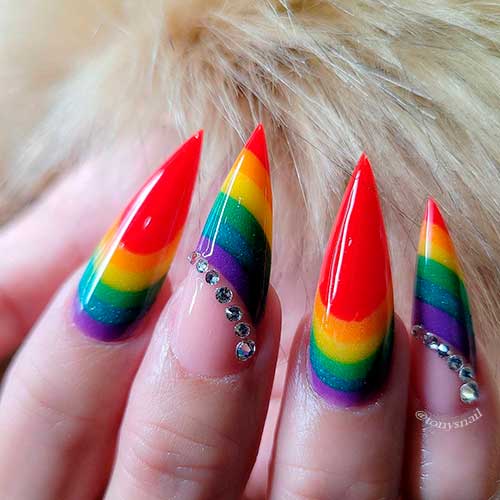 Rainbow Ring Summer Nails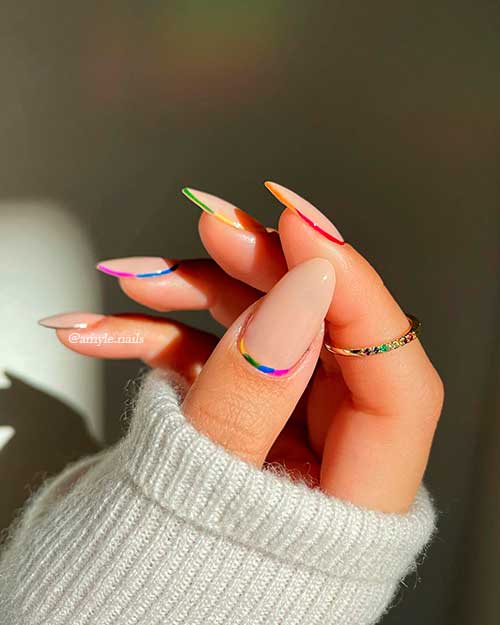 Silver Chrome Summer Nails with Rainbow Nail Art
Another amazing rainbow nail uses the silver mirror as a base color in addition to, overlay rainbow colors which, makes this design so attractive.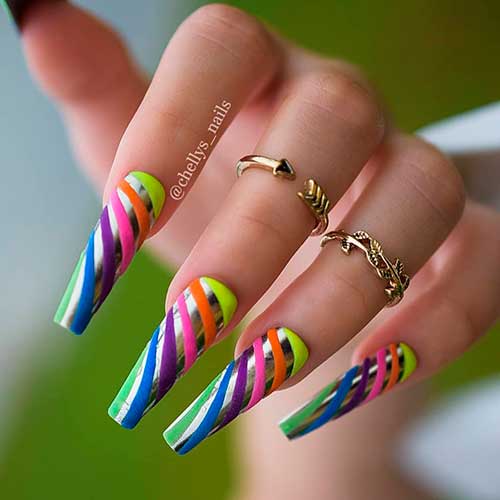 5. Confetti Summer Nails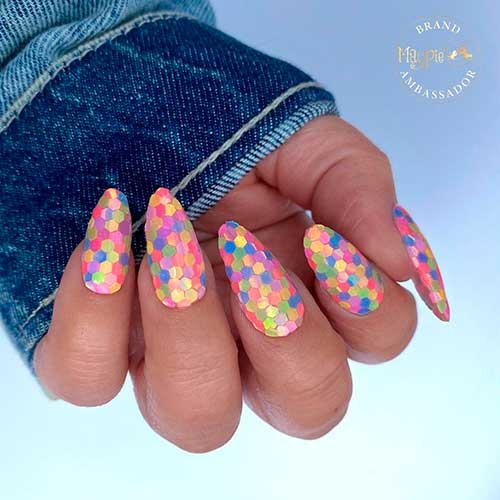 You know when you're at a wedding, party, or other special event and you see someone with the most stunning manicure? As you move in for a closer look, you notice tiny confetti pieces on their nails, and it's just perfect. If you're still looking for that perfect nail polish color for your next party, consider trying a confetti design on your next manicure.
While confetti-inspired nail art has been a favorite of the—ahem—less cultured among us, it's still fun to see the trend taking off in nail art circles. We've seen everything from green, red, and white dots and stripes to metallic gold, silver, and even black confetti.
And while it would be the nail art of choice for the kind of person who doesn't mind wearing the same dress to a party as her dog. Also, it's still fun to see these manicures becoming more mainstream among professionals.
6. Pretty Summer Smiley Face Nails
In latest trends for the summer of 2022 are adorable smiley nail designs! No matter if they're tiny smiley faces layered on top of negative space, nude color nails, larger smiles on solid nails, or smiling inside flowers, there's something timeless and fun about smileys.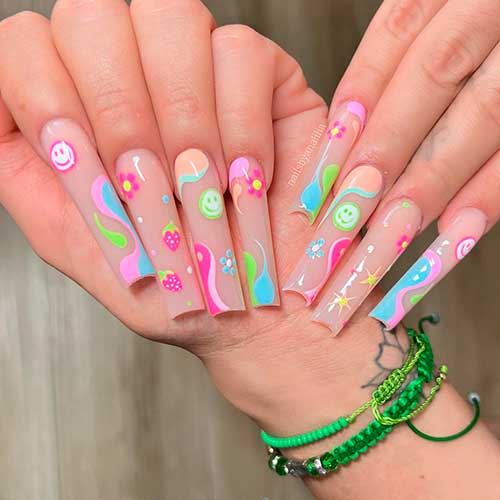 Another is smiley face nails but in a short length and colorful style. Also, this nail art features checkered, flower, and swirl accents. So, it's a perfect idea to copy this fun nail design.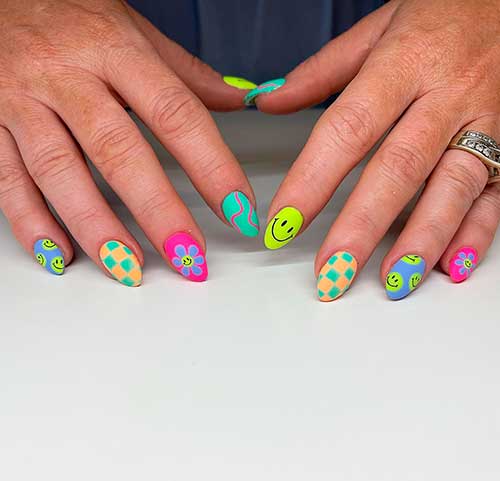 7. Colorful French Neon Summer Nails
If you've been wanting to try out colorful French nails, these cute summer nails are for you. Indeed, colorful French nail polish is an easy way to add a splash of neon to your manicure. Using multiple shades such as yellow, orange, and pink, you can create stunning nail art of vibrant colors without any special tools.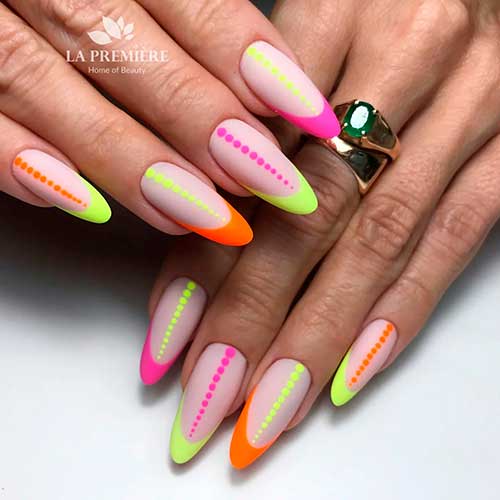 8. Seaside-Inspired Summer Nails
Seaside-inspired nail art designs are a popular choice for those who love to showcase their love for the ocean and beach. These mermaid nails coffin shaped incorporate the calming colors of the sea to create a beautiful and stylish look.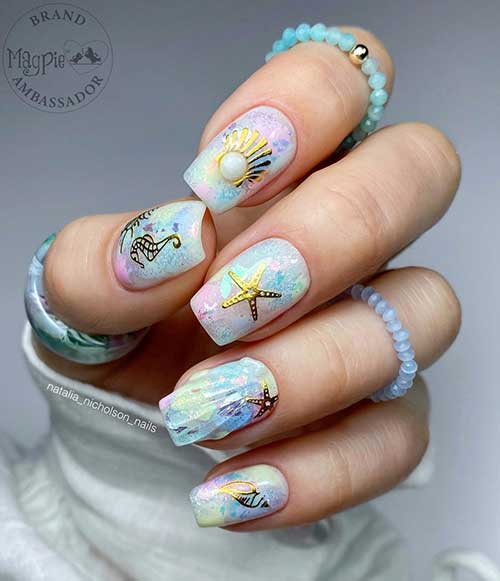 9. Light Blue Summer Nails With Glitter
I'm not really into light blue nails, but it is a really cute color. With the light blue color, it's best to add some glitters with it since it won't be that extravagant but will make your nails look more interesting, it won't be that simple boring light blue.
If you have a lighter complexion then this will be the perfect nail design for you, for a darker complexion. Indeed, it will still look amazing, but going for a darker shade of blue will be perfect.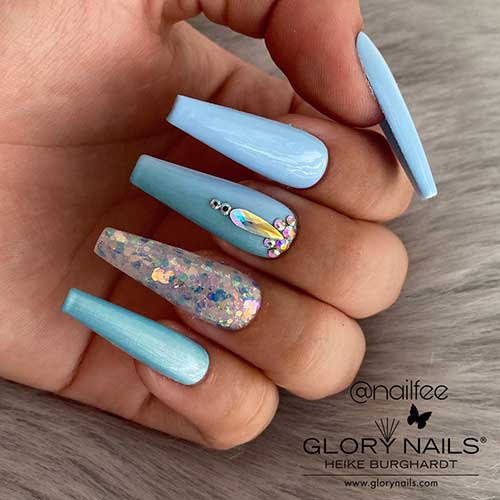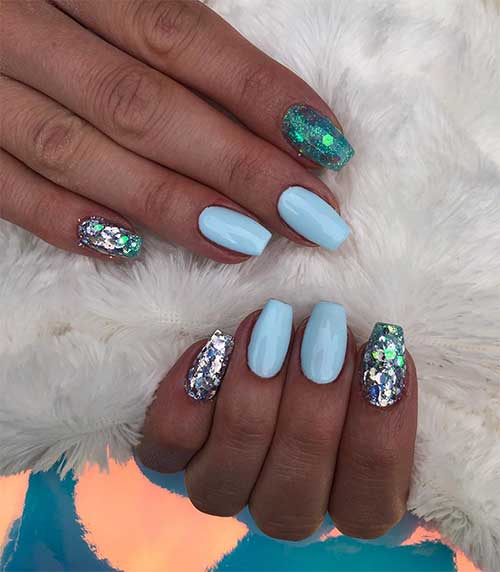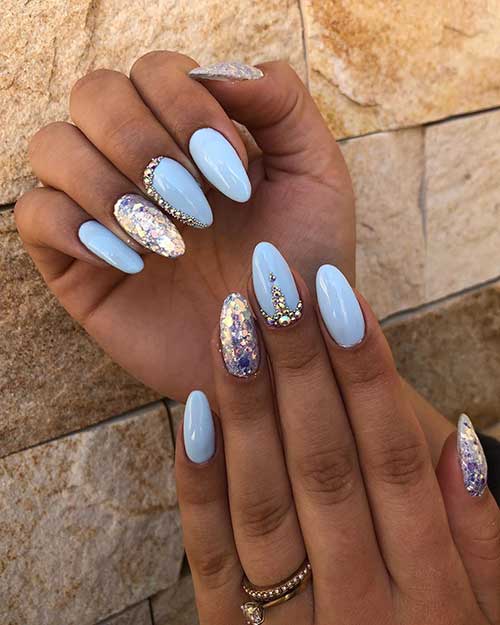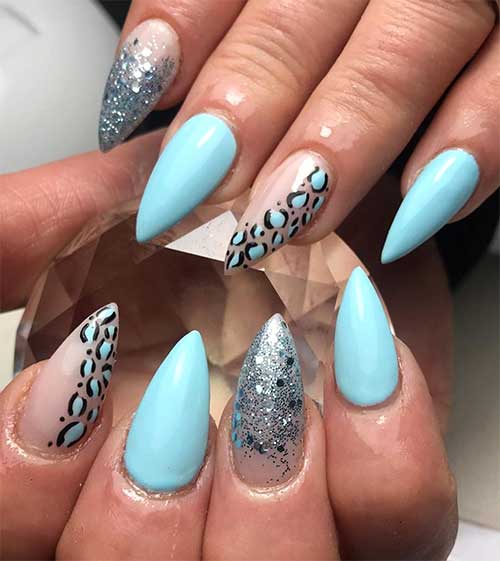 10. Colorful Summer Acrylic Nails
This is something that I have never tried before, and I think that it looks amazing. I would love to go for colorful nails this summer. It has a lot of cute summer nail colors. Then, choosing this type of nail this summer is a wonderful choice.
Still, really have nothing to say about this kind of nail design. A lot of people have tried this kind of nail before and they all rock it! If you are thinking of going with this one, I am sure that they will look amazing on you.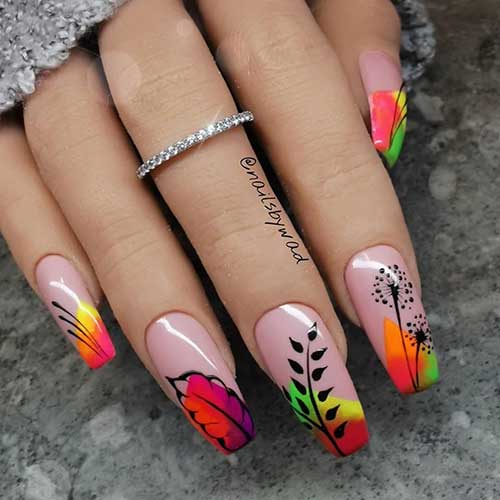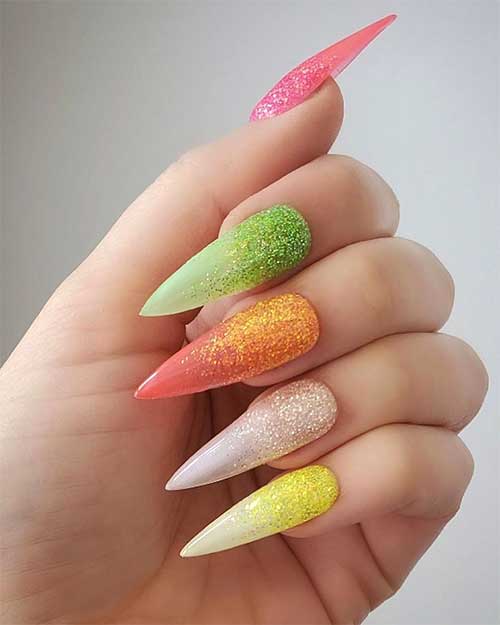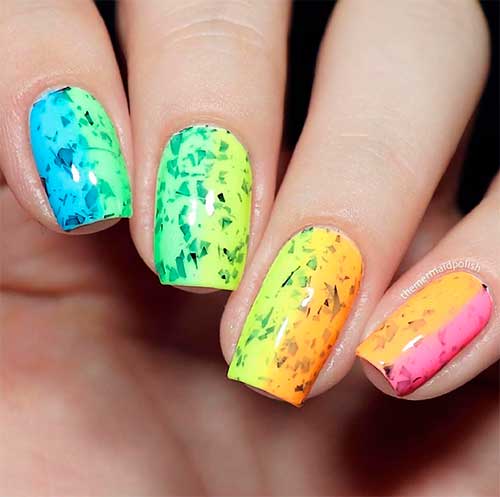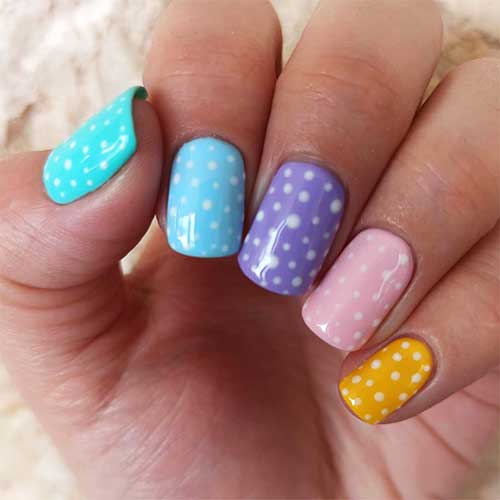 11. Cute Mint Green Summer Nails
Of course, I love the color mint green, and for me, it's a color that looks cute and innocent. It's a type of nail color that every person can go for. The mint green color will make you look younger and more fun. I don't know if that makes any sense, but if you understood then that is great! Of course, you can add some designs which can enhance the beauty of mint green. But still going for the color by itself will be fine.
At last, mint green is a great color to go for this summer. Also, Long nails will look amazing with it, but I suggest going for shorter nails since it is easier with shorter nails. It's up to you.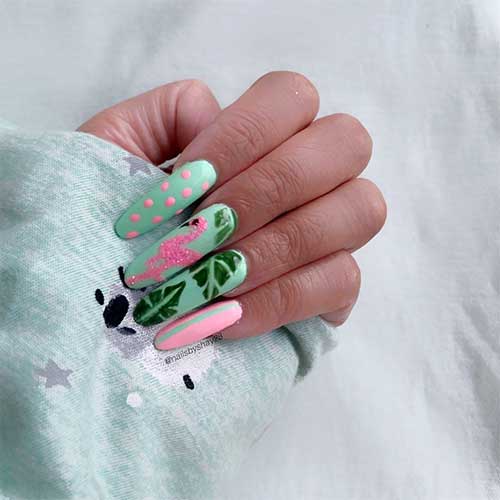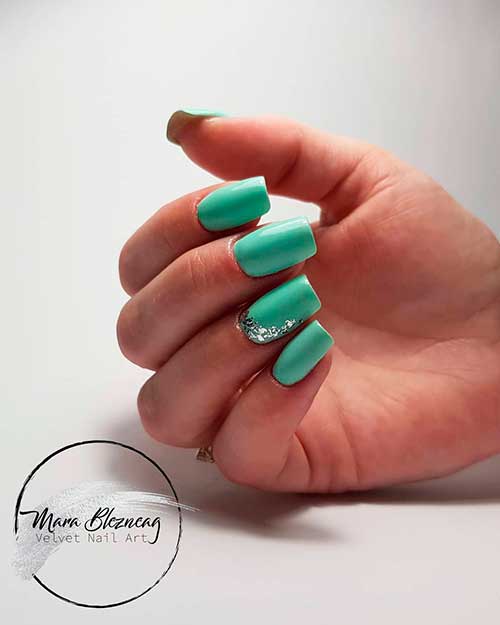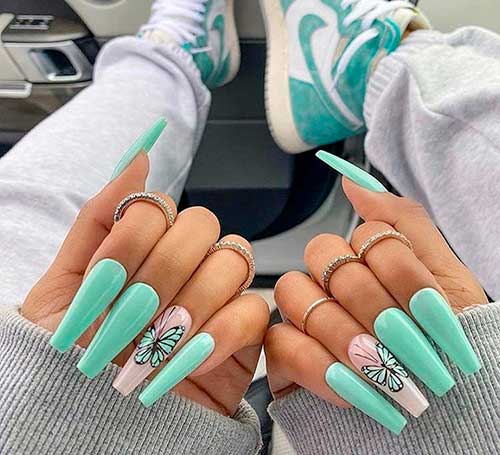 Short Mint Green Nail Design with Leaf Nail Art
If you want to make your summer more fun, go for a mint green nail design! This beautiful design is suitable for all seasons, especially for short nail-length lovers. Also, you can use stickers to add more zing such as leaf nail art. Of course, mint green nails are a fun way to change up your look and your lifestyle!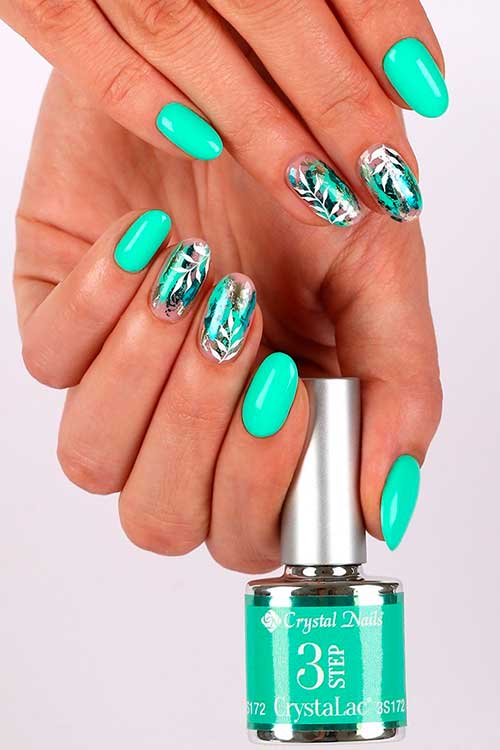 12. Summer Ombre Acrylic Nails
Ombre acrylics are something that every person would fall in love with, especially this summer. Almost everyone gets their nails done during the summer. Still, ombres can look amazing and trendy for this summer. In addition, many people have also done their nails with ombre acrylics, and they look fantastic. I think you will look fantastic in this kind of nail.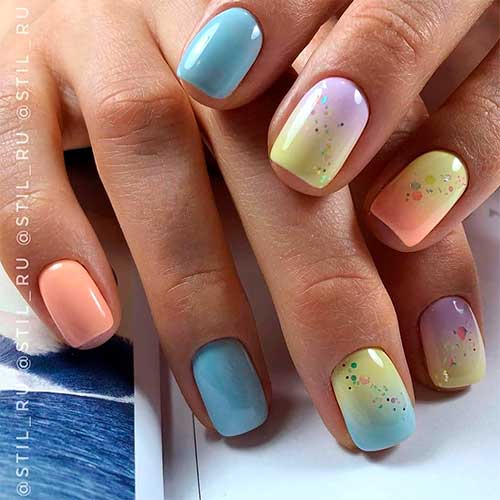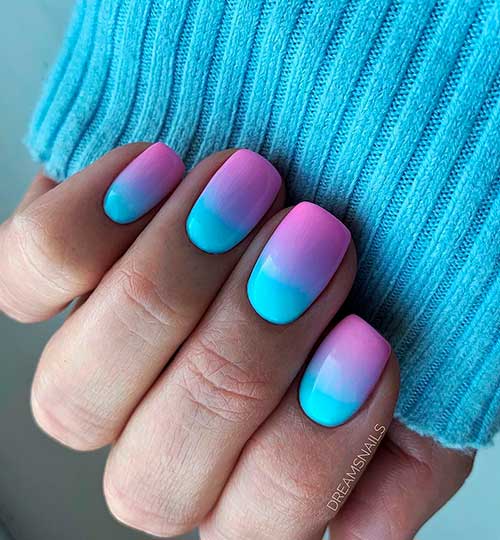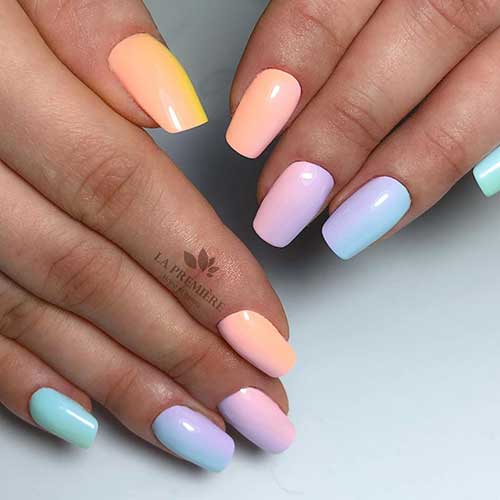 13. Summer Yellow Nails
Another stunning summer color, It's yellow one of my favorite colors, bright and a sign of happiness. Whenever I see the color yellow, I smile. This is the perfect nail color to go for this summer, but be careful of what shade of yellow you choose. Some shades do not really look that cute, yellow with long nails is a must. I find the mix perfect.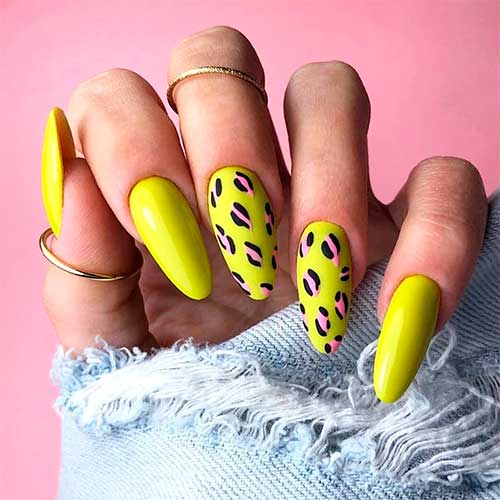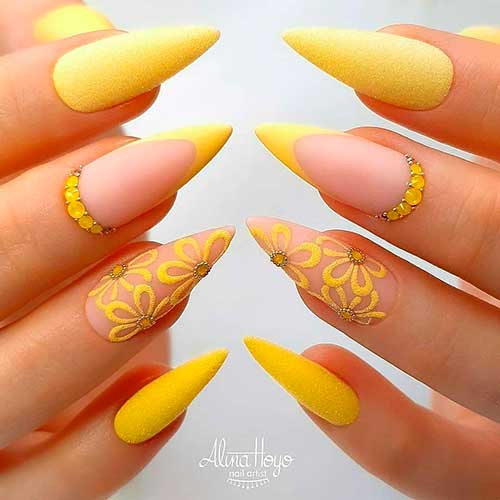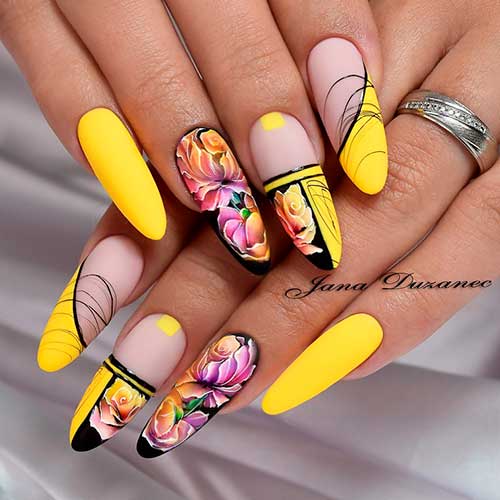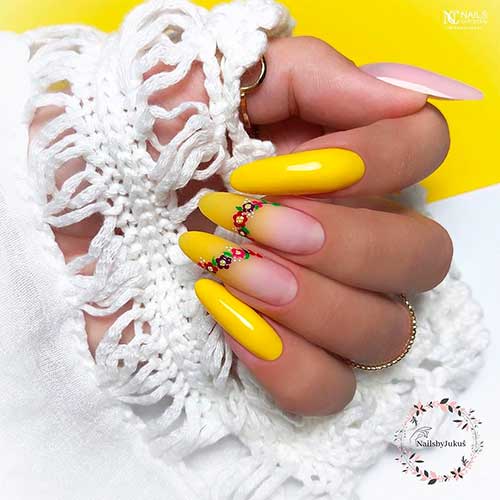 14. Purple Butterfly Glitter Nail Design
Who does not love the color purple? This color has its own charm! As soon as you see it in something you look at it long. So you will love wearing such a nail design and you will find yourself looking at your manicure every minute.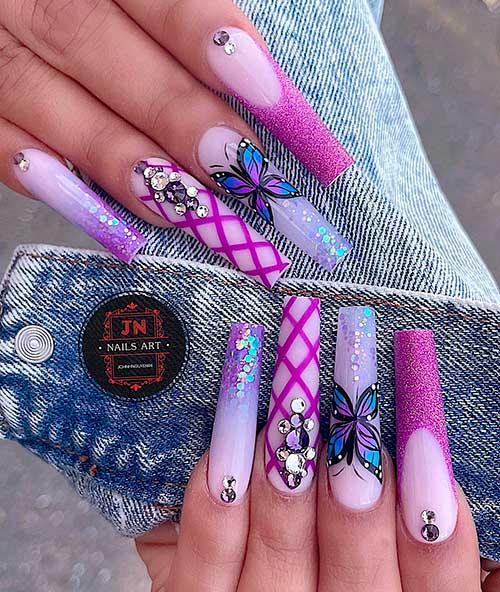 15. Tropical Cute Summer Nails
Those of us who love the tropical look can have our nails painted in a variety of fun summer colors to match the theme. Whether you're feeling particularly playful or want a fun nail design for your next beach party, the choice is yours. Indeed, beach-inspired nail designs can be created in a variety of ways, from simple designs to elaborate and intricate designs.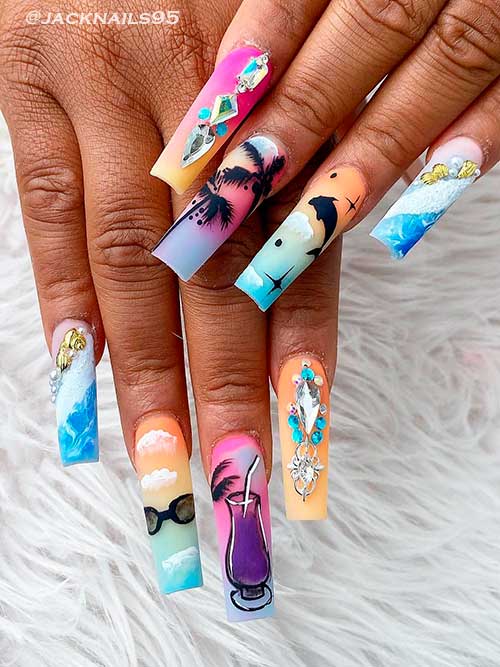 To Conclude
At last, summer is almost here, and you know what that means: it's time to paint your nails! While we all love a good classic red or a shiny gold polish, it's the unique colors that excite us. The nail arts featured in our list are perfect for summer — bright, cheerful, and guaranteed to turn heads. So, whether you're at a backyard barbecue or a pool party, you're going to be the envy of all your friends!