Brown nail designs are under the spotlight this season, but they can still be subtle and classy. There are countless ways to make your brown nails stand out. From glittery to subtle, brown fall nails can be a great choice for any occasion in the autumn. Try a heart cutout or a simple brown design.
To make this style at home you can buy a set of nail adhesives. Of course, this adhesive tape will help you create crisp lines and shapes. Also, this DIY technique is easy to do. First, lay the tape across the nail. Next, paint the nail. Remove the tape when each color dries. Then, repeat these steps with the next color.

You can also use brown nail polish to create a leaf nail art look. Additionally, brown is great when mixed with glitter or different nude shade colors. Also, you can use brown paint on the French tips. So, if you prefer a more subtle look, you can choose a matte brown and accent it with a glossy coating. Now, it's time to check out these elegant fall brown nails that we have found for you!
1. Matte Brown French Tip Nails
There are many ways to wear brown nail polish. So, you can opt for a matte French nail design, also you can choose from a variety of shades of the same color. Additionally, this color is ideal for a more natural look, but it can also make a statement in more dramatic ways. This is a perfect color for a special event, such as a wedding.
Autumn light French brown nails with two dark accent nails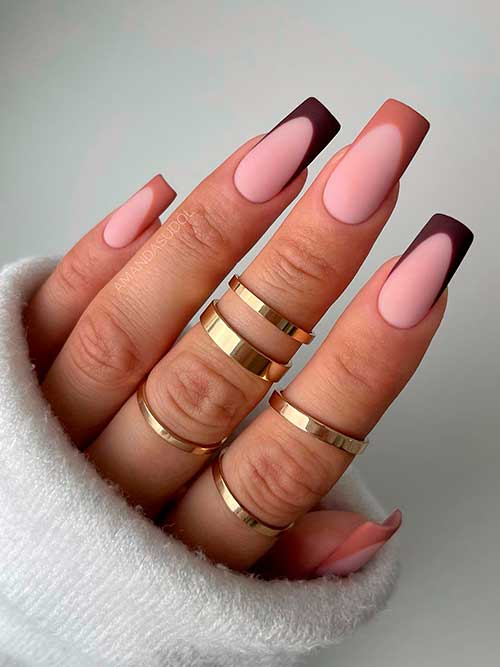 French brown nails with rhinestones and glitter accents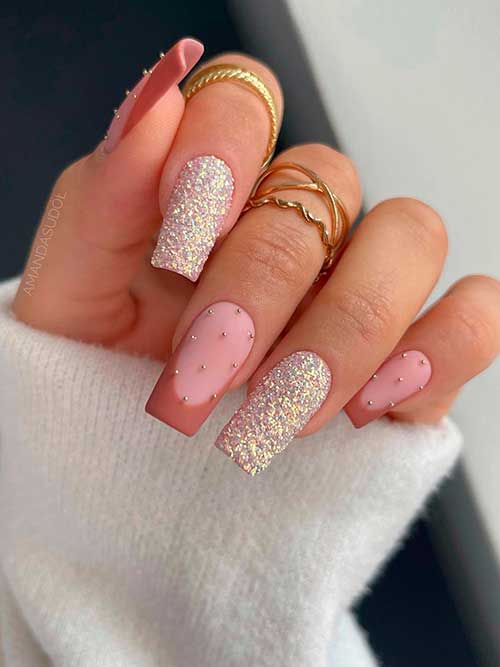 2. Elegant Different Shades of Brown Nails Ideas
There are many different shades of brown nails and brown nail polish can be used to create various looks. Also, you can choose to go for a solid brown color or a light-to-dark transition. Whatever your preference, you can find a brown nail design that matches your overall style.
Glossy almond, latte, caramel, brunette, and cocoa nails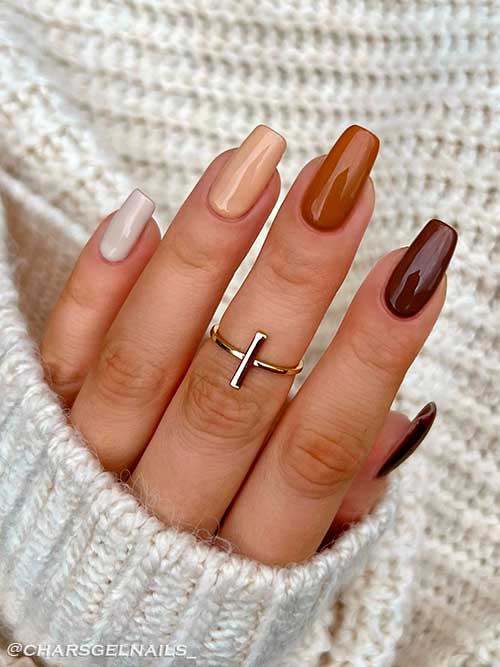 Matte coffin with different shades of brown and nude nails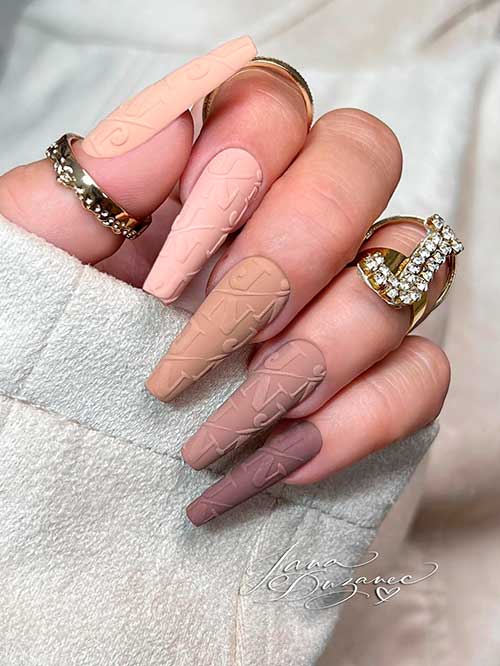 3. Matte Brown Nails With Gold Decorations
If you are looking for some nail color ideas that are both chic and stylish, then try out matte brown nails with gold decorations. Indeed, the brown shade is perfect for the autumn season and looks stunning with so many different color combinations especially sparkly gold decorations. So, try dark matte shades of brown and a pop of gold foil or gold glitter for a stunning nail look.
Dark matte almond brown nails with gold glitter accent nails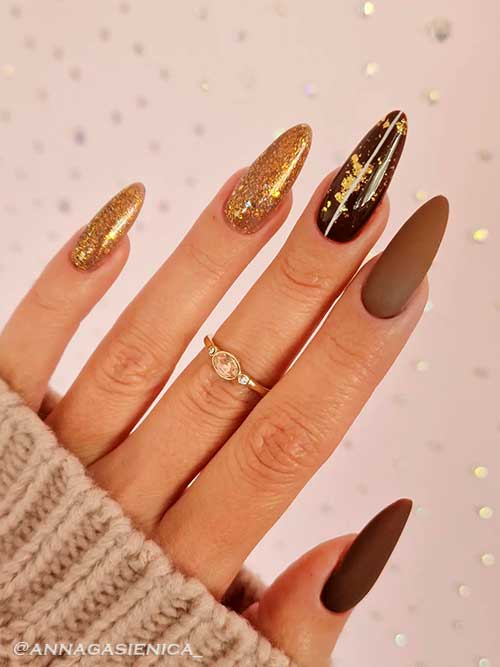 Matte brown nail design with gold glitter, gold foil, and leaf nail art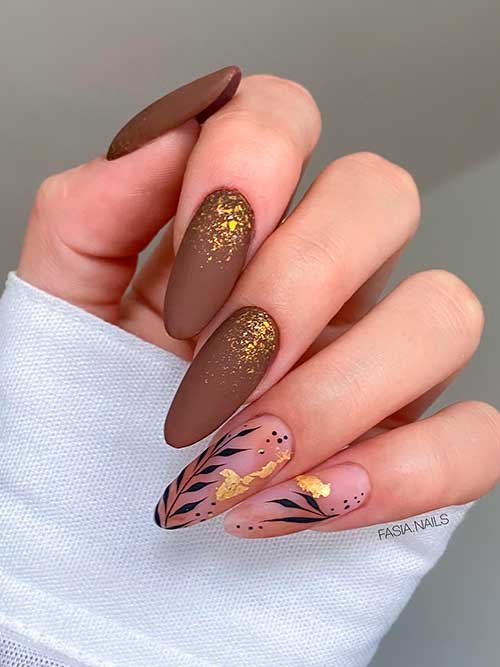 4. Animal Print Brown Nails Ideas
If you love animals, you may want to try an animal print manicure using a brown nail shade. Of course, a leopard nail design or a zebra print accent nail is a fun way to show off your passion. Also, you can even mix and match different animal print nails.
Short brown nail design with zebra prints on two accent nails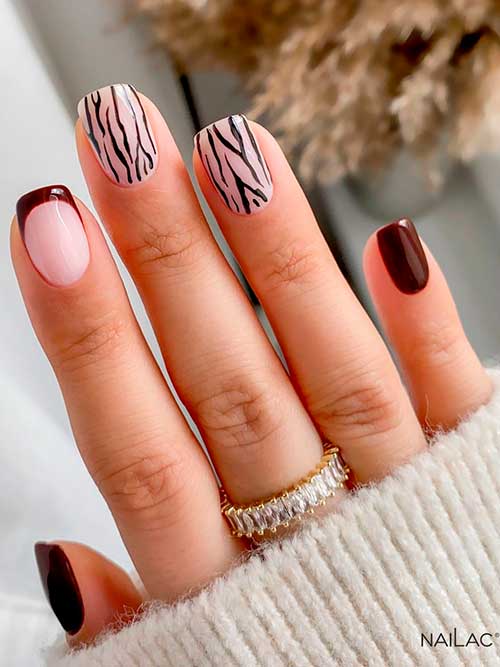 Dark brown nails with leopard prints and gold glitter accents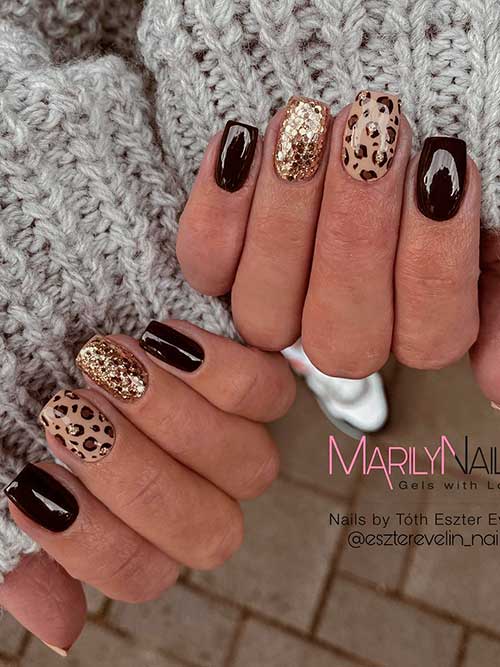 5. Short Brown Nails Designs
Short brown nails are an eye-catching option that turns heads. In addition, these nails look chic and stylish on their own. If you have access to a good salon, you can choose from a number of styles that can add a touch of elegance to your look. Some of these designs include glitter and foil decorations.
Short brown nail design with an accent mirror nail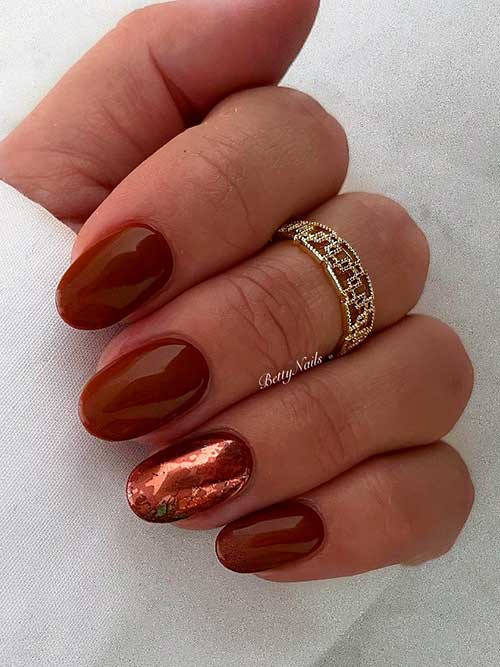 Short matte brown nails with gold glitter and rhinestones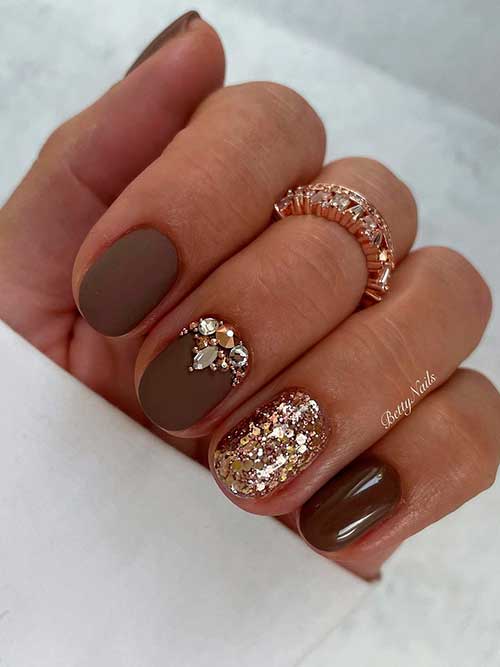 At last, brown nails are an option for those who want a warm, dramatic color. Additionally, they look great on all skin tones and any length of nails. Also, they are a timeless choice for a year-round collection. Besides, they are popular during the fall and winter seasons and look amazing on many different occasions.
6. Matte Brown Fall Nails with Swirl Accents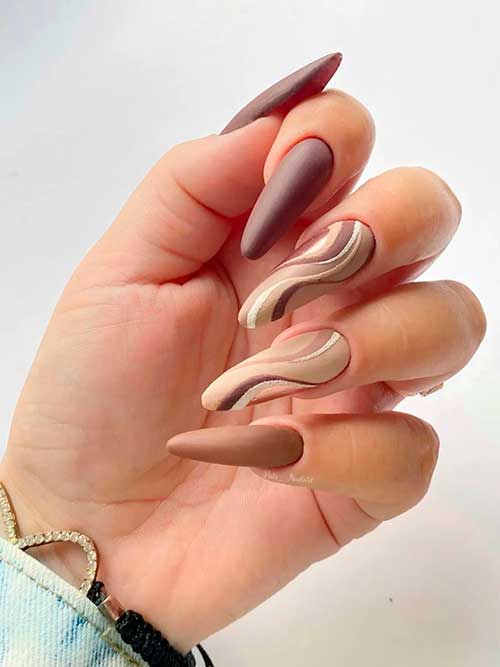 If you are in the mood for a simple, yet striking nail design, consider applying brown fall nails with a swirls manicure. The nails look like a simple manicure with waves of complementary brown and nude shade colors. Despite the swirl design's simplicity, it is definitely a Y2K look.
7. Dark Fall Brown Nails with Nude Accents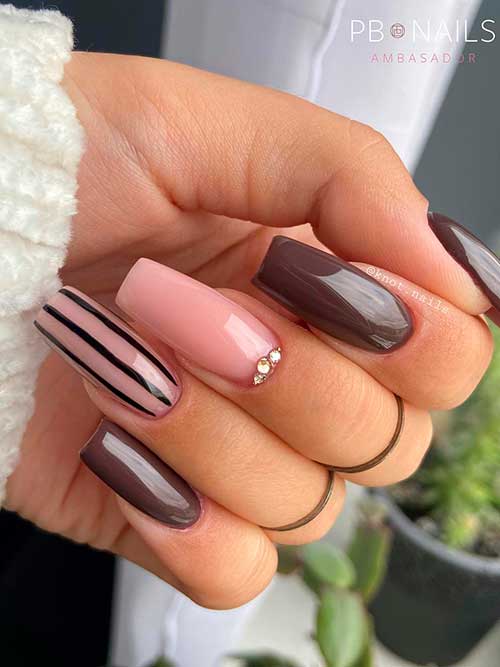 Fall is the time for rich and deep colors, and a deep fall brown is an ideal choice. Brown nail color can be worn on its own or combined with different other colors, including nude base color. To make a nail design stand out, consider using different styles such as stripped nail art besides rhinestones.
To Conclude
At last, this Fall is going to be an interesting and fun season, and you'll be sure to see many new trends. Some of the most popular nail colors will be brown in different shades. While these colors are traditionally associated with cooler weather, they're a great choice for a fall manicure. These fall nail designs can range from cute and simple to artsy and unique. So, it's time to choose your brown fall nails now!