Nail art has become an increasingly popular form of self-expression, allowing individuals to showcase their creativity and style. Among the many nail trends, short fall nails offer an elegant and sophisticated look that is perfect for the autumn season. Whether you prefer minimalist designs or bold accents, there is a short fall nail design to suit every taste. In this article, we will explore ten stunning short fall nail designs that will inspire you to embrace the beauty of the season.
1. Short Yellow and Black Coffin Nails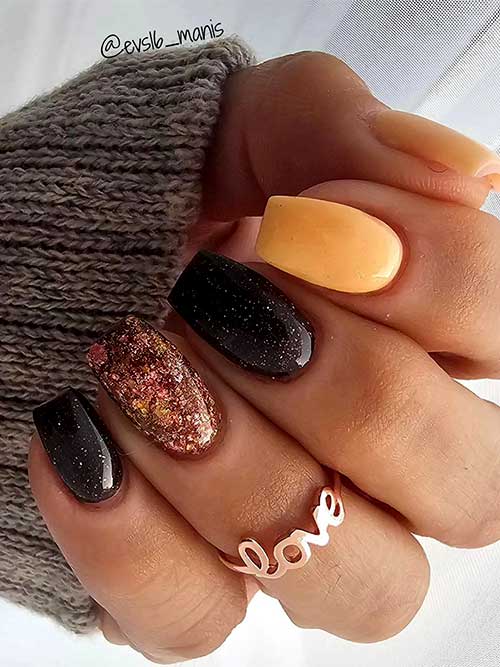 The combination of yellow and black creates a striking contrast that instantly grabs attention. Adorned with an accent autumn hue glitter nail and a touch of silver glitter on the black nails, this design adds a touch of glamour to your fingertips.
2. Short Abstract Nails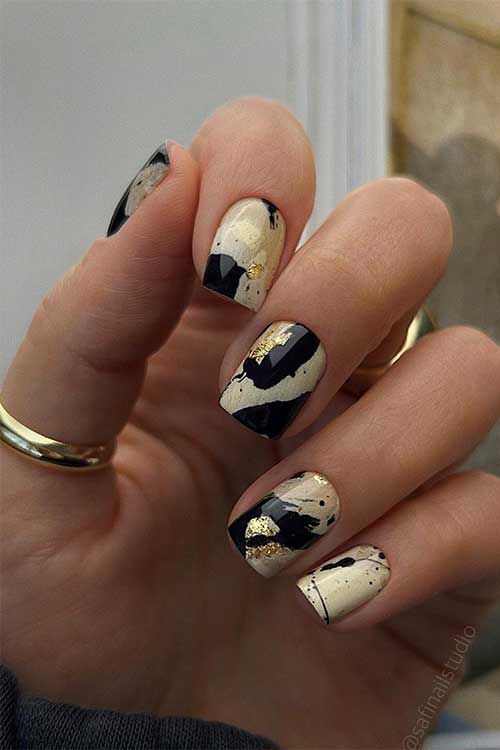 For those who appreciate abstract art, this design combines black and light beige in a mesmerizing pattern. The Elegance and sophisticated look of this design is perfect for those who prefer a more subtle approach to fall nail art.
3. Classy Ombre Nails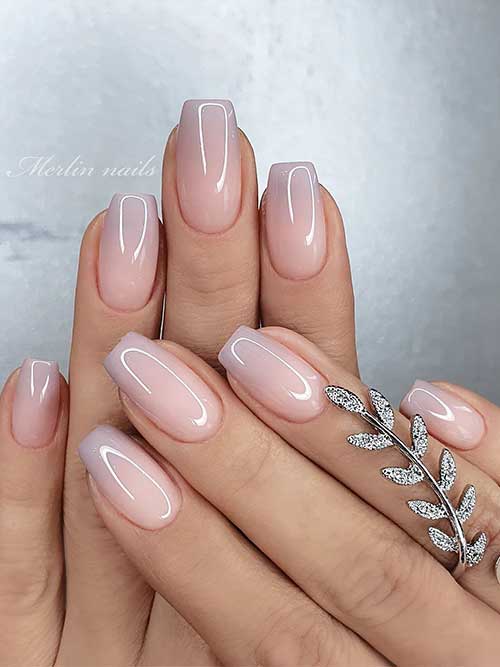 Ombre nails continue to be a popular choice, and this design takes a softer approach with a very light gradient effect. The subtle transition from one shade to another creates a delicate and feminine look, making it an ideal choice for those who prefer a more understated style.
4. Chrome Drip Nails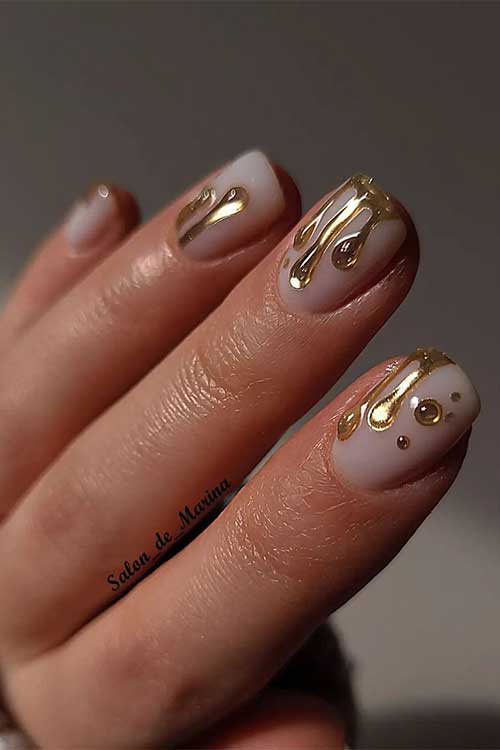 Make a bold statement with these short gold chrome drip nails on a nude base color. The metallic gold accents mimic the falling leaves of autumn, adding a touch of glamour and sophistication to your overall look.
5. Burnt Orange and Olive Green Nails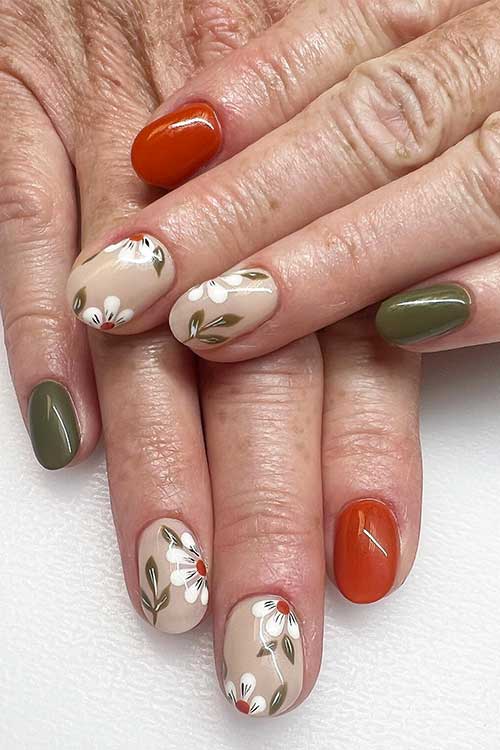 Embrace the colors of the season with burnt orange and olive green nails adorned with leaf nail art. The addition of delicate flowers on two accent beige nails adds a whimsical touch, reminiscent of a picturesque autumn day.
6. Two-Tone Brown Nails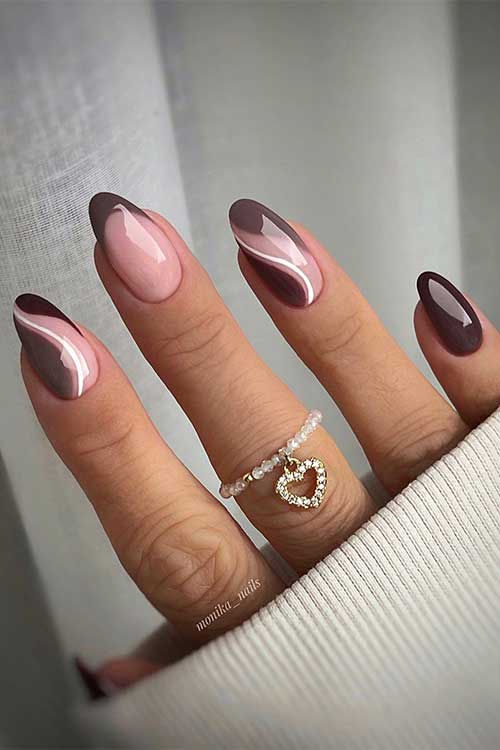 For a classic and refined look, opt for two-tone brown nails featuring swirl nail art and a French tip on accent nails. This design exudes elegance and sophistication, capturing the essence of fall in a subtle yet captivating manner.
7. White French Tip Nails with Gold Flakes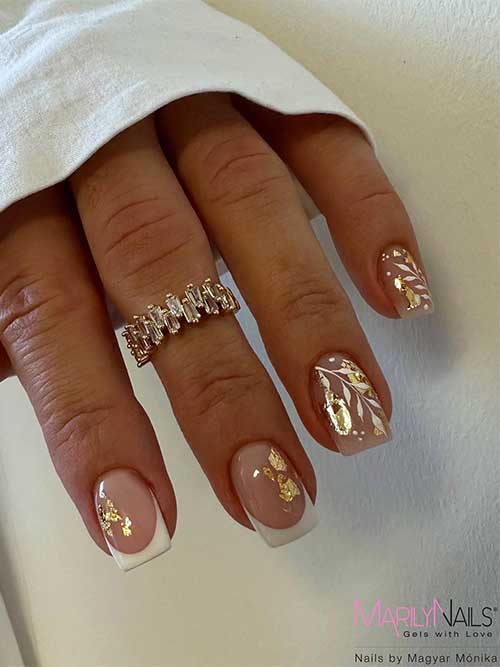 Elevate the timeless French tip manicure with a fall-inspired twist. This design features white French tip nails adorned with gold foil flakes and delicate white leaves on two nude accent nails. The combination of simplicity and intricate details creates stunning and eye-catching short fall nails.
8. Elegant French Manicure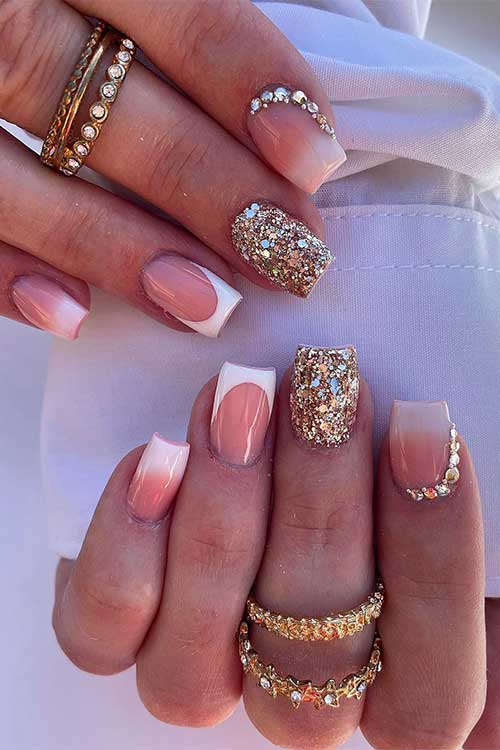 For those seeking a touch of glamour, short classy French tip nails with rhinestones and gold glitter are the perfect choice. The subtle shimmer and sparkle add a luxurious and festive feel to your nails, making them ideal for special occasions or evening events.
9. Dark Green French Tip Nails with Autumnal Floral Sets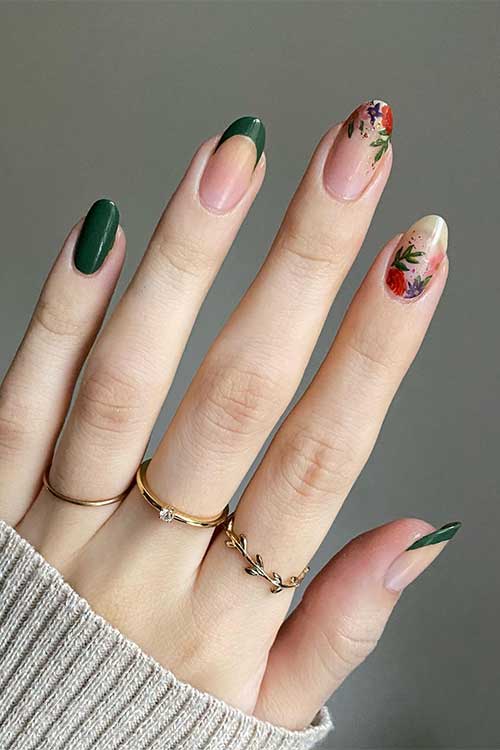 Capture the essence of autumn with dark green French tip autumn nails adorned with autumnal floral sets on two accent nude nails. These short fall nails beautifully combine the rich hues of the season with delicate floral details, creating a captivating and nature-inspired look.
10. Sparkling Short Fall Nails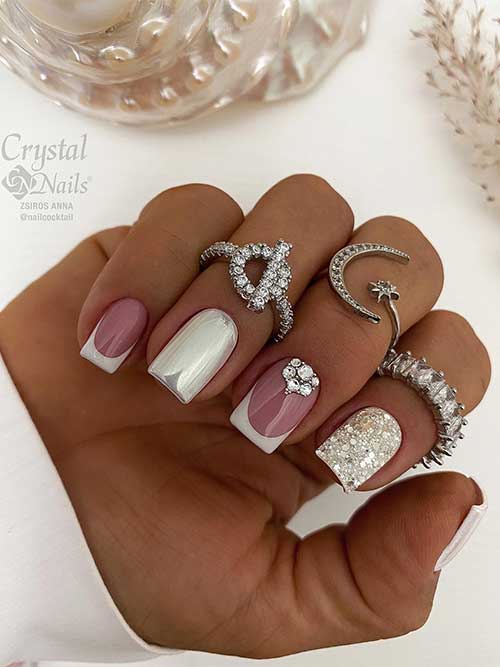 For a dazzling and glamorous look, opt for sparkling short white French nails with silver glitter and mirror chrome accent nails. The addition of rhinestones on an accent French nail adds an extra touch of elegance, making this design perfect for those who love to shine.
To Conclude
Short fall nails offer a wide range of designs that allow you to embrace the beauty of the season. Whether you prefer bold and glamorous looks or subtle and minimalist styles, there is a short fall nail design to suit every taste. Besides, you can experiment with different colors, textures, and patterns to find the perfect design that complements your personal style. Embrace the elegance of short fall nails and let your fingertips become a canvas of creativity and sophistication this autumn season.