Every girl is dreaming of becoming one of the Disney princesses, such as Ariel, who is the main character in the Little Mermaid episode. No matter how old you are now, there's still a high chance that you are dreaming of becoming one of the mermaids swimming freely in the ocean. So, mermaid nails are a popular choice for girls who love the ocean.
The sea seems like it always welcomes you to swim. Unfortunately, there are some times that you can't go out swimming. But, there are lots of ways you can do to feel like you are in the ocean, swimming like a mermaid. One of these is painting your nails with the best mermaid nail art.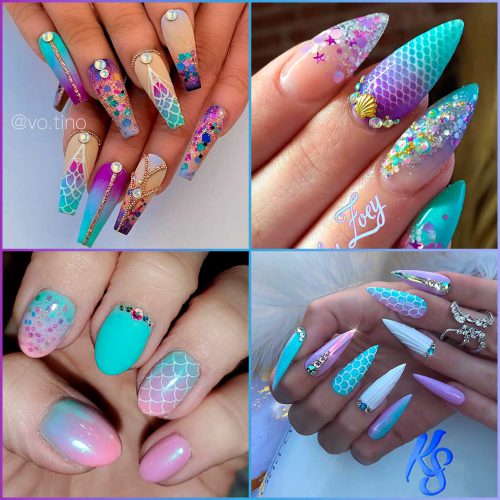 When you browse the internet and start searching for the "best cute summer mermaid nails ideas for inspiration" the search results will provide you with lots of choices. However, you could be having a difficult time picking the best design to paint on your nails. But the good thing is that we have prepared some of the most beautiful designs of mermaid's nails that you can put on your nails.
1. Mermaid Coffin-Shaped Nails Ideas
One of the most known nail shapes is the coffin-shaped nails which are also called Ballerina's nails. Also, this is one of the signature nail shapes worn by Kylie Jenner. If you are fond of this kind of nail shape, you can paint it with some colorful shades that look like the tail of a mermaid. You can also add some glitters and crystals to it, just like the photos we've shown below.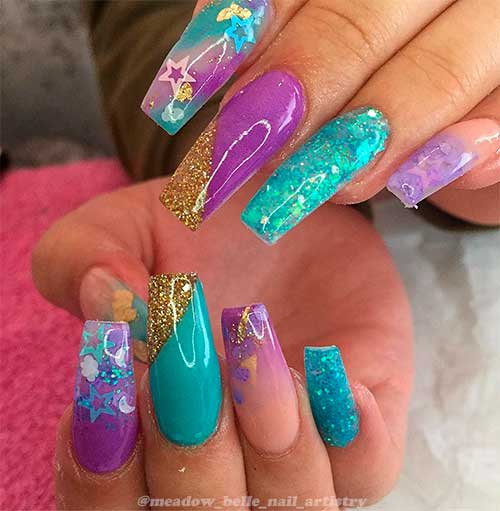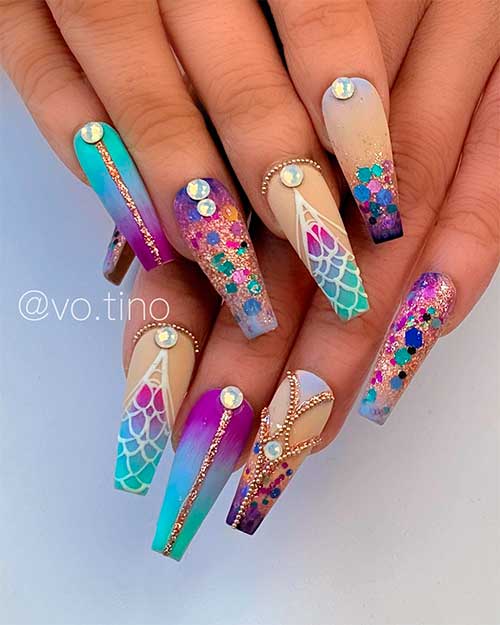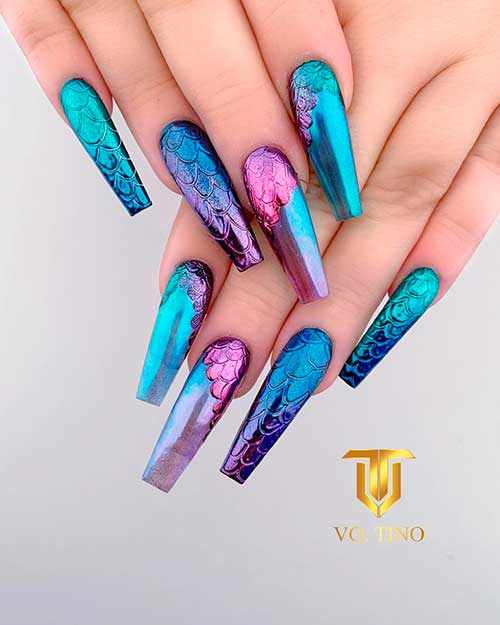 2. Stunning Mermaid Almond Nails Ideas
An almond-shaped nail entails a modern and quality style. Of course, this is awesome for women who don't like outdated and old-fashioned designs. If you are more on almond-shaped nails, you can add some shells and glitters on top of your mermaid-look-painted nails. Of course, this design is a stunning selection to wear awesome summer nails.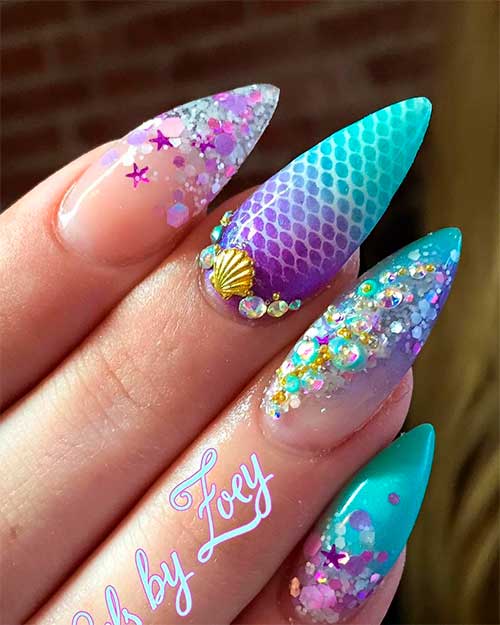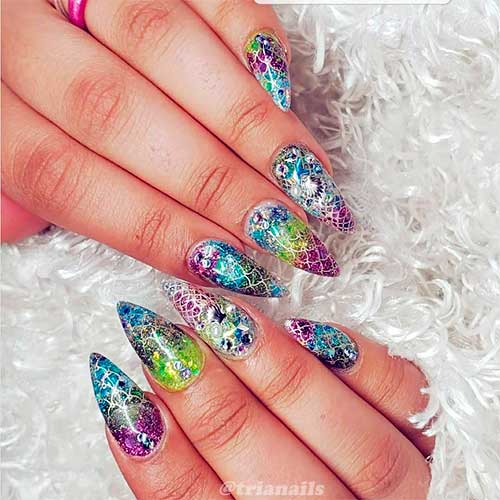 3. Fabulous Short Round Mermaid Nails Ideas
Go for short nails! Round-shaped nails are fine, and they will look finer if you are going to add some mermaid-look paint to them. Blue and violet colors are a good combination when creating a mermaid-inspired nail.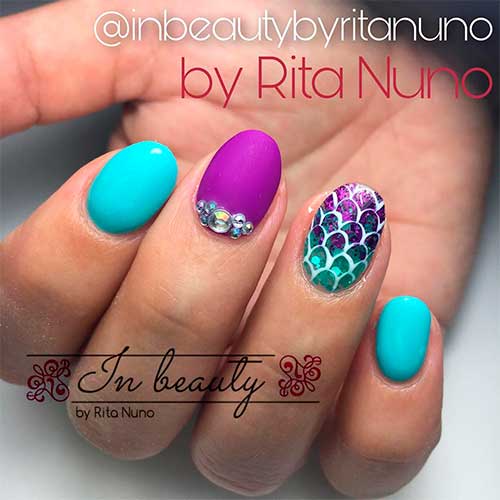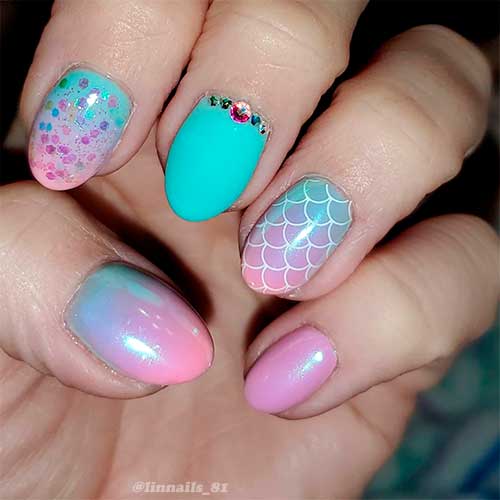 4. Gorgeous Stiletto Mermaid Nails Art Ideas
Stiletto-shaped nails are so damn good. You can paint it with any color and designs you want. Are you dreaming of having a mermaid-inspired nail design? Well, you might consider one of the pictures we have provided below.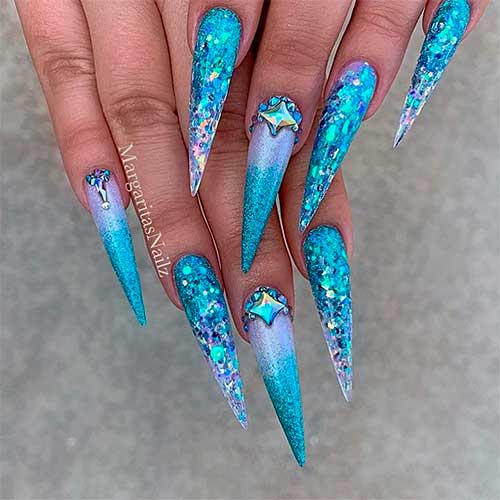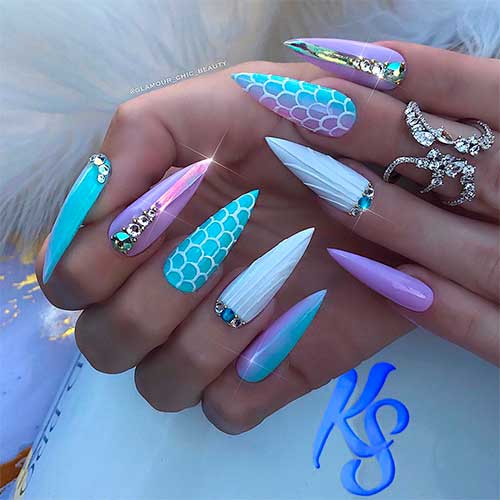 At last, mermaid nail art can be used to create an underwater look or to showcase the personality of a specific sea creature. Now choose your favorite design then use brightly colored nail polish and draw some features like a heart or a star. Also, you can incorporate your favorite characters, such as SpongeBob Square Pants, into your design.
To Conclude
Mermaid Nails are an excellent way to showcase your creativity and love for the sea. With endless possibilities, from glittery scales, ombre blues and greens, and seashell accents, there is no limit to the ways you can express your inner mermaid. Whether you're looking for a subtle pop of ocean color or a bold and intricate design, the options are endless.
So, grab your nail polish and dive into the magic of Mermaid Nails to create a stunning, underwater-inspired manicure that will make you feel like a true mermaid. With the right tools, techniques, and inspiration, you can unleash your inner mermaid and make a splash with flawless, oceanic nail art.