As the summer months begin to approach, it's time to get your nails ready for the upcoming season. Indeed, in the summer, bright summer nails are the ultimate crowd-pleaser, and a sage-green shade will keep you looking fresh and in style. This year, you can try a twist on the classic French manicure with Stick-on pearl accents. These accents look elegant and go with any outfit.
Bright summer nail colors are perfect for showing off your personality. A vibrant, sunny tone can almost match any outfit. So, you can even go for happy face nails to show off your fun side. Also, pastel colors are great for summertime because they're versatile and go well with any outfit. Additionally, pastel colors look great on a variety of skin tones and shapes, making them the perfect choice for going out for the day.

However, no worries, we have found some awesome summer nail ideas that can inspire your next manicure. Just keep scrolling and enjoy!
1. Matte Colorful Neon Summer Nails
You can try out matte colorful neon nails with a variety of shades this summer! Of course, these bright colors can match any style and mood! From traditional blues to fiery orange, neon nail colors are still on trend this year. Also, if you're not sure what you want to do with your neon nail colors, you can always use a nail sticker to create your own unique mani.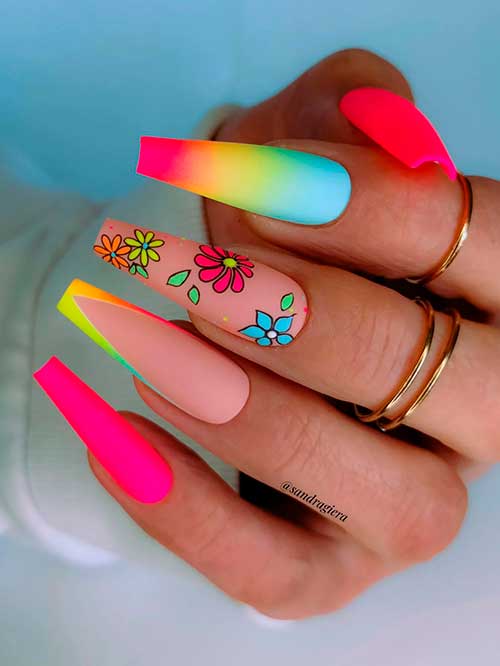 2. Matte Purple Nails
If you want to add a splash of color to your summer manicure, consider a shade of light purple. Besides, this shade is perfect for the summer season and can be accentuated with rhinestones or even wear plain matte purple nails. And while purple is always in style, it's best to stick to neutrals if you want to get a more subtle look.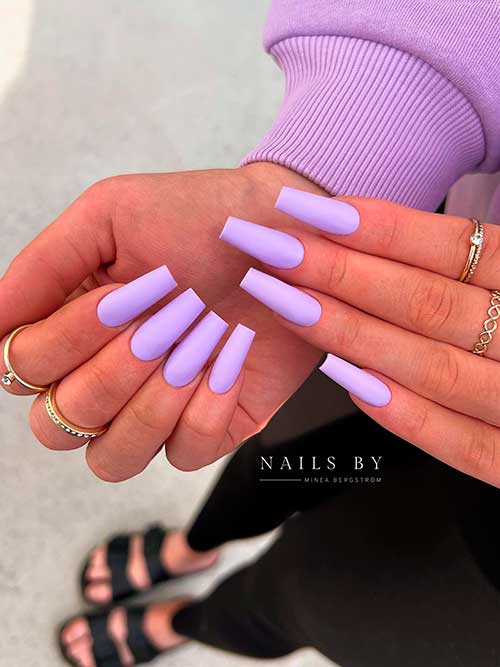 3. Sparkling Blue Nails
You can turn your blue nails into a piece of fine art by using different decorating styles to create the look. Indeed, incorporating a glitter stunner can add an extra touch of class to your shimmering blue manicure. Whatever nail design you will select, you're definitely to turn heads. Of course, this design below will be great for summer nights.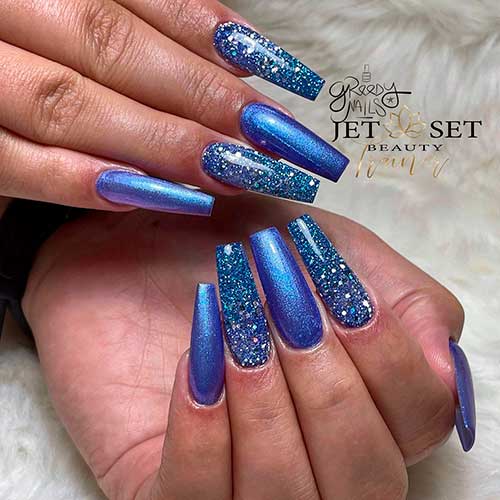 4. White French Manicure with Sage Green Design
This season, sage green nails are all the rage. You can choose from many various nail shades and patterns to create a unique nail design that's uniquely you. These shades are also incredibly versatile and look great with different nail designs such as this white French manicure.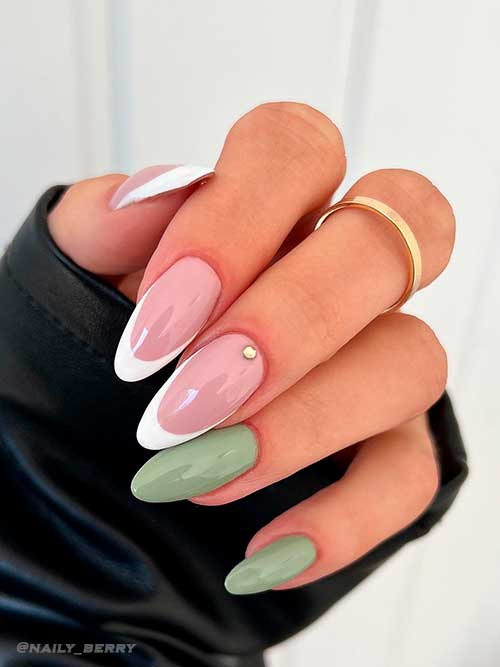 5. Hot Pink Summer Nails Design
For a bright, cheerful look, try hot pink nails. Indeed, this shade looks great on every nail length and shape. Besides, this shade is versatile, as you can use different colors and glitter to create a unique look. So, you can go for either plain hot pink nails, or you can use both glitter and French Style on accents to get an amazing effect.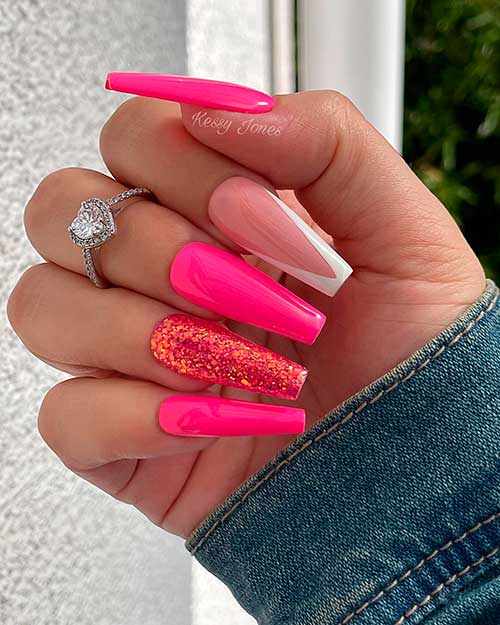 6. Matte Blue and Orange Leopard Nails
When it comes to nail designs, there are a few common colors that pair well with orange, including yellow and blue. You can purchase press-on blue and orange nail sets and create your own unique design. Besides, you can even save your favorite designs on your phone and bring them to your nail salon. However, this matte almond blue and orange with leopard prints will inspire your next manicure. Indeed, you'll look just as unique in this brightly colored pair of nails!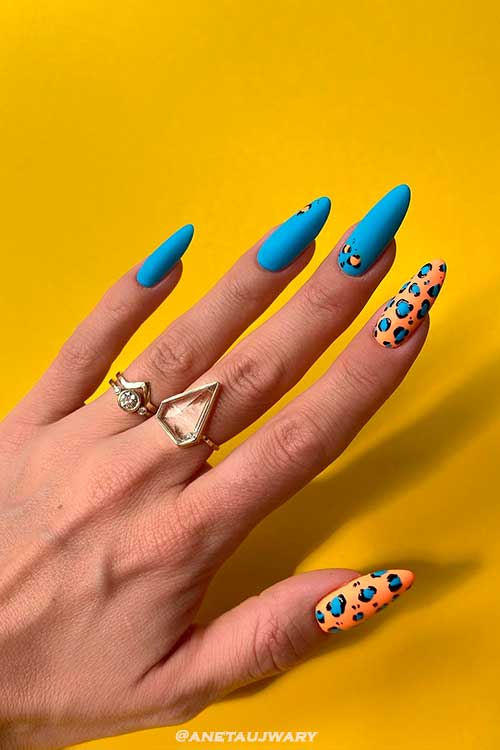 7. Beach Themed Summer Nails
If you love the beach, you can give your nails a summer vibe with a beach-themed manicure. Beach-themed nail art looks funky and unique. Additionally, the design combines shell, ocean, mermaid, aqua, and nude accents which turn it to a masterpiece.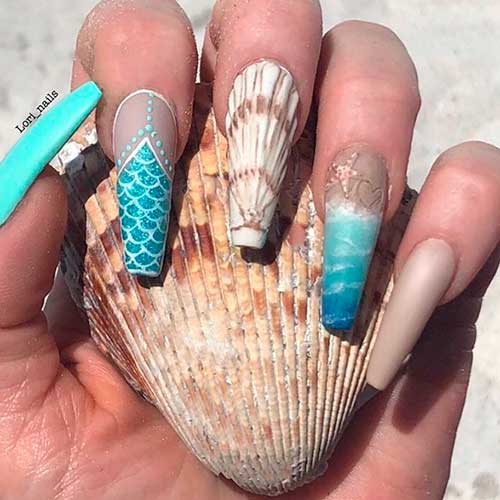 8. Yellow French Nails
Indeed, yellow nail color is a great choice for summer nails whether it is bold or pastel shade. So, this yellow French manicure that is adorned with white pearls and 3d flowers attracts all nil lovers to give it a try. Besides, this nail color shade will suit most of your summer outfits.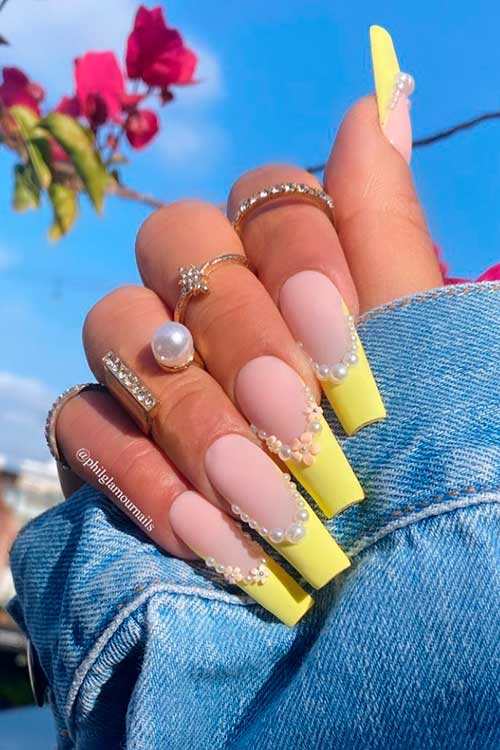 9. Summer Ombre Nails With Palms
When you see summer ombre nails on people, you may wonder how they came up with the color. The main key is a bold and colorful blend. While many shades start out as similar to each other, a few variations exist. For instance, orange and fuchsia are both fun and playful color schemes that evoke images of an exotic cocktail, a summer vacation, and a summery feeling.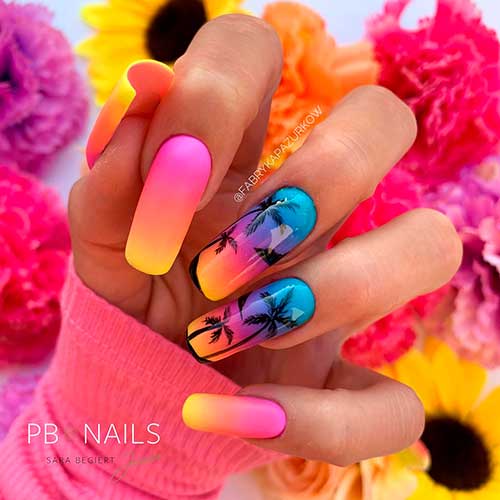 10. Colorful Neon Butterfly Nail Design
For neon nails, you can use several different colors. You can also use the colors of neon rhinestones to create a blingy look. These designs are cool but can be tricky to create at home. You can also opt for press-ons, which are much easier to do. These colors are often referred to as 'neon' because of their contrasting color shades. So, opting for such a cute design like the one below will catch all eyes.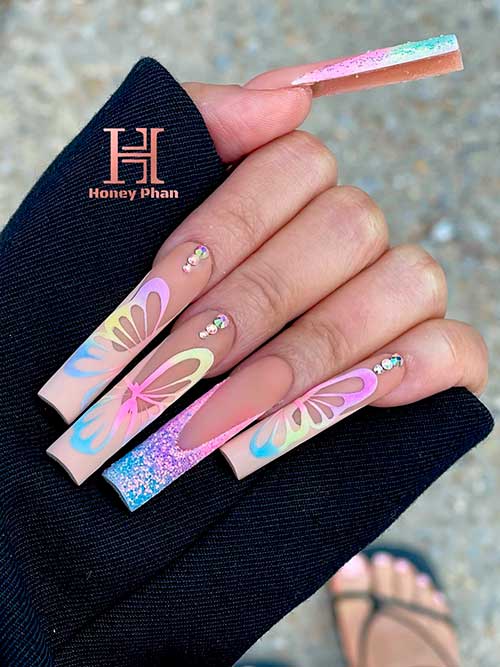 11. Miscellaneous Summer Nails Ideas
If you want your summer nail design to stand out, think about bright colors and unusual designs. You can have a fun summer party or simply enjoy the outdoors by wearing a bright color. You can use bright colors for the entire manicure or just one feature nail to add some pizzazz. Either way, these colors will make your summer nails look vibrant and lively! Here are some fun ideas to try:
Light Blue and Mint Green Abstract Nail Art with Gold Glitter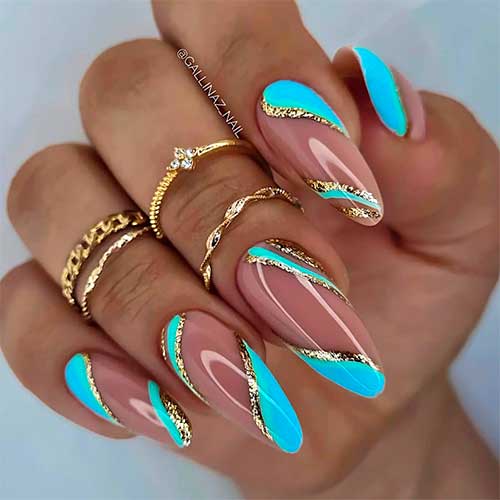 Yellow Neon Summer Nails with Black Design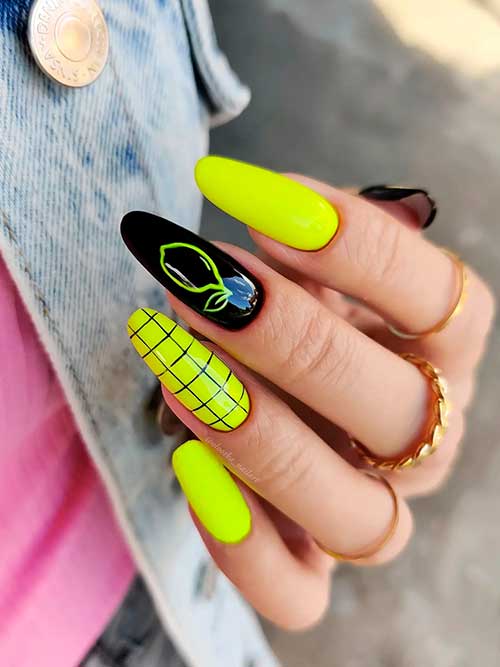 Red with Black Zebra Prints Nail Art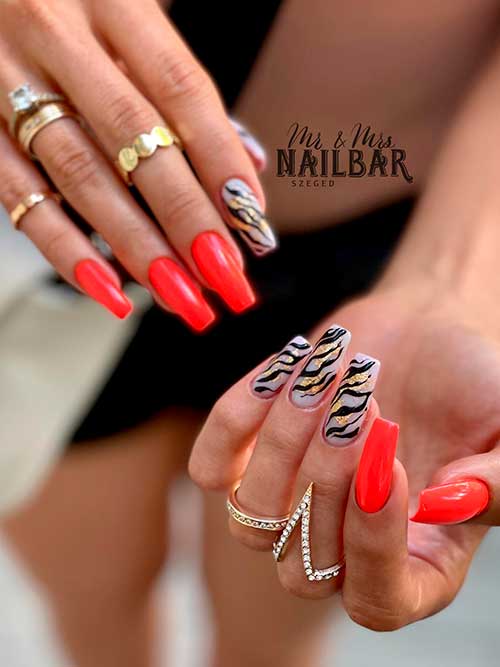 Pastel Green Summer Nails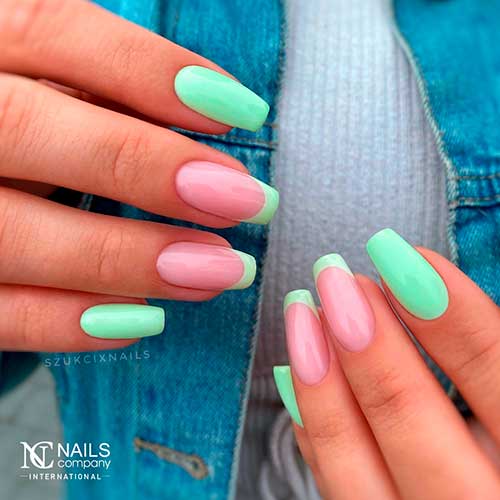 Pink Ombre Summer Nails with Leaf Nail Art