Cute nail designs are trending these days because of the good vibe it brings to women. Most women nowadays have their nails done long painted with different nail arts, and one of these is the polka dot nail art. If you wish to have your nails done and decorated with polka dots, then we can give you some great ideas that you can try at home. So, check out, these polka dot nail designs and choose what suits you more!
1. Red and White Polka Dot Nails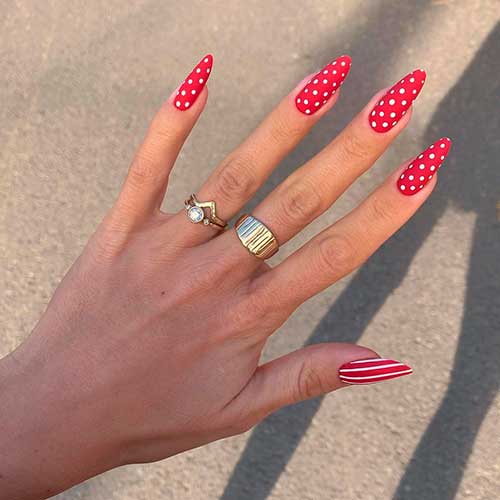 One of the most popular color combinations when it comes to polka dots is the colors red and white. It is very simple to do, and you will never go wrong with its result. So, if you have red nails you can add some white polka dots and white strips to an accent nail.
2. Multi-color Polka Dot Nails Design
If you want to explore more designs of polka dots that will show uniqueness, then by just painting the base of your nails white and putting a different color of dots like red, yellow, blue, and green evenly scattered on your nails, you can definitely have great nails.
3. Black and White Polka Dot Nails Design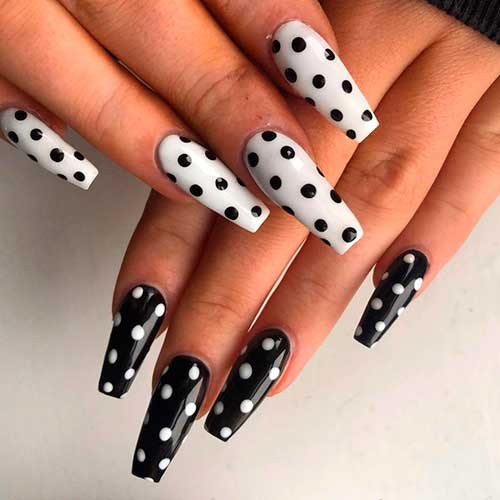 You will never go wrong with the colors of black and white. These two colors are of perfect combination because they are considered the strongest colors, so by playing with them, you can have great black and white polka dot nail art.
4. Short Nude Color Polka Dot Nails Idea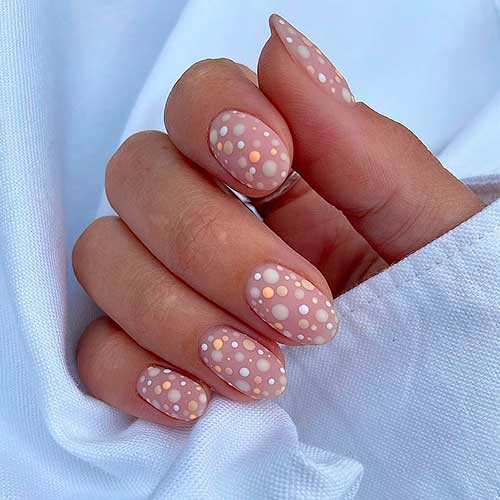 If you are girly in nature and you don't want to have those dark colors, then having your nails painted with nude color and darker nude color shades for dots, the essence of being a woman will surely come out on your nails.
5. Pink and Multi-color Polka Dot Nails Design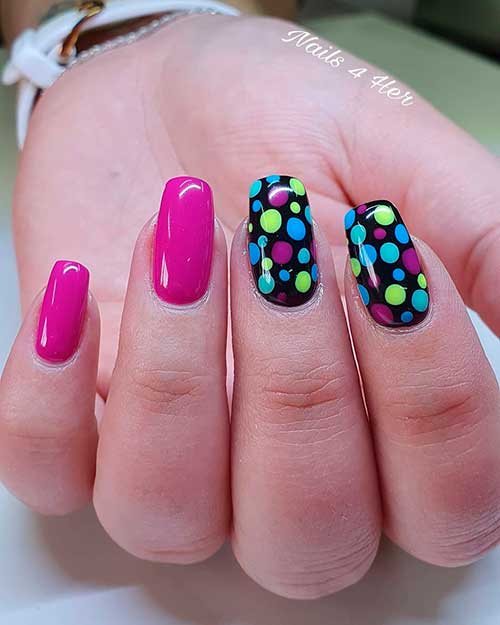 Another way to play around with your nails is to try painting some of it plain pink, and the other nails painted black as the base and then evenly distribute the dot colors like sky blue, and yellow and add the dotted pink to highlight the plain pink color on the other nails.
At last, these are just some of the Pretty Polka Dot Nail Designs that you can try. You will surely enjoy painting your nails with polka dots, especially now that the New Year is fast approaching. Polka dots nail art is very timely, so try doing it on your own or ask for help from an expert to achieve the design you want.