Marble nail art is a perfect way to add aesthetics to your outfit. A good marble nail art can complement your outfit and gives spice to your overall looks. Dazzling marble nails can certainly make you stand out from the crowd. There are several types of nail art, and marble nail art is a perfect option if you want to go all out.
This type of nail art is on a trend right now. You might have seen some pictures on the internet, especially on social media platforms like Instagram, Twitter, and Pinterest. No wonder it's popular. It's elegant, bold, and beautiful, and whether you will do marble acrylic nails or marble gel nails the following pictures will act as an inspiration for you!

1. Outstanding White Marble Nails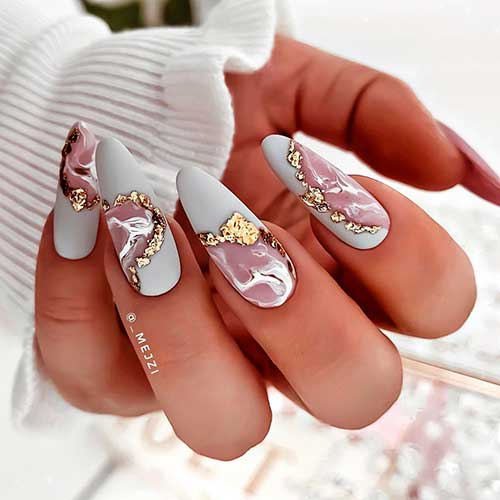 A user named _mejzi from Instagram has many wonderful collections of nail art. One of them is this amazing manicured marble 4D design. This marble nail art design is subtle and super cute. The bright white and brownish-purple with a mix of white pigments make it look like quarts or gems. The 3 elements in the design are white, brown, and gold flaking that will make your almond shape nails stand out.
2. Glossy Crystal Pink with a hint of Gold Leaf Are Gorgeous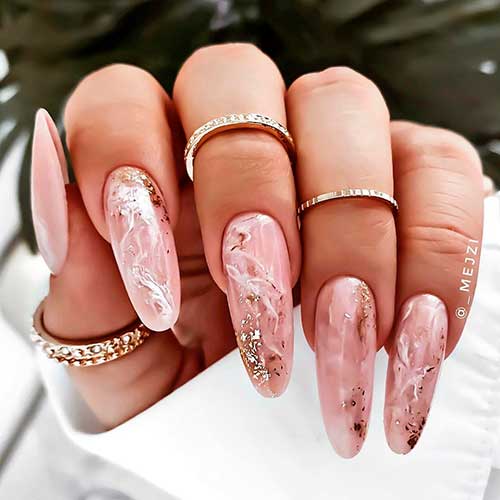 Another Good nail art design by _mejzi, this design creates a crystal quarts' pink with gold leaf. It's super stunning and gorgeous. This manicure design has a glossy look, and it's best to have it during spring or summer. The glossy pink and white and gold makes it fancy and have a classic look. If you have an almond shape nail, it will suit you nicely.
3. Dark Purple Plus Magenta Smudge with Gold Nail Accessories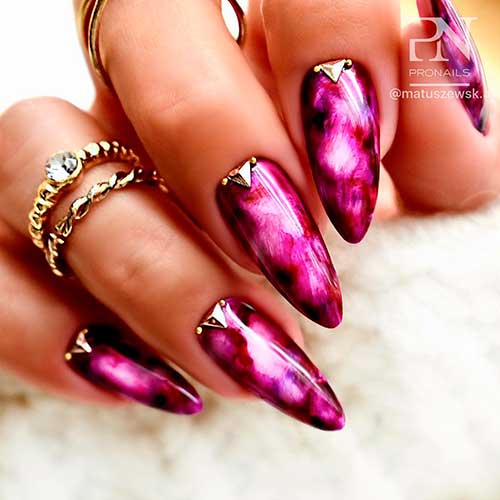 This marble nail art is designed by Matuszewski. a. Dark purple is a popular fall or winter color. The color combination makes it so stunning.
The design has a beautiful style and makes it perfect to use in any type of nail shape. The hue is stylish and striking and compatible with any skin tone, added with a cool crystal-like display that looks like a gem. The added nail accessories on the upper part of the nail make the marbling really stand out.
4. Glossy Brown with White and Gold Marbling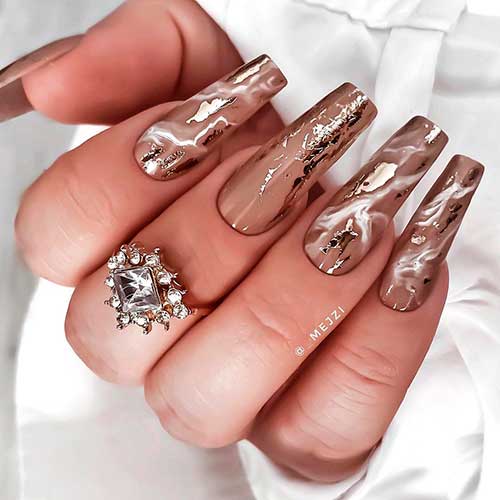 Brown is a neutral color but mixed with white and gold marbling will make it very stunning. This design would look lovely against darker skin tones. The white, gold, and black marbling gives a stylish appeal to it.
5. Black and Gold Marble Nails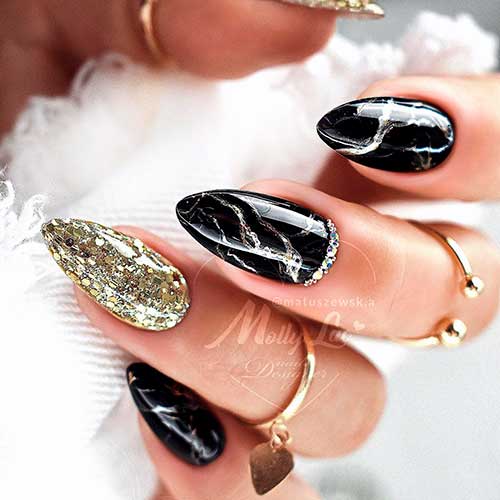 Another marble nail art designed by "Matuszewski.a" Perfect for almond and stiletto nail shapes. This color combination gives an intense and bold look. Glossy black manicures are very subtle when mixed with gold leaf, and white marbling gives them a sophisticated feel.
6. Pink Marble Nails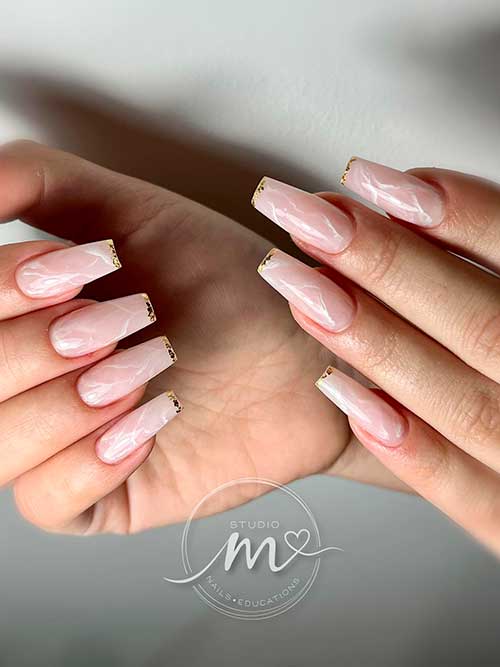 Pink marble nails are a nail design that is popular with many women. Because, they are elegant, stylish, and suitable for a variety of occasions. Whether you want to dress up for a wedding or just go for brunch, a pink marble manicure with gold foil tips is sure to draw the attention of the crowd.
7. Pink and White Marble Nails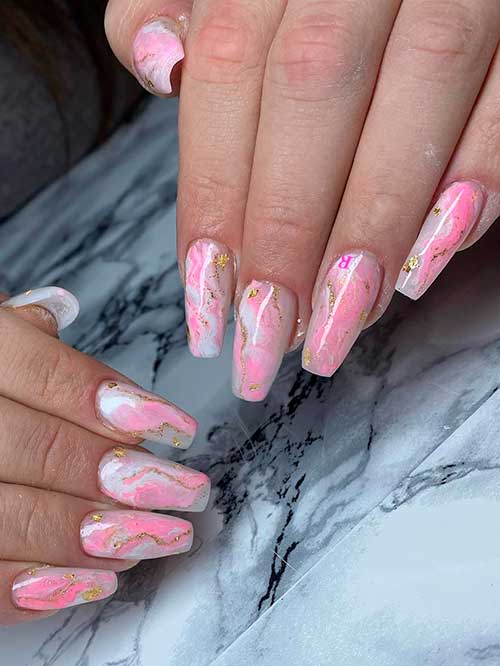 If you are looking for a feminine and unique nail style then try pink and white marble nails. Besides, you can add some little glam to the marble effect using gold glitter. Also, whatever your favorite nail shape you can recreate this nail design.