A fresh manicure is an ideal way of adding a bit of something extra to your setup or outfit. Why are women always keen on a classic red or a ballet slipper pink? Why not try something adventurous for the next manicure?  From bold design to subtle chic detailing, there's something for all with this season's most fashionable and chic nail trends- as life is too short for dull and boring nails. So, it's time for marble nails!
Indeed, using marble nail art can be the best way to step up your manicure game and put in some interest. On a long, stiletto nail shape, marble cute nail designs are artsy and glamorous. On the other hand, a shorter nail, adds more interest to a typical manicure. In addition, this easy-to-apply marble nail design is performed by dipping the nail in a bowl of water with marbled nail polish floating on the top.
Also, this is ideal for newbies who wish to know a new style technique or even experts who like to provide a trendy look at this spa or salon. Besides, these amazing and beautiful marble nail art designs can be worn in any season as well as go along with any style. Indeed, marble nails are a fun way to try out a trendy nail look. Moreover, these elegant nails are sure to make any outfit pop! In addition, you can get a marble look with a variety of different shades of polish. Using pink, white, or even black will give you a sophisticated marbled effect.
1. Pretty Marble Nail Art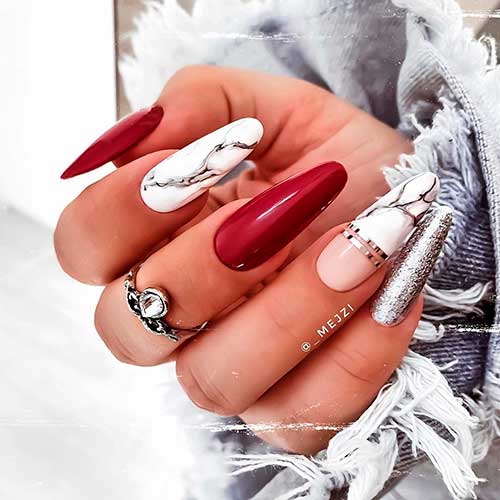 If you choose your nails to be feminine and delicate, then this almond-shaped manicure is a perfect choice. The light pink color is combined with a white, silver, and dark red marble nail design to make the look complete. These almond-shaped nails are extremely flattering on ladies and go perfectly with this design.  These are girly and cute and would be a perfect manicure for spring.
2. Rose Gold Marble Nails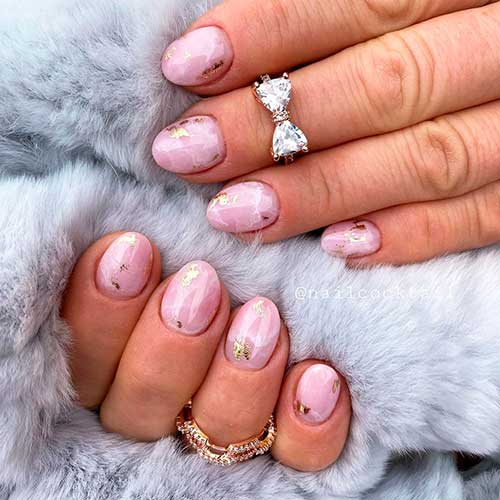 There are instances wherein a manicure can be delicate and airy, and people think it is one of them. The rose gold, mixed media nail design is very elegant. These marble nails are a pack of detail, with stunning dot design.
3. Black & White Marble Nails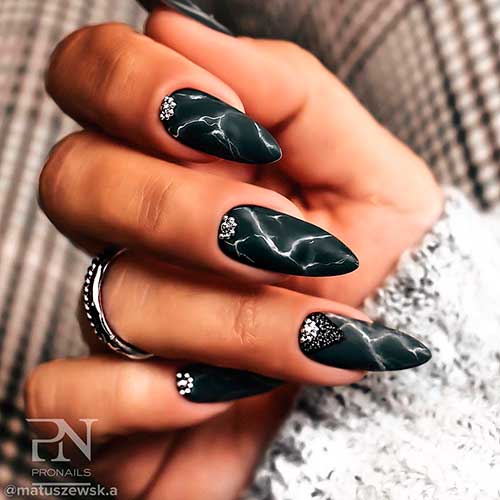 You can never go out of style with this classic look. For a polished and sleek appearance, these white and black marble nails are ideal for making a style that edgy but still looks professional.
4. Subtle Marble Nails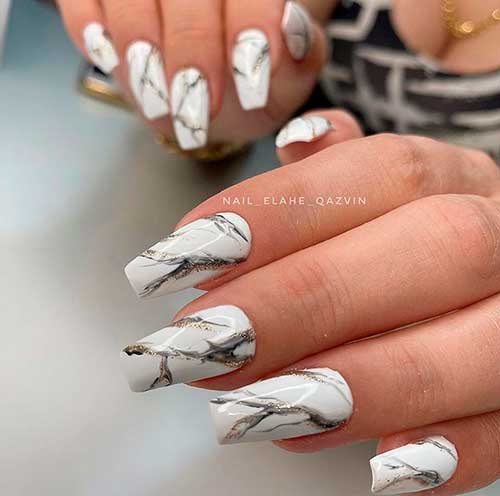 This subtle white and jade marble look is natural-looking. However, it subtly definitely does not compromise its looks and beauty.  It is so easy to rock this on your finger since it is not too busy. This will surely match your daily outfit.